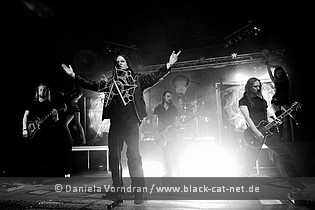 Kulturpark, Deutzen, Germany
2nd - 4th September 2011
Nocturnal Culture Night 6 Day 2: In My Rosary, Atrocity, 32 Crash, Absolute Body Control, Klangstabil, Merciful Nuns, Sensory Gate, Psyche, Elane, Shiv-R, X-Divide, F.O.D, Oberer Totpunkt, [Soon]

The second and longest day of the festival welcomed us again with bright sunshine and warm, in times too warm, summer weather. It started pretty relaxed and it would become much more relaxed during the day, but more about this later. First, [SOON] opened the small stage at 11:40.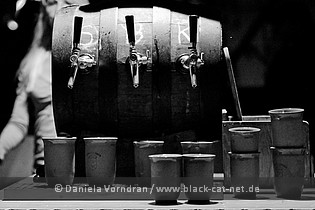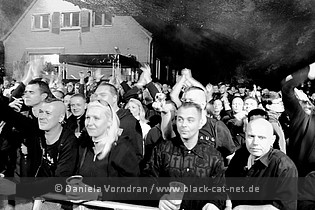 [SOON] (Small Stage)

This Hamburg based band was founded at the beginning of the new millennium now developing step by step their dark atmospheric sound. [SOON] is working in the live circuit ever since 2003, the debut album 'End Isolation' was released in April 2006 containing all in all ten dark rock songs. A second album, 'Without a trace', followed in August 2007. During the last years, the band already supported such bands as 4LYN, BEATSTEAKS or SAMAEL. [SOON] is Lenny (guitar), Micha (bass), Andi (drums) and Eric (vocals). http://www.soonmusic.net/ / https://www.facebook.com/soonfans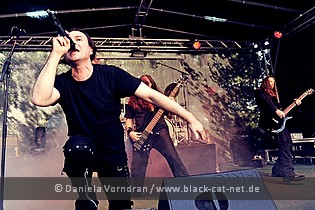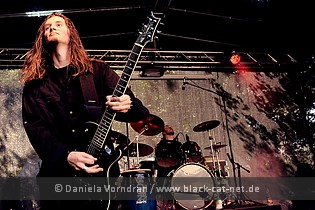 Music & Performance
[SOON] opened the second day in front of a still small audience. The motto was dark rock on a quite high level combined with excellent guitar work and uncommon bass lines. But still, the stage presence of the band could not convince this time. It looked rather uninspired, even though they tried to warm up the audience and did even some head banging. Singer Eric obviously loved big gestures, during one song he was reaching out his hands and remained in this position for minutes while Lenny maltreated the guitar. Trademark of the presented songs out off both released albums were interesting arrangements and catchy refrains. 'Grown Apart' from the current release opened the show. Faster rock songs, like 'Estrangement' changed with calmer balladry songs. The band surely has potential, but the live show needs some improvement.

Setlist
01. Grown Away
02. All I Want
03. Trust
04. High Time
05. Estrangement
06. Desperate
07. Lonley Way

Rating
Music: 7
Performance: 6
Sound: 7
Light: - (daylight)
Total: 6.7 / 10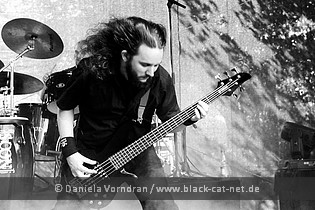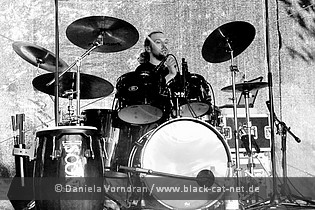 Oberer Totpunkt (Big Stage)

The German trio entered the dark music scene in 2007 with their debut album '10 Grad vor OT' and surprised both critics and music addicts with their unconventional musical approach. With 'Erde Ruft', the project has released their second album in 2009 on Danse Macabre. It won't take long until their fans were getting new stuff as the new record 'Stiller Zoo' has been released on 21st May. OBERER TOTPUNKT at NCN was Bettina Bormann (vocals), Michael Krüger (drums), David Nesselhauf (contrabass), Puppenformat-C (performance) and Angelus (performance, vocals). http://totpunkt.com/ / http://www.myspace.com/totpunkt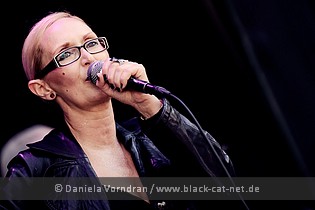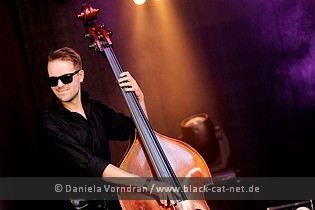 Music & Performance
Before the band started, it was announced that OBSCENITY TRIAL, planned to play next on the small stage, had to cancel due to illness. This was causing the first break of the day starting the relax program. But first, it was time for quite an extraordinary project of Bettina Bormann, OBERER TOTPUNKT. I've seen this band already last year at the WGT and was quite impressed by the unusual spoken word performance. At WGT, there were a few more people on stage presenting a real small choir, but also in this constellation with the extraordinary theatrical stage performance, this show was eye catching. Bettina's spoken words performance surely impressed the audience, even some might have looked quite irritated during the new interpretation of i.e. 'Die Vogelhochzeit' or the FEHLFARBEN cover 'Paul ist tot'. Great show, just too much sun, but that was not the band's fault I guess ;)

Setlist
01. Blutmond
02. Schlacht
03. Sie sind da
04. Teufels Lehrerin
05. Die Vogelhochzeit
06. Gevatter Tod
07. Hamburg
08. Paul ist tot (FEHLFARBEN Cover)

Rating
Music: 8
Performance: 8
Sound: 7
Light: - (daylight)
Total: 7.7 / 10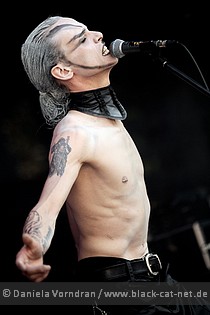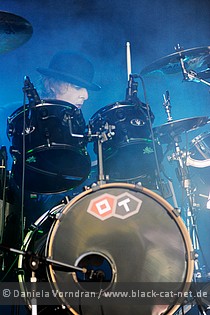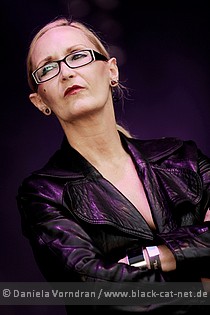 F.O.D (Big Stage)

In the year 2000 the Electro-Band F.O.D. originated from the bands FAROUT and D.O.D. Since then they already published three albums, two singles and played more than 100 concerts. Their first album, 'Synthesizer Tanzmusik', was released in 2008 and offered quite some variety but the focus is clearly - as the titles suggest - on dance music In November 2010 their new album 'Maschinentanz' was published and offered a mix of catchy Synth Pop and straightforward EBM just once more. German Electro band F.O.D. is eXcess D (vocals, composition, programming), Eva Pölzing (vocals), An/dress a. Anderson (lyrics, synths), and André van den Gerk (synths). http://www.fod-band.de/ / http://www.myspace.com/excessdance / https://www.facebook.com/f.o.d.band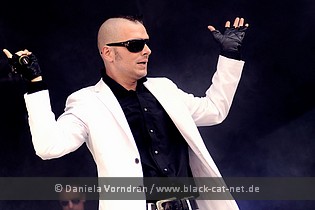 Music & Performance
Since the band on the small stage was cancelled, there was some time for drinking and visiting de medieval market before F.O.D entered the stage and presented some synthesizer dance music. The white suit of singer eXcess fitted perfectly to the bright weather and the catchy melodies. The space in front of the stage was filled up quite well with people willing to dance to the beats remembering a lot of AND ONE, but also showed tuned reminding of FAITHLESS during some moments. With 'Maschinentanz' and 'Germany', F.O.D got the party started before it got a little calmer when Eva Pölzing, former member of BLUTENGEL, joined in for 'Angels' and proved that she really got a nice voice. All in all, this was nothing too intellectual, but a good and entertaining show making people dance.

Setlist
01. Maschinentanz
02. Germany
03. Angels
04. Seelenschmerz
05. Heal me
06. Jung und stolz
07. Dirty pop
08. Burn out
09. Gleichstrom
10. STM

Rating
Music: 7
Performance: 7
Sound: 7
Light: - (daylight)
Total: 7 / 10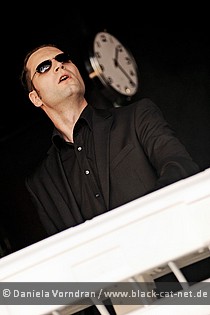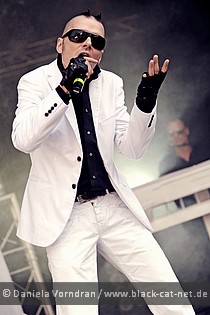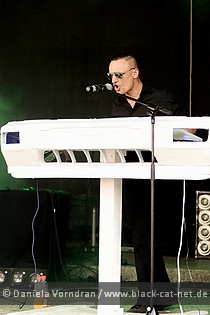 X-Divide (Small Stage)

The name X-DIVIDE spooks around in the scene for a while now. The duo that consists of Eric and Jens, who both have experiences with the music business already, was founded in 2005 and recorded their first song some time in the same year! Following up their first live experiences, a promotional EP was recorded in collaboration with Vasi Vallis of FROZEN PLASMA & REAPER which entered the German Alternative Charts at the time. It supposedly was that fact that roused the attention of Infacted Recordings who went on to sign X-DIVIDE. The band's first release is the EP 'X' and was out on 12th February. The duo is also working on their yet untitled full-length album. X-DIVIDE is Eric (vocals, programming, synths), Jens (second vocals, synths, lyrics). http://www.x-divide.de/ / http://www.myspace.com/x-divide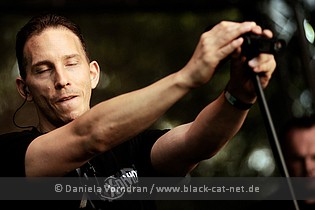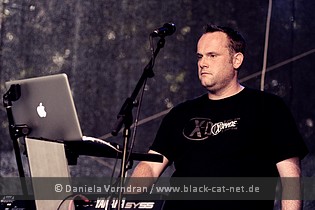 Music & Performance
X-DIVIDE from the lower Rhine region were up next on the small stage, of course wearing own band shirts. For their first appearance at NCN, they just had time for five songs, starting up with 'Sympathy' in the NAMNAMBULU remix. Since ex-NAMNAMBULU head Vasi Vallis is producing the band, it is nothing surprising that this mix was played. Another reminiscence to NAMNAMBULU was given with the last song presented, a medley of several songs of this band containing 'Now or Never', 'Moments', 'Faces' and 'Surviving'. Musically, the band presents fine Synth Pop making your feed moving. Just it seems Eric is still not totally confident on stage even though he tried to fire up the audience. Jens as always was up for some announcements and jokes in-between songs. Well, there is a reason why he is always chosen as moderator for Blackfield and Nordstern festival…

Setlist
01. Sympathy (NamNamBulu remix)
02. My Love is Guaranteed
03. So in Love
04. Forever
05. NamNamBulu Medley of Now or Never, Moments, Faces and Surviving

Rating
Music: 7
Performance: 6
Sound: 7
Light: - (daylight)
Total: 6.7. / 10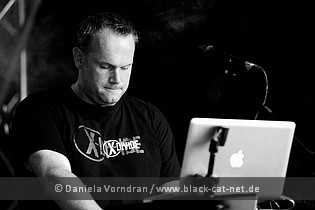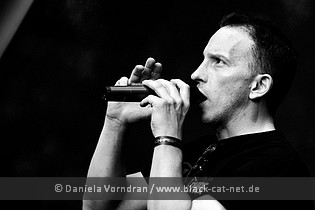 Shiv-R (Big Stage)

SHIV-R from Australia formed in 2008 and very early drew the attention of several music labels who released their debut album worldwide in 2010. End of that year they were featured artist for the Australian part of COMBICHRIST's "Monsters on Tour". Coinciding with their live commitment the project released the EP 'Incisions'. SHIV-R will extend their gossamer presence in 2011 with a new album and a European tour. SHIV-R is Pete Crane (aka Virul3nt) and Lee Bulig (aka Kong). Live they were supported by [M4RC] from GRENDEL on live drums.http://www.facebook.com/shiverindustrial / http://www.shiv-r.com/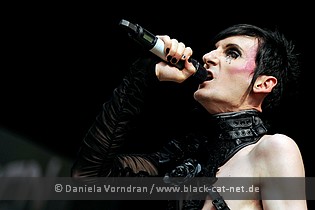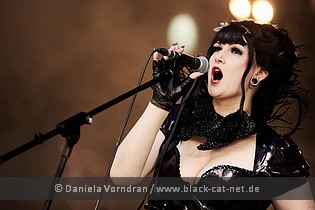 Music & Performance
With this band, for me a pretty new one was up on stage. This band is touring Europe for the first time and will have a new album our in October. Musically, the sounds like a mix of TBM, EBM and Industrial taking elements from several well-known bands of the scene. There were songs sounding a bit like COMBICHRIST or AGONOIZE, but also like LAIBACH, what is surely the better ideal. The songs presented were taken out off the band's first release, but with 'Pharmaceutical Grade' also a new song was presented. Visually, Pete and Lee are surely kind of extravagant, especially Pete in this clothing and make-up. Summing it all up, the band had its moments and there is surely potential, they just have to find their own identity music-wise.

Setlist
01. Intro
02. Blood Spatter (Forensic Re-Examination)
03. The End
04. Pharmaceutical Grade (new song)
05. Incision
06. Zeitgeist
07. Taste
08. Parasite (Repossession)

Rating
Music: 6
Performance: 7
Sound: 7
Light: - (daylight)
Total: 6.7 / 10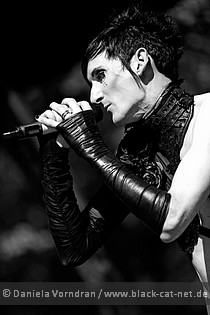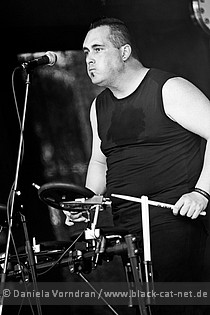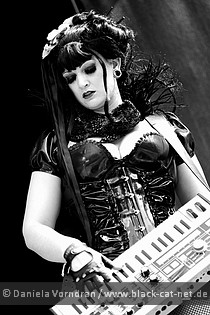 Elane (Small Stage)

ELANE formed in 2001, initially as a solo project. Within the following years, several people joined the line-up and in November of 2004 the debut album 'The Fire of Glenvore' was released. The following year they start working with Wings of Destiny followed by several live shows. Until 2011 the band have released two more albums with 'Arcane' as the latest one, released this February. ELANE is Joran Elane (vocals, tin whistle, low whistle), Skaldir (guitar, vocals, orchestral arrangements), Nico (keyboard, vocals, orchestral arrangements) and Simon 8violin, clarinet). http://www.elane.de.vu/ / https://www.facebook.com/ElaneMusic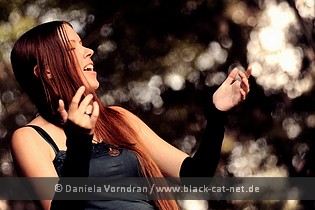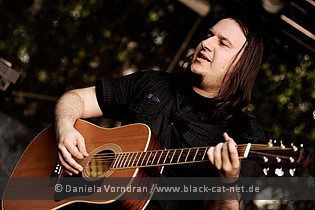 Music & Performance
ELANE is quite an extraordinary band. The musicians are set novels of famous fantasy author Kai Meyer into music. First presented song, 'Deae Noctis', is based on the 'Loreley' novel. Based on Joran's elf-like voice and various instruments you felt like being part of the mystics of the novel. When the second song was up to start, there was a problem on stage… no power. First anyone thought it was a problem on stage and so, the band tried to bridge the time until it was solved with taking pics of the audience and telling about the upcoming songs, referring to the 'Sturmkönige' trilogy of Meyer. But the power did not come back. Proving ELANE are real good musicians, the presented a few songs totally acoustic, using the acoustic guitar, the violin, a plastic box as drum and of course Joran's voice, which was of course pretty low in volume since there was no microphone. Wonderful, what those people made out of the situation. Thumbs up!

Setlist (planned before power loss)
01. Deae Noctis
02. Arcane Ride
03. Samarkand
04. Heart of the Dessert
05. Open the Gates (Remix)
06. Amber Fields (Remix)
07. The Night I left
08. Love can't wait

Rating
Music: 9
Performance: - no rating
Sound: - no rating
Light: - (daylight)
Total: 9 / 10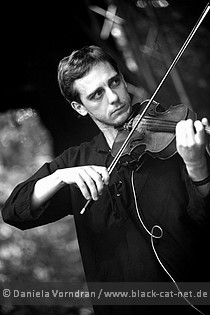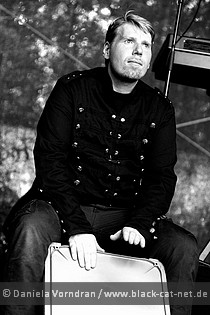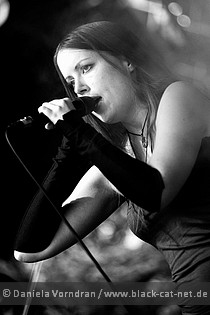 Soon it was clear that the problem was bigger than usually thought. The local power provider was not able to deliver the power needed for the festival. Strange enough that it worked in earlier years. The whole festival area lost the power, just some merchants still had because they were running an own power aggregate. Since no one knew at this time how long it would take, people were just relaxing, having some drinks and conversations. Anyone took it easy, no trouble at all. And this was amazing! All in all, it took two hours until power was back. The promoters rented a big power aggregate to deliver power for the big stage; the rest was running via the local provider's network. While there was no power, at least the reading of Bettina Bormann was taking place, acoustically and performance-wise supported by her band OBERER TOTPUNKT. Was just a pity that her voice was hardly to understand without a microphone…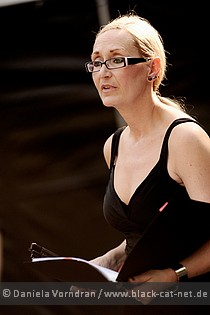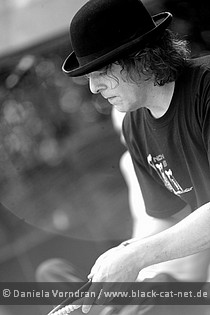 Psyche (Big Stage)

PSYCHE is one of those bands that hold a cult status even beyond the borders of independent music. Like all big names they also started very small with the brothers Darrin & Stephen Huss founding the band in 1982. However, first material wasn't released until 1985 with the now legendary self-produced debut 'Insomnia Theatre' only marking the start of a remarkable career that lasts for a quarter century now; a career that brought forth such evergreens as 'Unveiling The Secret' from the same-titled second album with which they achieved their European breakthrough and the unforgettable 'Misery' from the 1989 output 'The Influence' as well as countless other hits raising their popularity to remarkable heights. Darrin who is the only constant member since the foundation always was eager to experiment and so the sound was subjected to an unhesitant change, so the fans never could be sure what would follow next yet they knew that the essence of PSYCHE would never change and it hasn't until today. http://www.psyche-hq.de / http://www.myspace.com/psyche / https://www.facebook.com/Psyche.HQ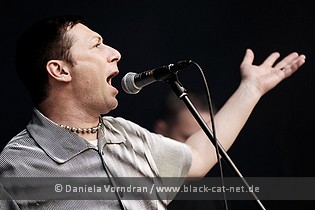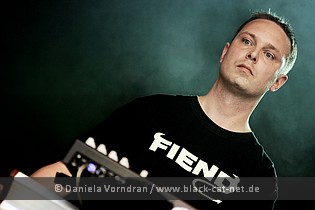 Music & Performance
Finally, with about two hours delay, PSYCHE were up next. Before the band started, Manja (the moderator of the festival) explained the situation and how the day would go on. There was a new schedule (people could check it our at the info booth) with partly overlapping stage times of the bands (you normally don't have it at this festival) and shortened setlists to give any band the chance to play their set. With ABSOLUTE BODY CONTROL, anything should be back in schedule again. But now PSYCHE. People were really eager to celebrate at the festival and so, there was pretty good mood in front of stage right from the start. After his injury, it was great to see Darrin back on stage presenting some well-known and some lesser know songs of the band's long history. You got tracks like 'Gods and Monster', 'Sanctuary', 'Unveiling the Secret' or '15 Minutes'. People enjoyed the show a lot even though this was not the best vocal performance of Darrin. He can do better as proven in the past. Also the big stage seemed much too big for two people whereof one was just standing behind a keyboard. Traditionally, the set ended with 'Goodbye Horses'.

Setlist
01. Uncivilized
02. Krieg
03. Gods And Monsters
04. Disorder
05. Sanctuary
06. Misery
07. Unveiling The Secret
08. 15 Minutes
09. Goodbye Horses

Rating
Music: 7
Performance: 7
Sound: 7
Light: - (daylight)
Total: 7 / 10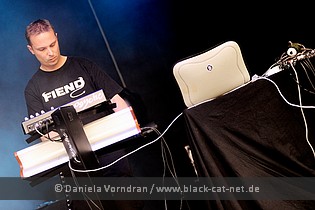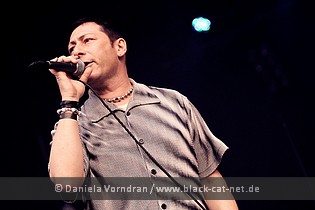 While PSYCHE were finally playing, there was also a fashion show of Black Jewels Clothing taking place. Besides a "normal" dark wear store, this label is producing unique, extravagant and historic clothes and costumes. Any dress is unique and hand made. They also design costumes based on the customer's wishes. Check it all out at http://www.black-jewels-clothing.com. The show at NCN was originally planned to last 30 minutes and to contain a fire show. Sadly, the people who wanted to do the fire show did not show up at all. So, they designer decided to make two catwalk runs 10 minutes each. Opulent dresses in historic or Steampunk look were presented. Pretty nice stuff!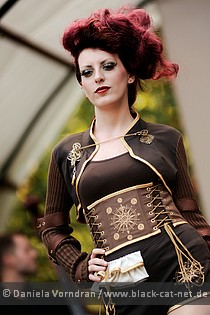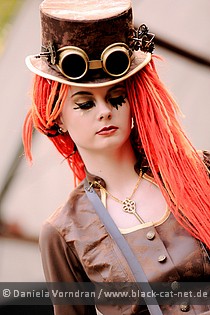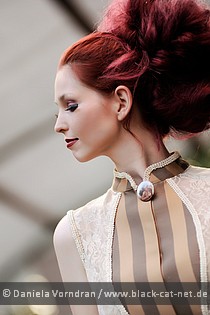 Sensory Gate (Small Stage)

The Italian / German hybrid SENSORY GATE is already best known for the eclectic remix works they've done for artists such as SLEEPTHIEF, FROZEN PLASMA and most prominently for the veteran formation KIRLIAN CAMERA. At some point, however, the time had come to give life to own tracks. So, besides working on tracks for Dante's "Divine Comedy Project" an educational / artistic program conceived by Marino Alberto Balducci of Phoenix Foundation / CRA Inits, they started crafting material that'd grow in a constant ripening process to 'Ianus', a retrospection as well as a glimpse into the future. Works for the next album are already in full swing and the record is expected to drop in early 2012. SENSORY GATE is Andrea Pozzi (music, electronics, programming) and Max Iannuzzelli (music, vocals). http://www.megahertz.org/ / http://www.myspace.com/sensorygate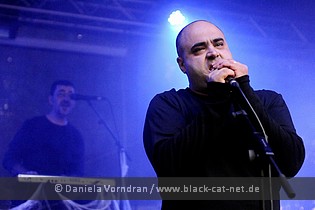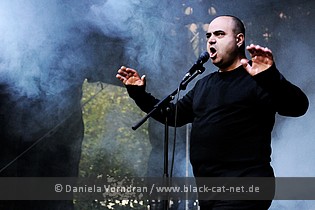 Music & Performance
This was already the second appearance of SENSORY GATE at NCN. While they opened the big stage as newcomer in the previous year, as winners of the visitor questionnaire they were playing much later this time, for a change on the small stage. Again, they decorated the stage quite nicely, having spider webs around the keyboard, some big domino stones again and a big letter being addressed with: "Civilization – Sensory Gate – Dead End Road – Nowhere". As a new album is currently in progress, with 'Domino Effect' a new song was presented right in the beginning. Let me just say that much: is promises again the album turning out great! Several more new songs found their way into the set, i.e. 'City Diary' or 'Civisolation', the word seeming a combination of "Civilisation" and "Isolation". Such word games always make curious about the deeper sense of a song. Much more secure on stage and less nervous than during their first show, Max passionately presented the song, and especially 'Crowd', 'Laying Hopes' or rocking 'New Dawn' were received with big applause, not only by the band's fans showing their fandom with all the same shirts… Really a good show leaving me covetous for the upcoming album.

Setlist
01. Among the dead (Intro)
02. Domino effect
03. Crowd
04. Laying hopes
05. Mercy
06. Hallowed
07. New dawn
08. City diary
09. Never
10. Civisolation

Rating
Music: 9
Performance: 8
Sound: 7
Light: - (daylight)
Total: 8 / 10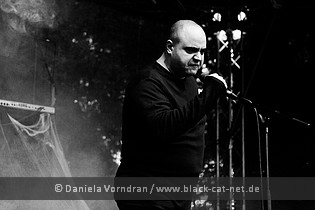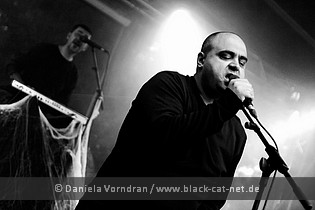 Merciful Nuns (Big Stage)

The famous GARDEN OF DELIGHT hardly had been put to rest as the band's mastermind Artaud Seth comes up with a new project, named the "legitimate successor" to the aforementioned band. The band itself calls it "Pure retro Goth". Three years after the last regular GARDEN OF DELIGHT (GOD) album, the new band's first album 'Lib.1' as released in June 2010 on Solar Lodge label announcing a revisiting of the sound of the eighties and early nineties. The EP 'Body of Light' followed also in 2010. In 2011, the EP 'Ancient Astronauts' and a second album 'Hypogeum II' followed. They even released a live DVD/CD so far, called 'Infinite Visions', recorded during a concert in Berlin on 23rd April 2011. MERCIFUL NUNS are Artaud Seth (vocals), Jón (guitar) and Jawa (bass). http://www.mercifulnuns.com / https://www.facebook.com/pages/Merciful-Nuns/145696075454608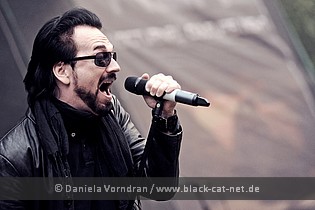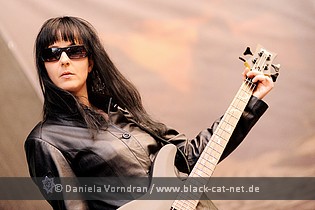 Music & Performance
After I had seen the band already twice this year I was nevertheless really looking forward the show. Just like at Shadowplay festival, the band had again two TVs on stage showing several videos along with the songs perfectly supporting its mood. Even though the band in my opinion needs darkness for their show, it was a great show in daylight. Any maybe it was the sun that made the three people on stage looking less cool than usually. I even saw a smile on Jawa's and Artaud's faces. Latter one was also shaking hands with the audience. But to the music… this was real good old Goth Rock. Goth Rock how it should be, moody, dark, monumental. Supporting the atmosphere was a lot of smoke, even though the effect was not really striking in daylight. Instead, the sun combined with white and yellow lights and the smoke put a golden, gloomy shimmer onto the band. The darkness instead was provided by Goth hymns such as 'The Eclipse' or 'The Seal'. Really sad that the set had to be shortened, but at least the band could play its show after all their trouble. After three festival gigs I now really look forward a full-time show, which hopefully comes up some day.

Setlist
01. The Portal
02. Hypogenum
03. Body Of Light
04. Tower Of Faith
05. Evolution
06. The Eclipse
07. The Seal
08. Sanctuary

Rating
Music: 9
Performance: 8
Sound: 8
Light: 8
Total: 8.3 / 10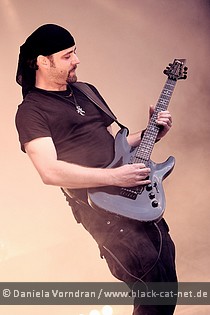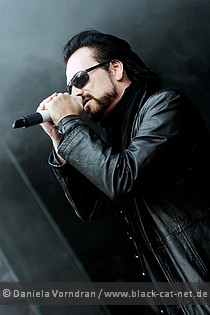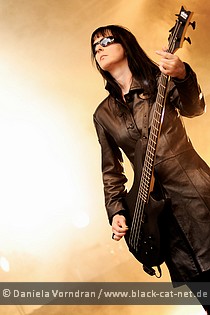 Klangstabil (Small Stage)

KLANGSTABIL formed in 1994; the same year the two protagonists Maurizio Blanco and Boris May met as they soon realised they're communicating on the same level. Soon they started producing without ever having the intention of getting anything of the material released. Over the years, KLANGSTABIL carved out a very own niche in alternative electronic music by taking elements of its very beginning adding to it a contemporary, sometimes experimental edge. October 2008 saw the release of the duo's newest album, a conceptual work called 'Math & Emotion, followed up by the 'Vertraut EP'. http://www.klangstabil.com/ / http://www.myspace.com/klangstabil / https://www.facebook.com/pages/Klangstabil/7403019660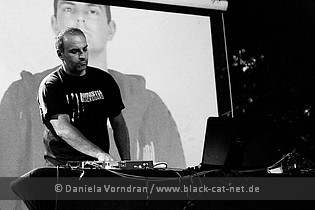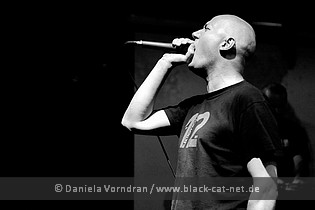 Music & Performance
KLANGSTABIL is always a band I am looking forward a lot, maybe since they are not the typical stereotype Goth or EBM band. And the NCN appearance was no exclusion. NCN was really doing justice to the band letting them play at a quite late hour instead of opening the stage, like at Amphi. So, the band had much more time to present a bigger choice out off their impressive repertoire. The set started with unusual 'Shadowboy' being supported by video animations just showing people speaking the word "Shadowboy". The title song of the latest fulltime album, 'Math & Emotion', followed. As already known, Boris May performs barefoot and shouts the vocals passionately instead of really singing like he does on the album. He puts so much power and emotions into his show, this always impresses me deeply. For 'Perdere per Vincere', Maurizio too over the microphone. Sadly, the show was not totally running smooth, 'Love has too much audience' had to be aborted due to some problems. The rest of the show was completed without difficulties. Some of my favourite songs, 'Lauf, Lauf' and 'Vertraut', also found a lot of fans in the audience. An audience that was btw really big. KLANGSTABIL in fact gathered the biggest crowd in front of the small stage during the whole weekend. Prove of their growing popularity! During the show, Boris said, that another great band, ABSOLUTE BODY CONTROL, was starting at the big stage now and we should not miss it. So, it was our turn to change stages for the show of Belgian electro dinosaurs.

Setlist
01. Shadowboy
02. Math & Emotion
03. Perdere per vincere
04. Beziehungsohr
05. Twisted words
06. Love has too much audience (wurde abgebrochen)
07. Push Yourself
08. You may start
09. Math & Emotion Remix
10. Lauf Lauf
11. Vertraut
12. Gloomy Day

Rating
Music: 9
Performance: 9
Sound: 7
Light: 7
Total: 8.5 / 10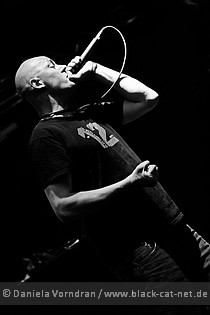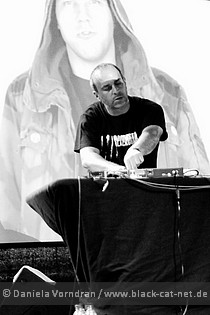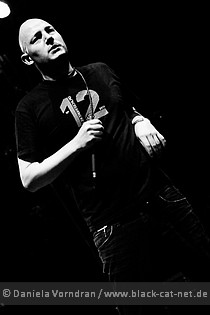 Absolute Body Control (Big Stage)

When you just mention the name Dirk Ivens, the one thing that comes to most people's minds is THE KLINIK, but before he became a member of that legendary EBM music project there was ABSOLUTE BODY CONTROL [ABC] which the Belgian founded in early 1980 together with Mark de Jonghe and Veerle de Schepper. While de Jonghe soon left the band after the release of a track on the 'Blitzpop 1' compilation and their first 7" single 'Is there an exit?' in 1981 and was replaced by Eric van Wonterghem who would remain Dirk's musical counterpart for many years to come. Their last tape 'Tracks' released in 1989 contained all their compilation contributions. The first CD 'Eat this' was released as late as 1993 because of the lasting public interest. After 22 years ABSOLUTE BODY CONTROL finally re-united in 2006 to play some festival shows and released a compilation called 'Wind (re)Wind' containing re-recorded tracks. Receiving more attention than ever before, ABSOLUTE BODY CONTROL added more shows and tours and in 2010 they released 'Shattered Illusion' - strictly speaking their first CD album after amazing 30 years, as all the earlier releases before were either singles, tape cassettes or compilation CDs! http://www.dirkivens.com / http://www.myspace.com/absolutebodycontrolbelgium / https://www.facebook.com/pages/Absolute-Body-Control/207252429297941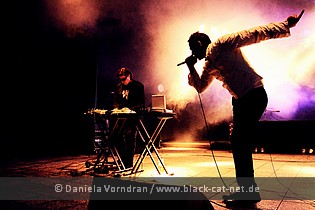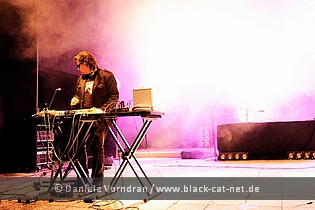 Music & Performance
ABC attracted a really big audience in front of the stage. Luckily it was already quite dark, the right surrounding for the dark and throbbing minimal Electro they were delivering with pounding basses. As well known, the so was underlined by a lot of flashing lights from the background while the foreground remained rather dark, just showing the shadows of Dirk Ivens moving in his very own weird dance style. ABC proved once more that good and danceable electronic music does not need a lot of beets per minute. Both guys blasted their analogue beats into the night. They presented once more a nice selection from their long career, like 1981's 'Is there an Exit?' up to this year's 'Surrender No Resistance'. One thing is common for all songs of three decades: the style is dark, cold and minimal. The main set ended with 'Into the Light'. Being back in schedule again, there was luckily time for an encore, given with 'Stardust Fever' releasing the audience for the show of other Belgium electro heroes, 32 CRASH being up next on the small stage.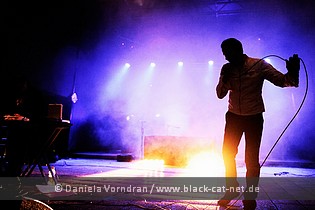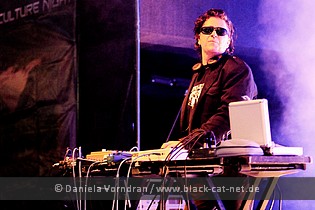 Setlist
01. Melting Away
02. Sorrow
03. Surrender No Resistance
04. Love At First Sight
05. Is There An Exit?
06. Figures
07. So Hard
08. Automatic
09. Never Seen
10. Into The Light
---
11. Stardust Fever

Rating
Music: 9
Performance: 8
Sound: 8
Light: 7
Total: 8 / 10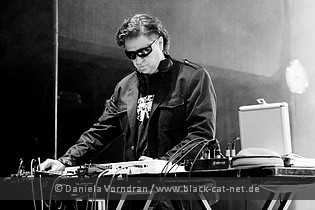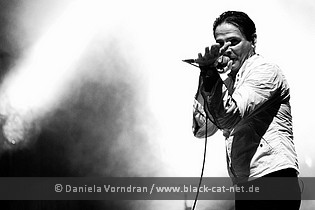 32 Crash (Small Stage)

When you hear the name Jean-Luc de Meyer one instantly makes the connection to EBM pioneers FRONT 242, where he put his distinct vocals on the tracks. Over the long course of his career, de Meyer has been active in several other projects besides F242 i.e. CYBERTEC, C-TEC or COBALT 60. With 32CRASH, he's focussing only on song writing and singing while his two colleagues Len Lemeire (IMPLANT) and Jan D'Hooghe (VIVE LA FETE, IMPLANT) are responsible for the musical accentuation. Following the release of the promising 'Humanity EP', the album 'Weird News from an Uncertain Future' was released in October 2007 on Belgian label Alfa Matrix. The second album 'Y2112Y' will soon be released. http://www.32crash.com/ / http://www.myspace.com/32crash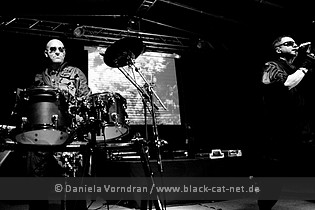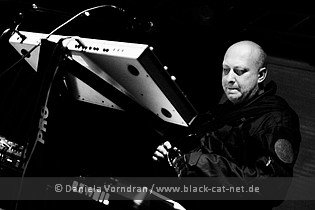 Music & Performance
The band, who played already at NCN 2009 should have been in schedule, but there seemed to be some more sound problems and so, it took 20 more minutes until they finally started. Surely, 32 CRASH are know by now, last but not least due to Jean-Luc's work in FRONT 242. If you want to label the songs of this project, you might find the term "Electro Wave" since the songs are much calmer than those of FRONT 242. But anyway the songs hat a lot of facets. For example, 'Propaganda' sounds more like Synth Pop, while 'Isomodia' is providing some harder electro beats. 'Slow Cash', being presented right before, is more melancholic with clean vocals. Accompanied with dark lights but some video animations, the main set ended with 'Fast Cash', also being one of the harder electro songs of 32 CRASH. The mighty aura, vocals and science-fiction stories of Jean Luc De Meyer had an impressing effect on the audience who celebrated a little party in front of the stage, demanding of course an encore. With 'The Man Who Remixed Later' and 'Dawning Sun', the show of Belgium electro heads ended, just to make rooms for the Metal headliners ATROCITY.

Setlist
01. Intro
02. 100Y Remix
03. The Attack On ZA4
04. Humanity
05. What Happend Here
06. Propaganda
07. Dust & Drought
08. Neighbours
09. Lasercutter
10. Spacemen And Poets
11. I Remembre
12. Kryptonically Yours
13. Aliens On Earth
14. Slow Crash
15. Ismodia
16. The Man Who Came From Later
17. Les Mouches
18. Fast Crash
---
19. The Man Who Remixed Later
20. Dawning Sun

Rating
Music: 8
Performance: 7
Sound: 7
Light: 5
Total: 7 / 10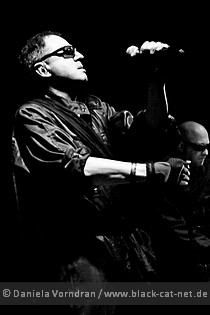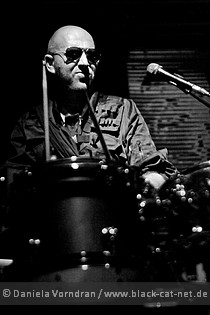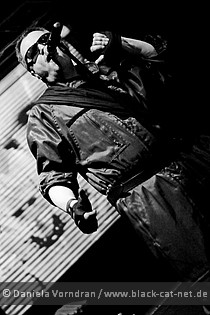 Atrocity (Big Stage)

ATROCITY is a German band formed in Ludwigsburg. The 1996 release 'Willenskraft' introduced industrial elements, and the special bonus CD of the album's special edition (Kraft Und Wille) included even electronic remixes of the songs. The later releases saw original metal in decline: the following release 'Werk 80' featured versions of 1980s disco hits, and the band had no apparent direction for the following few years: the odd MCD-releases and experimental songs like 'Lili Marlene' covers (featured on Gemini) banished most of the fans. The latest album is called 'After The Storm' and was released in 2010. ATROCITY is Alexander Krull (vocals), Thorsten Bauer (guitars), Sander van der Meer (guitars) and Roland Navratil (drums). The band was live supported by Liv Kristine on vocals, a bass player and by two female dancers. http://www.atrocity.de/ / https://www.facebook.com/AtrocityOfficial / http://www.myspace.com/atrocitypage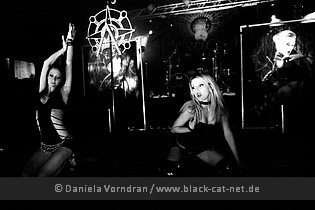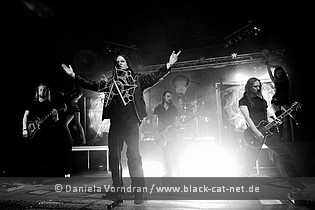 Music & Performance
Headliner on this evening were metal head ATROCITY, having a best-of show in stock for the audience, presenting a mix of 80's cover versions out off 'Werk 80' and several of their biggest hits. Usually consisting officially of for people, since former bass player Alla Fedynitch left, the band had of course a replacement for her on stage as well as two sexy female dancers and later on for some songs Liv Kristine providing additional vocals. During the intro, the two dancers were crawling across the stage and dancing for the audience while the band one after another entered the stage starting with the first cover version of the evening, CAMOUFLAGE's 'Great Commandment'. There was more cover songs later, AND ONE's 'Deutschmaschine' probably being the most unusual out off them who could be presented by a metal band. With a lot of power, passion and of course posing, ATROCITY was a great headliner. While they were playing, on the culture stage finally the reading of Markus Heitz war running, reason enough for us to leave the concert and go for some more culture.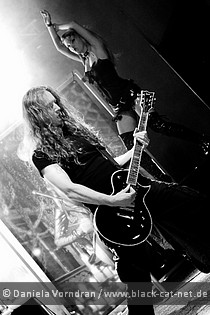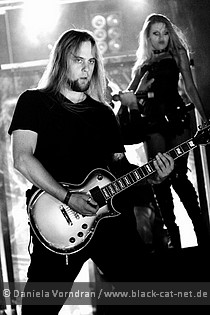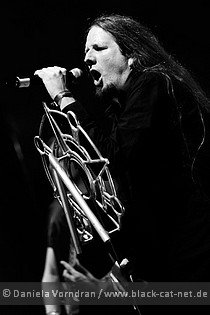 Setlist
01. Intro
02. Great Commandment (CAMOUFLAGE Cover)
03. Taste Of Sin
04. Fade To Grey (VISAGE Cover)
05. Die Todgeweihten
06. Blut
07. Seasons In Black
08. Die Deutschmaschine (AND ONE Cover)
09. Willenskraft
10. Cold Black Days
11. The Sun Always Shines On TV (A-HA Cover)
12. Shout (TEARS FOR FEARS Cover)

Rating
Music: 8
Performance: 9
Sound: 8
Light: 7
Total: 8 / 10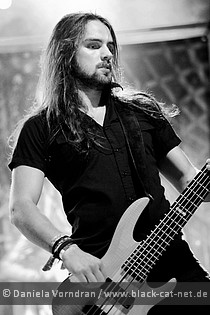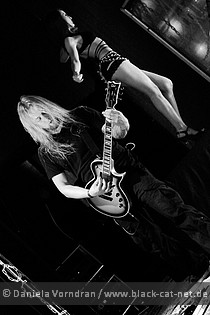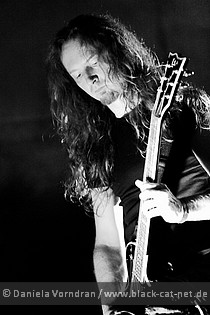 From harsh metal sounds to a calm book reading being presented by Markus Heitz underlined with music by the band QNTAL. Markus Heitz is one of Germany's most famous fantasy authors, especially his cycle 'Die Zwerge' (The Dwarfs) is well-known. Today, he was reading from the second book of the 'Legends of the Albae' named 'Vernichtender Zorn' (Crushing Rage). Not very supportive for a reading's surrounding was the sound you could hear from the big stage. This was a bit disturbing and so, the mood Heitz tried to build up with QNTAL was a little bit destroyed. QNTAL obviously wrote new pieces to transport the mood of the read passages to the audience. Still I think their music is too calm and ethereal and not doing any justice to the raging character of the Albae. Also the lights on the small culture stage did not support the reading very well. Anyway, band and reader tried making the best out of the situation and in the end, Heitz found some attentive listeners. More about him and his works at http://www.mahet.de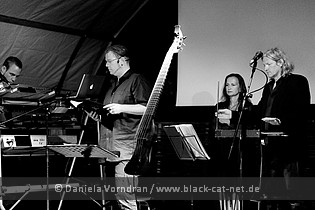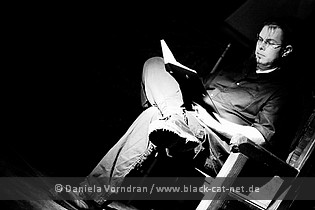 In My Rosary (Small Stage)

IN MY ROSARY is a band from Germany, forming as early as 1993. First releases drew the attention of various record companies. Signed to Discordia, the project released their debut album 'Those Silent Years' in 1993, followed by the album 'Under the Mask of Stone' the following year. In their time of existence, they've released over a dozen albums. 'Retro' is the latest one of those, released in 2010. IN MY ROSARY are Ralf Jesek (vocals, instruments, music, lyrics, production) and Dirk Lakomy (lyrics, artwork, vocals). The current live line-up is Ralf Jesek (vocals, acoustic guitar, electric guitar), Martin von Arndt (keyboard, saxophone, backing vocals), Holger Diener (guitar) and Hansi Huenig (keyboard). http://www.inmyrosary.de / http://www.facebook.com/pages/In-My-Rosary/113016392045052 /http://www.myspace.com/inmyrosary2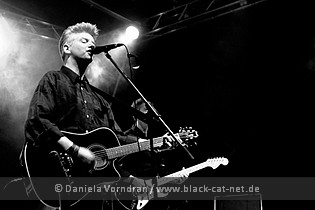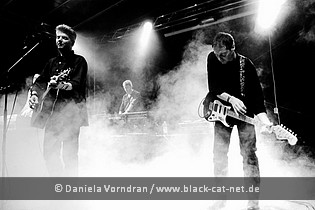 Music & Performance
As Saturday evening's midnight special, IN MY ROSARY were taking care for a calm final of the evening and bewitched the audience with their extraordinary mix of Darkwave, Folk, Electro and Pop elements. For their live performances, the duo is extended by various guest musicians. Even though the latest album 'Retro' is released in 2010, the band played only 'Wild Chase' out of it. Instead they were going for older stuff making lots of fans in front of the stage happy. With acoustic guitars, melodic piano sounds and wonderful chant, the band presented the perfect lullaby.

Setlist
01. Hypocrazy
02. There's No Light
03. Your Shimmering Hair
04. Sandman
05. Confused By The Time
06. Tar
07. Little Death
08. Just Like You
09. Short Dance
10. Wild Chase
11. Why We Cried
12. No Place To Stay
13. Satin Sheets
14. Mr. Revenge
15. Night Owl
16. All We Have

Rating
Music: 9
Performance: 8
Sound: 8
Light: 7
Total: 8 / 10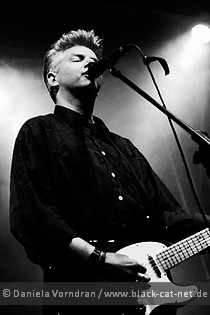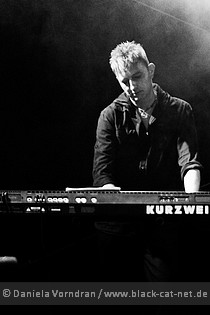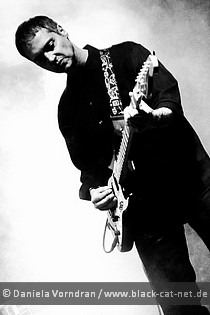 After the concert, a party was taking place at the festival ground. You had also the chance to chill out at a camp fire and get into the right mood for the third and last festival day.

All pictures by Daniela Vorndran (http://www.vorndranphotography.com / http://www.black-cat-net.de/ / www.myspace.com/vorndranphotography / www.facebook.com/blackcatnet)

Written by Daniela Vorndran & Sebastian Huhn (Band Intros)
See also (all categories):