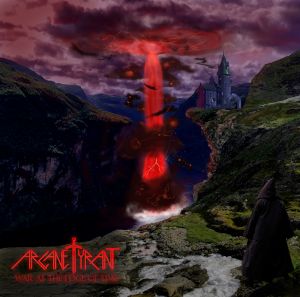 Artist: Arcane Tyrant
Title: War at the Edge of Time
Genre: Epic Metal
Release Date: 26th July 2019
Label: Independent
Review Flash

Today in "Sounds from the Underground": ARCANE TYRANT is a Traditional/ Epic Metal band hailing from Edmonton, Alberta, Canada. Assembled in 2017 these guys are influenced by bands like ICED EARTH, BLIND GUARDIAN, GRAND MAGUS and countless others. It is the brainchild of Dustin Moroz (guitars/ vocals) and Curtis Beauchamp (guitars). They formed and began writing music in late 2017. They independently released their debut album 'War At The Edge Of Time' on July 26, 2019.The band's main focus is currently on securing a solid live line-up and touring in support of 'War At The Edge Of Time' while also writing new material for a follow up release. So much for the band's description of themselves. I, of course, will add a few wisely chosen and heartfelt words of my own...
To call ARCANE TYRANT a surprise is an understatement in my eyes, in consideration of the losses the Metal and overall music community suffered in the last few years I am always delighted to get to know new and fresh bands that hold the flame of metal and rather unorthodox compositions high. The vocal melodies are refreshingly strange but serve the overall composition. Dustin Moroz' voice is somewhat classic as he can hit high notes and is sure in the middles, Curtis Beauchamp is a damn solid guitarist and he and Moroz create fantastic melodies with their guitars. The drumming is, naturally, on point. I would recommend ARCANE TYRANT to every fan of MANILLA ROAD, ETERNAL CHAMPION and other bands along the line that are somewhat epic and strange. I can't wait to see what these guys write/ compose and release next, there is still room to evolve and get a little bit more catchy here and there but this is DIY underground metal to my taste: cumbersome, strange but raw, real and genuine.
Conclusion: Support ARCANE TYRANT via http://www.arcanetyrant.com/ or https://www.instagram.com/arcanetyrant/.
Rating: 8 / 10