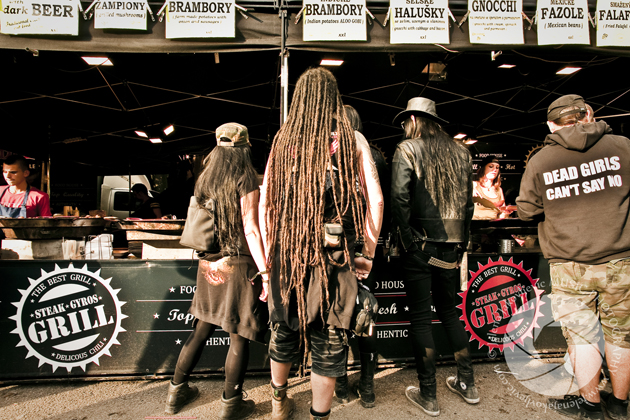 Fortress Josefov, Jaromer, Czech Republic
10th to 13th August 2016
Brutal Assault Festival Day 2: Jägermeister stage: Ihsahn (NO), Exodus (US), Perturbator (FR) / Metalshop stage: Parkway Drive (AU), Gojira (FR) / Metalgate stage: October Tide (SE), Leprous (NO), Embrional (PL)
Sun is out and sound of metal is in the air, water-soaked tents and extremely low night temperatures can be forgotten now, and washed away together with the mud. I am starting to discover hidden corners of the festival area, there are also horror cinema and art exhibitions, while chill out zone looks like sleeping zone during the morning recovery time. Smell of food is spreading through the streets and it is impossible to walk by without grabbing something. Cashless chip wristbands are making it easy to spend money, while online top-up system is saving time from queuing.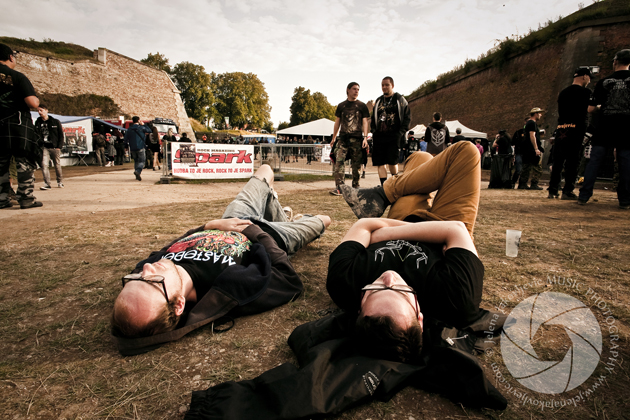 Second festival day is bringing thirty bands and making it hard to choose. In the first day review I was covering mostly bands from US, while today you will find here variety of metal from Poland, Norway, Sweden, France, US and Australia. As well, variety of dark music styles like LEPROUS - Progressive Avant-garde Metal - and PERTURBATOR - Dark Synth Music. I am missing MINISTRY concert but with a good reason, the V-Drums World Champion Baard Kolstad is here today with LEPROUS and we just agreed on the interview. I am stealing his only free time before their concert and we are talking about Brutal Assault Festival, different projects and bands, and his beginnings as a street drummer. (Interview will be published separately).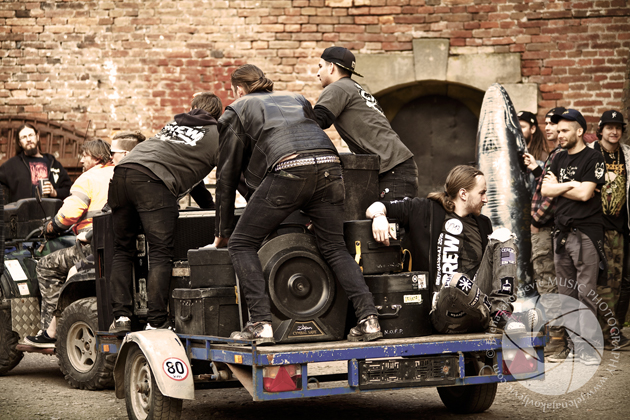 Ihsahn (NO)

IHSAHN solo project is an interesting peak of an amazing music career, crossover of different genres and projects, which started in his early age with EMPEROR album 'In the Nightside Eclipse' (one of the most influential albums of the genre). Some artists like touring, but IHSAHN prefers studio and personal creative moments. It means, this concert at Brutal Assault Festival is a privilege enriched with new materials from the latest album 'Arktis' (2016). In addition to new songs, three songs are from the albums 'After' (2010) and 'Das Seelenbrechen' (2013). As a final surprise for today's progressive metal experience, Einar Solberg of LEPROUS is joining the stage and making the metal family together again. LEPROUS is playing at Brutal Assault later, and while being the former IHSAHN live band, I thought for a moment that there is the possibility they would overtake the stage. //
http://www.ihsahn.com
/
https://www.facebook.com/ihsahnmusic
// Setlist: 01. Pressure / 02. Until I Too Dissolve / 03. Hiber / 04. Pulse / 05. Frozen Lakes on Mars / 06. My Heart is of the North / 07. Mass Darkness / 08. Celestial Violence (With Einar Solberg of Leprous)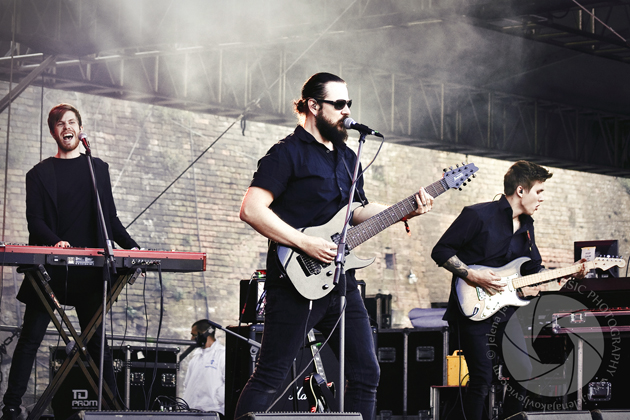 October Tide (SE)

Awesome correspondence of fans during the vocals sound check is a guaranty for an amazing concert to follow. OCTOBER TIDE is taking us into the time machine while setting dates between 1999 and 2016 with their setlist. There have been frequent line-up changes through those years, also very recent ones, and this kind of setlist choice must be more challenging for the band members than just to play the latest album 'Winged Waltz' (2016). Audience is loving it! The only founding member, Fred Norman, got reinforcement on guitars. His brother Mattias Norrman recently changed from bass to guitar, and new members joined: Johan Jönsegård on bass and Jonas Sköld on drums. Death Doom Darkness Tour MMXVI is starting in September with OCTOBER TIDE, DEMONICAL and AUTHOR. Sweden, Germany and Poland beware! //
http://www.octobertide.net
/
https://www.facebook.com/octobertideband
// Setlist: 01. Swarm / 02. Custodian / 03. Grey Dawn / 04. Floating / 05. Nursed by The Cold / 06. Adoring Ashes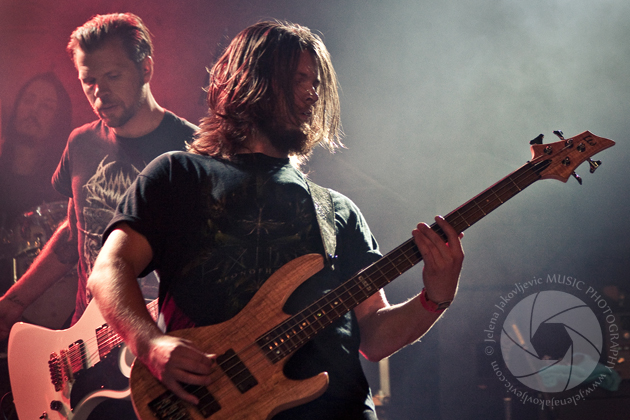 Exodus (US)

Steve "Zetro" Souza is killing with his vocals again! Third time lucky - saying seems truth. EXODUS live performance is looking better than ever, the synergy on the stage is great and Steve is giving 200% during the whole show. Fans can feel that and the energy is bouncing back. Tonight's setlist is a walkthrough different albums and times: 'Blood In, Blood Out' (2014), 'Exhibit B: The Human Condition' (2010), 'Let There Be Blood' (2008), 'Tempo of the Damned' (2004), 'Fabulous Disaster' (1989), 'Pleasures of the Flesh' (1987) and 'Bonded by Blood' (1985). Good news for fans: the EXODUS European tour in October and November is bringing more than 30 shows, so check the band page for more info and shows near you. //
http://exodusattack.com
/
https://www.facebook.com/exodusattack
// Setlist: 01. The Ballad of Leonard and Charles / 02. Blood In, Blood Out / 03. And Then There Were None / 04. Deranged / 05. Body Harvest / 06. A Lesson in Violence / 07. Blacklist / 08. War Is My Shepherd / 09. Bonded by Blood / 10. The Toxic Waltz / 11. Strike of the Beast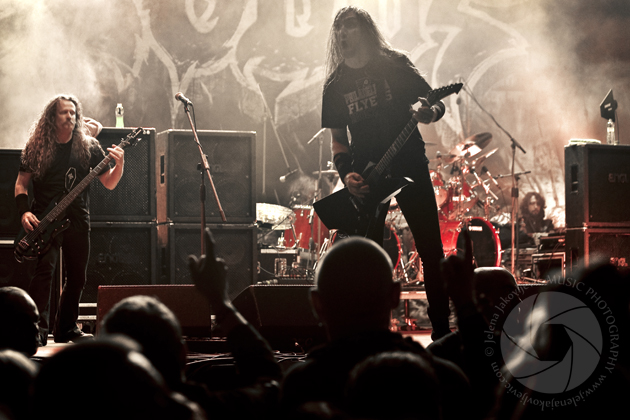 Gojira (FR)

When heavy metal and environmental themed lyrics meet, than it is the time for GOJIRA! Driving force of GOJIRA visions, brothers Joe and Mario Duplantier, with their picky taste chose only the best of the best for the new freshly baked album 'Magma' (2016). 17,000 copies were sold in the first week of release just in the US, and the album climbed to no. 24 on the Billboard 200. From the new album, tonight we are listening to 'Silvera' and 'Stranded Only Pain'. 'Magma' was recorded in their own studio, personal bubble in space and time, built by themselves at the other side of the globe, in New York City. The beautiful video for the 'Silvera' song is more colourful than previous ones, with recognizable GOJIRA art style - definitely check it! Luckily it is already dark, so we can fully enjoy the light effects of the stage, important detail to bring GOJIRA concerts to perfection. Simple and into the core is the direction GOJIRA maturity is heading..."When you change yourself, you change the world". //
http://www.gojira-music.com
/
https://www.facebook.com/GojiraMusic
// Setlist: 01. Toxic Garbage Island / 02. L'Enfant Sauvage / 03. The Heaviest Matter of the Universe / 04. Silvera / 05. Stranded / 06. Flying Whales / 07. Wisdom Comes / 08. Drum Solo / 09. Backbone / 10. Terra Inc. / 11. Only Pain / 12. Oroborus / Encore: 13. Vacuity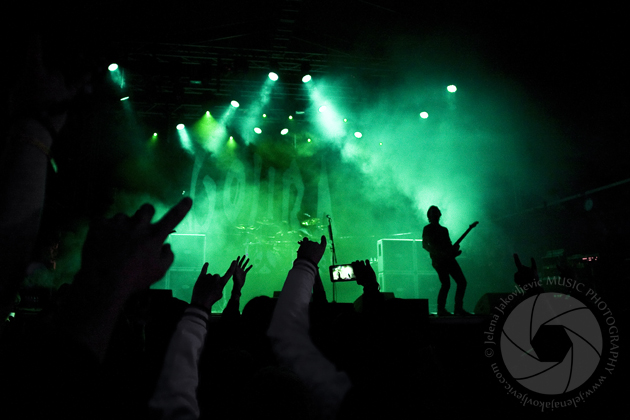 Parkway Drive (AU)

Australian Hardcore metal is burning the stage, PARKWAY DRIVE with awesome fire/ light spectacle! I am so overwhelmed with visuals while catching some great shots that I didn't realise the biggest mosh pit of the day which quickly formed, and I am standing exactly in the middle... Most of the songs are from the latest album 'IRE' (2014), and most of the songs already have music videos, being well recognized by fans and making an explosion of emotions. Cheerful people are "flying" over my head towards the stage in continuous streams. The culmination of the concert and a brand new track, 'Devil's Calling', added in July 2016 to the Deluxe version of the album 'IRE'. It was a right choice for the killer peak! From unclean towards clean singing I am wondering if this is a new direction or just a one album phase? After the whole summer full of festivals and touring Europe, busy schedule is continuing with PARKWAY DRIVE: Unbreakable North American Tour in September, check it out:
https://www.facebook.com/parkwaydrive/app/123966167614127
/
http://www.parkwaydriverock.com
/
https://www.facebook.com/parkwaydrive
// Setlist: 01. Destroyer / 02. Dying to Believe / 03. Carrion / 04. Vice Grip / 05. Idols and Anchors / 06. Dedicated / 07. Devil's Calling / 08. Karma / 09. Writings on the Wall / 10. Wild Eyes / 11. Bottom Feeder / Encore: 12. Crushed / 13. Home Is for the Heartless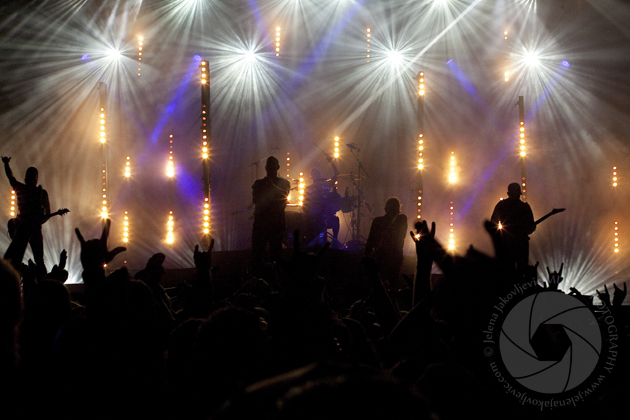 Perturbator (FR)

James Kent known as PERTURBATOR is bringing wow to metal heads with composing electronic music the same way as a metal track. I am catching only the beginning of the act because of the next concert at the Metalgate stage, but it is enough to make a deep impression and rise curiosity for the new 'The Uncanny Valley' (2016) album. It is great to see diversity of styles inside the metal genre, and thanks to PERTURBATOR, metal heads and electronic music fans are united with this album. Story-wise, 'The Uncanny Valley' (2016) is following 'Dangerous Days' (2014), and it is combined into today's setlist in a similar way. PERTURBATOR will be touring Europe in October and November, try to catch a gig... Till than listen the 'The Uncanny Valley' full album - official version on a YouTube:
https://www.youtube.com/watch?v=BP1C-W8A69s
//
https://perturbator.bandcamp.com
/
https://www.facebook.com/Perturbator
// Setlist: 01. Future Club / 02. Neo Tokyo / 03. Disco Inferno / 04. She Is Young, She Is Beautiful, She Is Next / 05. Technoir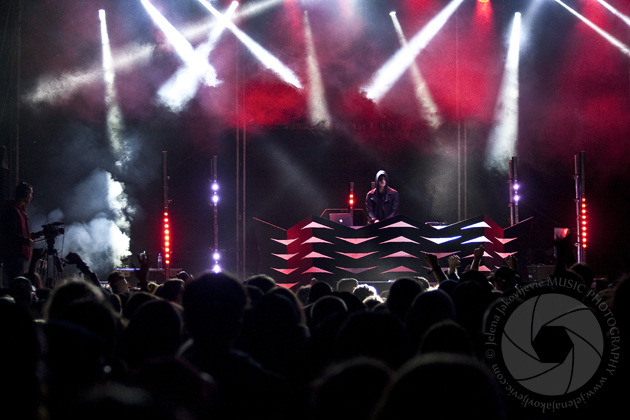 Leprous (NO)

The most original act in the metal scene, LEPROUS, was recognized from the beginning by moving boundaries of progressive metal. With the latest album, 'The Congregation' (2015), LEPROUS made a huge step into diversity and musical maturity, polishing it until it became a pure perfection, a dark masterpiece which is overtaking all senses immediately after the first listening. Catalyser for broadening the audience and rising public attention, back in early days, was the opportunity to perform as the IHSAHN live band. It might happen in the future that we will see positions switch, because LEPROUS deserves the biggest stages all around the world. That's why it is kind of "funny" organiser's choice, and a huge pity that tonight they are playing at the Metalgate stage. It is a small stage with often sound difficulties and smoke/ light problems that other bands experienced. Anyway, fingers crossed and hoping for the best... And it is starting 'The Flood'!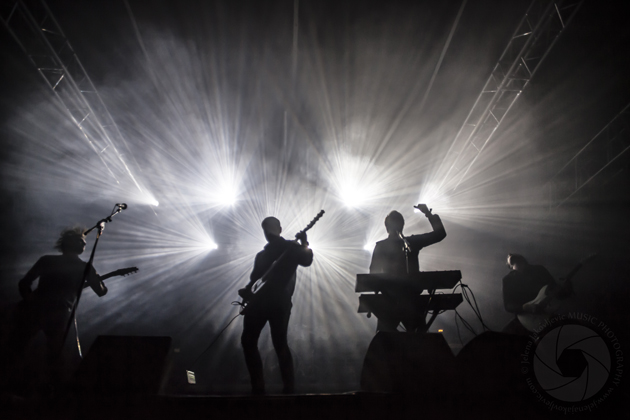 Such a pleasure to see music genius Einar Solberg performing the live technically high demanding setlist with mostly 'The Congregation' songs. Another wonder is hiding tonight in a half dark smoky background behind the drums, Baard Kolstad (earlier today we made an interview). With great musicians and powerful songs we are all floating in the timeless bubble, singing along and not realising it is already the end when 'Rewind' came. Next to follow is LEPROUS North American Tour in September and October (with EARTHSIDE, BINARY CODE and DISSONA), immediately after which is coming European tour in the beginning of 2017. If you can't see them performing live, check the music videos at LEPROUS YouTube channel and you will get addicted as well :)
https://www.youtube.com/user/leprouschannel
//
https://www.leprous.net
/
https://www.facebook.com/leprousband
// Setlist: 01. The Flood / 02. Foe / 03. Third Law / 04. The Valley / 05. The Price / 06. Slave / 07. Rewind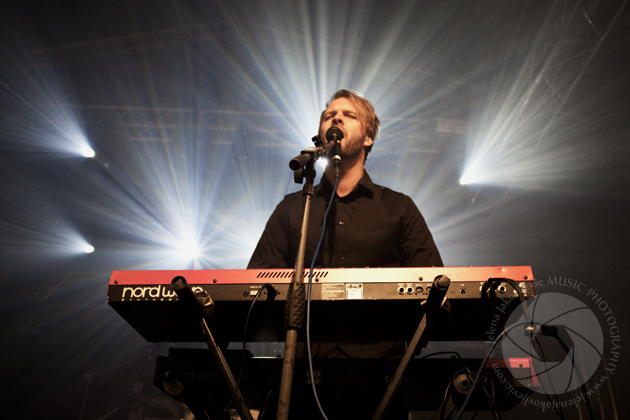 Embrional (PL)

Poland has a very active metal scene, so I am curious and even though very tired, I decided to stay till the end to catch the EMBRIONAL death metal concert. It is my first time watching them live. All songs are from the latest album, 'The Devil Inside' (2015), only encore song comes from 'Absolutely Anti-Human Behaviors' (2012). EMBRIONAL sounds brutal and evil, while Polish and Czech fans are giving them full support and making the high end of the Brutal Assault second festival day. //
https://www.facebook.com/Embrional
// Setlist: 01. The Devil Inside (intro) / 02. Evil's Mucus / 03. Funeral March / 04. The Abyss / 05. Sadness (instrumental) / 06. In Darkness / 07. Behind the Mask of Sanity / 08. Madman's Curse / 09. Whores, Drugs and Brain Dead // Encore: 10. Possessed by Evil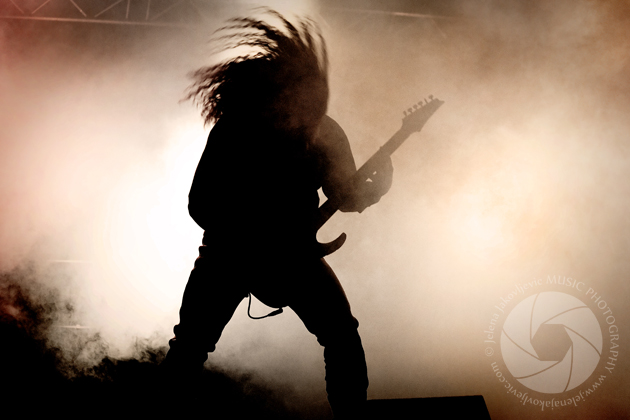 All photos by Jelena Jakovljevic, full galleries check at:
https://www.facebook.com/JelenaJakovljevicPhotography
/
http://www.jelenajakovljevic.com
See also (all categories):