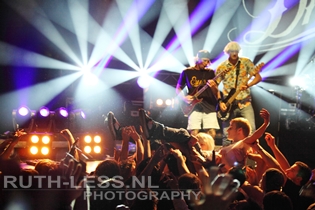 013, Tilburg, The Netherlands
13th November 2012
Parkway Drive, Emmure, The Word Alive, Structures

I don't think these guys still need an introduction here in The Netherlands. For the past couple of years, PARKWAY DRIVE has visited our little country several times and each and every time they blew the audience away with their brutal energetic show. Earlier this year, the audience got a first peek into their new album during their show at the Melkweg in Amsterdam. Their fourth studio album 'Atlas' has just been released and this evening at 013 is one of the first opportunities to see PARKWAY DRIVE play their new work.



The Word Alive

Over the past couple of years, THE WORD ALIVE has gained a global reputation for pushing the boundaries within their genre. But with new sophomore full-length 'Life Cycles', the Arizona quintet is set to join an elite club of heavy music luminaries ushering in the next evolution of melodic metal. The follow-up to acclaimed album 'Deceiver', the group enlisted metal producer Joey Sturgis (THE DEVIL WEARS PRADA, ASKING ALEXANDRIA, OF MICE AND MEN), reaching a new level of musical complexity and composition. Continuing their worldwide attack, the band kicked off the campaign for 'Life Cycles' with a U .S. tour with ATTACK ATTACK!, before they tear across Europe, and into a full summer on The All Stars Tour.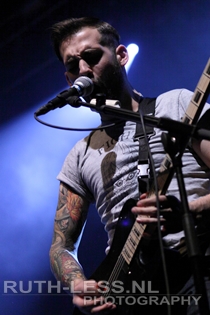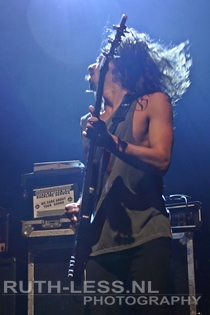 With a new album packed as solid as their tour schedule, THE WORD ALIVE are ready to storm into a bright future. THE WORD ALIVE is Tyler Smith (Vocals), Tony Pizzuti (Guitar/Vocals), Zack Hansen (Guitar/Vocals), Daniel Shapiro (Bass) and Luke Holland (Drums). http://wearethewordalive.com/ / www.facebook.com/thewordalive

Music & Performance
The evening takes off with upcoming talent THE WORD ALIVE and STRUCTURES. Unfortunately, I missed STRUCTURES because I got stuck in traffic. The sound of THE WORD ALIVE can be characterized as metalcore with influences from melodic metal and electronics. This is the kick off of their European tour and Tyler, Tony, Zack, Daniel and Luke are determined to tear the place apart.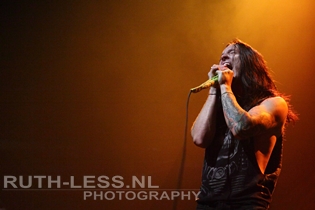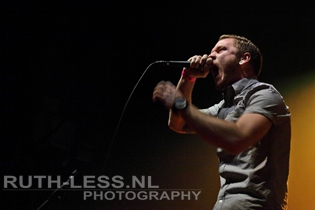 Their live sound is loud, dynamic and brutal and the audience takes a step closer to check it out. Tyler's screams and grunts are absolutely convincing, although I am not too fond of his clean vocals. After about three songs, singer Dave Stephens (WE CAME AS ROMANS) joins the band on stage for some more vocal enforcement. All in all, a proper warm up for tonight's upcoming headliners and I will definitely keep an eye on these guys whenever they come to the Netherlands again. As THE WORD ALIVE is finishing their show, I'm starting to smell a typical Dutch herbal scent around me and it seems that the audience is ready for some party.

Rating
Music: 8
Performance: 8
Sound: 7
Light: 5
Total: 7 / 10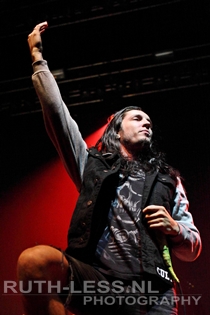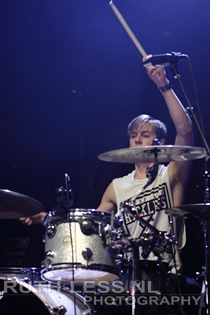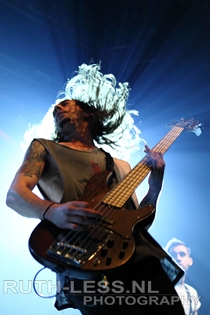 Emmure

EMMURE is an American deathcore band formed in 2003. Originally based in New Fairfield, Connecticut, but now residing in Queens, New York. With their two demos entitled 'Nine Eleven Zero Four' and Demo 2005 they attracted the attention of This City Is Burning Records through which the band released their debut extended play 'The Complete Guide to Needlework'. Victory Records took notice of the band after this release and signed them. They released their first full-length album 'Goodbye to the Gallows' in 2007. Their second, third and fourth albums 'The Respect Issue' (2008), 'Felony' (2009) and 'Speaker of the Dead' (2011) were all distributed through Victory. After the band's initial four-album contract with Victory expired, they signed again with Victory to distribute their fifth studio album 'Slave to the Game' (2012) as well. EMMURE keep it simple and straight-forward, but this coupled with vocalist Frankie Palmeri's brutal openness and honesty connects to people on a level that few others can. Everyone has demons and dark sides to their lives, but this group shows that everyone deals with these types of issues and that there are productive ways to let it all out.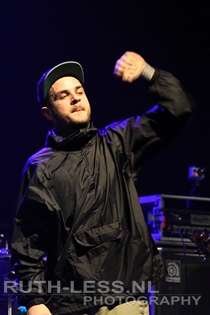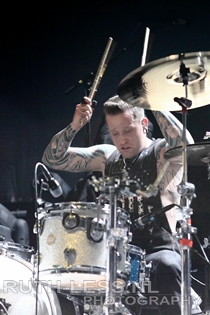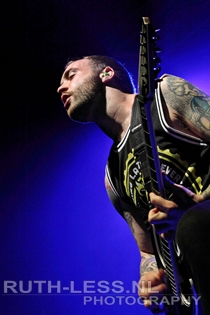 EMMURE keep it simple and straight-forward, but this coupled with vocalist Frankie Palmeri's brutal openness and honesty connects to people on a level that few others can. Everyone has demons and dark sides to their lives, but this group shows that everyone deals with these types of issues and that there are productive ways to let it all out. EMMURE have gained the loyalty of the metal community and legions of rabid fans, but make no mistake if you disrespect them you will be left sleeping with the fishes. EMMURE is Frankie Palmeri (Vocals), Jesse Ketive (Guitar), Mike Mulholland (Guitar), Mark Davis (Bass) and Mark Castillo (Drums). www.facebook.com/emmure

Music & Performance
Main support act for this 013 show is no one less than deathcore formation EMMURE. These guys from the USA have earned their rightful place in the scene over the last couple of years. From 2008, the band has released an album almost every year, their music being characterized by angry and loud energetic riffs and lyrics. EMMURE's fifth studio album 'Slave to the Game' was released in April of this year. EMMURE live can probably be best described as an angry wall of sound bashing into the audience. Angry, fast and loud, vocalist Frankie spits out his lyrics and bounces on the brutal bass and numerous breaks in between.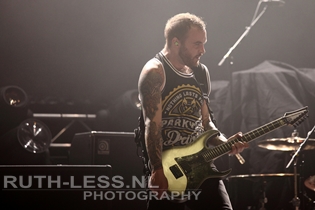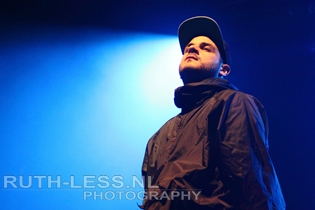 It is a matter of taste, but because of the strong focus on the bass and drums, other layers such as guitars, drown in their sound. EMMURE shows off his capability to enthuse the crowd at the snap of their fingers and soon enough everybody is moving. After a couple of songs, EMMURE seems a bit repetitive and less dynamic than their predecessors of THE WORD ALIVE. That is for the untrained ear and eye I guess, as I notice some die hard fans around me who can easily distinguish between the songs and scream along loudly. EMMURE is simply good at what they do and puts up a show like a sledge hammer.

Setlist
01. Young, Rich and Out of Control
02. Sunday
03. Children of Cybertron
04. Protoman
05. I Thought You met Telly and Turned me into Casper
06. Dogs Get Put Down
07. Crossing
08. Demons
09. Drug Dealer Friend
10. R2Deepthroat
11. Chicago's Finest
12. 10 Signs You Should Leave
13. Solar Flare Homicide
14. When Keeping it Real goes Wrong

Rating
Music: 7
Performance: 8
Sound: 8
Light: 5
Total: 7 / 10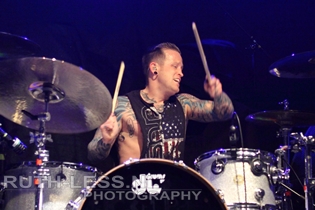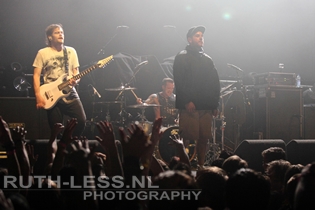 Parkway Drive

PARKWAY DRIVE is an Australian metal core band from Byron Bay, New South Wales, formed in 2002. Their name originates from this place, called the Parkway House on Parkway Dr – the street's name. So far, PARKWAY DRIVE has released four full-length albums, a DVD, an EP and two split albums. Their debut album 'Killing with a Smile' was recorded in 2005 with metal producer Adam Dutkiewicz from KILLSWITCH ENGAGE. In June 2006, the band was signed with Epitaph Records, releasing their debut in the United States during August of that same year. Their second album 'Horizons' was also produced by Dutkiewicz and released in 2007, gathering a similar amount of success in the charts. Followed touring with amongst others KILLSWITCH ENGAGE, EVERY TIME I DIE and DILLINGER ESCAPE PLAN in North America and Europe, PARKWAY DRIVE settled their live reputation.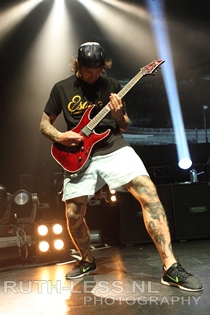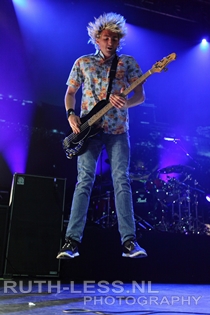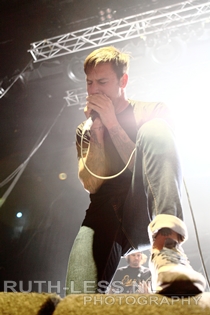 At the start of 2010, the quintet returned to the studio to record their third album, 'Deep Blue'. The album was tracked and mixed in Los Angeles, by Joe Barresi (QUEENS OF THE STONE AGE, BAD RELIGION, TOOL), and mastered by legendary mastering engineer Brian Gardner. Their refocused sound was described as "Crisp, unprocessed and impossibly heavy". Ever since, the band has been touring off and on, ensuring their spot at the top of the metal core scene. PARKWAY DRIVE has travelled the world for the last two years and released a DVD called 'Home is for the Heartless'. Soon after, they released their fourth studio album 'Atlas' and now they're back on tour. PARKWAY DRIVE is Winston McCall (vocals), Luke Kilpatrick (guitars), Jeff Ling (Guitars), Ben Gordon (drums) and Jia O'Connor (bass). www.parkwaydriverock.com / www.myspace.com/parkwaydrive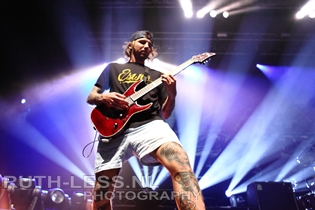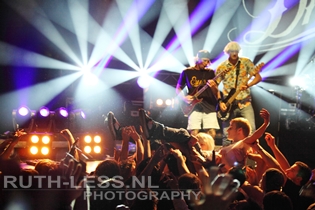 Music & Performance
With a huge backdrop screen, numerous lights and a riser for drummer Ben, it becomes clear that PARKWAY DRIVE has taken it up a notch again. With a rising sun and a recognizable guitar intro on the back, PWD sets off with 'Sparks' from their new album. After another new track, they take it back to their successful album 'Deep Blue' with 'Sleepwalker' and 'Karma'. Their entire setlist is a mix of old and new songs, which is smart thing to do, as their album 'Atlas has only been on sale for a short period of time. When front man Winston tells the audience the band has not been touring for 5 months, he makes it sound like this has felt to the band like ages. It is perfectly clear that PWD is ready for it again, loaded with fresh energy. Tireless, Winston, Luke, Jeff and Jia run and jump around on stage. They get everybody moving, running, jumping, moshing with them and temperature at 013 is going up.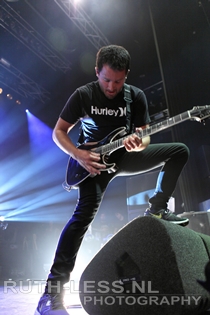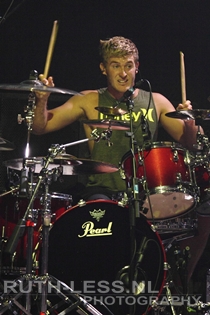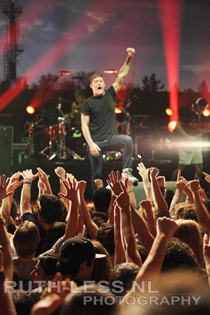 On the screen behind drummer Ben, we see sunrises, industrial and urban visuals, enhancing their energetic show. PARKWAY DRIVE definitely meets expectations, and it can be concluded that their new work blends in perfectly with their previous successes. The show is concluded, as usual, with their signature song 'carrion' and the crowd goes bezerk. Great show!

Setlist
01. Sparks
02. Old Ghosts
03. Sleepwalker
04. Karma
05. Wild Eyes
06. Boneyards
07. Romance is Dead
08. Deliver Me
09. Dark Days
10. Dead Man's Chest
11. Swing
12. Gimme AD
13. Idols and Anchors
14. Blue and the Grey
---
15. Home is for the Heartless
16. Carrion

Rating
Music: 9
Performance: 9
Sound: 8
Light: 8
Total: 8.5 / 10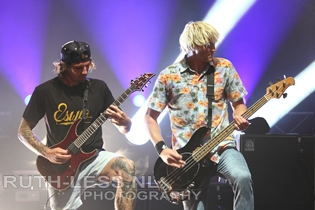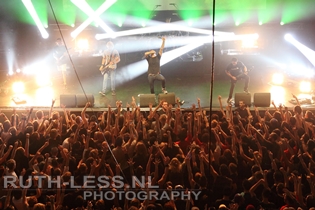 All pics by Ruth Mampuys (www.ruth-less.nl)



See also (all categories):