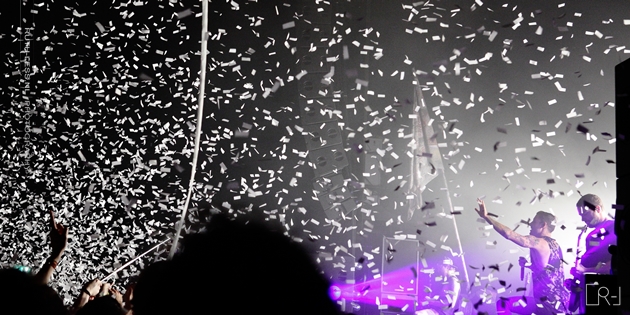 013, Tilburg, The Netherlands
11th December 2014
Parkway Drive, Heaven Shall Burn, Northlane & Carnifex

Fans of brutal music can look forward to aloud and impressive package of Metalcore bands tonight at venue 013. Metalcore masters from down under, PARKWAY DRIVE, made their way to our little country again and they brought some colleagues as well. PWD gets support from our neighbours with HEAVEN SHALL BURN, one of the heavier export products of Germany. Another heavyweight that's been added to the list are US Deathcore machine CARNIFEX who will probably blow the Jupiler stage to bits. And last but not least NORTHLANE, also from Australia.
Carnifex

CARNIFEX is an American Deathcore band from San Diego, California, formed in 2005. The name of the band is derived from the Old English Latin word äúexecutioner - literally meaning "executioner". The band cites DYING FETUS, DARK FUNERAL, THE BLACK DAHLIA MURDER, CANNIBAL CORPSE, DISSECTION, IN FLAMES and CARCASS as their main influences. They are currently signed to Nuclear Blast and have released five full-length albums and one EP. In 2014, they released their fifth album 'Die Without Hope'. CARNIFEX are Scott Lewis (Vocals), Shawn Cameron (Drums), Jordan Lockrey (Guitar), Cory Arford (Guitar) and Fred Calderon (Bass).
www.facebook.com/CarnifexMetal
Music & Performance
And again, I missed out on the first band of this evening – @feeling angry. I wonder why these concerts start so early on a weekday, especially in this traffic high-season… More importantly, I would have loved to see CARNIFEX. Last year, I did at Tivoli and they were brutal (photo from Tivoli 2013 added). Talking to some of the audience, they lived up to that reputation this evening. Maybe next time!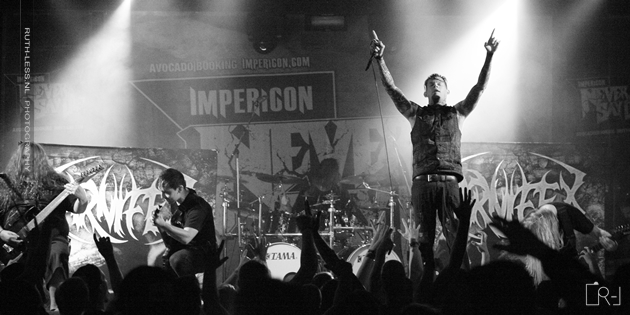 Northlane

NORTHLANE is an Australian Metalcore band from Blacktown, Australia, formed in 2009. As of 2013, NORTHLANE has released two full-length albums, 'Discoveries' and 'Singularity', and an EP, 'Hollow Existence'. After playing some big festivals and touring with bands such as BRING ME THE HORIZON and PARKWAY DRIVE, the band announced that singer Adrian Fitipaldes would leave the band. A replacement was found in Marcus Bridge. With no time to waste, they recorded a video for the song 'Rot' which was released only a few weeks ago. NORTHLANE are Marcus Bridge (Vocals), Jon Deiley (Guitar), Josh Smith (Guitar), Alex Milovic (Bass) and Nic Pettersen (Drums).
www.facebook.com/northlane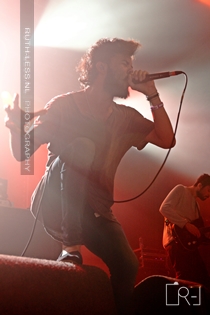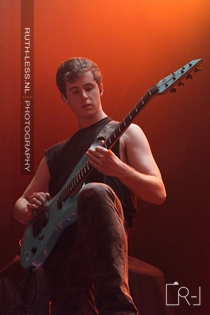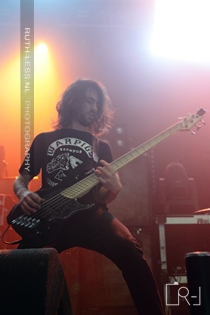 Music & Performance

When I saw NORTHLANE in 2013, I concluded that they had potential, but the bad live sound hampered their performance. Unfortunately, this wasn't any better tonight at 013. It doesn't take away anything from their enthusiasm though, and a bunch of fans in the front obviously had a great time. On stage lighting was basically non-existent and especially the first few songs suffered from the bad balance between vocals and instruments. Their complex multi-layered music can in my opinion only be appreciated with a well-balanced sound, but it was messy. Added to that, drums were sloppy or at least unbalanced from time to time and vocals quite far off here and there. Their recordings are nice, but with regard to their live performance I was simply disappointed.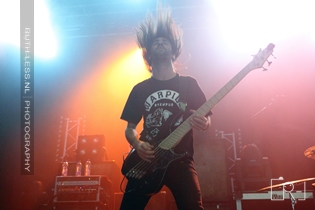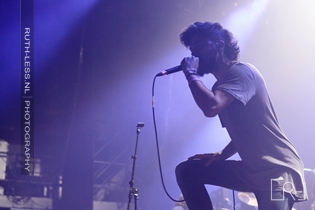 Setlist (incomplete)

Worldeater
Quantum
Masquerade
Genesis/scarab
Aspire
Rot
Rating

Music: 6
Performance: 6
Sound: 6
Light: 3
Total: 5 / 10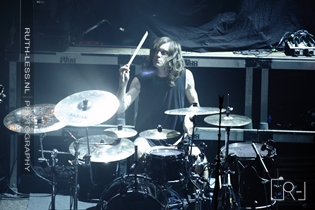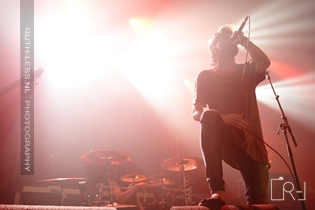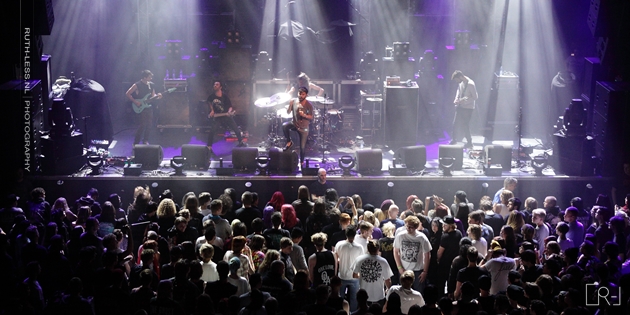 Heaven Shall Burn

HEAVEN SHALL BURN is a German melodic Death Metal / Metalcore band. The band formed in 1996, originally under the name CONSENSE. With the recording of its second demo early 1997, the band changed its name to HEAVEN SHALL BURN. The name is taken from a MARDUK album titled 'Heaven Shall Burn... When We Are Gathered'. They combine an aggressive metal sound with lyrics that show a militant support of anti-racism and fighting social injustice. Thus far, the band released seven studio albums. Their latest album titled 'Veto' was released in April 2014. HEAVEN SHALL BURN is Maik Weichert (Guitar), Alexander Dietz (Guitar), Marcus Bischoff (Vocals), Eric Bischoff (bass) and Christian Bass (Drums).
www.heavenshallburn.com
/
www.facebook.com/officialheavenshallburn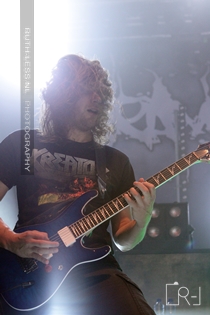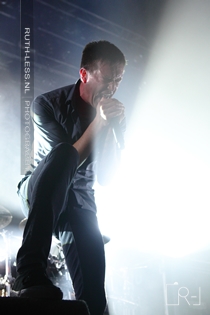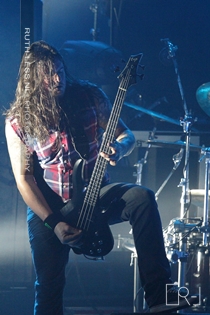 Music & Performance

Heaven shall burn kicks off with 'Counterweight' from their 2006 album 'Deaf to our prayers'. These men clearly don't need a warming up. Marcus, Maik, Alexander, Eric and Matthias show a tremendous amount of energy on stage and the audience finally gets a little move on this evening. HEAVEN SHALL BURN goes back and forth between older work and their latest work 'Veto' from 2013 with amongst others 'Antigone', Hunters will be hunted' and 'Combat'. In between the songs, singer Marcus tells the audience whether to jump, mosh or create a wall of death, though he also remarks that the band doesn't appreciate violent dancing. HEAVEN SHALL BURN gets as HEAVEN SHALL BURN wants, and song after song are thrown at the audience. Their all-time favourite EDGE OF SANITY cover 'Black Tears' is sung along enthusiastically.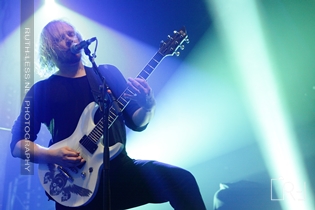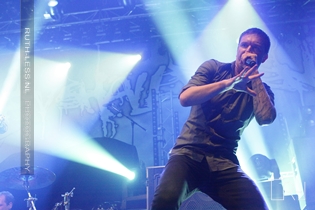 They end their set with 'Like God Among Mortals' from the latest album. I said it before and I'll say it again: great live band with an awesome amount of energy!
Setlist

01. Counterweight
02. Land of the Upright Ones
03. Voice of the Voiceless
04. Hunters Will Be Hunted
05. Combat
06. Black Tears (Edge of Sanity cover)
07. The Worlds in Me
08. Behind a wall of Silence
09. The Disease
10. Awoken
11. Endzeit
12. Like Gods Among Mortals
Rating

Music: 9
Performance: 9
Sound: 9
Light: 6
Total: 8 / 10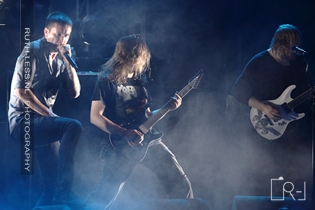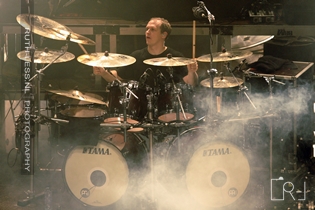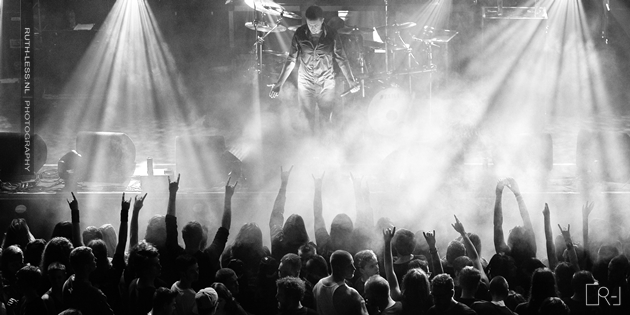 Parkway Drive

PARKWAY DRIVE is an Australian metal core band from Byron Bay, New South Wales, formed in 2002. Their name originates from this place, called the Parkway House on Parkway Dr – the street's name. So far, PARKWAY DRIVE has released four full-length albums, a DVD, an EP and two split albums. Their debut album 'Killing with a Smile' was recorded in 2005 with metal producer Adam Dutkiewicz from KILLSWITCH ENGAGE. At the start of 2010, the quintet recorded their third album, 'Deep Blue'. The album was tracked and mixed in Los Angeles, by Joe Barresi (QUEENS OF THE STONE AGE, BAD RELIGION, TOOL), and mastered by legendary mastering engineer Brian Gardner.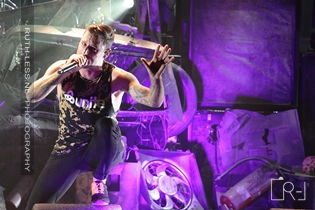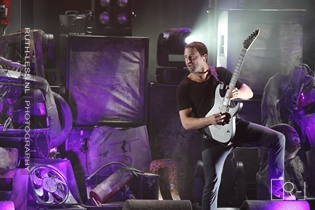 Their refocused sound was described as "Crisp, unprocessed and impossibly heavy". Ever since, the band has been touring off and on, ensuring their spot at the top of the metal core scene. PARKWAY DRIVE has travelled the world for the last two years and released a DVD called 'Home is for the Heartless'. In 2012, they released their fourth studio album 'Atlas'. PARKWAY DRIVE is Winston McCall (vocals), Luke Kilpatrick (guitars), Jeff Ling (Guitars), Ben Gordon (drums) and Jia O'Connor (bass).
www.parkwaydriverock.com
/
www.myspace.com/parkwaydrive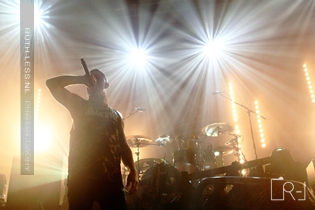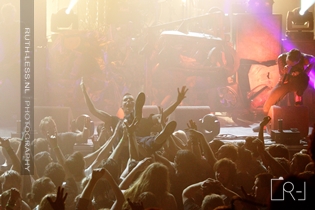 Music & Performance

It's been two years since the release of their album 'Atlas' and I was curious whether PARKWAY DRIVE would give us a little taste of any new work coming up. What is definitely new, is the huge apocalyptic stage setting and special effects machinery that was set up for this show. After a blast of confetti, PARKWAY DRIVE takes off with 'Wild Eyes' and the older 'Sleepwalker'. The guys are dressed in long trousers and I even spot a sweater: what happened to those surf shorts? Anyhow, right from the start, there's no doubt that IT IS ON! Over the years I have never seen a bad show from these guys, always full of energy. Drums are spot on, guitar riffs raging and McCalls vocals are one of the best in the scene. Especially characteristic for that PWD sound are the dynamic changes and breakdowns.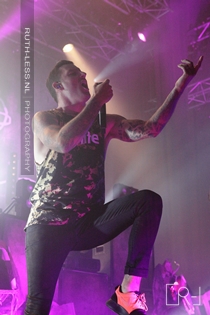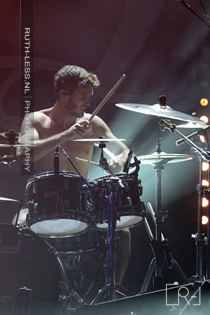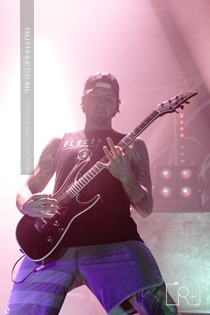 This evening's set list is comprised of songs from their entire repertoire and fortunately, the oldies such as 'Mutiny' and 'Romance is dead' are not forgotten. The audience is moving, running, jumping moshing and surfing and the atmosphere is great. Temperature had gone up already, and the occasional pyro's from the stage add some more heating as well. After 'Swing' and a short break, we only get two more songs in this relatively short set. Unfortunately, they don't give anything away about upcoming work. The show is concluded, as usual, with signature song 'carrion' and the audience shows they know those lines very well. As always, the guys of PWD played a kickass set that was fast, loud and brutal, but the confetti canon made my metal heart weep softly…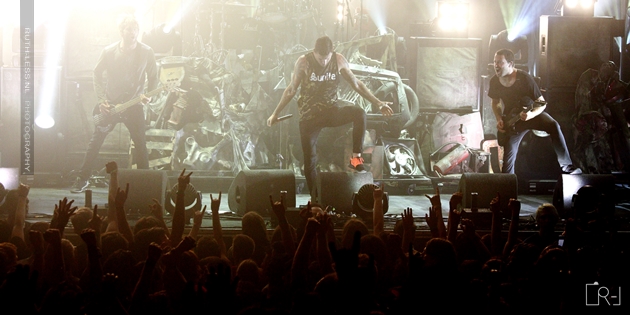 Setlist

01. Wild Eyes
02. Sleepwalker
03. Karma
04. Dream Run
05. Idols and Anchors
06. Mutiny
07. Dark Days
08. Deliver Me
09. Romance Is Dead
10. Home Is for the Heartless
11. Swing
---
12. Horizons
13. Carrion
Rating

Music: 9
Performance: 9
Sound: 9
Light: 6
Total: 8 / 10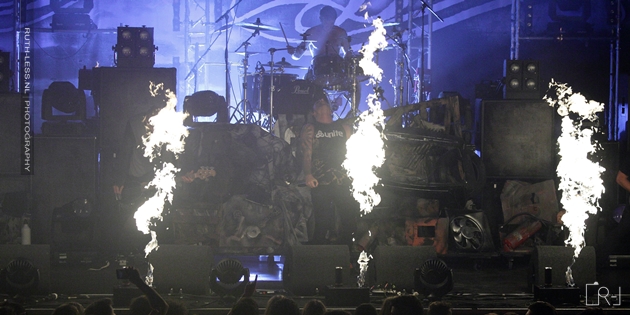 All pictures by Ruth Mampuys (
www.ruth-less.nl
)
See also (all categories):