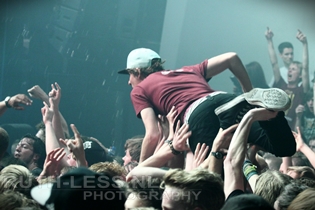 Melkweg, Amsterdam, The Netherlands
6th April 2012
Parkway Drive, The Ghost Inside, Miss May I, Confession

The Australian metal core formation PARKWAY DRIVE is back in Holland again and ready to kick off their European tour with a gig at the Melkweg in Amsterdam. And it gets even better, as tonight's line up will not only bring you PARKWAY DRIVE. The evening will has a well-filled program of loud and brutal metal core with bands THE GHOST INSIDE, MISS MAY I and CONFESSION. Such an evening full of metal core for such a price is simply a bargain!



Confession

CONFESSION is an Australian hardcore/ metal core band from Melbourne. The band was founded by front man Michael Crafter (former vocalist I KILLED THE PROM QUEEN, CARPATHIAN and BURY YOUR DEAD). In October 2008, the band released their first EP on Resist Records entitled 'Can't Live, Can't Breathe'. In 2009, the band released their first full-length album, 'Cancer', followed by their first tour as a headliner in October–November 2009, with local Australian metal core and hardcore bands supporting them. In the next year, CONFESSION toured in and outside of Australia and were subject to several changes in their line-up. In April 2011, they flew to Gothenburg, Sweden, to start recording their second studio album, with producer Fredrik Nordström. Following the wrapping of the recording, CONFESSION went on a European tour supporting Swedish hardcore punk band RAISED FIST, along with melodic hardcore band HUNDRETH. The first single from their latest album 'The Long Way Home', entitled 'Asthma Attack' was released in august, followed by the release of the full album in October of last year. CONFESSION is Michael Crafter (vocals), Dan Brown (guitar), Tim Anderson (bass), Adam Harris (guitar) and Shane O'Brien (drums). http://confession.bigcartel.com/ / www.myspace.com/confessionhc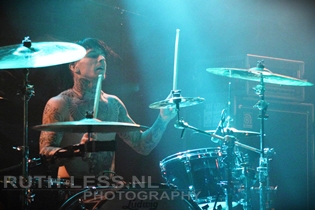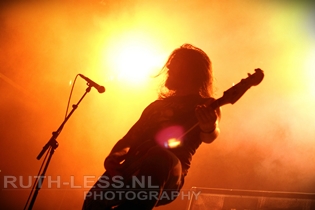 Music & Performance
Due to a last-minute change in the evening's program, I was still waiting for my press pass when CONFESSION started their show about 30 minutes early on schedule. Consequently, the band was playing for a pretty much empty venue. This didn't seem to bother the men of CONFESSION though, taking off with a blast of energy. I only got to see about three songs of their set, but unfortunately this couldn't really lift my mood. A combination of factors (sound was off, parts where pretty sloppy, and the clean vocals of Dan Brown almost made me cry) made their overall performance quite messy. The audience seemed quite entertained by their warming up though and the first mosh pits got going.

Rating
Music: 5
Performance: 7
Sound: 5
Light: 3
Total: 5 / 10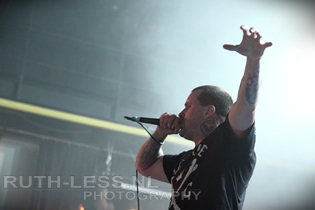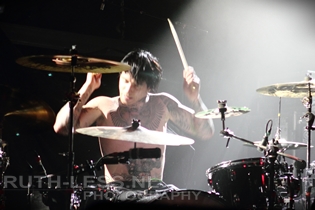 Miss May I

MISS MAY I is an American metal band from Troy, Ohio. After signing with record label Rise Records, the band released their debut album 'Apologies Are For the Weak' in 2009 (selling well over 25,000 records in 1 year). Only a year after breaking out into the scene, Miss May I returned with their second album 'Monument' (2010). According to their bio on this album "Miss May I present an even more eclectic side to the organized chaos they have earned a reputation for, borrowing from a wider range of genres, the new album touches upon parts of thrash merged with melody and metal core goodness". The band supported for several well known bands from the scene such as THE DEVIL WEARS PRADA on their full US tour doing sold out days in most major markets. The band will release their third album 'At Heart' in June of this year. MISS MAY I is Levi Benton (vocals), Justin Aufdemkampe (guitar), BJ Stead (guitar), Ryan Neff (bass/vocals) and Jerod Boyd (drums). www.myspace.com/missmayi / www.facebook.com/MissMayIMusic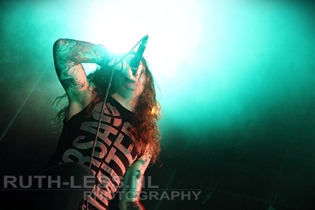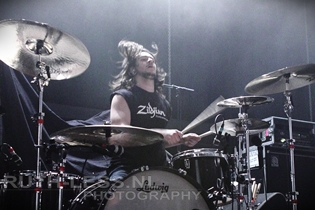 Music & Performance
Up next was MISS MAY I, a trash / metal core band from the states. With the same energy and enthusiasm, MISS MAY I started their set, which mostly consisted of work from their latest album 'Monument'. Musically, the guys get a thumb up, especially drums, for playing spot on. Vocally, there are some remarks to be made. Especially the clean vocals really made me cringe a couple of times. I would describe their style as brutal but quite digestible trash metal core, resulting in some difficulty to distinguish between the different songs. The audience was also treated to a new song from their upcoming album 'At Heart', which will be released in June of this year. Against all odds, I was optimistically wishing for some proper lighting this evening. But this hope was pretty much shattered after another band in the dark.

Rating
Music: 6
Performance: 7
Sound: 5
Light: 4
Total: 5.5 /10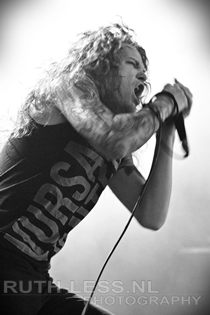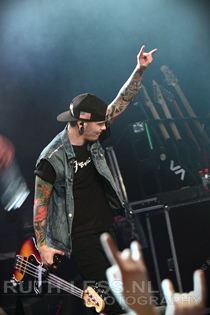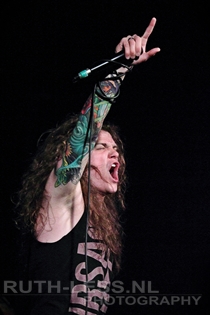 The Ghost Inside

THE GHOST INSIDE (formerly A DYING DREAM) is an American hardcore band from Los Angeles, California, formed in 2006. As A DYING DREAM, the band released one EP 'Now or Never' at Mediaskare Records. Soon after, they changed their name and released their debut album as THE GHOST INSIDE called 'Fury And The Fallen Ones' in 2008. Intensive touring followed, spreading their name and fame in North America. The band toured with bands such as BRING ME THE HORIZON, EMMURE, PARKWAY DRIVE and THE DEVIL WEARS PRADA and became known for their energetic live shows and aggressive yet melodic hardcore sound. Being on the road for over a year took its toll and resulted in several changes in line up. After another year of intensive touring in North America and Australia, THE GHOST INSIDE gathered new material and recorded their second album 'Returners' which was released in 2010. At the start of 2012, it was announced that THE GHOST INSIDE signed with Epitaph records, a new album expected in 2012. THE GHOST INSIDE is Jonathan Vigil (vocals), Aaron Brooks (guitar/vocals), Zach Johnson (guitar), Jim Riley (bass/vocals) and Andrew Tkaczyk (drums). www.theghostinside.com / www.myspace.com/theghostinside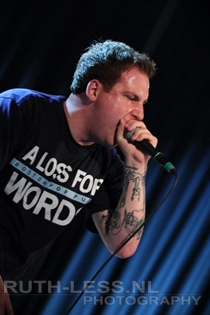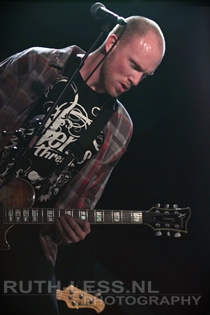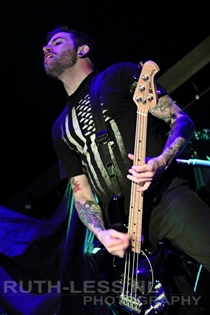 Music & Performance
The sound technician seemed to have finally woken up as THE GHOST INSIDE entered the stage. Sound had significantly improved as they kicked off with 'The Greater Distance' and 'Between the Lines' from their last album 'Returners'. It soon became clear that most of the audience is familiar with their music, as 'Between the Lines' was vocally complemented by the crowd. Although not sold out, The Melkweg was filled up more than properly and the temperature started to rise as people started moving. The space on stage was still limited with two backlines, but the men of THE GHOST INSIDE were making good use of it. THE GHOST INSIDE showed a convincing performance, which was reflected by bigger mosh pits, circle pits and some enthusiastic crowd surfing. Afterwards, I would conclude that THE GHOST INSIDE showed the best performance of tonight's line up. But in my personal opinion, they lack that extra piece of charisma on stage, which is exactly what makes PWD get away with a little slack in their performance (for now).

Setlist (incomplete)
The greater distance
Between the lines
Overlooked
Unspoken
…

Rating
Music: 8
Performance: 7
Sound: 7
Light: 5
Total: 6.8 / 10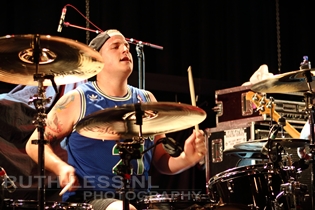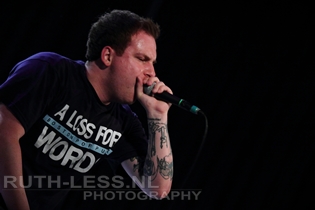 Parkway Drive

PARKWAY DRIVE is an Australian metal core band from Byron Bay, New South Wales, formed in 2002. Their name originates from this place, called the Parkway House on Parkway Dr – the street's name. So far, PARKWAY DRIVE has released three full-length albums, a DVD, an EP and two split albums. Their debut album 'Killing with a Smile' was recorded in 2005 with metal producer Adam Dutkiewicz from KILLSWITCH ENGAGE. In June 2006, the band was signed with Epitaph Records, releasing their debut in the United States during August of that same year. PARKWAY DRIVE was charting the national Top 40 with their debut CD, headlining sold-out tours, gracing the covers of magazines, and playing the Big Day Out and the Australasian leg of Taste Of Chaos '06. Their second album 'Horizons' was also produced by Dutkiewicz and released in 2007, gathering a similar amount of success in the charts.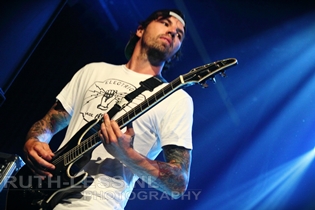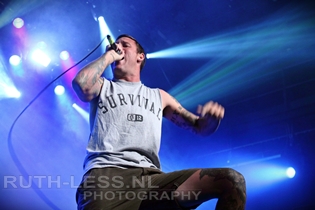 Followed touring with amongst others KILLSWITCH ENGAGE, EVERY TIME I DIE and DILLINGER ESCAPE PLAN in North America and Europe, PARKWAY DRIVE settled their live reputation. At the start of 2010, the quintet returned to the studio to record their third album, 'Deep Blue'. The album was tracked and mixed in Los Angeles, by Joe Barresi (QUEENS OF THE STONE AGE, BAD RELIGION, TOOL), and mastered by legendary mastering engineer Brian Gardner. Their refocused sound was described as "Crisp, unprocessed and impossibly heavy". Ever since, the band has been touring off and on, ensuring their spot at the top of the metal core scene. PARKWAY DRIVE is Winston McCall (vocals), Luke Kilpatrick (guitars), Jeff Ling (Guitars), Ben Gordon (drums) and Jia O'Connor (bass). www.parkwaydriverock.com / www.myspace.com/parkwaydrive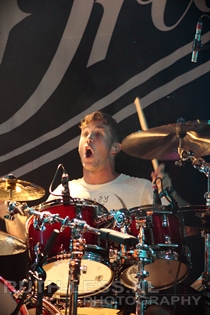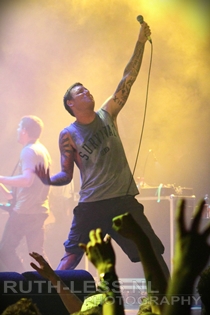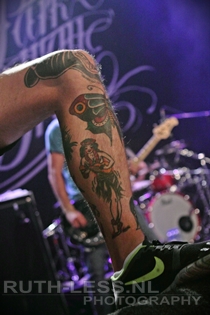 Music & Performance
It took some time after THE GHOST INSIDE for PARKWAY DRIVE to hit the stage, despite the enthusiastic crowd yelling their name. Kicking off with 'Unrest' and 'Bone yards', the MELKWEG instantly transformed into a steamy mass of moshing people, giving the guys a warm welcome. Also, the light technician seemed to have finally found the button for front lighting (yeah!). Front man Winston tells the audience that they've arrived in The Netherlands this morning, and slept through the day. Let's assume their jetlag kicking in probably clarifies the fluctuations in their performance during tonight's set, from tight as a clock to obvious fuck ups in guitar and drums. While PARKWAY DRIVE was probably still digesting their breakfast, the audience had reached the right amount of beer intake and got into some serious moshing. The fact that this PARKWAY DRIVE show has some flaws did not temper the enthusiasm of the audience nor does it seem to bother the band. As Winston, Jeff, Luke and Jia also start to move, Winston suggests bringing out the wheelchair, referring to their latest visit to the Netherlands at FortaRock 2011, where guitarist Luke was in a wheelchair because of a broken leg.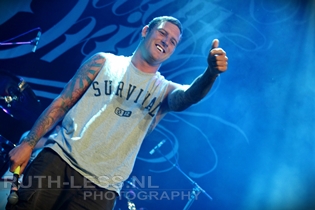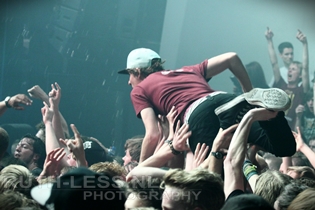 It's a fact that PARKWAY DRIVE has been touring on their latest album 'Deep Blue' for quite some time now. Fortunately, the audience was not left with just the same old same old, as the band played a fresh new song to be recorded on their next album. Continuing with 'Smoke 'm if ya got 'm' 'Breaking Point' and 'Home is for the Heartless', we got to see the PARKWAY DRIVE we're familiar with: loud and incredibly heavy. With a scanty encore of just one (wicked) song, PARKWAY DRIVE already leaves the Melkweg at around 22h. Though not the best show I've ever seen of this band, I do think everybody had a great time. After their European tour, covering 11 countries in not even one month, PARKWAY DRIVE will start working on new material. I think that's about time and I'm looking forward to their new album!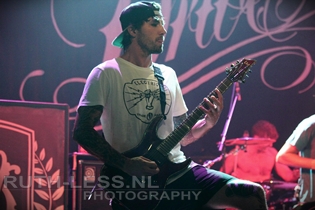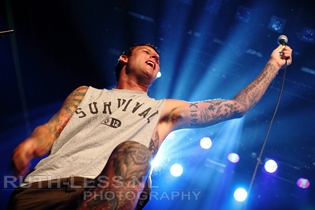 Setlist
01. Unrest
02. Boneyards
03. Idols & Anchors
04. Anasasis (Xenophontis)
05. Sleepwalker
06. Karma
07. [NEW song]
08. Deliver Me
09. Smoke'm if ya got 'm
10. Breaking Point
11. Home is for the Heartless
---
12. Carrion

Rating
Music: 9
Performance: 8
Sound: 8
Light: 8
Total: 8.3 / 10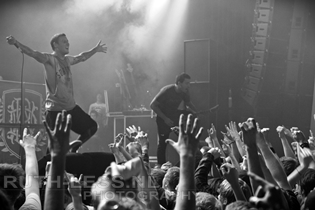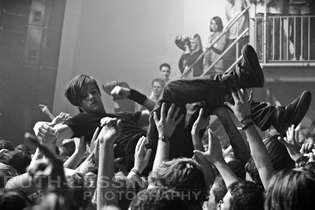 All pics by Ruth Mampuys (www.ruth-less.nl)



See also (all categories):