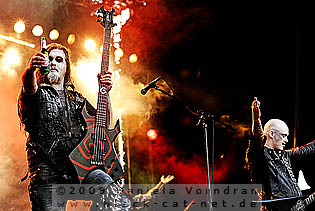 Hawerkamp, Münster, Germany
3rd - 4th July 2009
Vainstream Rockfest Day 2: Dimmu Borgir, Parkway Drive, Heaven Shall Burn, Terror, Dark Tranquility, Maroon, Devildriver, Have Heart, Sonic Syndicate, Despised Icon, August Burns Red, God Forbid, Architects, The Casting Out, Crosscut, The Plague's Aftermath


The second festival day started quite early already at 11 in the morning. No rain or bigger clouds in sight today and very soon we felt like roasted chicken on a grill and those who did not take care also looked very red and burned. Medical care had quite some work with collapsed people. Luckily the security took care for one or another cold shower. But now to the important things, the music…



The Plague's Aftermath (Distortion Stage)

The band's formed in late 2006 with none of the band members ever having played in a band. A period filled with experimentation as well as working on the songwriting skills followed and in 2008, a demo was released. Their first EP is planned to be released in 2009. The band consists of Chris (vocals), Rafael (guitar), Malte (bass), Alex (guitar) and Moritz (drums).
http://www.myspace.com/theplaguesaftermath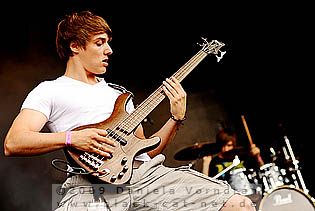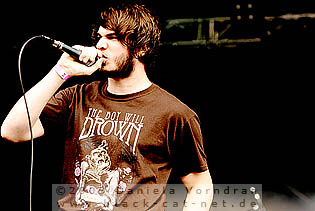 Music & Performance

Wildcard winners THE PLAGUE'S AFTERMATH from Paderborn opened on Saturday. There has to be something about a band getting the most votes on the Vainstream Homepage and there was as they presented technically flawless Death Metal, Deathcore respectively, animating a few kids to dance. So, it was no wonder circle pits were started and the 'Violent Dance' was done. Despite just a little crowd at this early hour, the mood was good and the first step on Saturday was done.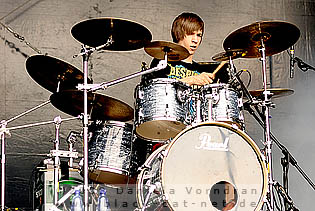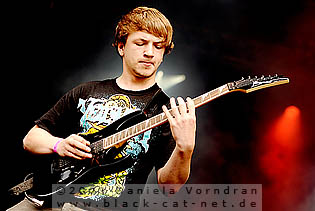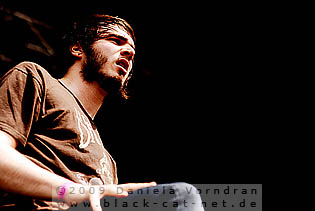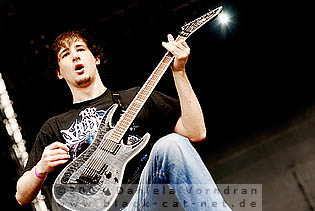 Crosscut (On Fire Stage)

With CROSSCUT follows another band from Germany. They took their first steps in 1992 and five years later came the release of their first demo 'Mindgroove'. With Patrick Sommer complementing the line-up in 1999, they released the EP 'Spit the Fire' the same year. In October 2000, the band signs a label deal with F.A.M.E Recordings soon starting to produce the debut 'God Given Time' hitting stores in July 2001. Some line-up changes and shows later, the band began recording what would eventually become their second full-length 'Nonesizefitsall' (2003) and almost without a break work on the follow-up starts. 'Director's Cut' then is released in 2004. In the following years the band is touring their asses off. CROSSCUT is Frank Holtmann (vocals, guitar), Timo Zilian (vocals), Sami Bouhari (bass), and Holger Czysch (drums).
http://myspace.com/crosscut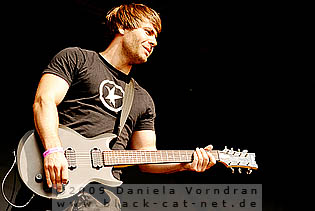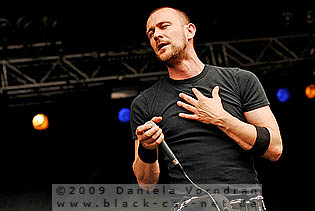 Music & Performance

No.2 on the agenda was the performance of the local Crossover combo CROSSCUT, which wasn't their first one on a Vainstream Festival. The band displayed joy of playing and the audience rewarded them by dancing. They called everyone to form the typical wall of death, talked a bit about the new record and dished out smasher after smasher like the obligatory 'Roll the Dice'. Good music and good mood which still seems lingering on even after 17 years of band history.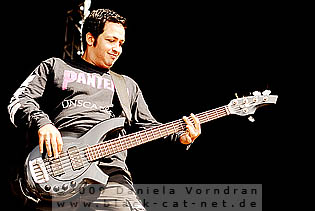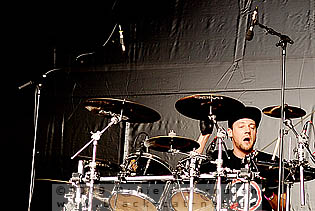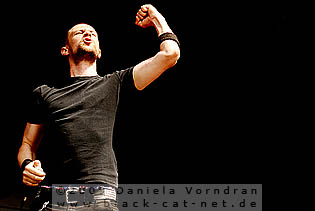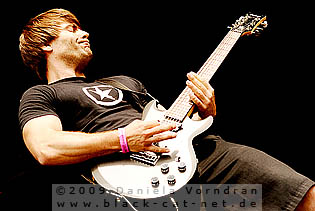 The Casting Out (Distortion Stage)

After the punk rock band BOYSETSFIRE disbanded in 2007, their former singer Nathan Gray quickly finds himself working again with one of his former band colleagues Joshua Latshaw. With him and a few other lads he gives birth to the band THE CASTING OUT who would release their first album 'Go Crazy Throw Fireworks!' in May 2009. At that time Joshua undergoes rehabilitation due to severe injuries caused by a heavy fall. The band is formed by Nathan Gray (vocals), Dr. Lee Dickerson (guitars), Jack Fusco (guitars), Chris "the reverend" Rakus (bass), and Pat(ches) Cook (drums).
http://www.myspace.com/thecastingout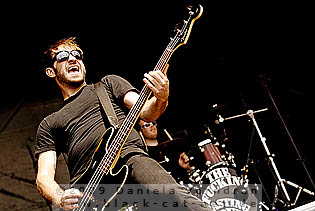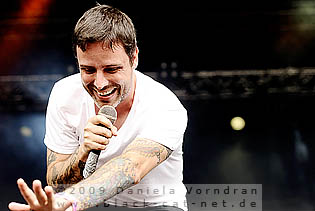 Music & Performance

With BOYSETSFIRE he once made a name for himself. Now the distinct voice is back. We're talking about Nathan Gray, who seemed being in an awesome mood today. He appeared very relaxed during his statements also was in the vein for some joking. So, he talked about them just playing the second show with their kind of music on a Metal festival. When drummer Matt mumbled something about "day time", Nathan told him he didn't get what he wanted and just repeated it a few times until he admitted "I've absolutely no clue what he's talking about but it's day time, I think we all agree on that" when people applauded "Thank you for cheering for day time. It's very important to cheer for day time on a rock festival, you know. This is Rock'n'Roll. Keep that in mind!"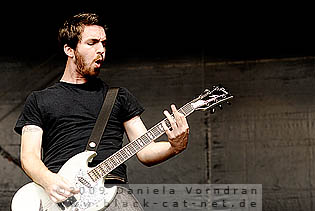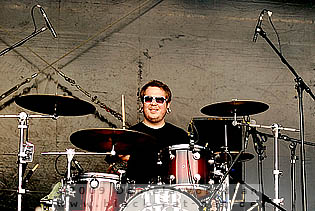 It went on with jokes like "The next song's called 'Lullaby' and it doesn't contain any pig squeals either". A little self-irony for those thinking their music's not hard enough. But the American fife-piece from Newark has no reason to feel cheap for the rock with punk influences. Indeed, you also heard shouts and other evil tones coming out of Nathan's throat in past times but his true talent only unfolds with his raspy singing voice, making songs like 'I Feel Fine' or 'Tell Me' something special. People liked it and expressed that with applause and friendly head nodding. A sympathetic band with a nice, successful performance!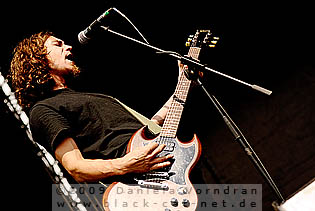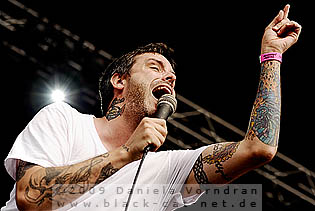 Architects (On Fire Stage)

The band that emerged in Brighton, UK in 2004 went through various name changes before ending up with the name ARCHITECTS. In 2006 the band celebrated their musical debut with the album 'Nightmares' quickly, they followed that up with the second full-length 'Ruins' in 2008 and a split EP with UK band Dead Swans in 2008, following the release with a double headed tour of the UK. Their touring credits also include two appearances at famous Download Festival in 2007 and 2009 and various shows in the US and other parts of Europe, coinciding with a gradual spread of their fan base. January 2009 saw the release of their latest work 'Hollow Crown', their first record for Century Media. ARCHIITECTS are Sam Carter (vocals), Tom Searle (guitar), Dan Searle (drums), Alex "Ali Dino" Dean (bass) and
Tim Hillier-Brook (guitar).
http://www.myspace.com/architectsuk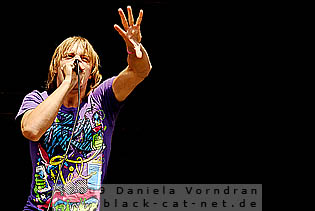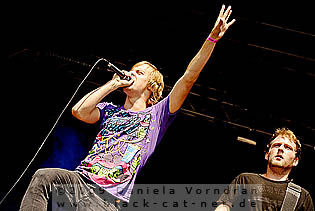 Music & Performance

Sadly, there was much too little mood in the audience when the British five-piece ARCHITECTS entered the stage. Despite the really good set, the spark didn't really spring over as intended so a pit was started more out of politeness than anything else. Really sad, as there's a high potential in the post hardcore band! Personally, I think they were good and see this as a little tragedy, they're not supported as they'd have deserved.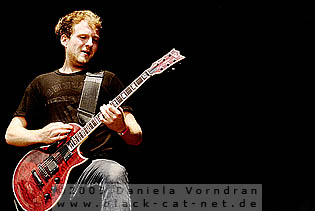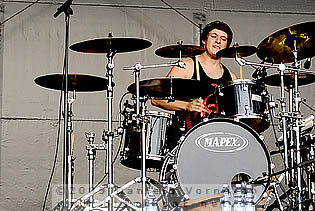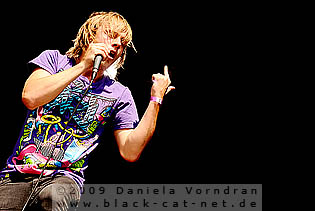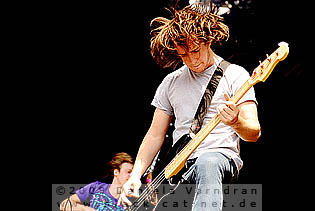 God Forbid (Distortion Stage)

Building up a following in the late 1990s by touring with the likes of GWAR or CRADLE OF FILTH, their first full album 'Reject the Sickness' was released in 1999, gaining the band a record deal with Century Media Records in the following time, where they gave their label debut with 'Determination' in 2001. A tour with SHADOWS FALL and LAMB OF GOD followed and in 2004, the time had come for the third album 'Gone Forever' with which they could cement their good reputation further and were granted a slot on Ozzfest. The following year already brought the next album 'IV: Constitution of Treason', entering the Billboard 200 at #115. Their fifth and most recent studio album is called 'Earthsblood' and was released in this year's February. GOD FORBID is Byron Davis (lead vocals), Matt Wicklund (rhythm guitar), Doc Coyle (lead guitar, backing vocals), John Outcalt (bass) and Corey Pierce (drums).
http://godforbidmusic.ning.com/
/
http://www.myspace.com/godforbid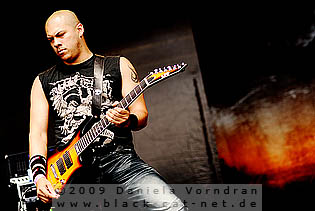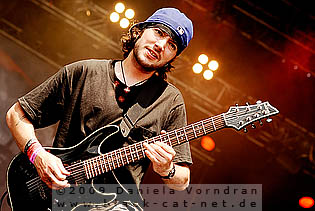 Music & Performance

Last time seen on the Serengeti Festival near Bielefeld, we now celebrated a reunion with the American metal core heavyweights and also this time, they would do a powerful start. Saturday was all in the sign of the harder sounds and GOD FORBID made no exception here. Pits spread and even on stage heavy movements dominated the scenery. When front monster Byron Davis already calls to jump for 'War of Attrition' and joins in himself, then you can tell that something's going down here. As usual, Byron growled into the microphone, occasionally interrupted guitarist Doc Coyle's clean vocals, which were (as usual) not quite a feat for the ears. He's definitely better with his instrument and came up with nice solos and fine riffs to songs like 'Empire of the Gun', 'To the Fallen Hero' and 'Broken Promise'. Good performance, but somehow they just failed to compel.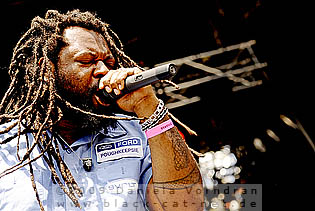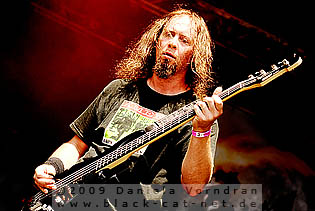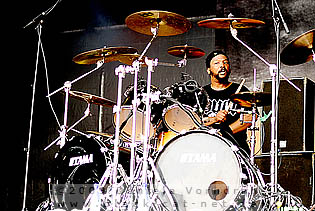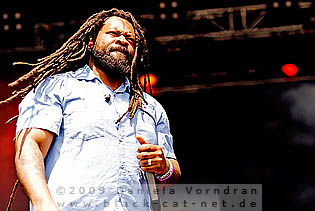 August Burns Red (On Fire Stage)

The band formed in 2003 while some of the members were still in high school. The following year sees the band recording an EP with the title 'Looks Fragile After All'. When in 2005, their debut album 'Thrill Seeker' was out on Solid State Records, the band had already seen their first line-up change with a new man filling the position as vocalist. 'Messengers' the second album followed in June 2007. It peaked at #81 of the Billboard 200 charts. The year 2008 is mostly spent with touring with such bands as AS I LAY DYING or A SKYLIT DRIVE but in 2009 already new material invades their fans homes in the form of their newest record 'Constellations'. AUGUST BURNS RED is Jake Luhrs (lead vocals), JB Brubaker (guitars), Brent Rambler (guitars), Dustin Davidson (bass, vocals) and Matt Greiner (drums).
http://www.augustburnsred.com/
/
http://www.myspace.com/augustburnsred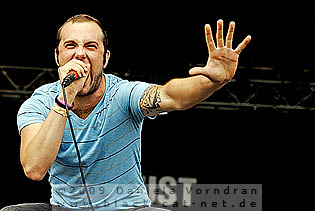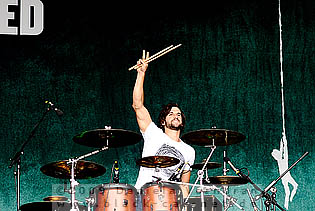 Music & Performance

How happy I was, seeing my breakdown heroes of AUGUST BURNS RED on the belling and so I fought my way right to the front row to get most of the mood. After the untypical intro 'Everybody's Free' from ROZALLA, they directly started the set with 'The Truth of a Liar' followed by every more or less known song like 'Up Against The Ropes', 'The Eleventh Hour', 'Composure' , 'Black Burner' and also songs from the upcoming album 'Constellations' like 'Thirty and Seven' and 'Existence'. The crowd went mental and in my opinion this day already a blast and PARKWAY DRIVE and HEAVEN SHALL BURN were still to come. AUGUST BURNS RED definitely didn't disappoint, rather excited their fans and surely have gained some new ones here.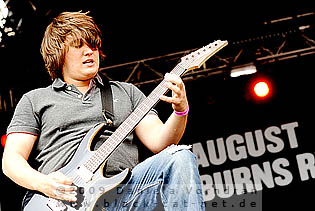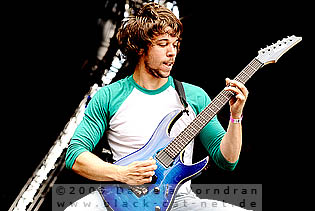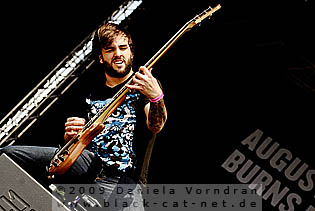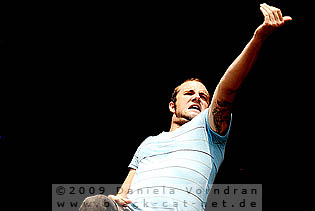 Despised Icon (Distortion Stage)

In January 2002, the band was formed in Montreal, Canada and swiftly could sign a deal with the label Galy Records who'd release their debut album 'Consumed by your Poison' that same year. After several line-up change sin the following year, the band returned with a self-financed EP, called 'Syndicated Murderers' In 2005, the band signed a label deal with Century Media Records, who released the second album 'The Healing Process' in April. The tour in support of the album started some time later and continued into 2006: They were touring with such renowned acts as HATEBREED, NAPALM DEATH or BEHEMOTH. In May 2007, the third album 'The Ills of Modern Man' with a long period of touring following it up! Their first live DVD 'Montreal Assault Live' just came out in March shortening the waiting time for the announced new album 'Day of Mourning'. DESPISED ICON is Alexandre Erian (vocals), Steve Marois (vocals), Eric Jarrin (guitar), Ben Landreville (guitar), Max Lavelle (bass) and Alexandre Pelletier (drums).
http://www.despisedicon.com/
/
http://www.myspace.com/despisedicon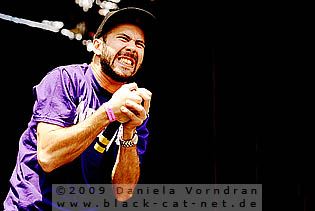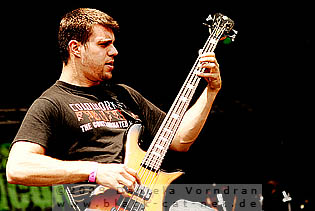 Music & Performance

Nathan Gray already told there would be no Pig Sqeals with THE CASTING OUT but with DESPISED ICON from Canada, you wouldn't have to go without them another time. The Deathcore monster once again fired one broadside after the other into the audience, who expressed their affinity to the band with several greater pits. Alex Erian and Steve Marois screamed and growled everything to the ground and showed they're belonging to the elite in the ever growing mass of bands in the genre. The breakdowns are perfect and nobody can fool them in terms of performance with such smashers as 'A Fractured Hand' 'Warm Blooded' or 'Bulletproof Scales'. The six-piece swirls around on stage but neither looked chaotic nor aimless; this time looking less like alleged rappers, still adapting sufficiently to the Deathcore cliché. Musically, there was nothing to complain about, only the sound was a little dull which, however, couldn't keep any of the kids from doing their violent dancing shows. With a setlist, including songs like' Furtive monologue' and 'In the Arms of Perdition' they've confirmed their reputation as a great live act. Breee bree breeee!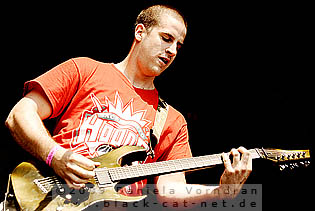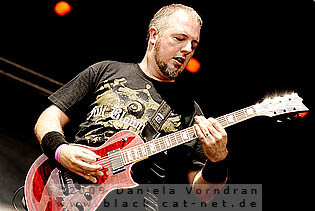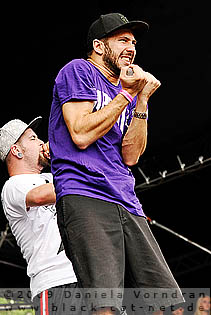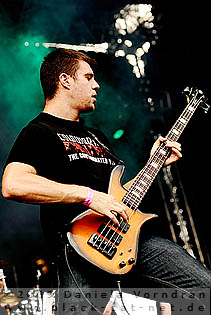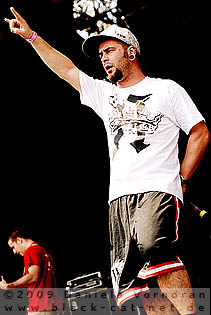 Sonic Syndicate (On Fire Stage)

Swedish SONIC SYNDICATE started their career under the alias FALLEN ANGELS in 2002 playing more traditional Heavy Metal influenced by IRON MAIDN etc. The band recorded three demos within one year starting in 2003 and subsequently played various concerts all over Scandinavia. After signing a record deal with the US label Pivotal Records, the band changed their name to SONIC SYNDICATE. The band entered the studio in spring 2005 and recorded the debut 'Eden Fire' which was released in September of the same year. One year later the band participated in a newcomer's contest organized by renowned Nuclear Blast label and won.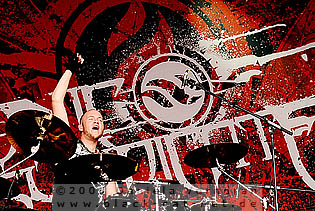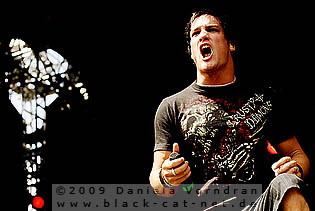 As reward they're signed by the label. The new album 'Only Inhuman' then came out in May 2007. In 2008, the band played i.e. at Rock am Ring/Rock im Park and the Summer Breeze Festival. Their newest album goes by the name of 'Love and other Disasters' and hit the record shops in September 2008. SONIC SYNDICATE is Richard Sjunnesson (growl vocals), Roland Johansson (clean vocals & growl vocals), Roger Sjunnesson (lead guitar), Robin Sjunnesson (rhythm guitar), Karin Axelsson (bass) and John Bengtsson (drums).
http://www.sonicsyndicate.com/
/
http://www.myspace.com/sonicsyndicate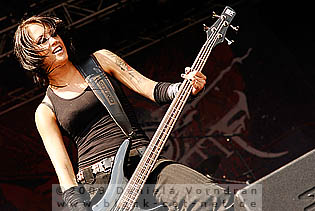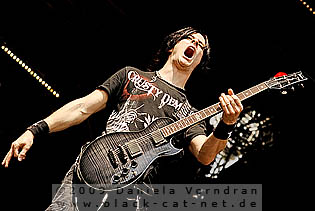 Music & Performance

The Swedes around Karin Axelsson and Robin Sjunnesson were among those bands building up and checking the sound themselves. Being in a good temper, the wouldn't hide from the fans during the preparations and the fans then could be just as satisfied by the sound as the band by the time the opener 'Engaged' sounded. Even though I found the guitars were a little too low, considering the rest. Even though one was happy on one hand that the performance of the "Nuclear Metal" band finally had begun; melancholy spread when singer Roland's voice sounded, knowing that it would be one of his last shows with the band, he's leaving soon due to personal reasons. But the gig with such songs as 'Jailbreak' and 'Flashback' was much too compelling to dwell on negative thoughts for too long. During 'Psychic Suicide', the called for a circle pit, stating that Germany's are the best ones.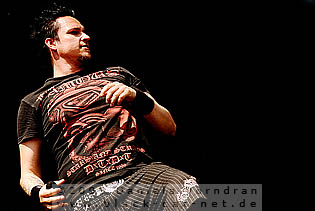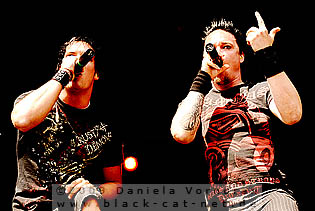 Well, it's hard to pile on more without lying, but Swedes are naturally nice people and so were the people in the audience who were following the orders like with the wall of death to 'Jack of Diamonds'. On stage, the band did a clean job on their instruments and delivered another stylish performance. Richard screaming vocals joined Roland's chants and occasional shouts, while the guitarists Robin and Roger jumped, banged or did other things during dishing out the riffs and Karin of course turned the ever banging heads even more and made sure the air was getting even hotter than it already was. With hits like 'Red Eyed Friend', 'Blue Eyed Fiend', 'Powershift', and of course 'Denied' the band complemented a great show and gave rise to hopes they'll be able to continue successfully even without Roland.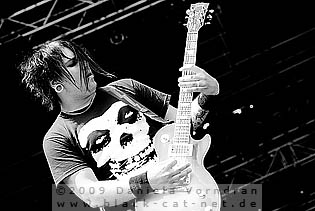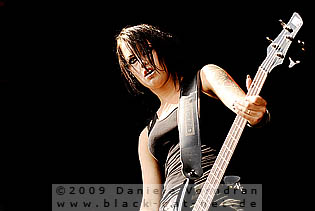 Have Heart (Distortion Stage)

The band, formed in 2002 was initially intended as a mere side-project. The following year saw them playing their first show and in November recording a demo that would cause the label Fast! Records to offer them a label deal. They went on to sign with them and released the first EP 'What Counts' in 2004. In 2005 they found a new label home with Bridge Nine Records who put out their debut album 'The Things we Carry' in 2006, following the release with their first tour outside the US with stops in Canada and Europe. Their most recent and very last album 'Songs to Scream at the Sub' was released in 2008. It's the last album as the band disbands in autumn 2008. HAVE HEART is Pat Flynn (vocals), Ryan Hudon (guitar), Kei Yasui (guitar), Ryan Briggs (bass) and Shawn Costa (drums).
http://www.myspace.com/haveheart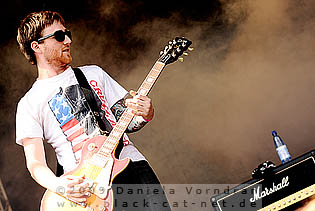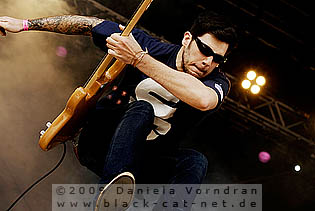 Music & Performance

The straight edge hardcore band from Boston definitely won't continue as they've announced to call it quits in autumn. Sad, but it doesn't hit me that hard. I do have a heart, but it doesn't beat for HAVE HEART. I've tried it several times, but the spark just didn't spring over - not even with this live performance. The shouts are monotonous, the riffs simple and I couldn't spot the big difference between them and countless other troops from the genre thus far. Of course, that's just my opinion and I'm sure they've their huge following for a reason, however after 15 unconvincing minutes it was me calling it quits to go and have something to eat. This day's schedule was tight enough anyway.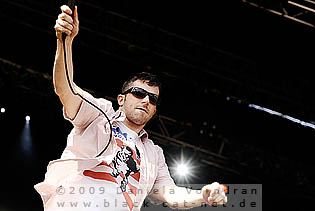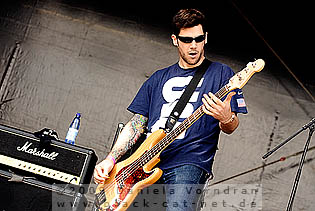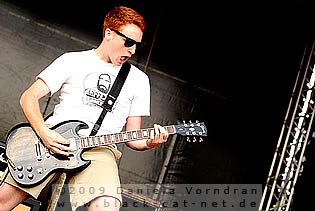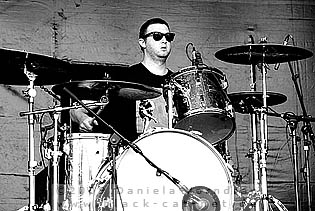 Devildriver (On Fire Stage)

DEVILDRIVER also formed in 2002. Quite quickly they landed a deal with Roadrunner Records and their self-titled debut album came out in 2003. Critical reception to the album was largely negative; still it entered the top Heartseekers chart at #117. The band went back into the studio in 2005 to record the follow-up, eventually titled 'The Fury of the Maker's Hand' which was released in June of that year. This time around, the critic's response was overwhelmingly positive. After the release, the band toured extensively in support of the album with shows in the US, Europe, and Canada followed by their first ever headlining show in 31st October 2006. With 'Pray for Villains', DEVILDRIVER has just released their fourth album. DEVILDRIVER is Dez Fafara (vocals), Mike Spreitzer (guitar), Jeff Kendrick (guitar), Jon Miller (bass) and John Boecklin (drums, additional guitar).
http://www.devildriver.com/
/
http://www.myspace.com/devildriver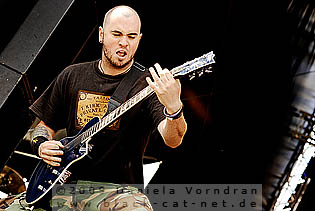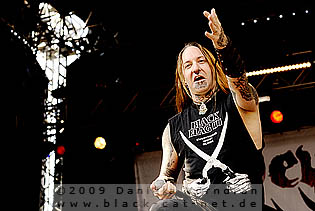 Music & Performance

An important role in that schedule had been given to DEVILDRIVER who we'd meet for a little chat later. But until that time could come, we didn't want to miss the show of the guys around Dez Fafara. They opened with 'Clouds over California' which you couldn't see but hear in Münster that day. Dez' organ once more revealed deeply evil shouts that together with the pushing drums and riffs swept away over the crowd. 'Die (and die now)' followed and latest with 'Not all who wander are lost' most necks were in heavy rotation. But all in all I was expecting more movement and euphoria. The reception was there; everyone gave applause and followed orders like "Horns up" however I was missing the verve. That might have been due to the again a little sludgy sound of the double d guys or they were just too "Metal" for the mostly "Core" audience.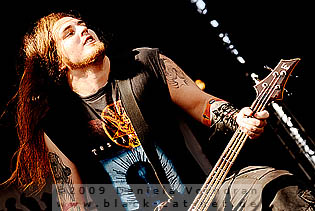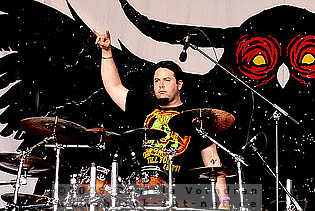 Still, they celebrated 'Hold back the day', 'These fighting Words' and the new album's title track 'Pray for Villains'. Also the new song showcased with a clean and energetic performance by the five-piece from Santa Barbra, hairs flew, and metal was literally pumped down from the stage. 'Before the Hangman's Noose' and the breakthrough song 'I Could Care Less' were next before the circle pit anthem 'Meet the Wretched' was presented, getting the crowd into real heavy action. A good show by the alleged "World Champion of Circle Pits" but soon, the European masters of HEAVEN SHALL BURN would step up to beat that record. But before that happens Dez already set a rule that Hardcore kicks are not allowed in a circle and gave applause after getting the answer to the question "Which one of you is Straight Edge?" After the closing 'End of Time', they had surely caused a pile of aching necks.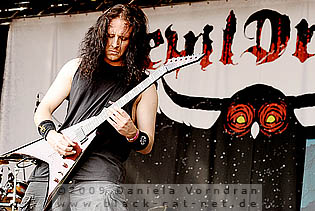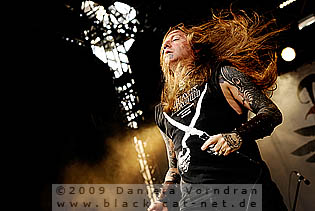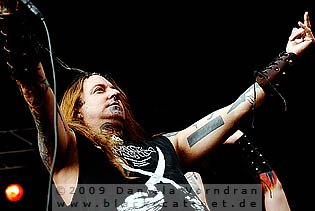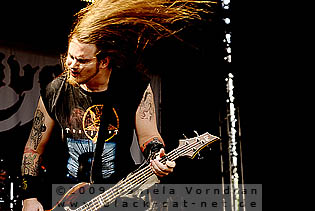 Maroon (Distortion Stage)

German outfit MAROON made its first steps in 1999 after its inception in Nordhausen. In 1999, the band released their first demo cassette, entitled 'The Initiate' with the first CD 'Captive in the Room of the Conspirator' following one year later, released by Kerosene Recordings. The band played a few live shows around that time and in 2001 they would be hitting the rod for a European tour. With the year 2002 also their debut full-length 'Antagonist' is coming. February 2004 saw the band at Denmark's Antfarm Studio recording a new full length album entitled 'Endorsed by Hate' which was released in June of the same year. Meanwhile 'Order' the most recent and fifth album of MAROON has seen the light of day, released in April 2009.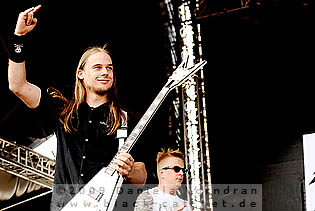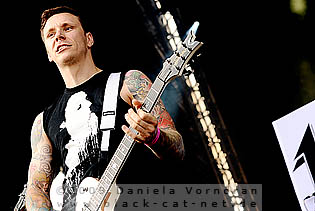 MAROON is Andre Moraweck (vocals), Sebastian Grund (guitar), Tom-Eric Moraweck (bass guitar), Nick Wacksmuth (drums) and Sebastian "Riechtor" Rieche (guitar).
http://www.maroonhate.com/
/
http://www.myspace.com/maroonhate
Music & Performance

The five-piece outfit MAROON from Nordhausen started destroying the 'Distortion Stage' at 5:15 PM, dished out old and new songs such as 'Stay Brutal', makes the crowd dance along to them wildly and dedicated one song to the recently deceased MICHAEL JACKSON, called 'Wake Up in Hell'. All in all, the band played a good mixture of old and new songs from the current album 'Order' and proved once more their live qualities, as well as their penchant for wall of deaths and destructive breakdowns we would have loved to see more of but we had an appointment. Due to this appointment - an interview with DEVILDRIVER - we missed out the two following bands.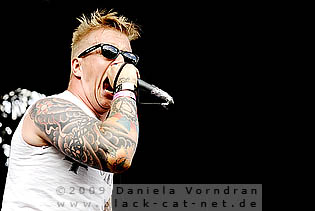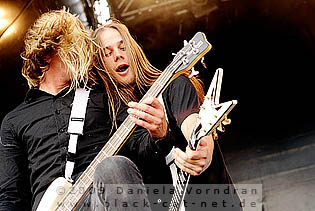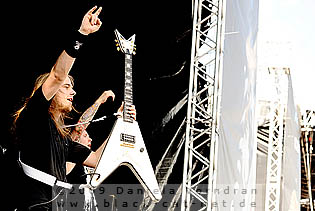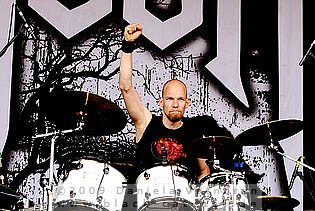 Dark Tranquillity (On Fire Stage)

DARK TRANQUILITY from Sweden is amongst the most influential bands of Melodic Death Metal and has been formed already in 1989 under the name SEPTIC BROILER. The band changed its name to DARK TRANQUILITY after the release of the 3-track demo 'Enfeebled Earth' in 1990 which was also the year of the band's first concert Gothenburg. The release of the 7" EP 'A Moonclad Reflection' would land them a deal with the Finnish label Spinefarm Records. In 1993 the band recorded and released their first album 'Skydancer'. Former singer Anders Fridén left the band after the recordings over musical differences and was replaced with Mikael Stanne. In November 1995 the band played its first concert outside of Sweden in Cologne and afterwards embarked on a European tour with SIX FEET UNDER.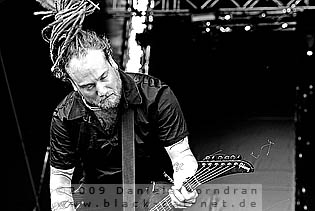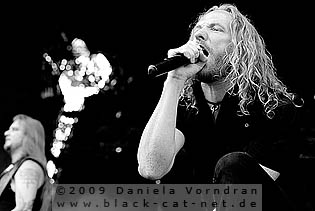 With that and another tour with IMPALED NAZARENE and CANNIBAL CORPSE, their popularity grew significantly and with 'The Minds I' the third studio album has been released in 1997 after a few delays. 10 years from there on the band has a matchless reputation in the genre and have released their meanwhile eighth studio album, entitled 'Fiction' and toured through North America with SCAR SYMMETRY, INTO ETERNITY and THE HAUNTED. DARK TRANQUILITY is Mikael Stanne (vocals), Niklas Sundin (lead guitar), Martin Henriksson (rhythm guitar), Anders Jivarp (drums), Martin Brändström (keyboards and electronics) and Daniel Antonsson (bass guitar).
http://www.darktranquillity.com/
/
http://www.myspace.com/dtofficial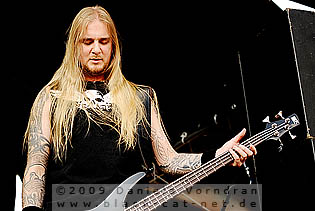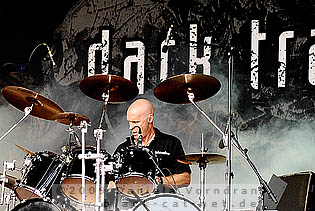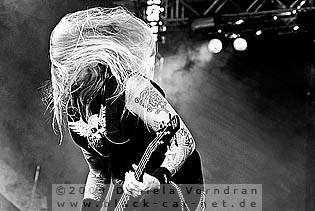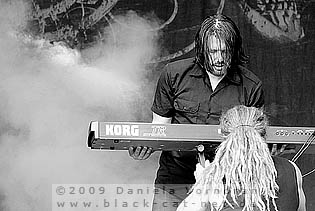 Terror (Distortion Stage)

The American hardcore punk bad TERROR formed in 2002. In July 2003, TERROR released a nine song EP called 'Lowest of the Low' on Bridge 9 Records with which they could gather enormous praise exceeding that even more with the release of their first full-length 'One with the Underdogs' (2004). The band is known for their relentless touring schedule and there's hardly any place on the globe they haven't been setting foot on already to spread their music live and directly. The third album 'Always the Hard Way' came out two years later in 2006 and hit the top Heartseekers chart at #10. Another two years later followed the fourth album 'The Damned, The Shamed'. TERROR is Scott Vogel (vocals), Martin Stewart (guitar), Nick Jett (drums), David Wood (bass guitar) and Jordan Posner (guitar).
http://www.terrorhc.com/
/
http://www.myspace.com/terror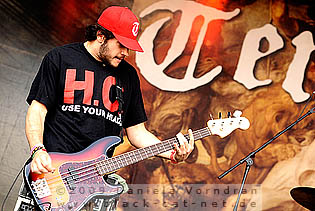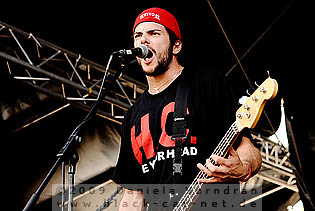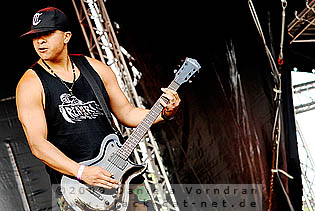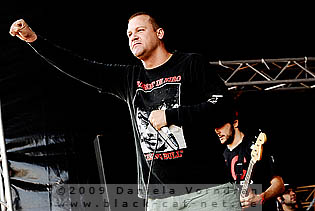 Heaven Shall Burn (On Fire Stage)

HEAVEN SHALL BURN was born in 1996 with the name BEFORE THE FALL changed to CONSENSE. Sort time before the first studio recordings for the second demo took place , the name was changed one last time into the brand HEAVEN SHALL BURN taken from the third MARDUK album, who released their debut album 'Asunder' in 2000. Within the following years, the band played a lot of live shows including performances at such renowned festivals as With Full Force, Wacken Open Air, and Summer Breeze. Following the release of 'Antigone' their third album and label debut on Century Media Records, HEAVEN SHALL BURN headlined the first Hell-On-Earth festival tour together with e.g. AS I LAY DYING. With 'Deaf to our Prayers', their fourth album sees the light of day in 2006.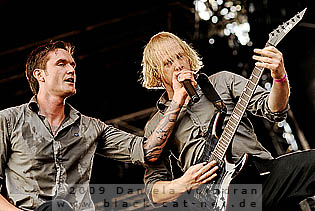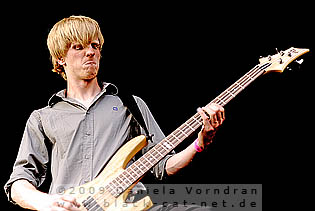 Countless touring meanwhile brought them an almost iconic live reputation with people literally freaking out at their shows. 'Iconoclast (Pt I: The Final Resistance)' is the title of their latest album released in February 2008. HEAVEN SHALL BURN is Marcus Bischoff (vocals), Maik Weichert (guitar), Alexander Dietz (guitar), Eric Bischoff (bass) and Matthias Voigt (drums).
http://www.heavenshallburn.com/
/
http://www.myspace.com/officialheavenshallburn

Music & Performance

In the afternoon, we've already paid them a visit during the autograph session at the Imperial Clothing tent; now after 'Echoes', one of the most beautiful intros ever written by Icelandic classical composer Ólafur Arnalds, they entered the stage and just started the set with the mega smasher 'The Weapon they Fear'. Not even a second passed until people freaked out and started a real battle (A peaceful one of course). Singer Marcus expressed how happy they were to be finally back at Vainstream and announced 'Counterweight'. It's hard to grasp where the energy came from the masses still had in them to take off like that after nearly two days in such a damn heat. But looking at the five-piece from East Germany already gives you an answer. The guys tuned out absolutely relentless and threw in the next grenade 'Endzeit' and hell was unleashed. Nothing even remotely close to this happened the other day or today.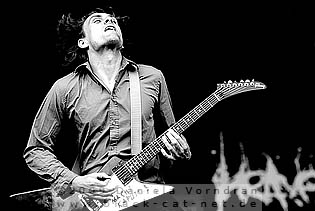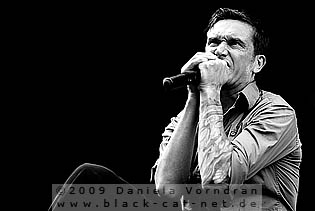 Having already many strong songs in their catalogue, pushed to real hits on grandiose live shows, it was no problem to start with one's most popular club hits. One of these strong songs followed with 'Strong Believers' but it shouldn't be the last one of course. "Do you want more?" - "Yeah!" - "Doo you really want mooore?" - "Yeeaaah!!!" - "Okay, more Water!" Marcus said and did the audience likely expecting something else a favour. Same goes for the wall of death following during 'Voice of the Voiceless'. After some political joking, everyone was ready for the next song, except for the band as they had no power on stage except on the microphone. Embarrassing glitch for which Marcus sent an ironic "Thanks" to the management, while the fans bridged the time with "hose" shouts! They meant the water hose pumping water into the hot masses from time to time; a gift from the heavens for most people.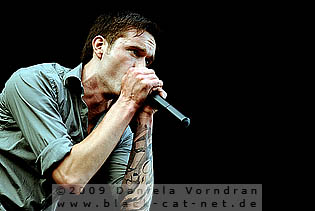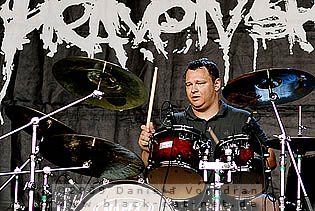 Meanwhile Marcus had the idea to continue playing from the other stage and already changed locations. But before anyone could follow power was back online and the show at the "On Fire" sage could continue. The wall of death worked perfectly, complemented by a crowd carpet short time later, especially demanded from the girls. Further numbers from the recently released live DVD came up next, of course with 'Forlorn Skies'. Once more, Marcus demanded to be considerate with others for he just saw somebody with an entirely bloody face and was already going to stop the song until he saw medics were already stepping in. "Take care of each other. We still need you for the next 10 years and beyond!" Then, the set continued with 'The Disease' and dedicated the closing 'Black Tears' to all festival attendees at Vainstream. As "compensation" for the waiting time during the power loss and thus, as an encore followed 'Murderers of all Murderers'! Once again with an incredible circle pit around done of the sound towers, easily beating DEVILDRIVER!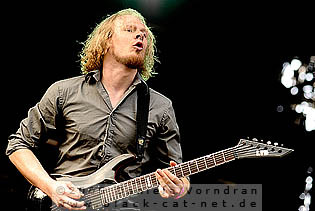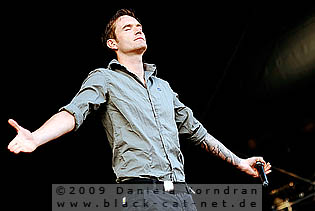 Parkway Drive (Distortion Stage)

Not long after the band's formation in 2003, they put out a split EP together with I KILLED THE PROM QUEEN with the respective band names as title, however they also released an own EP with the title 'Don't Close Your Eyes'! In mid-2005, the band started recording their first album with the title 'Killing with a Smile' which would be released in August 2005. They heavily promoted the album bay playing dozens of shows and had an appearance on the Big Day Out festival in 2006. With the signing to Epitaph Records, their debut album was also made available in the US one year after its initial release. In October 2007, the second and most recent album of the band 'Horizons' hit the shops and was generally acclaimed by critics and fans alike. PARKWAY DRIVE is Winston McCall (vocals), Ben Gordon (drums), Jeff Ling (guitar), Luke Kilpatrick (guitar) and Jia O'Connor (bass).
http://parkwaydriverock.com/
/
http://www.myspace.com/parkwaydrive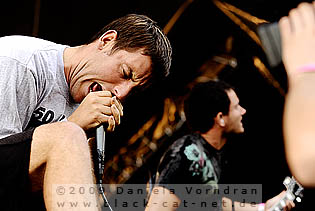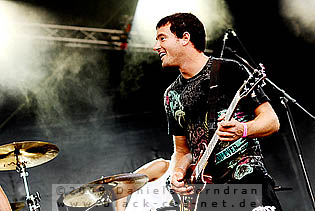 Music & Performance

After performing on the smaller stage at Vainstream Festival 2007 at afternoon, PARKWAY DRIVE had now righteously gained their slot as co-headliner on the distortion stage. Storms of excitement sounded, when the band banner was pulled up, whereas banner is not quite the right word, it was rather a cloth with the band name on it, putting you a little in mid of the 2007 HEAVEN SHALL BURN performance at the same place with just a band shirt (The actual banner burned down during the last day's show). That size doesn't always smatter was proven right away by the four-piece with the opener 'Boneyards' coinciding with the first pits. Singer Winston McCall shouted and growled that it was a feast, while his colleagues on the instruments unleashed several breakdowns.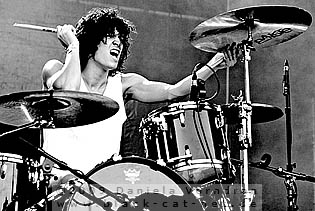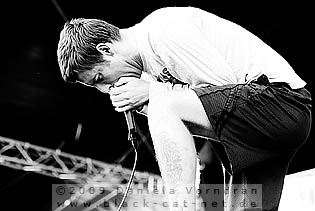 After some sayings about the collective sunburn, they dished out with 'Gimme A.D' the current album's opener, while the violent dancers claimed space which they were using successfully to form a circle pit during 'Idols and Anchors' following a mutual sing-a-long to the club hit 'Carrion'. While Winston opened a bottle with his teeth, the masses sang the 'Die Hard' sample of 'Guns for Show, Knives for a Pro' until they all collectively delved into the world of the unbreakable breakdown, no other metal band can build up. 'Smoke 'Em If Ya Got 'Em' and 'Dead Man's Chest' were showcased until they asked about everyone's well-being. "Are you tired? I don't care!" Good Winston heated up the already raging audience and the perfect musical counterpart was the 'Sirens Song'. Once more water rained down on the crowd from the hose causing Winston to say "Rain and sun at the same time. Where on earth would you see that?" The super hit 'Romance is Dead', seeing the band giving their all once more and guitarist Jeff Ling doing moonwalks. "So cry me a fucking river Bitch!"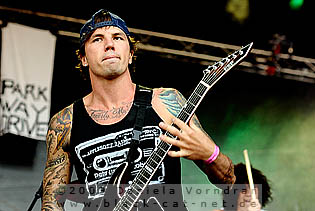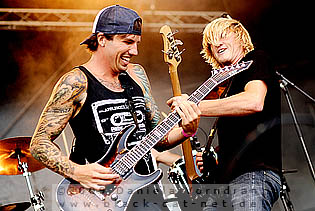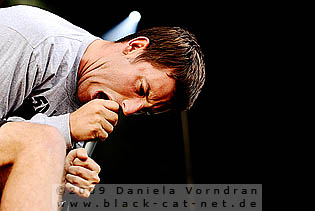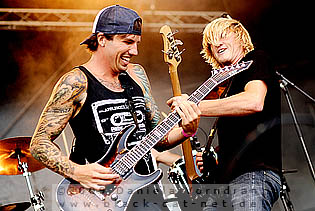 Dimmu Borgir (On Fire Stage)

The band owes its name to a volcanic formation in Iceland of the same name and formed in 1993. The first release of the band follows the year after with the EP 'Inn I Evighetens Mørke'. Later that year, the band's debut album 'For all Tid' was released through German label No Colours Records. August 1995 should be the month seeing the band's first live performance. The second album 'Stormblast' (1996) also marked a departure from the solely Norwegian lyrics and is often regarded as a highlight of the band's career. Following a series of line-up changes and the EP 'Devil's Path', the band's third album 'Enthrone Darkness Triumphant' was put out and became a huge success.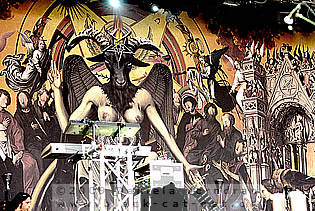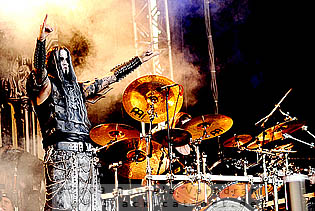 It also was their first release after signing to Nuclear Blast Records. Both of their follow-up albums 'Spiritual Black Dimensions' (1999) and 'Puritanical Euphoric Misanthropia' (2001) met with critical acclaim with more line-up changes occurring before and between these releases. Currently crowning the band's discography is their eighth album 'In Sorte Diaboli' (2007). It is unknown when a new DIMMU BORGIR studio album will be released. For the time being, all band members are pursuing other projects or taking a break. DIMU BORGIR is Shagrath (lead vocals, synthesizer), Silenoz (guitar), Mustis (keys, synthesizer), ICS Vortex (clean vocals, bass guitar), Galder (lead guitar) and Daray (live drums).
http://www.dimmu-borgir.com/
/
http://www.myspace.com/dimmuborgir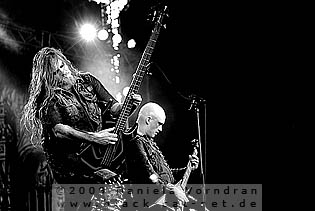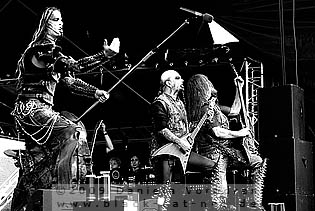 Music & Performance

For the festival highlight it was going to become epic and scary now. Seems like no one really expected the Norwegian Black Metal formation at the Vainstream Festival with a correspondingly little crowd to spot before the stage at first sight, but many people already leaving the festival grounds at this time. They missed a really good show, starting with the nicely apocalyptic intro. Blazing torches had been built up, the lightshow felt like rose from a nightmare and after a pyro explosion the band set foot on stage. The voice of Stian Tomt Thoresens (alias "Shagrath") sounded and like a saw cut its way into the ears of the crowd, amongst them many well-known faces like Andre Moraweck (MAROON), Marcus Bischoff, Matthias Voigt and Maik Weichert (HEAVEN SHALL BURN) and Alex Erian (DESPISED ICON), who didn't want to miss the perfectly staged show. Dignified looks were set on the stage, where the Norwegians slashed with breakers such as 'Puritania' or 'The Chosen Legacy'.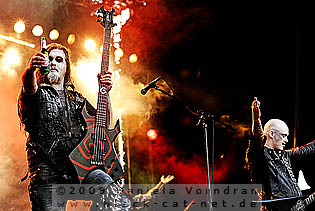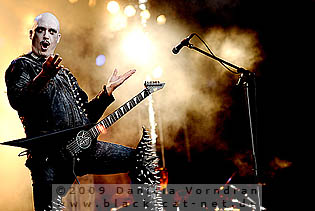 They did that with creepy precision and offered no flaws, except for the clean vocals. Keyboard player Øyvind "Mustis" Mustaparta (However one's spelling that correctly) catered for a lot of goose bumps, always leading into a terrified after one of the numerous pyro explosions. Mastermind Shagrath had his people and the audience under control and compelled to the epic song writing with his mean voice. DIMMU BORGIR impressively went through their program with no break or beat downs, no wall of death and no violent dancers - just an incredible show, even convincing me being not so much of a Black Metal fan. Another risk the organizers took, but if I'm getting an act like this one then who would say no? More monstrous songs like 'The Serpentine Offering', 'Added Kings of The Carnival Creation' and 'Progenies of the Great Apocalypse' followed and closed the Vainstream Rockfest in an unusual but impressing way.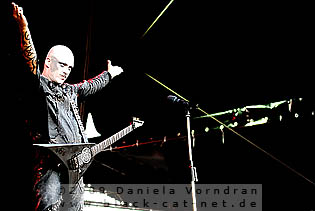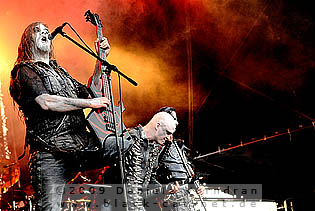 It was the fourth Vainstream Rockfest, for the first time on two days and in my opinion it was an absolute success. The excellent billing lured 8,000 people to the festival on each day and actually no one should be having anything to complain about. The concept of two stages with each playing by turns worked out and everything went according the schedule most of the time. Sunshine is always good for a festival; heat can be a problem sometimes. But with the security cooling the crowd occasionally with water from a hose and also otherwise did a terrific job, everything was in place for a good summer party.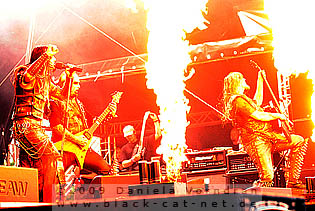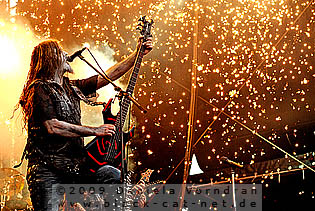 2.50 € for a token, maybe just to get some water are, admittedly, a bit too much but hence the ticket prose with 60€ for both days was fair. Year by year, the Vainstream festival is improving, so one can be curious for the next issue already and the surprises the organizers will come up with. Just one tip! Would be nice to think of a better solution for the sound towers, keeping you from seeing anything if you didn't want to be in the middle of a pit! But if they keep improving the festival like they did in the past I've no worries about that and the Vainstream Festival surely has no problems making itself a bran din the years to come.
All pictures by Daniela Vorndran (
http://www.vorndranphotography.com/
/
http://www.black-cat-net.de/
/
www.myspace.com/vorndranphotography
)
Written Alexander Vogt and Philipp Prüßmeier (
http://www.musik.terrorverlag.de/
) and Sebastian Huhn for all band intros and translations
{jos_sb_discuss:18}
See also (all categories):