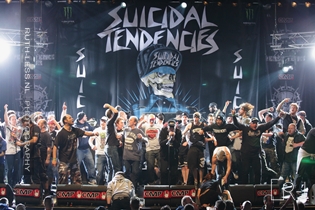 013, Tilburg, The Netherlands
26th January 2014
EMP Persistence Tour 2014: Suicidal Tendencies, Terror, Strife, Evergreen Terrace, Ramallah, Nasty, The Arrs

This is the 6th time that one of the biggest hardcore festivals is being held at 013 in Tilburg. Earlier editions of the Persistence Tour featured bands such as HATEBREED, SICK OF IT ALL, AGNOSTIC FRONT and MADBALL. This year's edition is headlined by no one less than the legendary SUICIDAL TENDENCIES. Some years ago, this American crossover / hardcore band has already proven to be up to the task. Furthermore, hardcore-breathing band TERROR will hit the stage as well as STRIFE, EVERGREEN TERRACE and RAMALLAH. The tour will open with two more 'local' bands: the German hardcore band NASTY and the politically loaded French hardcore band THE ARRS.
The Arrs

THE ARRS are a French hardcore metal band that started out in Paris in 1998. Their demo 'Conditions Humaine' ('Humane conditions') was followed by a debut album in 2005 titled 'Et la douleur est la même' ('and the pain is the same'). Soon after, the band shared the stage with their colleagues of GOJIRA and with DOG EAT DOG. Their sophomore album 'Trinité' was released in 2007, followed by an impressive list of over 80 concerts in Europe where they shared the stage with bands like SLAYER, WALLS OF JERICHO, CHIMAIRA and THERAPY?. THE ARRS latest work dates from 2009 and is called 'Héros Assassin'. According to the band this album evokes the dark side of power, its morbid fascination and its lethal impact hiding behind pomp and glory. THE ARRS are Nico (vocals), Pierre (guitar), Stefo (guitar), Phil (bass) and Toki (drums).
www.thearrsmetal.com
/
www.facebook.com/THEARRS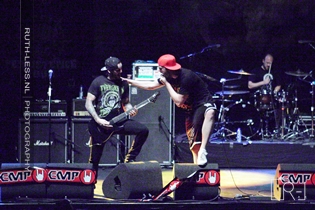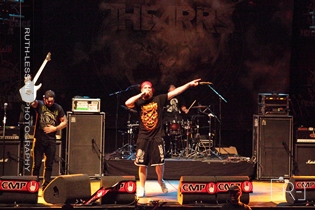 Music & Performance

Due to a hint of "lazy-Sunday-ness" combined with a bit of parking trouble, I got in later than planned and missed the first few songs of this awesome band. The French guys of THE ARRS were already getting it going in a furious way, which is much appreciated for an opening act at 4PM! The venue was not even halfway full yet some individuals had already gathered in front row while others where warming up in the empty pit. Loud, technical, brutal and grooving, THE ARRS set the bar for this last evening of the Persistence tour. Front man Nico has a brutal voice and the French lyrics do give a little extra to their music. For many in the audience a still unfamiliar name in the scene, but they surely fit very well in in this Persistence line-up!
Rating

Music: 8
Performance: 7
Sound: 7
Light: 4
Total: 6.5 / 10
Nasty

NASTY are a Belgian/ German hardcore band founded in November 2004. At the time of their first MCD 'The Beginning' they gained the attention of the local hardcore scene for their violent live shows and brutal sound; a mix of beat-down hardcore and groovy death metal. Another trademark of NASTY are their outrageous, over the top - but highly political lyrics. Their first full length 'Declaring War' came out in 2006. After extensive touring in Europe, two more full length albums 'Aggression' and 'Give a shit' came out via Goodlife Records. In 2013 their new album 'Love' came out on BDHW records. NASTY is Matthi (vocals), Chris (guitar), Nash (drums) and Berri (bass).
http://www.myspace.com/getnasty
/
www.facebook.com/getnasty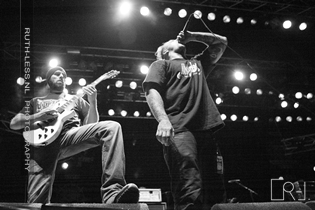 Music & Performance

Up next are the men of Belgian/German hardcore formation NASTY. Band members Matthi, Chris, Nash and Berri are eager to take the stage with their aggressive sound and lyrics. Front man Matthi, definitely being the most dynamic on stage soon announces that this will be the last NASTY show ever for guitar player Chris. After a Persistence tour group hug, the band continues their set with 'Incum' from their previous album 'Give a shit'. The rest of the set focuses mostly on their latest album 'Love' with 'Slaves to the Rich' and 'Zero Tolerance'. I had some trouble to really get into their music, too many breakdowns disturbing the flow & groove in my opinion. Furthermore, I get the impression that this band thrives best in smaller venues that are filled to the max with angry hardcore fans. On this big stage the band seemed a little lost.
Setlist (incomplete)

Incum
Look at Me and Fuck You
My Brain Went Terribly Wrong (love)
Slaves To The Rich
Zero Tolerance
Rating

Music: 6
Performance: 7
Sound: 6
Light: 4
Total: 5.8 / 10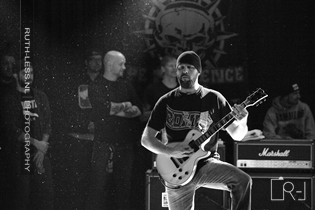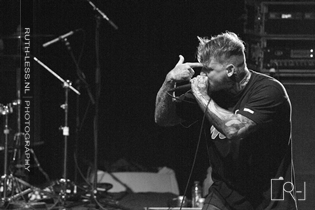 Ramallah

RAMALLAH is a Hardcore band from Boston, USA. The band was founded in 2002. They released two LP's named 'But A Whimper' (2002) on Bridge9Records and 'Kill A Celebrity' on Thorp Records (2005). RAMALLAH is a side project of BLOOD FOR BLOOD guitarist Rob Lind. In the band are also ex- and current members of COLD AS LIFE, WRECKING CREW and SWORN ENEMY. A new record was announced by the band for 2014. RAMALLAH is Rob Lind (vocals), Robert Falzano (drums), Dominic DiBenedetto (bass), Craig Silverman (guitar) and Jason Zucco (guitar).
www.facebook.com/ramallahboston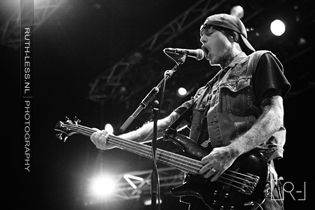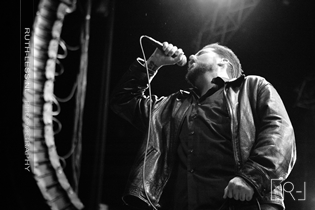 Music & Performance

RAMALLAH enters the stage, announces it's good to be back and almost immediately demands a sing-along from the audience who have just emptied their first few rounds of beers – now that's cheeky. It must be due to my bad education they never appeared on my horizon, but as for the sing-alongs I'm of the opinion that bands have to earn those by bringing a wicked live show first. Some technical problems and an obvious pissed-off singer are not a really marvellous step up to this status of wickedness. With 'Kill a celebrity', 'The horror and the gag' and 'if I die today' the set list focusses on their latest yet still quite dated album from 2005. Rob however also announces a new EP and even a full length album in 2014.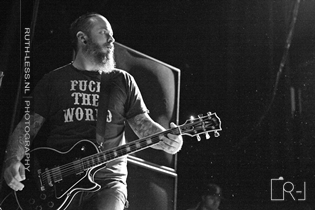 Slowly the audience gets going and as Rob gets down from the stage by the end of their set, he gets a little audience response from those willing to give away a scream or grunt to enforce RAMALLAH's repertoire.
Setlist (incomplete)

Kill a celebrity
The horror and the gag
If I die today
Rating

Music: 5
Performance: 6
Sound: 5
Light: 5
Total: 5.2 / 10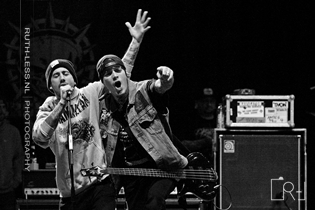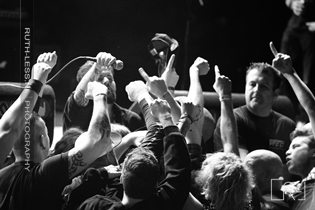 Evergreen Terrace

EVERGREEN TERRACE is a five-piece melodic hardcore/ metalcore band from Jacksonville, Florida. Formed in 1999, they are named after the street inhabited by The Simpsons. With their combination of melodic hardcore, metal and punk-rock strains, EVERGREEN TERRACE has toured the world with bands like AS I LAY DYING, AUGUST BURNS RED, IGNITE, BIOHAZARD, HATEBREED, RISE AGAINST, THURSDAY, CIRCA SURVIVE, EVERYTIME I DIE, STRUNG OUT, AGNOSTIC FRONT and many more. They have also been part of Sounds of the Underground, Persistence Tour, Warped Tour and Soundwave. In 2012, founding member Josh James joined STICK TO YOUR GUNS and the band announced that they were planning an EP, which would be their final release through Metal Blade Records, but never released it. Their latest album 'Dead Horses' was released in December 2013 through Rise Records. EVERGREEN TERRACE is Andrew Carey (vocals), Craig Chaney (guitar/vocals), Jason Southwell (bass), Brad Moxey (drums) and Alex Varian (guitar).
www.facebook.com/EvergreenTerrace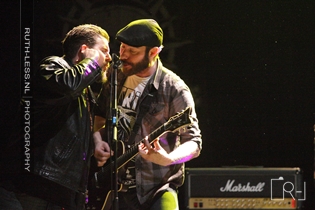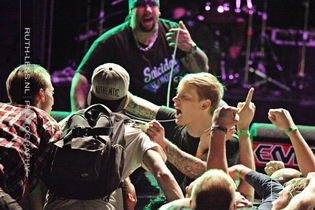 Music & Performance

Taking off with 'Enemy Sex' from their 2009 album 'Almost Home', the guys of EVERGREEN TERRACE mean serious business. I'm again quite impressed by the brutal vocals of Andrew, who looks like your average high school nice guy (apart from the tattoos that is), don't let his looks fool you! His screams are quite well accompanied by guitarist Craig's clean vocals as they continue the set with amongst others 'New Friend Request' and 'Crows' from their newest album 'Dead Horses'. Though the crowd still seems to hold it back at first, EVERGREEN TERRACE rolls on and when Andrew gets down to the crowd, it doesn't take long for them to crawl over each other to reach the microphone. Getting further into the set, I must say I'm not quite impressed by the technical part of this show as drums and guitars seem off and out of sync several times. The guys visibly enjoy being on stage though, which makes it up… for a bit. I'm not really sure their TEARS FOR FEARS cover 'Mad World' was that much appreciated by this audience of whom most came for some serious old school hardcore, but at least we had a great sing-along that even most of the girls in the audience could join. Closing off their set with 'Mario Speedwagon' and 'Chaney Can't Quite Riff Like Helmet's Page', EVERGREEN TERRACE tries to get the pit going, but that proves quite a challenge this evening. Apart from the technical sloppiness, I'll definitely give this band another chance if they play in the area!
Setlist (incomplete)

Enemy Sex
No Donnie, These Men Are Nihilists
Crows (new single)
Wolfbiker
Mad World (Tears for Fears cover)
New friend request
Mario Speedwagon
Chaney Can't Quite Riff Like Helmet's Page Hamilton
Rating

Music: 8
Performance: 7
Sound: 7
Light: 6
Total: 7 / 10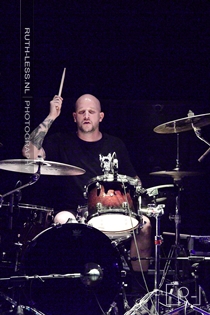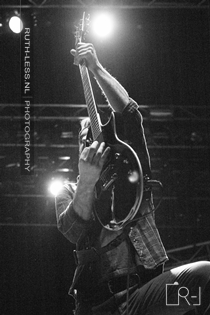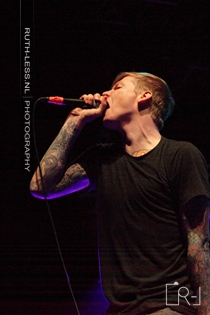 Strife

STRIFE is a hardcore/ metalcore band from Los Angeles, California. Their first LP, 'One Truth', was released in 1994 by Victory Records. At the time, their speed-metal style of hardcore was considered revolutionary, and their message of Straight Edge activism and positive life style was a refreshing contrast to the typical music popular at the time. STRIFE was considered one of the three "Big" bands on the then-new Victory Records label, sharing that title with metalcore legends EARTH CRISIS and SNAPCASE. STRIFE released their sophomore album 'In This Defiance' in 1997. This album notable for the guest appearances, with Chino Moreno of DEFTONES, Dino Cazares of FEAR FACTORY and Igor Cavalera of SEPULTURA all taking turns on the album. Two years later, STRIFE broke up, citing creative differences and exhaustion.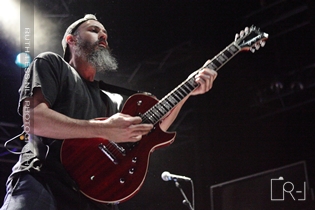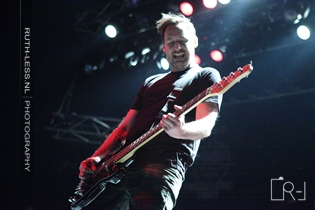 Victory Records released 'Truth Through Defiance', a compilation of live tracks and previously unreleased material. In 2001, STRIFE reformed and released the album 'Angermeans'. Their latest work 'Witness a rebirth' dates from 2012. STRIFE is Rick Rodney (vocals), Andrew Kline (guitar), Chad Peterson (bass), Todd Turnham (guitar) and Craig Anderson (drums).
www.facebook.com/Strifelosangeles
/
http://strife.bigcartel.com
Music & Performance

Brutal is the first and only word that comes to mind when STRIFE enters the stage. Front man Rick Rodney spits out the lyrics of 'Torn Apart', the first song of their latest album 'Witness a Rebirth' and the crowd finally gets a move on. Rodney is given a solid backup by his fellow musicians Chad, Andrew, Todd and Craig as they blaze on with amongst others 'Will to Die', 'Stand as One' and 'Carry the Torch' For 'Look away', STRIFE gets some vocal support from the other Persistence Tour musicians here and there and Rodney as well jumps down to get a little more interaction with the audience.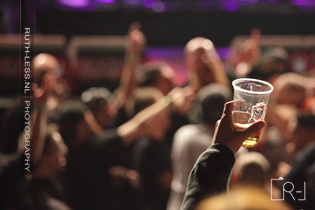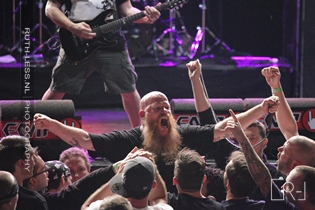 With the classic 'Through and Through' from their first album 'One Truth' (1994), they leave a still modest but clearly satisfied audience to the next band TERROR.
Setlist (incomplete)

Torn Apart
Will to Die
Stand As One
Carry the Torch
Look away
Through And Through
Rating

Music: 6
Performance: 7
Sound: 6
Light: 6
Total: 6.2 / 10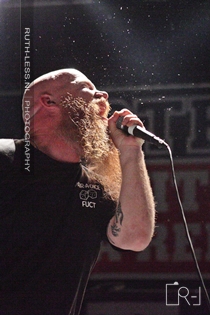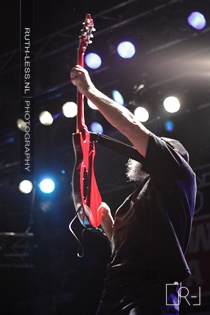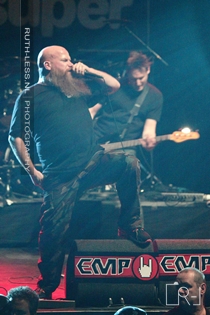 Terror

TERROR is a hardcore band from Los Angeles, California that formed early 2002. Though the group consider themselves a "hardcore" band, guitarist Doug Weber says TERROR,
"sounds like all of the old metal bands I used to listen to. It's just not crazy Swedish metal or something, it sounds like old thrash."
Their album 'One with the Underdogs' sold over 40,000 copies. They have been on tours throughout Europe, Australia, Brazil and Japan. Their newest album 'Always the Hard Way' reached #10 on Billboard's Heatseekers and #19 on Top Independent Records. Before TERROR, vocalist Scott Vogel was known for singing for mid-90s Buffalo bands SLUGFEST, DESPAIR and BURIED ALIVE. Vogel is widely known in the scene not just for his tireless efforts to keep hardcore pure and fun, but also for his tendency for bizarre or hilarious on-stage banter, known colloquially as "Vogel-isms". TERROR is Scott Vogel (vocals), Nick Jett (drums), Jordan Posner (guitar), Martin Stewart (guitar) and David Wood (bass).
http://www.terrorlahc.com
/
www.facebook.com/terrorhardcore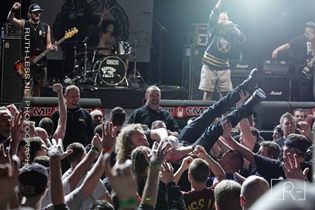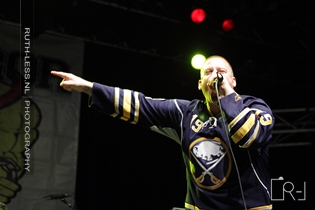 Music & Performance

I haven't seen TERROR live before but heard a few things here and there of this being quite the experience: it is said that TERROR "always delivers". It becomes instantly clear that this is one of the headlining bands of this year's PERSISTENCE tour as more security is added in front of the stage. At the first few notes, the audience goes berserk as Scott Vogel brings 'Keepers of the Faith'. Followed with 'Better off without you', 'Stick Tight' and 'Overcome' TERROR live is clearly a well-oiled machine with each band member playing their part. The danger in this is obviously becoming too much of a routine-live band, but for a first show this doesn't hurt a bit. The set list seemed well-chosen with most songs loudly cheered and screamed along by the audience. Given the news about the tragic death of a Swiss stage diver at the Persistence tour a few days ago, to me it seemed remarkable how Vogel persistently kept encouraging the audience to climb up on stage and make the security work for it.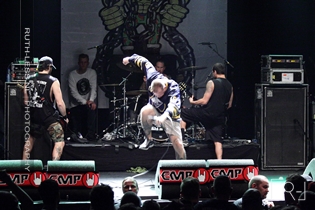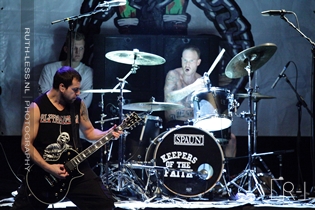 His call wasn't left unanswered as several tactics were tried to make it to the stage. At the same time, security seemed very uptight to make sure no one made it through. All in all, tight brutal show, proper audience interaction and finally there was some sweat and beer in the air.
Setlist (incomplete)

Keepers of the Faith (start)
Better Off Without You
Stick Tight
Overcome
Hard Lessons
Always the Hard Way
Live by the Code
One With the Underdogs
Push It Away
Spit My Rage
Strike You Down
Keep Your Mouth Shut
Return to strength
You're Caught
Rating

Music: 7
Performance: 8
Sound: 7
Light: 7
Total: 7.2 / 10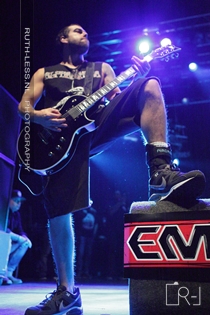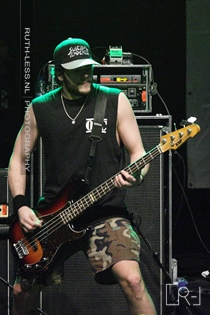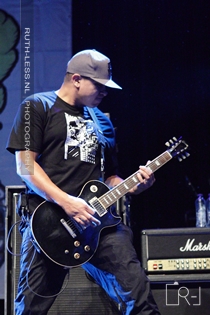 Suicidal Tendencies

SUICIDAL TENDENCIES is an American crossover thrash band formed in 1982 in Venice, California. Sometimes regarded as the progenitors of skate punk, they later incorporated significant heavy metal and thrash elements. The group, led by Mike Muir ("Cyco Miko"), had a rough start that included being voted "Worst Band/ Biggest Assholes" in Flipside in 1982. Using the opposition to fuel creativity, they quickly gained a following, performing larger and larger gigs. As the size grew, so did the rumours of gang relations and violence (eventually leading to a Los Angeles ban on public performances by SUICIDAL TENDENCIES). The band signed with the indie label Frontier Records and issued their classic self-titled debut in 1983. The album was the best-selling hardcore album up to that point. The video for 'Institutionalized' was one of the first hardcore punk videos to receive substantial airplay on MTV. It was also used in the Emilio Estevez cult classic movie Repo Man and an episode for the hit TV show Miami Vice (which included a cameo appearance by the group). Recently the track has been used in the blockbuster movie Iron Man. Their song 'Possessed to Skate' solidified their status as a premier skate punk band. After line-up changes and side projects, they have continued to release albums. Their latest album '13' dates from 2013. SUICIDAL TENDENCIES is Mike Muir (vocals), Dean Pleasants (guitar), Nico Santora (guitar), Tim Williams (bass), and Eric Moore (drums).
www.suicidaltendencies.com
/
www.facebook.com/suicidaltendencies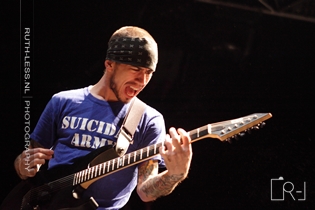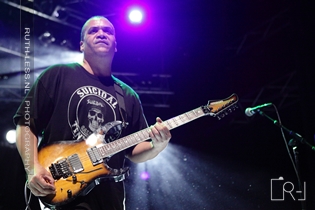 Music & Performance

PERSISTENCE TOUR headliner SUICIDAL TENDENCIES hits the stage full on with 'You can't bring me down' and guitar player Nico Santora tries to get the crowd yelling their name YMCA style (only with moderate success). The unstoppable train of SUICIDAL TENDENCIES moves on however, whether the crowd keeps up or not. Even for us photographers, vocalist Mike Muir is difficult to follow on stage, the man sure makes his miles! Running, screaming and yelling, ST treats us to some classic songs (well, aren't' they all) such as 'Institutionalized' and 'possessed to skate' where the first bunch of crowd gets invited to the stage. The band is dynamic, energetic and eager to perform, making this show great to watch. With a quick intro between the songs, SUICIDAL moves high speed through their set with amongst others 'I saw Your Mommy' and 'War inside my Head'. All the running, sweating and beer showers resulted in a slippery stage and about halfway their set Mike has an uncomfortable confrontation with the ground. Without hesitation or complaint he got up again to continue the show – now that's the spirit! The best was yet to come though, as bass player Tim got into the centre of the circle pit to play the next song. It doesn't take long before the pit crowd takes him onto their shoulders and then Mike suggests they take him up the stairs (for those unfamiliar with 013, the venue has a beautiful stair cased layout, making the stage view great for the entire audience).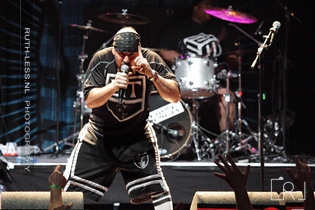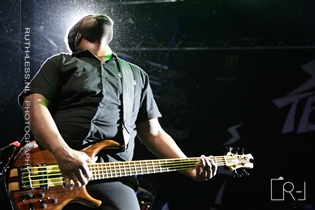 Without hesitation, Tim and his bass where carried up the stairs, round the mixer and down again, leaving his fellow band members on stage positively surprised. Their show ends with another crowd invitation and it doesn't take long for the party to continue on stage, including some crowd surfing and mini-diving. Although I must admit SUICIDAL TENDENCIES musically doesn't make it to my favourite list, their live shows and this one in particular can only be called memorable!
Setlist (incomplete)

You Can't Bring Me Down
Institutionalized
Possessed to Skate
I Saw Your Mommy
War Inside My Head
Subliminal
Slam City
Cyco Vision
I want to know something
How Will I Laugh Tomorrow
Memories of Tomorrow
Rating

Music: 7
Performance: 8
Sound: 7
Light: 8
Total: 7.5 / 10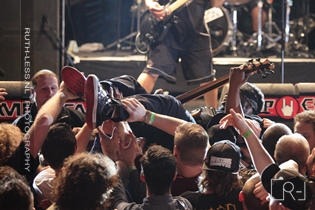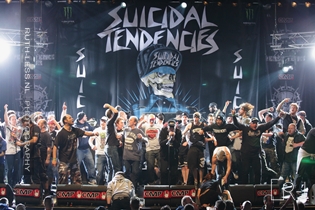 All pics by Ruth Mampuys (
www.ruth-less.nl
)
See also (all categories):