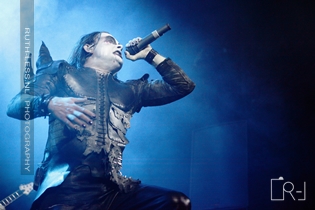 Melkweg, Amsterdam, The Netherlands
9th February 2014
Cradle of Filth, Behemoth, In Solitude, Inquisition, Svarttjern

CRADLE OF FILTH and BEHEMOTH are co-headlining this brutal tour and along the way they bring no less than three other bands as support act. The headliners will be taking turns on the last act and this evening it's up to CRADLE OF FILTH to finish this pitch dark evening. With another Dutch show coming up in a week, I was happy to see that a proper crowd was already lining up in front of the venue.
Svarttjern

SVARTTJERN was formed by brothers HansFyrste and HaaN as a two-man project in 2003. Later that year, Skabb, Grimmdun and Fjellnord were taken into the band, and SVARTTJERN started to work towards their first demo recordings. Over the next years, two demos were recorded, 'Blasphemic War' and 'Raped by Svarttjern'. 2007, SVARTTJERN parted ways with Skabb, and Terror came in on the bass. SVARTTJERN signed with Schwarzdorn Production in 2009 and recorded their first full length album 'Misanthropic Path of Madness'. Soon after, they switched labels to Agonia Records Their latest work 'Ultimatum Necrophilia' was released on February 7th via NoiseArt Records. SVARTTJERN is HansFyrste (vocals), HaaN (guitar), Grimmdun (drums), Fjellnord (guitar) and Sgt.V (bass).
www.facebook.com/svarttjern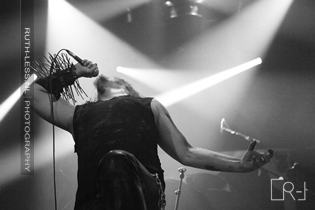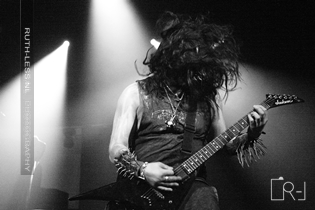 Music & Performance

SVARTTJERN turned out to be quite a good beginning of the evening. The band played his traditional black metal very convincing and warmed up the audience. The sound in the Melkweg was very good, although the bass drums were a bit loud. The venue was already quite full, but the audience reacted a bit tame to the music of SVARTTJERN. Their songs are very good and the band played their set with verve. There was not a lot going on onstage, but the music was good; SVARTTJERN was a decent opener for this evening.
Rating

Music: 7
Performance: 7
Sound: 7
Light: 5
Total: 6.5 / 10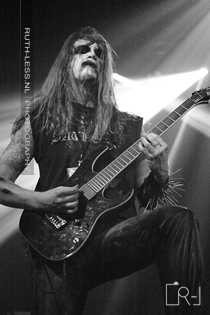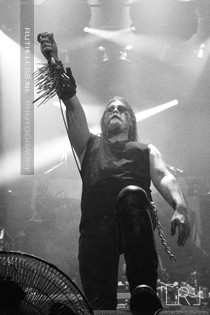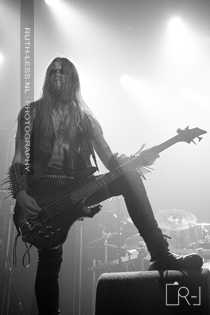 Inquisition

INQUISITION is a black metal band originally formed in Colombia in 1988 and later relocated to Seattle, Washington. In 1996, vocalist Dagon left Colombia and moved back to the United States to continue Inquisition and search for a drummer. That same year Dagon met Incubus, who joined the band on drums and the creation of their debut full length album began. The Inquisition sound incorporates a combination of early era thrash metal-influenced riffing with darker and more chaotic black metal, primarily involving fast, tremolo picked minor-key guitar riffs. INQUISITION is Dagon (vocals, guitars) and Incubus (drums).
www.facebook.com/inquisition.official
Music & Performance

It does not happen very often and it is quite a rare sight: two musicians onstage. INQUISITION is a duo and consists of a guitarist (Dragon) and a drummer (Incubus). There is enough space on the stage of the Melkweg, so I do not really understand why the microphone was right in front of the drums. Maybe it had something to do with the sound, but it really obstructed the interaction between Incubus and the audience. Inquisition was rocking its proverbial ass off. Their music is akin to that of SVARTTJERN, but consists of a bit more energy. There were a lot more people in the Melkweg by now and they reacted quite enthusiastic to the punk-like black metal of Inquisition. The band has created its momentum and the interaction with the audience gives them even more energy. In the middle of their set they lost the impetus a bit, but they got it back towards the end. Inquisition played a very good show and got the audience in the right mood for an evening of black metal.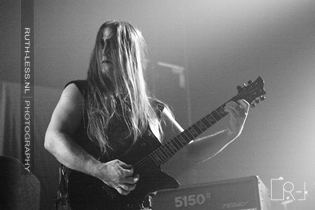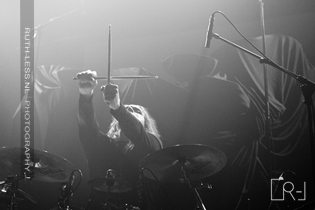 Setlist (incomplete)

Force of the Floating Tomb
Infinite Interstellar Genocide
Rating

Music: 7
Performance: 6
Sound: 7
Light: 5
Total: 6.3 / 10
In Solitude

IN SOLITUDE is a Swedish heavy metal band formed in 2002 in Uppsala, Sweden. To date the band have released three full-length albums. They released their debut album 'In Solitude' in 2008 through Season of Mist. The band released their second album, 'The World. The Flesh. The Devil' in 2011 through Metal Blade Records. Their latest work titled 'Sister' was released in 2013. IN SOLITUDE is Pelle Åhman (vocals), Niklas Lindström (guitar), Henrik Palm (guitar), Gottfrid Åhman (bass) and Uno Bruniusson (drums).
www.facebook.com/insolitudeofficial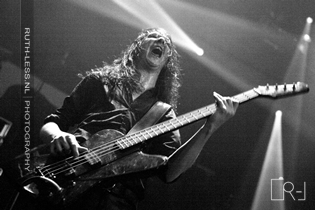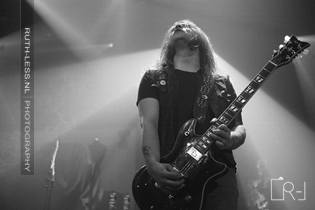 Music & Performance

Unfortunately this momentum was lost with the following band: IN SOLITUDE. This was not the fault of the band, but of the designers of this programme. "We're the band that make you disappear." Front man Pelle Åhman used these words to correctly describe the reaction of the audience to the music of IN SOLITUDE. The band played a wonderful show and really made a good effort. Their metal is quite melodic and their musicianship is without a doubt. The people that stayed behind to watch the show were well rewarded, because the band gave more than 100%. But without the interaction with the audience it was fighting for a lost cause.
Setlist

01. Death Knows Where
02. Lavender
03. A Buried Sun
04. Horses in the Ground
05. Sister
06. Witches Sabbath
Rating

Music: 8
Performance: 7
Sound: 7
Light: 6
Total: 7 / 10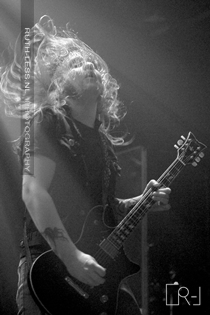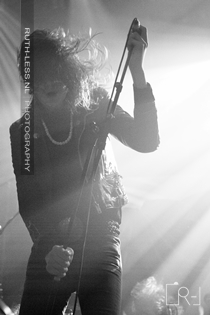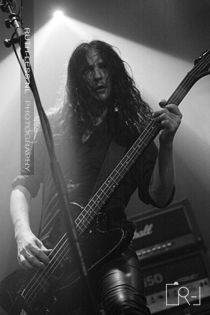 Behemoth

BEHEMOTH is a Polish blackened death metal band from Gdansk, formed in 1991. They are considered to have played an important role in establishing the Polish extreme metal underground. Until the late 1990s, the band played a traditional black metal style with heathen lyrical content, but soon changed to that of occult and thalamic themes written by their lead vocalist Nergal and Krzysztof Azarewicz. With the 1999 release of 'Satanica', the band demonstrated their presence in the death metal scene, while retaining their own signature style characterized by the drum work of Inferno, multi-layered vocals and Middle-Eastern influences. Despite the fact that BEHEMOTH has been labelled as death metal, black metal or thrash metal-influenced, Nergal has mentioned that he does not like the band to be labelled. The band just released their new album 'The Satanist' at the start of February this year.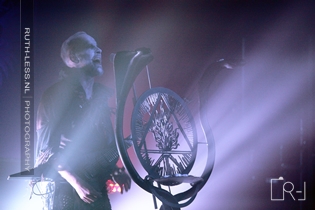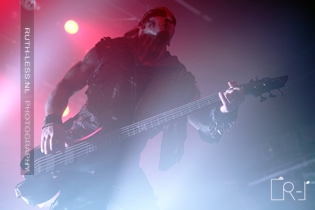 BEHEMOTH is Adam "Nergal" Darski (vocals, guitars), Zbigniew "Inferno" Promiński (drums), Tomasz "Orion" Wróblewski (bass, backing vocals) and Patryk "Seth" Sztyber (guitars, backing vocals).
www.behemoth.pl
/
www.facebook.com/behemoth
Music & Performance

BEHEMOTH should have been the main act, when talking about stage presentation. With an overwhelming show and a stage that is larger than life these Poles performed admiringly. On the one moment the audience sang and clapped along to basic rhythms, while the next they got slapped around the ears with raging blast beats and inexplicable guitar melodies. The overall atmosphere is dark and brooding and had a somewhat Mesopotamia character. The Persian warrior look of bass player Orion added to this impression and the looks of Nergal contributed convincingly. The band really got the audience going into a rage and Behemoth played a wonderful show. Although the music is distinctly recognizable, each song is different from the other. The show was interesting and entertaining at the same time.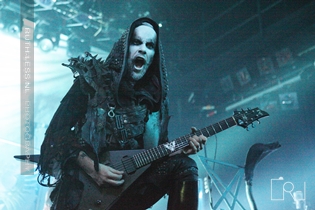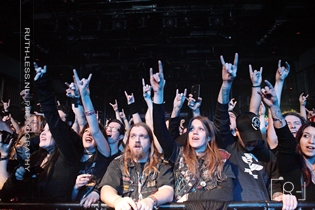 Setlist

01. Blow Your Trumpets Gabriel
02. Ora Pro Nobis Lucifer
03. Conquer All
04. Decade of Therion
05. As Above So Below
06. Slaves Shall Serve
07. Hidden in a Fog
08. Furor Divinus
09. Christians to the Lions
10. Ov Fire and the Void
11. The Satanist
12. Alas, Lord Is Upon Me
13. At the Left Hand of God
14. Chant for Eschaton 2000
---
15. Father O Satan O Sun!
Rating

Music: 8
Performance: 9
Sound: 8
Light: 8
Total: 8.3 / 10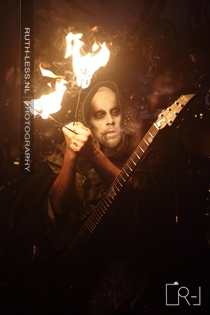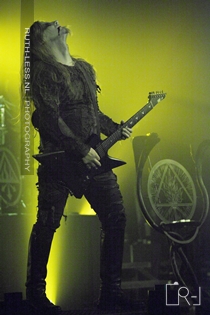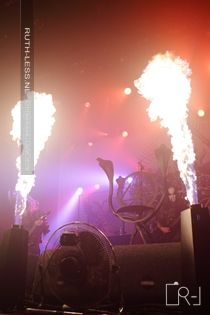 Cradle of Filth

CRADLE OF FILTH are an English extreme metal band formed in Suffolk in 1991. The band's musical style evolved from black metal to a cleaner and more "produced" amalgam of gothic metal, symphonic black metal and other extreme metal styles. Their lyrical themes and imagery are heavily influenced by gothic literature, poetry, mythology and horror films. In 1994, CRADLE OF FILTH was signed to Cacophonous Records, on which they released their first album 'The Principle of Evil Made Flesh'. Next, the band signed with Music For Nations, for whom they produced three of their most prominent full length CD's to date: 'Dusk and Her Embrace', 'Cruelty and the Beast', and 'Midian'. In 2003, CRADLE OF FILTH signed with Sony and released the album 'Damnation and a Day' followed by another label switch to Roadrunner Records where they released 'Nymphetamine' (2004), 'Thornography' (2006), 'Godspeed on the Devil's Thunder' (2008).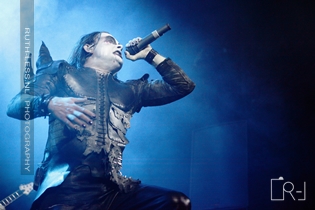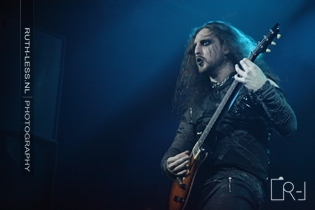 In 2010, CRADLE OF FILTH signed with Peaceville Records where they continued the production of their darkest music with 'Darkly, Darkly, Venus Aversa' (2010) and last but not least their 10th studio album 'The Manticore and other horrors' (2012). CRADLE OF FILTH is Dani Filth (vocals), Paul Allender (guitar), Daniel Firth (bass), James McIlroy (guitar), Martin Skaroupka (drums) and Lindsay Schoolcraft (live keys).
www.cradleoffilth.com
/
www.facebook.com/cradleoffilth
Music & Performance

Cradle Of Filth usually always gives off a decent performance. That also turned out to be the case this evening. The band was in go-fever and gave off a wonderful performance. Dani was screaming his proverbial ass off and he was fit enough to hold out the whole evening. The show was a lot more basic, especially compared to BEHEMOTH. Still the audience was quite enthusiastic in their reaction to CRADLE OF FILTH. The band has quite an oeuvre to choose from and it seemed they only played their strongest songs. A show by COF usually consists of 'Cruelty Brought Thee Orchids' and 'Her Ghost in the Fog'. From their new CD the band only played 'For Your Vulgar Delectation', with which they made clear that their reputation is based on their older works. This does not mean that CRADLE OF FILTH did a bad show; they were a fitting headliner to a very convincing evening of metal in the Melkweg.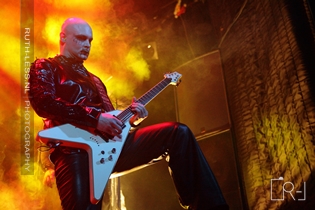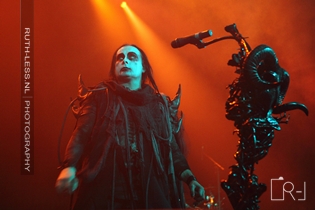 Setlist

01. Intro (At the Gates of Midian)
02. Cthulhu Dawn
03. A Dream of Wolves in the Snow
04. Summer Dying Fast
05. The Principle of Evil Made Flesh
06. Beneath the Howling Stars
07. For Your Vulgar Delectation
08. Haunted Shores
09. Nymphetamine (Fix)
10. Born in a Burial Gown
11. Cruelty Brought Thee Orchids
12. Her Ghost in the Fog
---
13. Intermission (Ave Satani)
14. Funeral in Carpathia
Rating

Music: 8
Performance: 8
Sound: 7
Light: 8
Total: 7.8 / 10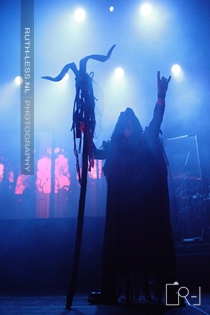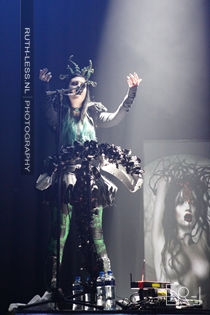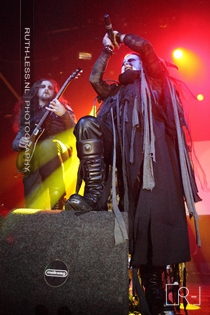 All pics by Ruth Mampuys (
www.ruth-less.nl
)
See also (all categories):