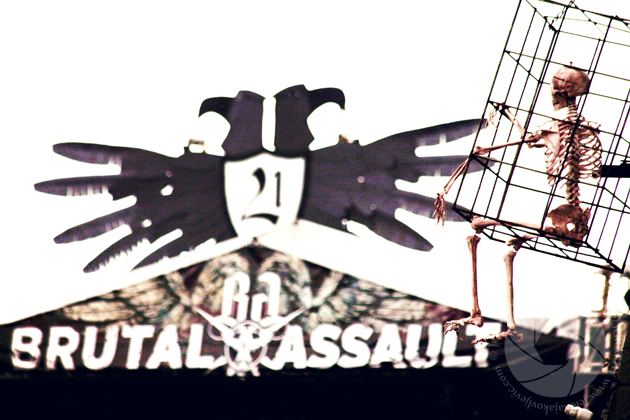 Fortress Josefov, Jaromer, Czech Republic
10th to 13th August 2016
Brutal Assault Festival Day 4: Jägermeister stage: Hypno5e (FR), Disavowed (NL), Misery Loves CO. (SE), Stick To Your Guns (US), Holy Moses (DE), Insomnium (FI), Agnostic Front (US), Destruction (DE), Ufomammut (IT) / Metalshop stage: Keep On Rotting (CZ), Knuckledust (UK), Lost Society (FI), Ektomorf (HU), Stuck Mojo (US), Eskimo Callboy (DE), Moonsorrow (FI), Behemoth (PL), Mgła (PL), Darkened Nocturn Slaughtercult (DE) / Metalgate stage: Omnium Gatherum (FI), Lighting Bolt (US), Birdflesh (SE), Angelcorpse (US), Defeater (US), Wolfbrigade (SE), Debustrol (CZ), Venom Inc. (UK), Valkyrja (SE) / Oriental stage: Archgoat (FI)

Brutal Assault is counting hours till the end of the 21st edition, while I am giving brutal challenge to myself - to catch all 30 concerts and to enjoy 16 hours of non-stop metal in the one festival day (including the loudest fire organ show by Bastiaan Maris on the fortress wall). How does it look like the full festival day? It is going to be one of the craziest days in my life! I prepared lot of photos and less words, so turn on the music loud and try to imagine that you are in this moment at the Brutal Assault!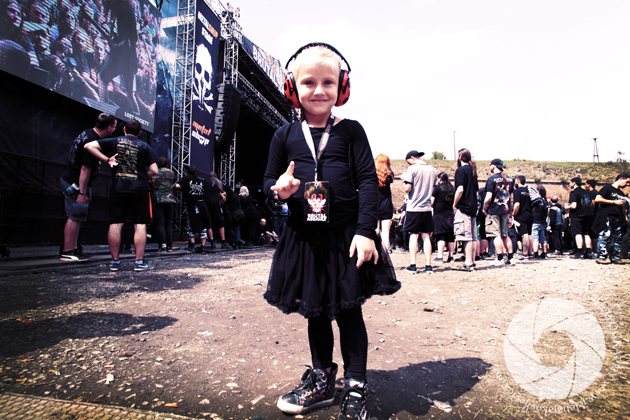 To get the atmosphere right, you should definitely see DISAVOWED, BEHEMOTH, DESTRUCTION and AGNOSTIC FRONT photo galleries. Than check the official Brutal Assault 21 After Movie (
https://www.youtube.com/watch?v=3TY3fkgpC70
). And assure your place at the next 2017 Brutal Assault Festival! Early tickets pre-sale is running. EMPEROR, ULCERATE and ELUVEITIE are already confirmed to play, and the biggest fan boned while keeping the best view place. In addition, the most important advice for next year Brutal Assault goers: Come one day earlier, take a shower in a night time, and beware of 1 EUR tasty Czech beer temptation! (The first two are to avoid hours and hours of queuing while missing concerts, and the third one is to make your choice easy:
http://brutalassault.cz/en/tickets
).
Keep On Rotting (CZ)

It is 10:30 Saturday morning, after three days of intense metal acts. Daniela Neumanová (Dahlien) of KEEP ON ROTTING is having the hardest privilege, to wake up metal heads with her roars as opening act of day four at Brutal Assault. Check Czech progressive death metal act KEEP ON ROTTING and their full-length 'Unforeseen Consequences' (2013). //
https://www.facebook.com/keeponrotting
/
https://keeponrotting.bandcamp.com
Hypno5e (FR)

The hypnotic fusion of exciting and melancholic, recognizable music bipolarity of French progressive metal act HYPNO5E, is perfectly fitting in the morning mood and the atmosphere of this moment in time. Explore landscapes of their new album 'Shores of the Abstract Line' (2016). //
http://www.hypno5e.com
/
https://www.facebook.com/Hypno5e
/
https://hypno5e.bandcamp.com
// Setlist (incomplete): 1. East Shore-In Our Deaf Lands / 2. Acid Mist Tomorrow / 3. Tutuguri
Knuckledust (UK)

KEEP ON ROTTING were waking up, HYPNO5E were fixing the morning mood, and now KNUCKLEDUST are finishing the wake up circle with the "morning aerobic" moshpit. Check how does it sound new album of London's hardcore punk KNUCKLEDUST, 'Songs Of Sacrifice' (2016). //
https://www.facebook.com/knuckledustofficial
/
http://www.gsrmusic.com
Very special treat, short clip from meet and greet session with KNUCKLEDUST's impressions on Brutal Assault:
Disavowed (NL)

The epic death metal concert with Robbert being more off than on the stage! One can see him running in the moshpit, in the other moment crowd is carrying him in full circles hundreds of meters around, then suddenly he is making a giant group hug, a photoshoot... and all while singing without stop! Robbert is going back to the stage for a moment, than looking towards fans and quickly jumping back to have more fun. The killer bonding and smiles on all faces! Respect! //
https://www.facebook.com/Disavowedofficial
// Setlist (incomplete): 1. Collateral Causality / 2. Rhizome
Lost Society (FI)

Energetic LOST SOCIETY are playing today through their new thrash metal album 'Braindead' (2016), which got very good critics and band recently signed worldwide agency deal with UTA. //
https://lostsocietyfinland.com
/
https://www.facebook.com/lostsocietyfinland
// Setlist: 1. Braindead / 2. KILL (Those Who Oppose Me) / 3. Hollow Eyes / 4. Terror Hungry / 5. I Am the Antidote / 6. Drum Solo / 7. Riot
Misery Loves CO. (SE)

Now something different, industrial metal sound of MISERY LOVES CO. are being back on the stage. Reunited and with a fresh energy, it looks like a perfect moment for new materials. Listen their last album 'Your Vision Was Never Mine to Share' (2000). //
https://www.facebook.com/Misery-Loves-Co-100819526726770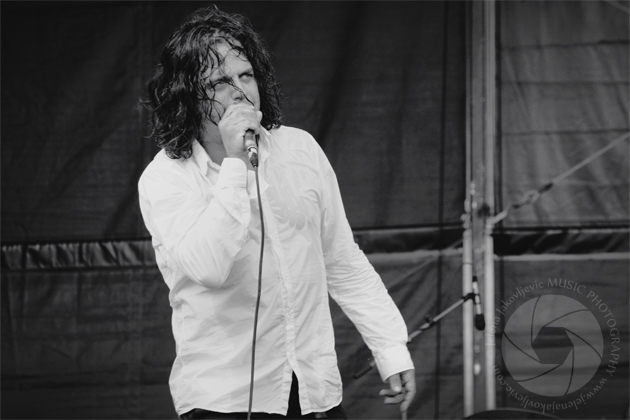 Ektomorf (HU)

Festival ground is full, and EKTOMORF's music maturity is visible through the performance. Check the latest groove thrash metal album 'Aggressor' (2015), the music video 'Aggressor' (2016), and catch them on the Aggression Over Europe Tour in October and November! //
http://www.ektomorf.com
/
https://www.facebook.com/EktomorfOfficial
// Setlist (incomplete): 1. Fuck You All / 2. Black Flag / 3. I Know Them / 4. Outcast
Stick To Your Guns (US)

Second day on their European Tour, American hardcore punk band from California is crashing with the full power. STICK TO YOUR GUNS stick to intense jumps through the whole show, without getting tired, and with a good response from fans. Grab the new EP 'Better Ash Than Dust'. //
http://www.sticktoyourguns.net
/
https://www.facebook.com/STYGoc
// Setlist: 1. Bringing You Down / 2. Empty Heads / 3. Nobody / 4. Such Pain / 5. What Choice Did You Give Us? / 6. We Still Believe / 7. I Choose Nothing / 8. Nothing You Can Do to Me / 9. Amber / 10. Against Them All
Stuck Mojo (US)

STUCK MOJO are having the great brand new lineup, being stronger for Robby J. Fonts on vocals and Len Sonnier on bass. Robby is bringing the unique energy on the stage, in one moment being totally crazy wild, and in the other moment peacefully contemplating the floating synergy of band and fans. If you are into rap metal the new album is must, listen to 'Here Come the Infidels' (2016). //
https://www.facebook.com/StuckMojo
/
http://www.pledgemusic.com/artists/stuckmojo
// Setlist: 1. Here Come The Infidels / 2. Rape Whistle / 3. Pigwalk / 4. Throw the Switch / 5. Charles Bronson / 6. Open Season / 7. Rising / 8. Not Promised Tomorrow
Omnium Gatherum (FI)

Wrapped in the smoky mist, OMNIUM GATHERUM's 'Grey Heavens' (2016) songs are opening for the fourth day on the Metalgate stage. Even though it is the first concert on the Metalgate stage today, head bangers are already warmed up and moshpit is instantly forming with melodic death metal sounds. //
http://www.omniumgatherum.org
/
https://www.facebook.com/omniumgatherumband
// Setlist: 1. The Pit / 2. Skyline / 3. Nail / 4. The Unknowing / 5. Frontiers / 6. The Sonic Sign / 7. New World Shadows
Holy Moses (DE)

The HOLY MOSES sound and look better and better with every year, proof is a killer party today! Band is known for Sabina's growls, but also for many lineup changes until 2012 and the formation we are watching now. An interesting setlist is touching new album but focusing on old ones: 'Redefined Mayhem' (2014), 'Reborn Dogs' (1992), 'Terminal Terror' (1991), 'World Chaos' (1990), 'The New Machine of Liechtenstein' (1989), and 'Finished with the Dogs' (1987). //
https://www.facebook.com/official.holy.moses
/
http://www.holymoses.net
// Setlist: 1. Def con II / 2. Finished With the Dogs / 3. Hellhound / 4. Nothing for My Mum / 5. World Chaos / 6. Undead Dogs / 7. Panic / 8. Life's Destroyer / 9. Reborn Dogs / 10. SSP (Secret Service Project) / 11. Current of Death / 12. Too Drunk to Fuck (Dead Kennedys cover)
Eskimo Callboy (DE)

Crazy running whirlpool is continuously spreading in front of the ESKIMO CALLBOY stage and sucking in new fans. Why? Find Electrocore answer here: 'Crystals' (2015), 'We Are the Mess' (2014), 'Bury Me in Vegas' (2012). //
http://www.eskimocallboy.com
/
https://www.facebook.com/eskimocallboy
Lighting Bolt (US)

"Guerrilla gig" is not happening today, LIGHTNING BOLT are playing on the stage (at least while I am there). Brutal Assault is the final European tour date for American noise rock duo, and considering the audience reaction they should soon come back. //
https://www.facebook.com/lightningboltband
/
http://www.laserbeast.com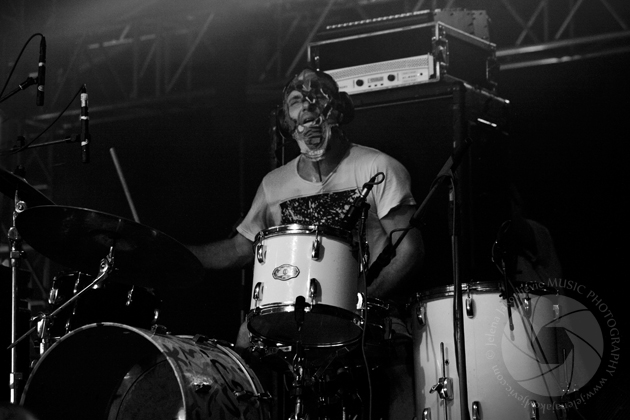 Insomnium (FI)

Here is Markus Vanhala today for the second time on the stage with melodic death metal, earlier with OMNIUM GATHERUM at the Metalgate stage, and now with INSOMNIUM at the main Jägermeister stage. Visuals and choice of songs are still promoting the 'Shadows of the Dying Sun' (2014) album, but follow news, the epic album 'Winter's Gate' is coming! //
http://www.insomnium.net
/
https://www.facebook.com/insomniumofficial
// Setlist: 1. The Primeval Dark / 2. While We Sleep / 3. Change of Heart / 4. Down With the Sun / 5. Revelation / 6. Ephemeral / 7. The Killjoy / 8. Devoid of Caring / 9. The Promethean Song / 10. Mortal Share
Birdflesh (SE)

Hilarious BIRDFLESH in beautiful housedresses are not to be missed at Brutal Assault! It would be nice to see a new studio album of this thrashing Grindcore act. The last studio album is 'The Farmers' Wrath' (2008), and there is newer live album 'Melbourne in Hell' (2015). //
https://www.facebook.com/birdfleshgrind
/
http://www.myspace.com/birdfleshgrind
// Setlist: 1. Assfix / 2. Brutal Pregnancy / 3. Victims of the Cat / 4. Happy Hour Crazy Hour
Moonsorrow (FI)

All hands are in the air and festival ground is fully packed with MOONSORROW spiritual pagan metal. Cinematic opening, nature sounds with percussions and chanting, is grasping deeply under the skin. 'Jumalten aika' is the first song today and the first song of the same name album from 2016. - Highly recommended listening! //
http://moonsorrow.com
/
https://www.facebook.com/Moonsorrow-23474099648
// Setlist: 1. Jumalten aika / 2. Suden tunti / 3. Ukkosenjumalan poika / 4. Ihmisen aika (Kumarrus pimeyteen) / 5. Sankaritarina
Angelcorpse (US)

ANGELCORPSE are finishing their concert much earlier than scheduled, and before I realised it is the last song they were already gone. Concert was overlapping with MOONSORROW and AGNOSTIC FRONT concerts on main stages. So with all due respect, here is the only snapshot I have. //
https://www.facebook.com/ANGELCORPSE666OFFICIAL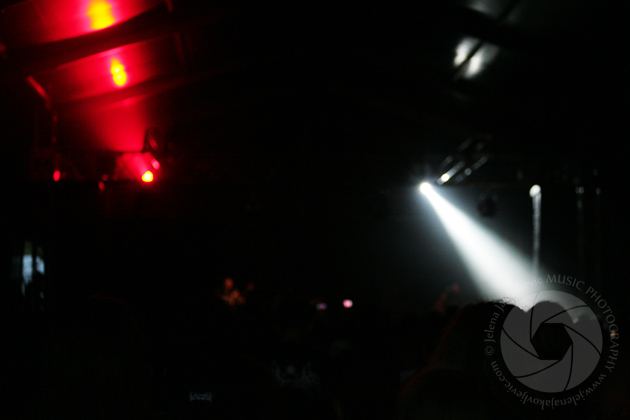 Agnostic Front (US)

Everyone is invited to join, in front of the stage and on the stage with energetic Hardcore punk pioneers from New York City, AGNOSTIC FRONT! Great atmosphere! Listen the latest album 'The American Dream Died' (2015) to get in the mood of the evening. //
http://www.agnosticfront.com
/
https://www.facebook.com/agnosticfront
// Setlist: 1. The Eliminator / 2. Dead to Me / 3. Social Justice / 4. My Life My Way / 5. Police Violence / 6. Only in America / 7. Warriors / 8. For My Family / 9. Friend or Foe / 10. Victim in Pain / 11. Never Walk Alone / 12. All Is Not Forgotten / 13 .Crucified (Iron Cross cover) / 14. Gotta Go / 15. Take Me Back / 16. Addiction / 17. Blitzkrieg Bop (Ramones cover)
Defeater (US)

DEFEATER are on the Metalgate stage, while BEHEMOTH, the main act of the evening are starting to play on the other side of the festival ground. Both places are crowded, and it seems all fans of Hardcore punk are here, and lovers of black death metal are in front of the Metalshop stage. Listen to 'Abandoned' (2015), the latest DEFEATER's album. //
https://www.facebook.com/defeaterband
/
http://defeater.me
Behemoth (PL)

Visually the most appealing show tonight is fulfilling all expectations of BEHEMOTH fans. There is no need to say much more, rather see the photo gallery and enjoy! //
http://behemoth.pl
/
https://www.facebook.com/behemoth
// Setlist: 1. Blow Your Trumpets Gabriel / 2. Furor Divinus / 3. Messe Noire / 4. Ora Pro Nobis Lucifer / 5. Amen / 6. The Satanist / 7. Ben Sahar / 8. In the Absence ov Light / 9. O Father O Satan O Sun! / 10. Ov Fire and the Void / 11. Conquer All / 12. Chant for Eschaton 2000
Wolfbrigade (SE)

Swedish crust punk WOLBRIGADE are bringing great develop of the evening for "d-beat" fans, already gathered in front of the Metalgate stage with the previous DEFEATER concert. Maybe some new materials will come soon? Till than album 'Damned' (2012). //
https://www.facebook.com/lycanthropunks
// Setlist (incomplete): 1. Outlaw Vagabond
Destruction (DE)

The title of the most entertaining show of the evening is going to DESTRUCTION! With crazy butcher and sexy lady on the stage it cannot be boring to play. Simply great match with 'Mad Butcher' and 'The Butcher Strikes Back' songs. This was definitely unique must see act! Check the new album 'Under Attack' (2016). //
http://www.destruction.de
/
https://www.facebook.com/destruction
// Setlist: 1. Under Attack / 2. Curse the Gods / 3. Nailed to the Cross / 4. Mad Butcher / 5. Life Without Sense / 6. Second to None / 7. Thrash Till Death / 8. Eternal Ban / 9. Drum Solo / 10. Thrash Attack / 11. The Butcher Strikes Back / 12. Bestial Invasion
Archgoat (FI)

The Oriental stage was waiting the whole day one and the only ARCHGOAT. There is something special in the air, cosy and spooky in the same time. Black metal themes are melting with the space hidden between fortress walls, shared only with the biggest fans of ARCHGOAT. Get a piece of the feeling with 'The Apocalyptic Triumphator' (2015), latest ARCHGOAT full-length. //
https://www.facebook.com/archgoat.official
// Setlist (incomplete): 1. Blessed Vulva / 2. The Apocalyptic Triumphator
Mgła (PL)

After BEHEMOTH, MGŁA is continuing Polish black metal set on the Metalshop stage. In front of us is standing minimalistic duo without faces, Maciej Kowalski (Darkside) and Mikołaj Żentara (M.), empowered with live performance members, and of course with a lot of smoky fog. Setlist is play through different times with albums: 'Exercises in Futility' (2015), 'With Hearts Toward None' (2012), 'Further Down the Nest' (2007), and 'Mdłości' (2006). //
https://www.facebook.com/mglaofficial
// Setlist: 1. Further Down the Nest I / 2. Exercises in Futility I / 3. Mdłości II / 4. With Hearts Toward None I / 5. Exercises in Futility II / 6. With Hearts Toward None III / 7. With Hearts Toward None VII / 8. Exercises in Futility VI
Debustrol (CZ)

From Polish black metal set, now quick jump into Czech thrash metal with DEBUSTROL on the Metalgate stage. DEBUSTROL are busy with preparing new materials, so check the latest news! //
https://www.facebook.com/Debustrol-291247906720
// Setlist (incomplete): 1. Vyznání smrti / 2. Trendshit
Ufomammut (IT)

The last act on the Jägermeister stage is psychedelic sludge metal trio, UFOMAMMUT from Italy! (UFOMAMUT are also known as fine art collective Malleus) Tonight we are listening all songs from the latest album 'Ecate' (2015), 'Helcore' song from the album 'Lucifer Songs' (2005) and concert is finishing with 'God' from the album 'Snailking' (2004). //
http://www.ufomammut.com
/
https://www.facebook.com/ufomammutband
// Setlist: 1. Somnium / 2. Plouton / 3. Chaosecret / 4. Temple / 5. Revelation / 6. Daemons / 7. Hellcore / 8. God
Venom Inc. (UK)

VENOM INC. is featuring legendary black metal trio: Tony Dolan (Demolition Man) on vocals & bass, Jeffrey Dunn (Mantas) on guitar, and Anthony Bray (Abaddon) on drums. Perhaps the most special concert of the evening as the legendary Black Metal trio return to their roots with a classic VENOM set. //
http://www.venom-inc.com
/
https://www.facebook.com/VenomIncOfficial
// Setlist: 1. Welcome to Hell (Venom cover) / 2. Angel Dust (Venom cover) / 3. Don't Burn the Witch (Venom cover) / 4. Blackened Are the Priests (Venom cover) / 5. Bloodlust (Venom cover) / 6. Poison (Venom cover) / 7. Sons of Satan (Venom cover) / 8. Black Metal (Venom cover) / 9. Countess Bathory (Venom cover) / 10. In League with Satan (Venom cover) / 11. Die Hard (Venom cover)
Darkened Nocturn Slaughtercult (DE)

Yvonne Wilczynska (Onielar) of DARKENED NOCTURN SLAUGHTER CULT is the third female vocal tonight at the Brutal Assault. DARKENED NOCTURN SLAUGHTER CULT are closing the Metalshop stage with creepy "lullaby". Check 'Necrovision' (2013), their last full length. //
http://www.slaughtercult.de
/
https://www.facebook.com/Slaughtercult
Valkyrja (SE)

It is 02:40 am and hands of the most persistent fans are still in the air, sending greetings to Swedish black metallers on the stage. VALKYRJA are having the privilege to wrap the Brutal Assault XXI with their last song now! //
http://www.valkyrja.se
/
https://www.facebook.com/valkyrjaswe
All photos by Jelena Jakovljevic, full galleries check at:
https://www.facebook.com/JelenaJakovljevicPhotography
/
http://www.jelenajakovljevic.com
See also (all categories):