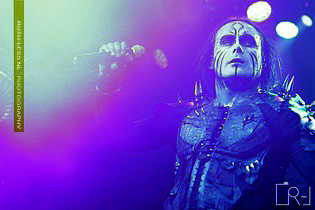 013, Tilburg, The Netherlands
26th November 2015
Cradle of Filth, Ne Obliviscaris, The Monolith Deathcult

013 has recently been reopened after several months of reconstruction. The interior has been renewed and more importantly: both stages have been enlarged, a welcome change which is illustrated by the fact that 013 is completely sold out tonight with STATUS QUO on the main stage and CRADLE OF FILTH on the Jupiler stage. While the oldies shuffle in line for the first band, I more happily join the dark crowd with painted faces at the smaller stage. With the "Inquisitional Torture Tour", extreme metal band CRADLE OF FILTH from the UK promoting their latest album 'Hammer of the Witches'. Tonight they share the stage with fusion metal band NE OBVLIVISCARIS from down under and THE MONOLITH DEATHCULT from our own little country.
The Monolith Deathcult

THE MONOLITH DEATHCULT is a Dutch death metal band that started out in 2002. According to their bio the band makes "music for the masses" without losing their identity by making easy-listening rock tunes. They do so by broadening their death metal with influences from techno/ dance and industrial music. After an initial demo in 2002, the band released five full length albums over the years. In 2015, TMD released their limited edition EP 'Bloodcvlts'.THE MONOLITH DEATHCULT is Michiel Dekker (guitars, vocals), Robin Kok (vocals, bass) and Carsten Altena (keys, samples, guitars).
www.monolith-deathcult.com
/
www.facebook.com/monolithdeathcult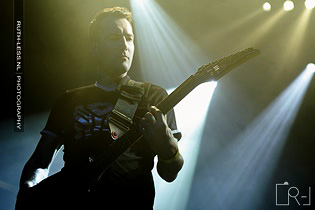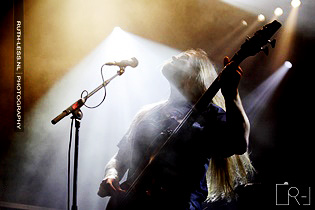 Music & Performance

About twenty mins earlier than scheduled, THE MONOLITH DEATHCULT takes the stage. The Dutch trio brings a confident death metal sound with low growling vocals from Robin and Michiel. The hall is still filling up with obvious CRADLE fans, but I can see some signs of appreciation for THE MONOLITH DEATHCULT as a few heads start nodding in the front. They claim not to gorge on technicalities and don't aim at virtuosity. However, I do see some obvious smiles as Michiel, Robin and Carsten take on some raging guitar riffs. TMD manages to use sound effects without losing the typical death metal character of their music.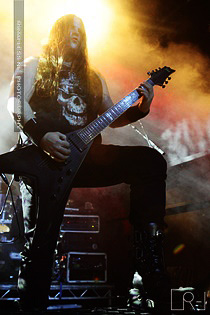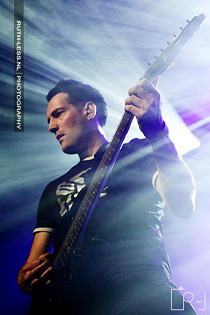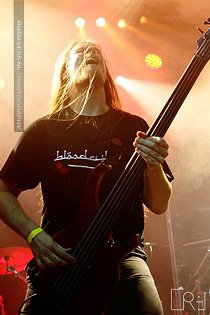 Needless to say, death metal bands are usually not very gentle on the ears when it comes to volume. That said, when you see one of those band member put his fingers in his ears you better brace yourself… An extremely low and loud bass sound hits the audience like a pressure wave and my organs get slightly reorganized. We get a few more of these surprise blasts during their act which takes away the 'cool' a bit from the initial sound effect. Overall proper heavy warmup!
Rating

Music: 7
Performance: 6
Sound: 7
Light: 3
Total: 5.8 / 10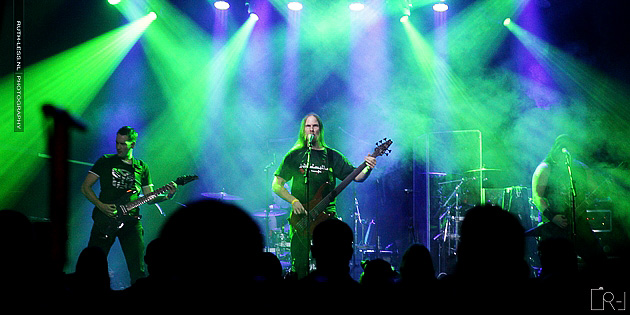 Ne Obliviscaris

NE OBVLIVISCARIS (Latin for "forget not") are a six-piece Extreme Progressive Metal band from Melbourne, Australia. They use a variety of instruments consisting of a violin, two guitars, bass, drums, clean and extreme vocals. The musical influences ranges from death to black, thrash and melodic metal, and classical, jazz, avant-garde and flamenco. Nine years after formation, and five years after the release of demo 'The Aurora Veil,' NE OBVLIVISCARIS released their debut album 'Portal of I', in 2012. Their second album 'Citadel' was released in August 2014 and two EPs ('Hiraeth' and 'Sarabande to Nihil') followed earlier this year. NE OBVLIVISCARIS is Xen (lead vocals & lyrics), Tim Charles (violin & clean vocals), Matt Klavins (guitar), Brendan Brown (bass), Benjamin Baret (lead guitar), Dan Presland (drums).
www.facebook.com/NeObliviscarisBand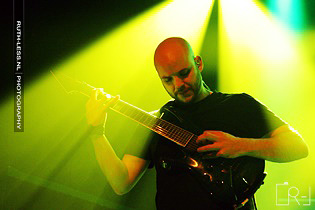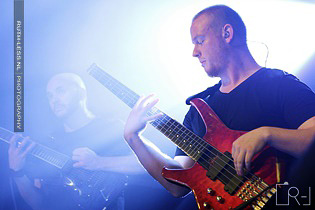 Music & Performance

Although all the way from down under, NE OBLIVISCARIS (or their somewhat androgynous singer Xen to be more precise) clearly gathered a few fans here in Tilburg. While a few girls in front scream his name, the band takes off with 'Devour me, Colossus'. With six band members and a double backline on stage there isn't much freedom of movement. Surprisingly, it's not the guitarists that put themselves forward the most on stage. Because of the typical blend of styles, every NE OBLIVISCARIS member gets the opportunity to shine during the set. I'd like to specifically note the nonchalance of drummer Dan Presland when moving from pounding black metal double bass to a laid back jazz rhythm.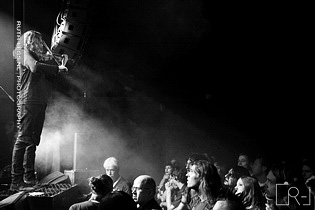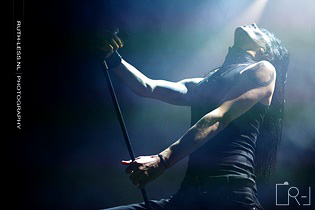 NE OBLIVISCARIS has two vocalists, splitting the grunts and clean parts between Xen and Tim. Besides taking care of the beautiful violin intermezzo's, Tim's clean vocals almost sound too good to be true…NE OBLIVISCARIS is portrayed as a band hard not to like because of their fusion sound blending influences from many styles such as prog rock, electronics, black and death metal and even classic and jazz. However, it also encompasses the risk that a little bit of everything results in a lot of nothing, especially in a live setting. The dynamics and variation of their live performance compensates only partially for that.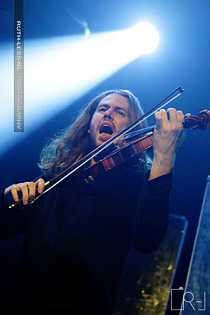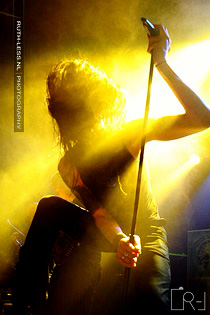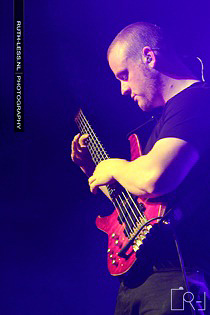 Setlist

01. Devour Me, Colossus (Part I): Blackholes
02. Painters of the Tempest (Part II): Triptych Lux
03. Of the Leper Butterflies
04. And Plague Flowers the Kaleidoscope
Rating

Music: 6
Performance: 8
Sound: 7
Light: 3
Total: 6 / 10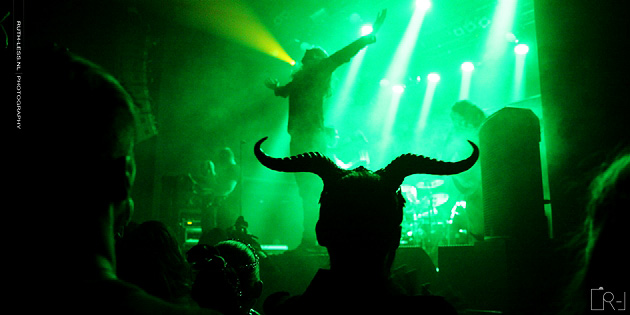 Cradle of Filth

CRADLE OF FILTH is an English extreme metal band from Suffolk, UK that originates from 1991. The band's musical style evolved from black metal to a cleaner and more "produced" amalgam of gothic metal, symphonic black metal and other extreme metal styles. Their lyrical themes and imagery are heavily influenced by gothic literature, poetry, mythology and horror films. In 1994, Cradle of Filth was signed to Cacophonous Records, on which they released their first album 'The Principle of Evil Made Flesh'. Next, the band signed with Music For Nations, for whom they produced three of their most prominent full length CD's to date: 'Dusk and Her Embrace', 'Cruelty and the Beast', and 'Midian'.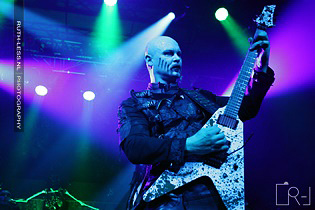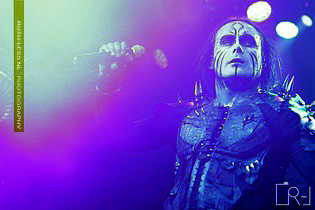 In 2003, CRADLE OF FILTH signed with Sony and released the album 'Damnation and a Day' followed by another label switch to Roadrunner records where they released 'Nymphetamine' (2004), 'Thornography' (2006), 'Godspeed on the Devil's Thunder' (2008). In 2010 CRADLE OF FILTH signed with Peaceville Records where they continued the production of their dark music with 'Darkly, Darkly, Venus Aversa' (2010) and 'The Manticore and other horrors' (2012). As of 2015, their 11th album saw the light (or the darkness): 'Hammer of the Witches'. Cradle of Filth is Dani Filth (Vocals), Rich Shaw (Guitar), Daniel Firth (Bass), Marek Šmerda (Guitar), Martin Skaroupka (Drums) and Lindsay Schoolcraft (Live Keys & female vocals).
www.cradleoffilth.com
/
www.facebook.com/cradleoffilth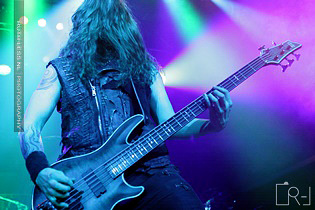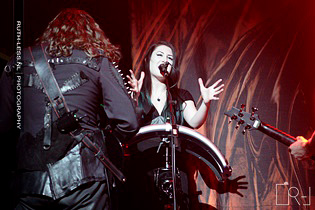 Music & Performance

The sold out venue illustrates the popularity of CRADLE OF FILTH on this last evening of CRADLE's European Inquisitional Torture tour. Some are dedicated fans; others are attending for more nostalgic reasons from back in the days. Lights are dimmed, skeletons and horned microphone present on stage and the eerie intro sets in. As the band members make their grand theatrical entrance, the audience gives them a warm welcome. As always, Dani filth is highly energetic, jumping up down as an impatient kid that can't wait to scream into that microphone. And yes, he still does those characteristic high pitched screams.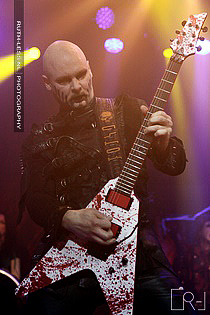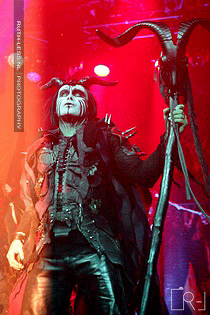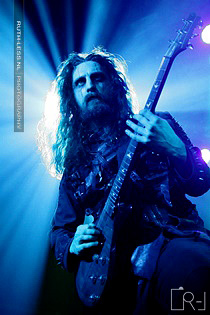 There is no doubt that CRADLE OF FILTH knows how to set up a live show, and the audience easily goes along with whatever Dani throws at them. He easily bosses them around and encourages them to show some more enthusiasm. Being not very familiar with their recent work, I mostly enjoyed the older songs such as 'Cruelty brought thee Orchids' and 'Queen of winter, Throned'. It was only after the onset of the encore that the audience really got going with more oldies such as 'Nymphetamine' and 'Her Ghost in the fog'. My taste in music has changed somewhat over the years, but going to a CRADLE OF FILTH show should definitely be on everyone's bucket list!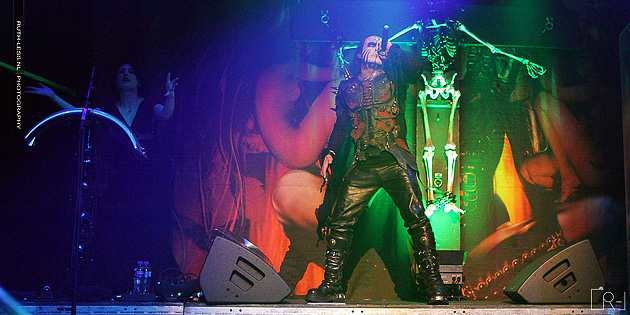 Setlist

01. Humana Inspired to Nightmare (intro)
02. Heaven Torn Asunder
03. Cruelty Brought Thee Orchids
04. Blackest Magic in Practice
05. Lord Abortion
06. Right Wing of the Garden Triptych
07. Malice Through the Looking Glass
08. Deflowering the Maidenhead, Displeasuring the Goddess
09. Queen of Winter, Throned
---
10. Walpurgis Eve (intro)
11. Yours Immortally…
12. Nymphetamine (Fix)
13. Her Ghost in the Fog
14. Gilded Cunt
15. The forest whispers my name
16. Blooding the Hounds of Hell (Outro)
Rating

Music: 7
Performance: 8
Sound: 7
Light: 5
Total: 6.8 / 10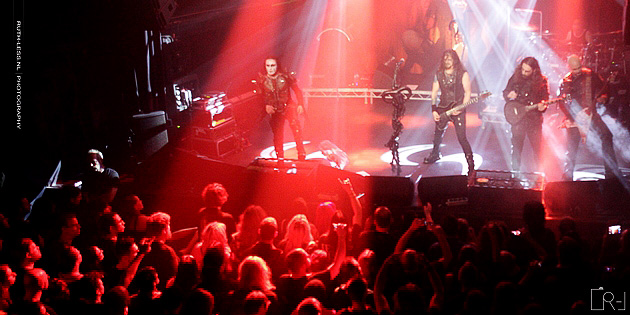 All pictures by Ruth Mampuys (
www.ruth-less.nl
)
See also (all categories):