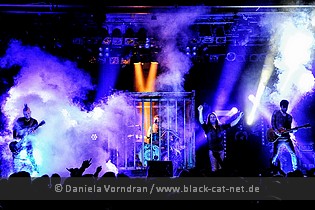 Columbia Theater, Berlin, Germany
22nd November 2015
Diary of Dreams & The Beauty of Gemina

It was the first snowy day in Berlin and people were lamenting and shivering, the public traffic had several problems, but nevertheless, the club was more than 80% filled. The audience wasn't as young as I had expected; most people were in their forties or even older. Most of the people were clearly members of the Gothic subculture, often dressed in band shirts and all enjoying the bands peacefully and in a good mood.
The Beauty of Gemina

The Swiss dark and synth rock project, founded in 2006 by Micheal Sele, consists of Michael Sele (words & music, vocals, guitar, keyboards), Mac Vinzens (drums), Andi Zuber (bass) and Simon Ambühl (guitar) currently. Well known in the Gothic scene, they managed to enchant the audience with the beautiful and dark voice of Sele and the sad and at the same time powerful rhythms. Correspondingly, they weren't just a supporting act, but a substantial part of the event. They left the stage after a performance of about an hour, highly acclaimed.
http://www.thebeautyofgemina.com
/
https://www.facebook.com/TheBeautyOfGemina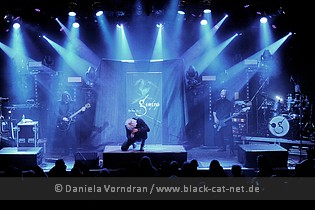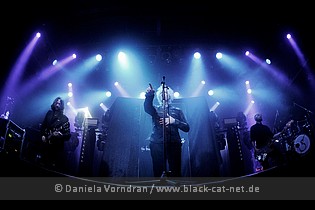 Diary of Dreams

Founded in 1989 by Adrian Hates, DIARY OF DREAMS is not only one of the oldest, but also one of the most famous and beloved bands of the dark side of music. The members around Adrian have frequently changed, but nowadays the band consist of Adrian Hates (vocals, guitar, composition), Gaun:A (guitars, bass, vocals, keys), Flex (vocals, guitar) and Dejan (drums). In 26 years of service DIARY OF DREAMS created 12 studio albums and several EPs and compilations. This October, the dark rockers delighted us with 'Grau im Licht', after 'Elegies In Darkness' caused a sensation at the beginning of 2014.
http://www.diaryofdreams.de
/
https://www.facebook.com/officialdiaryofdreams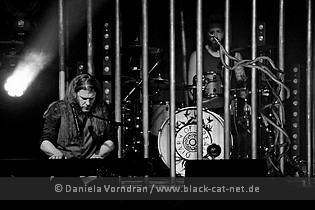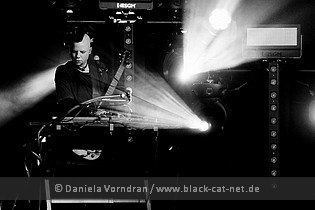 Music & Performance

After a short break and after BEAUTY OF GEMINA had taken away their instruments, the stage centre was darkened with black curtains with fairy lights behind them. At a quarter past nine, the members of DOD appeared, the curtains were taken of and we could see the micro put on tree roots and the drummer locked up in a cage. With red spot lights on the stage, Adrian Hates started his performance. He gave a warm welcome to the audience, thanking them for being there. The second song was started with three fountains of fumes, a really nice effect together with white lights. It was the song 'Malum' from their previous album. It was as melancholic and sad as usual, and Hates' mourning voice was taking the crowd away to a landscape full of loneliness and depression.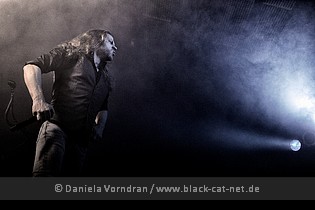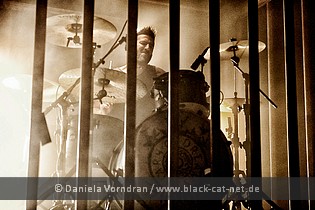 But it was the third song, 'MenschFeind' from the same-named EP (2005) which took the people to a new dimension of enthusiasm - nearly all visitors started to clap and dance ecstatically. For me, one of the highlights was the ballad 'Ikarus' from the new album, wonderfully sung by Hates, with soft piano accords, red lights and lyrics which for me describe a person completely lost, erring through her life without any support or aim. On 'Mythology of Violence', Hates motivated the audience to sing the refrain. "I know you are able to sing louder!" he yelled, and people gave their best. After this song, a chair was brought for Adrian, and a spectator shouted: "Old man!", which was answered with humour by Adrian: "You first have to grow as old as I am".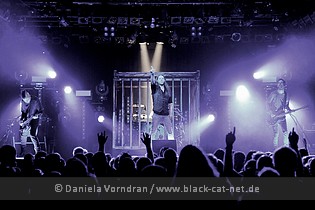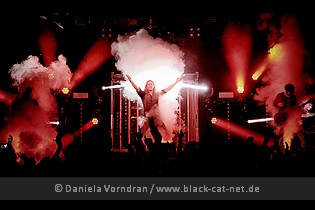 Following 'Colors of Grey' was another highlight, an emotional ballad, stunningly performed by Hates' haunting voice. The audience didn't stop clapping after this song. Another big moment was the last song of the regular set, 'Undividable'. The audience freaked out and people were crying for an encore which was given by the band without playing hard to get. A wonderful and heart-warming event in a cold winter night.
Setlist

01. Intro: Schwarz
02. Sinferno
03. Malum
04. MenschFeind
05. Psycho-Logic
06. Krank
07. Butterfly:Dance!
08. Giftraum
09. Soul Stripper
10. Ikarus
11. Schuldig!
12. Choir Hotel
13. Mythology of Violence
14. Colors of Grey
15. Dogs of War
16. Grau im Licht
17. A Dark Embrace
18. Endless Nights
19. Undividable
---
20. The Plague
21. King of Nowhere
22. Kindrom
---
23. Traumtänzer
Rating

Music: 10
Performance: 8
Sound: 7
Light: 9
Total: 8.5 / 10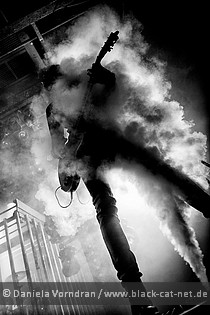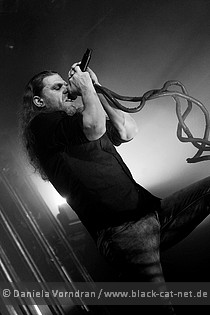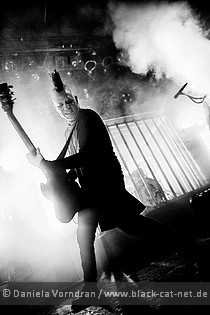 All pictures from the show in Bochum by (
http://www.vorndranphotography.com
/
http://www.facebook.com/blackcatnet
)
See also (all categories):