Dinkelsbühl, Germany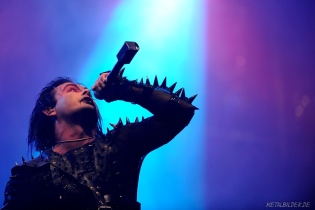 14th to 16th August 2008
Summerbreeze Festival Day 3: Hackneyed, Endstille, Neaera, Ensiferum, Primal Fear, H-Blockx, Sonic Syndicate, Destruction, Cradle of Filth and pics of Anathema, Autumn, Dismember, Heaven Shall Burn, The Vision Bleak


Finally it was time for the last day of Summer Breeze 2008, with one final array of great bands. And END OF GREEN were so kind to offer a breakfast, which I unfortunately missed because I was lost in the Bavarian wilderness...
Hackneyed


Just one year ago HACKNEYED was founded in the south of Germany. The guys have an average age of sixteen but they already are signed to Nuclear Blast and their first album 'Death Prevails' was out in July 2008.
http://www.hackneyed.de/
/
www.myspace.com/hackneyed
Music & Performance

Probably the most surprising and surely the youngest band on this year's billing - in more than one meaning. Still their young age didn't prevent them from rocking and they had no need to fear the comparison with other bands. Their music sounded quite mature and just like, well, metal; their show seemed experienced. They completely proved they belong on stage.
Rating

Music: 7
Performance: 7
Sound: 6
Lights: - (daylight)
Total: 6.7 / 10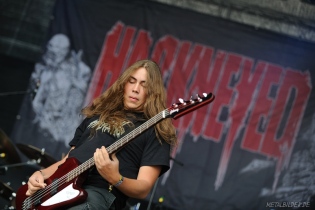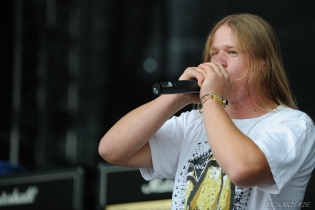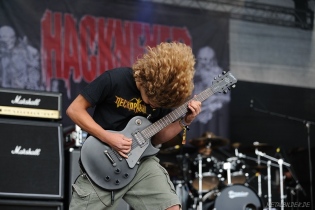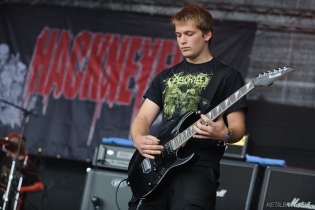 Endstille

ENDSTILLE comes from Kiel in the north of Germany. The band was formed in 2000 and so far they have released seven LPs. There have often been discussions about the band's artwork, which is mainly inspired by World War II. The band is signed to Regain Records.
http://www.endstille.com/
/
www.myspace.com/endstilleband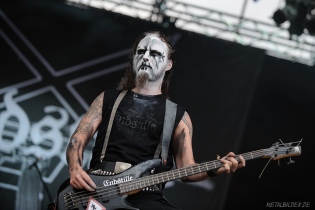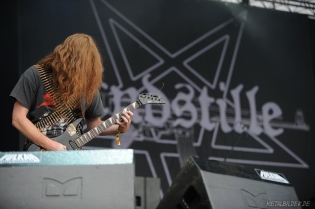 Music & Performance

With their brute-melodic music, ENDSTILLE met the audience's taste. The singer's ability of acting let the listener find himself in a very unique atmosphere. At some parts it even seemed to be a little as a theatre play as well as - of course - a metal concert. But although they seemed to be rather grim, they had a good pinch of humour and even gave a viewer's choice on which song should be the last one.
Rating

Music: 9
Performance: 9
Sound: 7
Lights: - (daylight)
Total: 8.4 / 10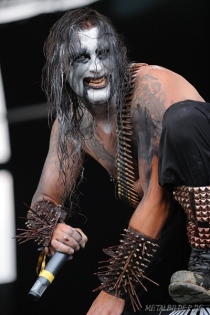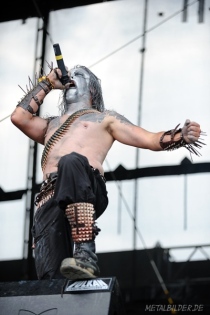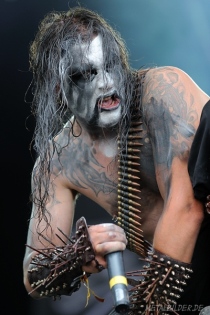 Neaera

In 2003 the band started in Münster as THE NINTH GATE and recorded their first demo in February 2004. The very same month they were signed to Metal blade records, changed their name to NEAERA and recorded their first album in November, which was out in March the next year. They play a mixture of Melodic Death metal and Metalcore.
http://www.neaera.com/
/
www.myspace.com/neaera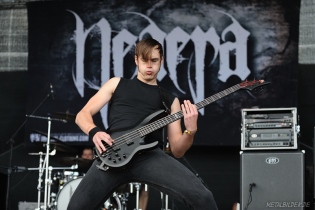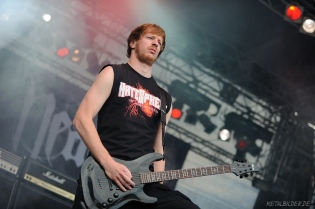 Music & Performance

This concert was an awesome example of how to move the masses and from time to time seemed more like war (in a good way, though) than a concert, so I was rather content to watch this one from a distance. And honestly it's pretty hard to say more about this band than: simply amazing. Even the Pain stage's not so great sound did not lessen the quality of this performance.
Rating

Music: 8
Performance: 9
Sound: 7
Lights: - (daylight)
Total: 8 / 10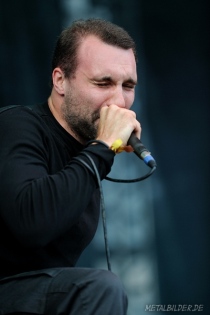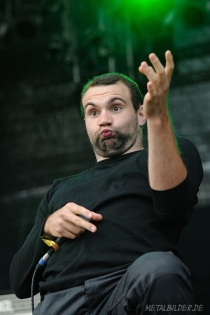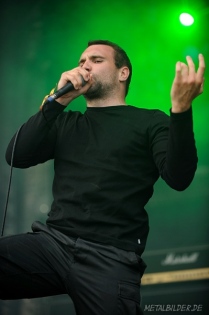 Ensiferum

The Finnish folk metal band ENSIFERUM was formed in Helsinki in 1995 as a three man band. Only one of the founding members still plays in the band that currently has four members. In 2001 they released their first album at Spinefarm records, to whom they still are signed.
http://www.ensiferum.com/
/
www.myspace.com/officialensiferum
Music & Performance

Whatever you expected to happen at a metal concert - you weren't disappointed. They had one of the biggest walls of death I've ever seen. They had hay flying and people jumping around like crazy. One really could tell they were one of the most awaited bands of the day, catching the audience with every song a little more. Especially when they were calling in German for their fans to sing a part of a song before they started playing it was awesome.
Rating

Music: 8
Performance: 8
Sound: 8
Lights: - (daylight)
Total: 8 / 10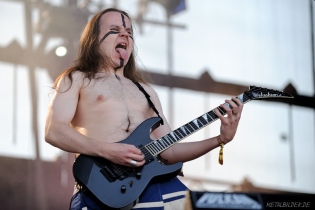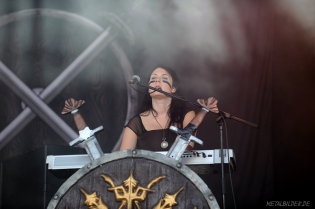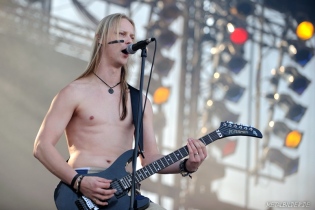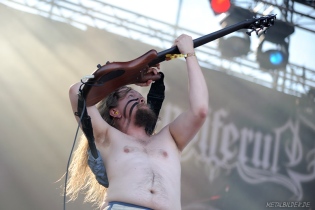 Primal Fear

PRIMAL FEAR from Esslingen (Germany) are one of Germany's leading Power-metal bands and was found in 1997 by Ralf Scheepers (Ex-Gamme Ray) and Mat Sinner (Sinner) as an attempt to "further the groundwork laid by fellow countrymen Helloween, Grave Digger...". They soon were essential part of Germany's metal scene. They are signed to Frontiers Records.
http://www.primalfear.de/
/
www.myspace.com/primalfearmetal
Music & Performance

Had I not known better, I'd have thought I watched an 80's band. PRIMAL FEAR gave me just what I always imagined metal has been back then, awesome guitars and pure fun for both the band and their viewers. They mainly played elder songs and as a final -of course- their own hymn "Metal is forever".
Rating

Music: 7
Performance: 7
Sound: 6
Lights: - (daylight)
Total: 6.7 / 10
H-Blockx

H-BLOCKX come from Münster in Germany and are one of Germany's best known crossover bands. Within their 18 years as a band, they had had great success both in Germany and in the US. Their last album was out in 2007, called 'Open letter to a friend'. Currently, the members are involved in other projects and take a creative break.
http://www.hblx.de/
/
www.myspace.com/hblockx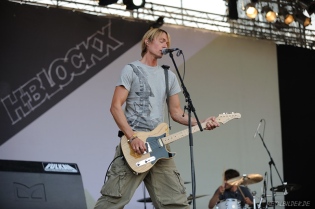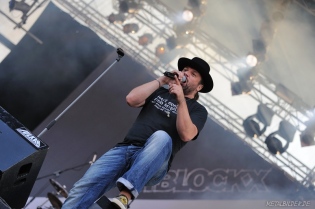 Music & Performance

A solid show they made, that's for sure and skilled in raising tension they are, still they seemed to be a bit out of place between all the metal bands. And somehow they only had a small audience, which was sad for they really tried to give those who were there a good time. They also encouraged their viewers to use the hay on the ground for hay battles, so nobody watching them left the ground without hay in his hair. Their setlist included songs like 'Move' and 'Risin' High', both big hits in the 90's as well as a cover of Johnny Cash's 'Ring of Fire'.
Rating

Music: 6
Performance: 8
Sound: 7
Lights: - (daylight)
Total: 7 / 10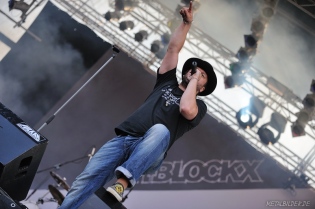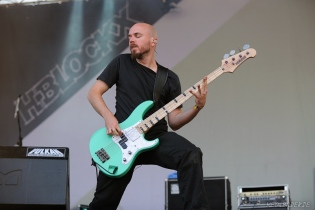 Sonic Syndicate

In 2002, the story of SONIC SYNDICATE began in Falkenberg / Sweden under the name FALLEN ANGELS as a project of the three brothers Richard, Roger and Roland Sjunnesson. Stylistically they played heavy metal. When in 2004 they got their first record deal, they changed the band's name to SONIC SYNDICATE. In 2006 they won Nuclear Blast's band competition and got signed there. They released their third album 'Love and other diseases' in September 2008.
http://www.sonicsyndicate.com/
/
www.myspace.com/sonicsyndicate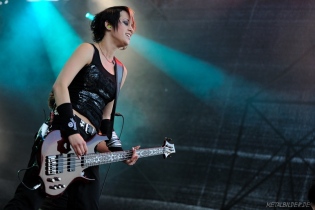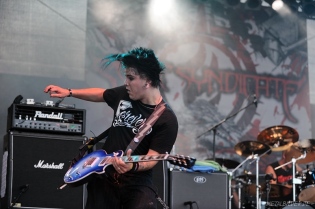 Music & Performance

Quite a crowd had gathered to see SONIC SYNDICATE play and their show was a good one. It was one of the unintentionally funniest performances I've seen, especially when half the band was jumping synchronously and hay was thrown in time with music. But those were only the comical details and could not hide the fact this band knew their business and had the audience on their side.
Rating

Music: 6
Performance: 7
Sound: 8
Lights: 7
Total: 7 / 10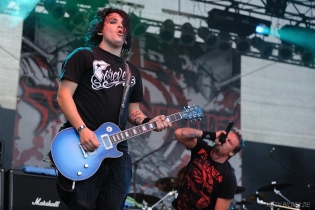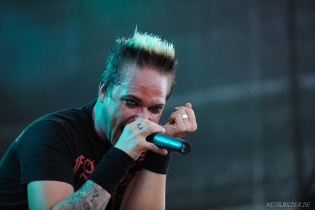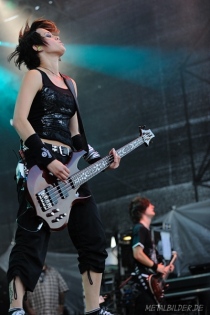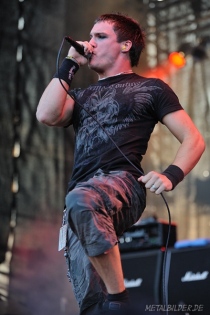 Destruction

With DESTRUCTION, Summer Breeze had one of the eldest still existing German trash metal bands on their billing. They have been around since 1982. Their newest album D.E.V.O.L.U.T.I.O.N was out on 29th august at AFM records.
http://www.destruction.de/
/
www.myspace.com/officialdestruction
Music & Performance

DESTRUCTION sure was a good change and even after more than 25 years, they did not seem the least tired. Quite the contrary: One head bang-hymn followed the other and left the fans no room for tiring. Of course their mascot couldn't be missing, so the audience had the mad butcher plus three lightly dressed girls and they even had good pyro effects. All in all they showed what a real metal show should be made of and gave another definition of "old school".
Rating

Music: 7
Performance: 7
Sound: 8
Lights: 8
Total 7.5 / 10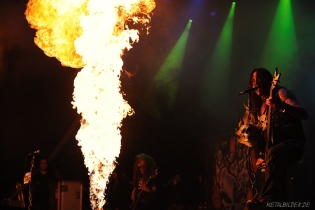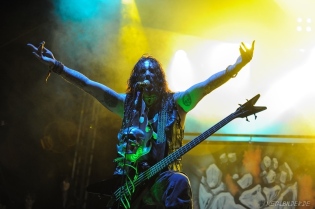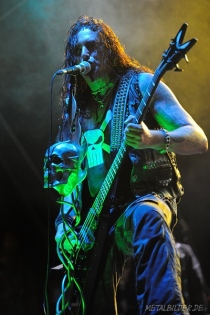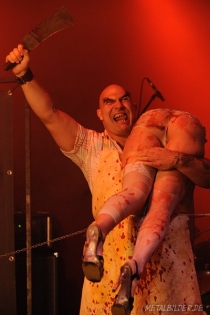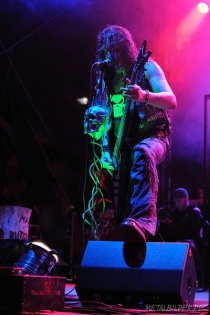 Cradle of Filth

Mentioning Black metal almost always gives you immediately one name: CRADLE OF FILTH. For nearly two decades this band has become a standard and one of the few commercially really successful black metal bands. Remarkable is, that only singer Dani Filth has remained while all other instruments have a long list of ex-musicians and they also had many different labels. Still their fascination remains unbroken. Their newest release 'Godspeed on the Devils Thunder' will be out on 28th October.
http://www.cradleoffilth.com/
/
www.myspace.com/cradleoffilth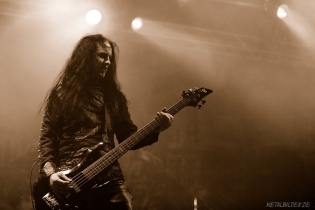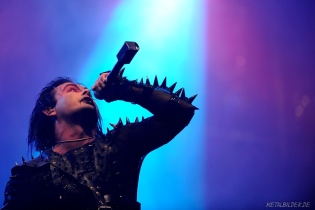 Music & Performance

One thing I found very strange was, that Dani's voice was so different from what he sounds like on CD, much deeper. And I also had the feeling their backing singer rather spoiled the songs, although she had a fantastic voice. But leaving the vocals aside, it was a very good final act (at least for me) and a good choice as headliner. And as so many other bands before them, they also played safe, giving a little best-of from 'Gilded Cunt' over 'Burial Gown' to 'Nymphetamine' and 'The Principals of Evil Made Flesh'. At this concert the crowd was rather calm, maybe exhausted, maybe aware Summer Breeze was ending, still they were far too quiet for seeing CoF and although the band tried, they did not make it to raise their audience.
Rating

Music: 9
Performance: 7
Sound: 7
Lights: 7
Total: 7.5 / 10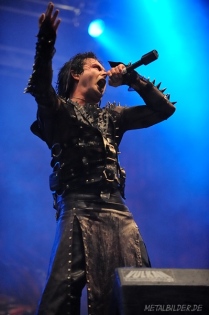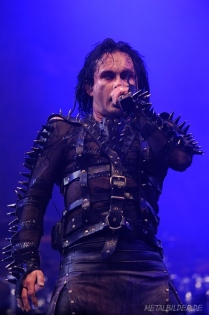 Just some more pictures....
Anathema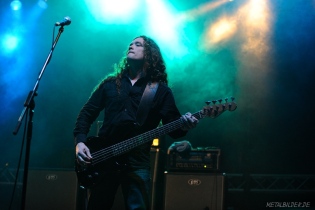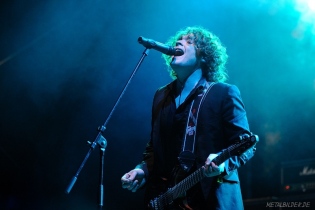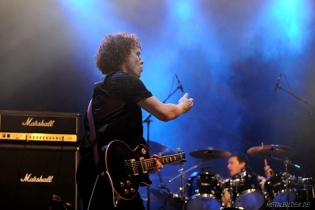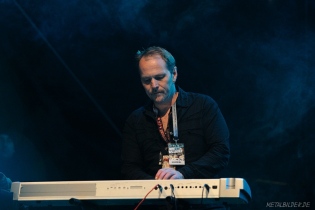 Autumn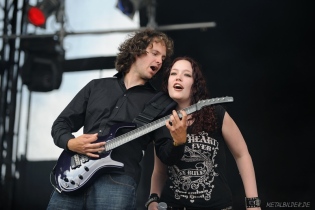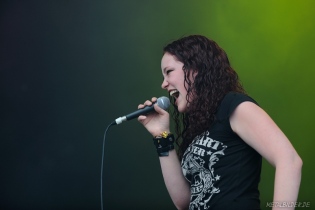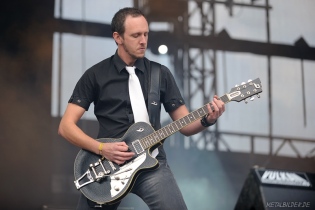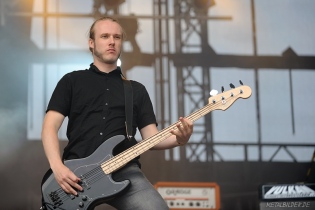 Dismember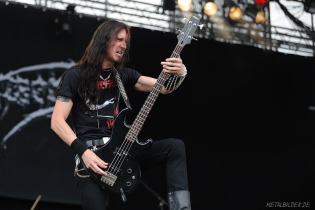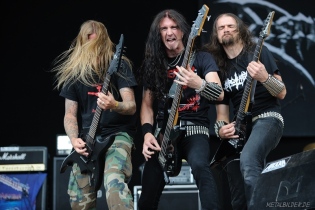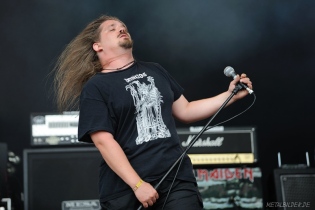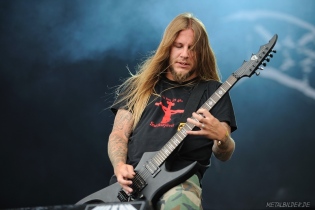 Heaven Shall Burn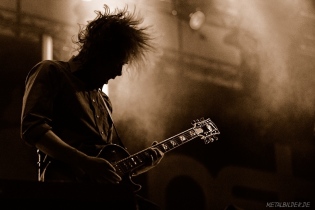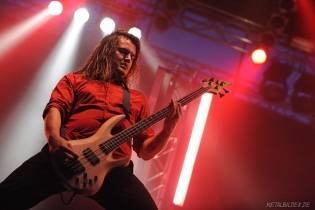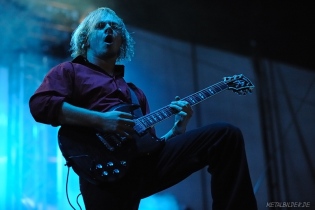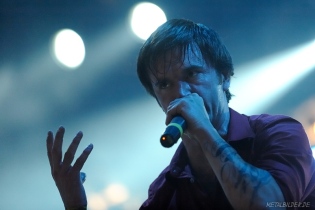 The Vision Bleak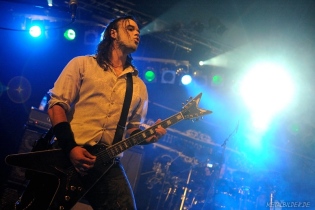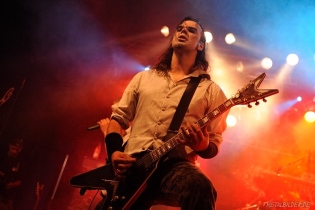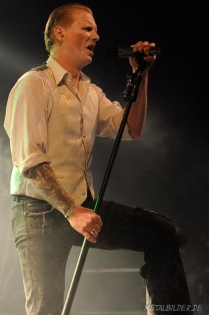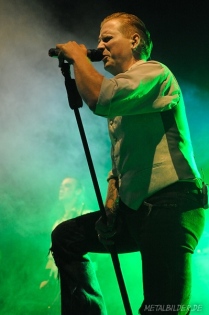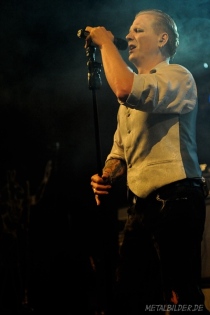 All pictures by Robert Jaehnecke
{jos_sb_discuss:18}
See also (all categories):