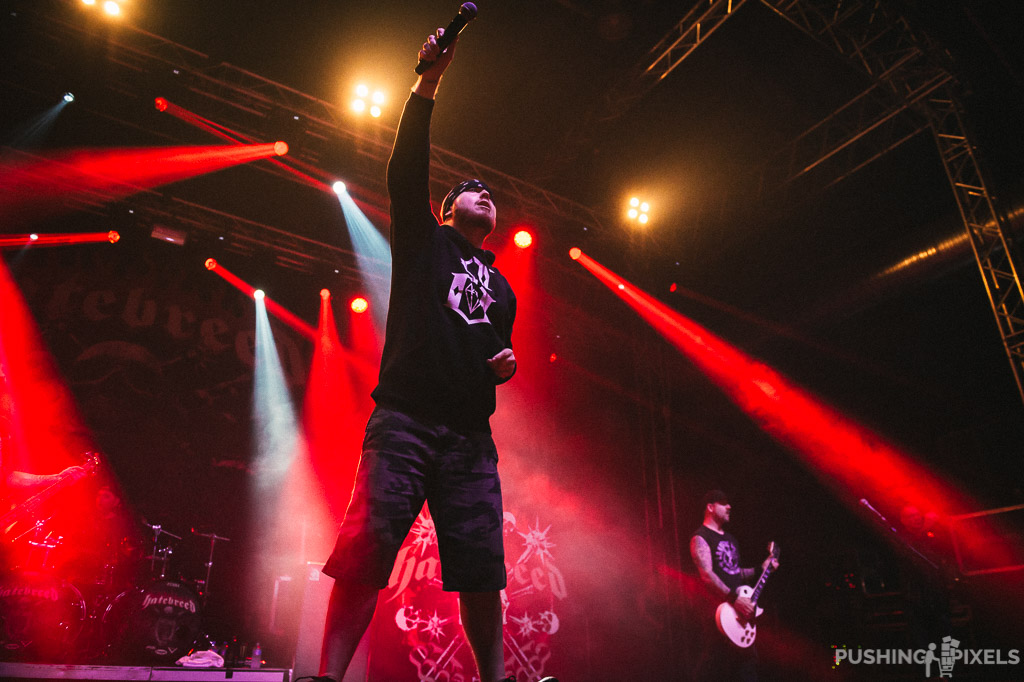 Turbinenhalle, Oberhausen, Germany
27th January 2018
EMP Persistence Tour 2018 with Hatebreed, Madball, Terror, Power Trip, Born From Pain, Broken Teeth!, Insanity Alert

One day after local metal fans had their fair share of good ol' head banging, it was time for the Hardcore aficionados of the Ruhr area to show off their newly learnt pit moves. As in previous years, the merchandising company EMP decided to organize a wonderful opportunity to get your rib cage bashed in by signing up seven Hardcore metal bands and letting them play for a good six hours in a row.
Insanity Alert

The first band was the Austrian combo
INSANITY ALERT
. They seemingly enjoy some real underground status in their home area of Tyrol, and their last album 'Moshburger' from 2016 has received some critical acclaim in informed circles. https://www.facebook.com/insanityalert / https://insanityalert.bandcamp.com
Music & Performance

The quartet INSANITY ALERT appeared on this Saturday night on stage at 5:45 pm. Despite the venue not being sold out and only a few people waiting outside the security lines, the place was far from empty, as around 3,000 Hardcore fans have decided to spend their Saturday night in the Turbinenhalle. The band itself will probably not win any award for innovative music. However, INSANITY ALERT were able to stir up some dust with their old-school Hardcore punk, with an average song length of 1:30min. However, the shrill voice of singer Heavy Kevy was a little beyond my liking.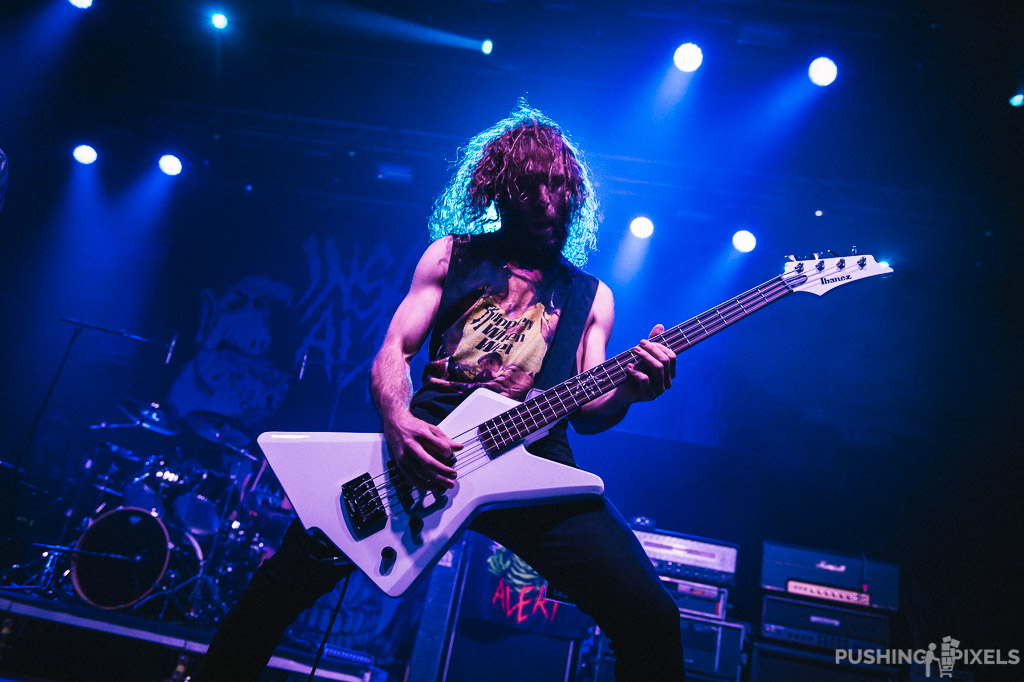 Setlist

01. Macaroni Maniac
02. Pact with Satan
03. Weedgrinder
04. Metal Punx Never Die!
05. Make Up Your Mind Or Die
06. Glorious Thrash
07. Twist-off Betrayal
08. Zongo Vs. Eyeball
09. Desinfektor
10. Run to the pits
Rating

Music: 5
Performance: 5
Sound: 5
Light: 5
Total: 5 / 10
Broken Teeth!

Up next was the British Hardcore band
BROKEN TEETH!
, which by all means must not be confused with the American Rock band BROKEN TEETH (what a difference an exclamation mark makes). Their debut album is called 'At Peace amongst Chaos' and it was released in May 2016. Find out more about the band via www.brokenteeth.bandcamp.com or https://www.facebook.com/brokenteethmanchesterhardcore.
Music & Performance

Once again, the stage break was refreshingly brief, as it took only 15 minutes for the next band to appear. It cannot be stressed enough that this greatly improves any concert experience. BROKEN TEETH! were no strangers to the crowd, as they have also been featured in the line-up of last years' EMP Persistence Tour. Singer Dale Graham with his signature look of jeans and no shirt together with his bandmates delivered a compelling performance. The music contained a little more metal and reminded me of the early BIOHAZARD works, so fans of NYHC should definitely check them out.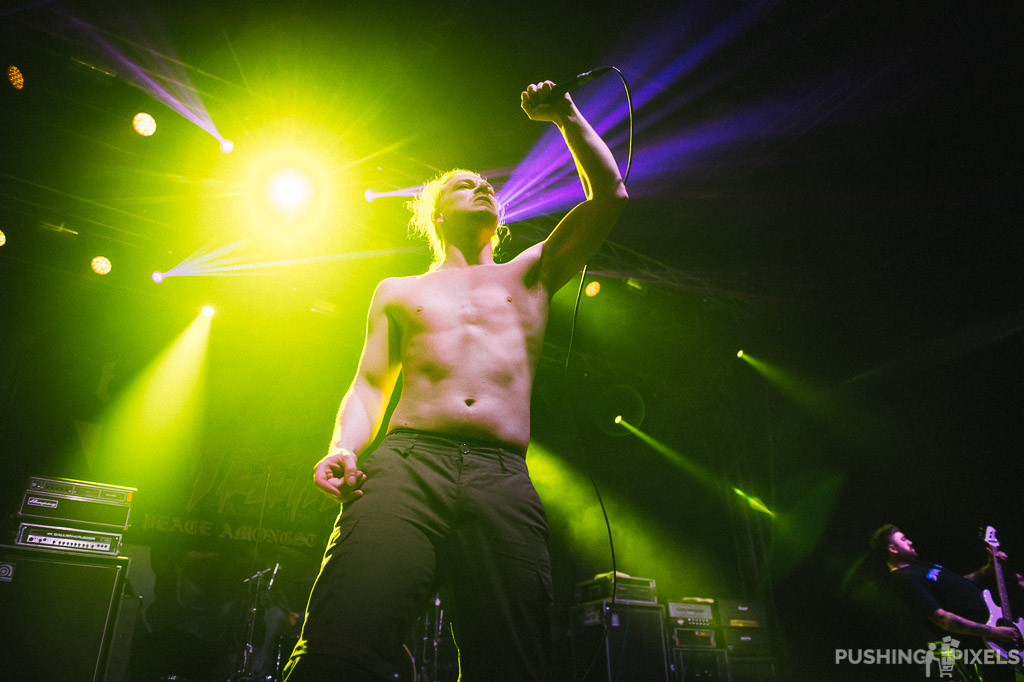 Setlist

01. On the edge
02. My law
03. Show no mercy
04. The seeker
05. Soul destroyer
- Incomplete -
Rating

Music: 7
Performance: 6
Sound: 5
Light: 4
Total: 6 / 10
Born From Pain

Spot no. three of this evening went to the Dutch Hardcore band
BORN FROM PAIN
. Founded 20 years ago, BORN FROM PAIN was one of the early European bands to play its version of Metalcore. Extensive touring and the steady release of so far eight studio albums have earned them a loyal followership. However, there has been an immense amount of changes in the line-up over the years. Check out www.bornfrompain.com or https://www.facebook.com/BornFromPainOfficial.
Music & Performance

BORN FROM PAIN delivered their metal-inspired version of Hardcore in an impressive manner. Singer Rob Franssen addressed the crowd in fluent German, as some band members have lived in the Ruhr area, and have strong relations there. His demands for circle pits were heard, making life a little more miserable for the occasional crowd surfers, as their risk of being dropped to the floor increased accordingly. However, as usual, people were very friendly and picked each other up. BORN FROM PAIN's 30-minute set flew by very quickly, and people in the pit were really warming up.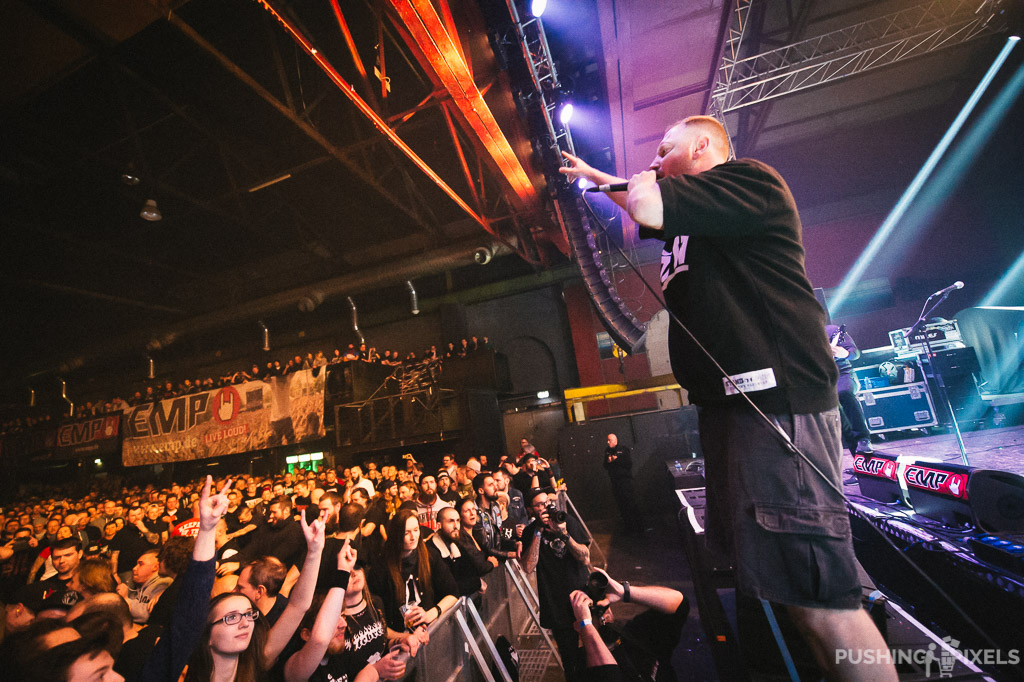 Setlist

01. Death and the City
02. Rise or Die
03. Rebirth
04. Chokehold
05. Eye in the Sky
06. The New Hate
07. Final Nail
08. Black Gold
09. Stop at Nothing
Rating

Music: 8
Performance: 7
Sound: 7
Light: 8
Total: 7.5 / 10
Power Trip

The fourth spot on the line-up was occupied by
POWER TRIP
, a Thrash metal band from Dallas, Texas. With their pure 80ies Thrash metal-inspired style they were clearly exotic in the line-up. Check out http://powertriptx.bandcamp.com or https://www.facebook.com/powertripTX.
Music & Performance

POWER TRIP did a nice job on stage. Their performance was technically flawless and energetic. However, people were probably a little bit exhausted from the previous bands. It felt a bit like the band failed to connect with the audience, and the crowd's reaction was a little muted.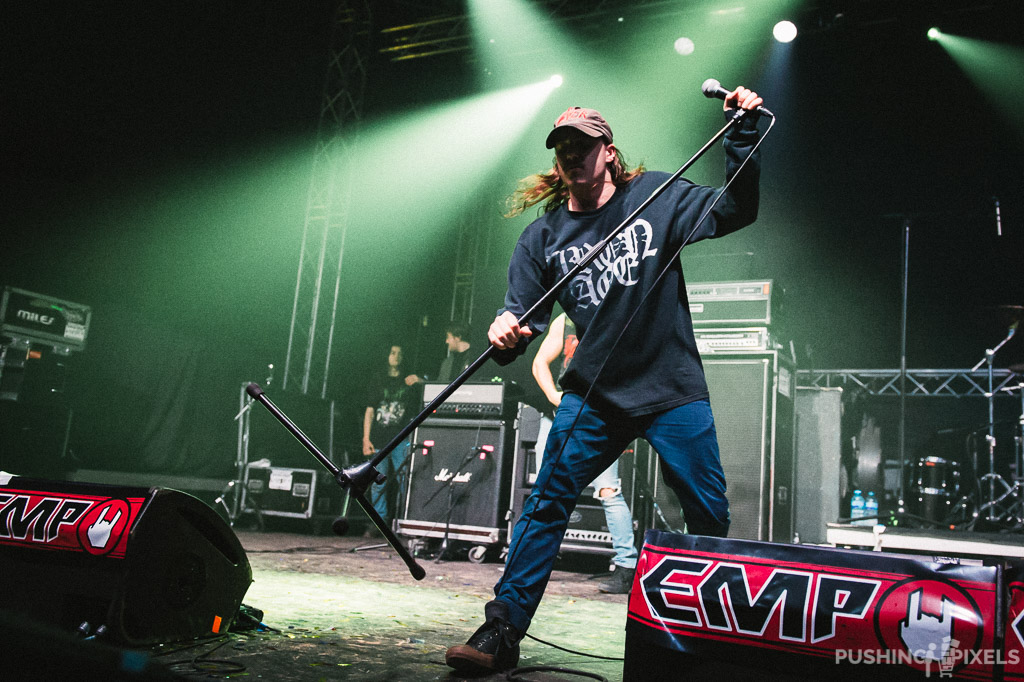 Setlist

01. Soul Sacrifice
02. Executioner's Tax (Swing of the Axe)
03. Suffer No Fool
04. Cross Breaker
05. Firing Squad
06. Manifest Decimation
Rating

Music: 6
Performance: 5
Sound: 6
Light: 5
Total: 5.5 / 10
Terror

Band no. 5 was the L.A.-based Hardcore band
TERROR
. Judging by the number of concertgoers wearing their merchandise, they had the potential to headline the festival. Founded back in 2002, they steadily increased their followership over the years by relentless touring. They have released their sixth studio album 'The 25th hour' in 2015. Check out www.thewallswillfall.com or https://www.facebook.com/terrorhardcore.
Music & Performance

Going to a TERROR gig is not for the faint-hearted. As soon as the band entered the stage and performed the song 'Keep your mouth shut', the first half of the entire Turbinenhalle in front of the stage turned into a giant mosh pit.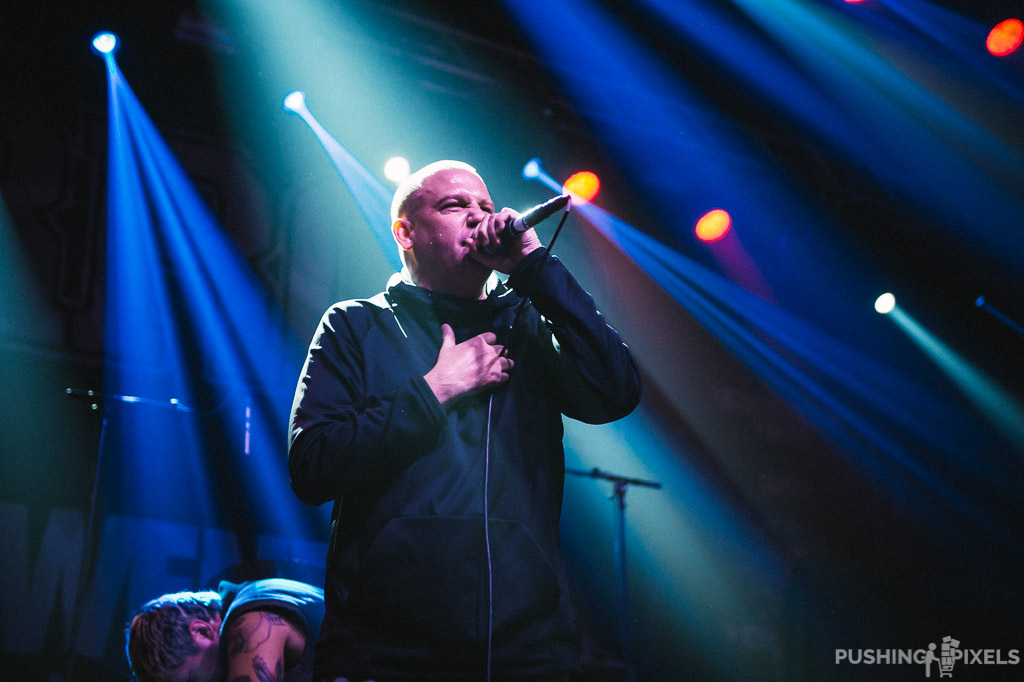 Front man Scott Vogel developed an incredible stage presence, screaming and shouting while running back and forth on the stage. He continuously encouraged crowd surfers to 'get their asses up here', all while maintaining that security was prepared and ready to get them. A few songs into the gig the first people were leaving the mosh pit with bleeding noses and bruised arms, but the Hardcore party kept raging on. During 'Keepers of the Faith', Scott threw his mic into the crowd, having people from the audience shout the chorus of the song. During the last two songs, band members from the previous bands joined TERROR for the vocals. By the time the band played 'Always the Hard way', they had everyone dripping with sweat and screaming the vocals, as the energy levels inside the venue went through the roof.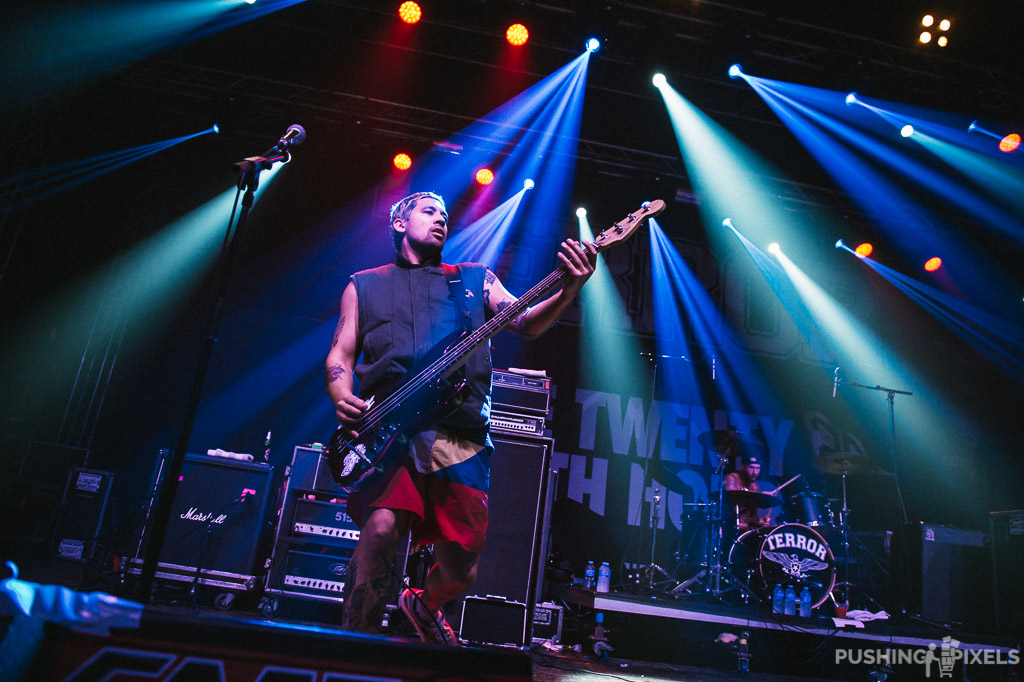 Setlist

01. Keep Your Mouth Shut
02. Overcome
03. Live by the Code
04. Stick Tight
05. You're Caught
06. The 25th Hour
07. No Time for Fools
08. Return to Strength
09. One With the Underdogs
10. Keepers of the Faith
11. Spit My Rage (With Rob from BORN FROM PAIN on vocals)
12. Always the Hard Way (With a member of BROKEN TEETH! on vocals)
Rating

Music: 8
Performance: 9
Sound: 7
Light: 8
Total: 8 / 10
Madball

The very but final band on the line up were the NY Hardcore veterans
MADBALL
. Founded in 1988 by the younger half-brother of AGNOSTIC FRONT singer Roger Miret, MADBALL certainly belong into the Hardcore hall of fame together with SICK OF IT ALL and AGNOSTIC FRONT. Check out http://madballhc.com or https://www.facebook.com/madballNYC for more information.
Music & Performance

Seeing these legends on stage certainly commands a lot of respect. However, as singer Freddy Cricien started the band when he was a mere twelve years old, he was in excellent shape, and the band should definitely not be written off. It was a little surprising to see BORN FROM PAIN's guitarist Dominik Stammen on stage again.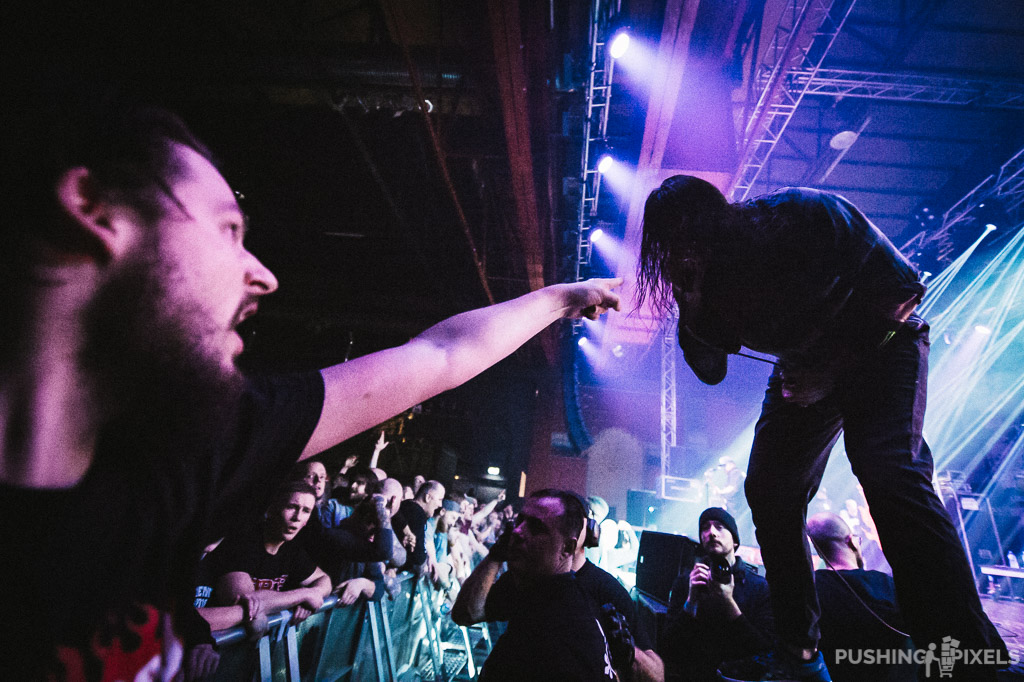 It turned out he was helping MADBALL out, as their guitarist could not join the band's performance for reasons unknown. And boy he did a good job! The band really set it off (sic!) with their performance and kept the energy levels in the crowd up. However, the sponsoring of an energy drink producer was so clearly evident from the band member's attire, that some might start to wonder how that fits with the "no frills, straight-edge" Hardcore philosophy. But at the end of the 45-minute performance everyone in the crowd probably agreed that the title of the last song 'Hardcore still lives' rang true.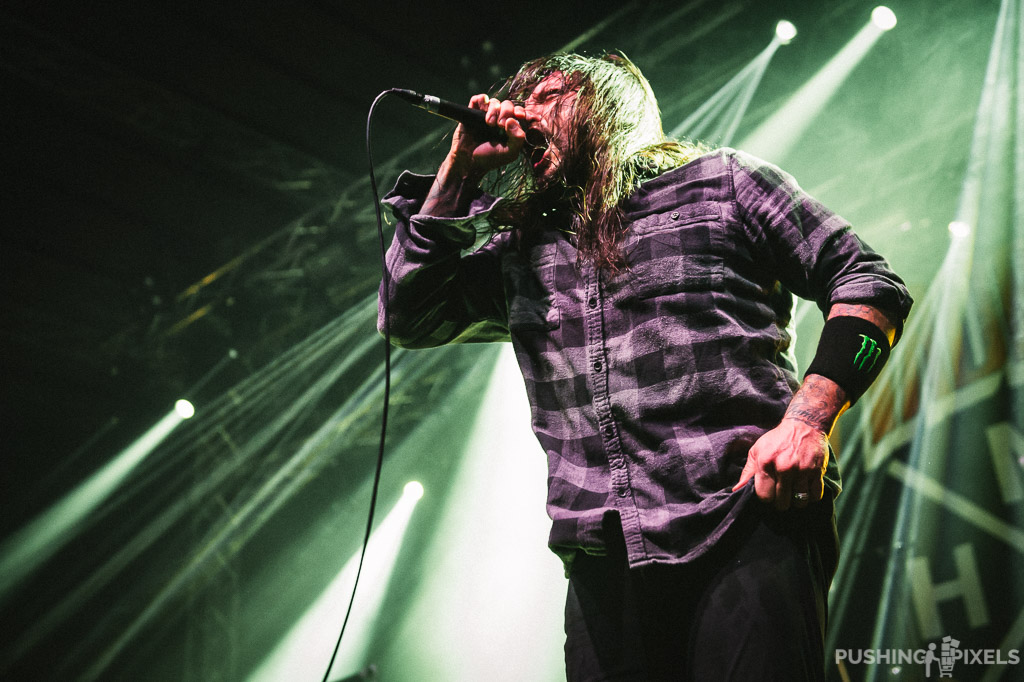 Setlist

01. Hardcore Lives
02. Smell the Bacon
03. We the People
04. Can't Stop, Won't Stop
05. Born Strong
06. Set It Off
07. For My Enemies
08. DNA
09. Lockdown (Jordan Posner from Terror on vocals)
10. Infiltrate the System
11. Get Out
12. Look My Way
13. Doc Marten Stomp
14. Heavenhell
15. Hardcore Still Lives
Rating

Music: 7
Performance: 7
Sound: 7
Light: 8
Total: 7 / 10
Hatebreed

The American Metalcore band from Connecticut,
HATEBREED
, formed back in 1994. Tours with heavy metal bands, such as SLAYER, DEFTONES, SLIPKNOT or NAPALM DEATH both influenced the band's music, and brought them attention outside the closely-knit Hardcore circles. Their latest studio album is called 'The Concrete Confessional', which was released in 2016. Check out www.hatebreed.com or https://www.facebook.com/hatebreed.
Music & Performance

At little past 10:30 pm, the lights went dark, and 'Bad Boys' theme from INNER CIRCLE (originally by BOB MARLEY) started blaring from the speakers. This was brutally interrupted after 30 seconds by the first guitar riff. The band members jumped on stage and immediately began playing their uber hit 'Destroy Everything' from the 2006 album 'Supremacy', which sent the crowd into frenzy.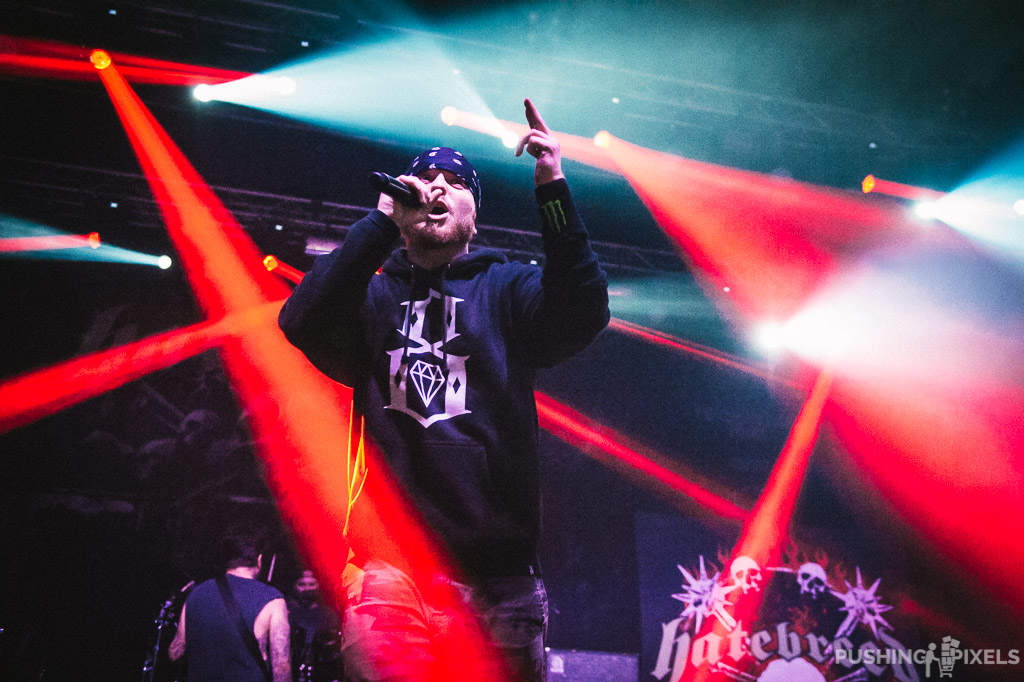 This was immediately followed by the first single of their last album 'Looking down the Barrel of Today', so the band was clearly not taking any prisoners that night. Singer Jamey Jasta owned the stage, and drummer Matt Byrne delivered an unrelenting double bass drum thunderstorm, which clearly blew away the crowd. This went on for a solid 60 minutes, when Jamey announced 'I will be heard' as the last song without any encore. Resistance from the fatigued crowd was barely noticeable, as everyone probably was wiped out by this 6-hour Hardcore fest. But on the way out, the 3000 people seemingly walked out of the Turbinenhalle in a very content mood, sharing their last beer and showing each other their minor injuries, which they had earned in the pit.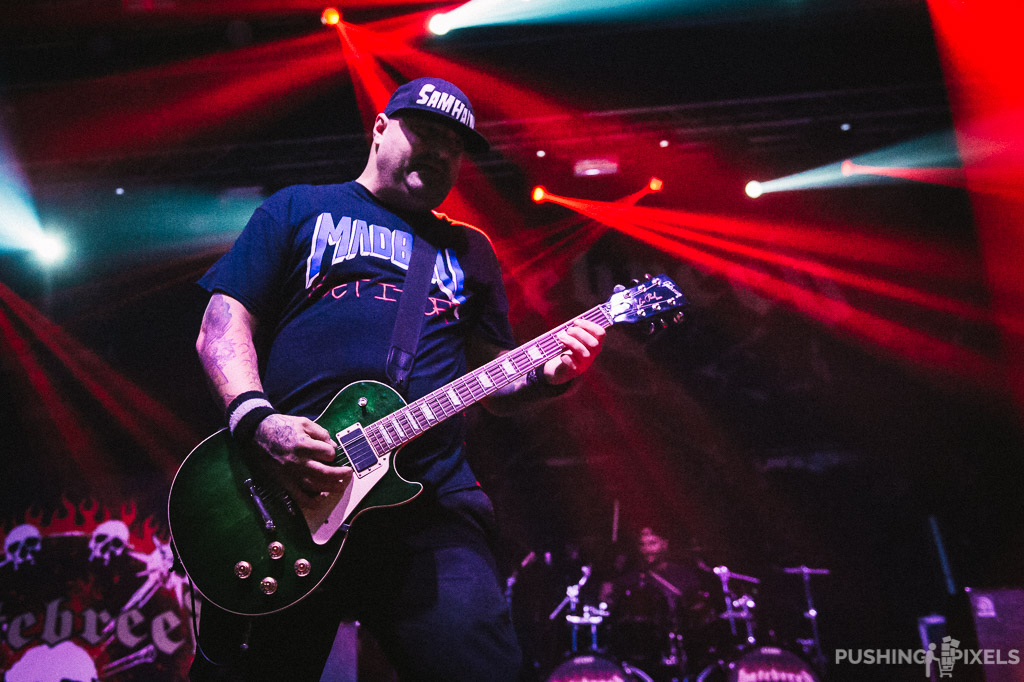 Setlist

01. Destroy Everything
02. Looking Down the Barrel of Today
03. Proven
04. Empty Promises
05. A Call for Blood
06. Before Dishonor
07. Everyone Bleeds Now
08. In Ashes They Shall Reap
09. Perseverance
10. Burial for the Living
11. Below the Bottom
12. Last Breath
13. As Diehard as They Come
14. To the Threshold
15. Smash Your Enemies
16. Driven by Suffering
17. Honor Never Dies
18. Tear It Down
19. Straight to Your Face
20. Betrayed by Life
21. Live for This
2. I Will Be Heard
Rating

Music: 9
Performance: 9
Sound: 9
Light: 9
Total: 9 / 10
All Picturey by Markus Felix
See also (all categories):