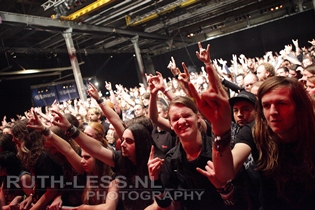 Klokgebouw, Eindhoven, The Netherlands
24th November 2013
Distortion Fest Part 2: Hypocrisy, Heaven Shall Burn, Satyricon, Glamour of the Kill, The Psyke Project, Alpha Tiger, The Death to All Tours, Papa Roach, My Dying Bride

After a successful first edition of Distortion Fest, the one-day festival is back in 2013 with an impressive line-up. Big names such as MY DYING BRIDE, PAPA ROACH, SATYRICON and HEAVEN SHALL BURN will rock the Klokgebouw in Eindhoven for sure. Added to the line-up are also DEATH, HYPOCRISY, GLAMOUR OF THE KILL, HAVOK, ANGELUS APATRIDA, ADEPT, ALPHA TIGER and THE PSYKE PROJECT. The festival takes place a day after Speedfest, organized by Peter van Elderen, who we know from his legendary band PETER PAN SPEEDROCK. For those who can never get enough it was possible to get combi-tickets for both festivals.



Hypocrisy

HYPOCRISY is a death metal band from Sweden, founded in 1990 by singer Peter Tägtgren. Musically, the band started off with a traditional death metal sound on their early albums, but soon turned into a melodic death metal band. Their early lyrics – written by original vocalist Masse Broberg – dealt with anti-Christian themes and Satanism. However, the band later chose to focus on themes such as the paranormal and extra-terrestrials. Their tenth album, 'Virus', contains themes more typical of death metal such as violence, the horrors of reality, insanity, torture, war, drug addiction, and emotional strife. The latest and twelfth album 'End of Disclosure' (2013) deals with conspiracy and anti-illuminati themes. HYPOCRISY is Peter Tägtgren (vocals), Mikael Hedlund (bass) and Reidar Horghagen (drums). On tour, the band is also supported by live guitarist Tomas 'Elof' Elofsson. www.hypocrisy.cc / www.facebook.com/hypocrisy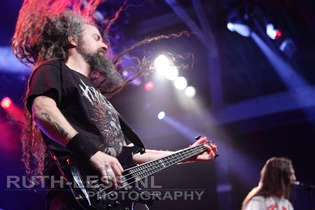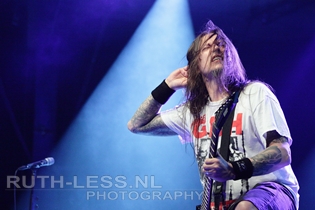 Music & Performance
HYPOCRISY sets off with some songs from their latest album 'End of Disclosure'. Some heavy signalling between Peter and the sound guys was going on during the first couple of songs and he seemed quite irritated. The band continues with 'Fractured Millennium' from their 1999 self-titled album. Peters distinctive death metal growls and screams echo loudly into the venue, while Mikael and Tomas take care of some lightning speed guitar play. Clearly unsatisfied with the intensity of the public's response to their music, Peter cynically suggests the band could play something slower "so you can all dance". With 'Fire in the Sky' the band hits a classic HYPOCRISY song, and later on more old work is presented like 'Killing Art' and 'Adjusting the Sun'. The set list is well balanced with both old and new work and different changes in pace during the show.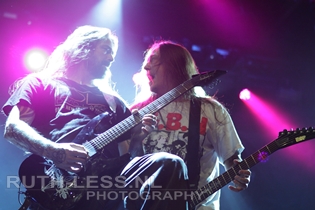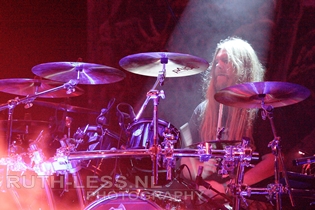 The more melodic parts as well as the tape running in the back with sound clips and voice-overs are well intertwined into HYPOCRISY's death metal sound. About 10 minutes before time, after 'Rosswell 47', the band suddenly thanked the audience and took off… guess they were in for a beer as well…

Setlist
01. End of Disclosure
02. Tales of Thy Spineless
03. Fractured Millennium
04. Fire in the Sky
05. 44 Double Zero
06. Killing Art
07. Eraser
08. Adjusting the Sun
09. Roswell 47

Rating
Music: 8
Performance: 8
Sound: 8
Light: 8
Total: 8 / 10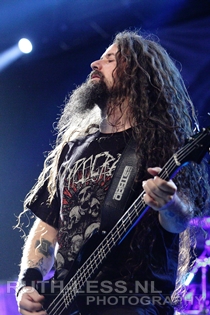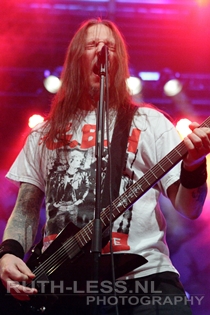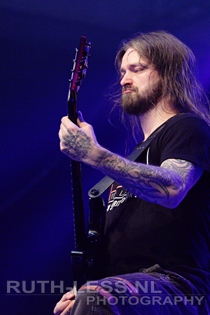 Heaven Shall Burn

HEAVEN SHALL BURN is a German melodic death metal/ metalcore band. The band formed in 1996, originally under the name CONSENSE. With the recording of its second demo early 1997, the band changed its name to HEAVEN SHALL BURN. The name is taken from a MARDUK album titled 'Heaven Shall Burn... When We Are Gathered'. They combine an aggressive metal sound with lyrics that show a militant support of anti-racism and fighting social injustice. Thus far, the band released seven studio albums. Their latest album titled 'Veto' was released in April this year in Germany, Europe, and USA/Canada. HEAVEN SHALL BURN is Maik Weichert (Guitar), Alexander Dietz (Guitar), Marcus Bischoff (Vocals), Eric Bischoff (bass) and Matthias Voigt (Drums). www.heavenshallburn.com / www.facebook.com/officialheavenshallburn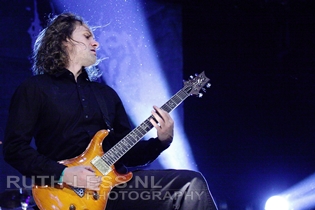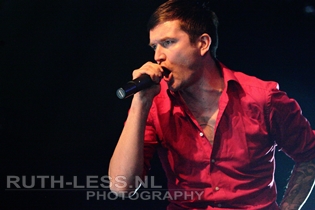 Music & Performance
Judging by the crowd that has gathered in front of the main stage, this must be one of the more popular acts today. After an intro the men of HEAVEN SHALL BURN enter the stage and kick off with 'Die Stürme rufen Dich' from their latest album 'Veto'. With a tremendous amount of energy, the band works their way through the first part of the set which is great to see. Front man Marcus makes sure every part of the stage has been walked, jumped and run on as he addresses the audience in the back and the corners as well. The faces made by guitarist Alexander are quite a sight as well, and it's absolutely clear that the band enjoys being on stage. The audience has picked up this enthusiasm as well and the pit finally gets serious. So serious, that Alexander after a few songs even informs if everybody is ok, as there seemed to be a little incident in the mosh pit. But fortunately, thumbs go up from the audience and HEAVEN SHALL BURN continues with 'Combat' from their 2010 album 'Invictus' and 'Behind a Wall of Silence' from 'Whatever it may take' (2002).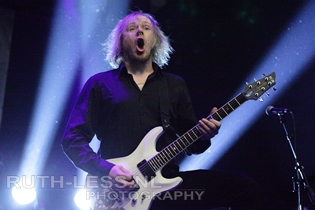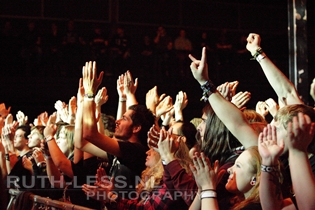 Most of HEAVEN SHALL BURN's studio albums include at least one cover song, so it's no surprise to see at least one cover pop up on the set list today. HEAVEN SHALL BURN finishes their set with an EDGE OF SANITY cover named 'Black Tears'. Great live band with an awesome amount of energy!

Setlist
01. Die Stürme rufen Dich
02. Counterweight
03. Land of the Upright Ones
04. The Omen
05. Fallen veto
06. Combat
07. Hunters Will Be Hunted
08. Behind a Wall of Silence
09. The Disease
10. The Weapon They Fear
11. Black Tears (Edge of Sanity cover)

Rating
Music: 7
Performance: 8
Sound: 8
Light: 8
Total: 7.8 / 10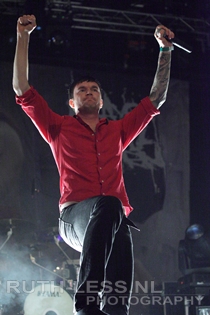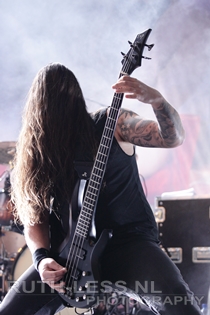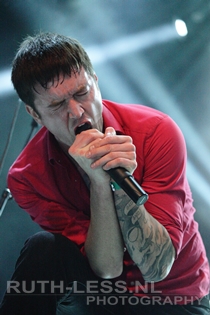 Satyricon

SATYRICON is a Norwegian black metal band, formed in 1991 in Oslo. Singer Satyr and drummer Frost have been the band's core members since 1993. The band's first three albums typify the Norwegian black metal style. Since its fourth album in 1999, the band has strayed from this style and included elements of hard rock in their sound. SATYRICON was the first Norwegian black metal band to join a multi-national record label (EMI). SATYRICON is Sigurd Wongraven (vocals, guitars, keyboards, bass), Kjetil-Vidar Haraldstad (drums) and Anders Odden (bass). Additional live members are Steinar Gundersen (lead guitars), Diogo Bastos (rhythm guitars) and Anders Hunstad (keyboards). www.satyricon.no / www.facebook.com/SatyriconOfficial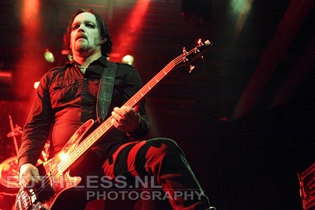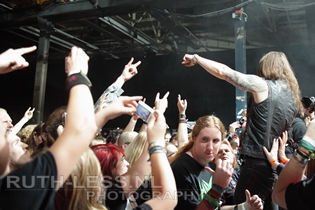 Music & Performance
SATYRICON is one of the Norwegian "fathers" of black metal, so it's no surprise to see a demon-horn-decorated drum kit and a microphone stand shaped as a devil's pitchfork on stage. By coincidence, I've been listening to their latest album quite a lot lately, since one track ('Phoenix') features one of my favourite singers Sivert Høyem. SATYRICON takes off with the first and instrumental song from their latest album, before going way back to 1994 with 'Hvite Krists Død' ('White Christ's Death'). Satyr decides that the audience needs a little encouragement and he tries to enthuse them with some collective cheering. A modest reply came from the first row. But Satyr didn't take modest for an answer, and with the next song 'Now, Diabolical' he gets off the stage into the audience and finally the audience seemed to do their part. SATYRICON continued with some old work ('Repined Bastard Nation') while getting back to their newest album several times during the set.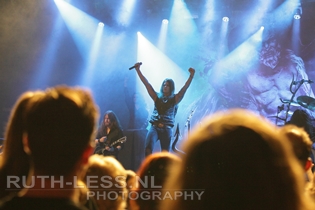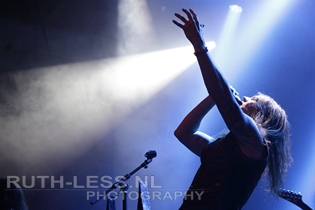 After hearing the excellent grunts of HYPOCRISY's peter, I must admit that I'm not really impressed by the gritty live vocals of Satyr. The set is concluded with 'The Pentagram Burns' and I noticed some very satisfied SATYRICON fans enjoying this last song.

Setlist
01. Voice of Shadows
02. Hvite Krists Død
03. Now, Diabolical
04. Ageless Northern Spirit
05. Our World, It Rumbles Tonight
06. Nekrohaven
07. Repined Bastard Nation
08. The Infinity of Time and Space
09. Forhekset
10. To the Mountains
11. The Pentagram Burns

Rating
Music: 7
Performance: 7
Sound: 7
Light: 8
Total: 7.3 /10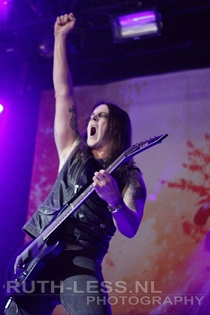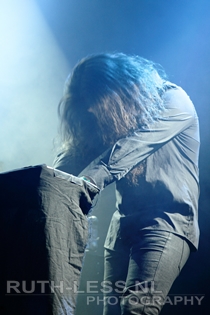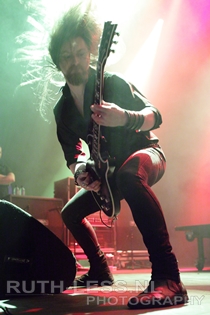 I also caught a glimpse of the following bands

We were about halfway through the Distortion program and I had one problem: I couldn't find any coffee. I did see people walk around with coffee, but this was probably for VIPs only as I couldn't find any of the bars or resto's serving any. Pure desperation made me grab an energy drink instead and with fresh energy I also caught a glimpse of a few other bands like GLAMOUR OF THE KILL, THE PSYKE PROJECT, ALPHA TIGER and DEATH (to all).

GLAMOUR OF THE KILL was a little less glamorous compared to last time I saw them on a big stage with PAPA ROACH. The English post-hardcore formation had to work hard to get and keep the attention of the male audience gathered in the small hall of Klokgebouw. There was absolutely no lack of female attention though, as a bunch of screaming young girls were standing right in front. www.facebook.com/glamourofthekill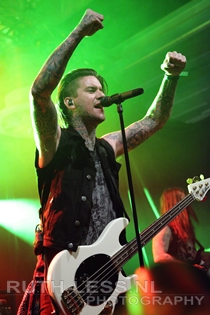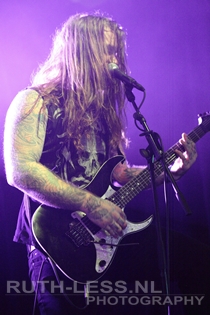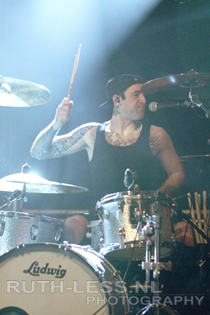 THE PSYKE PROJECT from Denmark were well suited to the recent debate in The Netherlands about black Piet. With their faces partially painted black and the lights practically turned off they bring a wall of sound to Distortion. Their sound is dark, furious and executes influences from hardcore, punk and death metal. Great band, light sucked though so I couldn't get a decent picture. www.facebook.com/thepsykeproject / Later on I walked into ALPHA TIGER on the Dynamo Stage. The German answer to American glam rockers STEEL PANTHER put up a non-original but very amusing, photogenic heavy metal show! www.facebook.com/AlphaTigerBand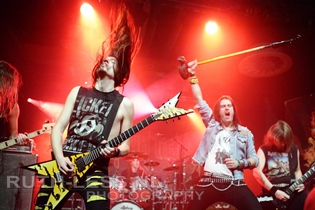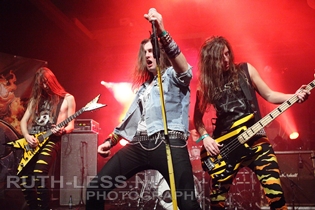 The DEATH TO ALL tours pay tribute to the legacy of Chuck Schuldiner, who lost the battle against cancer in 2001. The line-up at Distortion features ex-DEATH members Sean Reinert (Cynic), Paul Masvidal (Cynic) en Steve DiGiorgio (Sadus). Cynic frontman Max Phelps takes centre stage. The set list focuses on the 'Human' album plus other DEATH classics. About halfway through their set, DEATH TO ALL was extended with some other musicians. Hannes Grossman from OBSCURA joined for 'Crystal Mountain' and later on Steffen Kümmerer (also OBSCURA) joined in for the vocals on 'Spirit Crusher'. Although their music is not exactly my cup of tea, it was clear that there was some nostalgia at work here in Klokgebouw – awesome to see all these devoted musicians! www.facebook.com/DeathDTATours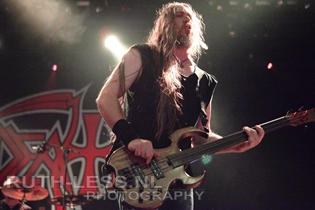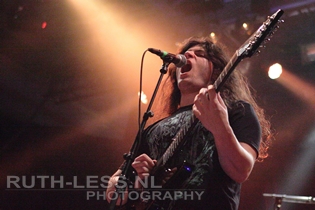 Papa Roach

PAPA ROACH is an American rock band from Vacaville, California. The band started out in 1993 at the Vacaville High School football field with singer Jacoby Shaddix and drummer Dave Buckner. Their first major-label release was the triple-platinum album 'Infest' (2000). The group's success continued with their gold album 'Lovehatetragedy' (2002) their platinum album 'Getting Away with Murder' (2004), 'The Paramour Sessions' (2006), 'Metamorphosis' (2009) and Time for Annihilation (2010). Their latest album 'The Connection' was released in December 2012. The band has sold over 18 million album copies worldwide and are known for their songs 'Last Resort', 'She Loves Me Not', 'Getting Away with Murder', 'Scars', '...To Be Loved', 'Forever', and 'Lifeline'. PAPA ROACH is Jacoby Shaddix (vocals), Jerry Horton (guitar), Tobin Esperance (bass) and Tony Palermo (drums). www.paparoach.com / www.facebook.com/paparoach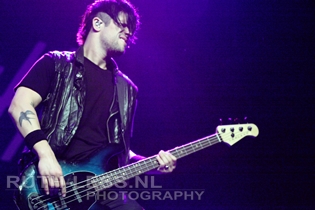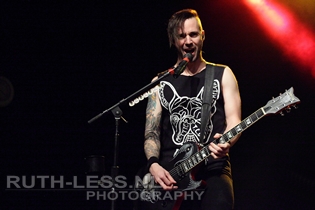 Music & Performance
Some months ago I've seen PAPA ROACH at 013, so I already had some idea what these guys have in store for us: Unparalleled energy and some proper rock music! Jacoby and his men hit the stage as expected and go full on from the start with 'Burn' from 2010 and 'Silence is the Enemy' from their latest album 'The Connection'. Running around on stage, on the risers in front and getting up close with the audience, Jacoby has no trouble at all getting the audience going. Putting this rock band in a line-up full of death/trash and doom metal seemed somewhat of a weird choice for Distortion. Perhaps it was a trick so guys would also bring their girlfriends or just a way to vary the program. Either way, whether you like their music or not, no one can deny that PAPA ROACH is great at what they do and furthermore, they proved to be one of the few bands today who could really get the audience going. Jacoby's voice sounded better than last time I saw PAPA ROACH.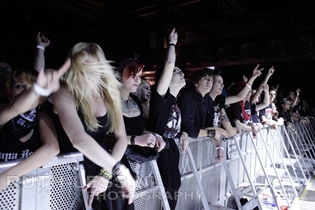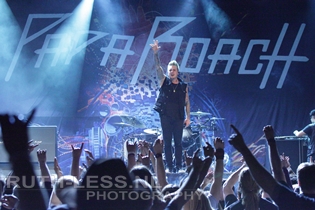 The set list for today consists of a selection of their repertoire, with quite some attention for the old classics such as 'Born with Nothing', 'Scars', 'Dead Cell' and of course 'Last Resort'. Again another rock solid kick ass show from these American rockers and a nice refreshment from all the death and doom today!

Setlist
01. Burn
02. Silence Is the Enemy
03. Blood Brothers
04. Give Me Back My Life
05. Between Angels and Insects
06. Where Did the Angels Go?
07. Forever
08. Leader of the Broken Hearts
09. Still Swingin'
10. Born with Nothing, Die with Everything
11. Scars
12. Lifeline
13. ...To Be Loved
---
14. Getting Away with Murder
15. Dead Cell
16. Last Resort

Rating
Music: 9
Performance: 9
Sound: 8
Light: 8
Total: 8.5 / 10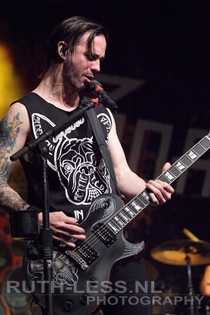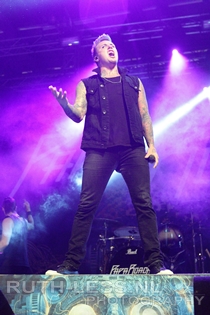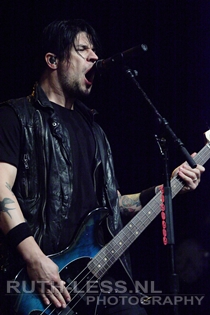 My Dying Bride

MY DYING BRIDE are an English doom metal band formed in Bradford, England in 1990. To date, MY DYING BRIDE have released eleven full-length studio albums, three EPs, one demo, one box set, four compilation albums, one live album, and one live CD/DVD release. Along with ANATHEMA and PARADISE LIST, MY DYING BRIDE is a forerunner of the death/doom metal genre and considered part of the "Peaceville Three" as all three bands were signed to Peaceville Records at the time. MY DYING BRIDE is Aaron Stainthorpe (lead vocals), Andrew Craighan (guitar), Hamish Glencross (guitar), Lena Abé (bass) and Shaun MacGowan (violin, keyboards). www.mydyingbride.net / www.facebook.com/pages/My-Dying-Bride-Official-uk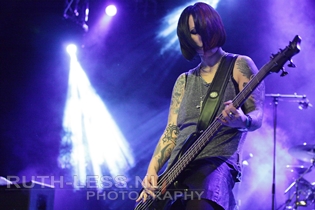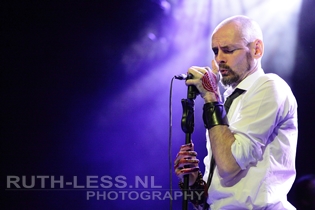 Music & Performance
To conclude this day with something joyful, I decided to see MY DYING BRIDE instead of HAVOK as a final band for today. From the first notes, a blanket of melancholy and grief is covering the venue. MY DYING BRIDE starts off with 'Kneel till Doomsday' and lead vocalist Aaron takes up most of the attention with his theatrical movements and blood painted hands. Light and sound for this final gig are sublime and the audience seemed to enjoy a well-deserved cooling down from all the brutal death metal violence from today. 'Turn Loose the Swans' is received with loud cheers from the audience. This song is a classic from their 1993 album that will make several fans' hearts beat a little faster. It is remarkable to see the synergy of the musicians on stage; each doing their own part but at the same time operating as an well-oiled machine: The eerie violin sounds of Shaun, stoical baselines from Lena and desolate guitar solos from Hamish and Andrew. About halfway through their set, Aaron dedicates the cheerful song 'Like a perpetual funeral' to his niece who celebrates her 18th birthday today.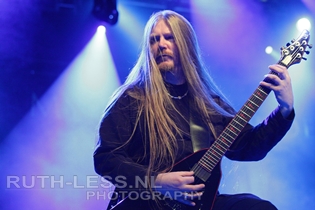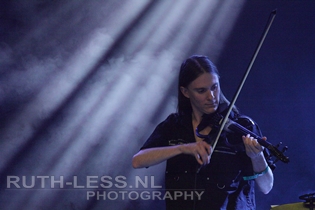 How nice it must be to have an uncle like that! A selection of songs from their extensive repertoire with more sublime melancholy, drama, fury and slow drums fill up MY DYING BRIDE's set list for tonight. With this show I conclude my Distortion adventure: time to get myself a cold beer and enjoy the last tunes of MY DYING BRIDE.

Setlist
01. Kneel Till Doomsday
02. Like Gods of the Sun
03. Turn Loose the Swans
04. Thy Raven Wings
05. Like a Perpetual Funeral
06. My Body, a Funeral
07. The Cry of Mankind
08. She Is the Dark
09. The Dreadful Hours

Rating
Music: 7
Performance: 8
Sound: 9
Light: 10
Total: 8.5 / 10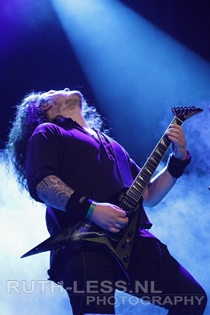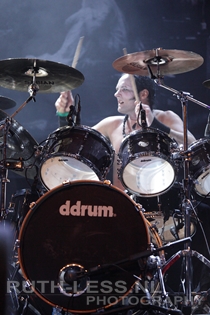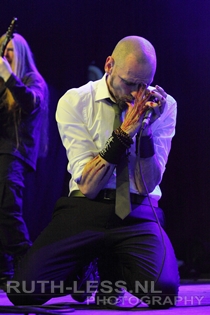 I had an awesome day at the second edition of Distortion fest; overall an impressive line-up of varied bands and no less than three stages to choose from. Schedule was a bit tight for those who wanted to see all the bands, but no chance one would get bored! The addition of a coffee corner next year would be my modest recommendation though J

All pics by Ruth Mampuys (www.ruth-less.nl)



See also (all categories):