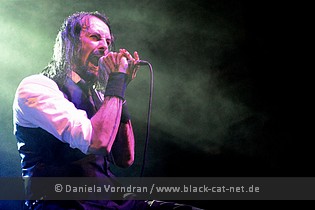 Airfield Drispenstedt, Hildesheim, Germany
13th - 14th August 2011
M'era Luna Festival 2011 Day 2 Hangar Stage: My Dying Bride, Tiamat, Gothminister, Tying Tiffany, Tyske Ludder, Teufel, A Life Divided, Mirrors, Formalin

The second day at the hangar stage had a diversified program to offer. You got Metal with MY DYING BRIDE and TIAMAT, some rocking tunes with TEUFEL and A LIFE DIVIDED and your daily electro dose with TYSKE LUDDER or the softer version with MIRRORS. But there was much more to explore and due to the rain on that day, probably more people than usually made their way to the hangar…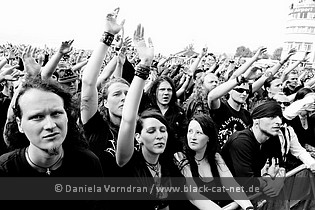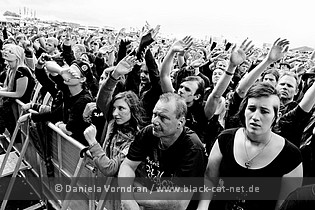 Formalin

FORMALIN describe their own sound as "Berlin City Industrial". The band consists of Tominous, who is the lead singer and responsible for the lyrics, and Gabor, who plays the drums and writes the lyrics as well. The members describe themselves as "experts at provocation and polarization". With their songs they want to document urban life in all its decrepit glory: sex, dirt, deterioration, destruction, fashion and arts, humankind in all its facets and the longing for the extreme. The music sounds hard and unique and so was their concert at E-tropolis Festival in their hometown Berlin. http://www.myspace.com/formalin / http://www.facebook.com/formalin.music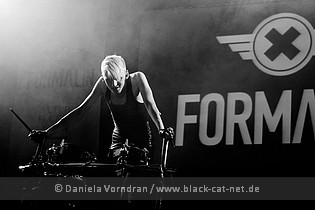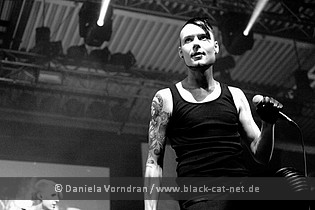 Music & Performance
FORMALIN had also been heading out from the capital. While the blonde Gabor took care of e-drums and laptop, fronter Tominous had the (distorted) control over the microphone. "Berlin City Industrial" is the term that the guys use in order to describe their sound - and befittingly, the last song (which was announced to be a ballad) made a lot of riot and, just like its predecessors from last year's debut 'Bodyminding', caused the hypotonics in the audience to not worry about their low blood pressure anymore. During the show, also new songs have been played while the songs from 'Bodyminding' received a new live outfit.

Setlist
01. Intro
02. Yuppiescum
03. My Fetish
04. Faker
05. This Isn't Love

Rating
Music: 6
Performance: 8
Sound: 7
Light: 7
Total: 7 / 10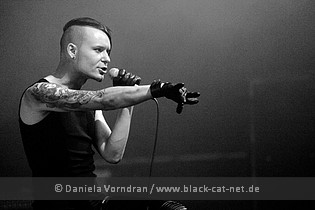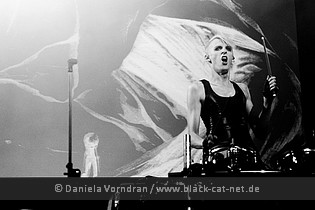 Mirrors

Other than another British band that has experienced a hype recently, the name's HURTS, MIRRORS from Brighton have cultivated a penchant for the other side of the road. They love to work with old synthesizers and don't even care for their idiosyncrasies like them never sounding the same twice, or doing what they should two days in a row. Against all odds, they managed to get a series of tracks out of their machines, many of them collected on their debut album 'Lights And Offerings' released on 18th March. MIRRORS is James New (synthesizer, vocals), Ally Young (synthesizer, vocals), James "Tate" Arguile (synthesizer) and Josef Page (electronic drums). http://www.theworldofmirrors.blogspot.com / http://www.facebook.com/theworldofmirrors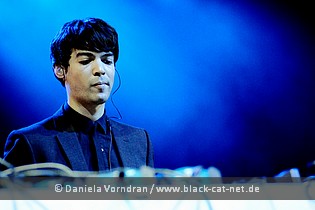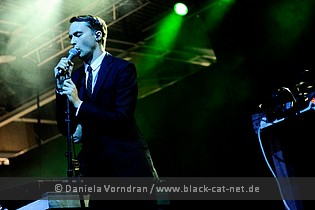 Music & Performance
On this Sunday, the hangar stage was mostly reserved for the heavier styles. The only exception were four greenhorns from Brighton, neatly dressed in ties and collars, acting behind their electro equipment that they had put into position on two capacious tables. The synth sound of the group that was formed in 2009 by James New and Ally Young can clearly be compared with bands like OMD and KRAFTWERK; the quartet calls its music "Electronic Soul" and also draws influences from DEPECHE MODE and BLANCMAGE apart from the groups named above. Appropriately so, they presented their listeners with decent electronic music including vocals that particularly reminded of the synth and new wave pioneers from OMD. Bringing along songs of their debut album 'Lights And Offerings' that was released in March, the Brits, amongst others, played the fast song 'Searching In The Wilderness'. 'Hide And Seek' motivated to tap along, and 'Into The Heart' also appeared to be danceable, even though one could not overhear a melancholic undertone. During the final song 'Ways To An End' that happily paved its way into one's mind, James "Noo" New eventually threw himself unto his keyboard with great physical exertion. This is proof that seemingly sub-cooled gentlemen in tailored suits are also able to go berserk in a rock star-like way.

Rating
Music: 9
Performance: 9
Sound: 7
Light: 7
Total: 8.5 / 10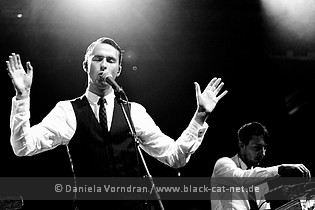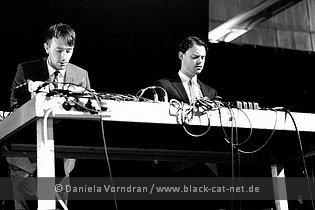 A Life Divided

The formation of A LIFE DIVIDED dates back already eight years. Initially rooted in the prog rock dimension the project's style underwent significant changes in the years to come, incorporating various elements and different styles. 'Virtualized' and 'Far' were the only releases to get from the band until in 2011 there finally was the new album out with 'Passenger'. A LIFE DIVIDED is Jürgen Plangger (vocals), Korl Fuhrmann (drums), Tobi Egger (bass), Mike Hofstätter (guitar), Tony Berger (guitar) and Erik Damköhler (programming, keyboard, guitar). http://www.a-life-divided.de/ / www.myspace.com/alifedivided / https://www.facebook.com/alifedivided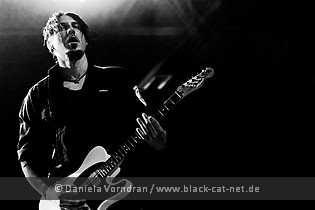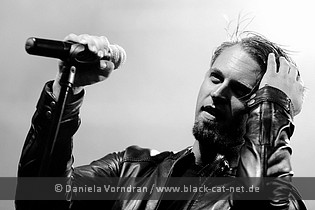 Music & Performance
Following the show on the main stage, we escaped into the dry space and then became a witness on how to rock properly. A LIFE DIVIDED from Munich have been around since 2003, but especially their singer Jürgen Plangger hasn't been exposed to a broader audience until 2006 because he had been playing the guitar in EISBRECHER. EISBRECHER co-founder Noel Pix also produced the guys' latest album 'Passenger', whereof the guys played seven songs. The opener 'Change' then really let it burn from the very start of the concert - and one must say that A LIFE DIVIDED actually played in front of a huge crowd. They might have also had an advantage because of the weather, but there were also a lot of people that already knew the band and rocked out to their songs. Appropriately so, 'Words' was well received and the people really celebrated the thunderous guitar riffs of 'Doesn't Count'. 'Anyone' followed in a no less powerful way, before the band gave 'Sounds Like A Melody', an old ALPHAVILLE classic, a completely new (rock) feel that got some well-deserved applause. With 'Hey You', another hit followed, during which Jürgen left the stage to walk through the photo pit and which ended by handing out gingerbread hearts to the auditorium while the stadium rock smasher 'Heart On Fire' was played.

Setlist
01. Change
02. Words
03. Doesn't Count
04. Anyone
05. Sounds Like A Melody (Alphaville Cover)
06. Hey You
07. Heart On Fire

Rating
Music: 8
Performance: 9
Sound: 7
Light: 8
Total: 8 / 10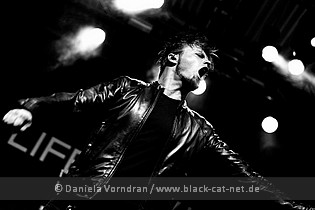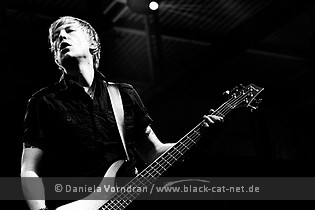 Teufel

In over 20 years TEUFEL has been out and about as minstrel, musician and entertainer in different formations. As singer and bagpiper of the medieval-industrial-rock band TANZWUT and the medieval band CORVUX CORAX he had travelled the entire world and attracted a huge fan base over the years. Now he appears with his new project TEUFEL and the album 'Absinth'. Between jester and devil there is always music. In medieval times, the jester was said to be remote of god and allied to the devil. On this album you can meet both in one person. With wit and a deeper meaning, ecstasy, inebriation and lunacy, passion and in view of the evanescence of us all, jester and devil together invite us to dance. http://www.teufel-music.de / http://www.myspace.com/teufeltv / https://www.facebook.com/TEUFELOfficial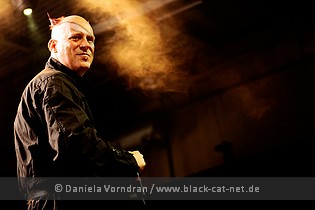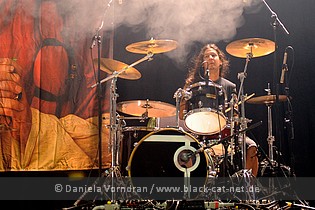 Music & Performance
The next act coming up at the hangar stage had double duties. Later that day, he was supposed to play with his formation TANZWUT and before that, he showed his TEUFEL (= Devil) characteristics. A corresponding grimace already awaited the audience on a colourful backdrop before red light swirled across the stage and spoken words opened the now following 35 minutes. The TANZWUT and CORVUS CORAX main man and his fellows entered the stage wearing masks, and they started out with a proper gulp of 'Absinth'. This is also the name of the first album of the man with the hairy horns who has made medieval industrial rock with bagpipes, heavy guitars, machine sounds and infectious beats, accompanied by solely German lyrics, his agenda. While the band boss quickly freed himself from his mask, his comrades remained unrecognized. One can therefore feel free to rack one's brain about the question if some more members of TANZWUT and CORVUS CORAX are also involved in this project. As a matter of fact, though, TEUFEL focuses on a more electronic path, and pounding pieces like 'Todesengel' (Death Angel) are proof for that. The sad story 'Der dürre König' (The Skinny King) showed that ballads from the TEUFEL can also have a lot of energy, before 'Die Moritat von Mackie Messer' (The Street Ballad of Mackie Messer) brought an evil rendition of the well-known Brecht/Weill evergreen to light. Of course this song couldn't be without the obligatory bagpipe, while the people in the crowd waved their arms, and 'Kalt ist mein Herz' (Cold is My Heart) as well as the banging 'Den speise ich' (I Eat Him Up) really managed to step the whole thing up again. 'Der Fährmann' (The Ferrymen) didn't fish in murky waters, and with a hint to the upcoming TANZWUT gig and the upcoming TANZWUT album 'Weiße Nächte' (White Nights), which will is available in stores since September 16 (exactly one year after 'Absinth'), TEUFEL said good-bye to his fans - at least for now.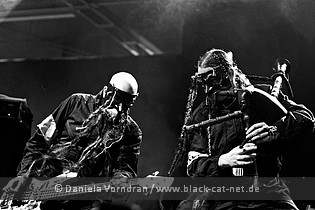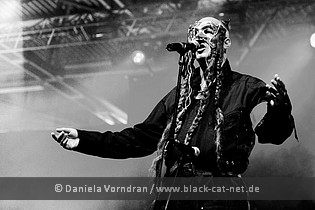 Setlist
01. Tritt ein (Intro)
02. Absinth
03. Todeserngel
04. Dürrer König
05. Die Moritat von Mackie Messer
06. Kalt ist mein Herz
07. Den speise ich
08. Fährmann
09. Hymnus Codex Gigas

Rating
Music: 8
Performance: 8
Sound: 7
Light: 7
Total: 7.5 / 10


Tyske Ludder

TYSKE LUDDER formed at the beginning of the 1990s. The phrase TYSKE LUDDER means German whore in Danish and Norwegian. Until the mid 90s, they pulled out the three albums 'Bombt die Mörder', 'Creutzfeld' and 'Dalmarnock' complemented by scarce live performances as the third leg of the TYSKE LUDDER concept. At the dawn of the new millennium, the project entered a silent period due to various artistic differences on the further development of the concept. In 2004, they started to work on new material coinciding with their live comeback in the same year. The new album 'Sojus' eventually was released beginning of 2006 followed by a re-release of the first three albums with additional bonus material in autumn. The album 'Diaspora' is their most recent release which came out in 2011. TYSKE LUDDER is Claus Ålbers (vocals, performance), Ølåf Å. Reimers (synths) and Rålf Homann (percussions, shouts). http://www.tyske-ludder.de/ / http://www.myspace.com/tyskeludder / https://www.facebook.com/tyskeludder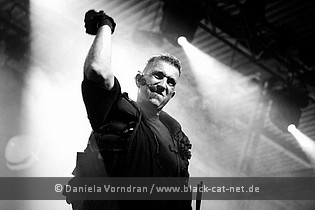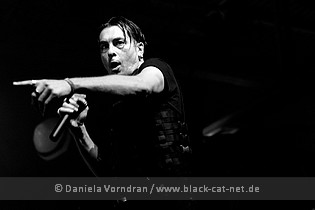 Music & Performance
Seeing TYSKE LUDDER live is quite a rare commodity, that's why I said farewell to MONO INC. overly punctual and headed back to the hangar. There, the trio was already in full activity and pleased the audience with hard-headed electro, spiced up with a lot of videos that were shown on a huge screen in the background and that were complemented by the stage interaction of the band members Claus Albers (vocals), Olaf A. Reimers (keys) and Ralf Homann (percussions & shouting). For example, an Israeli flag was waved during 'Tempelberg' (Temple Mountain) off the fifth record 'Diaspora' that was released in April. The Star of David, who graces the album's cover artwork, could also be discovered in the stage design, right next to the "TL" emblem. With the whole performance, the videos and the lyrics, the "German whore" (= translation of Tyske Ludder) has most certainly managed to polarize at the festival. Not only the compelling industrial tunes of 'Bastard' might not have suited everyone's taste, but the accompanying pictures and lyrics were also quite close to the bone. But TYSKE LUDDER have been known for these kinds of provocations for more than 20 years. Correspondingly, they played 'Wallfahrt' (Pilgrimage) and 'Canossa' before they took on totally different tunes with "Singing Yeah Yeah Yippie Yippie Yeah (Ich hab ne Tante in Marokko" (I have an aunt in Morocco). That song, which only showed up in the set in a very short rendition, was of course not meant for serious, and the set continued with 'Shokkz' and 'Panzer' in the usual straight and martial way. In the very end, the trio appeared more placatory, but at this point an inflatable TYSKE LUDDER bomb had already gone down on the auditorium - the topping of the huge industrial inferno that the guys had caused beforehand.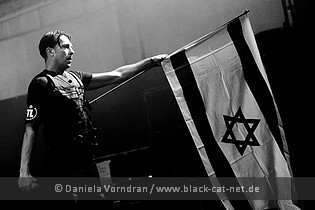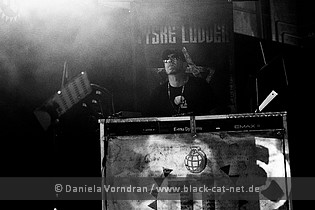 Setlist
01. EUGENIX
02. Tempelberg
03. Wie der Stahl gehärtet wurde
04. Androgyner Held
05. Bastard
06. Wallfahrt
07. Canossa
08. Shokkz
09. Panzer
10. Merciless

Rating
Music: 8
Performance: 8
Sound: 7
Light: 6
Total: 7.5 / 10


Tying Tiffany

TYING TIFFANY attracted first attention, releasing the song 'You Know Me' on a compilation for a Berlin-based label in 2005. The same year her debut 'Undercover' was released on Jato Music and subsequently hailed by music. Her second album, 'Brain for Breakfast', released in 2007 by I Scream Records, was followed by a more extensive tour that comprised of 80 dates all across Europe. After releasing 'Peoples Temple' on Trisol in 2010, TYING TIFFANY has now hit the stages again. http://www.tyingtiffany.com / https://www.facebook.com/tyingtiffany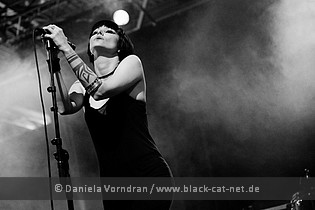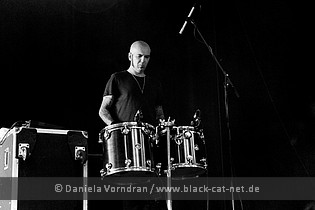 Music & Performance
It was the sun that had most likely lured the shady black crowd out of the hangar, so the crowd was easily observable during TYING TIFFANY. So far, I hadn't heard of the Italian-based lady, even though she's been around for several years in terms of music and acting. At M'era Luna, she was accompanied by a band of three that delivered the brute sounds for her distorted screaming vocals. This was some quite slant, but nevertheless interesting and bass-based stuff that you could really feel in your stomach. The mistress also didn't shy away from wallowing herself on the ground to the pounding high-speed electro sound. After 20 minutes, I left this spectacle and concentrated my attention on well-known medieval rock on the main stage.

Setlist
01. Intro + 3 Circle
02. Black Neon
03. Storycide
04. She Never Dies
05. Lost Way
06. Still In My Head
07. Borderline
08. Miracle
09. Wake Up
10. State Of Mind
11. Bunny Funny Bunny
12. School
13. Show Me What You Got
14. Slowmotion

Rating
Music: 8
Performance:9
Sound: 7
Light: 7
Total: 8 / 10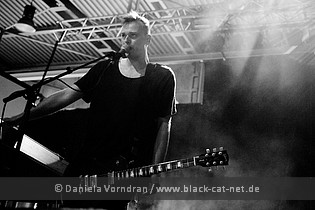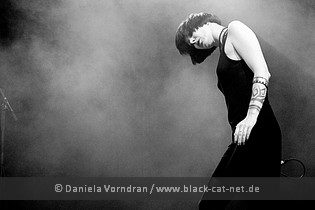 Gothminister

Bjørn Alexander Brem, a lawyer in real life, founded GOTHMINISTER as his solo project in 1999 and already the debut album 'Gothic Electronic Anthems'(2003) gained overwhelming critics by both the national and international critics. With the second album 'Empire of Dark Salvation'(2005) continued on the path of success and was the first Gothic Industrial act ever  to hit the road for a night liner tour through the big cities. Meanwhile the project is grown to a real band and brings us the third album 'Happiness in Darkness' in 2008. It should take 3 years for the follow-up 'Anima Inferna' to be released. GOTHMINISTER is Gothminister (Bjørn Alexander Brem - lead vocals and Performance), Chris Dead (Christian Svendsen - drums), Icarus (Glenn Nilsen - guitars) and Turbo Natas (Ketil Eggum - (guitars). http://www.gothminister.com / http://www.facebook.com/pages/Gothminister/19461103368 / http://www.myspace.com/gothminister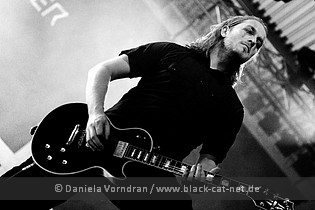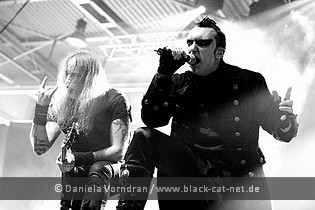 Music & Performance
The gothic metallers of GOTHMINISTER had been travelling to Hildesheim from the far away Norway, and they had not only brought their latest release 'Anima Inferna' (that saw the light of the day in March 2011) with them, but also a lot of pyro effects. Again and again, flames were burning onstage, accompanying the voluminous metal riffs and extensive bass sequences, or sparks were thrown out to the rhythmic, spoken-word-like vocals and the multifaceted harmonic vocals of the GOTHMINISTER. Along with his mates on the instruments, he delivered a highly energetic performance that I, however, had to leave behind soon while getting ready for a true electro legend on the main stage.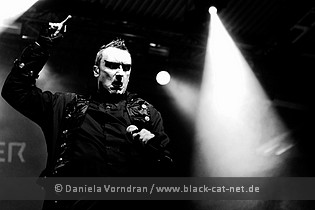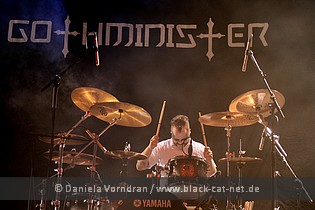 Setlist
01. Intro
02. The Beast
03. Stonehenge
04. Beauty after Midnight
05. Dusk till Dawn
06. The Possession
07. Devil
08. Anima Inferna
09. Liar
10. Monsters
11. Darkside
12. Happiness in Darkness

Rating
Music: 7
Performance: 9
Sound: 8
Light: 8
Total: 8 / 10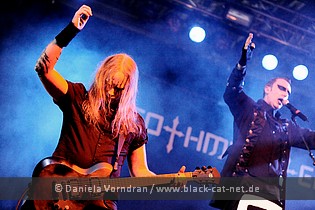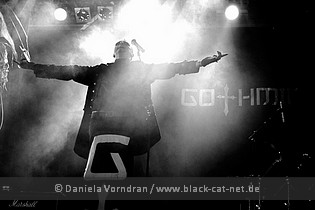 Tiamat

TIAMAT started out in the late 80s in Sweden, emerging from the black metal band TREBLINKA. Under that name they released exactly one album 'Sumerian City' before the former band mates parted ways and singer/guitarist Johan Edlund subsequently changed the band's name to TIAMAT. Under his leadership, the band underwent a constant genre transition in the following years incorporating elements of progressive, doom, or also gothic into their music. That's why they're often deemed as another founder of the gothic metal genre besides British PARADISE LOST. TIAMAT are most prominent for 1994's 'Wildhoney' album which would be considered to be a landmark release within the progressive/doom metal genres, enabling them to play the Dynamo and Wacken open air festivals. To the present day, the band's released nine full length albums the newest one being 'Amanethes' released in 2008. TIAMAT is Johan Edlund (vocals, guitars, keys), Anders Iwers (bass) and Lars Sköld (drums). http://www.churchoftiamat.com/ / http://www.myspace.com/tiamat / https://www.facebook.com/tiamat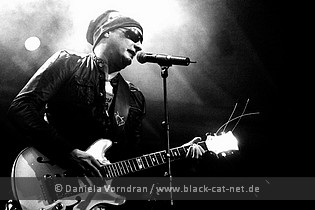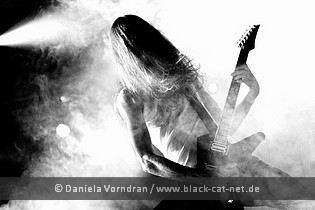 Music & Performance
And once again I made a quick stop at the hangar, which was actually so crowded that people only got in when others left. The reason for the rush of visitors: TIAMAT from Sweden, which celebrated one of their "black masses" on the very dark stage. When I joined the scene, massive slow-motion guitar walls were just crashing down on the black-dressed audience under a red light because 'Cain' was on the agenda. Slowly the tempo got higher, followed by 'Whatever That Hurts'. TIAMAT, who had been active since over 20 years, have undoubtedly left its mark in gothic metal which was just celebrated in full elaborateness and beauty. As the stage had actually been almost completely dark during 'Divided', I couldn't see from my point of view if the band boss and confessed Satanist Johan Edlund had actual female support onstage or if the vocals accompanying the piano were coming from a tape. At any rate, TIAMAT really changed up with the track "Vote For Love", while I decided to leave and rather see VNV Nation.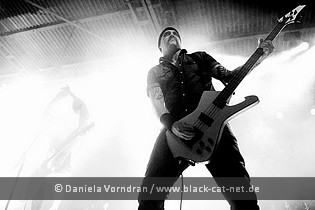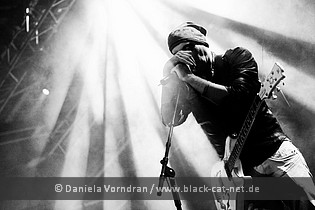 Setlist
01. Fireflower / Summer by Night
02. Cain
03. Whatever That Hurts
04. Divided
05. Vote For Love
06. Brighter Than The Sun
07. Until The Hellhounds Sleep Again
08. Phantasma de Luxe
09. Cold Seed
---
10. Sleeping Beauty
11. Gaia

Rating
Music: 8
Performance: 8
Sound: 8
Light: 8
Total: 8 / 10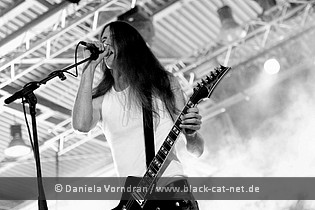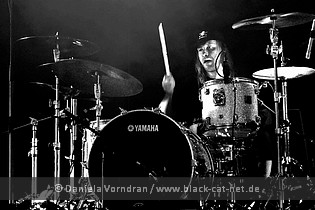 My Dying Bride

MY DYING BRIDE is an English doom metal band formed in 1990. To date, MY DYING BRIDE have released ten full-length studio albums, three EPs, one demo, one box set, four compilation albums, one live album, and one live CD/DVD release. The band released their tenth studio album, 'For Lies I Sire', on March 23, 2009. MY DYING BRIDE, along with bands such as ANATHEMA and PARADISE LOST, are amongst the pioneering bands of the death/doom metal genre. The compilation album 'Evinta' has been released this May. MDB is Aaron Stainthorpe (vocals), Hamish Glencross (guitar), Andrew Craighan (guitar), Dan Mullins (drums), Lena Abé (bass) and Shaun MacGowan (keyboard, violin). http://www.mydyingbride.org/ / http://www.myspace.com/officialmydyingbride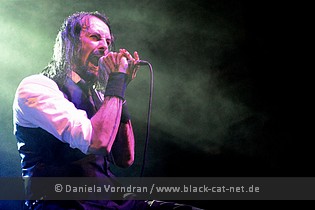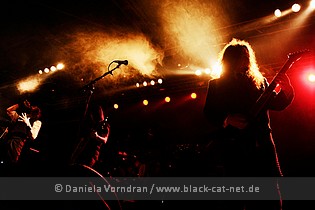 Music & Performance
For one last time (and for the sake of completeness), I wanted to take a look at the things happening in the hangar, where MY DYING BRIDE were just about to let off steam while playing 'Bring Me Victory'. The organ sounds and the creaking guitars from 'Like Gods Of The Sun' earned euphoric reactions from the gothic metal audience, while I left the yowling, noisy axes and billowing fogbanks behind and headed straight to the main act.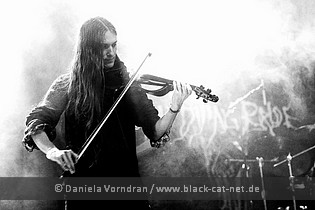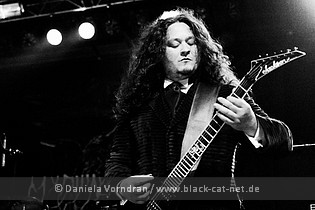 Setlist
01. The Sexuality of Bereavement.
02. Bring Me Victory
03. Like Gods of the Sun
04. The Cry Of Mankind
05. She Is The Dark
06. Your River
07. My Body, A Funeral
08. The Dreadful Hours

Rating
Music: 7
Performance: 8
Sound: 8
Light: 7
Total: 7.5 / 10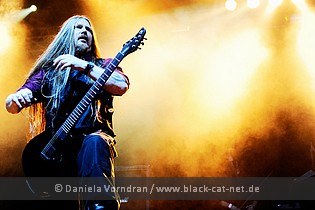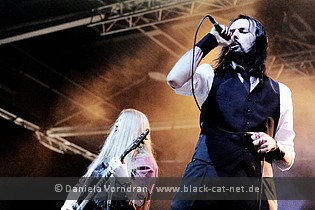 A flow of attendees left the festival ground after HURTS, either for making their way home or for staying the rest of the evening on the camp ground. Extensive dancing on the legendary runway disco and drumming on waste containers could be spotted. As always, also this year's M'era Luna was very peaceful and without bigger negative happenings… just as know from Gothic festivals. Also, the date for the M'era Luna 2012 is already set with 11th and 12th August. We'll be there for you again!

All pictures by Daniela Vorndran (http://www.vorndranphotography.com / http://www.black-cat-net.de/ / www.myspace.com/vorndranphotography / www.facebook.com/blackcatnet)

Written in English by Daniela Vorndran & Sebastian Huhn (Intros & Common Parts) and in German by Ulrike Meyer-Potthoff (http://www.musik.terrorverlag.de). Translations German to English by Lisa Young-In



See also (all categories):