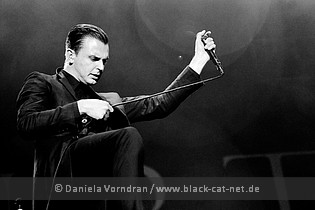 Airfield Drispenstedt, Hildesheim, Germany
13th - 14th August 2011
M'era Luna Festival 2011 Day 2 Main Stage: Hurts, VNV Nation, Project Pitchfork, Tanzwut, End of Green, Mono Inc., Coppelius, Coma Divine, The Beauty of Gemina, Pakt

Every year in August, countless people dressed in black make a pilgrimage to Hildesheim, attracted by all kinds of gothic tunes. Two stages, both in the open and indoor, offer a versatile range of music, accompanied by a medieval market and fashion shows. The second festival day was starting pretty wet. It was raining cats and dogs and this affected pretty much the shows on the main stage until the afternoon. Afterwards, it finally remaned dry for the rest of the day…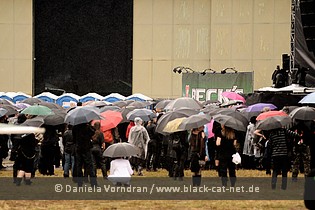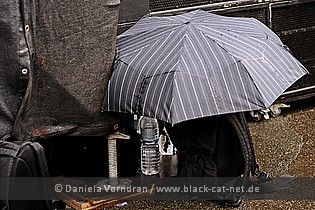 Pakt

PAKT is the new project of former AND ONE members Chris Ruiz and Gio van Oli being right away signed by former AND ONE label Out of line where they've just recently released the first glimpse on the upcoming album with the single 'Freiheit'. A full-length album is already announced for early 2012 followed by a tour through German clubs. http://www.facebook.com/PAKTofficial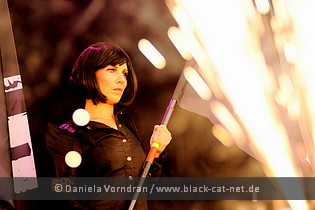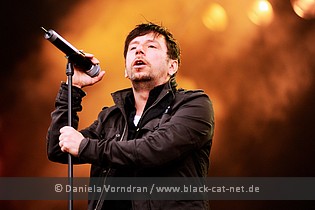 Music & Performance
While the sun had been shining on Saturday, we experienced heavy rain on Sunday when it was PAKT's turn to open up the second festival day at 11.00 A.M. Two days before, the duo, consisting of Chris Ruiz and Gio van Oli (ex-AND ONE), had released their first single 'Freiheit' just in time for the festival. The set of the guys from Berlin only lasted 15 minutes and consisted of three songs, then they disappeared again, after having been accompanied by a lot of female assistance onstage. The band's mix of EBM, NDW and electro pop that reminded a lot of AND ONE could somehow be understood as a kind of alarm call for the black community slowly crawling out of their holes.

Setlist
01. Intro
02. Freiheit
03. Angriff
04. Lichterloh

Rating
Music: 6
Performance: 7
Sound: 8
Light: 7
Total: 7 / 10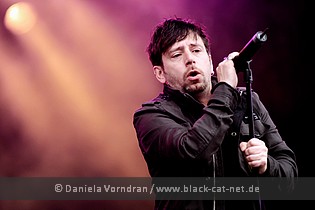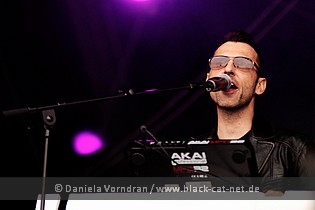 The Beauty of Gemina

The band, emerging from former members of the Swiss band NUUK, debuted with the album 'Diary of a Lost' in 2007 and received overall positive feedback from fans and press alike, followed by some very successful concerts in support of the album. Rolling on to 2008, Michael Sele and his band were not lazy as the successor, entitled 'A Stranger to Tears' was released in autumn 2008 and earned favourable reviews. 2010 has seen the band returning with their latest album 'At The End Of The Sea'. THE BEAUTY OF GEMINA is Michael Sele (vocals, guitar, lyrics, keyboard, synthesizer), Dennis Mungo (guitar), David Vetsch (E-bass) and Mac Vinzens (drums). http://www.thebeautyofgemina.com / http://www.myspace.com/thebeautyofgemina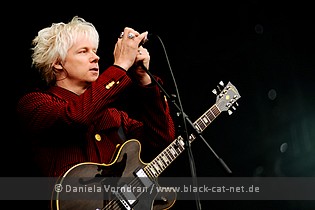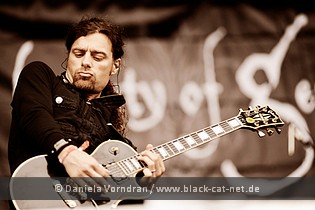 Music & Performance
Quickly heading back from the hangar to the main stage, the Swiss band THE BEAUTY OF GEMINA had already been braving the rain in front of a convenient amount of people for some minutes. TBOG was formed in 2006 by the platinum blonde singer Michael Sele after the break-up of his previous band NUUK and had released three records in the meantime. The confederate gothic rock appeared to be quite danceable (e.g. in the song 'The Lonesome Death Of A Goth DJ') and also didn't lack any melancholy. The bad weather was taken by the band with good nature and they even turned their song 'Shadow Dancer' into a 'Rain Dancer', which was followed by the catchy dark rock tune 'This Time'. 'Suicide Landscape' (a number 1 hit in the World Gothic Charts) with its dominating guitar was received very well before the four-piece let it burn with the fast-paced 'Dark Rain' and spoke out a final invitation to dance with the song 'Rumours'.

Setlist
01. Sacrificed to the Gods
02. The Lonesome Death of A Goth DJ
03. Shadow Dancer
04. This Time
05. Suicide Landscape
06. Dark Rain
07. Rumours

Rating
Music: 9
Performance: 8
Sound: 8
Light: 8
Total: 8.3 / 10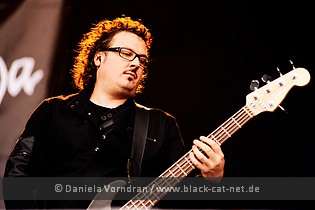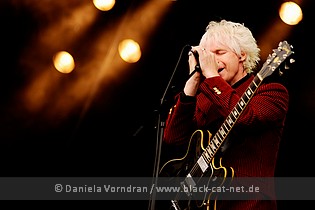 Coma Divine

COMA DIVINE is the new creation of (and with) Sonja Kraushofer (vocals), well known singer of the bands L'ÂME IMMORTELLE and PERSEPHONE. She found company in Ashley Dayour (guitar) who is also known from gothic rock-institution WHISPERS IN THE SHADOW, Martin Hoefert (PERSEPHONE & Ex-SOPOR AETERNUS, cello), Franz Heinrich Lirsch (bass-guitar) and Wolfgang Luckner (drums). The debut album 'Dead End Circle' is out on 26th August 2011. http://www.coma-divine.com / http://www.myspace.com/bandcomadivine / http://www.facebook.com/pages/COMA-DIVINE/115341491810523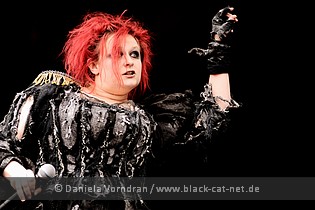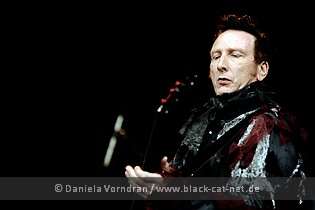 Music & Performance
COMA DIVINE is a solo project of the L'ÂME IMMORTELLE singer Sonja Kraushofer that features members of both L'ÂME IMMORTELLE and her other project PERSEPHONE. Optically speaking, the whole thing seemed like a presentation of a slightly ragged pirate cast, led by an exuberant red-haired matron. This motif was also picked up in the 'Sea Shepherd' backdrop that could often be seen in the background that day, and that also drew attention to the militant ecology group committing to the protection of the sea. Besides, a lot of water regorging onstage, as the construction of the ceiling had apparently capitulated in consideration of the rain, leaving a hole in the canvas that caused the water to regorge onto the stage like a waterfall. As we all know, water and electricity aren't really friends, that's why one of the axe guys had to bring his technical equipment into safety first, while diligent assistants tried to fight the floods. Apart from that, the most interesting thing was the cello played by Martin Höfert because its substructure consisted of a metallic outline. In a musical sense, COMA DIVINE didn't really suit my taste. Opulent women who somehow warble around in between a gothic metal and classical style are just not my thing. And if that wasn't enough, the sound was also not that good altogether. COMA DIVINE surely had the intention to rock, but for some reason they failed to accomplish that mission.

Setlist
01. Intro
02. Burn, Sister!
03. The Odd One Out
04. From Time To Time
05. I Remember
06. Praise The Fallen
07. Secret Lover
08. Fast Lane
09. About A Girl

Rating
Music: 7
Performance: 7
Sound: 7
Light: 7
Total: 7 / 10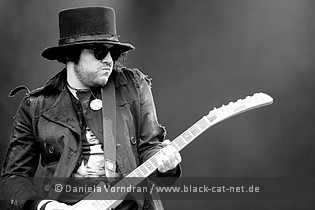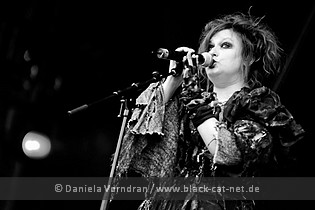 Coppelius

Nothing particular is known of this mysterious band. If you take a look on their homepage you can find a "concertography" dating back until the early 19th century but the first known appearance of COPPELIUS was the farewell tour of THE INCHTABOKTABLES where they had the support slot. They also performed as support for MILA MAR, MUTABOR, FIDDLER'S GREEN and others in 2003 & 2004. A demo EP called 'To my Creator' has been released which also includes the first video for the song 'Get used to it'. In April 2007 a live DVD was recorded in Berlin followed by the first time appearance at the Wave Gotik Treffen in the same year. In summer 2007, COPPELIUS signed a record deal with Fame Recordings and the debut album 'Time-Zeit' was released in September 2007. With 'Tumult', the fine gentlemen released the second album in 2009 followed by 'Zinnober' in 2010. COPPELIUS is Max Copella (vocals, clarinet), Nobusama (drums), Graf Lindorf (vocals, cello), Comte Caspar (vocals, clarinet), Sissy Voss (contrabass) and Bastille (vocals, servant). http://www.coppelius-band.de/ / http://www.myspace.com/coppeliushilft / https://www.facebook.com/CoppeliusHilft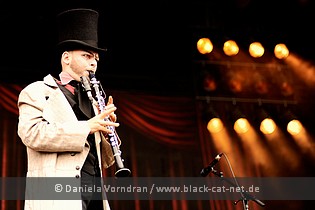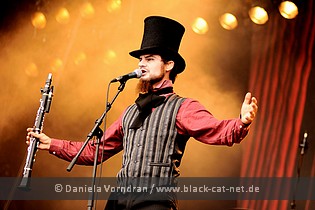 Music & Performance
A bunch of guys dressed in garments from the end of the 18th century and equipped with classical instruments such as cello, piano, contrabass and kettledrum? A lot of ornaments onstage? Okay, that must be COPPELIUS from Berlin! This name also awaited me in big letters on the backdrop hanging at the main stage, together with the rain that was getting heavier again. 'Habgier' ('Greed') was on the agenda. Which means: Metal with classical equipment, whereas the clarinets in particular gave the whole thing a certain Yiddish touch. 'Coppelius hilft!' ('Coppelius helps!') was the promise that the guys then made before they admitted to be 'Diener 5er Herren' ('Servant of 5 Gentlemen'). With 'I Get Used To It', the classy time travellers made a lightning quick start and just rocked out as hell. One actually can't deny that COPPELIUS also draw influences from IRON MAIDEN. A comparatively calm farewell from the "19th century chamber core" (COPPELIUS about COPPELIUS) was accomplished with 'Ade mein Lieb' ('Farewell, my dear') which saw Max Coppella and Comte Caspar sit at the brink of the stage and close their mad trip across long gone times in their usual authentic and insane way.

Setlist
01. Handschuh
02. Risiko
03. Schöne Augen
04. Gumbagubanga
05. Klein Zaches
06. Habgier
07. Coppelius Hilft
08. Diener 5er Herren
09. I get used to it
---
10. Ade mein Lieb

Rating
Music: 8
Performance: 9
Sound: 8
Light: 7
Total: 8.2 / 10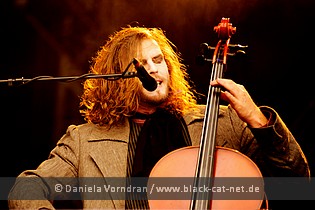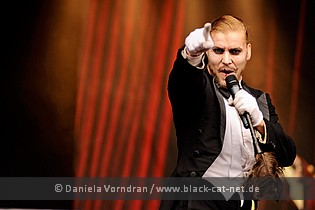 Mono Inc.

MONO INC. formed as MONO69 in 1998, beginning of 2003, Manuel Antoni fills in the vacant position as bassist and hence completes the line-up. The self-released debut 'Head under Water' followed then in autumn 2003. The year 2006 brought one of the worst surprises a band is able to encounter. The departure of their former singer, however a proper replacement was to be found quickly with drummer and songwriter Martin Engler. Katha Mia would take over drum duties for him from there on. As it turns out, the idea to put Martin to the front wasn't a bad one at all; ever since the band has grown more popular than ever expected. 2007 sees the release of the next record 'Temple of the Torn' to be followed only one year later, exactly in June 2008, with the third album 'Pain, Love & Poetry'. The band's newest album is named 'Viva Hades'. MONO INC. is Martin Engler (vocals), Manuel Antoni (bass, vocals), Katha Mia (drums) and Carl Fornia (guitar, vocals). http://www.mono-inc.com/ / http://www.myspace.com/monoincmusic / https://www.facebook.com/monoinc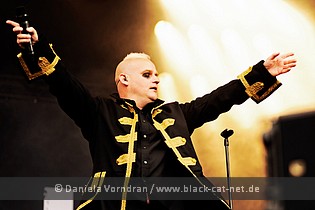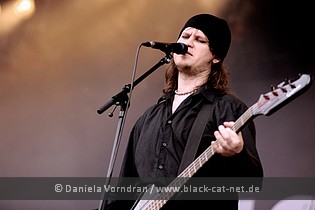 Music & Performance
Wow! The rain had actually stopped! However, allegedly it is also a typical MONO INC. phenomenon that the sky's water gates immediately close whenever the guys from Hamburg start to rock. That's what singer Martin Engler revealed while sitting on a bar stool and ready to intonate the IGGY POP cover 'The Passenger'. Before the whole spectacle could really start off, though, the numerous fans in the audience were informed that episode 105 of MONO INC. TV was filmed that day, and that the band would therefore really need the support and engagement from the auditorium. The audience was almost too keen in terms of being active during the show, and thus the band got a lot of applause even before the camera woman and drummer Katha Mia got onstage. But then it was about time - and the result can be watched at the official band homepage, as usual. Even without any visual proof, the fans totally caused a riot for the song that also eventually led the rest of the band to come on board again, because MONO INC. are not only a guarantor for a kickass show, but they were also able to steadily increase their fan base throughout the years. Of course this was also due to the conjoint tour with UNHEILIG which also led to the current record 'Viva Hades' entering the German charts at rank 50. Today, the band managed to go onstage focusing on the same style as for the album cover after Katha Mia had finished their drum solo.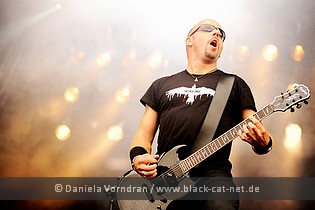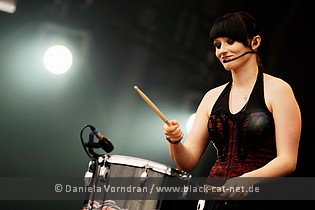 'Voices Of Doom' and 'Symphony Of Pain' were two more songs that were totally in-your-face and that not only made the audience sing along, but also Katha Mia who contributed some "Ah's" and "Oh's". In October, MONO INC. will go on tour again (some shows are already sold-out) and are actually looking forward to filming even more episodes of MONO INC. TV.

Setlist
01. This is the day
02. Symphony of Pain
03. Viva Hades
04. Forgiven
05. The Passenger (acoustic - Iggy Pop cover) + drum solo
06. Voices of doom
07. Get some sleep

Rating
Music: 8
Performance: 9
Sound: 8
Light: 7
Total: 8.2 / 10


End of Green

The German band END OF GREEN founded in 1992 in Stuttgart and back in the beginnings they played a mixture of Goth Rock and Metal. According to singer Michael Huber, the band name symbolizes the end of hope, associated with the colour Green. A few line-up changes and demos later, they eventually signed a deal with Nuclear Blast and released the debut 'Infinity' in 1996. Soon afterwards the band and the label broke up again and unleash the next album on the new Subzero Records label. Constant touring with acts like PARADISE LOST, IN EXTREMO or IGGY POP provides for a growing fan base that waits until 2002 until 'Songs for a Dying World' is released, finally. It just takes one year for them to come up with the next record 'Last Night on Earth' in 2003. The seventh and newest album 'High Hopes In Low Places' hit the shops in August 2010. The current line-up is as follows: Michelle Darkness (vocals), Michael Setzer (aka Sad Sir - guitar), Oliver Merkle (guitar), Rainer Hampel (bass) and Matthias Siffermann (drums). http://www.endofgreen.de/ / http://www.myspace.com/endofgreen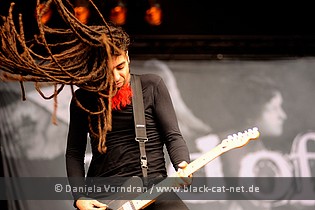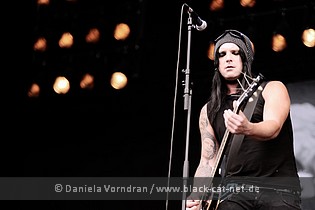 Music & Performance
Now there was enough time for a small turn to the main stage - even though the concomitant circumstances weren't that nice: It was raining again! Somehow, though, the depressing weather really fit to END OF GREEN's gothic rock with Nordic imprint. According to their name, the guys from Stuttgart have given up hope anyways and therefore call their style "depressed subcore." Ever since 1992, the guitar-driven five-piece compliments us with its gloomy mood and knows how to transform this into music in a skilful way. All five guys, fronted by singer and guitarist Michael Huber, are complete pros, and therefore they remained in their state of melancholy, even when the sun came out in the end.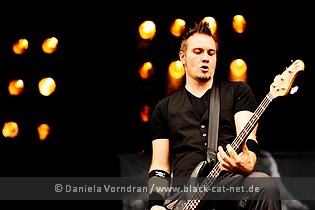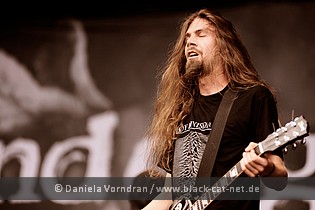 Setlist
01. High Hopes in low Places
02. Drink Myself to Sleep
03. Under the Sway
04. Killhoney
05. Hurter
06. Goodnight Insomnia
07. Tie me a Rope
08. Sunday Mourning
09. Saviour

Rating
Music: 8
Performance: 8
Sound: 7
Light: 7
Total: 7.5 / 10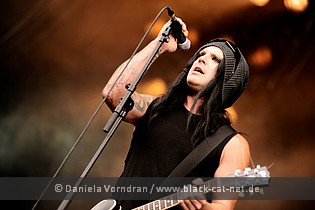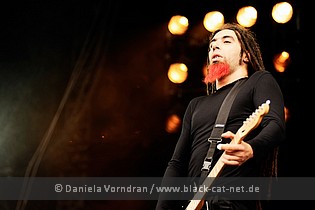 Tanzwut

TANZWUT is a German Rock and Medieval Metal band composed of members from the folk band CORVUS CORAX. TANZWUT are known for their heavy use of bagpipes, an unusual instrument for a metal band. The group has achieved international success, filling concert halls as far away from their home country as Mexico. The band's recent releases have been gravitating towards a more industrial metal approach, incorporating the use of more down-tuned guitars, harsher vocals and darker atmospheres. The band will soon return with a new album.TANZWUT is Teufel (vocals, bagpipe), Martin Ukrasvan (guitar, davul), Der Zwilling (bass, bagpipe), Ardor (bagpipes), Thrymr (bagpipes), Jagbird (keyboard, e-drums, drums) and Shumon (drums). http://www.tanzwut.com / http://www.myspace.com/tanzwutmusic / https://www.facebook.com/TANZWUTOfficial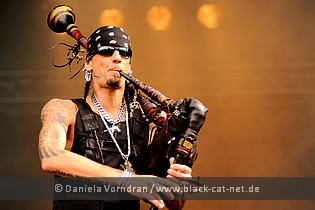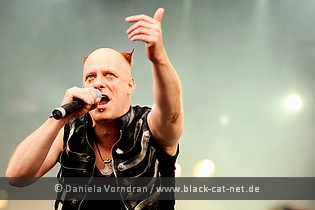 Music & Performance
As usual, TANZWUT from the big city at the Spree river had been in charge for the medieval rock part of the festival. Ever since 1997, TANZWUT make sure that bagpipes are not being connected to Scottish traditions only. Originally formed out of the project CORVUS CORAX, the TANZWUT guys furnish their medieval sound with powerful electro elements that already make the seven-piece turn over control of the audience with their opener 'Toccata' 'Ihr wolltet Spaß' ('You Wanted Fun') is a popular evergreen where one can clap along, followed by the next TANZWUT classic 'Meer' ('Ocean') and the 'Merseburger Zaubersprüche' ('Merseburg Incantations'), the latter of which aimed at fighting off a threatening thunderstorm. All in all they used four bagpipes, and it actually stopped raining for the rest of the day, even though it became a lot cooler again during the song 'Wächter' ('Guard'). Of course, THE TANZWUT anthem should not be missed either: 'Bitte, bitte' ('Please, Please') is originally a song from DIE ÄRZTE, however it will also be linked to the agile medieval rockers for all times.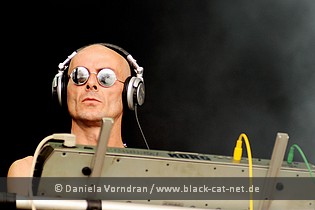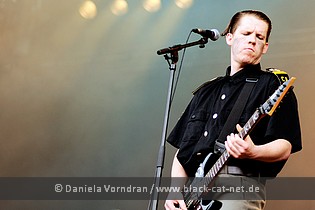 With 'Vulkan' ('Volcano') they demanded the audience to go berserk, before the setlist came up with another highlight in the form of 'Teufel im Paradies' ('Devil In Paradise'). Oh, how good it was that 'Der Arzt' ('The Doctor') was on hand in order to immediately intervene. Shortly after, 'Nein, nein' ('No, no') was on the agenda, and 'Der Schattenreiter' ('The Shadowrider') was also galloping past the scenery. The only thing missing in the repertory was the 'Trumscheit' ('Nun's Fiddle'), but life is in fact neither a picnic nor a bed of roses.

Setlist
01. Toccata
02. Ihr wolltet Spaß
03. Meer
04. Merseburger Zaubersprüche
05. Lügner
06. Wächter
07. Bitte, bitte (ÄRZTE-Cover)
08. Vulkan
09. Teufel im Paradies
10. Der Arzt
11. Nein, nein
12. Schattenreiter

Rating
Music: 8
Performance: 8
Sound: 8
Light: 8
Total: 8 / 10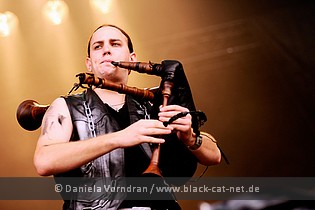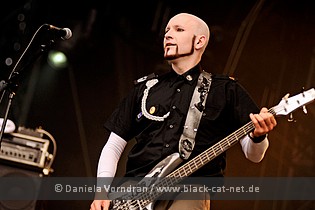 Project Pitchfork

PROJECT PITCHFORK is one of the spearheads in the alternative electronic music, initially consisting only of Peter Spilles and Dirk Scheuber. Later Jürgen Jansen and live members Achim Färber and Carsten Klatte joined the line-up. The formation wasn't just known for critically-acclaimed albums, successful tours and appearances on every conceivable festival but also for some prominent support acts like RAMMSTEIN or COVENANT. After some very successful years at the beginning of this millennium, the popularity decreased with the more introverted albums 'Inferno' and 'Kaskade' but nothing has changed in East Germany and in Russia, where a tribute to Pitchfork sampler has been created in 2005. In 2009 they eventually came back with a new full-length, titled 'Dream, Tiresias!', just to let follow the next one, 'Continuum Ride', a year later, and the band's creativity wouldn't cease with that as 'Quantum Mechanics' has dropped already this August. http://www.pitchfork.de/ / http://www.myspace.com/projectpitchfork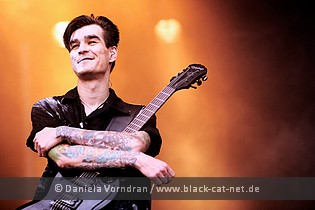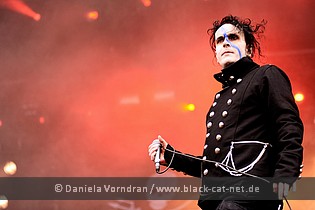 Music & Performance
Exactly on the Friday before M'era Luna, PROJECT PITCHFORK had released their newest record 'Quantum Mechanics', and the title track was also part of the setlist in this 60-minute lesson in synth rock / dark-wave. Peter Spilles and Dirk Scheuber, who had founded PROJECT PITCHFORK in 1989 and were joined by Jürgen Jansen, Achim Färber and Carsten Klatte in their live setting, belong to the most subversive and successful representatives of the German electro scene, and are said to have influenced about two generations with their music. Therefore, a lot of people had gathered in front of the main stage where coloured areas of luminous diodes were supposed to accompany the music. As in the usual PP tradition, the musicians had put on a bit of "war paint" as an eye-catcher, but of course the music was the centre of attention. But wait: During 'Timekiller', it was worth taking a closer look - wasn't that Steve Naghavi from AND ONE who suddenly appeared onstage and sang along? It was him, but he immediately disappeared again after this beautiful song, and left the field to the Hamburg residents for the following song 'Souls'.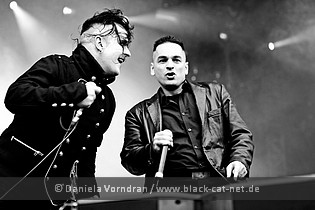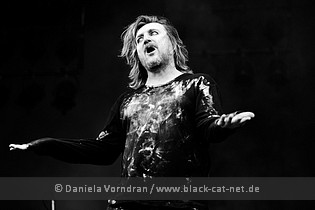 The guys then played songs from their entire discography, which actually happened in a quite fast pace, for example in 'Steelrose' and 'Existence'. Yes, the people were allowed to dance, and in addition to that, Scheuber heated up the audience in such a way that they rarely got any breathers in between. The only drop of bitterness: The wind sometimes carried away the sound in an audible way, so that the acoustics in the last rows and on the sides was rather suboptimal.

Setlist
01. Intro
02. Continuum
03. Timekiller (feat. STEVE NAGHAVI)
04. Souls
05. Beholder
06. Mine
07. Steelrose
08. Conjure
09. Endless Infinity
10. I Am
11. Fire & Ice
12. Existence
13. Lament

Rating
Music: 8
Performance: 9
Sound: 8
Light: 8
Total: 8.3 / 10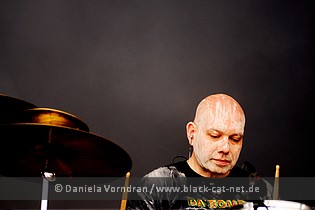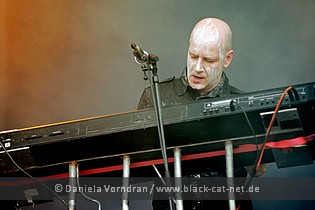 VNV Nation

An Irish guy called Ronan Harris created VNV NATION in 1990, releasing two Vinyl albums 'Body Pulse' and 'Strength of Youth'. Initially, the music was a mixture of orchestral and electronic influences. Suffice to say, that it's become much more than just a compound of these two elements over time. But first things first! The first album 'Advance & Follow', a real and usually expensive rarity nowadays, emerged after signing a record deal with German label Discordia in July 1995, but it was 1999's 'Empires' - the third full-length - that became their breakthrough album gaining them widespread commercial success (topping the German DAC charts for seven weeks) which did even increase with the following 'Future Perfect' while scaring away some fans who liked the older sound much more. By now VNV NATION has released 8 albums in total with the newest one being the incredibly successful 'Of Faith, Power & Glory'. With 'Automatic', VNV NATION are going to return this fall. VNV NATION is Ronan Harris (vocals) and Mark Jackson (percussions), supported live on keys this time again by Tom Lesczenski of [:SITD:] and André Winter. http://www.vnvnation.com/ / http://www.myspace.com/vnvnation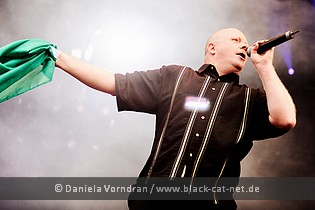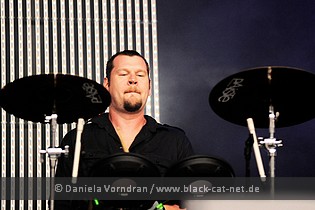 Music & Performance
Ronan Harris (vocals) and Mark Jackson (drums) have been the household names for first-class future pop for more than two decades, and their sound particularly works in a live setting. Ronan may not be the most exceptionally gifted singer in the world, but he makes up for it with a good portion of lifeblood, and just knows how to deal with his fans - of course with the thought in mind that their music is simply stirring. That is why the duo, who had also added two guys playing synths to the stage line-up and played around with lighting and video technics, was able to use the maximum for themselves. The party crowd was in a good mood, moved along, and didn't spare any applause, before the band went ahead with the danceable 'Tomorrow Never Comes'. This state should not change during the next 60 minutes. The party was in full effect and one hit followed the other.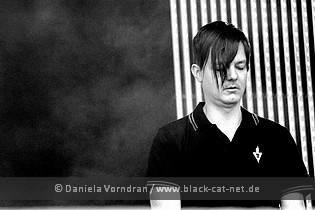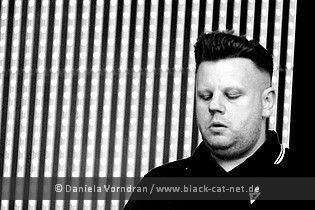 With 'Shine (Your Light One Me)', the band actually put in a little breather, before Mr. Harris declared it's time for being in a good mood and then started to play 'Standing'. No doubt, the M'era Luna crowd ate out of the guy's hands and was happy that VNV NATION also provided a first insight into the new record 'Automatic' (to be released on September 16th) by playing the song 'Control' off the upcoming album. During the sentimental 'Illusion', the audience collectively swung arms, before 'Beloved' once again motivated to dance. 'Perpetual' then served as the thrilling finale and left the crowd with the certainty that one should not miss out on the tour in September.

Setlist
01. Chrome
02. Tomorrow Never Comes
03. Farthest Star
04. Shine (Your Light On Me) (new Song)
05. Standing
06. Further
07. Control (new Song)
08. Illusion
09. Beloved
10. Perpetual

Rating
Music: 8
Performance: 8
Sound: 8
Light: 8
Total: 8 / 10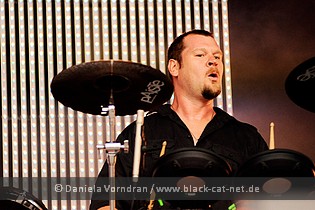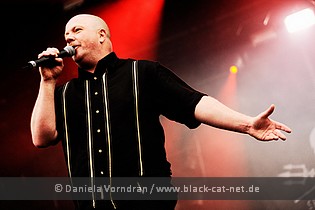 Hurts

Sometimes it just takes a little tune like 'Wonderful Life' to put a duo, in this case Theo Hutchcraft & Adam Anders aka HURTS, into the spotlights of everyone and making them famous. But some might ask themselves, righteously, if there's any substance at all behind the hype. Yes, there is, for not only the hit single let synth fans' hears leap with joy and their eyes sparkle, also the debut album 'Happiness' excelled the expectations and set the bars extremely high for everyone else and for the band themselves. The corresponding tour last year was sold-out in no time and so dates for another tour were scheduled that sold very fast just as well so was nearly every other show around here. http://informationhurts.com/ / http://www.facebook.com/hurts / http://www.myspace.com/ithurts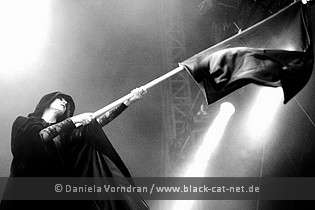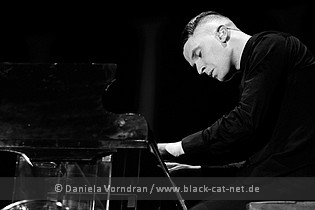 Music & Performance
Sunday's biggest backdrop belonged to HURTS from Manchester. Formed in 2009 by Theo Hutchcraft and Adam Anderson, the stylish synth poppers could quickly gain a huge following in the German market. At home in Britain, several Bambis, Echos, and MTV Movie Awards are waiting for the guys, and I guess there is almost no one who can't hum along to 'Stay' after Til Schweiger had used the song in the credits of his movie 'Kokowääh'. While the stage shone in a blue light during the intro, two women appeared wearing black hooded capes that suited the M'era Luna well, and preparing to swing two black flags while 'Silver Lining' was slowly starting. During 'Wonderful Life', the sprawling dancers only wore little black dresses anymore; there weren't any more changes in a fashion sense. Therefore, one could experience the slightly cooled 80ies sound from the HURTS hit factory that was fuelled by 'Happiness' (the title track from the 2010 top ten album) and that didn't lack any visual allurements on the video walls.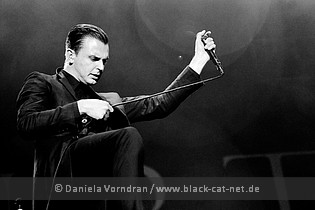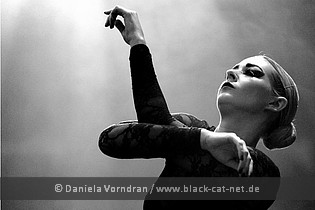 'Blood' with its string finale clearly seemed to be solemn, and 'Evelyn' also didn't save up any pathos. This was proof that HURTS didn't go for the small things, but Hutchcraft and Anderson totally tore the whole thing apart instead. Thus, one also can't imagine the HURTS duo (who had been members of DAGGERS and BUREAU before) to be playing smaller club shows. In this setting, dramatic art such as in 'Sunday' or 'Verona' (a sky full of violins) would not come into effect in a proper way, and the rhythm-based 'Unspoken' also just needs melodrama fuelled by emotions. With 'Mother Nature', the band aimed at a bombastic sound once again, before 'Devotion' tightened the reins again. With 'Confide in me', the band presented the cover version of this special Kylie Minogue song. More hits followed until the show finally ended with 'Better than Love'

Setlist
01. Intro Music
02. Silver Lining
03. Wonderful Life
04. Happiness
05. Blood, Tears & Gold
06. Evelyn
07. Sunday
08. Verona
09. Unspoken
10. Mother Nature
11. Devotion
12. The Water
13. Confide in me (Kylie Minogue Cover)
14. Illuminated
15. Stay
16. Gloomy Sunday
17. Better than Love

Rating
Music: 8
Performance: 8
Sound: 8
Light: 8
Total: 8 / 10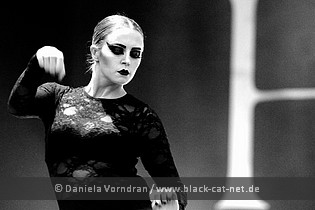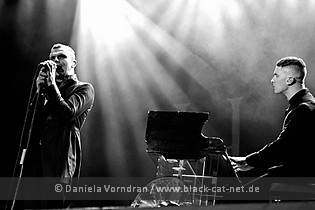 And thus, the M'era Luna 2011 really came to an end after a diversified Sunday which was only troubled by the rain. All members of the black scene had actually been provided with the right artists that generally lured more than 20,000 visitors to Hildesheim. Only the "seeing and being seen" thing didn't really work out this year. The extravagant outfits find some better exposure during sunshine but as I hadn't been on a festival this year where it didn't rain heavily at least once, I already arrived with the feeling that it would also rain in Drispenstedt. So let's hope for better weather in the upcoming year, and of course also for an exciting selection of bands. We'll see us again on 11th and 12th August 2012!

All pictures by Daniela Vorndran (http://www.vorndranphotography.com / http://www.black-cat-net.de/ / www.myspace.com/vorndranphotography / www.facebook.com/blackcatnet)

Written in English by Daniela Vorndran & Sebastian Huhn (Intros & Common Parts) and in German by Ulrike Meyer-Potthoff (http://www.musik.terrorverlag.de). Translations German to English by Lisa Young-In



See also (all categories):