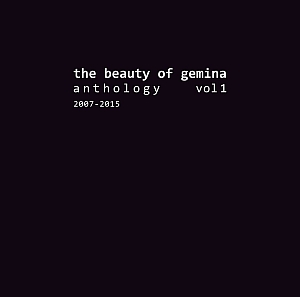 Artist: The Beauty of Gemina
Title: Anthology Vol. 1 (2007 – 2015)
Genre: Alternative / Dark Wave / Indie / Rock / Dark Rock / Folk / Blues
Release Date: 13th November 2015
Label: Danse Macabre (Alive)
Album Review

Dark, intense, sombre, and smashing – that's how one can describe the about 80 minutes of music on 'Anthology Vol. 1 (2007 – 2015)', THE BEAUTY OF GEMINA's first compilation. On it, the Swiss band around vocalist Michael Sele presents 16 tracks featuring 14 all-time classics, such as, 'Suicide Landscape', 'This Time', 'Rumours', or 'All Those Days' taken from their seven records and, in addition, two previously unreleased, exclusive recordings, namely of 'One Step To Heaven' and 'Darkness'. The 'Anthology' takes us on a sonic journey through time showing the band's by now one-decade-long history and highlighting their originality. TBOG are one of the few who've succeeded in escaping from the straitjacket of any genre. Melancholic as well as socio-critical poesy, charismatic and captivating, chant-like vocals, and versatile, well-crafted songs that interweave electro sounds with elements of Goth rock, folk, blues, country, or classical music are characteristic of these multi-faceted musicians who've contributed to the dark scene with their talent since 2006.
The compilation kicks off with a hit – the beautifully bleak 'Suicide Landscape', the opener of TBOG's debut 'Diary of a Lost' (2007). The song begins and fades out with haunting whisperings, but makes you wanna dance or at least nod your head in between because of its drive. After another quiet intro, the prominent and crushing guitars and punchy drums of 'Kingdoms Of Cancer' take over and are woven into atmospheric synth carpets – all this makes an incredibly forceful and gripping song. Also the pushing vocals and the TBOG typical repetitive lyric structure contribute to the urgency of 'Kingdoms Of Cancer', which, on the whole, needs to be on their first 'Anthology' without a doubt. The follow-up album 'A Stranger to Tears' (2008) is represented by the smashing beats and poppy synths of the catchy 'This Time' and the tranquil, heart-splitting piano and strings ballad 'Into Black', which can indeed "bring your tears out" with its beseeching melancholy and tender vocals. The following 'Kings Men Come' from 'At The End Of The Sea' (2010) perfectly displays TBOG's harmonic blend of dark wave and Goth rock. And particularly in the peppy ear worm and single release 'Rumours' there's an extra serving of rocking guitars enriching their dark electro sound.
After the danceable 'Rumours', 'Anthology Vol. 1' takes us to the year 2012: The Goth rockers release their fourth record entitled 'Iscariot Blues' on which they call for a 'Dark Revolution'. Despite its sombre lyrics, it's a retro sounding rock anthem full of groove due to its bass lines and psychedelic guitars. Furthermore, TBOG incorporate an innovative, acoustic guitar solo here, which might already hint at their future acoustic material. But first, there's the second song from 'Iscariot Blues' for this compilation, namely the mighty and at the same time mournful 'June 2nd'. This outstanding track heads once again towards the gloomy direction of dark wave with its heavy synths. One year later, TBOG gift us with 'The Myrrh Sessions'. 'Anthology Vol. 1' celebrates the acoustic reinterpretations of the hypnotic songs 'Hunters' (originally on their debut album) and 'Last Night Home' (from 'Iscariot Blues') featuring incredible instrumental parts. Everyone can enjoy and appreciate the meditative piano and folky acoustic guitar tunes accompanied by violins and a cello with laid-back drums and jazzy interludes; and naturally, these unplugged conversions are especially interesting for listeners who also know the original versions.
The up-tempo 'All Those Days' and 'One Million Stars' from the album 'Ghost Prayers' (2014) are paced by driving rhythms. While the former is an indie guitar-led rock song with subdued synth sounds, the latter is built around an amazing Goth rock riff and is flavoured with even more folk featuring acoustic guitars in the background. This makes a perfect transition to the acoustic live performances of 'Dark Rain' and 'Down By The Horses', which were recorded at a sold-out gig at the jazz club Moods in Zurich and immortalized on the album 'Live At Moods – A Dark Acoustic Night' (2015). The "swinging, country, gothic, American blues" of both smashers, as Sele announces the songs, remind one of Johnny Cash and are truly great fun. And so, a GEMINA crowd that's singing, clapping, and rocking along is also captured on the 'Anthology'.
Finally, the compilation concludes with two gems: TBOG followers will highly appreciate the rare live rock performance of 'One Step To Heaven' (from 'Diary of a Lost') recorded in Copenhagen. And the highlight most certainly is the acoustic version of 'Darkness', originally an 11.5-minute-long ballad from 'Ghost Prayers' turned into a 6.5-minute-long, intimate and captivating only-piano piece. Michael Sele recorded this minimalistic version of a beautifully brooding song especially for 'Anthology Vol. 1' - Thank you!
This much is certain: GEMINA fans can only be thrilled with this widely diversified compilation of album, live, and acoustic tracks while they're waiting for the rise of the 'Minor Sun', the upcoming 10th anniversary album to be released later this year. For fans-to-be the 'Anthology' makes a perfect introduction to this distinctive band, a great chance to discover TBOG and get an idea of their musical development before diving wholeheartedly into their complete catalogue of beautiful, darkly tinted tunes.
Tracklist

01. Suicide Landscape
02. Kingdoms Of Cancer
03. This Time
04. Into Black
05. Kings Men Come
06. Rumours
07. Dark Revolution
08. June 2nd
09. Hunters (Acoustic Version)
10. Last Night Home (Acoustic Version)
11. All Those Days
12. One Million Stars
13. Dark Rain (Acoustic Live In Zurich)
14. Down By The Horses (Acoustic Live In Zurich)
15. One Step To Heaven (Live In Copenhagen)
16. Darkness (Acoustic Piano Version)
Line-up

Michael Sele – vocals, guitar, piano
Andi Zuber – bass
Mac Vinzens – drums
Simon Ambuehl – guitar
Website

http://www.thebeautyofgemina.com
/
https://www.facebook.com/TheBeautyOfGemina
Cover Picture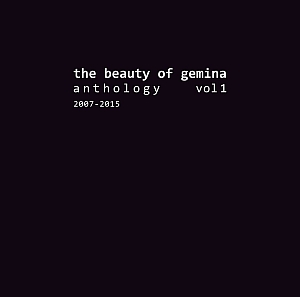 Rating

Music: 9
Sound: 10
Total: 9.5 / 10
See also (all categories):