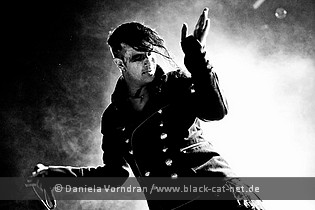 Vooruit, Gent, Belgium
6th & 7th April 2012
Rewind Easter Fest Day 1: Project Pitchfork, Clan Of Xymox, Chameleons Vox, The Beauty Of Gemina, Cassandra Complex, Department S, Schmutz, Erato

With the Rewind Easter Fest in Gent, one of those festivals came up that bear the typical trademarks of Belgium festivals: They always mange to gather an interesting line-up of bands that you don't get to see live very often unlike other countries. This one made no exception and so it's needless to say we all were very much looking forward to the two days of music ahead of us.



Erato

Around 1993, a band named OBSCURE ILLUSION existed that soon opted for a new name with ERATO. A few years after the band's inception, they're picked out of 85 other bands to record the song 'Sweet Killing' in a professional studio, followed by the release of 'A Killed God' the same year. The band through the years has done prolific live work, gaining them a high reputation in that department and a second demo was released, titled 'The Irreplaceable One'. ERATO is Gorik (vocals), Jacques (guitars and backings), Joost (guitars), Johan (keyboards), Joris (bass) and Tim (drums). http://erato.cc/ / http://www.myspace.com/eratocc / https://www.facebook.com/pages/ERATO/54705577227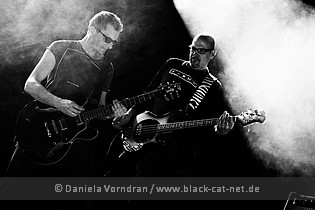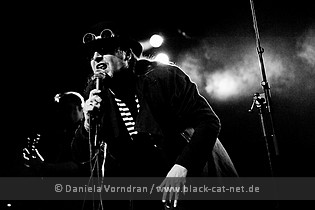 Music & Performance
ERATO were the first to step on stage at the Rewind Easter Fest to bring the audience a few Goth Rock tunes to enjoy after a hard week. It is rather the kind of classic Goth Rock with a strong, vivid spirit carried inside that you don't get to see very often outside of Belgium these days where it is more than important, in my opinion, to know the roots of the genre before many of it collapsed into cliché-laden mediocrity. ERATO gave us an honest and enjoyable performance where you could feel the fire was still burning hot even after such a long time in the business.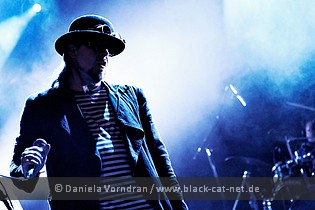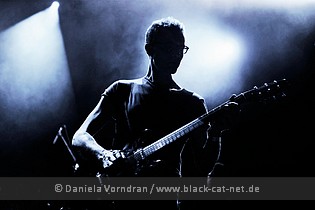 Setlist
01. Mighty & Death
02. Blah Blah Generation
03. Let Me In
04. Act Like Moses
05. Sweet Killing
06. Waiting For Kharon
07. Dead By Dawn
08. Hubris

Rating
Music: 7
Performance: 7
Sound: 7
Light: 7
Total: 7 / 10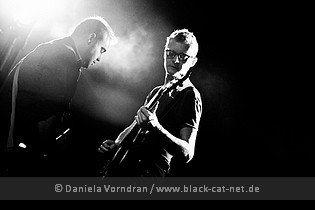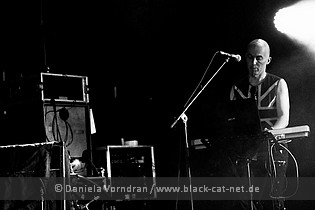 Schmutz

SCHMUTZ is a New-Wave/ Synth-Pop band from Neeroeteren, Belgium. The only thing I could dig up from the net about the band is that the group formed in the 1980s and releasing a couple of singles. Their greatest hit is 'Lovegames' which was later re-used for the single 'In my mind' by Paris Avenue. The band consisted of Guy Peeters (vocals, guitar), Claessens Jos (guitar) and Tyskens Johan (bass). http://www.myspace.com/theschmutz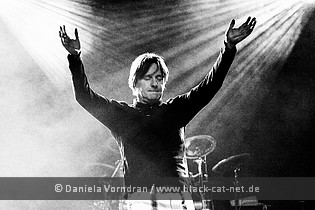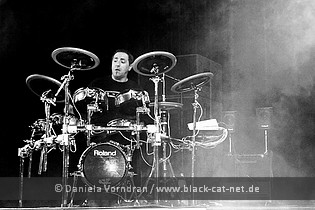 Music & Performance
The rather unknown band, at least for me, was up next on stage. Sticking to the classic vein, the fields of a poppier kind of wave rock were their area of expertise, and they succeeded quite well in delivering an energy packed show all the way through. Especially the band's singer just didn't stop moving around, delivering an expressive performance to add a visual dimension to the songs presented. Amongst all the people in the already well-filled venue, there seemed to be quite a lot of fans since you could spot many people singing along to the songs. A vivid performance of 'Love Games' ended their show. If I'm not completely mistaken SCHMUTZ also won over a few fans on that early evening with that enjoyable performance.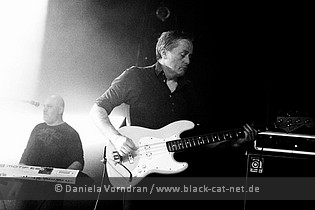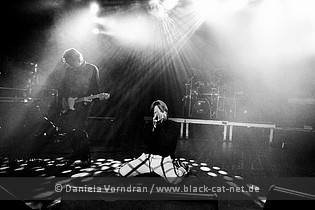 Setlist
01. Turn The Page
02. Take It Away
03. Life Is A Merry Go Round
04. My Life
05. Very Clearly
06. Running On Empty
07. Cal In Hans
08. On The Edge
09. Straight From The Heart
10. Grab You
11. Love Games

Rating
Music: 6
Performance: 6
Sound: 7
Light: 6
Total: 6.2 / 10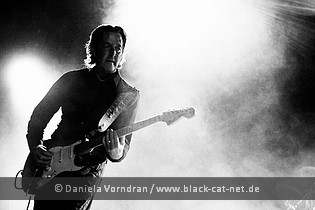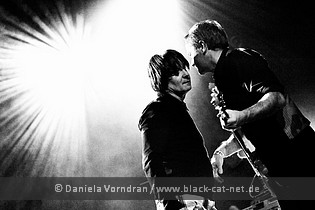 Department S

British DEPARTMENT S formed in 1980 and took the inspiration for their name of a TV series of the same title. Subsequently to making their live debut, the first single 'Is Vic There?' came out in 1980. Around the same month of releasing that single, the band recorded one of the famous sessions for deceased John Peel. The second single 'Going Left Right' didn't reach the success of its predecessor. Differences led to them being dropped by their label. The debut album done by the time called 'Sub-Stance' didn't come out before 20 years had passed in 2003. Sadly, vocalist Vaughan Toulouse wouldn't be there anymore to witness the release. He passed away already in 1991 due to AIDS-related causes. In 2007, they recorded their first new single in decades, followed up by a second one called 'Wonderful Day', which is the newest one to date. DEPARTMENT S is Herbage, Eddie Roxy, Sam Burnett, Stuart Mizon and Mark Taylor. http://www.dept-s.com / http://www.myspace.com/departments / https://www.facebook.com/pages/Department-S/44329344560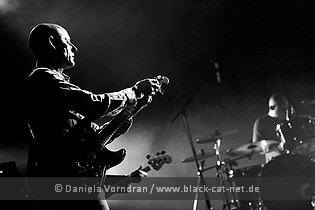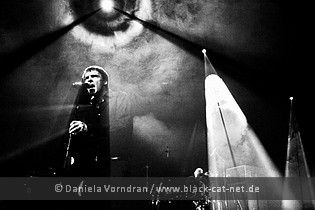 Music & Performance
It is a while ago that we've seen British DEPARTMENT S performing live for the first time around at another Belgian festival. They represent the post-punkish fraction which I personally am quite a fan of actually. Singer Eddie Roxy is quite the opposite of what you might call the usual crowd entertainer from next door. AT first, that is, for the first few songs, he performs them without too much movement. Tapping a little to the beats was the most you could get to see then. Then, just as if somebody's turned a switch, he started dancing a lot like the last minutes never happened. One of their, if not THE, biggest hit of the band 'Is Vic There?' was placed almost at the end of the band's setlist. But actually that was no bother at all. The band easily managed to entertain the crowd, and even I liked it a lot more than at the time I first saw them. Perhaps, the lack of sleep at the time did his fair share in marring my first live show with the band a few years back.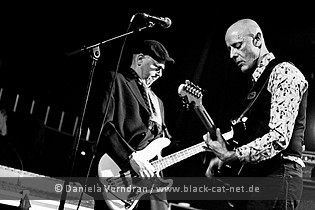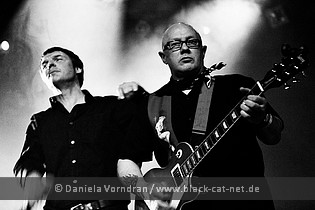 Setlist
01. Intro
02. Clap Now
03. Lucifer Sam
04. Age Concern
05. Left Right
06. Coo Ca Choo
07. Cause
08. Monte Carlo
09. Slave
10. Ode To Koln
11. Long March
12. Wonderful Day
13. Is Vic There?
14. I Want

Rating
Music: 7
Performance: 7
Sound: 7
Light: 7
Total: 7 / 10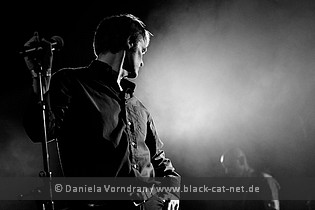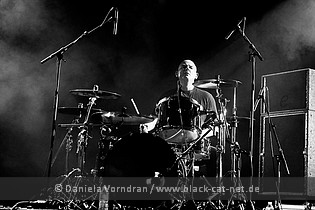 Cassandra Complex

Rodney Orpheus and Paul Dillon gave birth to THE CASSANDRA COMPLEX in 1980. The world saw their first release coming up in 1985 with the self-financed single 'March' in March of that same year. A month later after the release of a live tape they signed to the local label Rouska. When the band released their second single, 'Moscow Idaho' (1985), it quickly soared to the top of the indie charts all over the world, got played to death on alternative radio stations, and influenced an entire generation of bands to come. After the 1993 release of 'Sex & Death' which was the first album to include the works of Volker Zacharias (GIRLS UNDER GLASS), t became silent until Rodney and Volker met in a club in 2000, resulting in the first regular album since 1993 called 'Wetfare' followed by a successful tour. After another silent period the original band members reformed in 2007 and played several shows in Europe and Brazil. THE CASSANDRA COMPLEX is Rodney Orpheus, Andy Booth, Volker Zacharias and Axel Ermes. http://cassandracomplex.co.uk/ / http://www.myspace.com/cx2k / https://www.facebook.com/thecassandracomplex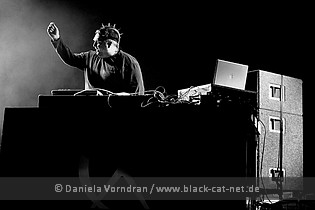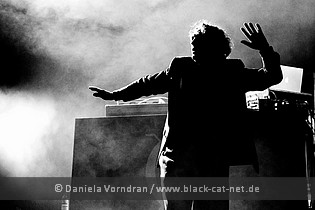 Music & Performance
Certainly a legend, I've never had the chance to be part of one of their live performances up to now. The main question was if they could meet with my high expectations. I'm saying this upfront. They did. Even more so, they were able to surpass them. Starting with the upbeat 'What Can I Do For You' the band, half of GIRLS UNDER GLASS with Axel Ermes and Volker Zacharias by the way, around Rodney Orpheus cast a spell on the audience right away, one reason being Rodney's haunting and charismatic performance. If he wasn't busy singing, I was his pleasure to keep the crowd entertained, reveal the news of them recording an album again after 25 years, or just bridging the time while someone else was tuning the guitar. The majority of the song were pretty much upbeat, some harsher and some having significant sliced of enduring melodies inside them.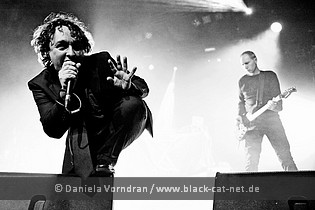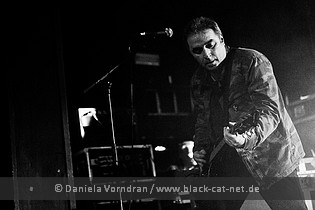 Much to everyone's dislike they had to skip one song of the setlist. Actually the last song was meant to be 'Moscow Idaho'. Instead it was the SUICIDE cover 'Frankie Teardrop' closing the best show this evening offered this far.

Setlist
01. What Can I Do For you
02. Bad Faith
03. Datakill
04. The War Against Sleep
05. Valis
06. Voices
07. Second Shot
08. Satisfy Me
09. Kneel To The Boss
10. Frankie Teardrop

Rating
Music: 9
Performance: 9
Sound: 9
Light: 9
Total: 9 / 10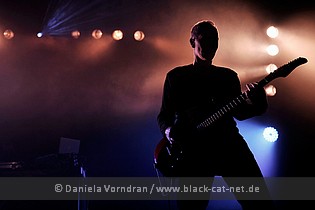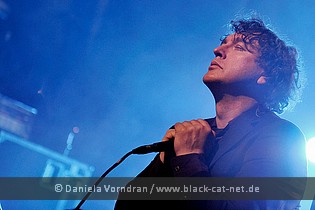 The Beauty Of Gemina

The band, emerging from former members of the Swiss band NUUK, debuted with the album 'Diary of a Lost' in 2007 and received overall positive feedback from fans and press alike, followed by some very successful concerts in support of the album. Rolling on to 2008, Michael Sele and his band were not lazy as the successor, entitled 'A Stranger to Tears' was released in autumn 2008 and earned favourable reviews. 2010 has seen the band returning with their latest album 'At The End Of The Sea'. Their newest achievement is called 'Ischariot Blues'. THEBEAUTY OF GEMINA is Michael Sele(Words & Music, Vocals, Guitar, Keyboards), Mac Vinzens (Drums), David Vetsch (Bass) and additional live guitarist Dennis Mungo. http://www.thebeautyofgemina.com / https://www.facebook.com/pages/The-Beauty-of-Gemina/25959522964 / http://www.myspace.com/thebeautyofgemina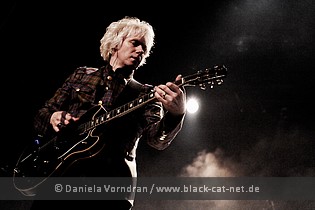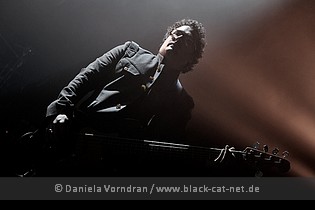 Music & Performance
Through regular touring, more recently festivals, Swiss band THE BEAUTY OF GEMINA have acquired a constantly growing fellowship, some of which were present at this day's performance at Rewind Easter Fest. They were starting their show with something of the new album 'Ischariot Blues', namely 'Voices Of Winter'. A heavy, wintry atmosphere took hold and the haunting vocals of Michael Sele spread all over the place. 'This Time' brought a little upbeat pleasure to the table, something you would want to dance to, but never really celebrate for its darkness is lasting like a heavy stone on your soul. 'Prophecy' branched out into the same vain but with a slightly more intensified nod to the danceable. In-between songs, Michael Sele kept stressing how amazing the mood was, and I t really was. One important factor aside the music was the band's fans who infected other people around with their own excitement.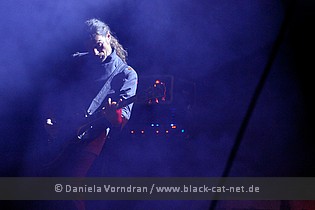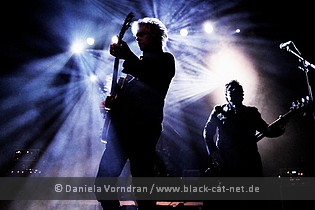 The gripping grooves of 'One Step To Heaven' and famous 'The Lonesome Death of a Goth DJ' were one of the last things we've heard of the rather short show of the band. At least it felt very short to me. An impressive live presence!

Setlist
01. Intro: Voices of Winter
02. Haddon Hall
03. This Time
04. Shadow Dancer
05. Kings Men Come
06. Prophecy
07. Dark Revolution
08. Hunters
09. Suicide Landscape
10. One Step to Heaven
11. The Lonesome Death of a Goth DJ
12. Seven Day Wonder
13. Rumours

Rating
Music: 8
Performance: 8
Sound: 8
Light: 7
Total: 7.9 / 10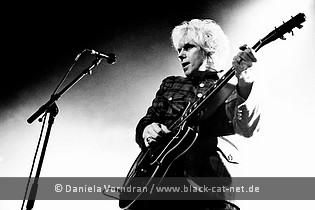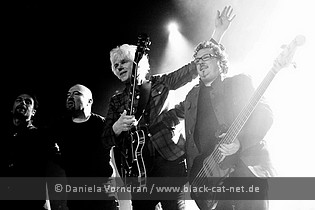 Chameleons Vox

History starts with THE CHAMELEONS getting formed in 1981. They're standing in line with bands such as JOY DIVISION or ECHO & THE BUNNYMEN, however never even getting close to the mentioned band's successes. Nevertheless, their first album 'Script Of The Bridge' is considered one of the most important records in Post-Punk today, and also the following little list of albums found not a little list of appreciators today. Due to death of manager and friend Tony Fletcher, the band disbanded in 1987. A reunion took place but never reached the class of early times again. Now, the voice of THE CHAMELEONS Mark Burgess starts anew with the CHAMELEONS VOX, incorporating besides him original drummer John Lever and adding two new guitarists and a bassist to the line-up. http://www.thechameleons.com / http://www.myspace.com/chameleonsvox / https://www.facebook.com/pages/ChameleonsVox/138225122857339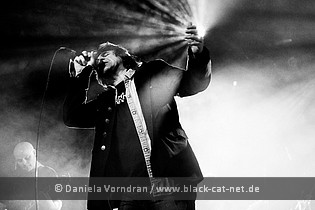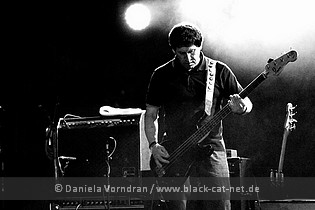 Music & Performance
In recent months, CHAMELEONS VOX seem to have developed a certain appetite for playing live and presenting hits and bits of the past. A reduced and rather cold sound never was their trademark. Verging on the melancholic of course, but with an intricate multi-layered guitar section! All those intertwined make for the special atmospheres in their songs. In a live environment the charismatic live presence of Mark Burgess adds the missing b it to make it a celebration of old times. Starting with 'Swamp Thing' they got into the turmoil. As usual, the band extended the actual songs with a few instrumental sections. This is when you feel like drowning in a sea of sound and, as I put this once before, in a certain feeling of nostalgia that you're not getting particularly often these days.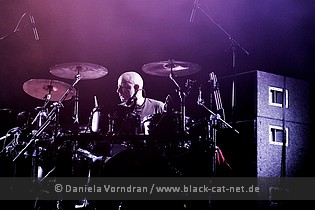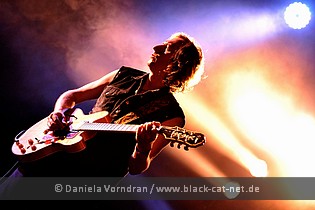 One of my favourites came along with 'A Person Isn't Save Anywhere These Days' off the legendary 'Script Of The Bridge' album. Unfortunately, 'Monkeyland' wasn't part of the set this time. I missed the dynamics this song develops, particularly on stage.

Setlist
01. Swamp Thing
02. A Person Isn't Save Anywhere These Days
03. As High As You Can Go
04. Thursday's Child
05. Seriocity
06. In Answer
07. I'll Remember
08. Soul In Isolation
09. Singing Rule Britannia
10. Second Skin

Rating
Music: 8
Performance: 8
Sound: 8
Light: 7
Total: 7.8 / 10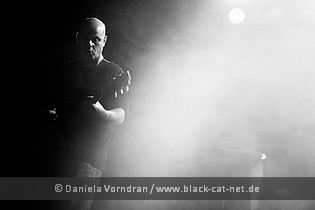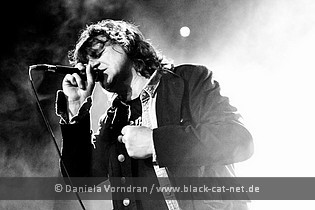 Clan Of Xymox

There are bands, who seem to exist for an eternity and who seem to be timeless. Well, CLAN OF XYMOX surely doesn't exist for an eternity now, but they're one of the veteran bands of the scene, founded in the early 1980s by Ronny Moorings and Anke Wolbert and over the years they became one of the most important representatives of the Dark Wave genre, though their music never stayed inside the boundaries of that genre. OK, maybe with their earliest work like the self-titled debut and the follow-up 'Medusa' they did, but in their later career, they combined their traditional sound with dance rhythms and techno elements or changed to more Rock orientated songs like on their comeback in 1997. CLAN OF XYMOX is Ronny Moorings, Mojca, Mario, Sean & Yvonne de Ray whereof only the male site was performing at the festival. http://www.clanofxymox.com/ / www.myspace.com/clanofxymox / https://www.facebook.com/pages/clan-of-xymox/111769160178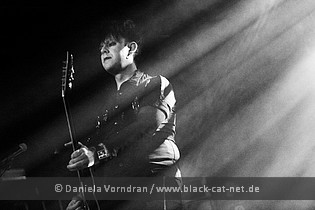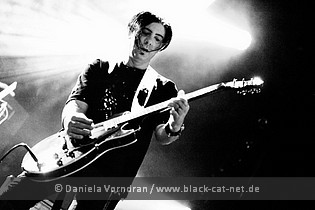 Music & Performance
I suppose that many of the attendees did look forward to seeing CLAN OF XYMOX live in Belgium. So did I. Though I have to admit that in hindsight I expected a little more of them than what they were going to perform on this evening. Sure, songs like 'Strangers' and 'Love Got Lost' are great songs, especially the way they're building atmospheric walls is unrivalled. But in combination with the rest of the songs it all became somewhat tedious, and not just to me. The choice of songs wasn't particularly well balanced I'd say. Those songs were specifically made for club use and the rhythms were constructed that way: Straight and simple. While there's actually nothing wrong with those kinds of beats, the clustering of them on that particular show made it less of a pleasure to watch the longer the show lasted.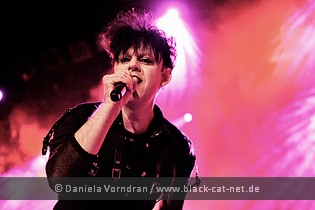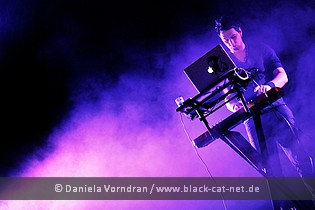 Ronny Moorings appeared a bit lost on stage this time in my book. With all the cons this show had, the crowd were enjoying themselves still. Just sad that I couldn't follow them as much as I'd have wanted to…

Setlist
01. Stranger
02. Love Got Lost
03. She Did Not Answer
04. In Love We Trust
05. Hail Mary
06. Emily
07. Jasmine & Rose
08. Delete
09. Chicane
10. Heroes
11. Farewell
12. A Day

Rating
Music: 6
Performance: 5
Sound: 7
Light: 7
Total: 6 / 10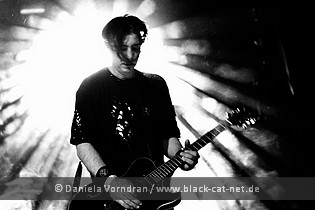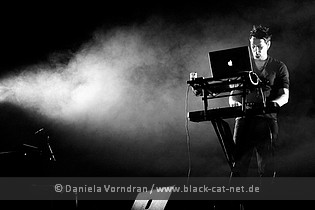 Project Pitchfork

PROJECT PITCHFORK is one of the spearheads in the alternative electronic music, initially consisting only of Peter Spilles and Dirk Scheuber. Later Jürgen Jansen and live member Achim Färber joined the line-up. The formation wasn't just known for critically-acclaimed albums, successful tours and appearances on every conceivable festival but also for some prominent support acts like RAMMSTEIN or COVENANT. After some very successful years at the beginning of this millennium, the popularity decreased with the more introverted albums 'Inferno' and 'Kaskade' but nothing has changed in East Germany and in Russia, where a tribute to Pitchfork sampler has been created in 2005.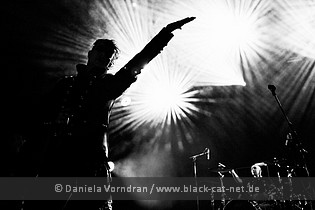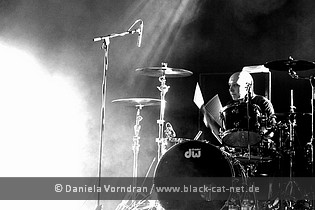 In 2009 they eventually came back with a new full-length, titled 'Dream, Tiresias!', just to let follow the next one, 'Continuum Ride', a year later, and the band's creativity wouldn't cease with that as 'Quantum Mechanics' has dropped already this August. PROJECT PITCHFORK is Peter Spilles, Dirk Scheuber and Jürgen Jansen plus live on drums Achim Färber or Nook. http://www.pitchfork.de/ / http://www.myspace.com/projectpitchfork / https://www.facebook.com/pages/Project-Pitchfork-Official/65663206412

Music & Performance
Around 1:30 in the morning, the time had come for PROJECT PITCHFORK to start their headliner's show. At the time we all were pretty tired, especially me I have to admit. Once the band started the show in style with 'Continuum' the weariness was blown away for a while. Peter Spilles didn't have to do anything to get the crowd into action at all.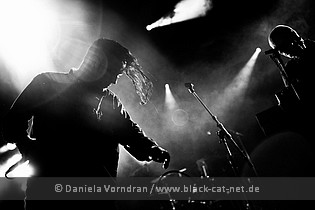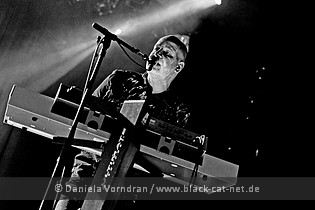 The guys and girls around us completely freaked out, even more on the following 'Timekiller'. No matter how often you hear that track it just never gets boring to listen to, and especially to watch the corresponding live performance. 'Conjure' then with its intriguing melodies and rhythms dragged you into its own world. Most of all I was intrigued by the live drum performance this time and Achim Färber seemed to have grown a lot more confident overall. There was visibly more fun and interaction with the band of which one important member was missing this day. Scheubi had to miss out due to illness so we had the pleasure of seeing Volker Zacharias one more time on stage. Another classic followed with 'Alpha Omega' and to the mystical sounds of 'Souls' then we were slowly making our way towards the exit. What we had seen though was way above the average and there still were a lot of classics coming up for the once who were not tired at that time at all…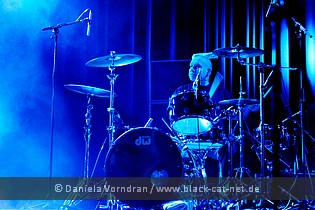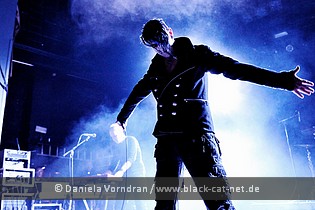 Setlist
01. Intro
02. Continuum
03. Timekiller
04. Lament
05. Conjure
06. Run for cover
07. Alpha Omega
08. Souls
09. Endless infinity
10. Freeze in silence
11. KNKA
12. The queen of time and space
13. Carrion
14. Steelrose
15. Beholder
16. Existence
---
17. Mine
18. Rescue

Rating
Music: 9
Performance: 9
Sound: 9
Light: 9
Total: 9 / 10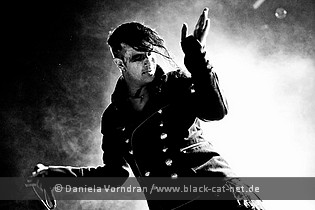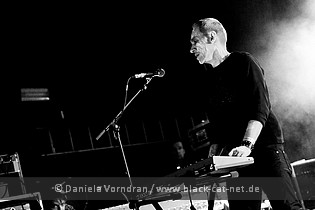 All pictures by Daniela Vorndran (http://www.vorndranphotography.com / http://www.black-cat-net.de/ / http://www.myspace.com/vorndranphotography / http://www.facebook.com/blackcatnet)



See also (all categories):