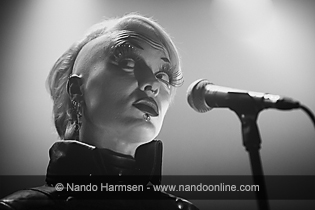 VOLT, Sittard, The Netherlands
7th March 2015
Clan of Xymox & Grausame Töchter

The town of Sittard once had a small Cultural Centre of Youth known by the name Fenix. In 2013 it made way for a completely new venue called VOLT. This completely new concert venue opened its doors in Spring 2014, almost a year ago. It is a promising new venue with many features to accommodate known and unknown bands. On Saturday March 7th, VOLT was the stage for two completely different acts. The extravagance GRAUSAME TÖCHTER shared the stage with the old-school New Wave band CLAN OF XYMOX. A promising evening with a visual usurpation together with the music of one of the last remaining classic new wave bands of the Netherlands.
Grausame Töchter

GRAUSAME TÖCHTER was founded in 2009 by singer Aranea Peel and drum player Gregor Hennig. The lyrics are all about sadomasochism and relational conflicts. The show itself is known for its BDSM elements and thus not for the weak hearted. Peel and her women on stage do not flinch about showing nudity and shocking SM. The music itself can best be described as a mixture of EBM, industrial, punk and techno.
http://www.grausame-toechter.de
/
https://www.facebook.com/GrausameToechter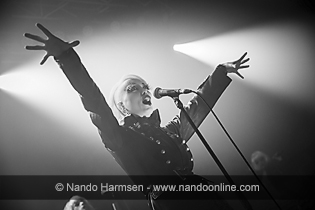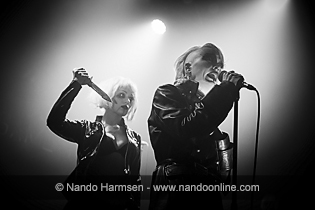 Music & Performance

Let's be honest. A concert of GRAUSAME TÖCHTER is mainly a visual extravagance with Aranea Peel as most striking appearance, dressed in nothing more than a leather coat. With her are some dancers and of course her bass-player Era Kreuz , wearing only a thin shirt at first. She is sub-missioned by Peel and undergoes all sorts of torture. Peel is peeing in her mouth and putting cigarette burns on a shoulder that is showing all sorts of scars. It is not overdone but enough to make it a bit uneasy, perhaps even shocking. One would almost forget the music itself with all those unusual visual elements.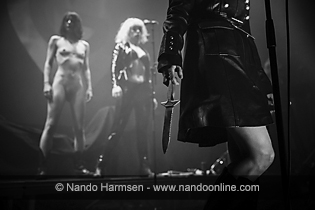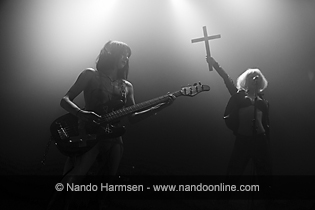 A keen eye will find a well thought choreography that fits the music like a glove – a latex glove, if you will. And a keen listener will discover that the music and singing is not that bad at all. Songs from the new album 'Glaube, Liebe, Höffnung' are being played, of course. But Peel is also taking us back to the older work with songs like 'Therapie für Dich', 'Blut Geleckt' and 'Wie Eine Spinne'. Every song has its own visual aspect that puts the song and lyrics in a completely different perspective. A song like 'Liebeslied für Dich' features the knife that is been used to tear the thin shirt of Kreuz leaving her completely naked on stage.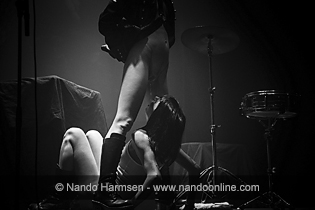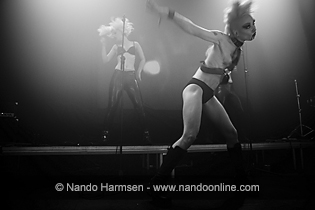 Finally during 'Spielzeug' it becomes clear how Kreuz is being played with by Peel, featuring the burning cigarette. Although the show is very varied and entertaining, the music is easily forgotten in the process. Perhaps too easy.
Rating
Music: 7
Performance: 9
Sound: 7
Light: 6
Total: 7 / 10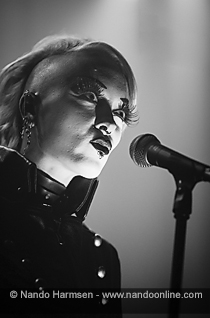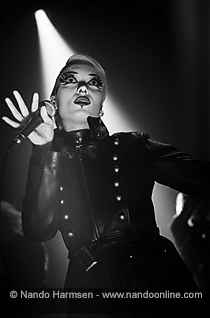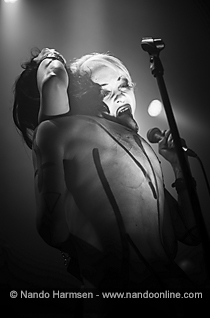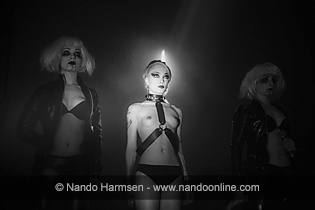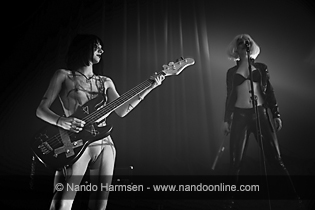 Clan of Xymox

The roots of CLAN OF XYMOX go back to the beginning of the eighties. In all those years the band has remained loyal to the classic new wave style with Ronny Moorings as singer and frontman. They released their fifteenth album 'Matters of Mind, Body and Soul' in 2014 and are touring over the world since then. The concert performance at VOLT is the last one in the Netherlands during this this tour.
http://www.clanofxymox.com
/
https://www.facebook.com/pages/clan-of-xymox/111769160178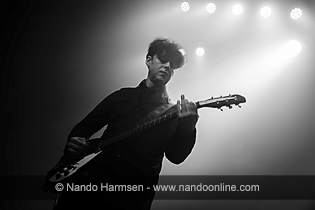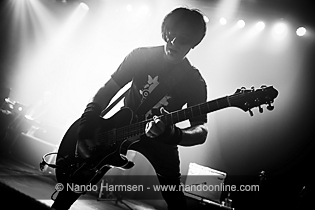 Music & Performance

The concert performance of CLAN OF XYMOX is completely different from GRAUSAME TÖCHTER. It does not really fit together. After all that visual force by Aranea Peel and her band, CLAN OF XYMOX feels very boring. Of course the music is was never full of happiness and melancholic is the main feeling in almost everything song they play. But all the songs are sung with conviction. When we forget the previous act for a moment and we listen carefully the show doesn't appeal at all. Moorings looks uninspired and his singing is flat and monotonous. Nothing like the previous shows of CLAN OF XYMOX that I have seen. The more the concert progresses the more strong this feeling becomes. Moorings does his thing and nothing more.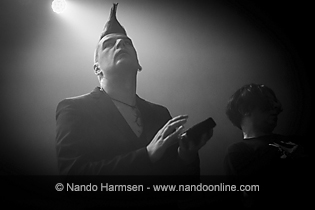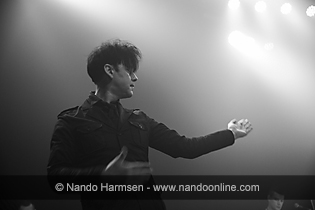 He ignores the audience completely, apart from an occasional word. Even the encore feels more like an obligation than something else. Next to the new songs from the latest album CLAN OF XYMOX plays the well-known tracks like 'I Close My Eyes', 'Hail Mary', 'Emily', 'Farewell' and 'A Day'. During the encore 'Muscoviet Mosquito' is played and two covers that aren't that convincing: SHOCKING BLUE's 'Venus' and 'Heroes' from DAVID BOWIE. All in all, it is a disappointment. Too bad because I know CLAN OF XYMOX can do so much better.
Rating

Music: 5
Performance: 4
Sound: 6
Light: 4
Total: 5 / 10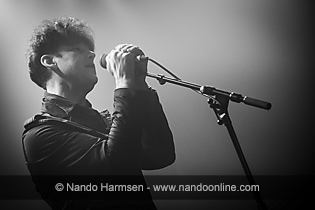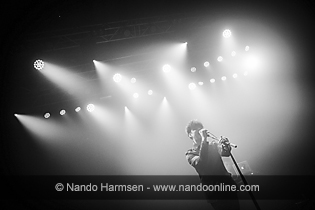 All pictures by Nando Harmsen (
http://www.nandoonline.com
)
See also (all categories):