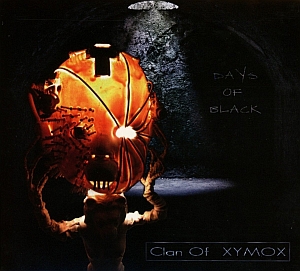 Artist: Clan Of Xymox
Title: Days Of Black
Genre: Gothic / Darkwave
Release Date: 31st March 2017
Label: Trisol Music Group
Album Review

Dutch band CLAN OF XYMOX have been doing what they do since the heady days of the early eighties, steadily releasing albums, touring, and performing at festivals, and maintaining a loyal fan-base as their distinct style of dark, dance-tinged electro goth-rock remains consistent and both decade and genre-straddling. Recent albums have been solid, yet unremarkable, and the band did seem to be heading into the shrugging-off territory of "here we go again" with each new release. But what to do, after so many years? Keep plugging away, carried forward on a sluggish tide of nostalgia, or write something that makes you noticed again? Thankfully 'Days Of Black' does the latter.
Opening with the sound of footsteps, dripping water and a creaking door, the title track is a sinister, creeping, cellar-dank way in to the dark, twisting dance of 'Loneliness', a song so bleak it should come slapped in health warnings. It's wonderful stuff. There's an urgent, infectious beat underpinning 'Vixen In Disguise' and 'Leave Me Be' is taut and tense, nightmare-paced and black as it gets. There is a more experimental feel to many of the songs on 'Days Of Black' and this serves it well as a whole - hear the whispered vocals and skittish electronica of the almost industrial sounding 'The Rain Will Wash Away', a pulsing, terrifying centre piece, or on the busy, dreamy drift of 'What Goes Around'. There's also that classic CLAN OF XYMOX sound in evidence on 'Set You Free' and 'I Could Not Save You' - melodic, almost prettily melancholic, Ronnie Moorings' unmistakeable vocals holding everything tightly together.
There's something of a misfire on 'I Need To Be Alone', its basic rock dynamics and a pace that somehow feels forced making it the elephant in the room. Having said that, as a stand-alone track it's not too shabby, and 'Loud And Clear' that follows is unfortunately the biggest offender here. It's clunky, harsh and could easily have been cut. Things are saved valiantly by the gloriously beautiful 'Your Kiss', easily one of the best CLAN OF XYMOX songs of the last decade. 'La La Land' closes the album, a shimmering, ice-cold, dreamy shuffle into the dark sky, complete with children's voices wishing us all a good night. It's deeply unsettling. With 'Days Of Black', then, CLAN OF XYMOX have done what many similar bands fail consistently to do. They've upped their game, shaken things around, plunged back into the darkness and come up with something sounding fresh, original, and dare I say exciting. And at this stage in the band's life, that's quite an achievement.
Tracklist

01. Days Of Black
02. Loneliness
03. Vixen In Disguise
04. Leave Me Be
05. The Rain Will Wash Away
06. Set You Free
07. I Could Not Save You
08. What Goes Around
09. I Need To Be Alone
10. Loud And Clear
11. Your Kiss
12. La La Land
Line-up

Ronny
Mojca
Mario
Sean
Daniel
Website

http://www.clanofxymox.com / https://www.facebook.com/clanofxymox.official
Cover Picture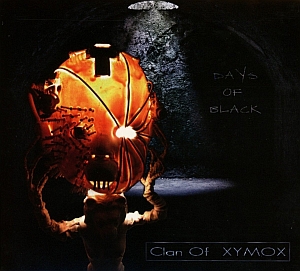 Rating

Music: 8
Sound: 8
Total: 8 / 10
See also (all categories):