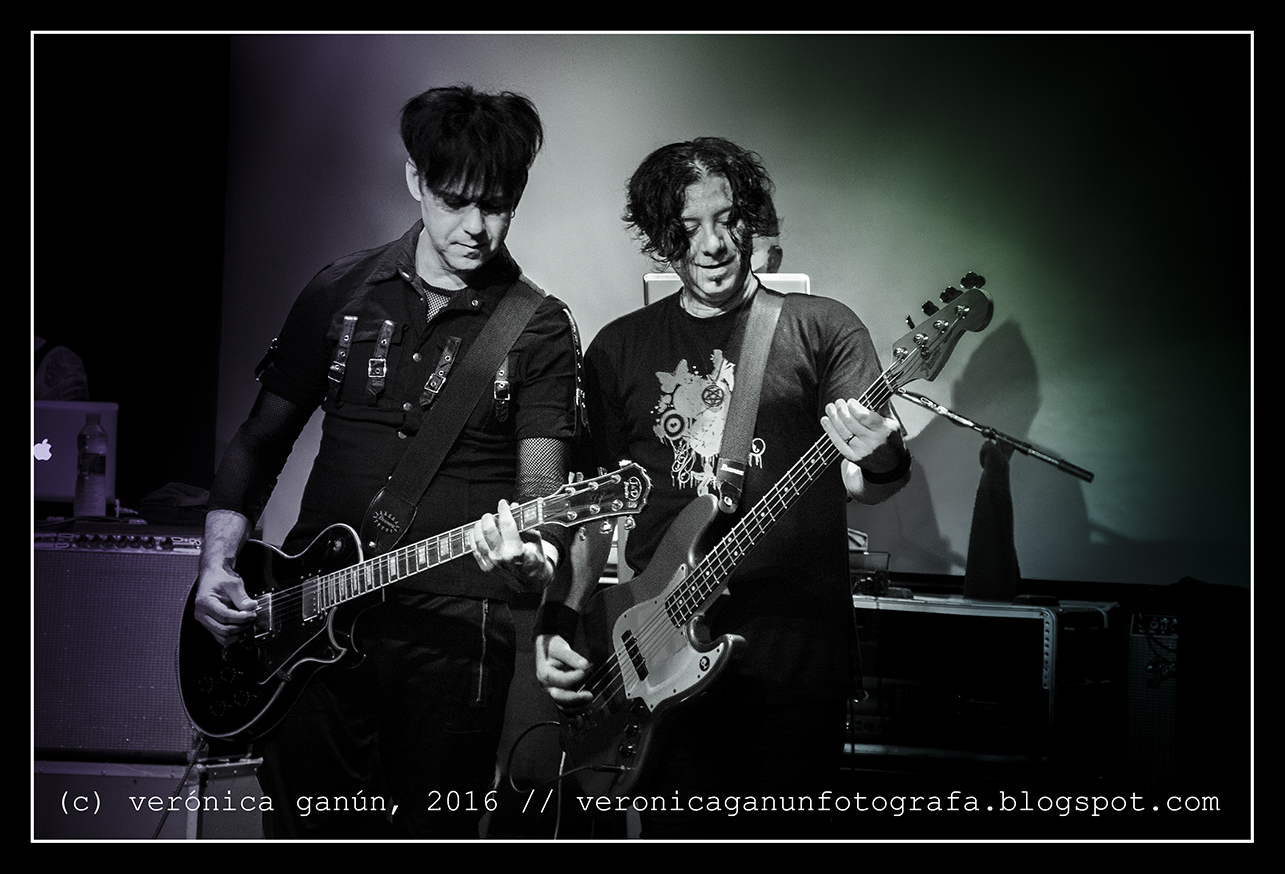 Uniclub, Buenos Aires, Argentina
5th April 2016
Clan of Xymox & Decoded Feedback

Eighteen years after the first visit to Buenos Aires, the band founded in 1981, originally from Netherland, performed again in Argentina playing old hits and also new ones, a thorough going-over under the sight of Ronny Moorings 35 years of career. The band has 15 studio albums, the first one from 1985 and the last one from 2014. An excellent curriculum from a couple of friends from a little city (Nijmegen) in Netherlands. Anka Wolbert and Pieter Nooten left the band in the early 90's, and now, Moorings and his partner in art (an also in life) Mojca Zugna are the more "familiar faces" of the band. They actually live in Leipzig, Germany.
As support act, Decoded Feedback opened the night, with their powerful electro. The electro-industrial duo formed in 1993 by the Italian Marco Biagiotti and the Hungarian Yone Dudas but based in Canada.
Decoded Feedback

The duo made an intense show (50 minutes) and heated the night, leaving a good mood in the crowd, which is not used to having "an international opening act" in shows of the dark/ electronic scene. DECODED FEEDBACK played their more known songs (i.e. 'Bio-Vital' & 'Phoenix'), including their brand new hit 'Waiting for the Storm'. It is not a band too well known to the Argentinian public, but they made a good performance in front of an audience that was already filling the Uniclub.
http://www.decodedfeedback.com
/
https://www.facebook.com/DecodedFeedbackOfficialBase/
Rating

Music: 7
Performance: 7
Sound: 8
Light: 7
Total: 7.2 / 10
Clan of Xymox

The venue was full, a "sold out night". When the lights turned off, the intro of the classic song from 4AD era, 'Stranger' began to sound and the entire crowd went mad instantly. As often happens in Argentina with many bands, the Darkwave pioneer's Ronny Moorings did not played in the country for many years, and the people let out all their passion and their anxiety, making an excellent evening. So, it was no difference between old songs and the new ones, because everybody were singing, and also jumping during the up-tempo tunes. A great atmosphere definitely and I noticed that Ronny really enjoyed the concert. He was more joyful than usual. As happened a month ago at the VNV NATION concert, held in the same venue, Uniclub is not the right place to receive such bands. Because it is a small place, it is not comfortable, and lights & sound are not very good either.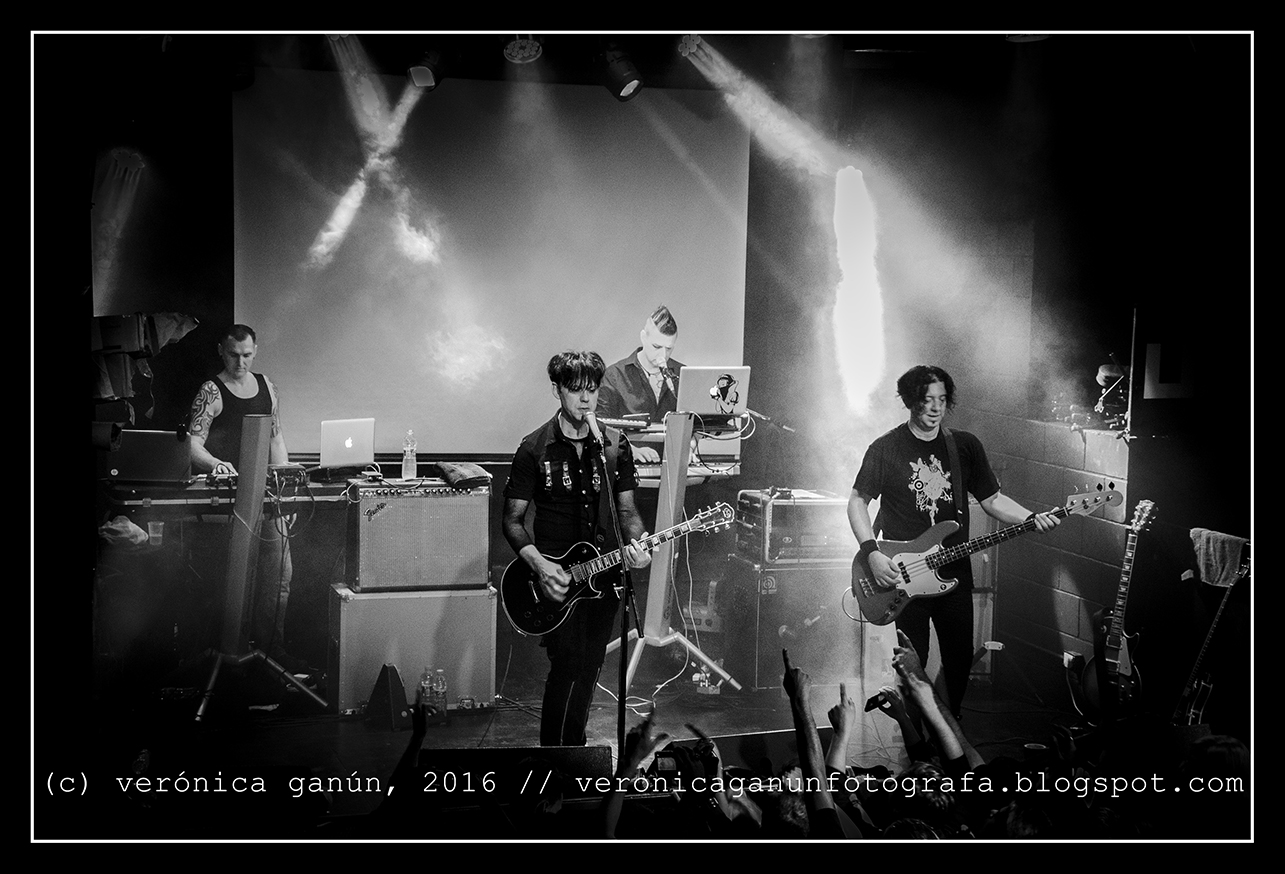 But more than 500 people accompanied Mr Moorings that night. The setlist was very good and everyone fulfilled their expectations.
http://www.clanofxymox.com
/
https://www.facebook.com/clan-of-xymox-111769160178/
Setlist

01. Stranger
02. She is Falling in Love
03. Love's on Diet
04. In Love We Trust
05. Hail Mary
06. Muscoviet Musquito
07. Emily
08. Louise
09. Jasmine & Rose
10. Farewell
11. A Day
12. Obsession
13. This World
14. Back Door
15. Venus (Shocking Blue cover}
16. Heroes (David Bowie cover)
Rating

Music: 10
Performance: 9
Sound: 8
Light: 7
Total: 8.5 / 10
All pictures by Verónica Ganún (
https://www.facebook.com/Veronica.Ganun
/
http://veronicaganunfotografa.blogspot.com/
)
See also (all categories):