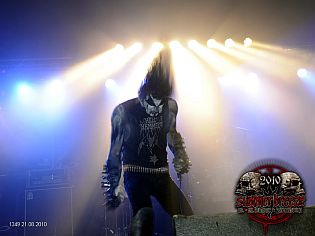 Airfield of the Aeroclub Dinkelsbühl, Dinkelsbühl, Germany
18th of August 2010 - 21st of August 2010
Summer Breeze Open Air Day 4: 1349, The Crown, My Dying Bride, Children of Bodom, Dark Funeral, Warbringer, Sepultura, Posinblack, Van Canto, Be'lakor
A new and last day at the Summer Breeze Festival - as usual, the heat woke most people up and so I went to meet up with some people, spending the time talking, watching some bands. Especially the evening program was going to be a tough one with lots of enjoyable bands and no time for a rest.
Be'lakor

BE'LAKOR was formed in 2004 in Australia, playing a mixture between Melodic Death Metal and Progressive Death Metal. Until now, two studio albums have been released, 'The Frail Tride' (2007) and 'Stone's Reach' (2009).
http://www.myspace.com/belakor
Music & Performance

Although being the first band of the day, a very considerable amount of people had gotten up early to watch the Australians play their first European show ever. And it was really worth it - the crowd supported the band very well and they returned this - with a pretty flawless performance and lots of fun whilst rocking the Pain Stage. Their music also fitted the start into the musical day: heavy, straight-forward but without being too brutal. Definitely a band to keep an eye upon!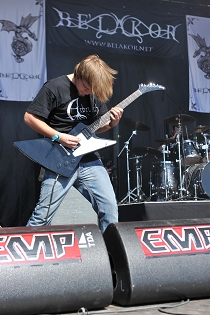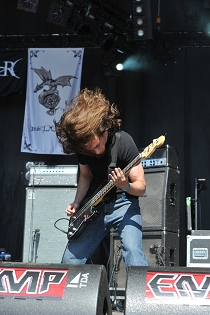 Setlist

01. Sun's Delusion
02. Neither Shape Nor Shadow
03. Tre'aste
04. From Scythe To Sceptre
Rating

Music: 7
Performance: 8
Sound:6
Light: - (daylight)
Total: 7.2 / 10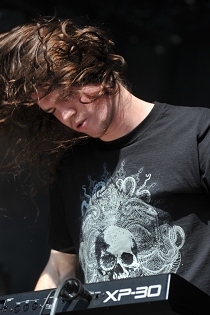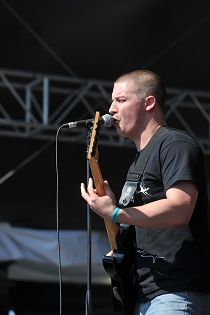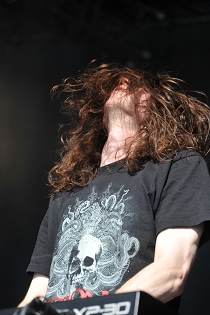 Van Canto

VAN CANTO (stylized as van Canto) is an a cappella metal band from Germany, founded in 2006 and composed of five singers and a drummer. Although the group is often classified as an a-cappella ensemble, they use real drums in their music, instead of vocal percussion or beat boxing. VAN CANTO fuses a cappella with heavy/power metal, creating what they call "a-cappella hero metal". While only two of the five singers perform the lead vocals, the other three will instead use their voices to imitate the guitars and the bass, with the help of amplifiers in an attempt to sound closer to the original instruments.
http://www.vancanto.de/
/
http://www.myspace.com/vancanto
Music & Performance

For many people, this German band (at times already gaining a certain cult-status) marked the first highlight of the day. Although the sound at some places appeared to be pretty bad, the band made a good performance with their unusual instrumentation and entertained the masses. Especially the cover songs of GRAVE DIGGER and IRON MAIDEN (although it can be discussed for how many times 'Fear of the Dark' is yet to be covered) worked sufficiently.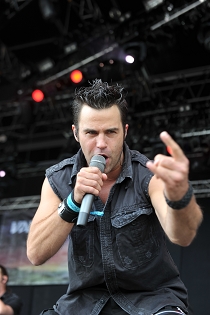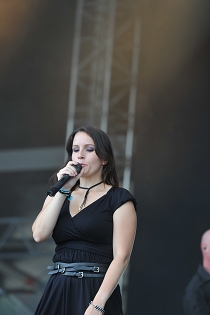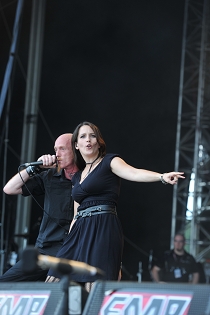 Setlist

01. Lost Forever
02. Metal Song
03. Rebellion
04. One To Ten
05. Bard's Song
06. The Mission / Master Of Puppets
07. Fear Of The Dark
Rating

Music: 5
Performance: 7
Sound: 6
Light: - (daylight)
Total: 5.9 / 10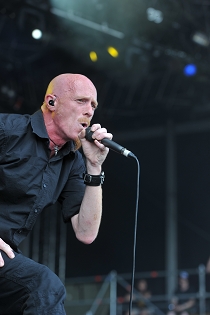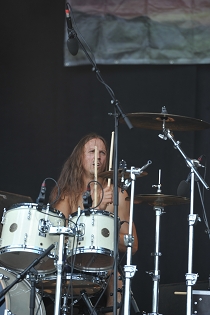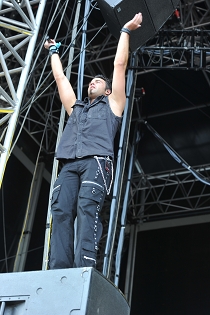 Poisonblack

In the year of 2000, Ville Laihiala, head of the Finnish Doom/Gothic metal band SENTENCED (1995-2006) formed POISONBLACK as a side project, later on putting more focus on it. The first album got released in 2003, the latest one in 2010, being named 'Of Rust and Bones'. From a musical point of view, lots of similarities can be seen between the two bands, although POISONBLACK does have a more rocking approach.
http://www.poisonblack.com/
/
http://www.myspace.com/officialpoisonblack
Music & Performance

Knowing SENTENCED for a while, it was especially enjoyable to hear Ville's remarkable and strong voice. He used it well and unlike other artists, also the atmosphere did not get lost on stage. There were not too many people in front of the musicians, because of the sun but also due to the fact that POISONBLACK are not too well known in Germany, yet. Their energetic and powerful Gothic Metal without sounding pathetic or depressed really got the people and gave a foretaste of what is yet to come.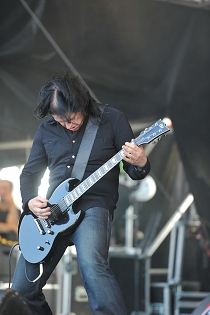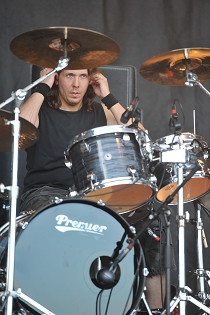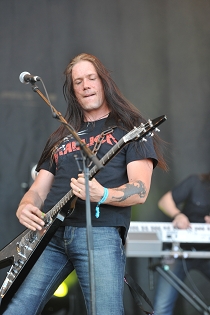 Setlist

01. Casket Case
02. Leech
03. Nothing Else Remains
04. Love Infernal
05. Soul In Flames
06. Left Behind
07. Rush
08. Buried Alive
09. Bear The Cross
Rating

Music: 7
Performance: 8
Sound: 8
Light: - (daylight)
Total: 7.5 / 10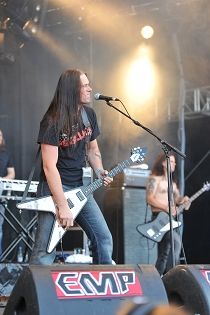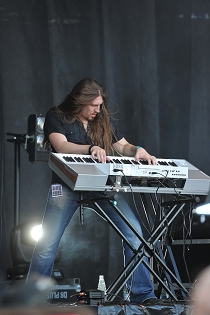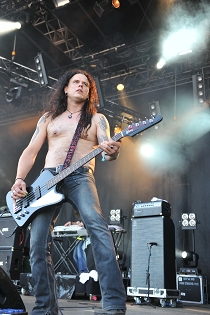 Sepultura

SEPULTURA is probably the most famous Brazilian metal band. Formed in 1984, they were influencing lots of genres, such as death, thrash or groove metal. During their career, they also started integrating other elements into their music, for instance nu metal, punk or industrial. So far, eleven albums were released, the latest one from 2009 being entitled 'A-Lex'.
http://sepultura.uol.com.br/v6/en
/
http://www.myspace.com/sepultura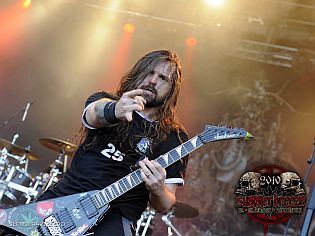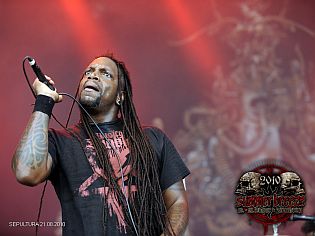 Music & Performance

SEPULTURA surely inherited a certain cult factor from the time when the famous Cavalera brothers were still in the band. But nowadays, the band cannot be compared to what it has been before. The older songs (like 'Refuse/Resist', 'Troops of Doom' or 'Roots, Bloody Roots') are very nice and simply classics. Also, you can think about the newer influences and directions what you want, but I found one quote pretty fitting: "Ah, you also went to see the SEPULTURA cover band?" Well, enough said. The musicians surely did their best to entertain the crowd and also played nearly flawless.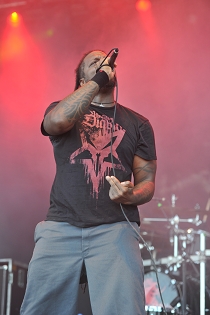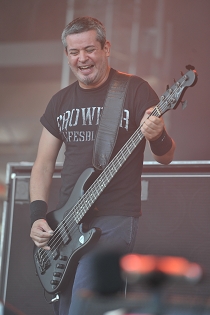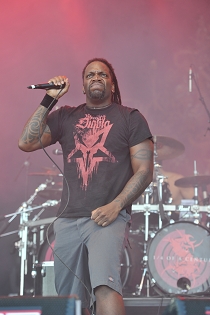 Setlist

01. Intro (A-LEX IV)
02. Moloko Mesto
03. Alex I
04. Arise
05. Refuse/Resist
06. What I Do
07. Convicted In Life
08. The Treatment
09. Troops of Doom
10. Schizophrenia / Escape to the Void
11. Territory
12. Innerself
13. Rattamahata
14. Roots Bloody Roots
Rating

Music: 6
Performance: 6
Sound: 8
Light: - (daylight)
Total: 6.4 / 10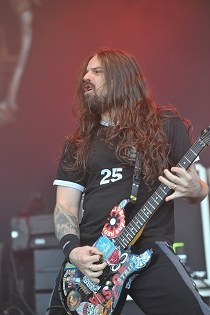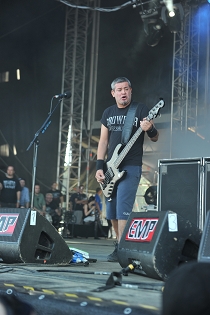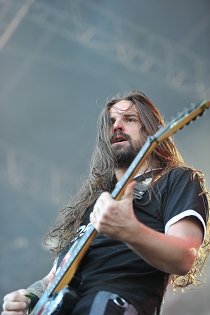 Warbringer

WARBRINGER is an American thrash metal band. The band formed in 2004 as ONSLAUGHT, but changed their name after learning that a UK thrash metal band was already using the name. WARBRINGER is signed to Century Media Records. Century Media signed WARBRINGER after seeing them at a local show in LA. Originally, Century Media was at the show to see another LA thrash metal band but decided to sign WARBRINGER instead. WARBRINGER's second album 'Waking into Nightmares' was released on 19th May 2009.
http://www.myspace.com/warbringer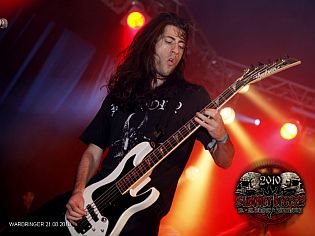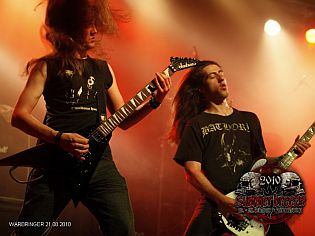 Music & Performance

Watching this band, I remembered again why I am into Thrash Metal so much - these guys just totally amazed me. Already as the singer entered the stage, he demanded a circle pit. The people at the front totally enjoyed the show and responded well to the thrashing sounds which blasted the tent stage. Excessive head banging and shouting was included. Also, the band presented their best hits to make a good impression. Afterwards, all attendees appeared to be pretty destroyed. So, also Thrash Metal works well on Summer Breeze Open Air – definitely one of my personal highlights!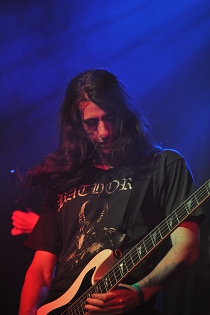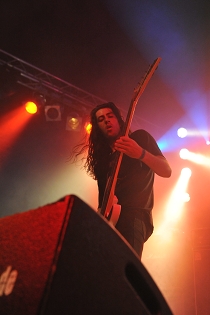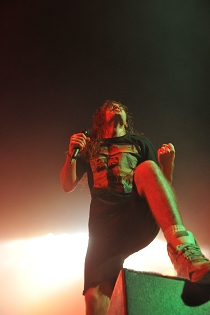 Setlist

01. Total War
02. Living In A Whirlwind
03. Severed Reality
04. Shoot To Kill
05. Prey For Death
06. Abandoned By Time
07. Jackal
08. Systematic Genocide
09. Combat Shock
Rating

Music: 10
Performance: 10
Sound: 8
Light: 8
Total: 9.4 / 10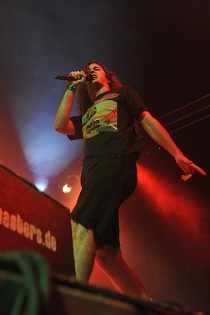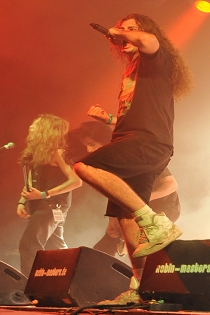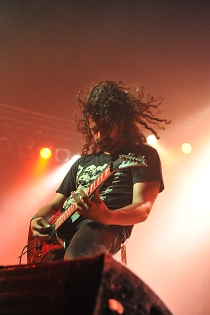 Dark Funeral

DARK FUNERAL formed in 1993 in Sweden, when Lord Ahriman and David Parland built a band called WAR MACHINE, which was soon renamed to DARK FUNERAL. Their debut and up to now most regarded album, 'The Secrets of the Black Arts', was released in 1996 after having been rerecorded by Peter Tägtgren (HYPOCRISY). Henceforth, lots of line-up changes followed and 'Vobiscum Satanas' was released in 1998, which established them as one of the most important Swedish black metal acts. In the following, the band toured in Europe, Latin-America and then recorded a mini album, 'Teach Children to Worship Satan', which also included some cover songs. More tours and line-up changes ensued and in 2001, 'Diabolis Interium' was released. 'Attera Totuts Sanctus' followed in 2005.
http://www.darkfuneral.se/
/
http://www.myspace.com/darkfuneral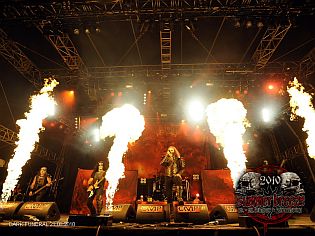 Music & Performance

This show marked another highlight, since it was going to be the last performance of the band with their current singer who is leaving the group in favour of his family. Black Metal is always worth watching, including fire, pyro technique and cliché dress ups. But in this case, also the music appeared to be very enjoyable, having melodic influences without losing the general attitude and brutality. The people at the front partied hard, whilst the back was more relaxed or did not show their feelings towards the music. Definitely one of the best shows on the festival and a historic one as well. Also the band provided older as well as newer songs, giving a nice overview about the band's career. Furthermore, announcements like 'This song is about a nice day to come – the Arrival of Satan's Empire" showed that the band does not (although it may not sound like it) take themselves too seriously.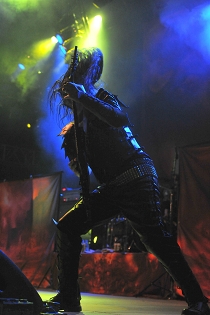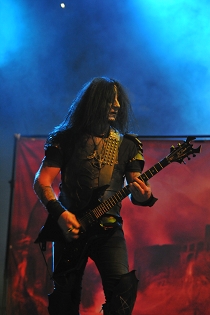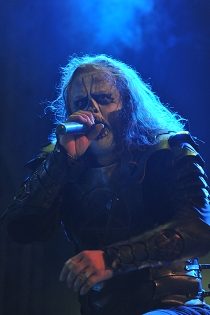 Setlist

01. The End Of Human Race
02. 666 Voices Inside
03. Goddess Of Sodomy
04. The Arrival Of Satan's Empire
05. Stigmata
06. Atrum Regina
07. An Apprentice Of Satan
08. King Antichrist
09. In My Dreams
10. My Funeral
Rating

Music: 10
Performance: 9
Sound: 9
Light: 9
Total: 9.4 / 10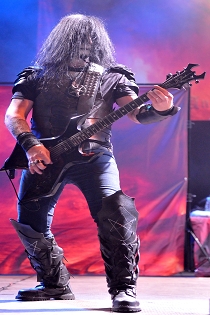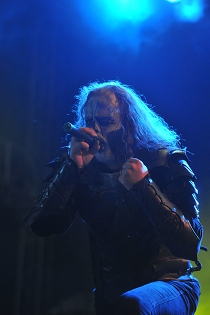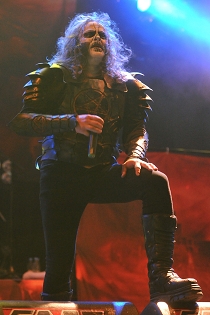 Children of Bodom

CHILDREN OF BODOM is a heavy metal band from Espoo, Finland, formed in 1993. The band consists of guitarist and vocalist Alexi Laiho (vocals, lead guitar), Roope Latvala (rhythm guitar), Janne Wirman (keyboards), Henkka Seppälä (bass), and Jaska Raatikainen (drums). In total they have released six studio albums, two live albums, two EPs, and one DVD. Within their style, they add elements of different genres.
http://www.cobhc.com/
/
http://www.myspace.com/childrenofbodom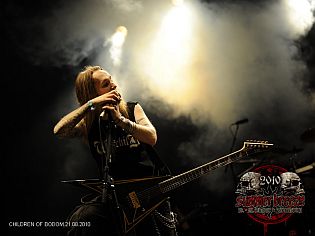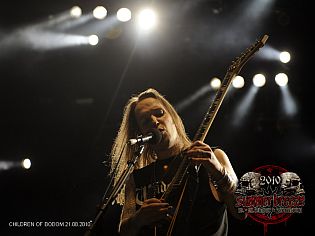 Music & Performance

It was already the fifth time I saw this band, and I have to admit that it also was their best performance. Everything was fitting well together: The best sound on the festival, good light and an entertaining show. Their set included all famous songs as well as some funny covers from LADY GAGA or VAN HALEN for instance. Crowd surfing appeared to be very popular and also the atmosphere among the audience was excellent right from the start. Unlike previous shows of the band, they played pretty flawless, which is especially considerable since the guitar and keyboard duels are of high technical quality. Yet, the announcements of Alexi always tend to sound the same, including the f*** word and similar stories. But they are all responding well to each other and it is always entertaining and funny to watch their show.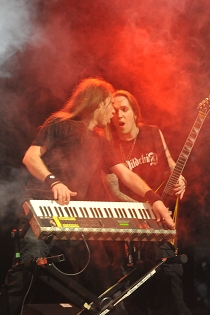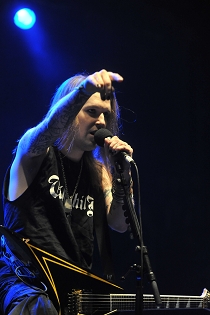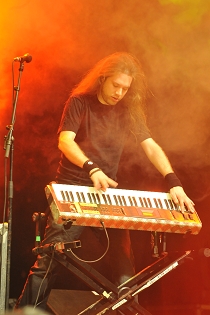 Setlist

01. Follow The Reaper
02. Hate Crew Deathroll
03. Bodom Beach Terror
04. Everytime I Die
05. Living Dead Beat
06. Sixpounder
07. Blooddrunk
08. In Your Face
09. Angels Don't Kill
10. Kissing The Shadows
11. Hate Me
12. Silent Night, Bodom Night
13. Needled 24/7
14. Downfall
Rating

Music: 8
Performance: 9
Sound: 10
Light: 9
Total: 8.8 / 10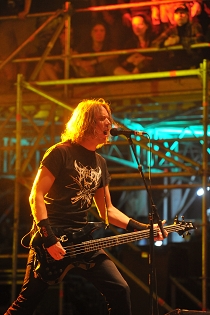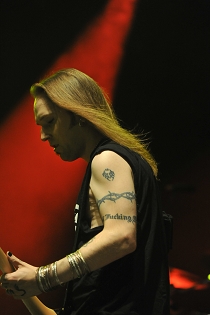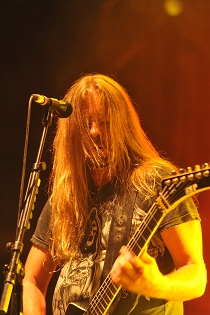 My Dying Bride

MY DYING BRIDE is an English doom metal band formed in 1990. To date, MY DYING BRIDE have released ten full-length studio albums, three EPs, one demo, one box set, four compilation albums, one live album, and one live CD/DVD release. The band released their tenth studio album, For Lies I Sire, on March 23, 2009. MY DYING BRIDE, along with bands such as ANATHEMA and PARADISE LOST, are one of the forerunners of the death/doom metal genre.
http://www.mydyingbride.org/
/
http://www.myspace.com/officialmydyingbride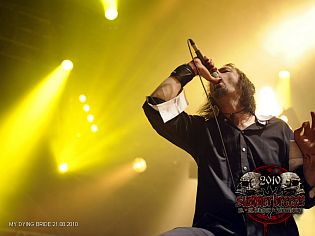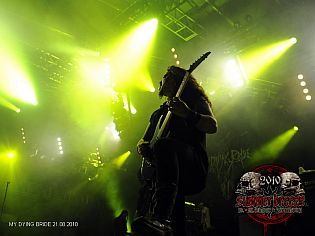 Music & Performance

Spontaneously, I decided to stay in front of the bigger stages to watch MY DYING BRIDE. As they started with my favourite song of them, 'Fall With Me', I got hooked to stay. Although their drummer had gotten injured and had to be replaced, the band laid down an extraordinary show, creating a dark atmosphere full of misery, doom and sadness. They were in good shape and also the violin player added a nice element to the music. The people at the front row seemed to be hypnotized and totally drowning in the intense music. Sadly, at one o'clock, the band had to leave the stage, leaving the crowd chanting for more.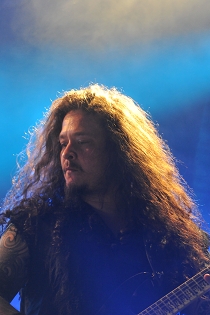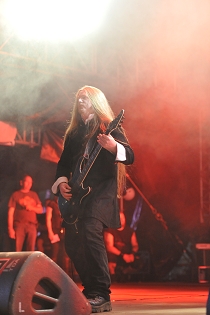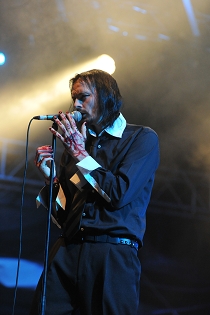 Setlist

01. Fall With Me
02. Bring Me Victory
03. Wreckage Of My Flesh
04.Turn Loose The Swans
05. Vast Choirs
06. She Is The Dark
07. My Body, A Funeral
Rating

Music: 8
Performance: 8
Sound: 7
Light: 9
Total: 8 / 10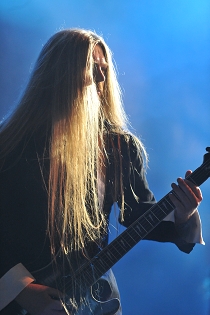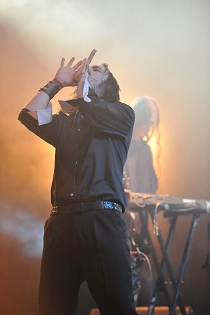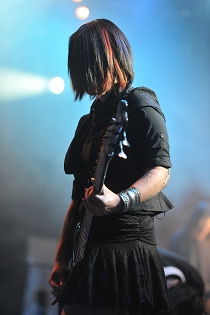 The Crown

THE CROWN is back! It's been quiet far too long around Trollhättan's finest, namely since March 7th, 2004, when the Swedes announced their decision to split up, except for the release of the DVD set "14 Years Of No Tomorrow". Since 1st December 2009, their comeback is finally official. They may have a new singer, Jonas Stalhammar, within their ranks, but the first audio snippets on their homepage prove that THE CROWN has not forgotten one thing about metal. Their name still stands for top-class, high-speed death/thrash that destroys everything in its path.
http://www.myspace.com/thecrownonlineswe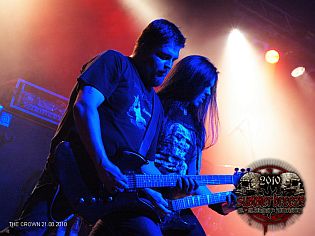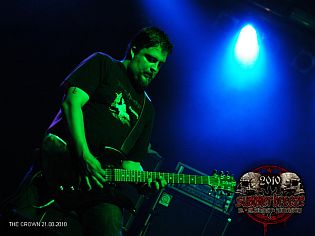 Music & Performance

Even though the end of the festival got inevitably closer, still many people found their way into the tent to watch the Swedish death-thrash band. Before, the tent was not to be entered since EISREGEN attracted the masses and now the atmosphere wasn't as enthusiastic and supportive as on previous shows. Yet, the band really managed to get some pits going and also encouraged the crowd to give their best. And although my feet hurt like hell, I still stayed for longer than I had intended. Musically, they laid down a straight-forward mixture of death and thrash metal, combined with a remarkable and energetic voice.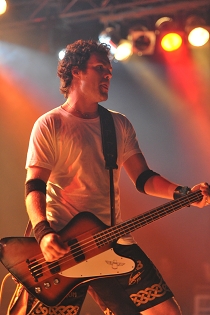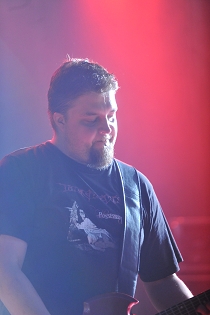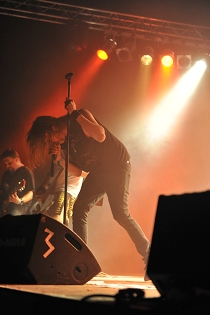 Setlist

01. Deathexplosion
02. Executionor
03. Under The Whip
04. Back From The Grave
05. Black Lightning
06. Blitzkrieg Witchcraft
07. Doomsday King
08. Crowned In Terror
09. Tale Of Destruction
10. Total Satan
Rating

Music: 9
Performance: 9
Sound: 7
Light: 8
Total: 8.6 / 10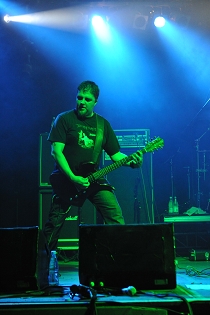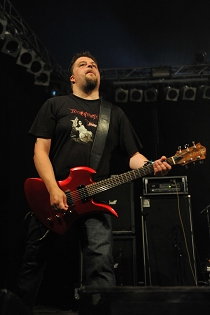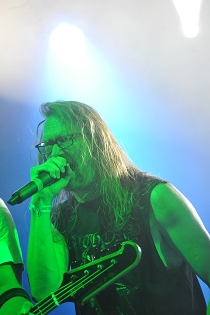 1349

If there was a competition in black metal for the most hate-filled band, 1349 would be one of the hottest candidates for the title, at least considering the first three albums in their career. On their new album, 'Revelations of the Black Flame', the all-star ensemble (feat. members of SATYRICON, PANTHEON I, KOLDBRANN, KEEP OF KALESSIN and GORGOROTH) may have got slower, but in no way lighter or nicer. After 2006, this is the second time the black pest – 1349 was the year when that epidemic killed 2/3 of the Norwegian population – will fall on Dinkelsbühl, proving that black metal doesn't always need to be played at lightning speed in order to capture its essence.
http://www.legion1349.com/
/
http://www.myspace.com/1349official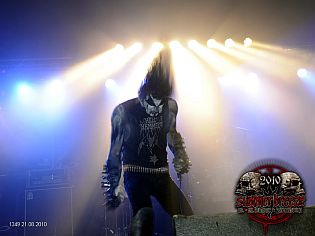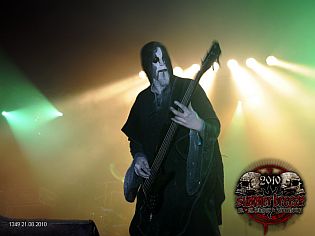 Music & Performance

Sadly enough, the last band (for me to watch) had arrived. And also sadly enough, the band had to take fifteen minutes extra for their sound check, which was later on not added to the general performance. Also, the tent got less crowded. Yet, I could grab myself a nice place in the front and at 2:30 PM, the band entered the stage spitting fire and putting on a nice performance. Definitely, they were a nice band to end the festival, although surely many people already got to pack their things or leave the area. Furthermore, in such a short set, there are still wishes concerning songs one would like to hear, but the mixture they presented was convenient.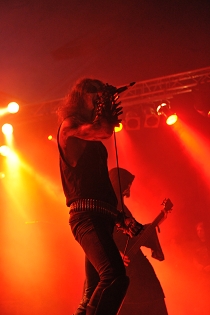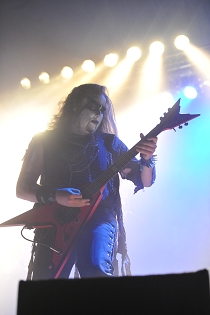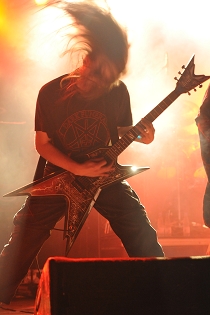 Setlist

01. Riders Of The Apocalypse
02. Nathicana
03. When I Was Flesh
04. Erpentine Sibilance
05. Sculptor Of Flesh
06. Atomic Chapel
Rating

Music: 10
Performance: 8
Sound: 7
Light: 7
Total: 8.5 / 10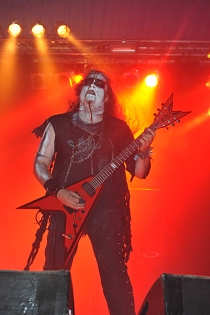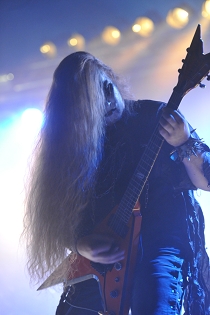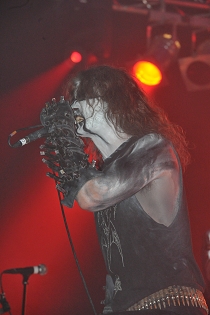 All pictures by Pierre Lehman and curtsey & copyright Summer Breeze Festival
{jos_sb_discuss:17}
See also (all categories):