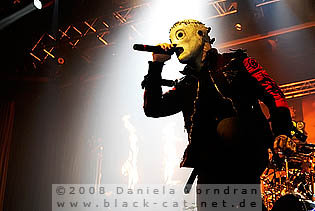 Philipshalle, Düsseldorf, Germany
24th November 2008
Slipknot, Machine Head, Children of Bodom


It was damn cold on this Monday, but that obviously couldn't keep some people to stand outside in T-Shirts. The long, long queues at the venue already promised a full house, no wonder as everybody's favourite mask-wearing troop SLIPKNOT had come to Düsseldorf.



Children of Bodom

The band formed in spring 1993 under the name INEARTHED and started recording their first demos in 1994. In 1997, the band started looking for a record company and eventually got a deal. Later on, another company offered a better one, while they're already signed as INEARTHED. So, they decided to change the band name to CHILDREN OF BODOM. The name is derived from the Lake Bodom murders. 'Something Wild' then was officially release in November 1997 and their first European tour began in February 1998. That same year, the recordings for the second album 'Hatebreeder' began, eventually released in 1999. The band became more and more popular over time and ever since the band released 4 more studio albums, their newest is named 'Blooddrunk'. They played shows all over the world as well as on many important festivals like Wacken or Masters of Rock. CHLIDREN OF BODOM is: Alexi Laiho (lead guitar, lead vocals), Roope Latvala (guitar, backing vocals), Janne Wirman (keyboards) Henkka Seppälä (bass guitar, backing vocals) and Jaska Raatikainen (drums, percussion).
http://www.cobhc.com/
/
http://www.myspace.com/childrenofbodom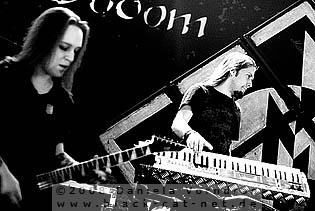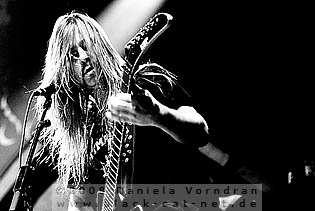 Music & Performance

Time for the first band of the evening! A huge backdrop with the band logo and an almost vertical standing keyboard were the special features, apart from the black/white MACHINE HEAD dices, before the band entered the stage quite punctual. Already during the first song I was sure, I would never buy a CD of this band. Not that it was badly done or anything, but even if songs like 'Blooddrunk', or the second last 'Silent Night, Bodom Night', impressed with well-done melodic riffs and a keyboard that's often played like a guitar, the music as a whole couldn't arouse my enthusiasm.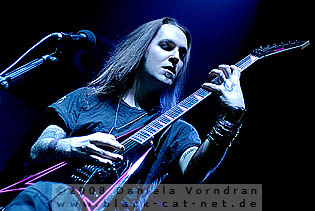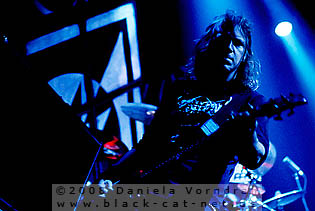 The performance on the other hand had verve and all the three guys at the front were completely in their element with their guitars and Alexi additionally doing the vocals - growls for that matter - and in the audience… there was sporadic head banging to spot around me and the famous metal horns and clapping were involved too, but all in all, people seemed to rather spare their power reserves for later.
Setlist (Incomplete)

In Your Face
Blooddrunk
Silent Night, Bodom Night
Hatecrew Deathrow
Rating

Music: 6
Performance: 7
Sound: 6
Light: 7
Total: 6.5 / 10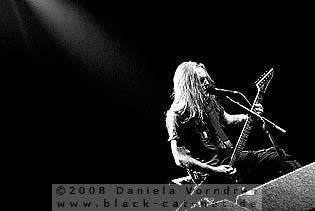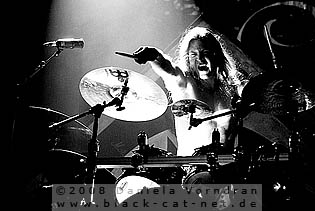 Machine Head

After leaving his former band VIO-LENCE, Robb Flynn founded MACHINE HEAD in 1992. The debut 'Burn My Eyes', released in August 1994 became Roadrunner records best selling album at that time. After heavy touring for 'Burn My Eyes', MACHINE HEAD entered the studio to record its second studio album 'The More Things Change...'. MACHINE HEAD toured on the first edition of the Ozzfest for the first tour in support of the album. The next two albums weren't really blessed with success and at the end of 2002, the future of MACHINE HEAD was doubtful due to various circumstances, but with 'Through The Ashes of Empires' (2003) and the newest album 'The Blackening' (2007) they returned to their old strength, gaining more than good critics and the latter one including the longest and most complex songs in the band's history. MACHINE HEAD are Robert Flynn (vocals, guitar), Adam Duce (bass), Phil Demmel (guitar) and Dave McClain (drums).
http://www.machinehead1.com/
/
http://www.myspace.com/machinehead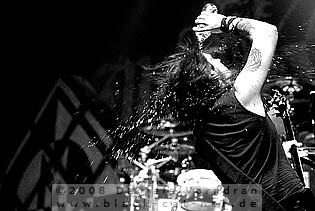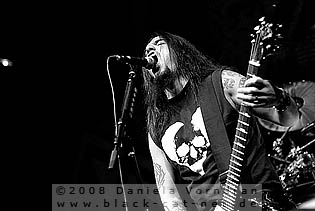 Music & Performance

Now followed a band I was heavily curious about and honestly, if I wasn't sure I was attending a SLIPKNOT concert I would have sincerely thought to see the main act coming up on stage. Even before the band entered the stage, loud speech choirs "Machine Fucking Head" sounded, but then they came to strike up the first song and one thing was crystal-clear after that had been played: Their tracks are epic, mostly in their duration. What other explanation could there be for filling almost 60 minutes with seven songs? But they don't lack diversity either. Constant rhythm shifts from, double-bass gallops to down-tempo sections and mid-tempo drifts, everything was included. Growls alternated with melodic vocals and sometimes even calmer parts were woven in. All band members were in best mood and we got to see a very energetic performance, but it was especially Robb, who was inciting the audience and so an incredible circle pit formed during 'Imperium' and 'Davidian' and as reward Robb threw his drinks into the crowd; well, actually he made sort of a ritual of it to ask "Are you fucking ready?" and if it was loud enough he would throw it in.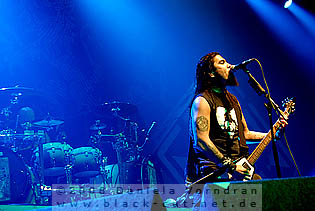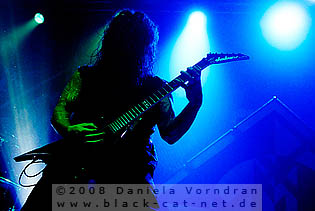 Actually it even wouldn't have been necessary to incite any one at all, because the crowd went totally mad to any song may it be the before mentioned or such breakers like 'Aesthetics of Hate', 'Old' or 'Halo'. The mood was just great and there couldn't have been any better lead-in for the main act.
Setlist

01. Clenching the Fists of Dissent
02. Imperium
03. Struck a Nerve
04. Aesthetics of Hate
05. Old
06. Halo
07. Davidian
Rating

Music: 8
Performance: 8
Sound: 7
Light: 7
Total: 7.7 / 10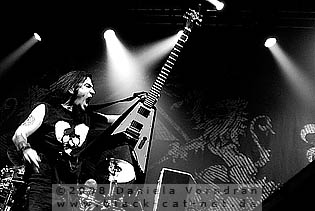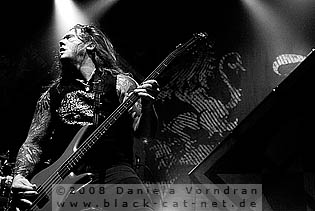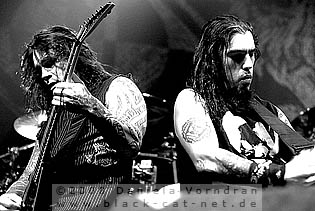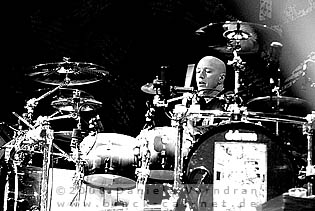 Slipknot

The beginnings of SLIPKNOT can be found in the so called "Basement Sessions" taking place in the cellar of founding member and (by now) former vocalist Anders Colsefini. Some of the songs from back then made it onto the demo album 'Mate.Feed.Kill.Repeat' which eventually led to the band signing a record deal with Roadrunner Records and releasing the same-titled album in 1999. With their spectacular stage performances, showing all band members wearing masks and coveralls - besides some other crazy actions - bestowed them a growing following. The band's second release 'Iowa' (2001) topped the success of the debut and peaked at number 1 of the UK album charts.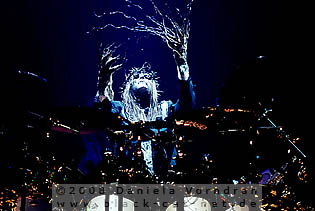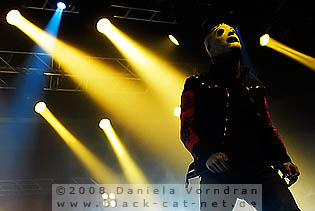 In 2004, the band came up with 'Vol.3 (The Subliminal Verses)' for the first time showing a calmer side of the band and a more melodic approach to the vocals. A Live album entitled '9:0: Live' followed in October of the same now. In 2007, work on a new album 'All Hope is Gone' has started; the first harbinger out off it was the single 'Psychosocial', which is in stores since July 2008. SLIPKNOT are Corey Taylor (vocals), Paul Gray (bass), James Root (rhythm guitar), Chris Fehn (percussion), Mick Thompson (lead guitar), Sid Wilson (DJ), Joey Jordison (drums), Craig Jones (sampling) and Shawn Crahan (percussion).
http://www.slipknot1.com/
/
http://www.myspace.com/slipknot1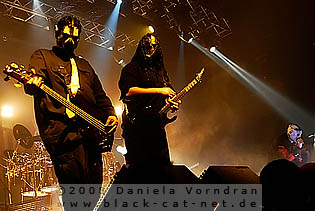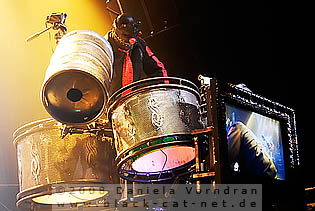 Music & Performance

So, not the time had come and I was wondering what I would come to see now. Well, at first not much as the stage was hidden behind a curtain and when the lights went down, only some lights shone through the upper void. When it was raised, the first thing we saw was drummer Joey Jordison behind his monster construction with knotted thin things like branches, where his hands should be. Then one masked creature after the other came on stage and always was loudly welcomed and after Corey had finally appeared to start with the first song while the stage was tinted with flickering lights, everything seemed to turn into a big party; jumping people, moshing people, everything, but not only the crowd had completely gone insane, on stage there was enough to look at as well. The backdrop had some stylized S's on it, glowing when the lights were down. Another attraction - for me who hadn't seen SLIPKNOT live so far - surely was the rotatable, hydraulic percussion platform of Shawn Crahan on the right.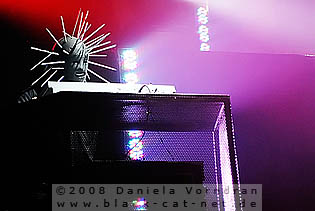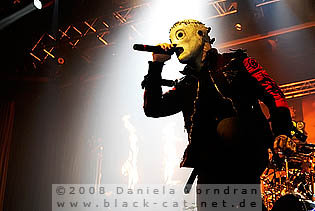 That thing suddenly moved upwards while rotating and Sid Wilson was riding n it for a while. For a second I thought he would loose grip, luckily that didn't happen. Even more scary was when the drum podium of Joey moved up, turned forward and Joey played hanging in some ropes. Even though the tour had been named after the new album, the most part of the set consisted of tracks from the previous releases e.g. 'The Blister Exists', 'Before I Forget' or 'Prosthetics'. Only two songs out off it were presented 'Dead Memories', which will be the next single, very melodic with clean vocals and the last single 'Psychosocial', where those kind of vocals only appears occasionally and hate and anger dominate. The maggots had their fun anyway as mentioned before and also the band - Corey in person - pointed how they'd love to come to Germany. And Germany loves it, when SLIPKNOT comes to pay a visit. That was conspicuous on that evening.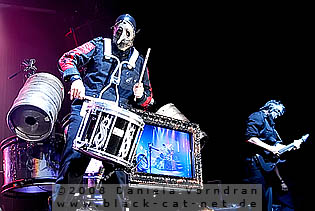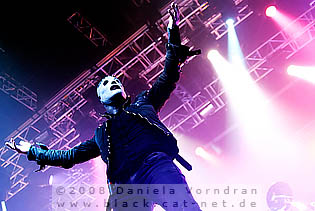 Setlist

01. Iowa (Intro)
02. Surfacing
03. The Blister Exists
04. Get This
05. Before I Forget
06. Liberate
07. Disasterpiece
08. Dead Memories
09. Psychosocial
10. The Heretic Anthem
11. Prosthetics
12. Spit It Out
13. Duality
14. Only One
----
15. 515
16. People=Shit
17. (sic)
Rating

Music: 7
Performance: 9
Sound: 8
Light: 8
Total: 8 / 10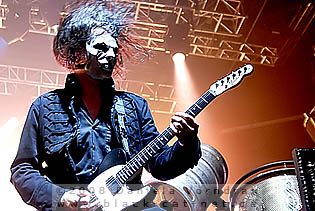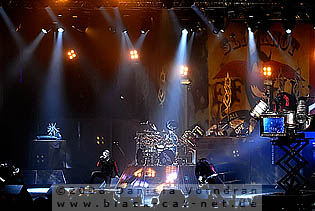 See also (all categories):