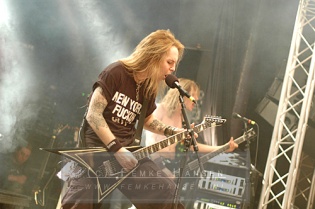 Paradiso, Amsterdam, The Netherlands
January 27th 2006
Children of Bodom & Ectomorph

Children of Bodom, now that takes me back. Back to the days of special shows showing metal and hard rock videos on tv, where you could discover new bands you would instantly love. Such was also the case with Children Of Bodom. It was fast, it was heavy, and it contained a lot of technical tricks and licks. Who could not love that. Though I'm not a big fan anymore, I was excited to see them again. The band which caused the "melodic death metal" genre.
Ectomorph
Not quite the band I would expect to join the likes of Children of Bodom on stage, but here they were. This Hungarian metal band wasn´t completely new to the scene and had played before Dutch crowds before, but opening for Children of Bodom isn´t the easiest task.
Music
The music had nothing in common with the headliner, it was just some typical "angry" metal. There wasn't a lot of variation in both the songs and even the lyrics. The word "fuck" kept showing up for instance. Originality was the missing link in this band formula. The horrendous sound didn´t help any bit in changing my mind, and the mind of plenty of others. The only band member with the occasional moments outside the stereotype was the drummer. But it was not enough to change my mind about this band.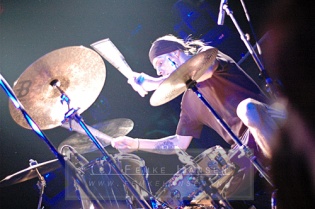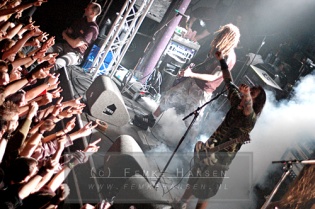 Performance

Now here the band did score some points, since apparently it did work for the crowd. There were definatly some fans of this band in the audience, but for most people this was new. And still they really got into it. They weren´t the most energetic band on stage (wich would be an amazing feat since the bass player actually sat on a bar stool during the show) but it did work. So despite the fact that the performance was mostly the singer it did the trick to get the crowd worked up. And that's all that matters in the end.
Rating
Music 5
Performance 7
Sound 3
Light 7
Total 6 (5,5)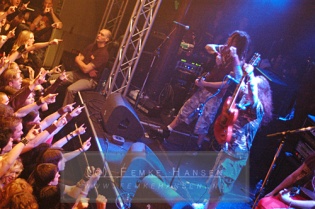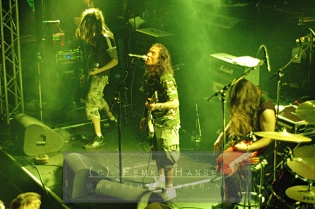 Children of Bodom
Its always interesting to see the attraction a band can have, and in this case, the place was flooded with black t-shirts. There was still some variety in the audience, but mostly the occasional die-hard fan among the mass of teenagers.
Music
Known for their technical abilities Children of Bodom proved this once more. They're known for putting on a great live performance, but also playing a tight set. Tonight wasn't too different, only during the solo moments for each member the occasional slip happened, but they nailed each song played that evening. Not an easy task. Each band member (except the bass player) had his solo moment, only Alexi and Janne shared their moment to turn it into a battle. The first solo was a drum solo, too much focused on speed instead of drumming for my taste, but the audience didn't mind too much. After a while Alexi and Janne battled it out yet again, leaving the crowd wanting more. To me Janne was the only person that evening actually playing anything which was interesting, but it was all focused on speed and technique. Stealing each others licks and constantly going faster. I think no other band has taken battles as far as Children of Bodom, they're the first band I ever saw doing this, and the only band which always seems to do this. The last solo was by none other then Roope, who is known for being an amazing rhythm player. It was interesting to see him switch to lead guitar, but he's better of sticking with rhythm guitar. The setlist was more focused on the last two albums, Hate Crew Deathroll and Are You Dead Yet. I'm more a fan of their old work, I haven't been a big fan after Hate Crew Deathroll, and the new album seemed to continue along the same path.
So for the new fans and to get the focus on their latest album, this was a good choice in songs. But for the old fans like me it lacked a lot of songs. It won't be the kind of concert I'll remember in thirty years or the kind that leaves you in ecstasy when its all over.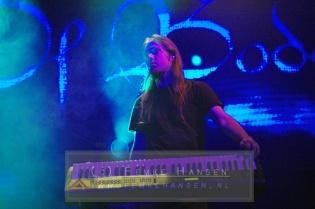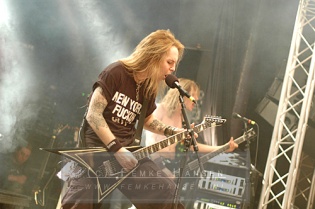 Performance
This is what makes Children of Bodom a band you want to see in action. Where Ectomorph got the crowd worked up, Children of Bodom took it one step further.
Security had to pull people out of the crowd since they couldn't handle it anymore.
Alexi still is a great frontman and when you have an audience filled with fans he really has no trouble getting them going. The use of the word "fuck" increased with the excitement of the audience, maybe a link between those two.... They can still get it done onstage nonetheless, and leave many fans gasping for more.
Rating
Music 7.5
Performance 8.5
Sound 6.5
Light 8.5
Total 8 (7.7)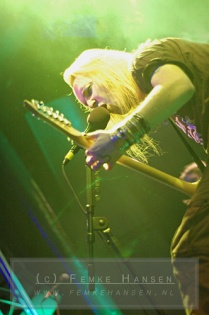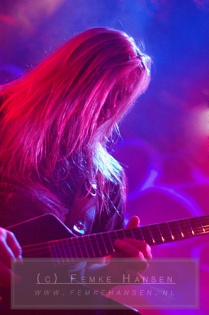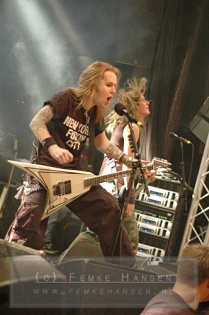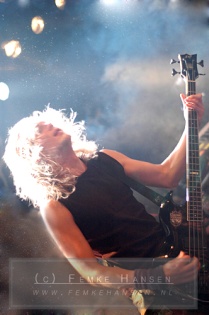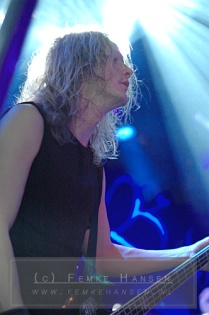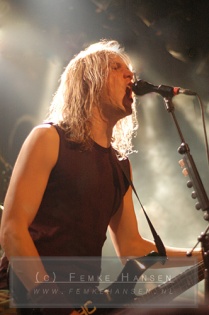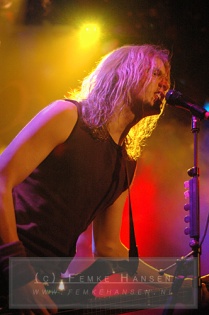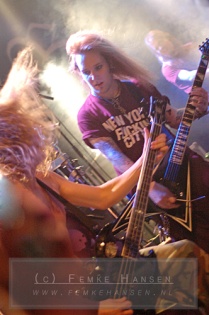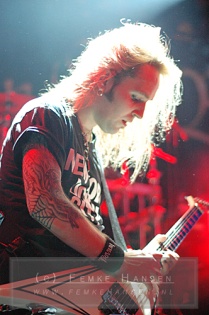 See also (all categories):