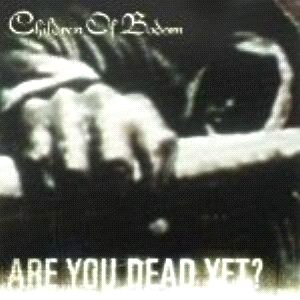 Band name: Children of Bodom
Title: Are You Dead Yet?
Genre: Power Metal / Death Metal
Release date: 2005-09-19
Record company/label: Universal / Spinefarm
Introduction

We faced something wild, we enjoyed the Hatebreeder, we had to follow the reaper and many of us got their heads crushed by the Hatecrew Deathroll. And now Children of Bodom ask the final question : "Are You Dead Yet?". And I have to say they are definitely not! Some things have changed for Children of Bodom: Roope Latvala replaced Alexander Kuoppala at the guitars and this time the album was produced at Finnvox Studios (Helsinki) by Mikko Karmilla. But if you weren´t told, you wouldn´t recognize this as the sound and compostions are 100% CoB. This album appears as the logical sequel to "Hatecrew Deathroll".
Line-Up
Alexi Laiho - vocals / guitars
Roope Latvala - guitars
Henkka Seppala - bass
Janne Warman - keyboards
Jaska Raatikainen - drums
Website
www.cobhc.com
Song review
01. Living Dead Beat – 5:18
So here we go. Gimme one second to put the CD in the player and sit back.
Immediately we are thrown into the Living Dead Beat. The song starts with a catchy keyboard intro supported by a nice industrial sample. Seconds later the first riffster forces our feet to stomp at the ground to the rhythm of this track. The opener is very dynamic and the breaks create what I would call "groove". There are some slight changes of speed in this track which even intensify this feeling. The vocal parts are in typical CoB style but lack a little bit of aggressivness to do justice to the excellent song line.
02. Are You Dead Yet? - 3:54
The title song comes in mid-tempo. The song line is more playful than the opener with many "ups" and "downs". The track is centered around the chorus which stays in mind. Are we dead yet? I guess not. This was only the second song and – what counts more – unfortunately it is not that straight-forward as Living Dead Beat. Perhaps not the best choice for the second song.
03. If You Want Peace… Prepare For War – 3:57
What Are You Dead Yet lacked the third song has plenty of: groove, aggressiveness, heavier riffs and nasty vocals. This track transports much more "straight-forward feeling" and when you think there will be no more changes in the song line there surely will be a clever break that keeps your head rotating. Not to mention the excellent melody line of the guitar solo. I think we are prepared for war now, aren´t we?
04. Punch Me I Bleed – 4:51

This one´s the black sheep of the album. The feeling of this song is quite similar to Are You Dead Yet? but without being that catchy and melodic. In my opinion Alexi´s voice isn´t made for slow vocal parts and Punch Me I Bleed definitely shows that. This song is not more than average – but not for Children of Bodom. They can do better !
5. In Your Face – 4:16

Oh yeah, In Your Face represents what CoB stand for : a perfect mixture of speed, aggression and melody. The song starts with a simple but efficient guitar line paired with driving drums. After this part the speed increases and Alexi begins to maltreat his raging voice. From my point of view the first time on this CD where the vocals really sound aggressive. The advantages of this track are the decent solo and its homogeneity.
06. Next In Line – 4:19

Reminding me of Triple Corpse Hammerblow on "Hatecrew Deathroll" this track represents more of CoB´s Power Metal aspect. The riffsters are again very catchy and seem to force the listener to move his body to the rhythm. And once again there is a beautiful and very fancy guitar solo. And this time also the chorus is catchy and stays in mind. Nice one !
07. Bastards Of Bodom – 3:29

As well as the title spreads a little bit of retrospective the sound does. Bastards of Bodom could also be on the "Hatebreeder" album. The guitar work and composition are excellent. Vocals and song line perfectly fit together and you can even hear the bass which is a quite nice detail. Great Metal song!
08. Thrashed, Lost & Strungout – 4:01

Already released on the homonymous EP this song offers speed, groove and delight in playing at highest level. The riffsters are nasty and build a good counterpart to the lead guitar. Parts of that track resemble CoB´s "Mask of Sanity". Thumbs up for the great drums !
09. We're Not Gonna Fall – 3:17

Starting with a Hardrock-like guitar the last track soon turns into a classical CoB song. The vocals are somewhat cleaner than on the other tracks and much more comprehensible. The soloing and riffing is great. The keyboards do an excellent job. A very catchy song that makes the auditor want more. Perfect choice for the last track.
Cover Picture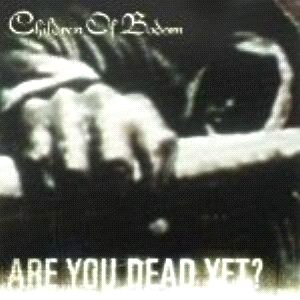 Technical Summary

Total playing time : 37:27
Total songs : 9


Conclusion

Well ,what shall I say? On the one hand this album offers everything we expect from a Children of Bodom release. Riffing, soloing and most of the compositions are great. Not to mention the perfect production. On the other hand there are aspects that derogate the listener´s enjoyment. The vocals got downhill a lot. Two songs, namely Are You Dead Yet? and Punch Me I Bleed, come too uninspired. And there is one big drawback : the total playing time is only 37:27, in my opinion that´s way too short to call this release a longplayer. Nevertheless Are You Dead Yet? definitely is an album worth buying. But Children of Bodom already have done better. And will hopefully do so again.

Rating

Music 8
Sound 10
Extra's -
Total 9 (8.8)
{jos_sb_discuss:19}
See also (all categories):