Fillmore Auditorium, Denver, Colorado, USA
28th April 2009
No Fear Energy Drink Tour featuring Lamb Of God, As I Lay Dying, Children Of Bodom, God Forbid and Municipal Waste


Before now, I had never seen such bizarre behavior at a concert as I did at this one. The "No Fear Energy Drink Tour" featuring shred / thrash metal bands LAMB OF GOD, AS I LAY DYING, CHILDREN OF BODOM, GOD FORBID and MUNICIPAL WASTE attracted me for precisely that reason. Between the bands and spectators, I am still trying to decide which was more entertaining to watch.
As it ended up, despite the blood, sweat and tears going on amongst the fans, being kicked in the head and back several times myself while in the photo pit (even with adequate security protecting the photographers), and seeing grown men intentionally make complete spectacles of themselves in public, I have to say, melodic death metal is not really my cup of tea. And, all that I've described so far was just during the first song. First and foremost, I really don't understand the attraction to this genre of noise. Was it loud and raunchy, screaming and screeching metal rock? Yes, it was. Was it extreme attitude in your face (literally), angry, fight to the death, aggressive type of visual horror that taunts the darkest demonic parts of the human spirit without a shred (pardon the pun) of inhibition within the imagination? Yes, it was.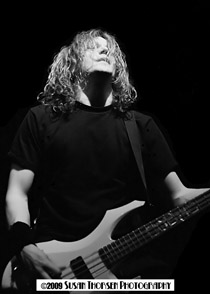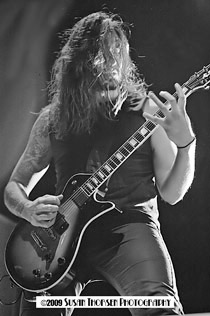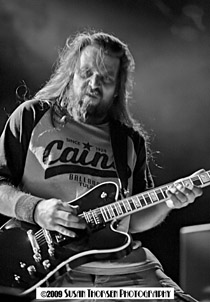 Do I ever want to watch adult men at a concert form giant circles in which they are roaming around in a very idiotic and spastic way pushing, shoving, bumping and grinding away at each other as if they were performing a very sick version of ring around the rosy and looking like they had just come out of the psycho ward fresh from getting a frontal lobotomy? No, definitely not, but without all the extra sideline mosh pit / fight club spastic posturing that goes on during these kinds of shows, the music itself is not half bad and the bands quite fun to watch actually. Push for shove the bands themselves are pretty laid back compared to the crowd.
That said, due to the early start time of the show (five bands having to play their sets before an 11:00pm curfew), I missed the first two. I arrived at the end of GOD FORBID's set and MUNICIPAL WASTE had already played so no photos or reviews on them.


Children of Bodom

Finnish band CHILDREN OF BODOM was up next and since they were mostly the reason I wanted to take on this event in the first place, I was glad I got there in time for their set. I had heard quite a bit about this band beforehand, particularly lead guitarist and vocalist Alexi Laiho. With the wild crowd chanting and screaming, "Bodom, Bodom, Bodom, Bodom, Bodom….." as they took the stage, I found out very quickly why Alexi is the current "talk of the town" in music circles. He's quite an amazing talent in his own right showcasing a lot of technical prowess in his playing. Though a "speed demon" in his fret board fingering and tapping, he performs with a very precise style that is full of energy. Because he is a "stylish" player, his skill should take him far even without having to tackle a zillion notes faster than the speed of sound. In fact, it would be fun to see him play something that's timed at a slower pace showcasing the abilities that are hiding behind the allegro.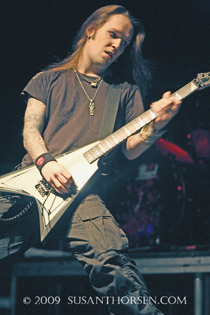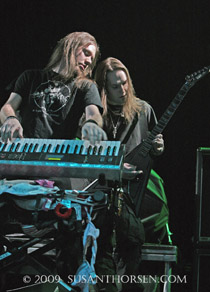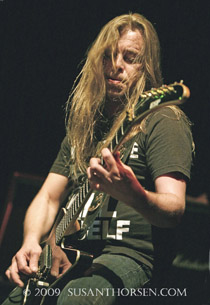 Also on board in CHILDREN OF BODOM was Janne Warman on keyboards, Henkka Blacksmith playing bass, Jaska Raatikainen on drums and Roope Latvala balancing out the second guitarist's duties with spectacular skills of his own. These guys exhibited a great chemistry together proving throughout their set why they are already an award winning band and why Alexi is being seen quite frequently on the covers of a variety of music magazines. CHILDREN OF BODOM's set list included the songs 'Blooddrunk', the crowd pleasing 'In Your Face', 'Hate Me', 'Silent Night', 'HellHounds On My Trail' and several others. I was not disappointed in this band at all. They were really quite good and extremely fun to watch, putting on a great show and I'm glad I followed my instincts to photograph them playing.
Unfortunately, this band (or at least Alexi) seems a little cursed in between the blessings. Just after this show while in route to another, their tour bus took a sharp turn which threw Alexi out of his bunk. The accident resulted in a broken shoulder for him which he tried to continue on performing with for an additional couple of shows. Apparently the pain and internal bleeding was too much, as the CHILDREN OF BODOM has bowed out of the rest of this tour. Is Alexi perhaps now an angel with a broken wing?
Rating
Music 7
Performance 7
Sound 7
Light 2
Total 6.3
As I lay dying

Next to play was Southern California's, AS I LAY DYING - another band that I found myself impressed by even after going in not expecting much. Promoting their latest release, 'An Ocean between Us', I found this band extremely well practiced and choreographed. Led by singer, Tim Lambesis, these guys appeared to be a "well oiled machine" in their symmetrical hair tossing going in perfect unison with the excellent drumming of Jordan Mancino and dueling guitars of Phil Sgrosso and Nick Hipa.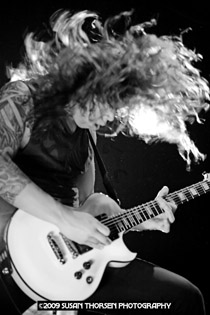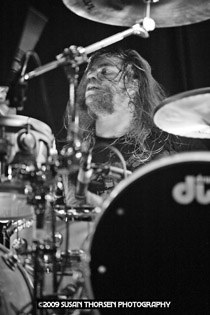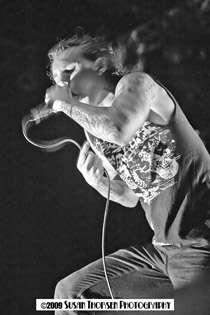 Commanding the crowd into a complete frenzy with stirring arm movements and deep throated, roaring lyrics, Mr. Lambesis was definitely in his element. Throughout their entire fast-past set, AS I LAY DYING elevated their fans to such a high level of excitement; I truly thought that paramedics might have to be called in to tend to some of them. It was during this set that I saw several of the females in the front row having to be lifted over and into the photo pit from collapsing and being pushed too hard up against the barricade by the overzealous "moshers".
Though their melodic thrash metal core is exactly what the crowd came to see and hear, AS I LAY DYING sounded just a little different from all the rest and all the songs played in their set did not sound the same. I suppose that's why the fans got so worked up. It's not as much fun to interact with a band whose every song sounds just like the one before it.
Rating

Music 7
Performance 7
Sound 7
Light 2
Total 6.3
Lamb of God
Last but not least on the bill were tour headliners, LAMB OF GOD. I can't say that I was anywhere near as overwhelmed with these guys as I was the other two bands I saw. Touring in support of their latest album, 'Wrath', it was obvious this band has been around a while as well as the songs on the set list. The playing was harsh and crude, which generated a lot more fury and commotion with the crowd and people getting hurt (which is not a plus in my book). And the band appeared to just be going through the same motions of every other show they've done in the past year or two and appearing that they weren't really having much fun themselves.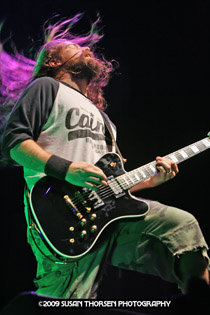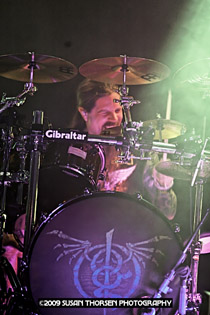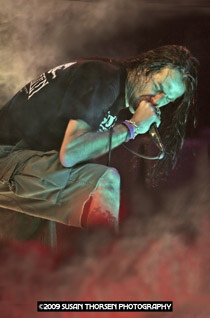 Hailing from Richmond, Virginia, LAMB OF GOD, fronted by Randy Blythe on vocals, really showed they have nothing to prove. The guitar combination of Mark Morton and Will Adler along with bassist John Campbell and drummer Chris Adler stopped nothing short of excellence with their extensive experience and confident, hair tossing stage presence. It just all seemed rather like thrash metal "formula" that they need to find a way to reinvent in order to reenergize themselves.
Granted, this is definitely not mellow, classic rock, laid-back love ballads type of music, and I'm a firm believer that every type of musical expression has its place, but I'm sorry to say that this genre just does nothing for me from a musical standpoint. It's rather sad to leave a concert with absolutely nothing remembered from the show to smile about. 30 years ago during the days of disco and the big dance craze was "The Bump", at least people were laughing and smiling while they were bumping and grinding into each other.

Rating
Music 7
Performance 7
Sound 7
Light 2
Total 6.3

All picture by Susan Thorsen
{jos_sb_discuss:18}

See also (all categories):