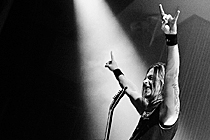 Messe Congresscentrum B, Stuttgart, Germany
9th November 2006
Bullet for my Valentine, As I Lay Dying, Protest the Hero

The Welsh Metal-core band BULLET FOR MY VALENTINE has become quite famous during the last few years; their videos promoting songs like "Your Tears Don't Fall" and "All These Things I Hate (Revolve Around Me)" were played time and again on music channels like MTV, their album "The Poison"(2005, re-issued in 2006) had relatively high chart positions especially in the UK and you will hardly find a teenager with darker and more alternative music taste who doesn't know them. Or, concerning the girls, at least know their good-looking singer Matt Tuck. So it was no surprise that the band's concert, which was originally planned to take place in the LKA Longhorn, was relocated to a bigger venue, the Messe Congresscentrum B in Stuttgart, due to great demand for the tickets. The Congresscentrum B is part of the local exhibition centre in Stuttgart, and about 2500 people can be gathered there. When I arrived at the location, it was filled to about two thirds, but when taking a closer look, a great part of the visitors was pushing in the area right before the stage, awaiting their heroes. I just had a little time to look around, but then the first support act – PROTEST THE HERO – already entered the stage.



PROTEST THE HERO

The Canadian band PROTEST THE HERO from Whitby, Ontario, has been formed in 1999 under the name HAPPY GO LUCKY. Four years later they released the EP "A Calculated Use of Sound"(Underground Operations). In these earlier days their lyrics were often broaching issues like politics or social problems, especially concerning the United States. On their latest output "Kezia" from 2005, however, this indicting tone gave way to more subtle and metaphoric ones. PROTEST THE HERO are Rody Walker (lead vocals), Tim Millar (guitars, live backup vocals), Luke Hoskin (lead guitars, live backup vocals, piano), Arif Mirabdolbaghi (bass, live backup vocals) and Morgan Carlson (drums). http://www.protestthehero.com/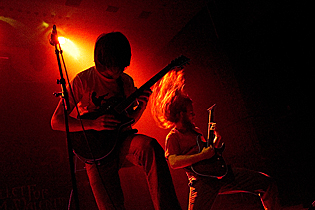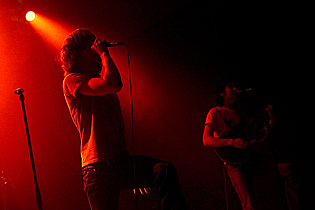 Music
The band from Canada, having started as a Punk-Rock group, nowadays plays a sound not very easy to classify, somewhere in between (post-)Hardcore, Punk and Metal-core. While listening to them this evening I wondered if they just had really bad sound or if this simply is what they are doing - I guess each one bears a grain of truth in it. Raw and coarse, sometimes nothing but noise, but still very energetic; with it Rody's distinctive voice, which I don't like very much, but this surely is a matter of taste - that's how I experienced them live this night. Listening to their songs from CD, they offered a completely different sound experience. Diversified, dodgy and very interesting compositions, complex rhythmic patterns and all in all songs that you can listen to again and again and will still find something new to discover. I couldn't really find access to their music during their short set of about half an hour, but after listening more closely they have a new fan now.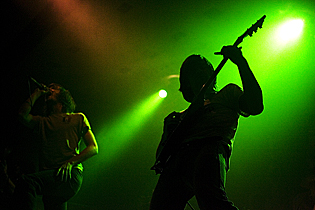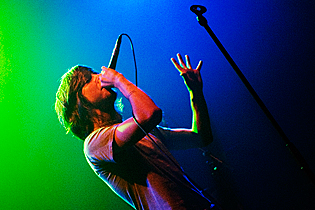 Performance
The guy seeing about the light show was very canny while PROTEST THE HERO were performing. They nearly had no front light, most of the time some red or green beams from the back. The band really gave their best, nevertheless they appeared a little misplaced on this huge stage; I would have liked it better to see them in a small club. It surely was no easy job to be this concert evening's first act, and so the applause was rather cautious when they left stage.

Rating
Music: 4
Performance: 6
Sound: 5
Light: 3
Total: 4.6


AS I LAY DYING

"As I Lay Dying" is the title of a novel by William Faulkner, and in 1999 a band from San Diego, California, took it up as their name, though to the present day no relation to this author or his work is obvious in their producing. Already one year later the end of this group seemed to have come, as Tim Lambesis (vocals) joined the band SOCIETY's FINEST and moved to Texas. But he returned in 2001 and so AS I LAY DYING's first album "Beneath the Encasing of Ashes"(Pluto Records) appeared. The following years saw a change to Metal Blade Records, extensive touring and further album releases, the latest regular one being "Shadows are Security". Also older stuff has been re-released via Metal Blade last year. AS I LAY DYING are Tim Lambesis (vocals), Phil Sgrosso (guitars), Nick Hipa (guitars), Clint Norris (bass) and Jordan Mancino (drums). http://www.asilaydying.com/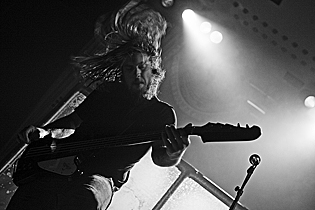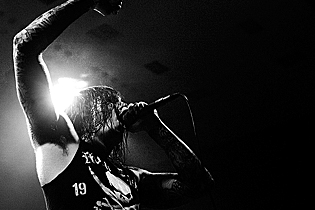 Music
This concert night stood under the sign of Metal-core, and AS I LAY DYING were no exception. In their sound, various influences are audible, ranging from Death Metal to Thrash Metal and Hardcore. What is remarkable about them is that they are seen as a Christian Metal band. Tim's voice ranges somewhere between screaming and growling, which fits very well the band's sound. This one was not the best this evening, but still they could unleash a furious show over the audience.

Performance
The placards on stage with the obligatory bone skulls already announced the band before they came out into the headlight under the screams and screeches of the audience; especially vocalist Tim Lambesis enjoys great popularity among the band's fans. The light situation still wasn't the best one, though sometimes really atmospheric. Tim with his strong stage presence and deep, impressing voice and his band mates playing an experienced set managed to bring the crowd to a boil. 

Rating
Music: 6
Performance: 6
Sound: 7
Light: 6
Total: 6.2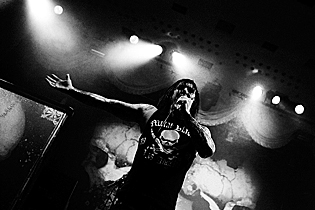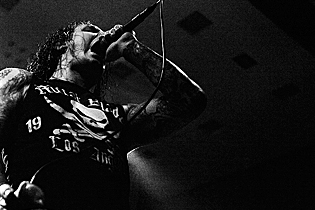 BULLET FOR MY VALENTINE

The band from Bridgend, Wales (UK) has been formed in 1997 as JEFF KILLED JOHN (which is only one of about three names they tried). After some difficulties in the early days, a demo recording and the change of their name into the present one, they played a very successful showcase in London. Since then things are constantly looking up for the four guys. In 2004 they released a widely noticed self-titled EP, and one year later their debut album "The Poison" was available. For the European market they got signed by Sony BMG. Their latest output is some live stuff, recorded at London's Brixton Academy. They are currently planning to enter the studio at the end of January and to record their second full-length album, which is to appear in the middle of the year. BULLET FOR MY VALENTINE are Matthew 'Matt' Tuck (lead vocals, guitars), Michael 'Padge' Padget (additional vocals, guitars), Nik Crandle (bass) and Michael 'Moose' Thomas (drums). http://www.bulletformyvalentine1.com/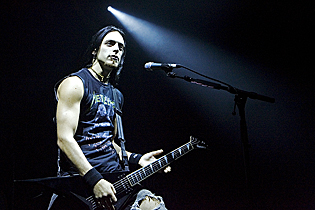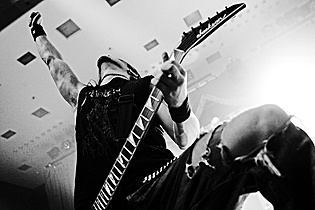 Music

BFMV play Metal-core with influences from Heavy Metal and Thrash Metal as well as Emo-core. In their early days they played METALLICA and NIRVANA covers, but soon they developed their own sound. Nowadays it has become a bit of mainstream, there are quite catchy and accessible songs on their album, but nevertheless they remained true to themselves. And I must admit that they are really fun on stage, full of energy. Matt's voice varies between clear vocals and the typical screaming, and they had a good sound, so they left a satisfied audience.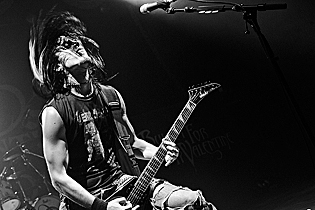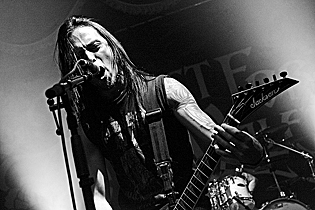 Performance

It surely hadn't been easy to stand in the first row while AS I LAY DYING were performing, but with Matt's appearance on stage together with his band mates, it must have become hell. Several teenagers had to be carried out the photographers' trench, and the other ones crowding directly in front of the stage seemed to be not very far from fainting. It must be like that at a boy group show, with the important difference that this one here did good music. The light show was fantastic now, the band was obviously enjoying what they were doing and so the spirit was fantastic. They talked to their fans, who themselves couldn't stop screaming and sang along enthusiastically.
Rating

Music: 7
Performance: 8
Sound: 8
Light: 8
Total: 7.6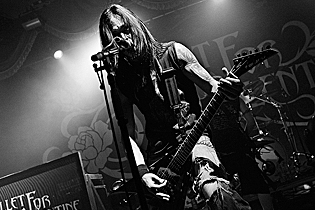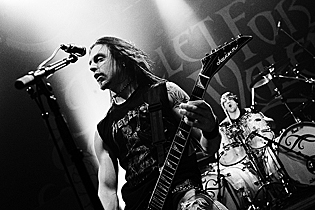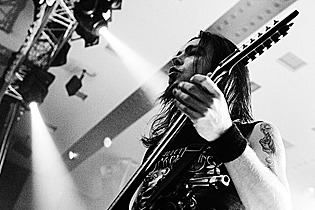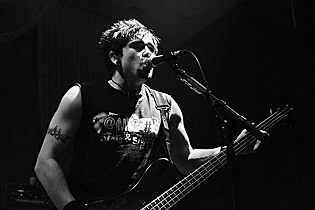 {jos_sb_discuss:17}
See also (all categories):