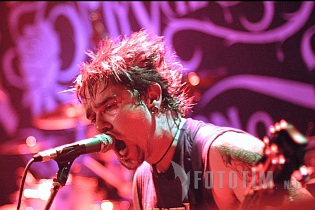 Tivoli de Helling, Utrecht, The Netherlands
June 23rd 2006
Bullet For My Valentine, The Analog Project.


The day before playing at Graspop, Bullet For My Valentine was performing in Tivoli de Helling in Utrecht.. Their support act was a band from Nijmegen, Holland, and was called the Analog Project. I was a bit late; I knew it wouldn't start until 8 o'clock, so I took my time. Later on, I found out it was sold out and that people were crowding up in front of the door around 6 already. This may say something about the popularity of tonight's bands. TAP started out right on time. The venue was filled up pretty well already, and most people were in for a party. It was quite obvious this sort of music attracts younger people. I think the average age of boys and girls more at the front was about 16 years old. In the back were the older fans and the mums and dads. Everybody was all dressed up in their best alternative and punky outfits with the big beads on their neck and glitzy hairbands, all waiting for Bullet For My Valentine.

The Analog Project
But first we had The Analog Project. Their make, according to themselves more oldskool rock 'n roll. On stage we had the singer, two guitar players, a bass, and the drums. They didn't really decorate the stage, In the back BFMV backdrop was already up.
Music
They say they make oldskool rock. They are quite right, listening to the music. I think it had a modern and new edge to it, but with oldskool rocking beats. The music it balanced very well, because of their mix between old and new TAP has its own tune. The songs itself are not very original if you ask me. Especially the lyrics on the older songs are quite standard top 40 lyrics. The newer songs have more body, like 'Anything you want'. Also the song Summer Rain sounded very nice, with more feeling to it. I must say I found the rest a bit dull and more of the same. In the end they played a newer song called 'take it away'. This song is pretty fast, full body rock 'n Roll style, I enjoyed it. I did not enjoy the cover of Rage against the machine's 'Killing in a Name'. that's too lame, everybody knows that song too well, I find it a bit cheap. Overall the sound of The Analog Project is cool, oldskool, maybe they should take some more risk and make the music a bit more egdy.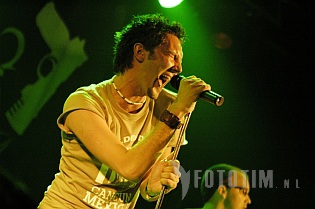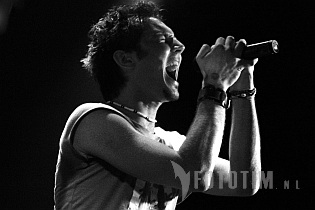 Performance
Since the instruments for BFMV were already set on stage, TAP didn't have much room to move around, but their performance was quite well, they got more comfortable during the gig on stage and also the audience noticed that because they were getting more and more cheerful on the way. Especially the singer was very energetic, jumping up and down and flirting with the girls in the venue. The whole band seems to know each other quite well on stage and they are tuned in on each other, this makes the gig look very well. The boys look like they have a lot of fun on stage. The only part I really did not like about the gig, was the fact that one of the guys lighted a cigarette on stage, and handed it out to the audience. I reckon about half of them were under 16. Smoking on stage is not done anyway, only one person can get away with that and that's Slash.
Rating
Music 7
Performance 7
Sound 7
Lights 6
Total 7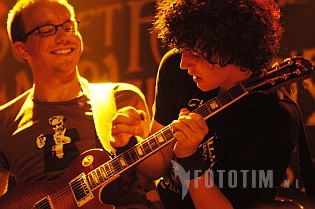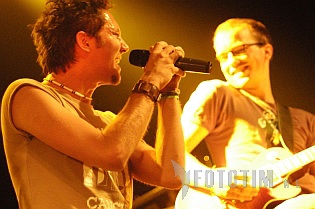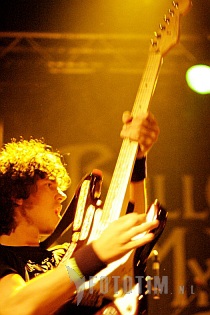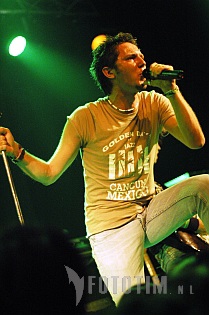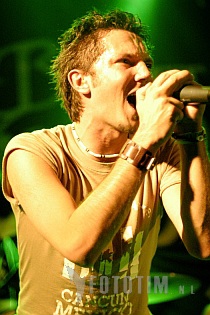 Bullet For My Valentine
Of course after The Analog Project it was time for Bullet for my Valentine. This UK band is what the crowd has been waiting for. BFMV has been around for enough time to built itself quite a name, I know soon they will be touring with iron maiden for example and they are headlining tours in de UK itself. Today they were in Holland to perform, the next day they would be performing at Graspop. With a sold out venue, was expecting quite something.
Music
BFMV makes music that's quite extreme, fast and hard. The progressive tunes mixed with metal riffs, makes the music energetic and full blown. The Songs are quite short, most of them are fast, compact pieces of noise that will drill out you eras if you turn the stereo up to far. Good thing I brought earplugs. The band really had created his own show, the way they move, and connect to each other does not look very natural. The intro is classical, during this intro the band comes on stage, a bit more dressed up than TAP (as in wearing matching shirts), and slams into their first song, which I believe is called 'Angel'. A lot of the songs played are from their only album: Poison. On 'All these things I hate', a song with some grind influences, the audience goes crazy. On of the visitors saw me making notes, and I had to tell you all that the moshpit was great. So here you go. BFMV played the song 'Crazy', which is one of Matthew's favourites as well. During Cries of vain, most people in de crowd were all sweaty and singing along as hard as they could. During the song Matt constantly wanted the crowd to scream for them, which they all did of course. After a small hour the band left the stage. They came back for 2 more songs and then they were really done. This really surprised me. I know they don't have a lot of songs, but can you ask 15 euros entrance for such a short show?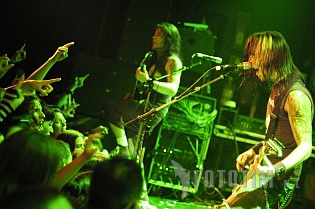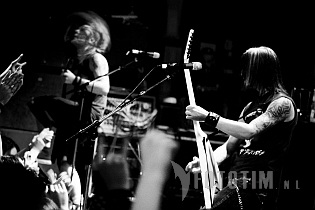 Performance
The music it played very well, tight show. It looks fake every now and again, and the singer looks very very stoned. Maybe this is his normal behaviour but to me it doesn't seem normal. Most of the moves seemed studied in advance, and also the crowd participation is studies in before. It still looks like the band has a lot of fun on stage and really likes to be there, but it's a shame to see this, and having to think it's not real. Since the songs are all very short they constantly have to adjust to another song and play by that. I think the audience makes up for the spontaneity this band is missing in my point of view.
The lightshow during BFMV was really good. It was well tuned woth the music. I think my photographer didn't like it much, but I did.
Rating
Music: 8
Performance: 7
Sound: 8
Lights: 7
Total: 8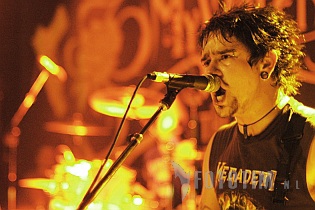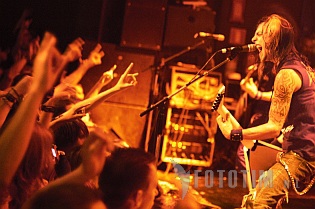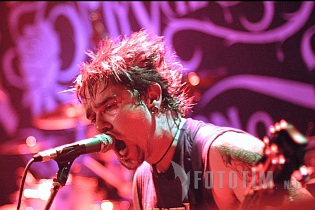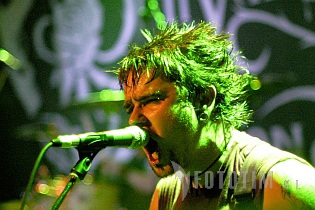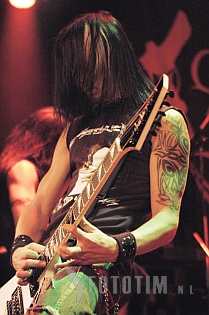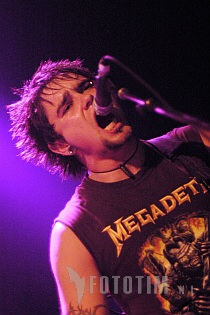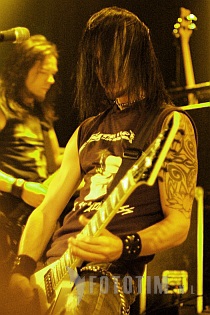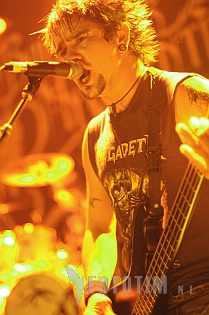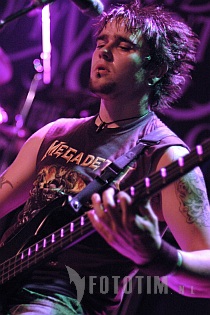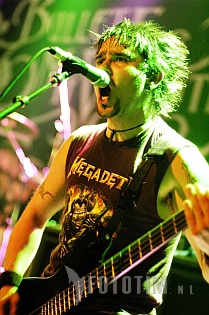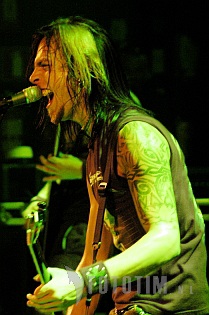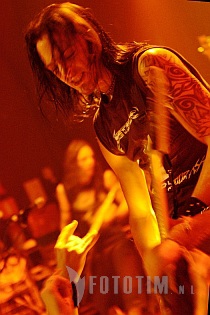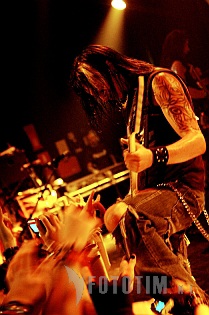 {jos_sb_discuss:17}
See also (all categories):