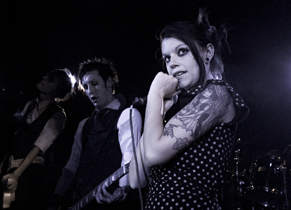 Schwimmbad Music Club, Heidelberg, Germany
09th August 2006
The Birthday Massacre, The Love Crave

Maybe it wasn't a good idea planning a concert of The Birthday Massacre just three days before they should play at the M'era Luna Festival. The band played also at the Dark Dance Treffen nearly three weeks ago. So we thought this was going to be a small concert in a little club. We were right. The concert room was only about half filled.



The Love Crave

The Italian band was founded 2004 in Milan and they signed their first record deal just a week ago with the German label REPO RECORDS. The band members Tank Palamera (guitars), Iakk (drums), Simon Dredo (bass) and Francesca Chiara (vocals) have long musical experiences. Their debut album 'The angel and the rain' will be released at 20th October 2006. The booklet will contain a story, which Francesca especially wrote to piece all songs together. http://www.thelovecrave.com/

Music
They offered straight old-school metal with electronic backgrounds and a gothic attitude, but the guitars were always dominating the songs. Especially the third song began with some piano sounds. Unfortunately they only played eight songs. Francesca has a fantastic, powerful voice, which reminded me sometimes of DORO. Their power is based on the melodies and their variety. Every song was different and they were all good. Although nearly nobody in the room knew them before, they got honest applause and there were even some shouts for encore.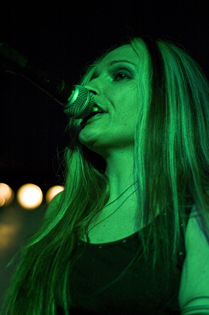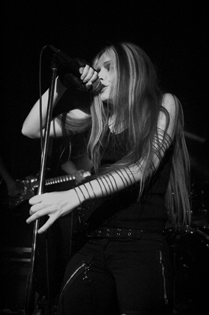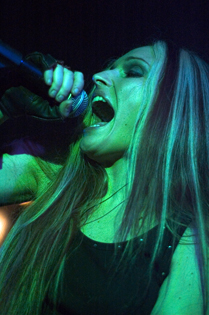 Performance
The stage of the Schwimmbad is always too small for the bands. The male musicians stood always in the back of the stage and they could hardly be seen because of the very little light. Only Francesca got some spotlights on her and she was supporting the songs with wide gestures.

Setlist
01. Vampires (The light that we are)
02. Nobody
03. Little Suicide
04. Can U hear me?
05. Runaway
06. The angel and the rain
07. My soul
08. The Chauffeur

Rating
Music 8
Performance 6
Light 3
Sound 7
Total 6.5


The Birthday Massacre

Nearly two years ago all music magazines wrote about the new Canadian band. There was so many advertising for them, so I thought, this will be another short hype. Fortunately I was wrong. The band was founded in 2000 and released their self-distributed debut album 'Nothing and nowhere' in 2002. This CD wasn't released in Europe until now and so every fan had to get it from Canada or the USA. The EP 'Violet' came out in 2004 and found its way to Germany. Now it is time for another album and we can't wait to get it. http://www.nothingandnowhere.com/ / http://www.thebirthdaymassacre.com/ / http://www.myspace.com/thebirthdaymassacre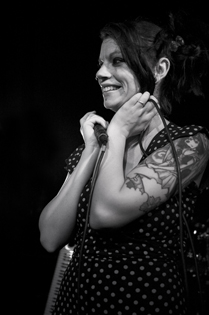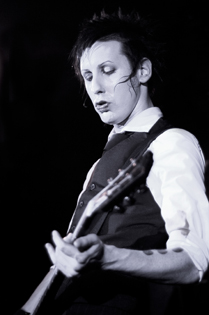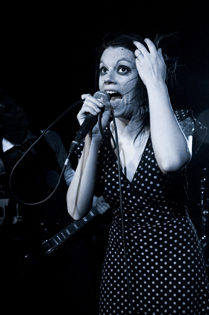 Music
As always I'm not sure which genre they belong to. They are playing with elements of so many styles. There are these wonderful melodies, which remind me of childhood songs. The aggressive guitar parts could also belong to a metal band. It's always fun and party music, but still dark and alternative. Chibi sings with a very nice and childish voice and in the next moment she grunts. They played some new songs and it is shown that this will continue their story of success.

Performance
After a long intro the band entered the stage and this was really the right expression. For nearly two hours they dominated the Schwimmbad. Anyone who had never seen them, can't understand my enthusiasm. Even at the very small stage they jumped, danced and fooled around. As always Chibi took the most acting part. With so many different faces she supported the effect of the songs. How can she be so cute, while she is telling this horror and monster stories? The temperature rose very fast and so she fought against the heat. The crowd was singing and dancing and so two hours passed away really quickly. The band was dressed in similar clothes and they looked a little bit like friends having a children's birthday party. It was shown that they were having fun during the concert. It was a great pleasure to see them, although the Schwimmbad is not big enough for their temperament and show. In comparison with the audition at the M'era Luna Festival 2005 I was glad to have them in such a near way, but now I know, I have to see them in a bigger club.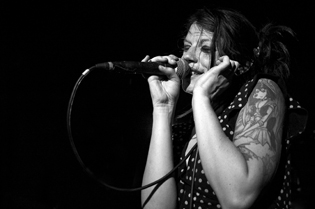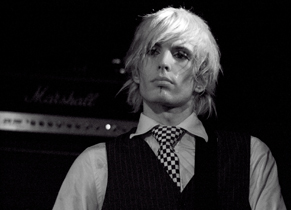 Setlist
01. Intro
02. Lovers end
03. Play dead
04. Horror show
05. Promise me
06. Violet
07. New song (yet untitled)
08. Under the stairs
09. To die for
10. Blue
11. Nevermind
12. Broken
---
13. Happy birthday
14. Video kid

Rating
Music 9
Performance 10
Light 4
Sound 8
Total 8 (8.4)

{jos_sb_discuss:17}
See also (all categories):