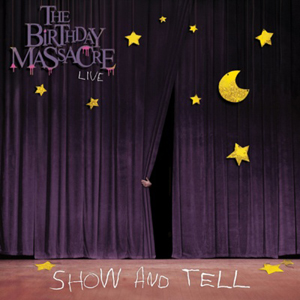 Title: Show and Tell (Live in Hamburg)
Artist: The Birthday Massacre
Genre: Goth Rock
Release Date: 8th May 2009
Label: Repo Records
Album Review

At some point there's a live CD popping up in the discography of every band I think and so it was only a matter of time until the immensely popular Canadian band THE BIRTHDAY MASSACRE would join these ranks with an official live document. It's titled 'Show and Tell' quoted from the lyrics of their song 'Kill The Lights' and was recorded during their most recent European tour on a show in Hamburg. There's also a same-titled Live DVD coming up in Summer which for the time being should be enough material to bridge the distance to the upcoming new full-length of the band scheduled for an Autumn release.
But now let's get to the current release that's starting up with an introduction called 'Before Dark' to continue with the two tracks 'Video Kid' announced with the lovely 8-bit melody and the grinding 'Lovers End'. As I've never heard saw clips or heard samples and whatnot of one of the band's live performances I was surprised how much dynamics and rhythmic power the live drums add to the sound and now I'm hoping that at least some live drumming finds its way onto the next regular full-length. That'd be awesome! We'll see. The further collection of songs springs back and forth between the 'Violet' and 'Walking with Strangers' and with 'Remember Me', 'Unfamiliar' and 'Weekend' three of my favourites from the just mentioned are included as well.
Two other tracks from 'Violet' I would have loved to hear are 'Play dead' and 'Holiday'; actually songs that are perfectly suitable for a live setting. In-between songs, Chibi is very cautious with talking and mostly limits it to the announcement of the songs and one or two sentences here and there. Not too much of a problem as it's actually about the music. Just wanted to mention it anyways! The sound mix shows no flaws. Every instrument is clearly recognizable just as the audience is. A special recommendation for 'Show and Tell' goes out to the ones just discovering THE BIRTHDAY MASSACRE. You're getting a good cross-section of the band's works here. All others will most likely add this release to their existing TBM collection anyway.
Tracklist

01. Before Dark - 1:26
02. Video Kid - 4:28
03. Lovers End - 4:20
04. Goodnight - 4:21
05. Falling Down - 4:14
06. Violet - 3:39
07. Red Stars - 3:50
08. Looking Glass - 4:23
09. Remember Me - 4:05
10. Unfamiliar - 3:26
11. Walking With Strangers - 3:53
12. Weekend - 3:54
13. Horror Show - 4:07
14. Kill The Lights - 4:36
15. Blue - 4:31
16. Happy Birthday - 4:13
Line-up

Chibi - Vocals
M. Falcore - Lead Guitar
Rainbow - Rhythm Guitar, Sequencing
O.E. - Bass
Rhim - Drums
Owen - Keyboards
Website

http://www.thebirthdaymassacre.com/
/
http://www.myspace.com/thebirthdaymassacre
Cover Picture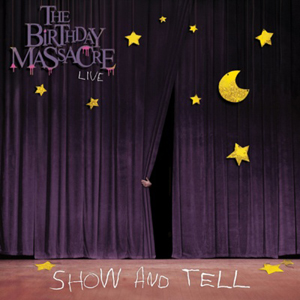 Rating

Music: 7
Sound: 8
Extras: -
Total: 7.5 / 10
See also (all categories):