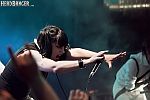 Moscow Hall, Moscow, Russia
16th May 2013
The Birthday Massacre

The fifth studio album of THE BIRTHDAY MASSACRE 'Hide and Seek' was not just another long awaited present for their fans, but also a nice reason to finally include Russia in the tour-list. The band played in Moscow for the first time. Aside of presenting their current album the band played the old songs as well. In spite of heat and no air conditioning in the venue, the fans were pretty happy to see the Canadian musicians.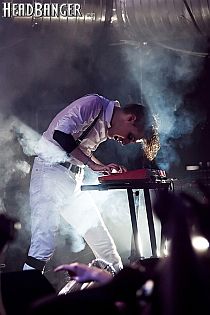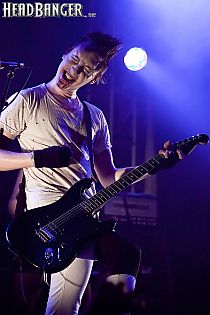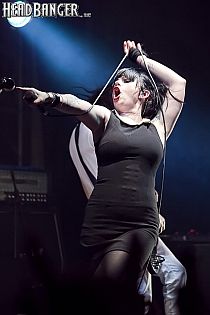 The Canadian electronic-rock band THE BIRTHDAY MASSACRE was formed back in 1999. After two self-released albums the band caught attention first of Kai Schmidt (ex-FUNKER VOGT), who signed the band to his label in Germany, and the year later - of the label Metropolis Records. Is it needed to be mentioned, that the popularity and success of the band has been growing by leaps and bounds. At the moment there are five studio albums released, and according to the official announcement the band's working on the next one, which is going to be out at the end of this year. http://thebirthdaymassacre.com/ / https://www.facebook.com/TheBirthdayMassacre / http://www.myspace.com/thebirthdaymassacre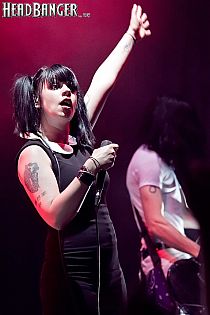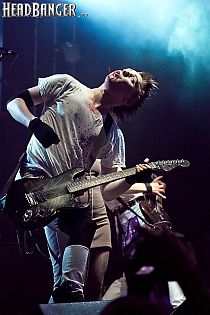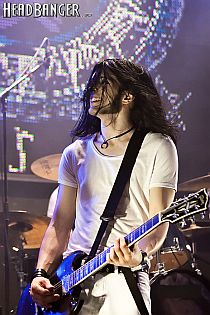 Music & Performance
The hot summer day isn't the best day for the powerful industrial concert like THE BIRTHDAY MASSACRE. On this day you could cut the stuffy air with the knife, if it doesn't stick to your fingers. The location of the club is pretty nice, in the centre of Moscow and quite close to the metro station, but even this short distance could make you sweat. In the club it got just worth, because of concentration of human bodies in this small place. During the long cold winter, which is seemed to finish just last week, it is the only thing you could dream about. But inconsistent human nature makes us unsatisfied again. No, wait, it's not us, it's the crazy weather, which doesn't give us a chance to breathe in freely and/or breathe out without spitting ice.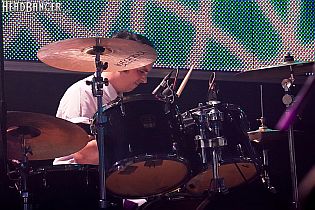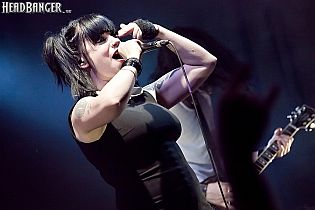 The show started forty minutes later than it was planned. From the very beginning the band didn't know any mercy. The great wall of sound crashed the public at the first second. Loud, energetic, crashing and all other words which can describe the power of the sound would fit to this show. From the very beginning the prepared by some fans violet balloons flew to the stage, and has been flying over the public and the band till the very end. This contrast is a great metaphor for THE BIRTHDAY MASSACRE show as well. The tender quite a female vocal of Chibi pierces the tight heavy texture, created by two guitars, bass, keyboard and drums. Chibi's all sweet in little black dress, as dances cute as gothic Lolita and breaks all the possible limits of your imagination with her lyrics.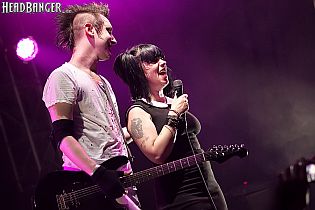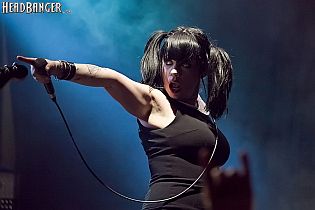 The public was a bit down because of the weather and really stuffy hot unbearable air in the club, but still celebrated the show full of enthusiasm. The black-violet parade was quite a bright break in the middle of the workweek. It helped to shake off all of the routine troubles away and with light smoke of the show in the hair come back to work the next day.

Setlist
01. Down
02. Control
03. Always
04. Red Stars
05. Video Kid
06. Lovers End
07. Forever
08. Pins And Needles
09. Happy Birthday
10. Alibis
11. Calling
12. In The Dark
13. Sleepwalking
14. Midnight
---
15. Leaving Tonight
16. Blue

Rating
Music: 7
Performance: 7
Sound: 7
Light: 7
Total: 7 / 10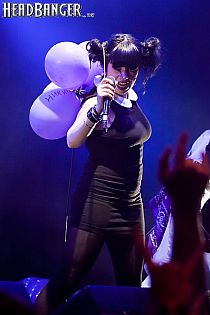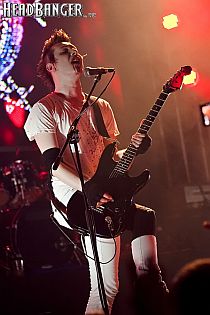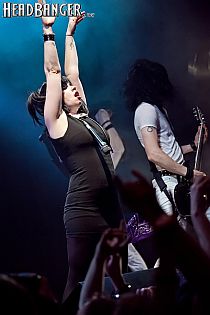 All pictures by Olga "Omena" Dendymarchenko (Headbanger.ru)



See also (all categories):