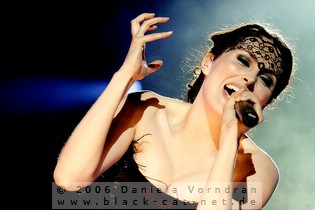 Airport Drispenstedt, Hildesheim, Germany
12th – 13th August 2006
M'era Luna Day 2: Mona Mur feat St. Claire, Solitary Experiments, Elane, XPQ-21, Clan of Xymox, Soman, Epica, Spetsnaz, Letzte Instanz, Rotersand, The Birthday Massacre, In strict Confidence, Apoptygma Berzerk, Terminal Choice, Ministry, De/Vision, In Extremo, ASP, Within Temptation

The second festival day presented a perfect weather. After the night in the hotel – yeah, I guess we're too old for camping – we showed up at the festival area just about 20 minutes before the first band entered the stage. That meant just enough time to have a short chat with some friends and some breakfast. While the first festival day was the day of the electro heroes on the main stage, the second day belonged more to the gothic, metal and medieval genre. Besides the main stage, the hanger was in the hand of all the electro freaks who had their dance party there which just started with 'Solitary Experiments' and showed a quite full hangar at the very beginning of the day. http://www.meraluna.de/ 



Mona Mur feat. St. Claire – Mainstage [Karolina Moszkowicz]

Mona Mur started her artistic activity in 1982. Through the years, she devoted herself to various aspects of creative process: starting from  'Mona Mur & die Mieter' her first music project, through the co-operation with the musicians of 'Einstürzende Neubauten' and 'Warsaw Philharmonic Orchestra', to work with St. Claire she's been gradually enriching her music and lyrics. Her recent publishing is entitled 'Into Your Eye' and it offers a wide range of music genres  punk wave or  new dark wave. http://www.monamur.net/ / http://www.myspace.com/monamur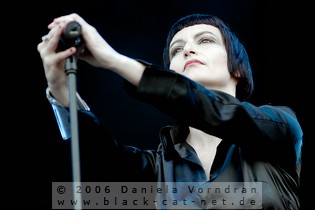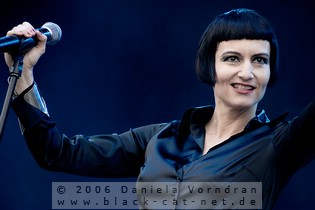 Music
'Mona Mur feat.  St. Claire' that was what we had heard first before the project that began Sunday round of Festival appeared on the stage bathed in the morning sun. Christian was responsible for the instrumental part of the show while Mona Mur, the vocalist,  fed us with her marvellous voice. As far as their music is concerned it was a combination of fast and slow pieces of almost biblical (mythological ?) lyrics. I must admit it was a very interesting concert that encouraged me to learn a bit more about the music of the project. During the show ( quite a short one) we could hear the following songs:  'Return', 'Word', 'Eden' ( to be found on the compilation 'Into Your Eye' (Darkdimensions)) as well as 'Lucifer' and 'Wish' being brand new pieces that are unreleased yet.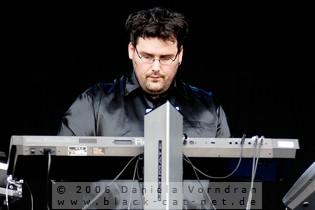 Performance
Mona is actually a very intriguing person herself: emanating with mystery and a bit of threat even - at least that was my impression. Anyway, the lady of 'Paris' style and chic and deep, sensual, hypnotic voice and a man wreathing her (and us of course:) in deep, moving music was a good begging.

Setlist
01. Return
02. Word
03. Eden
04. Wish
05. Luzifer

Rating
Music 8
Performance 7
Light (daylight)
Sound 6
Total 7 (7.3)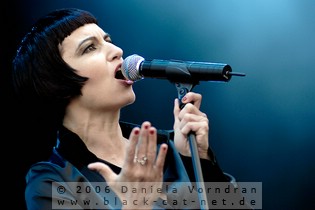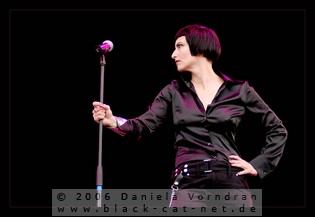 Solitary Experiments – Hangar [Karolina Moszkowicz]

The band was formed in 1992 Germany. Their artistic output is collected on the following albums: 'Final approach', 'Paradox', 'Paradox Box', 'Final Assault', 'Advance into Unknown', 'Cause and Effect', 'Mind Over Matter'. The music they play is a combination of electro and EBM. Members: Michael Thielemann (sampling, programming, engineering, recording), Dennis Schober (lyrics, vocals, effects, performance) and Steve Graeber (programming, sampling). http://www.solitaryexperiments.de/ / http://www.myspace.com/solitaryexperiments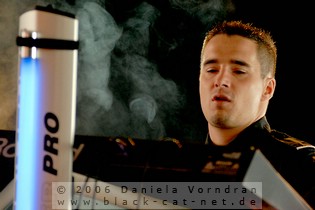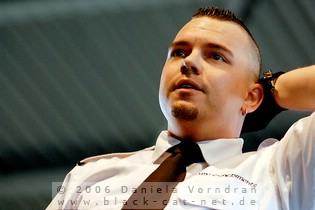 Music
'Solitary Experiments', one of my favourite bands of the festival, gave an extremely short concert. I believe it lasted for 20 minutes only, but even though it was so minute it left me with a very positive impression. The trio played very dynamic, danceable and energetic pieces; their output is basically full of dance floor fillers and the tracks featuring monumental moments like 'Watching over you' (my personal favourite of the show), very 'VNV Nation'-like.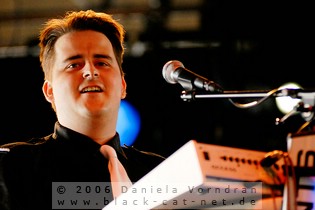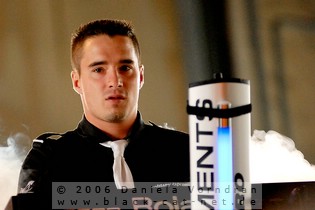 Performance
The performance, as it happens most often, was centred around the vocalist Dennis Schober, who was dancing and running all over the stage, encouraging the audience to join him. Most of the people around me were clapping their hands and singing the lyrics; they all seemed woken up, though the hour was rather early. ;) Though the number of songs was definitely not enough to satisfy most devoted fans, I had a nice time anyway.

Setlist
01. Delight
02. Watching Over You
03. Miracle
04. Still Alive
05. Pale Candle Light

Rating
Music 8
Performance 7
Light (daylight)
Sound 7
Total 7 (7.4)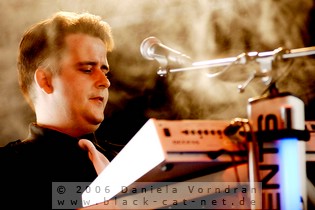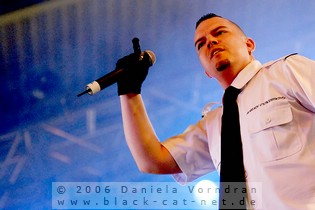 Elane – Mainstage [Carsten Leopold]

'Elane' is an dark-folk band from Germany and consists of Joran Elane (vocals), Skaldir (guitar, vocals), Nico (Keyboards), Katrin (violin, viola, vocals) and Simon (violin, clarinet). They have their roots in the deep forests of Sauerland ("The Sour Lands") - Joran, Katrin, Skaldir, Nico and Simon come from the outermost regions of Germany. Almost easily the new star on the alternative music sky manages to take you into another world. 'Elane's' music somehow sounds new but also very familiar at the same time. It has a special attraction to you that you cannot resist. The second album will be released in September 2006 and is called 'Lore of Nén'. http://www.elane.org/ / http://www.myspace.com/elanemusic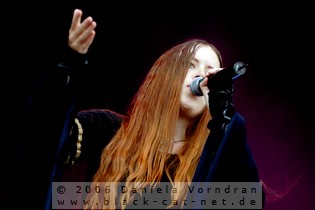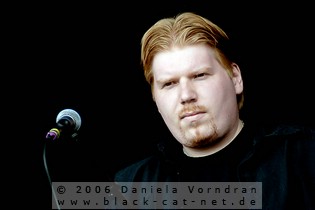 Music
The show of 'Elane' was a nice surprise for me, I didn't know them before. It was very impressive when the very melodic voice of Joran rose over the sounds of violin and other instruments. The set included some older songs, a cover version of 'Moonlight Shadow' and the new song 'On and On' from the upcoming album 'Lore of Nén'.

Performance
It was a very soulful performance and the voice of Joran sometimes sounded like an elf. After the second song the band requested a moment of silence to commemorate Sabine the dead singer of 'Elis'. Following they played 'Moonlight Shadow', a nice cover version of the famous song by 'Mike Oldfield' - it was the first time ever that 'Elane' played this song live.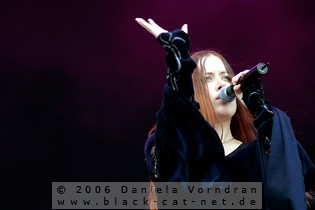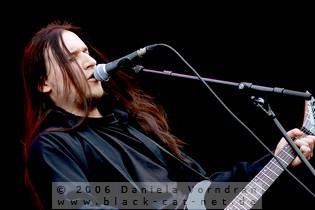 Setlist
01. The night I left
02. Trace of the Flames
03. (words according Elis) - Moonlight Shadow
04. On and On
05. Crystal clear water
06. Love can't wait

Rating
Music 9
Performance 8
Light (daylight)
Sound 8
Total 8 (8.47)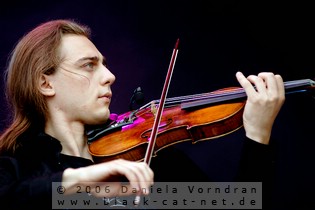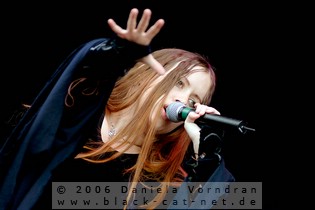 XPQ-21 – Hangar [Niclas Sandén]

At 12.05 it was time for 'XPQ-21' to enter the Hangar stage. This German / Swedish / Italian electro / industrial / punk group released their first album in 1999. Now with a brand new album, 'Alive', in the baggage they are back. They have been compared both to 'Front 242' and 'The Prodigy' to 'Leaether Strip' and 'Hocico'. And both see them and listen to them you will see that. I can't set the finger on what I like about 'XPQ-21' but something is it. http://www.xpq-21.net/ / http://www.myspace.com/xpq21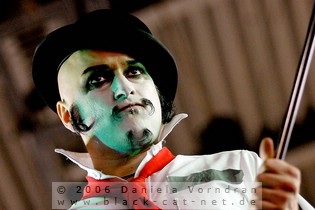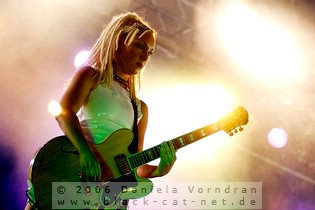 Music
Musically 'XPQ-21' makes it very good. Though I don't understand them all the time but they do it really good. Sometimes it sounds much alike everything; it's hard to separate one song from another. Though some of the tracks are really pointing out like 'Beautiful' and 'Dead Body'. Unfortunately playing in the Hangar at M'era Luna doesn't make any band justice.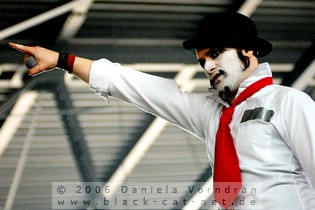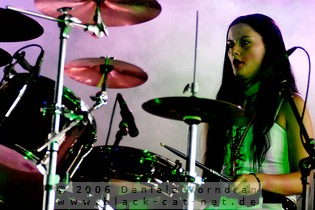 Performance
First of all, the singer Jeyênne, is one of a kind. With his white trousers and black and red stripes socks he is jumping round and round on the stage like a madman. As I said earlier the music is average but in the combination of the stage show this was really good. But that's the point to go to concerts. One other profit to see 'XPQ-21' is Annelie (Cat Rapes Dog). Annelie is always good looking on stage. Unfortunately something went wrong with the guitar and she had to go off the stage for a while.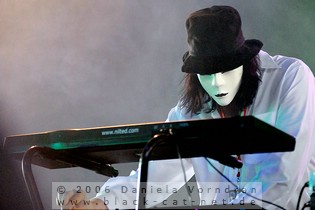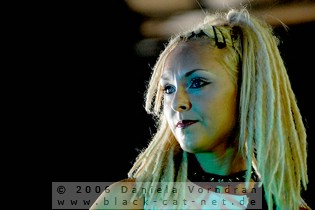 Setlist
01. Gork tut
02. Rockin´ Silver Knight
03. Beautiful
04. A Gothic Novel (Body)
05. Jesus Was Gay
06. Dead Body
07. White And Alive

Rating
Music 6
Performance 9
Light  (daylight)
Sound 6
Total 7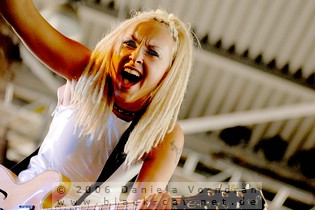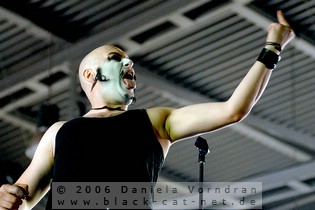 Clan of Xymox – Mainstage [Carsten Leopold]

Since their formation in their native Holland back in 1984, their music has been constantly changing, always challenging and often quite breathtaking. Some of us have always been of the opinion that 'Clan of Xymox' are something special. A band fired by electronic music but determined, always, to make something that is very much their own. They are unique. The band members on stage are Ronny Moorings, Mojca Zugna, Mario Usai, Agnes Jasper & Denise Dijkstra. Denise was replaced this time by Yvonne from the German band 'Age of heaven'. http://www.clanofxymox.com/ / http://www.clan-of-xymox-fanbase.de/ / http://www.myspace.com/clanofxymox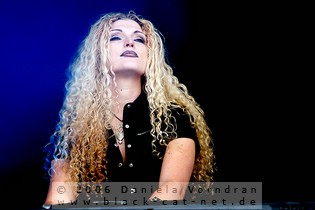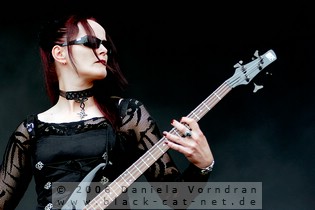 Music
The set started with 'Farewell', followed by two songs taken from the current album. After it, the show went on with classics 'Jasmine and Rose', 'There's no Tomorrow' and 'A Day'. Altogether, it was a good compilation of danceable electro-sound presented early in the afternoon. Sadly, the show finished just after warming up the audience.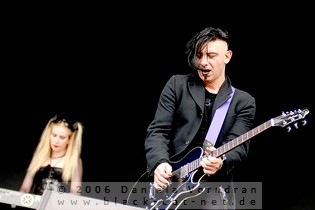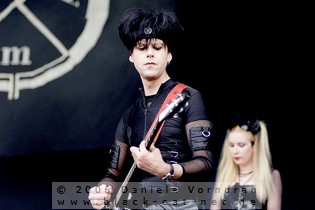 Performance
"Thanks for waking up so early", this were the words by Ronny to welcome the audience at 20 past 12. The girls and boys on stage had never problems to fascinate the audience with their danceable sound and dedicated performance. Above all, the band members look good, both the women and the men, that's why all in the audience had something to look at. The both keyboard-players had a lot of fun during the gig and sometimes Agnes played a fictive guitar additional to her keyboard. The microphone didn't work for a few seconds at the last song, but it didn't matter at all.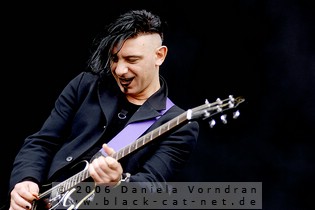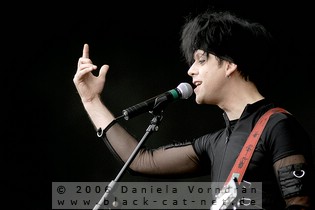 Setlist
01. Intro
02. Farewell
03. Weak In My Knees
04. Calling You Out
05. Jasmine And Rose
06. There's No Tomorrow
07. A Day

Rating
Music 8
Performance 9
Light (daylight)
Sound 9
Total 9 (8.53)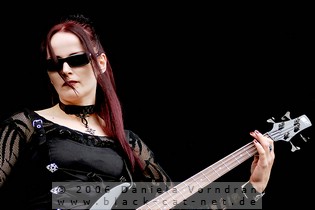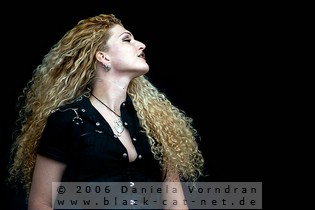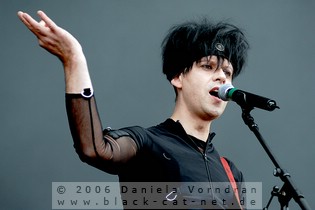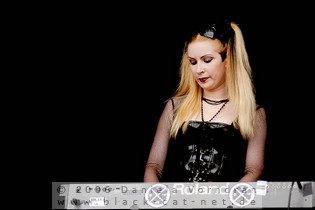 Soman – Hangar [Niclas Sandén]

When I saw that 'Soman' should perform at M'era Luna I got a bit confused. Not that I don't like 'Soman' but I wonder what he was doing there. But in fact, 'Soman' is one of the hottest artists on the alternative stage at the moment. With two album releases he entered the stage on a warm Sunday in August in Hildesheim. http://www.soman.de/ / http://www.myspace.com/soman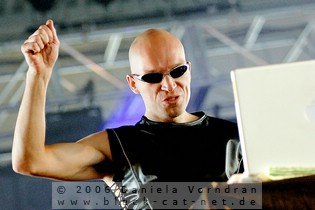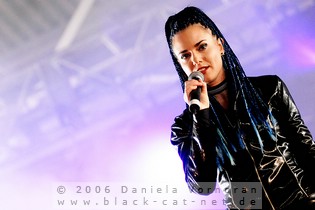 Music
'Soman' is a great artist and really good in making danceable music. But I believe that it fits more to the dance floors then to a whole concert. In fact the music was really good. Sometimes the bass was so high that my trousers moved though I stood still and really felt it in your chest.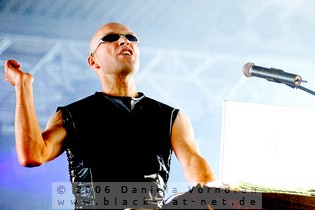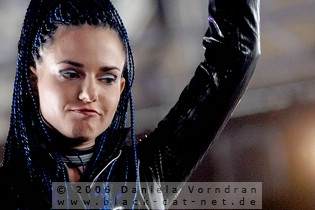 Performance
To be honest this was more like a DJ act then a concert. What else to say about a guy standing behind his laptop with two good-looking girls on each side? This was a very simple show, standing in the middle of the stage waving with his arms and dancing. Not much more to do. This kind of music doesn't make justice in daylight. This is club music when it is best but then I want to see it and listen to it at a club filled with smoke and good lighting. Then I believe I really would have enjoyed it.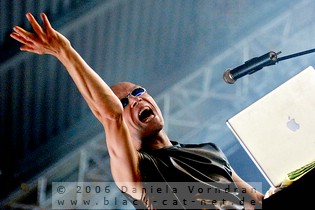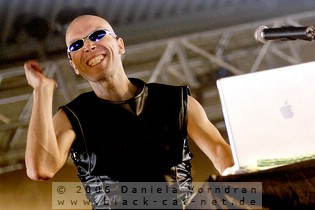 Setlist
01. Tears
02. Pusher US Remix
03. Eye to eye
04. Divine
05. Twister
06. Traitor Red Car Remix
07. Revenge

Rating
Music 8
Performance 3
Light (daylight)
Sound 5
Total 6 (5.7)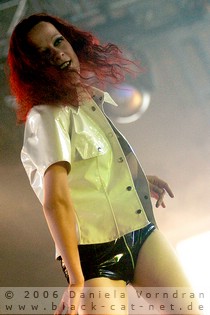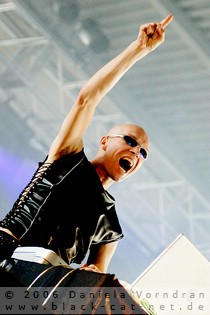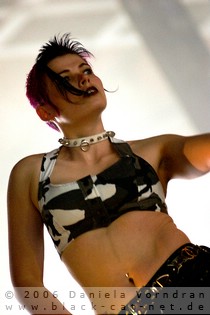 Epica – Mainstage [Carsten Leopold / Daniela Vorndran]

'Epica' is a Dutch symphonic metal band which puts emphasis on the use of epic elements, and death grunts, also performing some song passages in Latin. The band was founded by guitarist and vocalist Mark Jansen subsequent to his departure from 'After Forever'. 'Epica' are: Simone Simons (vocals), Mark Jansen (guitars), Ad Sluijter (guitars), Jeroen Simons (drums), Coen Janssen (synths and piano) and Yves Huts (bass guitar). http://www.epica.nl/ / http://www.myspace.com/epicaband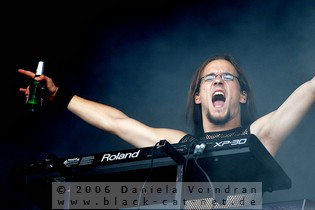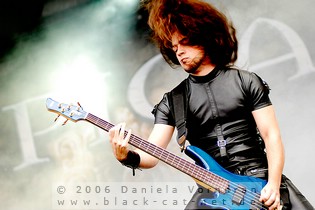 Music
'Epica' presented their hard – but every time melodic – gothic metal live a little bit harder as known from the studio releases. Classic meets metal, descant meets hard guitar riffs. Simone's voice was as clear as on the record. Mark was the vocalic counter part with some deeper grunts every now and then.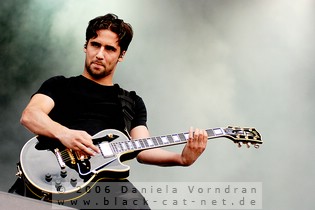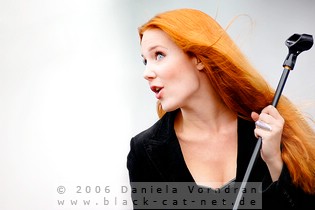 Performance
During the orchestral intro, the band members entered the stage separately one after the other. Simone entered the stage after a short time when the others only were playing an instrumental part. It was the second time that 'Epica' played at M'era Luna and everybody in the crowd could feel the power and verve of the head banging musicians. Anyone was posing on stage for the audience and Simone of course was the eye catcher for males and females in her tight black pants, her corsage and the fire-red hair which she was shaking for every song.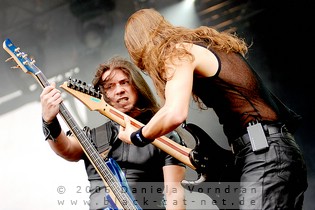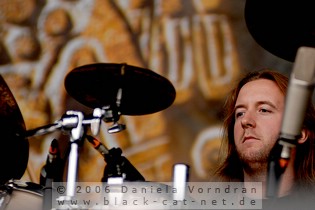 Setlist
01. Hunab K'u
02. Mother of Light
03. Cry for the Moon
04. Sensorium
05. Quietus
06. The Last Crusade
07. Consign to Oblivion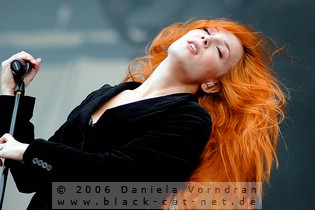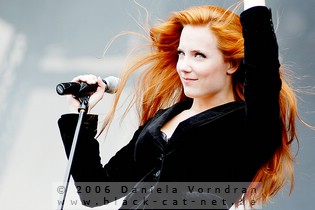 Rating
Music 8
Performance 8
Light (daylight)
Sound 8
Total 8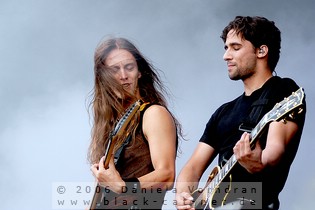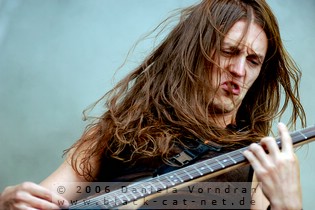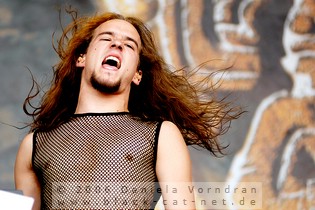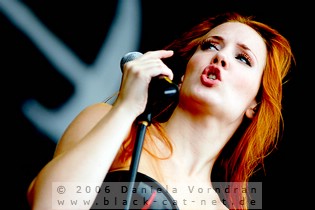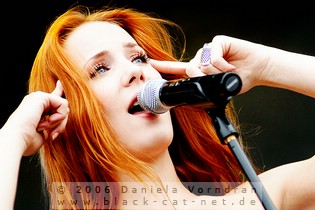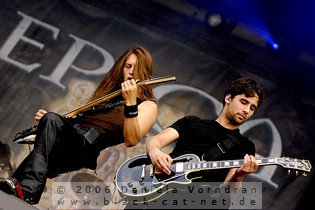 Spetsnaz – Hangar [Niclas Sandén]

Both Pontus Ståhlberg (singer) and Stefan Nilsson (drums) are EBM lovers who believed that there was something missing on the EBM scene. And in 2001 they formed 'Spetsnaz' in Örebro / Sweden. With powerful vocals and frenetic bass lines and EBM rhythmic assault, 'Spetsnaz' have the aggression and are the missing link between the heavy scene and the pop scene (as they say themselves). The Swedish based duo's first album 'Grand design' was released in April 2003, holding twelve tracks of nothing but fresh old-school EBM. The second full-length album 'Totalitär' was released in February 2006 and was a great "continue" of the EBM journey. To put in the CV is that the rumour says that 'Nitzer Ebb' made a comeback because they don't like that 'Spetsnaz' are stealing "their" sound – but as I said it's just a rumour. http://www.spetsnaz.se/ / http://www.myspace.com/spetsnazebm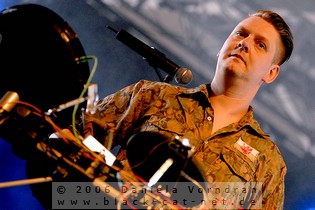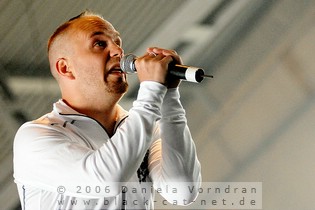 Music
The music of 'Spetsnaz' is always aggressive and powerful sound and lyrics - and no exception this time. With hard pumping energetic EBM coming out from the loudspeakers I had a really hard time to stand still. With tunes like 'To the core', 'Apathy' and Stefan's ego trip 'Perfect body' started of a orgy of good old-school EBM and I just enjoyed it for 40 min. Pontus has a really special voice that fits as a glove to this kind of music. I believe that this was one of the best shows of 'Spetsnaz'. Maybe the best concert on the whole M'era Luna festival?!? And for once I really think that the sound was really good at the Hangar.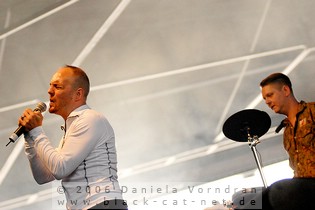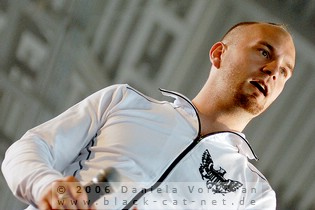 Performance
The band's on-stage presence is as intense and energetic as the music. With Pontus moving all over the stage like a madman, screaming and shouting and Stefan aggressively beating his drum pads they have that gift to make the audience go crazy and jumping to the music. Actually that is all they do, that and speaking to the audience once and a while, but that doesn't matter because they do it so good. I saw 'Spetsnaz' in March earlier in Sweden and it was a great difference to see them on stage in front of just 250 people compared to some thousands in Hildesheim. It's getting more intense with a smaller audience. At the end of the concert, while Pontus was on his way out, Stefan made a thing that I never have seen on a concert – he made a stage dive and believe me, it was really a sight.

Rating
Music 9
Performance 8
Light 6
Sound 7
Total 8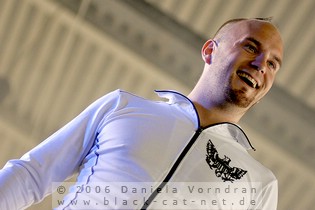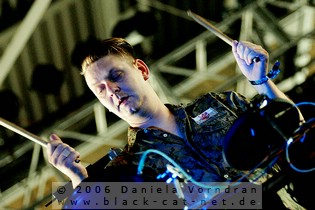 Letzte Instanz – Mainstage [Monica Duffels]

'Letzte Instanz' is a German rock band, formed in 1996 in the German town Dresden. This band distinguishes itself from other bands by using cello and violin. In the beginning their music was compared with medieval / metal bands like 'Tanzwut' and 'Subway To Sally'. Throughout the years they created their own sound and the line-up changed frequently. In 2004 even three members including the singer left the band. However, 'Letzte Instanz' managed to make a strong come-back and in 2005 they started their first shows with the new line-up. In 2006 they brought out their new CD 'Ins Licht'. The current band members are: Holly (vocals), Holly D. (guitar, vocals, programming), Oli (guitar), Michael Ende (bass), Benni Cellini (cello), M. Stolz (violin, programming) and Specki T.D. (drums). http://www.letzte-instanz.de/ / http://www.myspace.com/letzteinstanz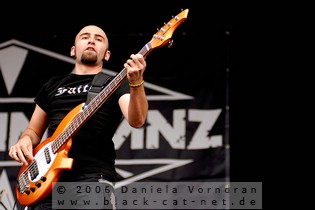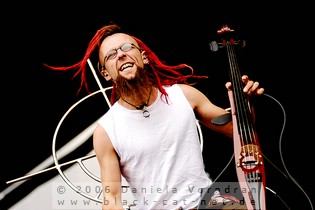 Music
This band stood on the main stage today and really knew how to rock it. In the beginning the speakers made a cracking sound, as if some cables weren't adjusted properly. But soon the sound got better and the audience was served with a nice blend of metal, rock, and pop larded with folk and mediaeval elements provided by cello and violin. Sometimes the sound of the classical instruments fell away due to the heavy wall of sound, produced by the electrical guitars. In the more quiet parts the violin and cello could be heard properly. At times Holly D. put his guitar aside to do some vocal parts, together with singer Holly. Some songs contained female opera vocals, which were produced on a playback.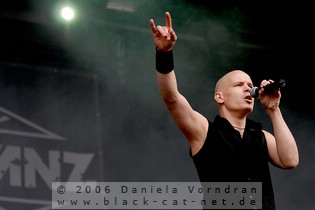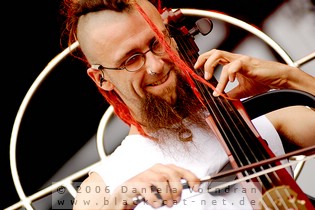 Performance
'Letzte Instanz' gave a very enthusiastic performance. After a short intro, on which the stage was covered with smoke, the band members came up one by one. The lead singer Holly welcomed the audience with a bow. The band members were visibly having a good time. The greatest eye catcher was Benni. When he was playing his cello he looked like a madman, banging his head with his red dreadlocks moving around wildly. M. Stolz also showed himself as a man full of energy, constantly jumping around with his violin. Sometimes a few filaments of the fiddlestick broke, but that didn't affect the music. One song on the setlist was completely instrumental on which Benni, M. Stolz and Michael, who also got his "one minute of fame", came to the front to show their abilities to the audience. It was clear that the line-up change hadn't affected the band's ability to put on a great live show. In fact, 'Letzte Instanz' is now back with renewed energy and inspiration.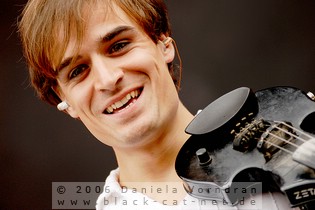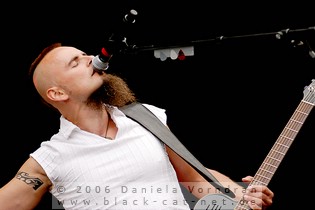 Setlist
01. Intro
02. Unerreicht
03. Sonne
04. Ohne Dich
05. Tanz
06. Das schönste Lied der Welt
07. Jeden Morgen
08. Mein Todestag
09. Sprachlos
10. Kalter Glanz
11. Das Stimmlein
12. Rapunzel

Rating
Music 8
Performance 8
Light (daylight)
Sound 8
Total 8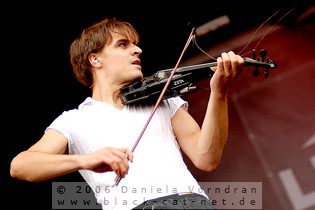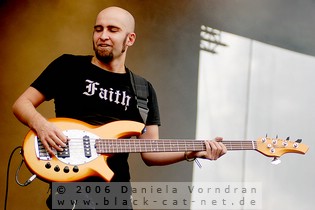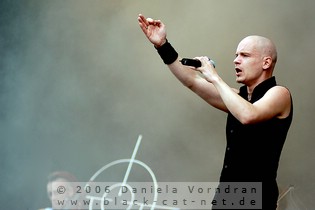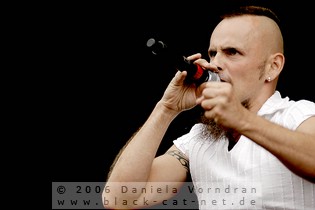 Rotersand – Hangar [Karolina Moszkowicz]

'Rotersand' was formed by Rasc and Gun in September 2002; later in 2002 Krischan E. Wesenberg joined the band. Their music could be described as a danceable knock down that leaves no fan of fast beat indifferent. Their discography includes 'merging oceans', 'truth is fanatic', 'electronic world transmission', 'social distortion', 'exterminate annihilate destroy', 'welcome to goodbye' and 'dare to live'. http://www.rotersand.net/ / http://www.myspace.com/rotersand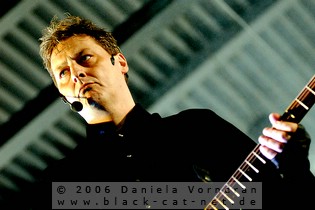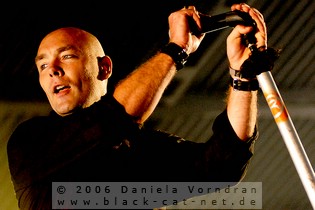 Music
On the small stage of  M'era Luna 2006, the band 'Rotersand' presented all what they're famous for: brilliant, energetic tracks - 'Truth is fanatic', 'Almost violent', 'Merging oceans', 'Exterminate annihilate destroy' - , charisma and wild ways of the vocalist and the music of perfect quality.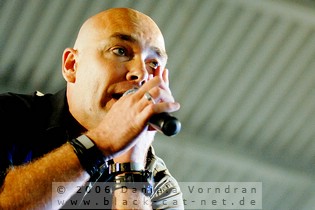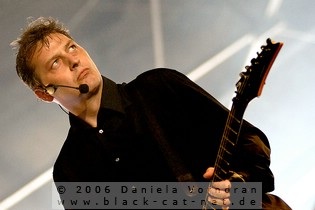 Performance
Apart from the usual "exchange of positive energy" between Rasc and the audience,  Mark Jackson of 'VNV Nation' appeared on the stage and evoked great enthusiasm among the fans. It looked really fine when the said Jackson and Rasc were hitting the drums - it was a nice 'treat' of the concert. The applause was enormous and then Rasc said to Jackson "that's all for you". Well, that was a splendid idea and if the plan of the band was to freak the audience out, it worked right, alright! Personally, my favourite moment during the concerts of 'Rotersand' was the one when they performed 'Exterminate, Annihilate, Destroy' and then one can see the sea of fists stretched to the air and the people scanning, singing, screaming and dancing. That's that, I liked it. ;)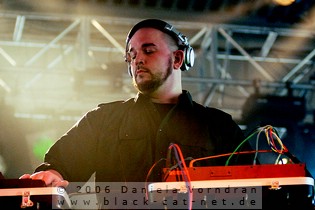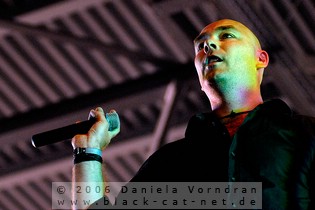 Setlist
01. Truth is fanatic
02. Almost violent
03. Last ship
04. Merging oceans
05. Storm
06. Exterminate annihilate destroy
07. Undone

Rating
Music 8
Performance 8
Light 7
Sound 8
Total 8 (7.9)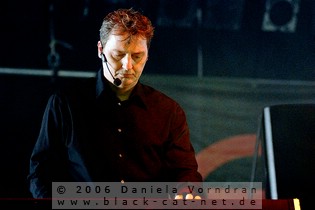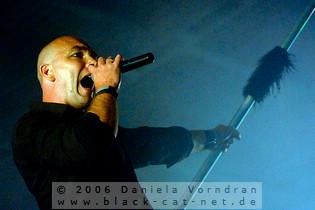 The Birthday Massacre – Mainstage [Niclas Sandén]

When I saw that I'm the one to do the review of 'The Birthday Massacre' I thought that "Ok, I will try to make a fair review anyway". 'The Birthday Massacre' comes from Toronto, Canada. The band formed in 2000 is combining various musical and artistic styles. Until today they have released two albums 'Nothing and Nowhere' and 'Violet'. The band's line-up consists of vocalist Chibi, guitarists Mike Falcore and Rainbow, and the keyboardist O-en, bassist Aslan, and finally drummer Rhim. During the years TBM have made a great deal of concerts both in Canada and USA but also in Europe. This was my first time. http://www.thebirthdaymassacre.com/ / http://www.myspace.com/thebirthdaymassacre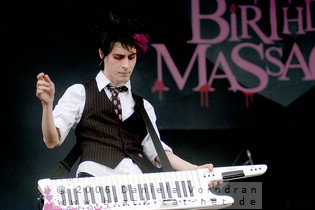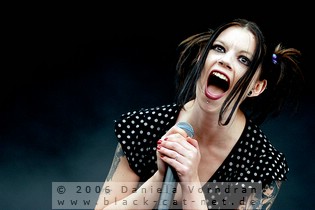 Music
Earlier this year I got their latest album 'Violet'. When I have listened to the first song on the album I already knew then what to think about them. I wasn't surprised that I thought the same when I for the first (and probably my last) time saw them live on stage. The music doesn't divide that much on stage comparing to their albums. Everything goes to slow and it is so melancholy and slow. No, this isn't good – though I don't believe that the rest of the 20.000 devoted listeners would agree.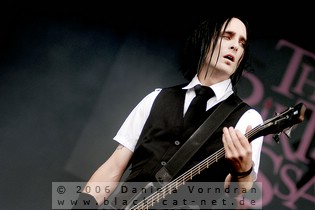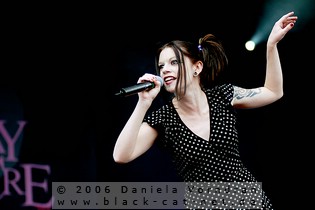 Performance
One profit about TBM is Chibi - a small girl standing in the front of the stage looking good. But that's about it. Like the music everything is so melancholy, from their appearance to the way they move.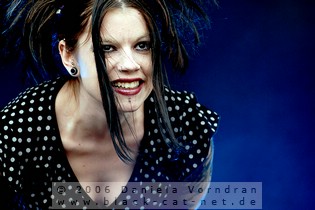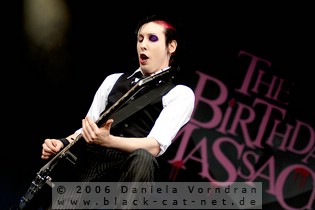 Rating
Music 3
Performance 3
Light (daylight)
Sound 7
Total 4 (3.7)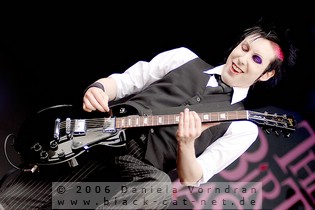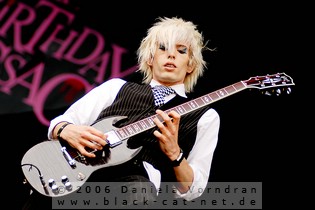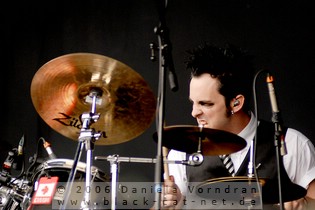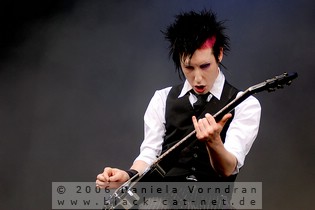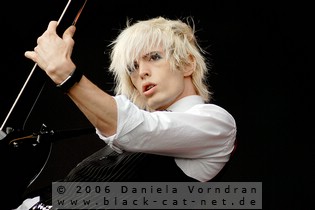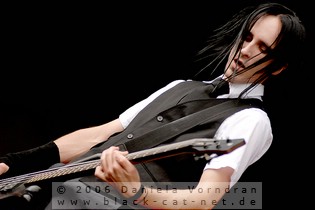 In Strict Confidence – Hangar [Niclas Sandén]

I have to confess that I haven't really liked 'In Strict Confidence' until now with the release of 'Exile paradise'. With a brand new and strong album I was really looking forward to see them. The first release from this German band was already in the early 90's with a MC 'Sound attack'. After this, they have released six albums and a number of singles. With Dennis Ostermann in the lead they entered the stage. http://www.instrictconfidence.com/ / http://www.myspace.com/instrictconfidence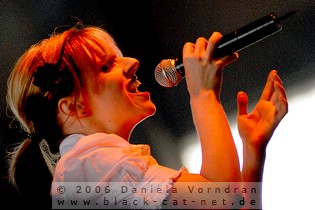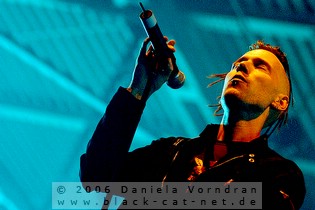 Music
Starting of strong with 'Promised land' from their latest album 'Exile paradise' they made a very strong start of the show. ISC were playing a mix of Synth, Electronica and Goth. The later is to be noted in the middle of the concert with 'Seven lies'. Ok, only this one slow track didn't make the concert bad because they have a great line up of great songs. Take 'Zauberschloss' and 'Kiss your shadow' which are in my opinion two of their greatest tracks ever and that Dennis Ostermann's voice is really good live makes this a pleasant 45 minutes ride. And for once the technicians made a good work with the sound in the Hangar.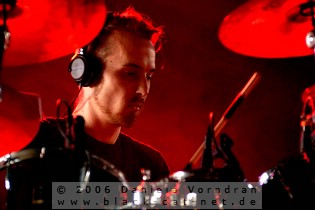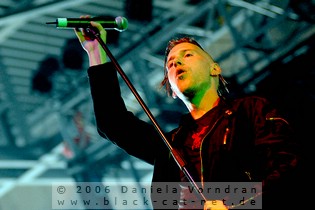 Performance
Quite dull performance actually, but the main attraction was that the two singers had great chemistry between each other - with her charisma, Antje Schulz, stole most of the show. This was also to be seen at their rap "against" each other. During the concert you occasionally saw stage workers running around on the stage doing things and didn't mind if they were to be seen. That is really something for the arrangers too.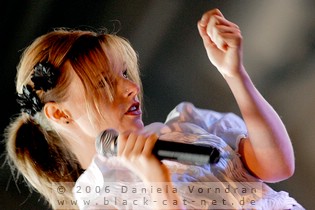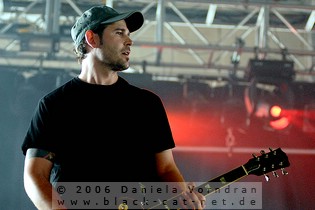 Setlist
01. Promised Land (club mix)
02. Closing Eyes
03. Fading Light
04. Seven Lives
05. Zauberschloss (short version)
06. Kiss your shadow (extended version)
07. Herzattacke (club mix)
08. Engelsstaub (short version)

Rating
Music 8
Performance 7
Light 6
Sound 8
Total 7 (7.3)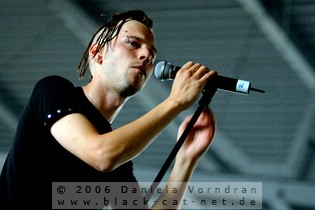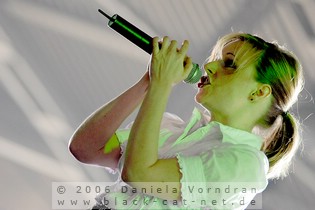 Apoptygma Berzerk – Mainstage [Niclas Sandén]

APB was formed in 1991 by Stephan Groth. 'Apoptygma Berzerk' has always been a band filled with energy and joy on the stage. These Norwegians have always been dependable for timeless beautiful, empathetic and danceable electronic music. They have continually been consistent and innovative in their treatment of the elements of the electronic body music and the techno movement. 'Apoptygma Berzerk' is constantly creating a new and unique mixture of new refreshed music. Despite this, I believe that APB is one of the most overrated bands in the electronic music category. But in fact, they made a good show. http://www.apoptygmaberzerk.de/ / http://www.myspace.com/apoptygma / http://www.myspace.com/apoptygmaberzerk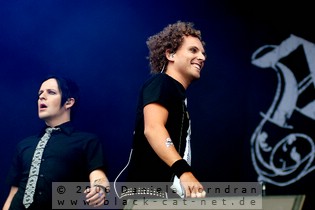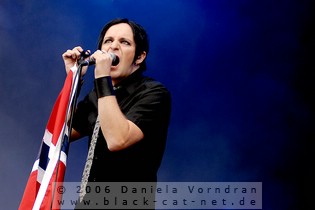 Music
I don't like 'Apoptygma Berzerk' and the music they make. But after this show I might reconsider my thoughts about them. The music is more rock then electronic if you listen to the latest album. This was also to be heard during the live shows. But they do know what they are doing – they have done this for a long time now. As I said earlier I don't like APB nowadays but finishing with first 'Until the end of the world' and then 'Non stop violence' made it worth looking and listening to.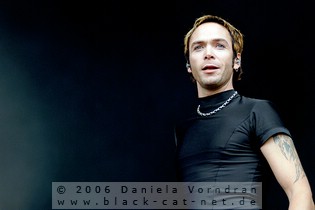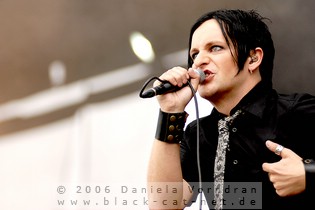 Performance
These Norwegian guys really know how to get 15.000 people jump tactfully to their music. And with a Norwegian flag on stage they really rocked on – literarily. Stephan Groth has a tremendous gift to really be on stage – he got that presence that few artists have today.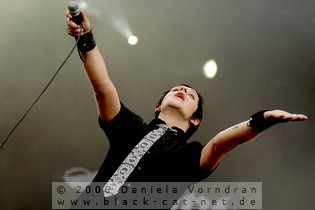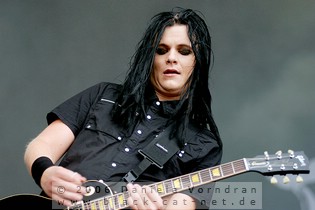 Setlist
01. M'era Luna - Intro
02. Starsign
03. You keep me hanging on
04. Burning Heretic
05. Deep Red
06. Kathy's Song
07. Shine On
08. Unicorn
09. Until the End of the World
10. Love Never Dies
11. Non Stop Violence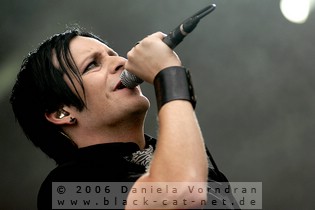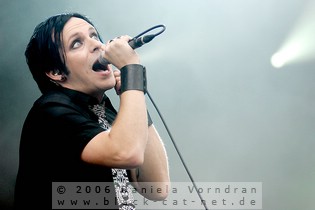 Rating
Music 7
Performance 8
Light (daylight)
Sound 8
Total 8 (7.6)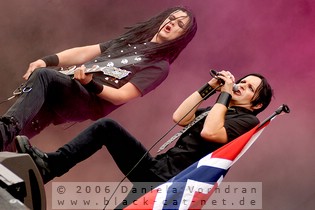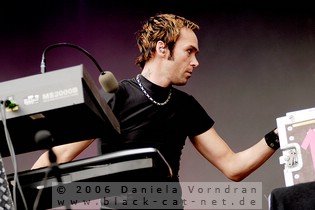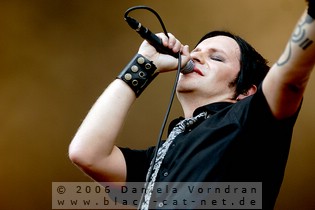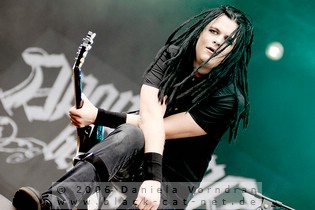 Terminal Choice – Hangar [Carsten Leopold]

The German industrial band 'Terminal Choice' was formed by singer Chris Pohl in 1993 (Other projects are 'Blutengel', 'Tumor' and 'Pain of Progress'. Chris is also owner of the Fear Section label.). Their lyrics are divided fairly equally between German and English. The sound was originally primarily doomy electronic industrial with hard EBM rhythms, but with the 1998 album 'Navigator', guitars were added which gave the band a harder rock edge. 'Terminal Choice' are Chris Pohl (programming, vocals, lyrics), Jens Gärtner (loops, sound design), Gordon Mocznay (bass, guitars) and Louis Manke (programming, guitars, second voice). http://www.blutengel.de/tccontent/homettc.htm / http://www.myspace.com/terminalchoicemusic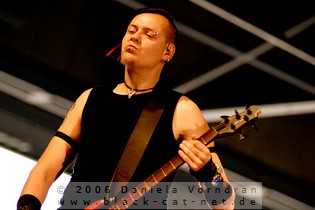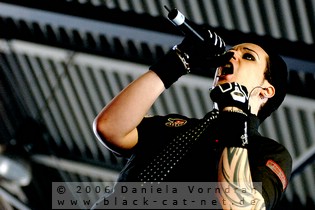 Music
Gothic-electro with memorable tunes met a hard guitar inferno – 'Terminal Choice' presented mostly stuff from the new album 'New born enemies' which was released three weeks ago. Just a few hits like 'Collective Suicide' and 'Injustice' could excite the crowd. A great part of the set was yet unknown outside the hardcore fans.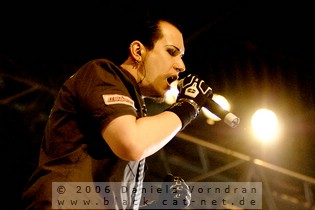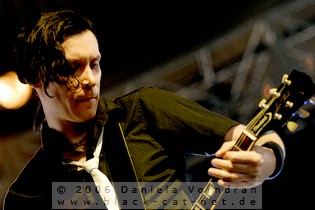 Performance
In difference to 'Blutengel' - the other project of Chris Pohl which we could watch at Saturday on the main stage - this time real musicians played on stage. But there wasn't much movement on stage and the performance was a little bit static. The drums and the keyboard were arranged higher in the back of stage, in front stood the guitar player and the singer - dressed in black. Some people leaved the Hangar during the gig because the show was not really sweeping.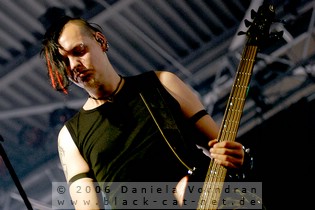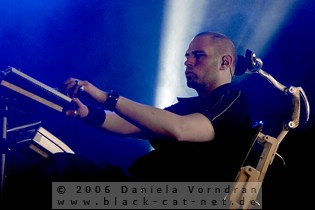 Rating
Music 7
Performance 7
Light 7
Sound 7
Total 7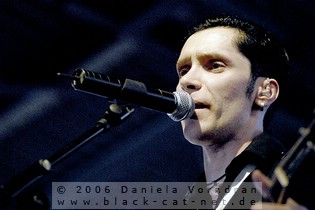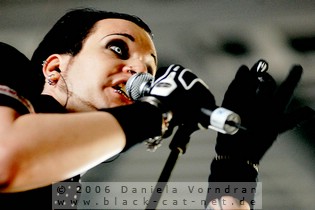 Ministry – Mainstage [Niclas Sandén]

This almost cult classified electronic group with Al Jourgensen in front made an early show at the festival. With cult classic as 'Twich' in the baggage I really was looking forward to see and listen to those guys. 'Ministry's' chief madman Al Jourgensen busting on guitars and drums and with a not that new album they made an early show. With their political music and George Bush critical lyrics they entered the stage. http://www.ministrymusic.org/ / http://www.myspace.com/ministrymusic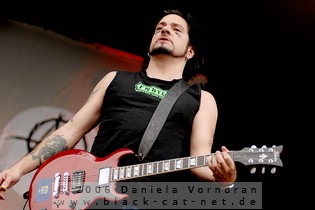 Music
'Ministry' is for me some melodious tunes with a mild voice. This kind of music I like. Not the music I heard at this concert. This was just screaming rock'n'roll with almost no melody at all - a mixture of rock and heavy metal. On top of this, the sound was way too loud. During the concert, or in fact after about 15 seconds, it came up to me: 'Ministry' doesn't sound at all as I remember them to sound. Despite this there were a bunch of people listening to them. If I could have choose I shouldn't have choose this. Why can't they just stick to what they used to do?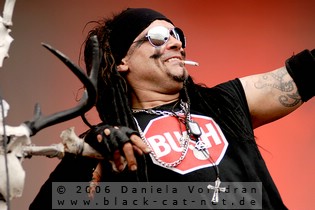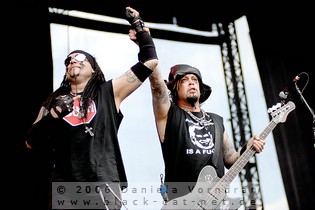 Performance
The performance was quite bored as the music. The singer and front figure, Al Jourgensen, just standing there in front of his skull covered microphone stand at the beginning. After a while he started to move. Due to this the show became better and better, the contact with the audience was getting better too. I wasn't the only one that felt disappointed leaving the concert – I saw many sad faces after the show.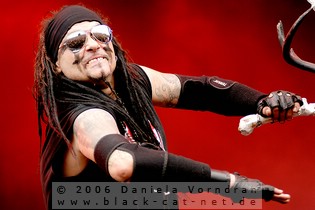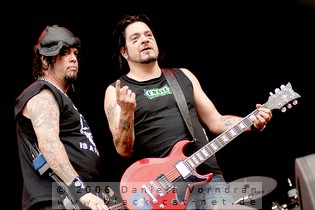 Rating
Music 3
Performance 6
Light (daylight)
Sound 4
Total 4 (4.2)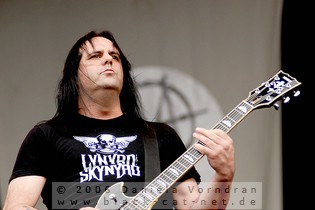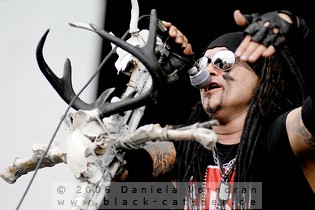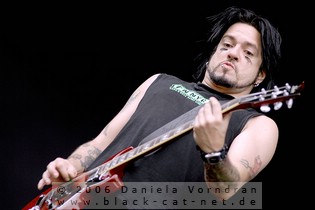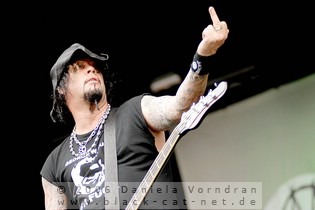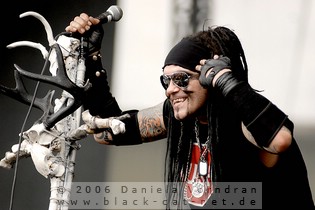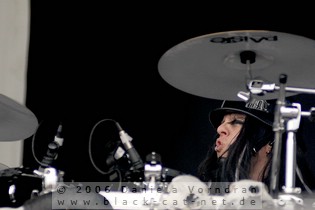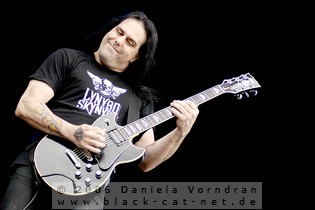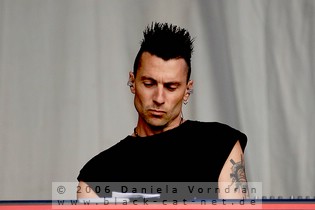 De/Vision – Hangar [Carsten Leopold]

'De/Vision' stem from the Darmstadt area and have been busy playing their predominantly electronic pop music with melodic English vocals since 1988. These professional musicians are 32 and 33 years old, respectively, and have long been considered a quantity to be reckoned with on the German music scene. The current album 'Subkutan' was released in January 2006. Before I went to M'era Luna I was a little bit doubtfully about the 'De/Vision' gig because I've seen them a few weeks ago at the Bochum Total festival and that open air gig was disappointing for me and other people I had spoken too. I hoped that the M'era Luna gig would be better due to the fact that it would be indoor... http://www.devision-music.de/ / http://www.myspace.com/devisionmusic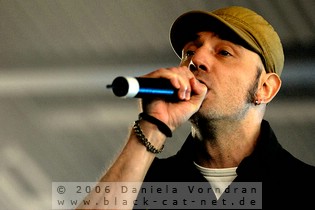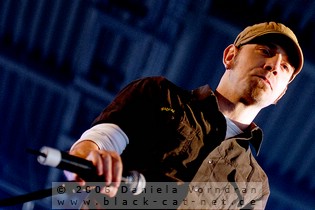 Music
My hope wasn't disappointed, right from the start until to the end, 'De/Vision' bewitched the whole crowd with fresh electronic sounds, rocking elements, fantastic synthesizer-sounds and catchy melodies. After the intro the set started with 'Subtronic' - the opener of the current album. Step by step one ballad followed the other, highlighted by the evergreens 'I Regret', 'Your hands on my skin' and 'Strange affection'. After ten songs the audience just couldn't get enough and the band had come back for an encore.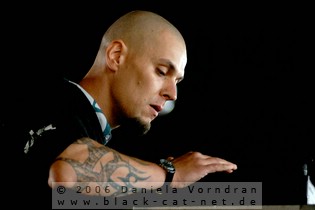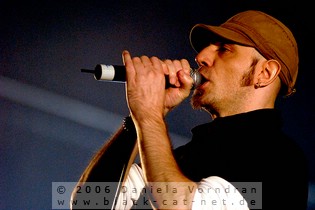 Performance
Definitely, this was one of the better shows of 'De/Vision'. The Hangar was well filled and the audience was fast infected by the soulful performance. Yet at the first songs, the spirit passed over to the audience and they began to dance and sing along. The singer requested clapping hands and he got it. Finally at the song 'Hands on my skin' the whole crowd sang along and nobody in the Hangar could avoid the heebie-jeebies feeling. On stage, 'De/Vision' was supported by the established and well-known live musicians, but as always the eye-catcher on stage was the very expressive singer Steffen with his distinctive dance performance.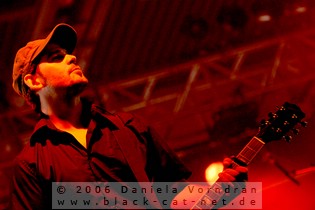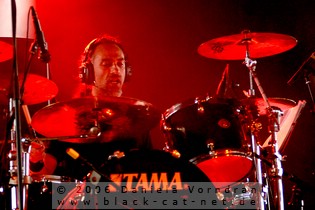 Setlist
01. Frequency (Intro)
02. Subtronic
03. I'm not enough
04. I regret
05. The End
06. My own worst enemy
07. New drug
08. Your hands on my skin
09. Strange affection
10. The days not done
---
11. Still unknown
12. Addict

Rating
Music 9
Performance 9
Light 7
Sound 9
Total 9 (8.7)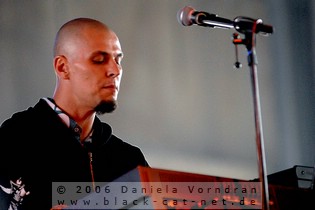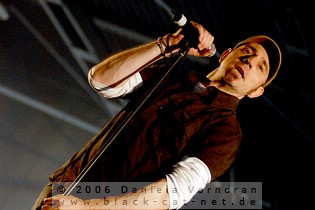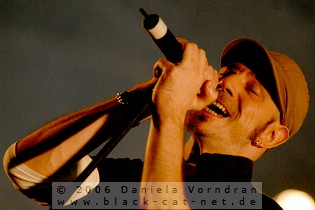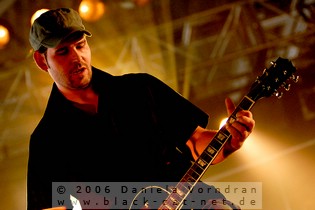 In Extremo – Mainstage [Monica Duffels]

This band blends rock, metal, folk and medieval into a harmonious whole. They make their own versions of traditional folk music in different languages, and also write their own songs in German. 'In Extremo' found its roots in 1995 in Berlin. In March 1997 they played live for the first time on a medieval festival in Leipzig. By then they decided 'In Extremo' was now founded officially. The current band members are: Das Letzte Einhorn (Michael 'Mischa' Robert Rhein - vocals), Dr. Pymonte (André Strugala - bagpipes, harp, shawm), Flex der Biegsame (Marco Ernst-Felix Zorzytzky - bagpipes, shawm), Yellow Pfeiffer (Boris Pfeiffer - bagpipes, shawm, nyckelharp), Der Lange (Sebastian Oliver Lange - guitar), Der Morgenstern (Reiner Morgenroth - drums) and Die Lutter (Kay Lutter - bass). http://www.inextremo.de/ / http://www.myspace.com/inextremoband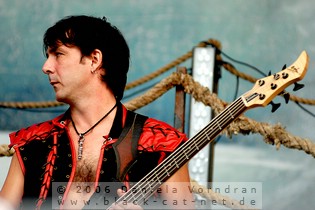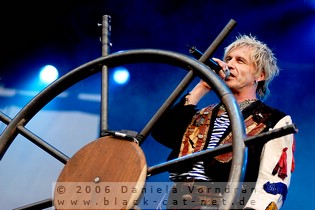 Music
The intro sounded like a wake-up call. A ship's horn was blowing through the speakers followed by screams of sailors: "All hands on deck!" After the words "Land!!" the first, logically chosen, song 'Raue See' (rough sea) started. The band members showed themselves as experienced artists and some of them were capable of playing different instruments. Michael (Das Letzte Einhorn) had a powerful, raw voice, which sounded excellent in combination with the energetic mix of the other instruments, which were adjusted rightly to one another. Die Lutter sometimes came forward to produce some backing vocals. There were nearly no flaws except for Flex's bagpipe. It was slightly out of tune when reaching the higher notes. Not that the enthusiastic audience cared. The large crowd was able to sing along with catchy songs like 'Ave Maria', 'Horizont' and 'Küss Mich'.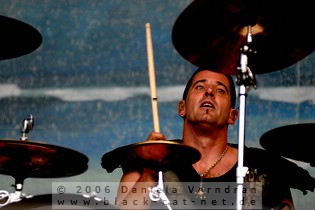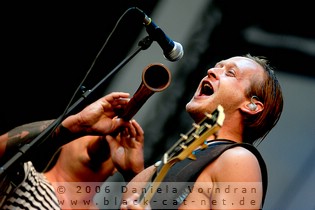 Performance
This band is very well-known for its visual aspects with a lot of pyro-effects on stage. This day, these effects were even more spectacular. The main stage looked like a large, medieval ship with a large steering wheel in the front. During the first song the wheel was turned around and lots of fireworks came out of its ends. During the rest of the show lots of pyro-effects were used and even several spots in the middle of the stage were burning. The band members were just hopping around it, playing their instruments, as if it was just nothing. This really made one get the uncanny feeling it should go wrong some time. It had happened to Micha once before. Micha showed himself as an entertainer with a sense of humour.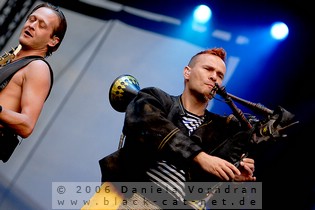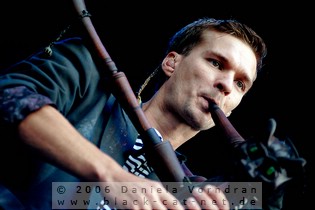 When the photographers had to leave after the first three songs he sounded like he was surprised that they were walking away and said that it wasn't the band's fault. The other band members were also entertaining, making a lot of eye-contact with the audience and the two bagpipers had studied on a small piece of choreography, walking synchronically to each other sometimes. One of the band members was so enthusiastic he accidentally kicked a light beam over the ridge of the stage. It was near to dawn, but still not dark enough for the light effects to be significant. Still they were used the same way like a performance in the dark. During the intro, smoke and blue lights were used to create a situation as if being on the sea and with the words 'Es regnet Blut' (it rains blood) the stage was covered with red lights. When the show reached to an end it felt as if it had taken way too short. What a great performance it was!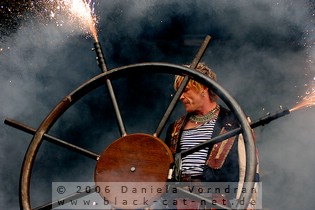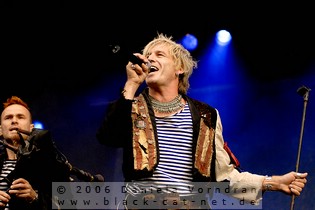 Setlist
01. Raue See
02. Spielmannsfluch
03. Horizont
04. Ave Maria
05. Mein Rasend Herz
06. Küss mich
07. Wessbronner
08. Wind
09. Vollmond
10. Liam
11. Poc Vecem
12. Omnia Sol Temperat
13. Nur ihr allein
14. Erdbeermund

Rating
Music 9
Performance 10
Light 9
Sound 9
Total 9 (9.3)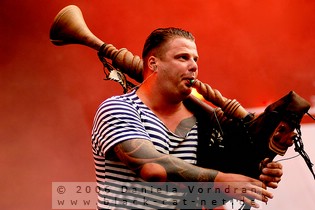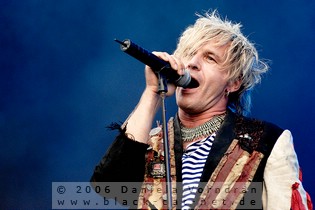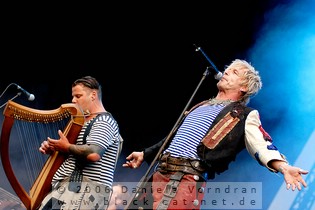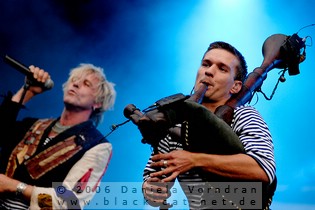 ASP – Hangar [Carsten Leopold]

'ASP' is a German Gothic band from Frankfurt am Main. The band was formed in 1999 and named after its lead singer Asp (short for Alexander Spreng). 'ASP' on stage are Asp (mastermind, songwriter and singer), Matthias Ambré (producer, guitar player, backing vocal), Tossi (bass, backing vocal) and Oliver Himmighoffen (live drummer). ASP already played at M'era Luna, but this time they were arranged as headliner in the Hangar on Sunday and during the break between 'De/Vision' and 'ASP', the bigger part of "electro-fans" left the crowd to make room for the "gothic-fans" - and the fans of the "black butterfly" came bulky. http://www.thetalesofasp.com/ / http://www.myspace.com/thetalesofasp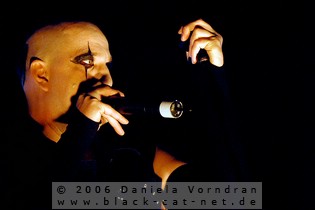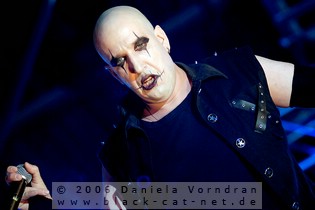 Music
During the intro, the band members entered the stage separately and were received with cheers. The show started with 'Ich bin ein wahrer Satan', followed by 'Besessen'. Finally during 'Sing Child' the whole crowd was jumping, singing and dancing. The set list consisted of only hits and the vibes persisted until the end.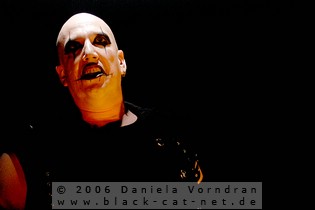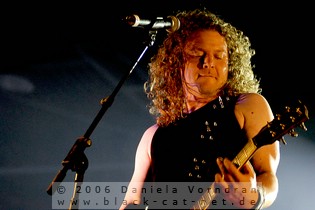 Performance
The performance of 'ASP' was authentic and honest - the singer lives and suffers the songs and the stories behind the songs respectively. In evidence, the musicians had a lot of fun to play. A special highlight of the show was the additional appearance of the pretty violin-player Ally Storch who supported 'ASP' during the songs 'Und wir tanzten' and 'Werben'. After it, 'ASP' left the stage but the audience requested an encore and they got it. The hit 'Ich will brennen' finished a great show and left the crow excited.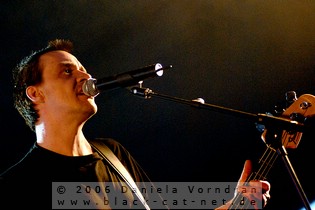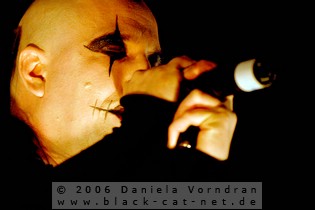 Setlist
01. Ich bin ein wahrer Satan
02. Besessen
03. Sing Child
04. Stille der Nacht
05. She wore shadows
06. Demon Love
07. Lykanthropie
08. Tiefenrausch
09. Schwarzes Blut
10. Und wir tanzten (with Ally)
11. Werben (with Ally)
---
12. Ich will brennen

Rating
Music 8
Performance 9
Light 7
Sound 8
Total 8 (8.2)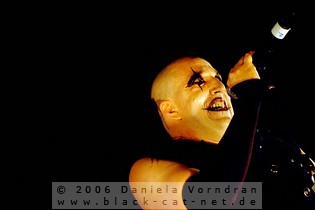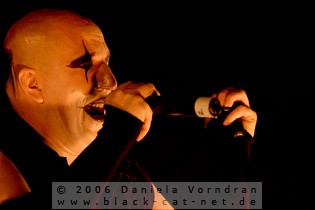 Within Temptation – Mainstage [Monica Duffels]

Well, does this band need any introduction...? 'Within Temptation' finds its origins in the town Waddinxveen  in The Netherlands. Since the foundation in 1996 by Robert Westerholt and Sharon den Adel the band grew more and more popular. The big breakthrough in The Netherlands took place at the end of 2001 with the single 'Ice Queen'. Since then this band regularly hits high chart positions and has received many awards until now. For the third time in a row they received the Export Award for being the best selling Dutch artist abroad. Throughout the years 'Within Temptation' has changed its music from doom / gothic metal into, for many people, more accessible bombastic, symphonic rock, with lyrics still mainly inspired by fantasy books and movies. The current line-up is as follows: Sharon den Adel (vocals), Robert Westerholt (guitars), Ruud Jolie (guitars), Jeroen van Veen (bass), Martijn Spierenburg (keyboards) and Stephen van Haestregt (drums). http://www.within-temptation.com/ / http://www.myspace.com/withintemptation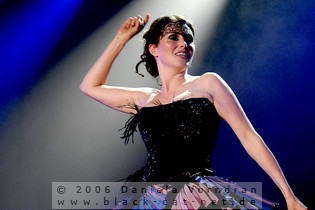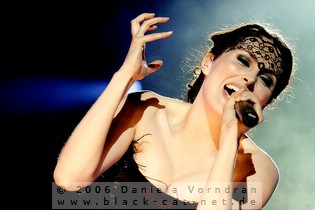 Music
'Within Temptation' had the honour to close this festival weekend on the main stage. There were rumours going on that today they would present a new stage decor and in addition play a new song. We heard from people who had gone to their show the day before they indeed played some new material. It was about time, for after their long absence because of Sharon's pregnancy many fans expected them to have rehearsed some new songs in the meantime. But until now that hadn't happened yet. The trusted intro from 'Deceiver Of Fools' sounded through the speakers, which stills remains to be an excellent opening song.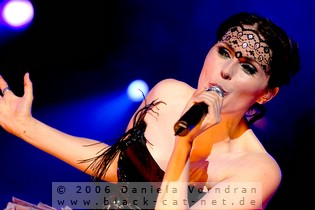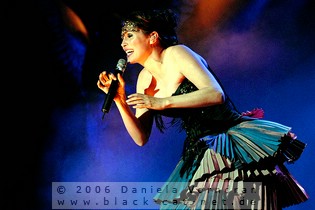 The rest of the setlist contained songs from 'The Silent Force' and 'Mother Earth'. The song 'Jillian' was presented by Robert as "like the sound of our heartbeat". He also said that they were very proud to play on this relaxed festival on which there haven't ever been any fighting-incidents. Sharon's voice was powerful, yet sometimes not very steady, and during the song 'Forsaken' she inhaled too much smoke, due to the pyro-effects. So she needed a few minutes to recover. The new song 'The Howling' was received well by the audience. It has a catchy melody, easy to remember, with the accents more laid on the guitars and it contains a short guitar solo by Ruud.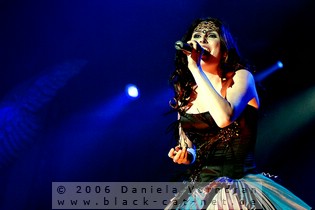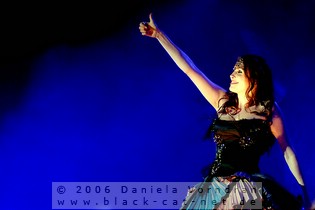 Performance
The stage-decor had partly changed indeed. The angels and the green ivy were still present, but new backdrops were placed. They contain images from the online game 'Spellborn' 'Within Temptation' has written the music for. As usual they also had a screen with moving images at the back in the middle to support the music. But this didn't attract much attention, partly because of the smoke, blurring the sight on this screen and partly because there was already enough to see. There were more pyro-effects than usual and they were more extensive. It's good to see how good the band members take care of each other. Sometimes it's really bone chilling to see how they almost forget to step away from the fire. This time it was Sharon who had to pull Ruud away from the steam during the song 'Ice Queen'. The band members were all amusing themselves. Robert and Ruud were jamming their guitars like madmen, at times walking over to Sharon, exchanging funny, evil looks.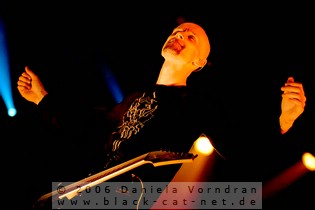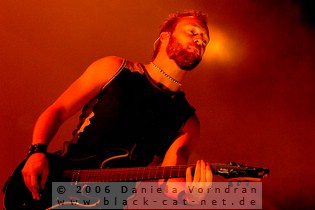 Stephen and Martijn mostly looked concentrated in their own little world called drums and keys. Jeroen was walking around in the back, at times coming forward and stamping his feet on the rhythm of his bass guitar. Sharon and Ruud made most eye-contact with the audience, giving their fans some personal attention, which is adorable. When you're a regular visitor of this band you must be aware of the fact that they have developed some kind of routine throughout the years. You'll know almost exactly how they will move on stage and when they will encourage the audience to clap along. But still they didn't fail to give an energetic performance. The lights were atmospheric, and fit right in the mood of all songs. The 'Spellborn' images were also illuminated. During the song 'Forsaken'  blood-red lights, smoke and fire were used as if experiencing the apocalypse, the end of the world. The front part of the stage got the front lights that were mostly aimed on Sharon and sometimes Ruud and Robert caught some front light too. In the back it was quite dark and smoky at times so the band members who stood there couldn't be seen sometimes.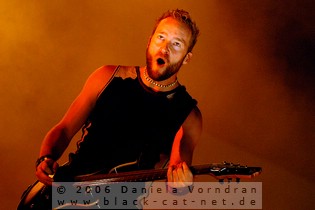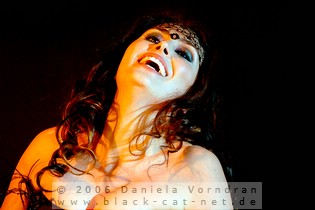 Setlist
01. Intro
02. Deceiver Of Fools
03. Stand My Ground
04. Jillian
05. Angels
06. Forsaken
07. Memories
08. The Howling
09. Running Up That Hill
10. The Promise
11. Mother Earth
---
12. See Who I Am
13. Ice Queen

Rating
Music 8
Performance 8
Light 8
Sound 8
Total 8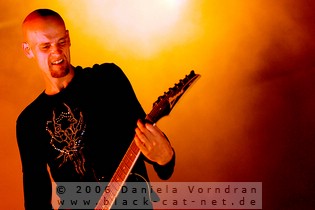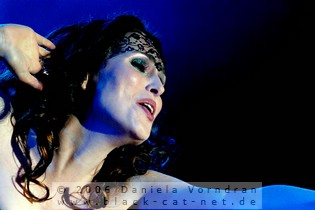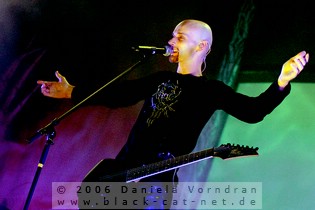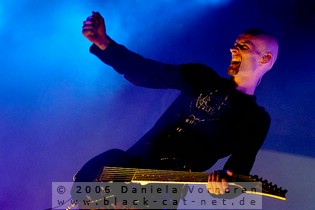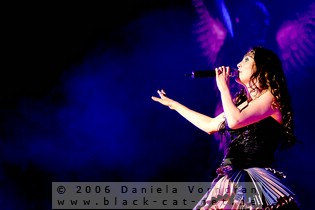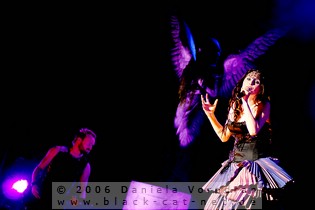 Final words

The seventh M'era Luna was a festival of birthdays and went way back in the history of Gothic, Wave and electronic music – 20 years 'Girls under Glass', 25 years 'Die Krupps' and nearly 30 years of 'Bauhaus'. Many of the festival fans were not even born when those bands laid the cornerstone of the current Gothic, EBM and Wave scene. From newcomers as 'Midnattsol', 'Lluther' or 'Elane' and currently very successful bands like 'Within Temptation', 'Apoptygma Berzerk', 'In Extremo' and 'De/Vision' the time journey went back to 'Nitzer Ebb', 'Die Krupps' and 'Bauhaus'. And the 22,000 visitors celebrated them all – no matter if they were old or young. All in all it was a very relaxed festival with perfect weather. No more can be expected. The eighth M'era Luna Festival will take place on 11th and 12th August 2006 in Hildesheim.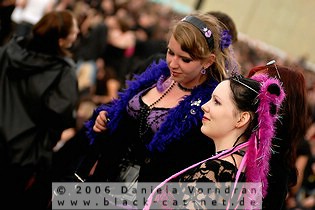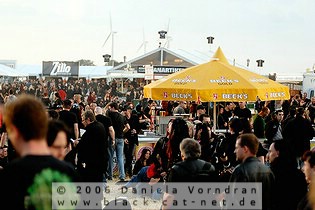 More pics on Black-Cat-Net
{jos_sb_discuss:18}


Reviews:
Daniela Vorndran – general words and overall editor
Niclas Sandén
Carsten Leopold
Karolina Moszkowicz
Monica Duffels
 
Pictures:
Daniela Vorndran


See also (all categories):