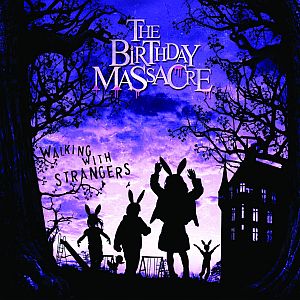 Interview with

The Birthday Massacre

"Walking with Strangers", like both of their previous albums, encompasses a wide range of influences from many contrasting musical genres. This contrast has always been a key part of the appeal of The Birthday Massacre. Their past recordings have consisted of melodic songs with unsettling lyrics; ominous music that all of a sudden becomes colourful and danceable; crushing guitars backing angelic vocals. Even their name is a contradiction. But there is a difference about this album.
"Walking with Strangers" proves what the power and experience of playing live before thousands of people can do for a band. For the first time The Birthday Massacre has captured the energy of their much praised live shows and incorporated that into this album. With the engineering help of the well known Dave "Rave" Ogilvie, the band combines their unique musical approach with a new found confidence that is apparent from the opening keyboard stings of "Kill The Lights" to the imposing closing chords of the last song "Movie". This marks the next step forward for the band and there is no doubt that the loyal audience who appreciate their music will continue to grow and evolve with the release of this next album.
Biography

Like many of the great English bands of the 60's, The Birthday Massacre got together while attending a Fine Arts Program. Formed in 1999 by Rainbow and Chibi who were classmates at Fanshawe College in London, Ontario, they added two more schoolmates, OE and Aslan, and then one of Rainbow's childhood friends, Falcore, to form the band. The band practiced for a year or so, many times in Rainbow's apartment, and then made their debut in 2000 at a local club in London.
After moving to Toronto in 2001 the band released a 5 song demo and then went to work on what was to become their first album, Nothing and Nowhere. That album was released in the summer of 2002 and became an underground classic almost immediately. This album contained one of their most requested songs, Video Kid. The popularity of this song on their website and a video helped to spread the word.
Being one of the first Indie bands to take advantage of the internet, their reputation grew rapidly because of their excellent website. One of the hallmarks of The Birthday Massacre has been their use of technology and during their time in Toronto, besides developing a remarkable website, they made several videos with Producer Steve Jones and released those on a DVD. The use of these relatively new methods of promotion by an Indie band continued to expand their reputation.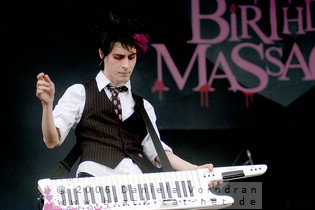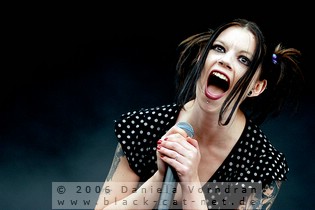 The band played live sporadically while concentrating on their song writing and recording. In the summer of 2004 they released their 2nd album, Violet and then hit the road to promote the record. Although the shows were not huge successes, the people who did turn out became ardent supporters and helped to spread the word. The band came to the attention of a German label, RepoRecords and their album Violet was released in Europe. In 2005 the band's reputation took another leap forward as a result of an excellent video Produced by Dan Oullette of the song "Blue" from the Violet album.
Their product was picked up for North America in 2005 by Metropolis Records and in 2006 they made a major tour of Europe that saw them at several festivals. Like many Indie bands who have success, after the end of the European tour, they found themselves in a difficult financial position but with a very loyal following. They had begun writing the songs for their new album in the fall of 2006 when they decided to add management in the hopes of resolving some of their problems.
With new management in place, the band was able to concentrate on writing and recording their new album, Walking With Strangers, all through the winter months of 06 /07. They contacted a Producer / Engineer that they had great respect for, Dave Ogilvie, and after listening to their works in progress, he enthusiastically agreed to work with them. During May and June of this year the finishing touches were put to the album at Orange Studios in Toronto and The Warehouse in Vancouver.
While many of the members have changed over the years, the core of the band has remained constant with Chibi on vocals and Rainbow and Falcore on guitar. OE, who had left to pursue his own projects, is now back on Bass and O-EN is on keyboards and Rhim is the drummer. Presently, The Birthday Massacre is on the verge of major international success thanks to the vision and hard work that they began as Fine Art students eight long years ago.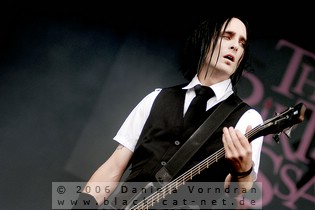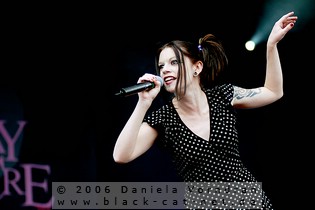 Interview

1. What is different about this album, Walking With Strangers compared to your previous 2 albums, Nothing and Nowhere and Violet?
TBM: Many of the songs on this album were written with the live show in mind. After being on tour for awhile we came home with a better idea of what worked best in a live interactive context. We also experimented with new synths and sounds that we hadn't really used before. I think our song writing has grown as well. We've become a lot more selective about what we keep in a song. A lot of music was thrown away on this album. It's the next evolutionary step for us as songwriters on every front. We're very happy with the way it turned out.

2. How do you come up with the songs for your albums?
TBM: Either Rainbow or Falcore will start out with an idea or a simple sequence written out in MIDI. Then we'll expand on the idea by adding new layers. Once we're happy with the part then we'll carry the progression forward into a verse or a chorus. That's when it becomes a song, when you have different parts that work together and flow nicely. Once the music is close to being finished Rainbow and Chibi will start thinking about lyrics. We always record demos in our home studio as well as we can. The demos for this record sound pretty close to the versions we did with Dave Ogilvie in the studio.

3. It seems like your fans have been a big part of spreading the word about the band, do you think this is so?
TBM: I think without the internet and word of mouth this band would have ceased to exist long ago. We have no one to thank for our initial success but the internet and the fans who first discovered us and spread the word. We had zero interest or help from any labels for the first couple of years. Our website generated a lot of interest and our fans would communicate through our forum. Somebody told me they met their wife on our forum. Then myspace came and the focus migrated over there. It acts like a snowball rolling downhill. Once you get momentum it just builds on its own. It's different than the type of momentum a major label will purchase through shock and awe media hype. I think most people hate that. I sure do. The internet keeps our growth honest and sincere because the force behind it are real people who like our music.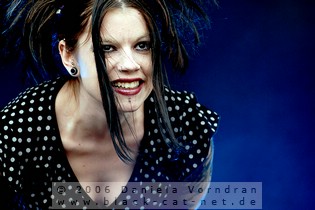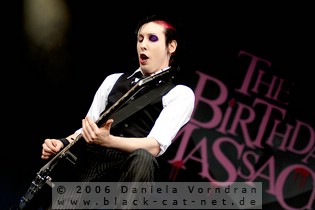 4. How much touring are you going to do for this album?
TBM: It depends on how many people come out to our shows, and how well the album does. If people want to see us we'll be on the road, if people are sick of us we'll go home and write some more music. I'm guessing anywhere from 6 months to a year. We'll see how it goes.

5. Are there any bands that you would like to tour with?
TBM: We're on tour with a great band called The Start. We have a lot of respect for them, and they're good people. It'd be cool to open for Nine Inch Nails; we've been fans for a long time. We're also a big fan of The Faint. They inspire us a lot. I'd love tour Europe with IAMX, or even bring them over here because we don't think they've had much exposure here. The best is when you tour with a band that plays good music and are nice people.

6. Anything else you would like to add?
TBM: We want to thank all of the people who have been supporting us by coming to our concerts, buying our records or even just spreading the word. We know that the reason we are doing so well is because of them. We hope to see as many of you as possible during this next year.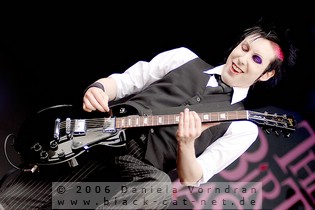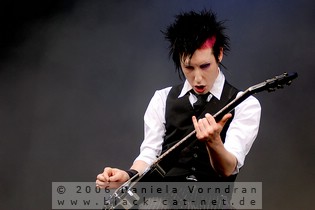 Tourdates

AMM, sounds2move + Zillo present THE BIRTHDAY MASSACRE - "Walking With Strangers" Tour 2007
25.10.2007 UK-Manchester, Satan's Hollow
26.10.2007 UK-Bristol, Bierkeller
27.10.2007 UK-Whitby, Whitby-Festival 2007 (Headliner)
28.10.2007 UK-London, Islington Academy
30.10.2007 F-Paris, La Locomotive
31.10.2007 F-Lyon, Villeurbanne CCO
01.11.2007 E-Barcelona, Mephisto
02.11.2007 D-Saarbrücken, Roxy (+ Staubkind)
03.11.2007 NL-Vlissingen, Terra Gotha @ Het Arsenaal (Headliner)
04.11.2007 D-Bremen, Tower
05.11.2007 D-Hamburg, Knust
07.11.2007 DK-Arhus, Musikcafeen
08.11.2007 D-Berlin, K17
09.11.2007 D-Krefeld, Kulturfabrik
10.11.2007 D-Dresden, Starclub
11.11.2007 CH-Zürich, Abart
13.11.2007 D-Frankfurt, Nachtleben
14.11.2007 D-Herford, X-Club
15.11.2007 D-Hannover, Musikzentrum
Complete Source: Press Release
{jos_sb_discuss:21}
See also (all categories):