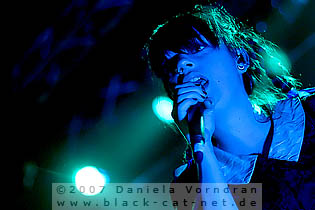 K17, Berlin, Germany
8th November 2007
The Birthday Massacre, Psycho Luna

THE BIRTHDAY MASSACRE is a band that attracts a very varied audience; Goth, Emo, Lolita, Punk, girls in sexy school uniforms and even rabbits. Or at least, that was what the Berlin audience in the K17 looked like that night. Reasonably filled during PSYCHO LUNA, and completely stuffed during THE BIRTHDAY MASSACRE, it stays surprising how the K17 always empties up so quickly after a gig. Even the announcement of a chat and signing session after the concert by THE BIRTHDAY MASSACRE couldn't keep most of the Berlin audience from going home as fast as they could. Strange people, those Berliners. However, before the concerts started the room was full of positive tension. And not for nothing.
Psycho Luna

PSYCHO LUNA debuted in 2000 with the album 'Eis-Mann-Welt', which was the start of the 'Ice-World' trilogy that has recently been brought to completion with their latest album release 'Göttin'. PSYCHO LUNA aims to mix various styles in order to achieve great emotionality among its listeners; therefore bombastic guitars, beats, and even medieval sounds can be heard in the music of PSYCHO LUNA.
http://psycholuna.schattentanz.de/
/
http://www.myspace.com/psycholuna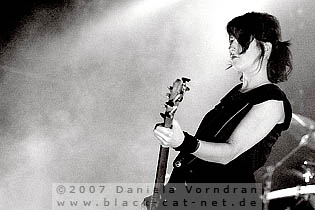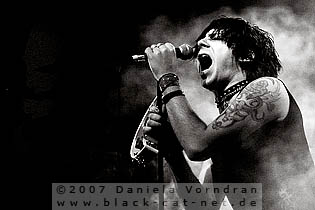 Music

Even though the promised mix of sounds seems exciting, on the K17 stage PSYCHO LUNA unfortunately did not succeed to present a unified whole. The music was very, very loud, which in this case was not a positive feature. Simply because first of all, the drums were too loud in comparison to the rest, and most importantly, there was no balance between the instruments at all. It sounded like five people played the same pieces of music simultaneously, but not together. The music itself overall sounded mostly highly punk-influenced, apart from the medieval/celtic inspired songs which provided for a style clash which could have been exciting but in this case just simply did not work. The lyrics were mostly shouted, and could hardly be understood - singer Mr. Luna could have been singing in Japanese as far as I was concerned. Later, it turned out Mr. Luna sang in German. The only song of which I could actually hear the lyrics was the ballad 'Flugzeug' - which unfortunately featured an overdose of sentimentality that was simply not my cup of tea.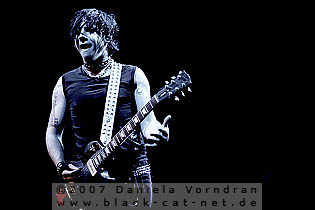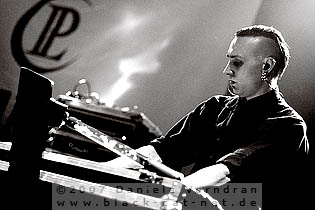 Performance

The lack of a unified whole was even more present in the performance. All band members had very different dressing styles, but not to the extend that it was a statement. It resulted in an overall look of a band that has gathered its members from here and there without testing if they actually fit together. The lack of communication between the band members on stage underlines that. This simply did not look or feel like a team. Each band member had his/her own style of performing, which made it difficult to tell if most of them didn't feel like performing or is they were trying to look cool - without having reached a consensus about what cool actually looks like. And since Mr. Luna was the only one on stage who was really outgoing, the performance became more of a one-man show instead of a result of hard teamwork. Mr. Luna is a stage-animal-diva of the highest class. Even though I completely appreciate and admire his efforts and unlimited devotion to the music and performance, it was completely out of balance with his band and with the vibe from the audience. Sadly, it made him look more like a caricature of a rock star than an actual rock star - a lost soul.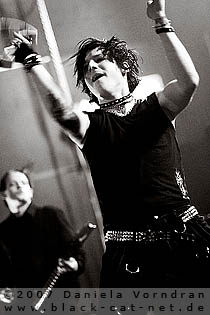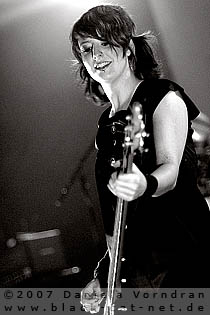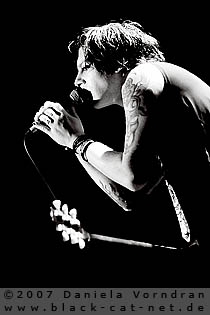 PSYCHO LUNA did not receive much feedback from the audience at all, and therefore the over-the-top performance of Mr. Luna looked more like pretending, simply because it didn't fit. Especially because he was like that from beginning until the end. Too bad really, a bit more nuance and a bit more effort to actually build a vibe would have worked way better than pretending it's already there and hoping the audience feels your vibe too. As a support act, most of the audience will not be there to see you, which means that you have to work harder to actually connect to the audience. And if a band cannot connect with each other, there is nothing to connect to the audience - even the most devoted singing performance cannot change that.
Setlist

01. Engel:Hoffnung
02. Neunacht
03. Nackt
04. Herrin vom See
05. Alles nur gelogen
06. Flugzeug
07. Feenpfad 2
08. Beltane
09. Mörder der Liebe
10. Rache
Rating

Music: 6
Performance: 6
Lights 6.5
Sound: 5
Total: 6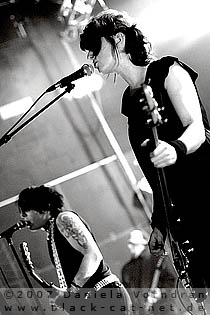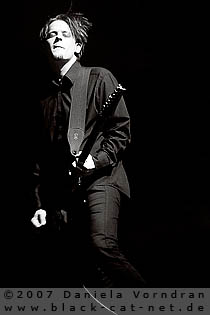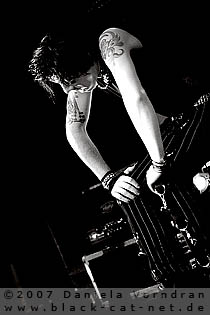 TBM

THE BIRTHDAY MASSACRE has in my experience always been a fantastic live band. Having seen them twice before (in 2004 and 2005) it was very interesting to find out if THE BIRTHDAY MASSACRE could still improve their live shows, since there hardly was anything to improve at all. They have existed since 2000 and are thusly already a very experienced band, even though they are still young. Their latest album 'Walking with Strangers' was released this year and was the highly anticipated follow-up to the second album 'Violet' (2005). But somehow, THE BIRTHDAY MASSACRE has never failed expectations. Perhaps the white rabbit that has been following them around since their concept/game website 'Nothing and nowhere' (accompanying the EP by the same name) is the secret to their power. Even the K17 in Berlin was subjected to it, so who knows?
http://www.thebirthdaymassacre.com/
/
http://www.myspace.com/thebirthdaymassacre
/
http://www.nothingandnowhere.com/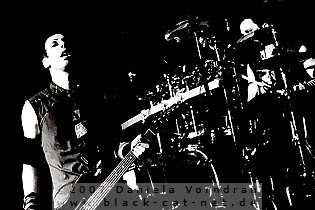 Music

The concert started with 'Black' as introduction to the lit, empty stage - in some way looped so that it took a few long minutes before TBM actually came on stage. But when they did they blew everyone away from the first note. TBM succeeded in bringing a completely well-balanced wall of sound - it was actually hard to distinguish between the instruments, which is something that many bands in their entire career cannot pull off. They started off with 'Video Kid', which was followed by 'Lover's End'.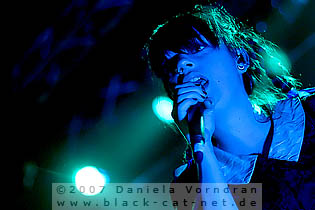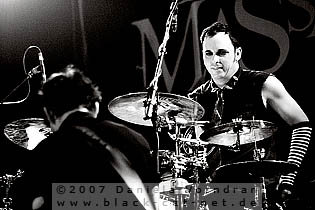 Many songs from the new album were played, alternated with old ones in between, like 'Violet', and 'Horror Show'. This was absolutely flawless - apart from bass player EO missing out on a few notes as guitarist Rainbow playfully pulled him backwards by his trousers at some point - but I don't think anyone blamed him for that. The only comment I have is that the gig was way too short and the encore as well; the first one featuring the amazing 'Blue', and the second one 'Happy Birthday', which featured a guest performance of Mr. Luna, of whom it turned out he actually had his birthday today.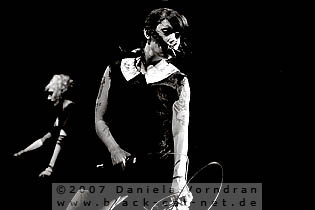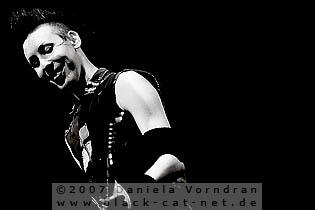 Performance

From the moment 'Video Kid' started, TBM was extremely energetic and extremely playful. These kids (even though they have become grown-ups) are really having fun together and it shows. During the whole show, they were communicating together and with the audience, fooling around with each other and simply having a great time. And that vibe cannot but infect the entire audience. The dynamics between the band members are really one-of a kind. Whereas drummer Rhim, keyboardist Owen, and second guitarist M. Falcore are more in the background forming a solid base, singer Chibi, guitarist Rainbow and bass player EO make up a very strong and varied frontline - I hardly even knew where I should look. Chibi of course presented her repertoire of crazy faces and poses, playing around innocently with a kinky edge to it. Rainbow has over the years really grown into a Goth style icon, and ran and jumped around the stage like it was one big playground.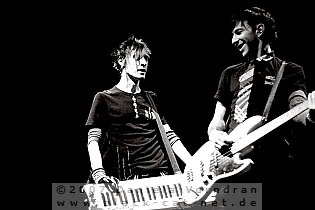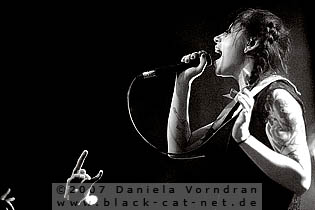 The return of EO (previously on drums, now the bass player) is a true addition to TBM - he might well be the most charismatic bass player I'd ever seen on stage in my life. And as said before, the second encore featured birthday boy Mr. Luna. And here, his style of performance perfectly made sense; he could as well have been a band member of TBM. All in all, THE BIRTHDAY MASSACRE band is a complete joy to look at: they are a very professional band that really throws off a party on stage. They are young, fresh, and sexy as hell. THE BIRTHDAY MASSACRE is a musical whirlwind that completely blew everyone away that night.
Rating

Music: 9
Performance: 9
Lights 7.5
Sound: 8.5
Total 8.7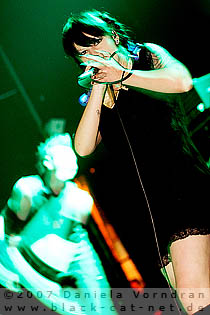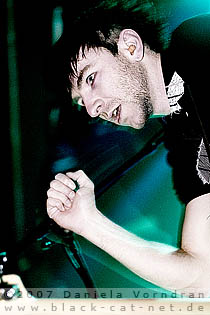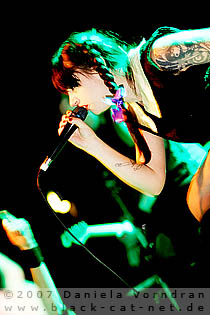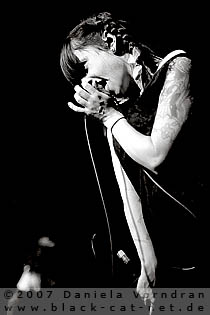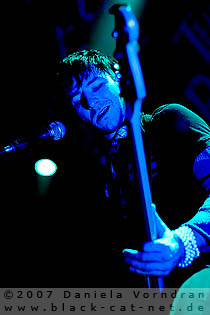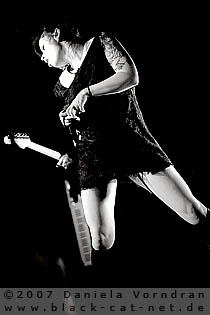 See also (all categories):