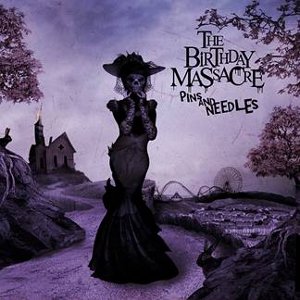 Title: Pins And Needles
Artist: The Birthday Massacre
Genre: Wave / Goth / Pop
Release Date: 17th September 2010
Label: Cellar Door (Dependent)
Album Review

The darlings of an international community are back with a new album. Initially planned for a release in 2009 already, the next long player of THE BIRTHDAY MASSACRE was given a little more time to be worked on and finally next week 'Pins And Needles' is going to be unleashed to the craving fans who have to stick to teasers still by now. A swelling compound of guitars then announces the coming of the first track 'In The Dark' that in the next moment strikes with vibrant drumming I think could be from live drums this time. Not entirely sure though. Soon, the lovely melodies and vocals of Chibi take over the lead. Unusually hard track overall it is, but a nice shift in sound in my opinion. With the second track 'Always' already follows a highlight, introduced with melancholy bell melodies, leading into a powerfully pushing rhythm, making it a song you just have to love. Chibi has greatly and audibly improved on the vocals, something getting more obvious on later tracks. A tape is inserted into a cassette player, someone pushes the play button and a beautiful melody starts 'Pale', a track less dominated by guitars but atmospheres.
'Shallow Grave' opens the book of a miserable life with someone not getting recognized all their life, but after death the fame comes. A concept I never really understood. Why is it that somebody is more precious when they're dead rather than being alive, or why are artists' works more worth ever since they died, but not before? 'Sideways' is sad in every regard. The instruments are bleeding it and the synth atmospheres are radiating it en masse. Fleeting moments, memories lost in time and never coming back just like the dear person they were a part of. "The painted hallways / forever and always are lost to you" The album's title track is one of those, bringing forth the developed vocal skills of Chibi. Stronger than ever her voice comes across, especially within the chorus, framed by a memorable riff/synth combo! 'Sleepwalking' develops towards a hard, upbeat inferno of scissoring guitars and sophisticated electronics, a very catchy inferno. The album is closing with the pervasive ballad 'Secret' that doesn't quite reach the intensity of 'Movie' at the end of the last album, but nevertheless can be regarded as a crowning ending.
Listening through 'Pins And Needles' reveals there's a whole lot of sound improvements, the overall production quality has made a leap forward again. But there's also something missing here. The dark, aggressive voice Chibi has used occasionally on the other albums has disappeared completely and I find that a pity, actually. Appears like edges were kind of polished away! Apart from that however it is definitely an album that was worth the wait.
Tracklist
01. In The Dark - 3:43
02. Always - 4:12
03. Pale - 3:59
04. Control - 3:21
05. Shallow Grave - 3:48
06. Sideways - 3:26
07. Midnight - 3:44
08. Pins And Needles - 4:20
09. Two Hearts - 3:21
10. Sleepwalking - 3:50
11. Secret - 4:24
Line-Up
Chibi - Vocals
M. Falcore - Lead Guitar
Rainbow - Rhythm Guitar, Sequencing
O.E. - Bass
Rhim - Drums
Owen - Keyboards
Website
http://www.thebirthdaymassacre.com/
/
http://www.myspace.com/thebirthdaymassacre
Cover Picture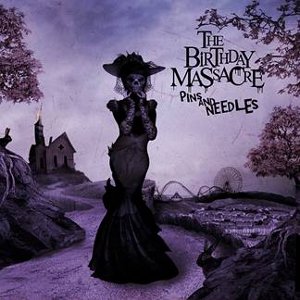 Rating
Music: 8
Sound: 9
Extras: -
Total: 8.5 / 10
{jos_sb_discuss:19}
See also (all categories):