Summer Darkness, Utrecht, The Netherlands
August 13th 2005
Day 2: Chillburn, Nemesea, Gefjon, My Insanity, The Birthday Massacre, Penumbra, Gothminister, The Old Dead Tree, Auto Agression, Flesh Field, Sonata Artica, Diary of Dreams

The day after the night before turned Utrecht black again. The organisation had organised a Gothic picnic in a local park, there was a metal market at the Dom square and where ever you looked people in dark coloured clothes walked around. Metal enthusiasts started their day at the Ekko while the cybergoth kicked off in de Helling.
Chillburn (by RG)
Today Chillburn had the honour of opening at Tivoli de Helling. It was still 'early' and the venue was thus not that full yet. But during the performance gothic Utrecht seemed to wake up and the venue slowly filled up.
Music
The drums provide the rhythm of this music, they play a big role in the underlying movement of the music. Jeps (guitar/keys) provides us with a distorted guitar sound and the occasional keys to give an electronic sound to the music. Patrich (vocals) does not have a very convincing voice, when he seems to want to shout, or at least transfer a lot of power with his voice, there is no volume. The fact that his voice was tuned in very soft in the total sound mix had its part in this too.
Performance
Before they entered the stage you could see Chillburn whitening themselves with a talcum powder which gave the effect of dusty old clothes and when they walked they left a cloud of dust behind them. When it was time for Patrick to sing his first notes he was hard to be seen, he was hidden in a corner, while singing he came on stage and at the first heavy notes he was exactly at the middle of the stage where he opened up and the show was off to a start. It seems as though he does not quite know what to do with his body, the moves he makes seem to be made up in advance. Jeps however move very natural on stage, he seems very passionate about what he is doing and is fun to look at. There was little front light and a lot of red light, this created a nice dark atmosphere but I would have liked to see the band better than that.

Rating
Music 7
Performance 6
Light 6
Sound 6
Total 6 (6,3)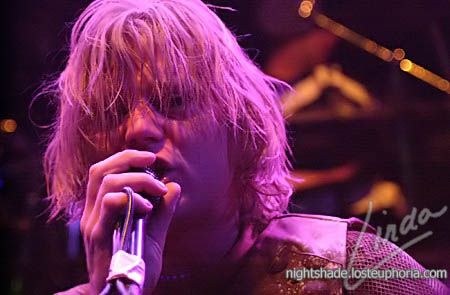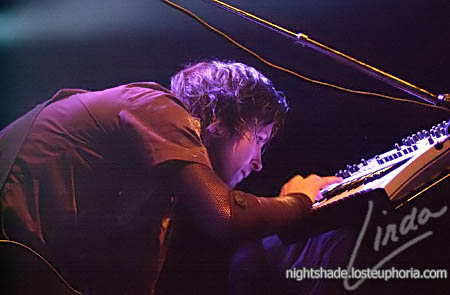 Nemesea
(by RG)
It was time to return to the small Ekko again for some familiar and unfamiliar bands. By the time Nemesea was about to start it was already quite full in the venue. Some in front were waiting with an anxious look on their faces, waiting to see their idols, other just waited while chatting, curious about what this band was going to bring them.
Music
During the intro many were looking around with question marks in their eyes for a trumpet sounded, this must have been a mistake from someone, mixing the wonderful intro with jazz sounds. Manda sung full of confidence and passion today, she seems to have grown each time I see her perform. The sound was well balanced although Manda could have been tuned in a bit louder and the overall sound could have been a bit softer.
They performed two non-album songs 'Violated Lady' which is a beautiful song and 'Broken' a cover from Evanescence. This is not a great success in contrary to their 'The Gathering' cover but unfortunately they did not play that today.
Performance
Not only in her voice does Manda seem more confident, also in her movement on stage. She wore a simple but very elegant top, she doesn't need more for her hair is jewellery enough. It was a pity that there was so little space on stage, but they managed. It seemed as though Sonny had private joke or something for he had a constant smile on his face, at times he tried to get the tough guitarist look back but in no time he was smiling again. When there is a long intro to a song such as the one of 'Violated Lady' the entire band takes a rest, the stand with their heads down, giving the audience the chance to fully concentrate on the music. The light was very disappointing, at some places there was light while others were standing in the complete dark.
Rating
Music 8
Performance 7
Light 5
Sound 6
Total 7 (6,9)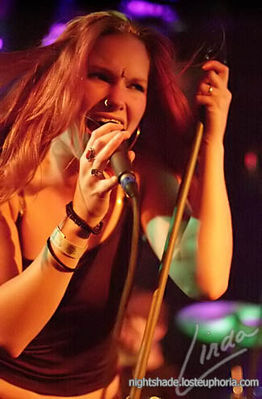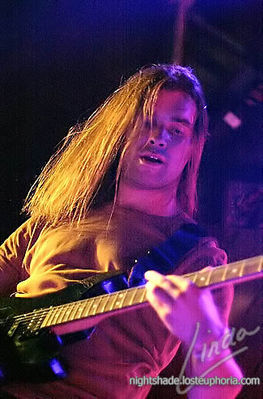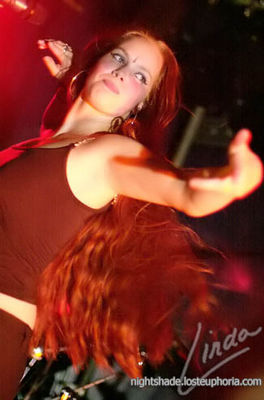 Gefjon
(by EE)
There was more medieval music than Estampie and Qntal, just like with the opener of the festival Gefjon was playing in one of the many churches of Utrecht. In this case the Nicolai church was the setting for this intimate concert. Not too many had gathered inside, just about 1/3 of the seats were taken. Gefjon originates from Germany and they try to combine old music with present day thoughts and ideas.
Music
A variety of familiar instruments were used by the band. Pedro Aibéo does percussion, flute and acoustic guitar, Jo Dorsheimer plays bouzouki, and male vocals, Ute Rek does all the female vocals standing behind a mic which is mildly amplified, she also plays harp and jews harp and last but not least Thomas Zoeller sits on his chair playing bagpipe and hurdy-gurdy. Apart from the amplified female vocals the entire concert was acoustic. No cables, no sound engineers, no effects, just the church's reverb and the instruments. Though both medieval and in a church, the music of Gefjon was more vivid than Estampie yet more intimate at the same time.
Performance
The steps towards the back of the church was the place where the band had sat down to play, just in from of the small church organ. The whole set-up was plain and simple, 4 musicians on chairs playing their music. Jo tried to introduce some of the songs in English but gladly changed to German after having asked the audience if it was ok. Although he tried hard, the reverb of the church made it hard to hear most of the information. The light was all natural, coming from the high white windows all around the church.
Rating
Music: 7
Performance: 5
Sound: 6
Light: -
Total: 6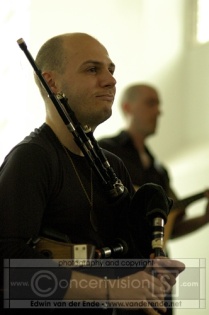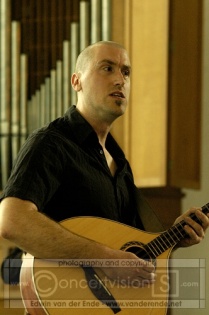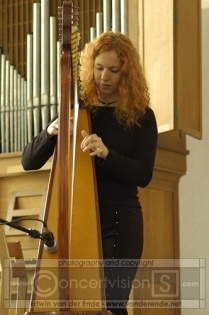 My Insanity
(by RG)
When hearing they have toured with Lacuna Coil and Therion I wondered why they were playing in the smallest venue of the festival. They are used to bigger stages than this and maybe that did have its effect on the show.
Music
At first the vocals were hard to hear but during the second songs a raw voice which did not convince appeared in the sound mix. The music goes on and on, it has little diversion in it. Some times it seemed as though the vocals did not fit the music. But sometimes catching notes are played which had its effect on the audience immediately. The start of the catching and good music is there, it just has to grow.
Performance
Their singer was constantly hidden behind his hair, which he wiped out of his face ever two seconds but this did not quite help. When he addressed the audience you could not see his face and he was hard to understand. It seems he does not know what to do with his body on stage, he does make small movements but does not go through with them. So it is there somewhere, it just doesn't come out yet. The rest of the musicians are doing their own thing, there is hardly any interaction. The lights seemed to be moving at random and did not add anything to the show.
Rating
Music 6
Performance 5
Light 4
Sound 6
Total 5 (5,3)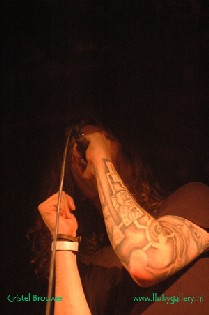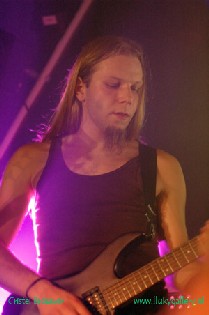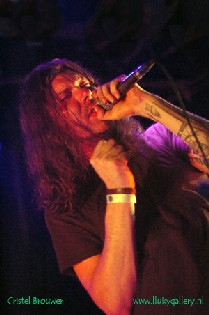 The Birthday Massacre
(by EE)
The festival's program predicted a horror show from this Canadian band. Something that should draw in quite a few people and so it did. The audience seemed open to almost anything and the 15 minute delay made anticipation even worse, would this be one of those concerts you keep referring to in the future?
Music
The Canada based band make, according to their own biography: a fusion of retro electronica and dynamic contemporary songwriting. To be honest I didn't get too much of the lyrics due to the low sound level of the lead vocals which wasn't a really big miss because what I did hear didn't convince me at all. The voice of Chibi just aren't up to the level needed for an international band. The rest of musicians however did do a rather fine job. The rest of the band consists of: Rainbow (rythm guitar) Michael Falcore (lead guitar), Aslan (bass), ADM (keys), and their newest member Rhim (drums). According to me the band didn't live up with the expectations, a missed opportunity for a band which is not frequently crossing the ocean.
Performance
Where the music didn't do it for me, I was hoping for some added value from the performance. There was however never any orgy of blood, nor any theatrical performance of any kind. The Birthday Massacre mainly lived up to it's name because all the males were wearing blood spluttered shirts. Not much further reference to their name in the show really. The performance however as full of drama, just a bit too much at times to my likings. The singer, wearing a schoolgirl's uniform, should try and save some energy for her singing and the musicians should try to be more part of the show and not just stand there doing 100 horse shoes during the show, or spitting water in the audience. The light was, as to be expected, mainly red, but switches to green and blue did happen too. Not flashy but infrequent colour changes, nothing special though.
Setlist
00. Intro
01. Blue
02. Happy Birthday
03. Horror Show
04. Violet
05. Playdead
06. Lover's End
07. Video Kid
08. Nevermind
09. Broken
Rating
Music: 7
Performance: 7
Sound: 5
Light: 6
Total: 7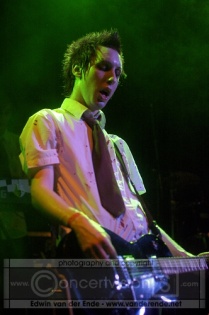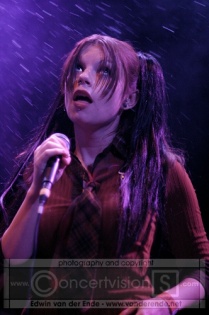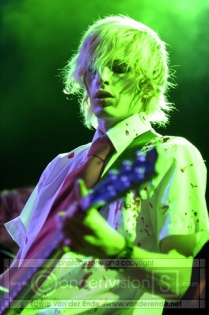 Penumbra
(by RG)
I had heard many good things about this band so I was very curious to see how they would be live. The small Ekko was quite full so I guess many were just as curious. I heard they had recently acquired a new vocalist so even for those who had seen them before there was a new aspect to be seen and heard.
Music
Jarlaat (vocals) has good grunting and screaming voice. Besides this he also plays the clarinet, which is nice addition to the guitars and vocals. Their new singer has a classical voice, which she knows how to use; pity that both vocals were tuned in a bit soft. When their bass player sings together with her it sounds wonderful, their voices are a good match.
Performance
What stood out during this performance is the warmth between the band members. At one point even both singers held each others microphone and sung with their arms stretched out to each other. She moves very dramatic while singing but when she has no lyrics she moves very stiff. During the first song the band tries to get the audience to clap along but they need to be convinced first. A few songs later they are willing to clap along. The light created a warm atmosphere on stage, but when smoke is blown on, you can't see a thing.
Rating
Music 6
Performance 7
Light 6
Sound 6
Total 6 (6,4)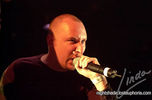 Gothminister
(by EE)
It was the second time around at Summer Darkness for these Norwegian Goths. With their highly theatrical performance the band managed to draw quite a bit of people into the Helling. With the venue filled and the band finally ready to play the audience got what they came for: the minister of Gothic affairs.
Music
With 2 guitarists, a keyboard player, a drummer and a singer this band just about had the line-up for any kind of music. They left the path of the very electronically influenced music in exchange for more guitars and orchestrations, a mix between gothic and metal which does seem to fit the title gothic metal more than most female fronted metal bands. Vocals were convincing and appealing, Björn Alexander Brem has a nice deep voice which fits his appearance well. Rest of the musicians didn't draw too much attention, either negatively or positively. Just a solid piece of music to go with the vocals and show of Björn. The band treated us with songs like "Dark Salvation", "Monsters", "Devil" and "Happiness in Darkness", nice good songs that kept your attention where it should be: the band. The volume was at a pleasant level during the entire show and all instruments were easy to distinguish. Solid beats, raw riffs, a dark voice all adding up to quite a good show.
Performance
Men with painted faces entered the stage to play some serious gothic metal. Their drummer most directly reminded me of metal music while the others seemed to have walked off from some 60's super hero tv-show. In the middle of the stage was this big structure covered with a cloth wearing the band's logo. As soon as Björn entered the stage my suspicions about the structure turned out to be right, it was one of those kitchen stairs which he used to climb high above the audience as if he was addressing a huge crowd. The minister did get his message across standing high above the crowd. At times singing towards a wooden skull based on top of his staff, at other times he seemed to be singing on behalf of that same skull. A nice idea at least to make sure the audience gets to see the front man of the band, though it did all look a bit cheap, a bit more attention to details would finish the overall picture. Lights were not really prepared for the height of the grant speaking desk so the light on the front man wasn't abundant, yet there was enough to let the audience see the dramatic performance and enjoy it to the full extend.
Rating
Music: 8
Performance: 8
Sound: 7
Light: 6
Total: 8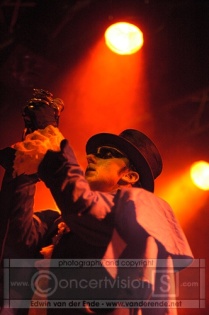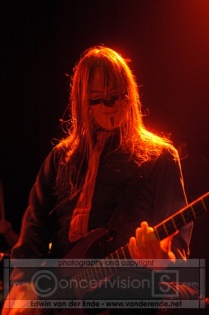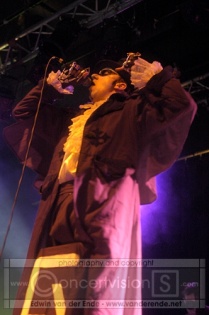 The Old Dead Tree
(by RG)
I had seen this band once before in Paris, their home town, as one of the opening acts of Epica. I remember liking it but I heard it was not such a good performance because it was the first show with their new drummer. So I was anxious to see them again and see the difference.
Music
Manuel Munoz (vocals) seems to be singing from the heart, his emotional and sensitive singing touches all. His voice is very war, and when he grunts you can understand what he is singing, which is an exceptional quality. When Nicolas Chevrollier (guitar/back.v.) joins in they sounds great together. Besides the metal sound and some swinging beats there are some quiet and emotional moments in the music. The sound was the best I had heard all day in the Ekko, well balanced and not too loud.
Performance
This Old Dead Tree rocks the stage, they all seem to enjoy themselves. There was not a lot of audience in the venue but they all seemed to have a been pleasantly surprised by this band. They had brought their own backdrops with the band logo on it. The light were surprisingly well, a least there was front light for once. Manuel dedicated a song to his mother, 'it is a lot of noise, I hope you like it', and we did.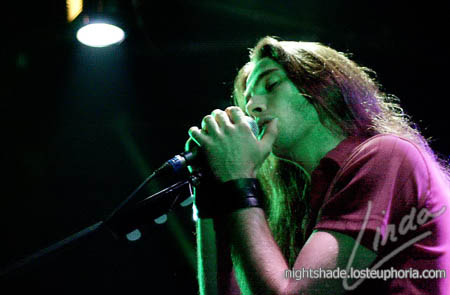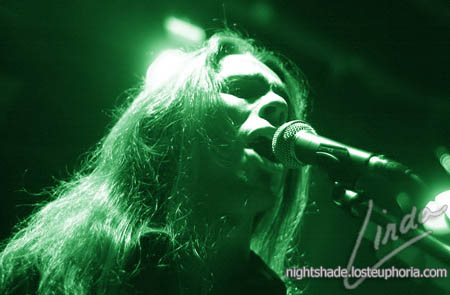 Set list
01 We Cry
02 Unrelenting
03 Somewhere
04 Even If
05 It's the Same
06 1,2,3,4,5,6,7,8,
07 It Can't Be
08 My Friends
09 Out of Breath
10 How Could You
11 What Else
Rating
Music 8
Performance 7
Light 7
Sound 7
Total 7 (7,3)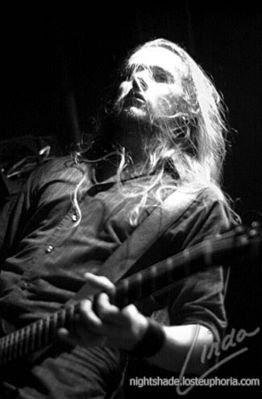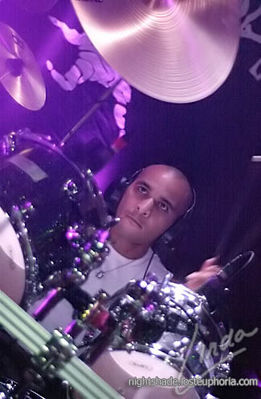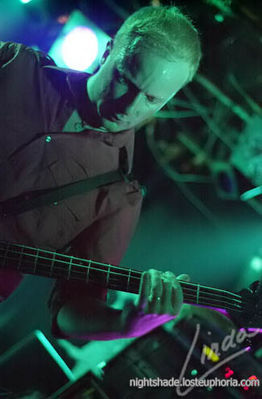 Auto Agression (by EE)
Techno, IDM, dark electro, trance and noise form the basis for the tunes provided to us by Auto Agression. The band is playing in a decently filled Tivoli where most of the audience is dancing during the concert. I can understand this …
Music
This is electronic music, nothing too live about it really. The two band members play their keyboards, but the attached laptops seem to do most of the work. The music is very danceable and that is right what most of the audience is doing. I didn't notice too much aggression, but there was plenty of auto. The sound in the venue is nice, not too loud and the computer adjusted mix of all channels is open and clear.
Performance
Another reason the audience is mainly dancing to the music is that there is just nothing to see on stage really. Two stands with a laptop and keyboard, two guys playing them and that's it. There's no performance what so ever unless you consider talking to the audience to introduce a song performance. Did it really matter, did the audience care: no. Some bands just can afford to stand still and do their thing in the blue and red light that is shone upon stage during the show.
Rating
Music: 7
Performance: 4
Sound: 8
Light: 5
Total: 6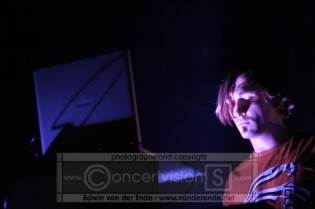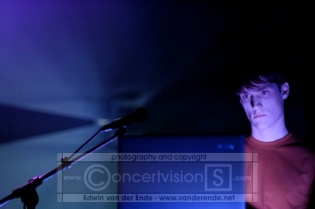 Flesh Field (by EE)
The Americans have entered the building and are ready to kick some ass. Combine EBM and electro with some heavy guitar and you'll get the idea. Aggressive vocals and the powerful music combined with the electro melody lines give you this good old industrial feel.
Music
It seemed like this band could have used the word aggression in its name. The singer just is full of anger throwing out all he has through the distorted mic. The band consists of Ian on vocals and Wendy on keys, for this concert the live band is reinforced by Matthias Ewald of the band Plastic who also plays keys. Industrial back to its roots and Ian is there to convince you he's right. Some songs that jump to mind when reviewing the show were: "Cyberchrist". "Epiphany". "Reflect the Enemy"and the Nine Inch Nail's cover "Heresy". The sound was like with other bands this day at Tivoli not at all that bad, nice sound level and the music was well balanced, all instruments could be clearly distinguished.
Performance
Throwing mic stands around, constantly on the move, shouting and screaming, Ian is all over the place and in your face. On the other hand Wendy is dancing in her semi school girl outfit with ponytails in her hair and a mic in her hand. It looks vivid and seductive all together, and I guess you know who is playing which part... The light were rather dim from the front but the overall picture was good after all, mainly reds en yellow from the back and some blue or red from the front.
Rating
Music: 7
Performance: 8
Sound: 7
Light: 7
Total: 7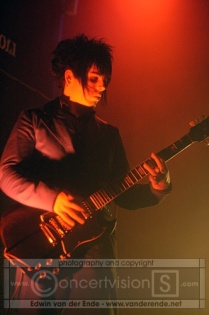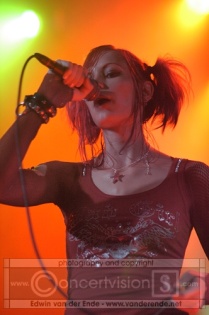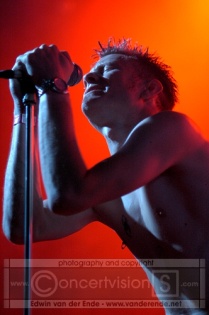 Sonata Arctica (by RG)
After The Old Dead Tree the entire audience made its way to Tivoli de Helling where the closing act of that day and venue was performing: Sonata Arctica, quite a large band for such a small stage but it did give the performance a wonderfully intimate atmosphere.
Music
The music sounded as it should, the sound was very well balanced. Toni sung great, and when they sung together it sounded even better. I had seen them at Wacken Open Air the week before and it seemed as this was another band. They surely convinced enemy and friend of their musical power.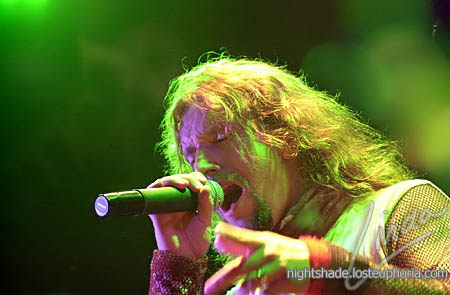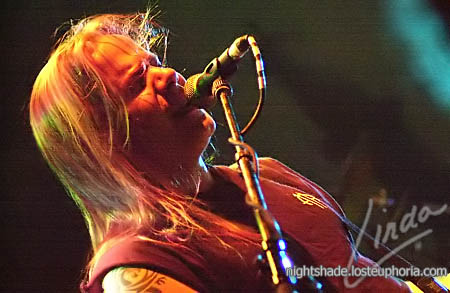 Performance
The venue was packed with a very exited audience. Each member entering the stage caused an enthusiastic applause. They had played in Spain the day before but the band members all seemed quite fit still. After a short speech about the lingerie the women of the audience the song 'Victoria's Secret' was announced. All through the show there was great contact with the audience. You could see the band members have fun and they gave their all!
Rating
Music 8
Performance 8
Light 6
Sound 7
Total 8 (7,6)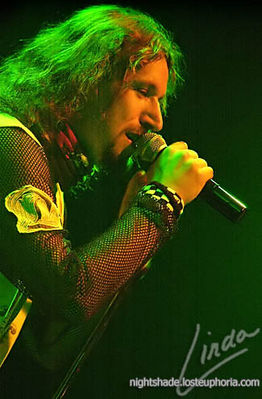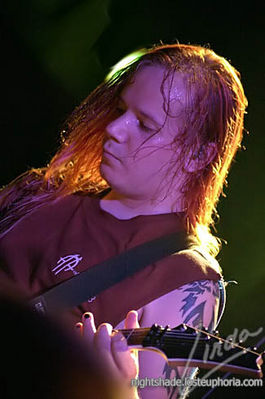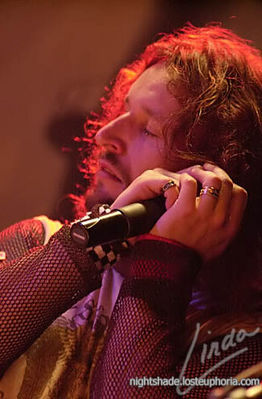 Diary of Dreams (by EE)
With a charismatic singer and two resonably recent releases (Nigredo and MenschFeind) this band is ready to show Tivoli why they are headliner for the night. The venue filled up quite nicely after the previous band and more and more people kept coming in to have a gasp of Diary of Dreams after the concerts in other venues had ended.

Music
On stage we see Adrian Hates who takes care of the lead vocals and guitars, Torben Wendt on keys and backing vocals, Gaun: A on guitar and backing vocals, and DNS on drums. Just your average line-up for any kind of rock band, which they aren't. The music is doomy and emotional, all of this mainly due to the nice melody lines in both the keys as the vocals. The vocals which either grab you or not, they are vulnerable and powerfull, soft and loud, but most of all honest. Like many others in the audience Adrian seems to slip into a different state of mind where all emotions can run free. The musical performance of the rest of the band is without question good, nothing fancy, no big solo's, no exceptional pieces of intrument handling, just a good basis for the message to come across. You didn't need any earplugs really during this concert, sound levels were rather low and the instruments were well balanced with a bit more focus on the voice.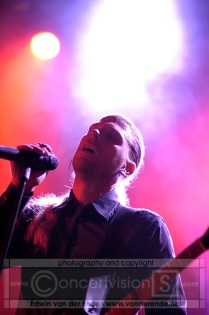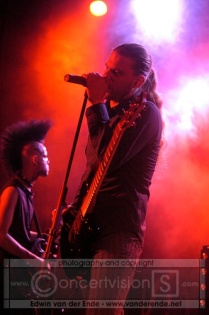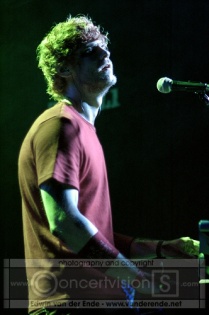 Performance
While having two stationary elements on stage, the movement has to come from the guitarists. Especially Gaun:A is very active on stage paying regular visits to all his fellow band members. With his mowhawk he should be getting most of the attention, but this is not totally true. Adrian draws eyes towards him with his voice and expression. When not holding his guitar his arms are wide open or entangled with the microphone and it's stand, his eyes often closed to concentrate on the deeper emotions. The lights changed colour during the various songs, from red/purple to green/blue, not too much coming from the front however, too bad because his facial emotions could use some more attention.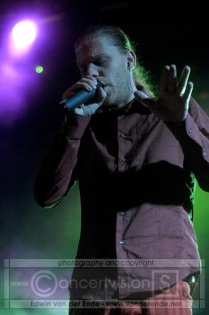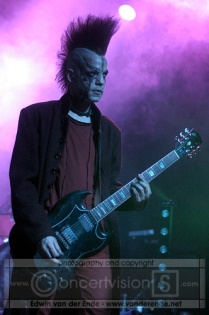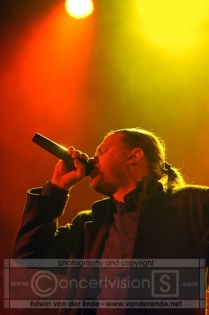 Setlist
01. Reign of Chaos
02. Butterfly Dance
03. Panik?
04. Giftraum
05. Menschfeind
06. Play God!
07. Chemicals
08. Soul Stripper
09. Traumtänzer
10. The Curse
11. Kingdrom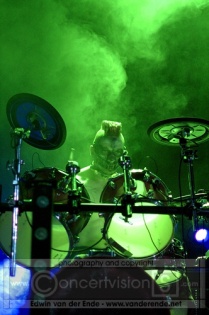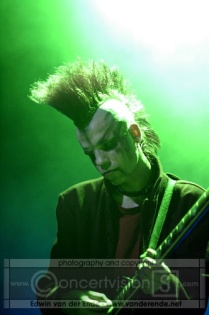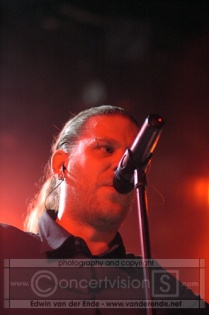 Rating
Music: 8
Performance: 8
Sound: 8
Light: 7
Total: 8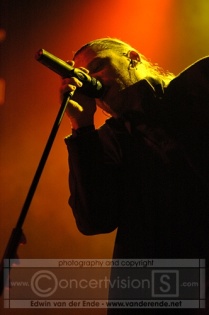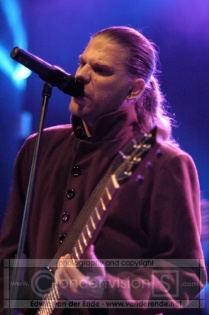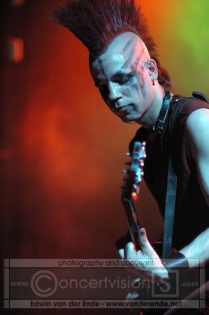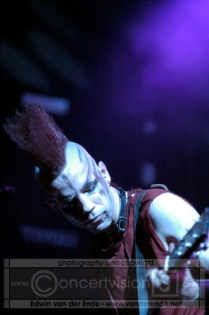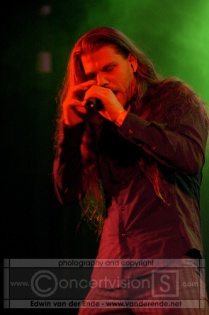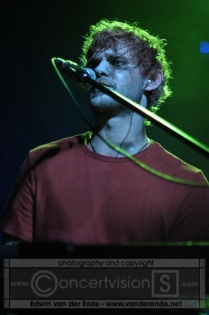 T. Raumschmiere (by EE)
Well after today's headliner Diary of Dreams have left the stage the mood in the venue starts to change. More and more people wearing non-dark clothes enter the venue and somehow beer consumption seems to have quadrupled. The tunes played by the 'Disco Twin' did scare most of the Goths away. Those who stayed waited for T. Raumschmiere, when the curtains opened, we got disappointed
Music
This was nothing like I'd expected to be somehow remotely related to Summer Darkness. This was just an overenthusiastic singer with his band doing some not noteworthy rock songs. I will most certainly not check out this man again unless I will be somehow convinced that he's any better. The volume at the venue was high, just like it was in the disco before the show.
Performance
There was a shadow wearing a hat running around twirling his mic stand around. In the back there were some still projections that changed every now and then. The drummer and the (bass)guitarist just did their thing while T. Raumschmiere was racing around like a wannabe rock star. It was bad, was this the reason there was no front light on stage?
Rating
Music: 6
Performance: 4
Sound: 6
Light: 0
Total: 5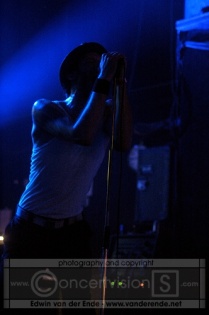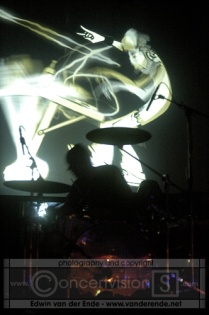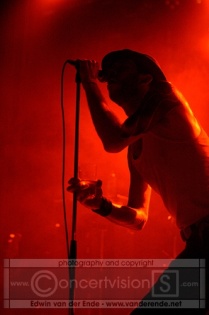 See also (all categories):