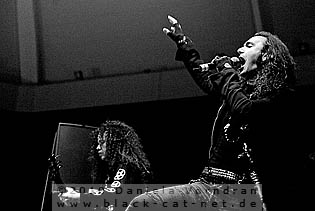 Leipzig, Germany
21st - 25th May 2010
Wave Gotik Treffen Day 2: Lord of the Lost, My Insanity, Orange Sector, Ashes you Leave, Rabia Sorda, Omega Lithium, Rotersand, The Vision Bleak, X marks the Pedwalk, Poisonblack, Leaether Strip, Alcest, Moonspell

After a quite short night, my day started with a nice breakfast at my hotel. Then it was, no, no time for concerts, but time for a little photo shooting. Results will seen be seen in the Blackfield Festival program. But that's another story. Since it was very nice weather and the shoot was sooner finished than expected, I made my way to the Moritzbastei to meet some friend and then have some big ice cream in the city sitting in bright sunshine. Very un-Goth, hm?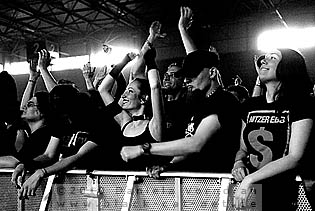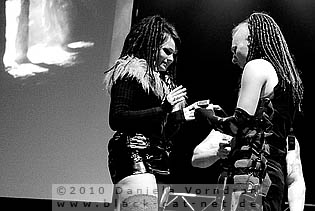 Lord of the Lost - Kohlrabizirkus [Daniela Vorndran]

Before starting his own band with LORD OF THE LOST in 2008, initiator Chris Harms has been involved in various musical activities already. He started as vocalist for PHILLIAE, played live guitar for BIG BOY and worked with THE PLEASURES as well. Nearly instantly after its inception, LORD OF THE LOST locked themselves up in the studio, spending most of 2008 working on their debut album. The album's called 'Fears' and has been released in this year's February via Out of Line. LORD OF THE LOST is Chris (vocals, guitar), Sebsta (guitars), Class (bass), Any (drums) and Sensai (guitars).
http://www.myspace.com/lordofthelost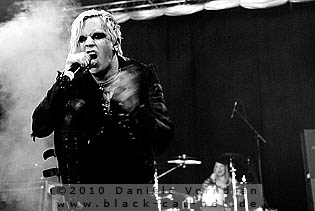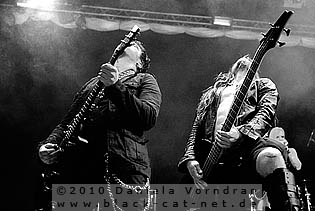 Music & Performance

So, after a pretty relaxed start into the day, LORD OF THE LOST was my first band on this Saturday afternoon. Since the writer of our CD review was pretty much excited about this band, I was curious how they would perform on stage, even though I already knew that I could not watch the whole set. Photography duties, you know? Very powerful, the band started with its mix of catchy melodies, doomy atmosphere and aggression. The songs presented are something between Glam, inferno and dark romantic. Just a little sad that there was nearly no light to see what was going on on stage since there was really something to look at. Especially singer Chris drew the attention with his expressive behaviour. I wish I could have watched the whole show since it was really worth it.
Setlist

01. Dry the Rain
02. Last Words
03. Nothing Words can Say
04. Bad Romance
05. Never Forgive
06. Blind (Interlude)
07. Prison
08. Epiphany
09. Prologue
10. Break your Heart
Rating

Music: 7
Performance: 8
Sound: 7
Light: 5
Total: 7 / 10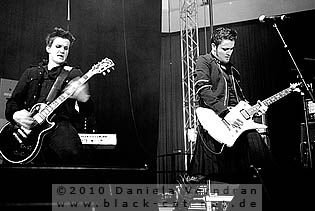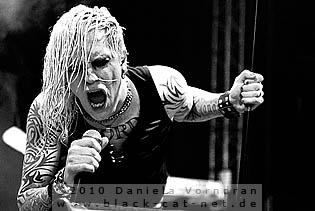 My Insanity - Kohlrabizirkus [Anne Kuhfuß]


MY INSANITY was formed in 1996 in Eisleben, Saxony-Anhalt, Germany. The line-up from then changed up to now, but Christian Faust (vocals), Tobias Below (bass) and Sascha Schettler (keyboards, vocals, drums) are still in the band. Mario Ermisch plays the guitar in MY INSANITY. In 1998, they released their first album 'Still Dreams In Violent Areas'. Up to now, they released another album called 'Solar Child' (2001) and played shows with SAMAEL, ANATHEMA and LACUNA COIL.
http://www.myinsanity.de/
/
http://www.myspace.com/myinsanity666
Music & Performance

After our navigation system went lost, we didn't make it to LORD OF THE LOST and also missed the beginning of MY INSANITY which turned out to be a real pity because MY INSANITY really knew how to rock the stage. Christian's voice was so powerful and caught one's attention right away. The sound was pretty good and so, you could hear how well the music was balanced and how good everything went together. Sascha (drums) was dressed in a black outfit and his shirt had lots of small LEDs on it which took some getting used to at the beginning but it was actually quite cool to look at since Sascha really went crazy playing the drums. Up to that point, I haven't heard about MY INSANITY and I probably wasn't the only in the Kohlrabizirkus that night but I will definitely keep track of their work. What a nice band to start the day after so much trouble.
Rating

Music: 9
Performance: 9
Sound: 8
Light: 8
Total: 8.7 / 10

Orange Sector - Agra [Carsten Leopold]

ORANGE SECTOR emerged in Hannover 1992. The name is word play and describes the area you're residing in during band activities. As they're all big admirers of the band DAF (Deutsch Amerikanische Freundschaft) you might guess which sound they've developed. Their first demo tape was only sent out to Zoth Ommog. Label head Talla2XLC liked the material and passed it on to producer Andre Schmechta and ORANGE SECTOR were just where they wanted to be. The debut 'Faith' came out in 1993 and had a real dance floor smasher 'Kalt wie Stahl' in its track list, just to be followed by the second coup 'Flashback' only one year later which again had some hits on it with 'Götter' and 'Für immer'. Lars left the band after the 'Flashback' tour. 2004 then saw the revival of ORANGE SECTOR in original line-up on Infacted Recordings and they released a few albums since then and are working on new material for 'Krieg und Frieden' right now. ORANGE SECTOR is Martin Bodewell (vocals, synths, programming) and Lars Felker (backing vocals, drums, lyrics).
http://www.orange-sector.de/
/
http://www.myspace.com/orangesector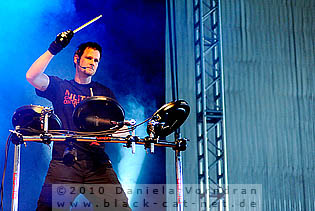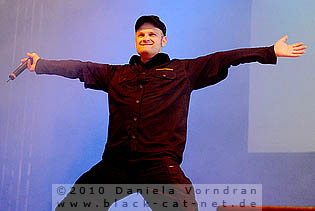 Music & Performance

Just in time after an instrumental intro the both guys of ORANGE SECTOR entered the stage. They did a powerful performance which remembered to the classic old-school EBM bands like NITZER EBB or FRONT 242 as well as already mentioned DAF. Lars did not only stand behind his drums, he also joined Martin running from one side of stage to the other shouting the lyrics into the audience. The 45 minutes lasting set contained old songs as well as brand-new material from the current album 'Krieg und Frieden' released on Infacted Recordings. The crowd was animated by the rhythmic danceable sound and enjoyed the show that was underlined in the background by video animations. Pretty good start into the electro day at Agra hall for us.
Setlist

01. Tribal.warfare
02. I hate you
03. Endzeit
04. R.i.p.
05. Sick.sick.sick
06. Dynamit
07. Krieg & Frieden
08. Tanzbefehl
09. Götter
10. Für immer
11. Bitch
12. Flashback
13. Kalt wie stahl
14. Bodysmashing
Rating

Music: 6
Performance: 7
Sound: 9
Light: 6
Total: 6.8 / 10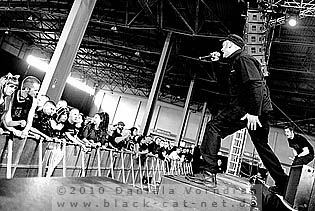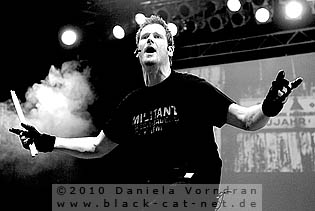 Ashes you Leave - Kohlrabizirkus [Anne Kuhfuß]

The band formed in 1995 under the name of ICON. Under that moniker, one demo was released, titled '...But Dreaming'. After finding out about another band named ICON, the band decided to change their name to ASHES YOU LEAVE. Soon after that, they released their second demo in 1996, called 'The Kingdom before the Lies'. The band then signed to the German label Morbid Records and released their debut album, 'The Passage Back to Life', in 1998. One year later, in 1999, their second album was also released through Morbid Records, titled 'Desperate Existence'. In 2000, 'The Inheritance of Sin and Shame' was released through the same label. Afterwards, the lead vocalist, Dunka Radetic, left the band and was replaced by Marina Zrilic. After playing at several festivals, the vocalist decided to withdraw from ASHES YOU LEAVE to pursue her singing education abroad. Soon thereafter, Tamara Mulaosmanovic joined the band as vocalist and keyboardist. After starting recording in March 2006, the album 'Songs of the Lost' was released in 2009, this time through Sleaszy Rider Records.
http://www.ashesyouleave.org/
/
http://www.myspace.com/ashesyouleaveband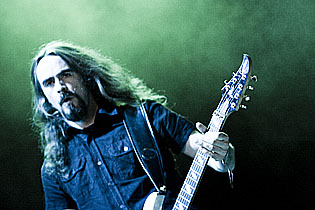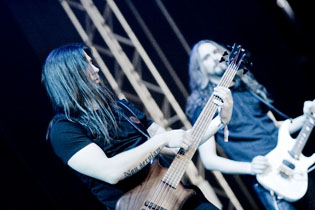 Music & Performance

After a great performance by MY INSANITY, I expected a great band to play next as well, but this was not the case. At first, there was no singer to be seen on stage and the girl on the keyboard sang some of the clean parts (which you could not hear at all at the beginning) after some screaming by the guitarist. And after the first song, the girl on the keyboard went to the microphone and so, it was clear that she actually was the singer of the band. Now, I hoped for some action on the stage but I was deeply disappointed. The sound was lame and I expected Tamara (vocals) to fall asleep any minute. The songs they played were pretty boring and the songs could easily be mistaken because they sounded all the same. The sound was really terrible, too. The snare had way too much reverb on it and so, the sound was really bad in the whole Kohlrabizirkus except if you were standing in front / behind of the sound engineer. All in all, I almost fell asleep and was disturbed by a bad sound. And I was actually happy when the concert was over.
Rating

Music: 6
Performance: 7
Sound: 6
Light: 7
Total: 6.5 / 10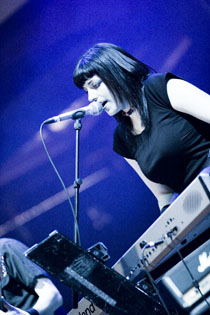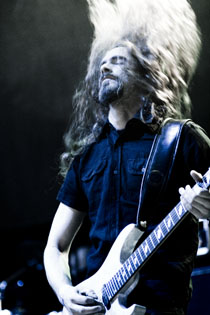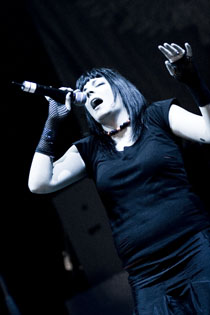 Rabia Sorda - Agra [Carsten Leopold]

RABIA SORDA is a solo project of Erk Arcraig, front man of HOCICO. It was founded in 2003 and the first album the project had under its belt was: 'Métodos del Caos' that was released in November 2006 followed by the single 'Save me from my curse'. The following time would be occupied again by works for the revived beast HOCICO, before first preparations could be started for the RABIA SORDA sophomore 'Noise Diary', eventually released to the public in September 2009. On stage, Erk is supported by two keyboarders and even one drummer.
http://www.rabiasorda.com/
/
www.myspace.com/rabiasorda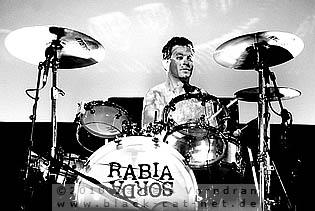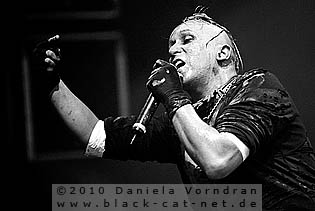 Music & Performance

RABIA SORDA started their set powerful and right from the start the crowd was moving and dancing. Powerful electro sounds with live drums, combined with the distinctive voice of singer Erk who also is known as a part of the famous Mexican band HOCICO impressed the well-filled hall. During the show, the additional e-drum set of the keyboarder plummeted by the powerful performance and had to be arranged new. The pushing rhythms animated the legs of the audience to dance and the people enjoyed the show. At the end of the show the front man destroyed one of the keyboards and after about 50 minutes the band left the stage.
Setlist

01. Today in Mexico (intro)
02. Save Me from my Curse
03. Get your overdose
04. Radio Paranoia
05. What U get is what U see
06. Misery
07. Dibujando el veneno (Instrumental for improvisation)
08. Out of Control
09. Breaking Through
10. Heart Eating Crows
11. Walking on Nails
Rating

Music: 8
Performance: 8
Sound: 9
Light: 6
Total: 7.9 / 10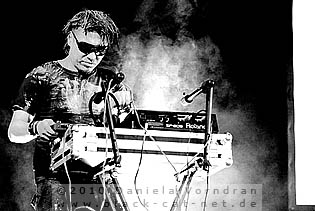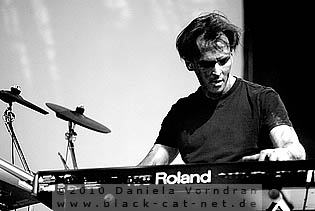 Omega Lithium - Kohlrabizirkus [Anne Kuhfuß]

This potion was concocted in 2007 by four talented alchemists in the small Croatian town of Umag. Consequently, it was like a lottery win for OMEGA LITHIUM when the label, Drakkar Entertainment from Witten in Germany, listened up and offered to support the quartet in the international distribution of their aphrodisiac, which is even legal. Their penchant for chemical substances is also reflected by the title of their debut album, 'Dreams in Formaline'. The band's figurehead is 19-year-old vocalist Mya Mortenssen, whose looks are on a par with her powerful and surprisingly deep voice and is definitely a force to be reckoned with by the international competition. Along with Mya, guitarist / main songwriter Malice Rime, bassist / lyricist Zoltan Harpax and drummer Torsten Nihill have created a powerfully sinister sound which occasionally brings to mind the atmospheric Goth metal of acts such as LACUNA COIL and EVANESCENCE yet is always independent and marked by a variety of influences. OMEGA LITHIUM combine cutting metal riffs, rock elements, electro beats, machine-like coolness and haunting atmospheres at the interface of industrial, Goth and metal. Up to now, they played with many big bands and this year, they re-released their first album 'Dreams in Formaline'.
http://www.omegalithium.com/
/
http://www.myspace.com/omegalithium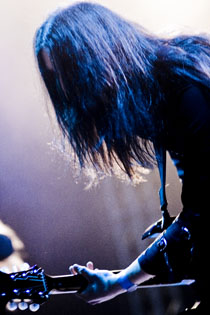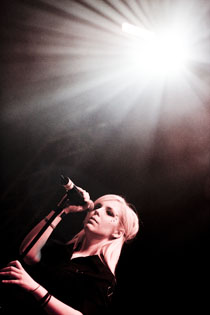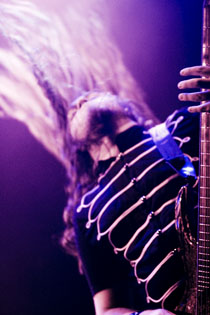 Music & Performance

OMEGA LITHIUM knew how to persuade me right from the beginning of their show. The band was dressed in really cool outfits. Also, their stage presence was way better than the one of the members of ASHES YOU LEAVE who were just standing around doing nothing. Mya (vocals) was such a likeable person from the first second she entered the stage. She had a good grip on the audience. The sound was really well-mixed and so, everybody enjoyed the first songs that Saturday night. Mya's voice was really a nice variation from all those other female-fronted metal bands like NIGHTWISH and LEAVES' EYES. She sang in a pretty low key but she also mastered singing high notes in perfection. The electronic influenced elements blended very well into the hard metal live sound, giving a kind of a great depth to it. The whole band had so much fun being on stage. Everybody was moving around, banging their heads and animating the audience. They kept their best songs a secret until the end of the show when they played 'Andromeda' and 'Stigmata'. Those are also the songs some of the people in the audience knew and they didn't hesitate to sing along and scream, quite impressive.
Rating

Music: 9
Performance: 9
Sound: 8
Light: 8
Total: 8.7 / 10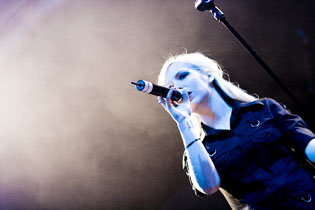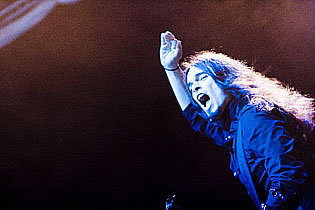 Rotersand - Agra [Carsten Leopold]

ROTERSAND is a German Electro band that producer Gun and THE FAIR SEX member Rasc formed in 2002. They had met during their collaborations on various projects and then created the band's sound by connecting heavy beats with playful electronic sounds. While being on "Legends United Tour" in 2002, they were completed by the Techno producer Krischan E. Wesenberg who became the third man of ROTERSAND eventually. In 2003, the three-piece released the EP `Merging Oceans´ that entered the German Alternative Charts straight away. Meanwhile, ROTERSAND can look back on four successful albums, the latest one being 'Random Is Resistance', and many live performances they acquired a big following with.
http://www.rotersand.net/
/
http://www.myspace.com/rotersand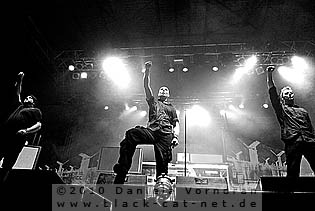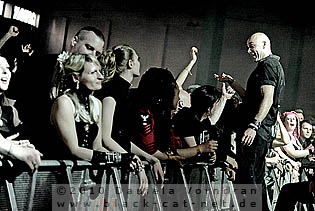 Music & Performance

Five to eight, the stage was ready for ROTERSAND and already before the anchor man announced the band, the sound of 'War on Error" - the current EP of them - was played from the PA. Welcomed by screaming and applause, the three guys of ROTERSAND entered the stage and started their show with 'Bastard Screaming'. Large LCD screens were arranged on stage and would be used for nice videos and animations. Powerful like usual, ROTERSAND performed their set and the crowd answered with screaming, dancing and clapping hands. Of course the obligatory "dance control" by Rascal, who jumped down to the crowd, wasn't missed. A special surprise for the fans was given when Rascal welcomed a special guest on stage; for the song 'Merging Oceans' Ronan Harris from VNV NATION entered the stage and sang this song together with Rascal. It was a great highlight of a great show and when ROTERSAND left the stage after 'Undone' the crowd felt highly entertained and so did I.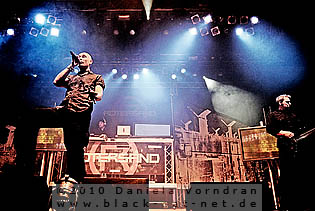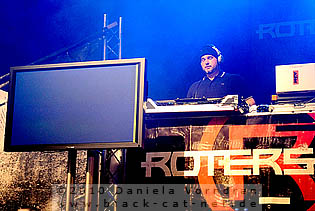 Setlist
01. Bastard Screaming
02. Electronic World Transmission
03. Waiting to Be Born
04. Almost Violent
05. Dare to Live
06. Merging Oceans
07. Lost
08. War on Error
09. Exterminate Annihilate Destroy
10. Undone
Rating

Music: 9
Performance: 9
Sound: 9
Light: 8
Total: 8.9 / 10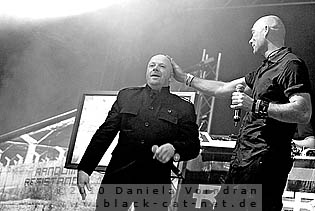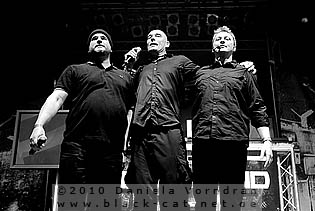 The Vision Bleak - Kohlrabizirkus [Anne Kuhfuß]

THE VISION BLEAK is a Gothic metal / Horror Punk band from Germany formed in 2000, consisting of former EMPYRIUM member Ulf Theodor Schwadorf and former NOX MORTIS member Allen B Konstanz. The band's themes are most notably orientated towards horror. In July 2009, THE VISION BLEAK entered the studio to record their fourth album. Under the name of 'Set Sail to Mystery' it was released on April 2nd.
http://www.the-vision-bleak.de/
/
http://www.myspace.com/thevisionbleak
Music & Performance

THE VISION BLEAK was one of the bands I was looking forward to the most at this year's WGT and surely wasn't disappointed. The audience was thrilled as well. As soon as the band entered the stage, the people went crazy. Popular songs like 'Kutulu!' had choirs sing "IA! IA! KTULU FTHAGHN! IA! R'LYEH! KTULU FTHAGN". Tobias (vocals) was in a really good shape and his voice was just amazing in combination with the great sound. The setlist showed some classics and some newer songs and probably and had something for long-time fans and people who just recently discovered THE VISION BLEAK.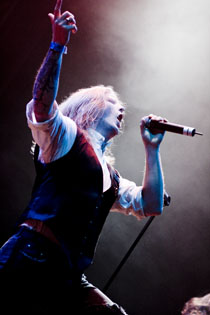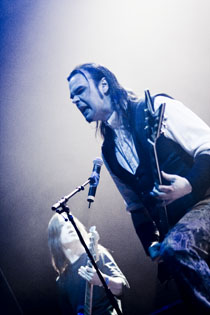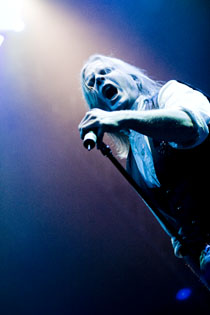 The band always animated the audience to sing along and bang their heads with them. The atmosphere in the Kohlrabizirkus was incredible at that time. Everybody just wanted more and the band did what they could do and played 9 songs (+ Intro) but the people were still screaming for an encore after the last song called 'The Lone Night Rider' which wasn't really surprising to me since their show was just amazing. After the show, everybody ran to the merchandise but there was no merchandise. This was really sad since I wanted a T-Shirt, too. Well, then I just have to wait until the next concert which is hopefully not far away. One of the best concerts at the WGT 2010!
Setlist

01. Intro
02. Descend Into Maelstrom
03. Night of the Living Dead
04. Carpathia
05. Wolfmoon
06. Kutulu!
07. A Romance with the Grave
08. I Dined With the Swans
09. By Our Brotherhood With Seth
10. The Lone Night Rider
Rating

Music: 9
Performance: 9
Sound: 8
Light: 8
Total: 8.7 / 10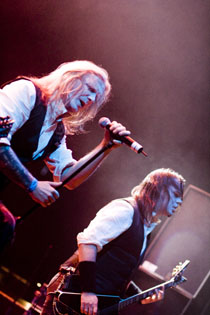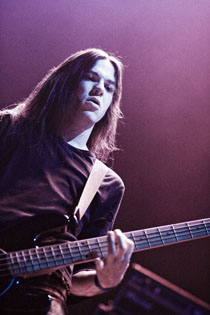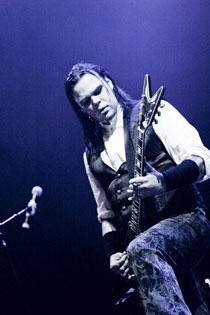 X marks the Pedwalk - Agra [Carsten Leopold]

X MARKS THE PEDWALK was founded in 1987 by classically trained musician Andre Schmechta and Jörg Böhme, at the time under the name of SCARECROW. Later on when signing to famous label Zoth Ommog, the name was changed. The 'Arbitrary Execution' single got released in 1989 and the project started playing its first live shows. Things however really took off with the 'Abattoir' single, getting released in 1990. To this day it's part of many EBM DJ sets. The later years of that decade saw the project turning its focus to creating a crossbreed of techno elements with their industrial roots, with that auguring what one day will be called Future Pop. 'Drawback' was to be the final release and X-MARKS THE PEDWALK actually were to be put to final rest. But in 2009, they surprisingly returned with a new single. The new album 'Inner Zone Journey' came out in March 2010 via Infacted Recordings. XMTP is Sevren Ni-Arb (founder, songwriter, vocalist, producer, and engineer), Raive Yarx (concepts, structures, live keys) and Estefanìa (secondary vocalist).
http://www.xmtp.de/
/
http://www.myspace.com/xmtpde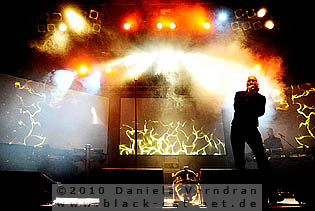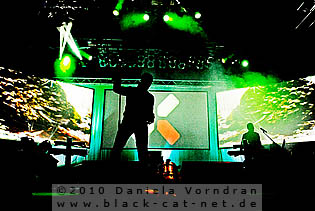 Music & Performance

So, there it was, the re-union show of X MARKS THE PEDWALK at WGT 2010. It was hard to judge in advance if this would be a major success or a disaster. After the show, the opinions were pretty much split as well, but in my opinion they did very well. XMTP started the show with 'Seventeen' and did a solid old-school electro / synth pop set consisting of the band's classics as well as very new songs, with pleasing and danceable sounds, performed soulful and dedicated. The crowd seemed to be pleased by the show and quickly the time went over. Highlight was surely the light show that was perfected by nice background projections and laser usage. All in all, the set that was btw recorded for an upcoming DVD release consisted of ten songs and after about 45 minutes, the main set finished with "Abattoir" - maybe the band's biggest hit - and X MARKS THE PEDWALK left the stage, but they came back for an encore with two more songs before the set was finally over.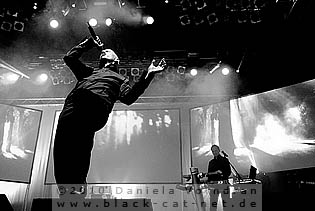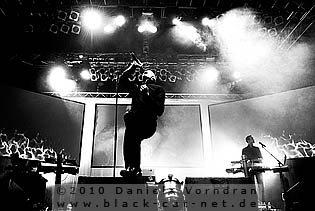 Setlist

01. Seventeen
02. Wipe no tears
03. Missing light
04. Desolation
05. Runaway
06. My back
07. Never look back
08. Abattoir
---
09. Never dare to ask
10. Facer
Rating

Music: 8
Performance: 7
Sound: 9
Light: 8
Total: 7.9 / 10
Poisonblack - Kohlrabizirkus [Anne Kuhfuß]

POISONBLACK is a Finnish gothic metal band led by singer / guitarist Ville Laihiala, known for his vocals with the band SENTENCED from 1996 - 2002. After the departure of Juha-Pekka Leppäluoto sometime after the release of their first album, 'Escapexstacy', Laihiala, the band's principal songwriter, assumed vocal duties himself and has since led POISONBLACK in a musical direction that closely mirrors that of his former band. The Finnish release for POISONBLACK's latest album 'Of Rust and Bones' was on March 17th 2010.
http://www.poisonblack.com/
/
http://www.myspace.com/officialpoisonblack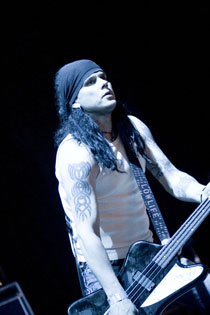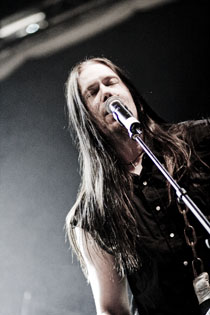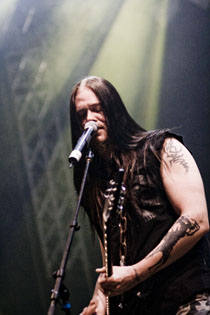 Music & Performance

Since the self-burial of SENTENCED several years ago, former fans who couldn't get enough of the bittersweet vocals of ex-front man Ville Laihiala sought new refuge in POISONBLACK and probably also made it to the Kohlrabizirkus that evening. Since I enjoyed them on the WGT three years ago, I looked forward to see POISONBLACK again, but something was different this time. I don't believe that much has changed since then, but somehow I didn't enjoy the band's general sound this time. The guitar had way to much gain in my taste, trying to sound more heavy and dirty than the synthesizers as the other melody giving instrument on the second hand could bear, but that phenomenon bothered me since the second album even on CD, but not as much. Anyhow the band did a good job, the interplay was tight, Ville delivered a solid vocal job, as well as drummer Tarmo Kanerva did on the battery. The set was of course dominated by songs of this year's album 'Of Rust and Bones', but also songs like 'Diane' from the 2008 record made it into the set. Despite the discomfort in the matter of sound, I would have enjoyed watching the whole gig, but we had to leave early for ALCEST.
Rating

Music: 8
Performance: 8
Sound: 6
Light: 7
Total: 7.6 / 10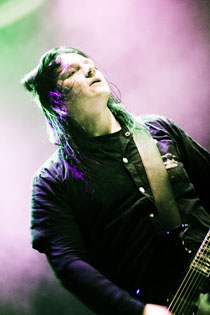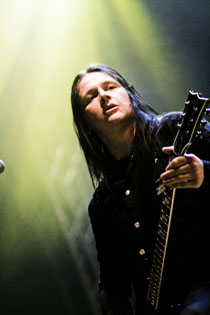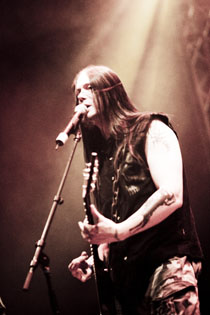 Leaether Strip - Agra [Carsten Leopold]

Claus Larsen first released music under the name of LEÆTHER STRIP in 1989, however demos appearing on a later album suggest that the project commenced already several years earlier. LEÆTHER STRIP was one of the earliest and most prominent acts on Germany's now defunct Zoth Ommog record label on which he released his first album 'The Pleasure of Penetration' in 1990 with another collection, entitled 'Science for the Satanic Citizen' following that same year and continue to release albums until 1997, amongst them 'Solitary Confinement' from 1992, deemed today as one of Larsen's best works and influential for a number of epigones that, however, never really came close to its authenticity and genre-defining qualities. As of 2000 follows a dormancy period and except for a remix for German KIEW, nothing would be heard of him until 2005 he signs with Belgian label Alfa Matrix and releases the official comeback, the 'Suicide Bombers EP' only serving only as the start of a series of new releases out of Larsen Headquarters in the following years, another set of which being close to their release in June.
http://www.myspace.com/leaetherstrip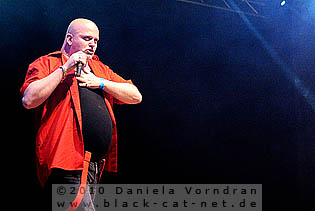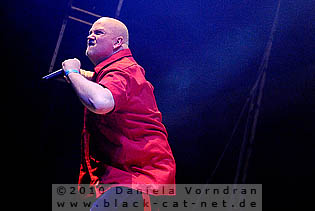 Music & Performance

Saturday night at WGT, the sun was gone and the stage was ready for the headliner of the day. LEÆTHER STRIP entered the stage ten to eleven and Claus Larsen, all alone on stage, started his show. He performed his songs alone on stage without further musicians, the music was played from tape and only one keyboard was arranged on stage which was used at several times by him. Some may call this stupid and boring, other brave and honest. You have to judge yourself. The performance was powerful and pushing and the still present people enjoyed it. Some people had left the venue meanwhile and the hall wasn't well-filled. But those who were still there to enjoy the show surely were not disappointed. The main set finished at midnight, an encore was given. For Claus, this was an amazing night, how he told later, for him, it felt as intimate as a small club gig. So, you can say that anyone was happy with this show.
Setlist

01. Desert Storm
02. Introvert
03. Evil Speaks
04. Hate me
05. Japanese Bodies
06. Strap me down
07. Black Gold
08. Don't tame your soul
09. Black Candle
10. Sex Dwarf
11. Adrenalin rush
12. Civil Disobedience
13. Body Machine Body
Rating

Music: 8
Performance: 6
Sound: 9
Light: 7
Total: 7.4 / 10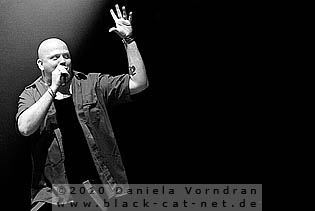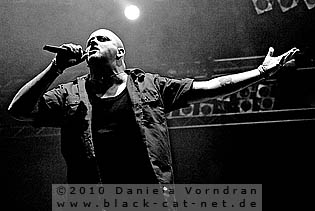 Alcest - Schauspielhaus [Anne Kuhfuß]

ALCEST was formed as a solo project by Neige in 1999. Soon after, the band became a three-piece black metal outfit, consisting of Neige on vocals, rhythm / acoustic guitar, and drums, Argoth on bass, and Aegnor (now known as La Famine de Valfunde. Famine used Neige as a session and live musician in Peste Noire) on lead guitar. In 2001, the band released a 4-track demo tape entitled 'Tristesse Hivernale' on Drakkar Productions in which Famine wrote the main riff of the song 'La Forêt de Cristal'. Not long after the demo was released, the band once again became a one-man entity, with Neige taking ALCEST in a more personal direction. Neige, having originally formed ALCEST as an outlet to create cold and raw black metal, moved away from the minimalist approach with the follow-up to 'Tristesse Hivernale', entitled 'Le Secret'. The debut album, titled 'Souvenirs d'un autre monde', was released in autumn of 2007 on Prophecy Productions. Recently, ALCEST released 'Écailles de Lune'.
http://www.alcest-music.com/
/
http://www.myspace.com/alcestmusic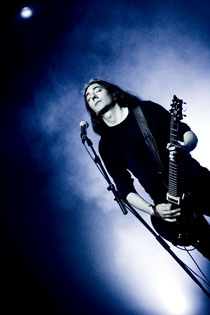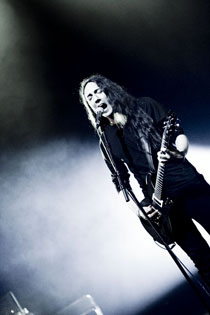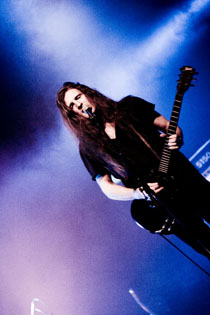 Music & Performance

For me the most anticipated band of the "Treffen" was ALCEST for whom we even skipped MOONSPELL that night. Just in time we arrived at the Centraltheater (which still is called "Schauspielhaus" on every WGT info sheet) hoping that some place will be left, but sadly just about half of the 666 seats (coincidence?) were to be left empty and we were able to get a seat in the fourth row. Since I never had the possibility to see ALCEST before and it always has mainly been a one-man-band, I was curious to find out who mastermind Neige (all instruments, vocals) had gathered. The musical focus of the evening clearly was the recently released 'Écailles de Lune' (translated: "scales of the moon") which remains true to its predecessor 'Souvenirs D'un Autre Monde' and follows it's musical path between ambient rock and black metal entwined by an amazing talent for creating atmosphere - also live. With a completed line-up, ALCEST invited us on a journey through their past works and the audience met them by dreaming, rhythmical nodding or even head banging in its seats.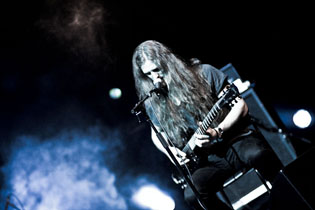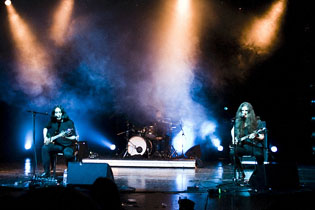 The second guitarist integrated very well into Neige's vision and provided great abilities on his instrument as well as great chants that were worthy of the songwriter. Winterhalter (drums) who had already been involved in the recording of the latest output did a great job, just like the newly acquired bassist, supported by a good performance of the sound technician. The whole experience was accentuated by a proper light design (except the blinding horizontal seeking spot). Performance-wise, there was nothing too exciting going on, which would have unnecessarily distracted from the music. For me the highlight was about two-thirds into the set, as the guitarists took place on chairs to play the beautiful song 'Sur L'océan Couleur De Fer' which was absolutely amazing. At least at that point you lost yourself in dreaming; even the encore came off a little harsher with some black metal screams. Thank you ALCEST for this great experience.
Rating

Music: 10
Performance: 8
Sound: 9
Light: 9
Total: 9.1 / 10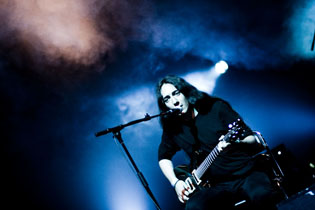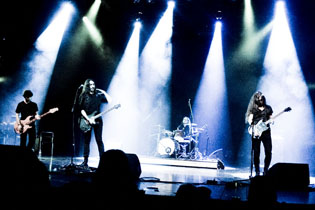 Moonspell - Kohlrabizirkus [Daniela Vorndran]

The band was founded as MORBID GOD in 1989 by Fernando Ribeiro. Until 1992, they recorded some demos and then decided to change the name to MOONSPELL. After the release of mini-album 'Under the Moonspell', the band signed with Century Media for six albums. Their debut 'Wolfheart' initially received only sparse attention but later it was to be considered as a milestone in the history of Portuguese Metal. Simultaneously it was the springboard for an emergent career. The second album 'Irreligous' came out in 1996 and sold over 10,000 copies and that only in Portugal. The band entered a rather experimental path with their following albums 'Sin/Pecado' (1998) and 'The Butterfly Effect' (1999) to return into more confided but matured territory after that period. 'Memorial' (2006) managed to crack the mark of 10,000 sold copies. The newest album goes by the name of 'Night Eternal' and came out in 2008. MOONSPELL is Fernando Ribeiro, Mike Gaspar, Pedro Paixao and Ricardo Amorim.
http://www.moonspell.com/
/
http://www.myspace.com/moonspell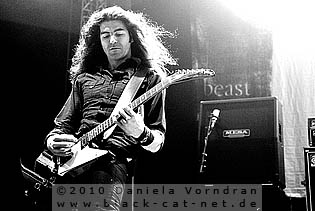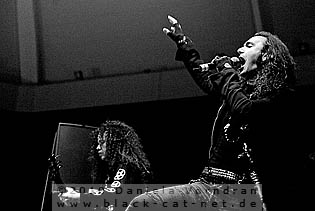 Music & Performance

Back from the electronic music at Agra to where my day started... to the Kohlrabizirkus with finest Goth Metal. Portuguese MOONSPELL was on the menu and I was really eager to see them. The stage looked quite impressive with the big background projections fitting the dark music very well. The four-piece rocked the hall. Lots of head banging could be seen on and off stage. The sound was not too bad even though especially the drums caused some echoes in the hall. Even though the lights were set pretty dark with some flickering highlights every now and then, it fitted pretty much to the mystical mood of the songs. The fans banging to the music should be pretty satisfied with the setlist containing such favourites as 'Finisterra', 'Opium', 'Nocturna' or 'Alma Mater'; latter one finishing the main set. But a headline slot would be no headline slot if there wasn't an encore. And so, the band returned for two more songs, 'Awake' and 'Fool Moon Madness' releasing the Goths into the night, either for some sleep or for some heavy partying.
Setlist

01. At Tragic Heights
02. Night Eternal
03. Finisterra
04. Southern
05. Opium
06. Spiegelmann
07. Soulsick
08. Scorpion
09. Luna
10. Nocturna
11. Magdalene
12. Vampiria
13. Mephisto
14. Alma Mater
---
15. Awake
16. Full Moon Madness
Rating

Music: 9
Performance: 8
Sound: 8
Light: 8
Total: 8.4 / 10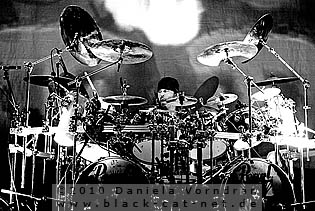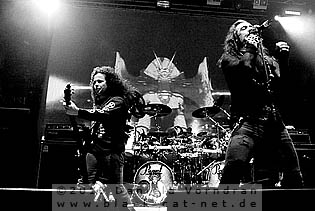 I decided not to party after the show but to get some sleep because the next day would become very long and pretty exhausting.
All pictures by Daniela Vorndran (Lord of the Lost, Orange Sector, Rabia Sorda, Rotersand, X marks the Pedwalk, Leaether Strip, Moonspell -
http://www.vorndranphotography.com/
/
http://www.black-cat-net.de/
/
www.myspace.com/vorndranphotography
) and Anne Kuhfuß (My Insanity, Ashes You Leave, Omega Lithium, The Vision Bleak, Poisonblack, Alcest)
Written by Daniela Vorndran, Carsten Leopold and Anne Kuhfuß
{jos_sb_discuss:18}
See also (all categories):