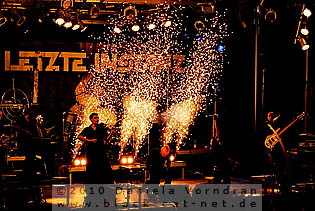 Schloß Broich, Mülheim, Germany
4th & 5th June 2010
Castle Rock 11 Day 2: Letzte Instanz, Diary of Dreams, Mono Inc., Krypteria, The Vision Bleak, Seelenzorn, Eden Weint Im Grab

The second and last day of Castle Rock 11 had dawned already. The weather was still as you could wish for on a festival weekend, but already too hot for me. Anyway, the second day mostly offered rocking tunes from bands such as EDEN WEINT IM GRAB, SEELENZORN or MONO INC, but also the show of DIARY OF DREAMS would be taking place this day.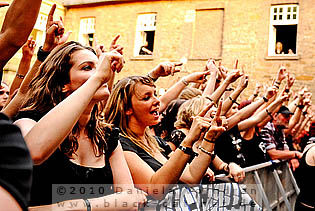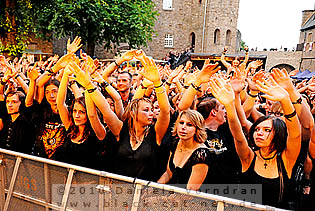 Eden Weint Im Grab


In 2000, EDEN WEINT IM GRAB's protagonist Alexander Paul Blake already recorded a first demo called 'A Celebration in Black' as DARK PRIDE RETALIATION. But due to the poor sound quality this demo was never released. The project was buried soon afterwards and it took long for it to resurge from the grave in 2004, this time with the name EDEN WEINT IM GRAB (EWIG) and with German lyrics and the official debut album 'Traumtrophäen Toter Trauertänzer'. Motivated by the great responses and euphoric reactions, Alexander Paul Blake returned to his studio in Berlin to create the successor 'Trauermarsch Nach Neotopia', released in 2008. As third and most recent work, the band released 'Der Herbst des Einsamen' in last year's autumn. EWIG is Alexander Paul Blake (voice, keyboards, bass, songwriting), Michael Tamme (guitar), Marco Eckstein (guitar) and Zeus X. Machina (drums). http://www.edenweintimgrab.de/ / http://www.myspace.com/edenweintimgrab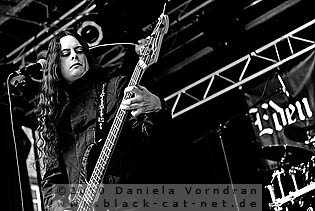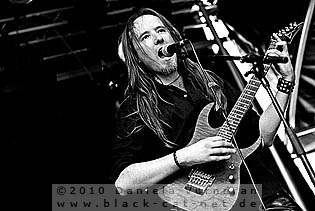 Music & Performance
I didn't really know what to expect from EDEN WEINT IM GRAB since I knew hardly any stuff except some excerpts from the latest album 'Der Herbst der Einsamen'. But the actual music of the band is much more driven by harsh guitars and driving rhythms as groundwork for forlorn atmospherics and the erratic vocals of Alexander Paul Blake. Those always were of an unsettling kind and were guiding you into abysms, no matter if they were expressed in fierce growls or sonorous, clean parts. The actors on stage, however, acted a bit static and could've moved a lot more. Here's some room for improvement for the next performance. The audience looked at the events with a mixture of confusion and fascination. Some also turned away because they couldn't take any pleasure in it. I admit it takes some getting used to but there's something to it.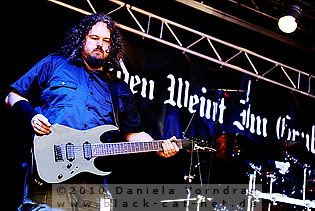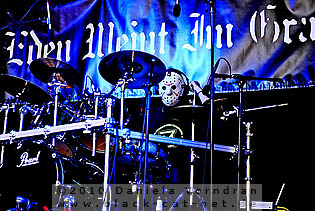 Setlist
01. Traum des Bösen
02. Unter Dem Eis
03. An Die Nacht
04. Weltgeheimnis
05. Den Herbstrlaubreigen tanzt der Tod
06. Des Träumers Melancholie
07. Undine
08. Blutquell
09. Krieg im Wunderland

Rating
Music: 7
Performance: 6
Sound: 7
Light: - (daylight)
Total: 6.7 / 10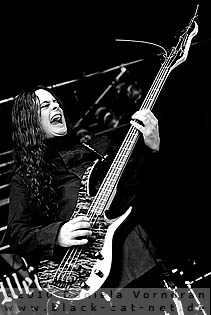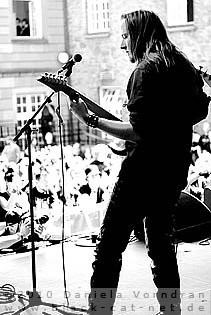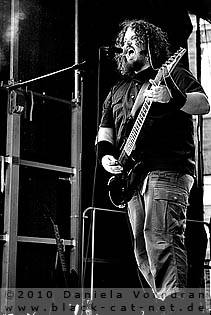 Seelenzorn

SELLENZORN came into being in 2004. In May of the same year, the first EP 'Lebenszeichen' has been created. In 2005, the band signed their first record deal with well-known Danse Macabre label. Immediately afterwards, work on the first album 'Toete Alles' started which came out in the same year, to be followed by 'Gnadenloser Zorn' in April 2007. The band's newest EP is a web-only release by the name of 'Keine Angst' from 2008. SEELENZORN is Jens (vocals, song writing, lyrics, programming, production), Toni (vocals), Lothar (vocals), Peter (bass), Kai (guitar) and Thomen (drums, song writing, lyrics, programming). http://www.seelenzorn.com/ / http://www.myspace.com/seelenzorn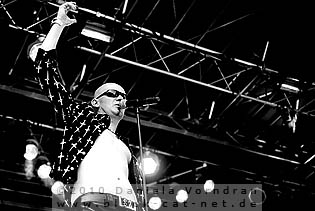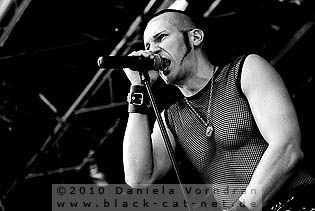 Music & Performance
I was asked before the show how SEELENZORN would sound like. I couldn't give any answer, just because I didn't found the time to have a listen beforehand. Well, after the rebuilding break we'd get to know it for sure. The music of SEELENZORN combined metal and synthesized elements which were adding the melodic, sometimes melancholic parts most of the time. Their most striking feature were the three singers they had, all performing in different kinds of pitches. Songs like 'Keine Angst' in its course erupting with metal riffs and rhythms and having a very melodic chorus, or 'Sexzess' convinced the crowd, at last those who still needed convincing as there seemed to be some fans in there.. But they couldn't convince me at all and I couldn't find anything special in their music.

Rating
Music: 4
Performance: 6
Sound: 7
Light: - (daylight)
Total: 5.3 / 10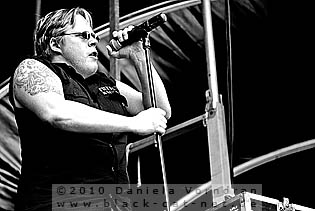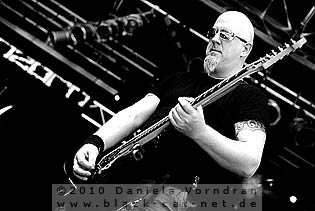 The Vision Bleak

The band whose style is being described as "Horror Metal" was formed by Ulf Theodor Schwadorf also known as the mastermind of the formation EMPYRIUM which was dissolved in 2002 to solely focus his musical activities on THE VISION BLEAK and to carry out the ideas he couldn't use with EMPYRIUM. Grown to a duo, the band debuted with the album 'The Deathship has a new Captain' in 2004 and crashed in like a bomb with it, followed by the second studio album 'Carpathia' in 2005 that deals with a business man travelling to 'Carpathia' to accept his in-heritage and is closely tied to the literature of H.P. Lovecraft. Following a studio period of seven months starting in January 2007, the duo released its thirds album 'The Wolves Go Hunt Their Prey' in August that same year. 'Set Sail to Mystery', their newest achievement, just followed up in April 2010. THE VISION BLEAK are Ulf Theodor Schwadorf (guitar, bass, keys) and Allen B. Konstanz (vocals, drums, keys). http://www.the-vision-bleak.de/ / http://www.myspace.com/thevisionbleak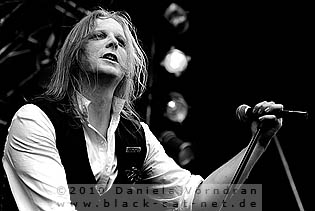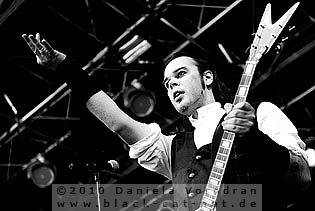 Music & Performance
The time for some horror metal had come now with THE VISION BLEAK. Sadly, they had to play in bright daylight and that fact stole away a lot of the atmosphere their music can build up. With pale faces and old dresses, the band took the stage to the announcement of Christopher Lee, followed by the raging undertows of 'Descend into Maelstrom', the opener of the newest album 'Set Sail to Mystery' that had right away some heads shaking along. Not hard considering the rough force of the track. 'Night of the Living Dead' was swimming in the same driving wake but was rather atmospheric with dark siren calls wafting over black plains. 'Carpathia' pushed further forward into orchestral darkness before with 'Kutulu!', a hit of the band came up, the audience had visibly fun with. But the best mood was undoubtedly with the closing 'Our Brotherhood with Seth', so it became a worthy end to a nice performance.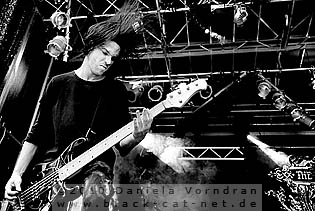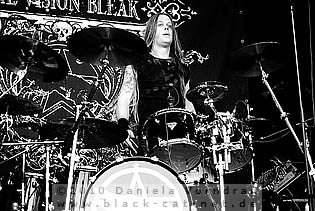 Setlist
01. Descend Into Maelstrom
02. Night of the Living Dead
03. Carpathia
04. Kutulu!
05. Wolfmoon
06. A Romance with the Grave
07. I Dined With The Swans
08. Our Brotherhood With Seth

Rating
Music: 8
Performance: 7
Sound: 7
Light: - (daylight)
Total: 7.5 / 10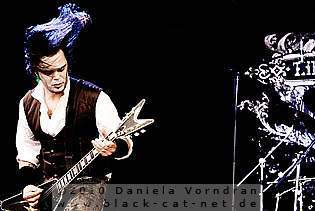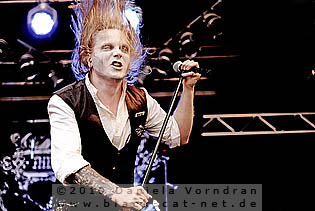 Krypteria

Actually, the history of KRYPTERIA already begins in 2003 as a musical project that released one eponymous double-album. In 2005, KRYPTERIA was re-assembled as rock band and in July of the same year released the album 'In medias res'. On the release date of their new EP 'Evolution Principle', they had a rousing debut at Wacken Open Air followed by a Germany tour with SUBWAY TO SALLY in December. In 2009, their newest album 'My Fatal Kiss' was released at the end of August. KRYPTERIA is Ji-In Cho (vocals), Olli Singer (live guitar), Frank Stumvoll (bass) and S.C. Kuschnerus (drums) plus one live keyboarder. Former guitarist Chris Siemons had to put down playing live guitars for health reasons but still works with the band as studio musician and producer. http://www.krypteria.de/ / http://www.myspace.com/krypteria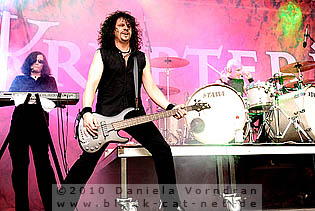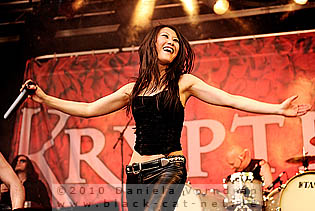 Music & Performance
Quickly, the stage design changed and a few minutes later KRYPTERIA appeared and right from the start made lots of action on stage, especially drummer Kuschnerus, having insane fun playing tricks with his drum sticks whilst playing the rhythms to the opener 'Shoot Me'. Singer Ji-In Cho appeared in a wedding's dress on stage and performed the song wearing it, but with the coming of the second one 'Sweet Revenge', she artistically dropped one piece after the other to reveal a tight, black outfit. Much more comfortable to move around anyway, and she's always doing that. Following a fulsome welcome was 'Ignition'. 'Scream' saw her then trying to get the audience into action, and she put everything into it, but the response was comparatively weak and wouldn't get much better until the last song 'My Fatal Kiss'. The band up to that moment, however, showed no signs of resignation and gave everything.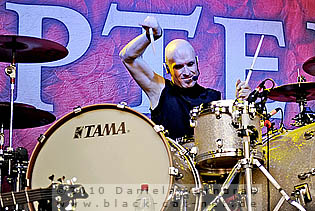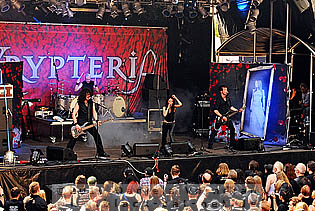 Setlist
01. Shoot Me
02. Sweet Revenge
03. Ignition
04. Somebody Save Me
05. Scream
06. Never Say Die
07. For You I Bring The Devil Down
08. My Fatal Kiss

Rating
Music: 7
Performance: 7
Sound: 7
Light: - (daylights)
Total: 7 / 10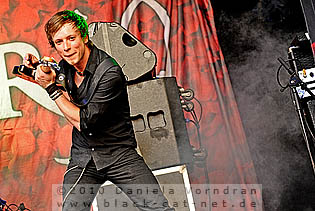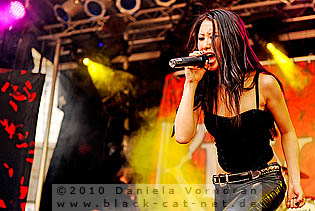 Mono Inc.

Before altering their name into MONO INC., the band was founded in 1998 under the name MONO69! Beginning of 2003, Manuel Antoni fills in the vacant position as bassist and hence completes the line-up. The self-released debut 'Head under Water' followed then in autumn 2003. The year 2006 brought one of the worst surprises a band is able to encounter. The departure of their former singer, however a proper replacement was to be found quickly with drummer and songwriter Martin Engler. Katha Mia would take over drum duties for him from there on. As it turns out, the idea to put Martin to the front wasn't a bad one at all; ever since the band has grown more popular than ever expected. 2007 sees the release of the next record 'Temple of the Torn' to be followed only one year later, exactly in June 2008, with the third album 'Pain, Love & Poetry'. The next step followed in 2009 with 'Voices of Doom'. MONO INC. is Martin Engler (vocals), Manuel Antoni (bass, vocals), Katha Mia (drums) and Carl Fornia (guitar, vocals). http://www.mono-inc.com/ / http://www.myspace.com/monoincmusic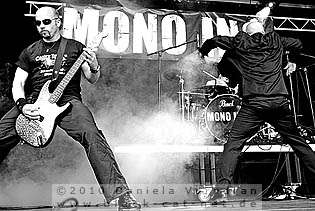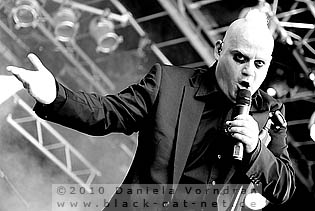 Music & Performance
When MONO INC. hit the stage, the space in front of the stage was quite well-filled with people, amongst them being many fans; some of them instantly recognizable by their shirts. The set started immediately after one band member after the other had entered under great applause with the straight, spherical rocker 'This Is the Day', carrying the sonorous vocals of Martin Engler. Following 'Temple of the Torn' brought an even better mood; it wasn't at the peak yet, but it would be thanks to Engler who proved being excellent in entertaining and controlling the crowd. With 'Comedown' they presented the upcoming, new single which catered for a pleasant listening. After the fast-paced 'Forgiven', having quite a racing beat, embellished with organ sounds, things calmed down with an unplugged version of 'Passenger', allowing also some respite for the crowd.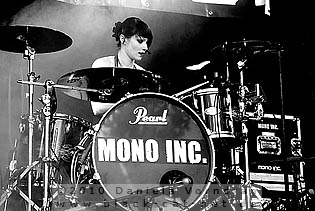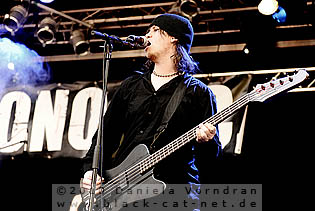 At least for a while, but when Martin decided to involve the crowd a little more, everyone's "singing" talents were needed, and both men and women had their chance to show how loud they could be. Later 'My Sick Mind TV' had an impressing drum solo by Katha Mia in stock. Also she knew very well how to stir the people. 'Get Some Sleep' then ended the set of the Castle Rock regular and if it weren't for the schedule, they'd have played much longer than that, because the audience didn't look like they wanted to let them off the hook already.

Setlist
01. This Is The Day
02. Temple Of The Torn
03. Comedown
04. Gothic Queen
05. Forgiven
06. The Passenger (Unplugged)
07. In My Heart
08. If I Fall
09. Bloodmoon
10. Voices Of Doom
11. My Sick Mind TV
12. Sleeping My Day Away
13. Get Some Sleep

Rating
Music: 7
Performance: 8
Sound: 7
Light: - (daylight)
Total: 7.4 / 10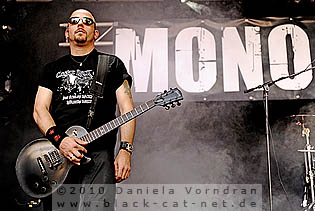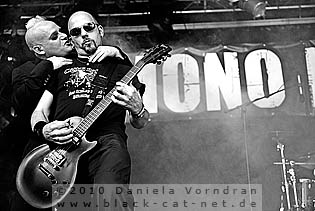 Diary of Dreams

Since 1989, DIARY OF DREAMS enchants a still growing fan base all over the world with beautiful and at times fragile tunes. Already 1.5 years after 'Nekrolog 43', the latest album '(if)' was released on 13th March 2009. In October 2009, the 'King of Nowhere' MCD including a brand new video clip has been released. Recently, the band was supporting UNHEILIG on their "Große Freiheit" tour and is working on a new record right now. DIARY OF DREAMS live currently consists of Adrian Hates (vocals, guitar), Gaun:A (guitar), D.N.S. (drums), Leandra Ophelia Dax (keyboards) and Flex (bass). http://www.diaryofdreams.de / http://www.myspace.com/diaryofdreams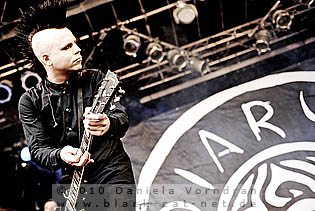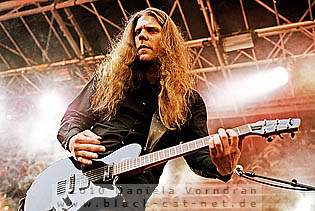 Music & Performance
A show I was very much looking forward to today was now up on the schedule. DIARY OF DREAMS would soon be entering the stage to a pulsing intro. By the time it's gotten darker already and finally the light show at least had some effect. The band kicked it off with 'The Wedding' whose ¾ drum beats made us move instantly while Adrian, Flex and Gaun:A offered a dynamic visual showcase of the track. 'The Plague' was the second track and is always a big pleasure to experience as it rocks even more than it already does on CD. 'Poison Breed' continued the line of club compatible tracks, adding some rawer edges with its slight industrial influences. A DIARY OF DREAMS favourite 'Chemicals' made me fall into rapture right away, before 'The Chain' gave some forceful down-tempo stuff.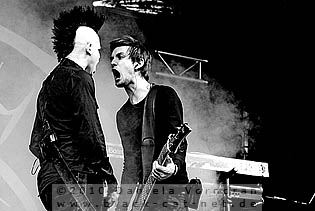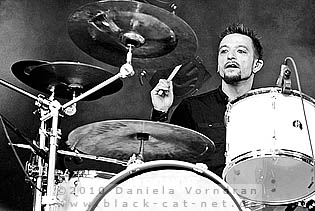 All of the time I was wondering why you could hardly hear anything of Dax, even though she was singing and nicely handling the synth and piano! She's good a good voice so why not turning up the microphone a bit more? Anyway, after 'Regicide' pulled another energy-spewing performance, 'She and Her Darkness' broke through the circle with reflective calm and deep melancholy in its core never losing its intensity no matter how often you hear it. The audience favourite 'Traumtänzer' couldn't be missed as well and when the time was right, Adrian held the microphone into the crowd and as expected, everybody knew the words inside-out and sang along in unison. The immersive 'King of Nowhere' and 'Soul Stripper' with D.N.S' drum solo rang the bells for the end, but they had to come back once more for 'The Curse' and even more important 'Kindrom'. "All the rebels in the world can't bring me down."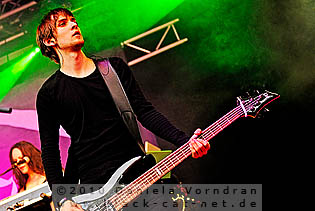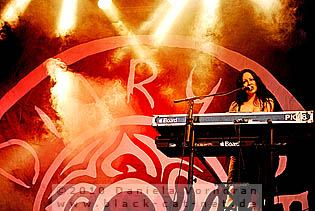 Setlist
01. The Wedding
02. The Plague
03. Poison Breed
04. Chemicals
05. The Chain
06. Regicide
07. She and Her Darkness
08. Traumtänzer
09. King of Nowhere
10. Soul Stripper
---
11. The Curse
12. Kindrom

Rating
Music: 9
Performance: 9
Sound: 9
Light: 7
Total: 8.7 / 10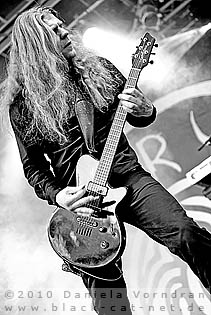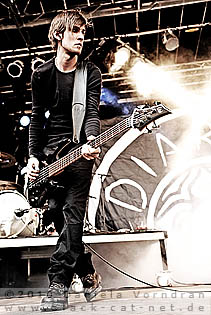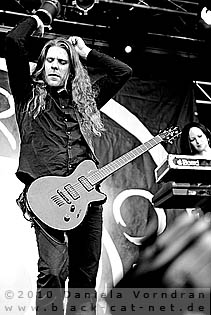 Letzte Instanz

LETZTE INSTANZ arose from the band RESISTANCE and was founded in 1996 in Dresden. After they approached some labels under the name RESISTANCE they signed a record deal with the label Costbar and recorded their first songs which are included on the first album. Later the band then changed their name to LETRZTE INSTANZ to distinguish themselves from other bands that got the name RESISTANCE. Before they even released their second album, the singer Hörbi and bas player Kaspar left the band. Sebastian Lohse aka Robin Sohn and Rasta F. took over as singer and bass player. After the release of their fourth album 'Götter auf Abruf', again three members of the band (incl. the singer) left the band. After a long search they found a new singer with Holly and meanwhile recorded two other albums with 'Wir sind Gold' as the latest regular studio album. In December 2007, the acoustic album 'Das Weisse Lied' was released presenting newer and older songs with different orchestration followed by the live CD 'Die Weisse Reise and the next full-length 'Schuldig'. In 2010, the band will return with the new studio album 'Heilig'. LETZTE INSTANZ is Holly (vocals), M. Stolz (violin), B. Cellini (cello), Oli (guitar), Holly D. (guitar), Micha (bass) and David Pätsch (drums). http://www.letzte-instanz.de / http://www.myspace.com/letzteinstanz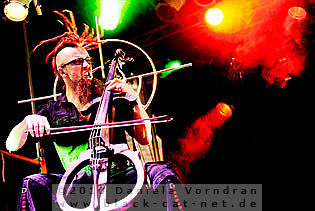 Music & Performance
Soon, the Castle Rock festival would be closing its gates again, but before that was going to happen, LETZTE INSTANZ still had to deliver a show that started with 'Mea Culpa' as a lead-in for the band's cheered march in and for the first proper song 'Mein Engel'. Hardly a few seconds after the rhythms had kicked in, the action on stage began with Holly moving back and forth and visualising the lyrics also with many gestures while Benny treated his very special version of a cello and M. Stolz vibrantly played his violin hardly standing still a moment. With 'Flucht ins Glück' and 'Unerreicht'; the next ones followed and raised the mood significantly, which was a special thing because it was already pretty good before. The Castle Rock show was also one of the first ones featuring new drummer David replacing long-time member Specki who's pursuing other musical projects now.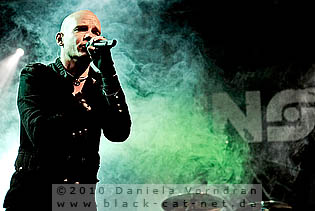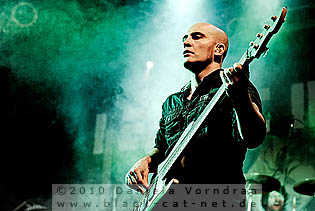 To say it right away, David did a splendid job adding the dynamic rhythms with only very few little mistakes probably no one really recognized. 'Maskenball' made the audience happily jump along to the beat with Holly. 'Kalter Glanz', fittingly drenched in blue lights, is still one of my favourites out of the band's discography and of course I was more than happy it found its way into the setlist. Next one 'Dein Licht' must've sent many shivers down the spines of everyone since its piano chords and string arrangements carry the melancholy on their wings and I'm sure right into the crowd's hearts. Did I mention already that LETZTE INSTANZ also had lots of pyro technical effects up their sleeves to make it also a visually impressing feast? Those bangs, colourful fountains and stuff were more than embellishing songs such as 'Ohne Dich, 'Finsternis' or the main set closer 'Mein Todestag'.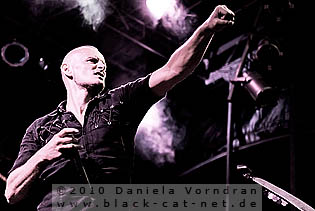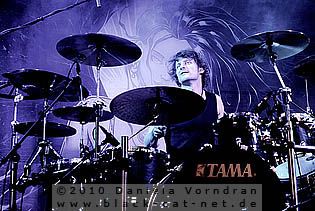 Time had literally flown, but the band wouldn't leave just now and come back for two, very memorable encores. First one was the medieval 'Rapunzel' that made everyone dancing again, and suddenly turned into BLUR's 'Song 2' to switch back again to the main song which saw Benny and another band member, just couldn't exactly spot who it was from my position at the time [photographer's comment: it was M. Stolz], doing some crowd surfing. As the very last song, 'Wir sind Allein' was chosen, according to Holly re-arranged to cover 23 minutes. All hands went up and created a surging sea for most of the song's time, which wasn't exactly 23 minutes long. The chorus was once again performed in turns by Holly and the audience as loud as they could. A memorable ending to the 11th Castle Rock festival!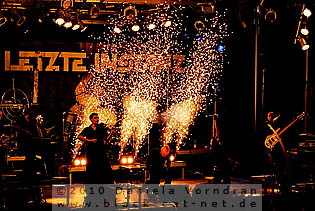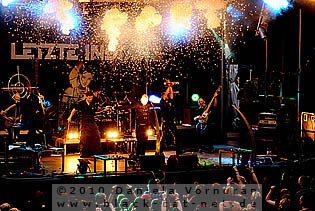 Setlist
01. Mea Culpa & Mein Engel
02. Flucht ins Glück
03. Unerreicht
04. Maskenball
05. Kalter Glanz
06. Dein Licht
07. Wann
08. Das schönste Lied der Welt
09. Tanz
10. Ohne Dich
11. Monument der Stille
12. Der Garten
13. Mein Gott
14. Finsternis
15. Komm!
16. Stimmlein
17. Mein Todestag
---
18. Rapunzel / Song 2 (Blur)
19. Wir sind allein

Rating
Music: 8
Performance: 9
Sound: 8
Light: .9
Total: 8.5 / 10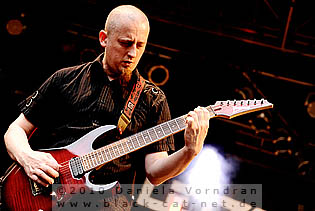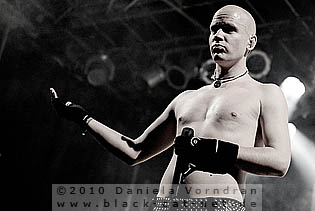 So, what to say at the end? Castle Rock is indeed a small but fantastic festival in the most beautiful surrounding of an old castle with many trees in the yard giving some shadow. The atmosphere is relaxed and the whole stuff is dedicated and helpful. This festival is definitely highly recommended.

All pictures by Daniela Vorndran (http://www.vorndranphotography.com/ / http://www.black-cat-net.de/ / www.myspace.com/vorndranphotography)
{jos_sb_discuss:17}
See also (all categories):