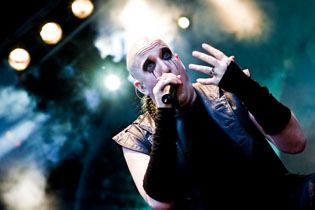 Zitadelle Spandau, Berlin, Germany
5th June 2010
Zita Rock Festival 2010: Staubkind, Lacrimas Profundere, Terminal Choice, Megaherz, Eisbrecher and ASP


It was Saturday afternoon when we arrived in Berlin at the Zitadelle Spandau and the sun was shining on our heads like crazy. Good for us we didn't forget our sun lotion (SPF 50+ since we are so gothic). This year, it was the first time that Zita Rock actually consisted of 2 parts: the Zita Rock Festival and Zita Folk Festival. This day, the motto was: "Let's get ready to Zita Rock!" After we gathered around in the shade, we were ready to enter the sun and start the day with STAUBKIND.
Staubkind

STAUBKIND was founded in 2003 by vocalist Sven "Louis" Manke known as a member of TERMINAL CHOICE. The band took inspirations from artists such as OOMPH!, ZEROMANCER, LINKIN PARK and EVANESCENCE. The current album is called 'Zu weit' and was released in 2007. STAUBKIND is Sven "Louis" Manke (vocals), Rico Meerheim (guitar), Friedemann "Friedel" Mäthger (drums) and Sebastian "Bassty" Scheibe (bass).
http://www.staubkind.de/
/
http://www.myspace.com/staubkindsite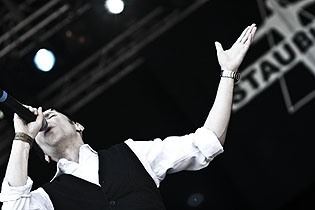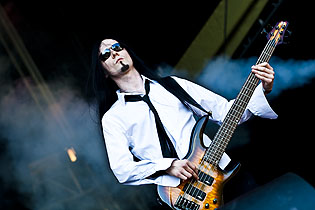 Music & Performance
STAUBKIND entered the stage and the audience wasn't that thrilled. This was probably caused by the sun that was burning like hell. The band was definitely not the cause for that. The music they played was strong and the sound was mostly pretty good except in the first song. During the song, you couldn't hear the vocals of Louis. What caught my attention was the sound level. The volume was pretty quiet for a festival if you ask me. Something I had to get used to. STAUBKIND showed a lot of energy on stage and actually managed it to get some people going and jumping around for some time which is quite an achievement if you consider the temperature of almost 30°C. The songs they played were mostly from their current album 'Zu Weit'.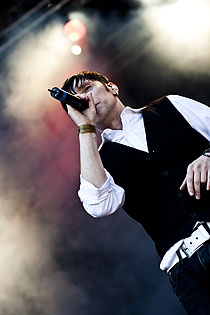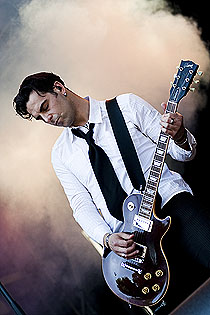 The vocals were great and created a great sound with the music played by the rest of the band. It was a real pleasure listening to them. For me, it was the first time I saw STAUBKIND and it was definitely worth standing in the sun for quite some time!
Rating

Music: 8
Performance: 8
Sound: 8
Light: - (daylight)
Total: 8 / 10
Lacrimas Profundere

LACRIMAS PROFUNDERE is a gothic metal band from Germany. But their stylistic aesthetic has evolved over time. While basically in a death doom rooted gothic metal, they have progressively changed their style to a more mainstream gothic style with the late albums.
http://www.lacrimas.com/
/
http://www.myspace.com/lacrimasprofundere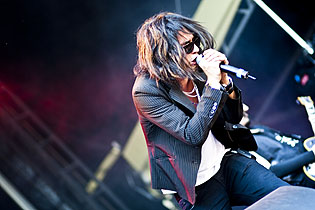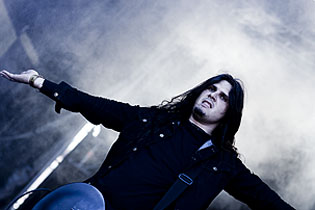 Music & Performance
Well, LACRIMAS PROFUNDERE is a band that has never managed to convince me up to that day. And what can I say? I am still not convinced. The audience was in a great mood now and didn't seem to care about the sun anymore and the band seemed to be in a great mood as well. The sound was good, too. The band played a wide variety of songs and animated the people in the audience to sing along and jump with them. During the concert, I actually quite liked the band but as soon as the concert was over, I completely erased the performance. And this is a big sign for me that the band wasn't anything special at all. It is a real pity that LACRIMAS PROFUNDERE can't manage to make their music something special and something I won't forget after 5 minutes.
Rating

Music: 6
Performance: 7
Sound: 8
Light: - (daylight)
Total: 6.7 / 10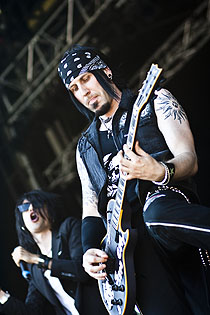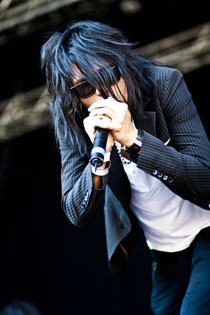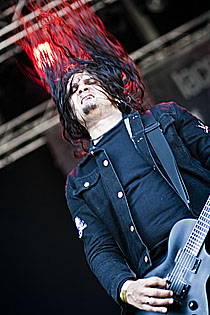 Terminal Choice

Chris Pohl is a name very well known in the German Gothic scene - and at the same time opinions are pretty much divided when it is mentioned. Especially his band BLUTENGEL, playing very catchy - some would call it shallow – Electro / Goth-Pop, has many fans but also a lot of people dislike them. Nevertheless, this day should belong to another band Chris Pohl is a member of: TERMINAL CHOICE.
http://www.terminal-choice.de/
/
http://www.myspace.com/terminalchoicemusic
Music & Performance
I have never been a big fan of the phenomenon Chris Pohl but I was actually quite excited to see him live. The music they played was actually really good and then, he opened his mouth. His English is so bad and his voice isn't really what I call a good one. But this wasn't the only thing that surprised me. Not only the band entered the stage but also some cheerleaders who danced to some songs of the band. They were dressed in black and gold and their make-up was inspired by the band's make-up. Chris and the rest of the band all looked like freaky clowns. And freaky definitely covers the attitude of the band.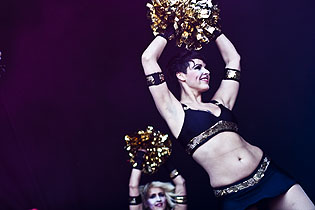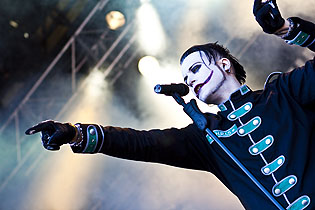 Chris seemed to be in such a great mood that he joked around like crazy. He animated the audience to clap their hands. At the same time, he stood on stage and looked at his hands saying something like "Those are my hands. And you have hands, too". Well, at that time I thought "If he is taking drugs, he should stop taking them. If he is not taking drugs, he should start taking them." A little time later, he searched for his mom and dad and was asking them to show and about 6 hands went up but he actually found them and I wondered if he was faking all this or if his parents were actually standing there. Another thing that was strange was the fact that the band actually played their song 'We are back' twice during the show. Maybe they are really convinced by the song. All in all, it was a strange concert that made me wonder if I just didn't get the humour or if they it just wasn't funny.
Rating

Music: 6
Performance: 6
Sound: 8
Light: - (daylight)
Total: 6.4 / 10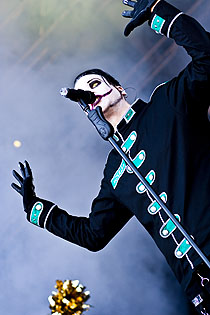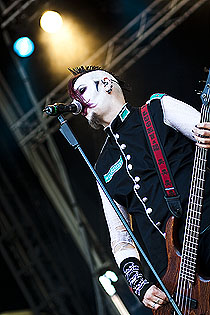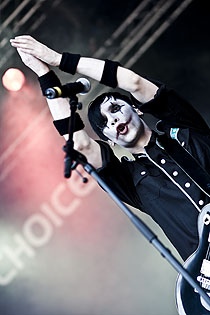 Megaherz

The history of the band started back in 1993 in Munich when singer Alexx Wesselsky formed MEGAHERZ together with some other guys. A first demo 'Herzwerk' was released in 1995; one year later, the CD 'Wer bist du' hit the stores. Several years have passed since then, numerous CDs have been released and the line-up has changed several times. Founder Alexx Wesselsky finally left the band together with Noel Pix in autumn 2002 and founded the band EISBRECHER who is celebrating big success right now. The rest of the band had to find a new singer… Mathias 'Jablonski' Elsholz did the job only a short time… and finally Alexander 'Lex' Wohnhaas joined the band as new singer. MGAHERZ is Lex (vocals), X-Ti (guitar), Wenz (bass), Roland (guitar) and Bam Bam (drums).
http://www.megaherz.de/
/
http://www.myspace.com/megaherz
/
http://www.megaherz.com/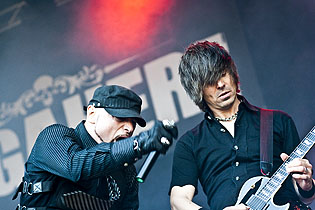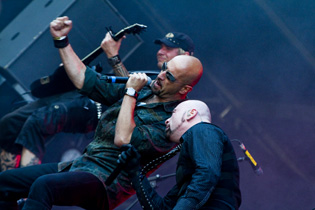 Music & Performance
I was quite confused when I heard that MEGAHERZ and EISBRECHER were playing at the Zita Rock 2010 since they are really similar; in fact parts of MEGAHERZ are now parts of EISBRECHER. Right from the beginning on, MEGAHERZ had such an energy that nobody could stand still. Alex (vocals) was in such a good mood. It was really nice to see. Songs like 'Gott sein' had the audience sing along and bang their heads. They mostly played songs from their album 'Heuchler'. The band also promised to publish a new album soon. We'll see if the band will keep their promise. MEGAHERZ showed a great show with appearances of Sven "Louis" Manke (STAUBKIND) and Alexx (EISBRECHER). With Alexx, they played their most famous song 'Miststück'. It was so funny to watch them being on stage and singing together since this never happened up to that point although the bands are deeply connected to each other. All in all, MEGAHERZ showed a great performance with loads of energy and charisma. Let's hope for a new album.
Rating

Music: 9
Performance: 10
Sound: 8
Light: - (daylight)
Total: 9.2 / 10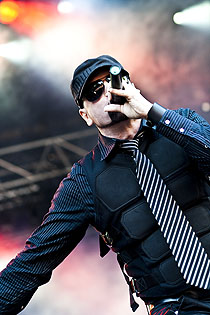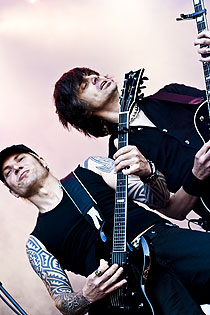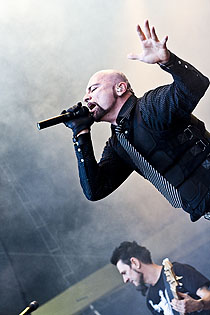 Eisbrecher

EISBRECHER was formed in 2003 after former MEGAHERZ singer Alexx Wesselsky left the band over creative differences, co-founding member was another ex-band member Noel Pix. Then in 2004, they debuted with their self-titled album; there was a heavy outcry due to the band adding two CD-Rs as an incentive to copy the album and as a statement against the criminalization of the end-customer through the music industry. The sophomore 'Antikörper' became a big success for EISBRECHER charting at #85 of the German album charts. Ever busy with touring, the band meanwhile has a huge following and EISBRECHER shows usually are nearly or completely sold-out. The newest part of the saga is named 'Eiszeit' and was just released a week ago. EISBRECHER is Alexx Wesselsky (vocals, composition, management), Noel Pixx (programming, guitars, backing vocals, engineering, production, composition), René (drums, percussion), Jürgen (guitars) and Oli Pohl (bass).
http://www.eis-brecher.com/
/
http://www.myspace.com/eisbrecherkommando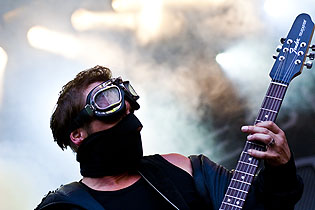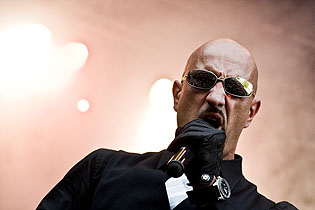 Music & Performance

We had to wait quite some time until EISBRECHER finally entered the stage. The band appeared in really big jackets with fur and hats. My first thought at that time was "Well, good for them they didn't have to play 3 hours ago" and after the first song, they got rid of the jackets and hats. The first of Alexx' announcements was: "I was just standing on stage with Alex and I looked at him and I saw myself. And then I wondered who I am besides all that... oh yeah, I am the one from TV, too." This was so funny since a lot of people say stuff like "Oh, the Checker from DMAX (German TV-station) looks like the singer of EISBRECHER!" Besides the great announcements, the band played really nice and strong music. Songs like 'Amok', 'Schwarze Witwe' and 'Heilig' showed the great skills of the band but they didn't only play songs they have written.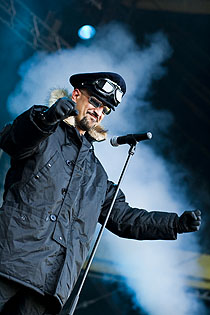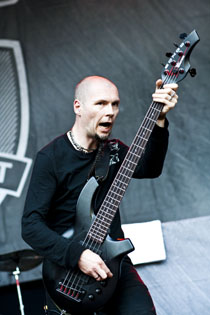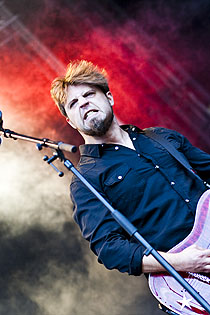 Towards the end of the concert, Alexx began to sing the German Schlager 'Tränen lügen nicht' and had the audience sing along in big choirs. After that, he intoned 'Satellite' by Lena (who won this year's Eurovision Song Contest) which was so funny because everybody could sing along and Alexx even imitated Lena's strange British accent. What a nice entertainment. At the end, they played 'Miststück' which was a little too much since MEGAHERZ had already played this song about an hour ago. But well, 'Miststück' is just a song both bands had to play.
Rating
Music: 9
Performance: 10
Sound: 9
Light: - (daylight)
Total: 9.4 / 10
ASP

ASP is a German Gothic band from Frankfurt / Main. The band was formed in 1999 and named after its lead singer Asp (short for Alexander Spreng). ASP on stage are Asp (mastermind, songwriter and singer), Matthias Ambré (producer, guitar player, backing vocal), Tossi (bass, backing vocal) and Oliver Himmighoffen (live drummer). In the last years ASP evolved into a shooting star of German gothic scene and they were one of the headliners at several big festivals like the WGT.
http://www.thetalesofasp.com/
/
www.myspace.com/thetalesofasp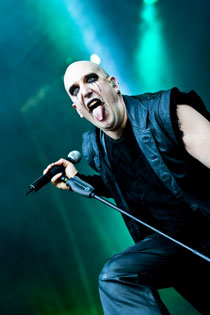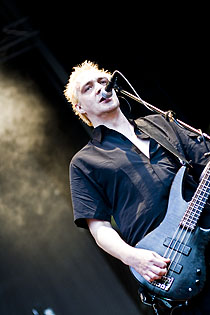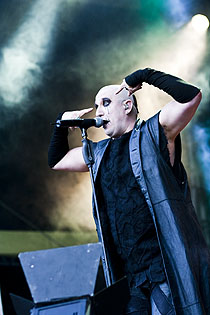 Music & Performance

As soon as some members of the band entered the stage, the crowd just freaked out. With songs like 'Ich bin ein wahrer Satan', 'Kokon', 'Schwarzes Blut' and 'Werben' they showed a great range of their fantastic albums. Asp joked around and talked to the fans all the time. It was another great show of Alexander Spreng and his crew. And of course, their hymn 'Ich will brennen' wasn't missing but for that, the fans had to scream "Wir wollen brennen" (we want to burn) to get ASP back on stage after the song 'Schwarzes Blut'. ASP has always been one of my favourite bands on CD and live... and they definitely did not disappoint me that night. However, there was one thing I did not like: Alexander (vocals) had a big spotlight under him that was lighting up his face.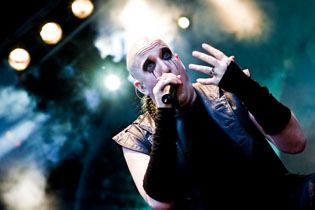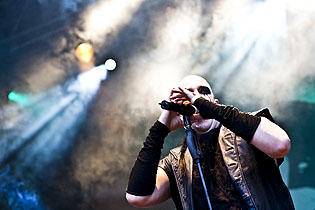 Well, what can I say? He isn't the youngest as we all know and this extra light made him only older than he actually is. Maybe they should think about removing that light. However, the concert was still a great ending to a nice, yet sunny, festival day.
Setlist

01. Der Meister
02. Kokon
03. Lykanthropie
04. Demon Love
05. Sing Child
06. Werben
07. Ich bin ein wahrer Satan
08. Und wir tanzten
09. Schwarzes Blut
---
10. Ich will brennen
Rating

Music: 9
Performance: 9
Sound: 9
Light: 9
Total: 9 / 10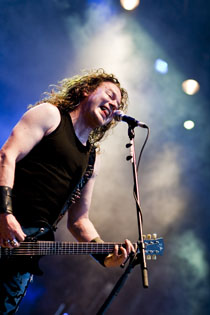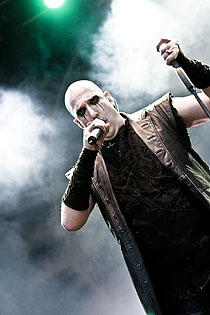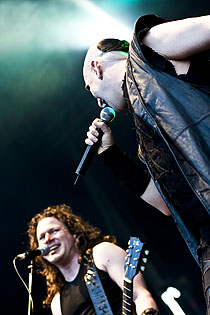 All pictures by Anne Kuhfuß except Megaherz Pic nr. 5 by Florian Schulz (
www.metal-shot.de
)
{jos_sb_discuss:17}
See also (all categories):