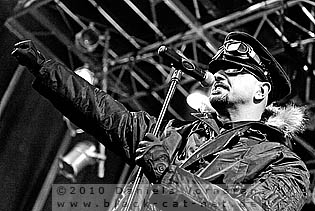 Schloß Broich, Mülheim, Germany
4th & 5th June 2010
Castle Rock 11 Day 1: Eisbrecher, Megaherz, Heimataerde, The Flaw
Even though I'm living in that city, I've never attended a Castle Rock festival before. High time to change that I thought, and the festival's eleventh edition was exactly the opportunity to do that! The first day had in stock amongst others MEGAHERZ and EISBRECHER!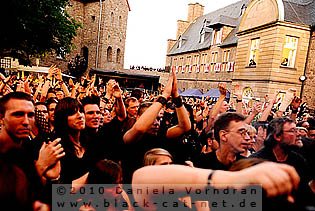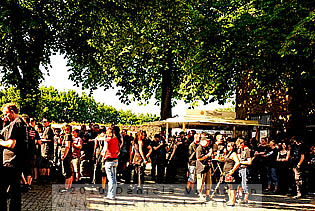 The Flaw
THE FLAW from Dortmund in Germany can be credited for a lot of concerts ever since 2003, where the band played themselves into the hearts of a growing audience. In 2006, the band released the EP 'Burning Skies' to generally favourable reviews. The first full-length album 'Different Kinds of Truth' followed it up in May 2008. THE FLAW is Alexandra Leu (vocals), Massimo Sarti (bass), Lars Schlüter (guitar) Janis Bakine (drums).
http://www.theflaw.de/
/
http://www.myspace.com/theflawmusic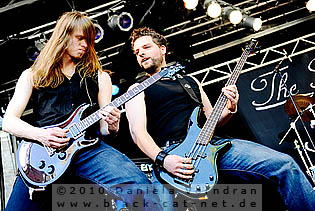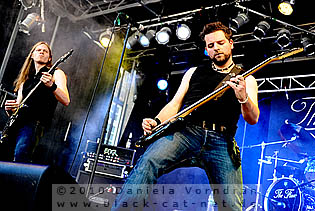 Music & Performance
THE FLAW from Dortmund had the ungrateful honour to open the first festival day. That is never an easy task, but to be honest with you, their music didn't make it that easy for me to get into the right mood which it should as that's the task of an opener in my opinion. The guys around front woman Alexandra presented quite an ordinary blend of Goth metal influences and operatic vocals with tracks from their first EP 'Burning Skies', just as from their current full-length e.g. 'The Gift' or 'Mute'. Nothing that would re-invent the wheel! Unlike many of the others who remained very much in their positions as far as I could see that, a few were really catching the groove and moved along. All in all, it was nothing standing out of the masses for me
Rating
Music: 5
Performance: 5
Sound: 7
Light: - (daylight)
Total: 5.4 / 10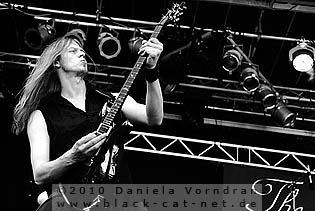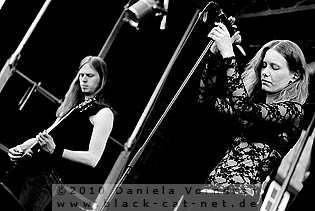 Heimataerde
This project goes a fairly unusual way with its fusion of medieval sounds like bagpipes for instance with electronic sound, what was causing a stir, when the project released the track 'Du fehlst mir' on the first compilation of the label Infacted Recordings, HEIMATAERDE later signed a contract with. Behind this project stands a man with the alias Ashlar von Megalon and his appearance remained a secret, because Ash initially refused to play live to let the music speak for itself, but in 2007 on the Wave Gotik Treffen, the fans could finally experience HEIMATAERDE live. Until today, the project has released two albums, three singles, several EPs, newest one being 'Dark Dance' EP, heralding the upcoming new full-length 'Unwesen'. HEIMATAERDE is Ashlar von Megalon (vocals, instruments, concept) supported on stage by a live crew consisting of Bruder Ansgar v. Hucretha, Bruder Andreas, Bruder Peter von Thüringen, Bruder Nikolaus and Berchovesche.
http://www.heimataerde.de/
/
http://www.myspace.com/heimataerde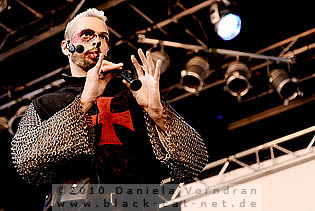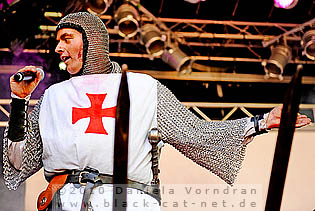 Music & Performance
From metal influenced stuff over to medieval electronics. Quite a hard change you might say and you're absolutely right saying it. Ok, there were guitars as well, but only as supporting element Nevertheless, I was curious how HEIMATAERDE would do live since I've never attended one of their shows before. Well, it was both in a way fascinating and odd. I do know full well that the medieval theme is an integral part of HEIMATAERDE since their very beginning. But to see some guys in old dresses with chain armour performing to mostly danceable tracks such as 'Der Verfall', 'Herr Mannelig', inspired by an old Swedish sage, or 'Wiedergänger' close to the end of which front man Ash was drinking artificial blood from a goblet, spilling it over his face and clothes, isn't exactly something you get to see every day.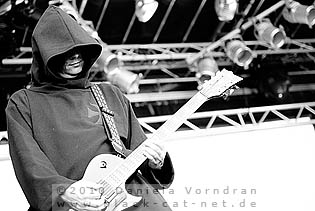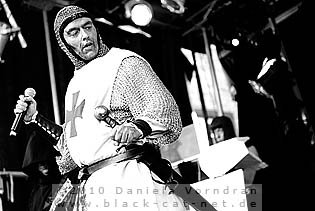 In the end, it took too much getting used to for me. However, the audience had a lot of fun with the modern Templars and that's the aim of the game isn't it? After all, the special version of 'Heuchler' with support of MEGAHERZ vocalist Lex wasn't all that bad and therefore upped the rating a little.

Rating
Music: 6
Performance: 6.5
Sound: 7
Light: - (daylight)
Total: 6.4 / 10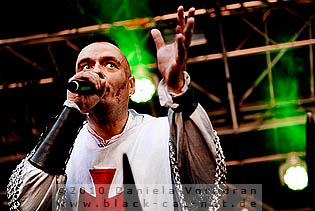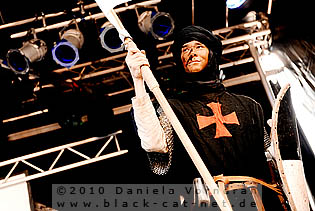 Megaherz
The history of the band started back in 1993 in Munich when singer Alexx Wesselsky formed MEGAHERZ together with some other guys. A first demo 'Herzwerk' was released in 1995; one year later, the CD 'Wer bist du' hit the stores. Several years have passed since then, numerous CDs have been released and the line-up has changed several times. Founder Alexx Wesselsky finally left the band together with Noel Pix in autumn 2002 and founded the band EISBRECHER who is celebrating big success right now. The rest of the band had to find a new singer… Mathias 'Jablonski' Elsholz did the job only a short time… and finally Alexander 'Lex' Wohnhaas joined the band as new singer. After about four years of silence, the band came back with the spectacular chart entry of the latest album 'Heuchler' to celebrate 15 years of band history now also on European stages starting on 11th October. MGAHERZ is Lex (vocals), X-Ti (guitar), Wenz (bass), Roland (guitar) and Bam Bam (drums).
http://www.megaherz.de/
/
http://www.myspace.com/megaherz
/
http://www.megaherz.com/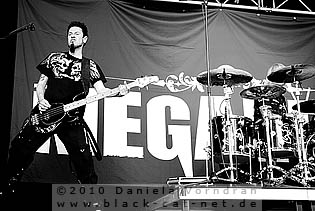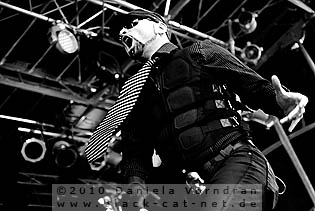 Music & Performance
MEGAHERZ singer Lex just had a little guest appearance with HEIMATAERDE, but now after a little stage rebuilding it was time for him and his real band to start the show. One might have wondered if MEGAHERZ and EISBRECHER on one festival would be getting along well. But as Lex later told it was all cool. Let's start now with the show that commenced with the furious 'Glas und Tränen', having the band and especially their vocalist hopping vividly over the stage and with that releasing a lot of energy into the audience who took it and used it to fuel their dancing will a little. 'Beiß Mich' continued from there, raising the tempo and encouraging even more to shake the limbs. Following 'Ebenbild' combined brooding rage with menacing undertones and made up an ominous experience, before 'Perfekte Droge' flooded the yard of the castle, being an ode to the perfect woman. With '5.März', melancholic serenity sneaked into the air. The song has been mostly performed with piano and just later erupted with guitars.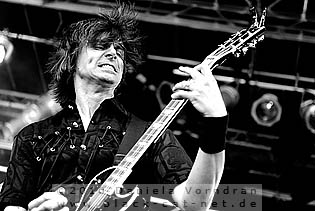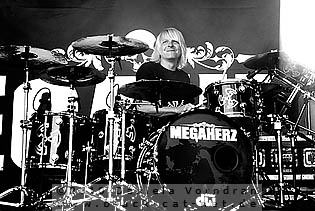 We also got to hear again 'Heuchler' only that this time it came across fairly different, less electronic and of course with much more power under the surface. The set was ended with the enthusiastically celebrated 'Miststück', also loudly sung along by the audience. They'd get another chance to celebrate it later as it turned out. Not a bad performance at all, but the similarities to the following band, partly even optically, were striking and that's something you can't talk away in my opinion.
Setlist
01. Glas und Tränen
02. Beiß Mich
03.Fauler Zauber
04. Ebenbild
05. Perfekte Droge
06. 5. März
07.Alles Nur Lüge
08. Heuchler
09. L'Aventure
10. Kopfschuss
11. Gott Sein
12. Miststück
Rating
Music: 7
Performance: 7
Sound: 7
Light: - (daylight)
Total: 7 / 10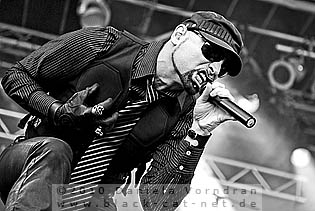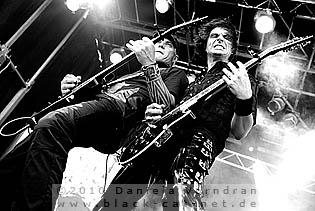 Eisbrecher
EISBRECHER was formed in 2003 after former MEGAHERZ singer Alexx Wesselsky left the band over creative differences, co-founding member was another ex-band member Noel Pix. Then in 2004, they debuted with their self-titled album; there was a heavy outcry due to the band adding two CD-Rs as an incentive to copy the album and as a statement against the criminalization of the end-customer through the music industry. The sophomore 'Antikörper' became a big success for EISBRECHER charting at #85 of the German album charts. Ever busy with touring, the band meanwhile has a huge following and EISBRECHER shows usually are nearly or completely sold-out. The newest part of the saga is named 'Eiszeit' and was just released a week ago. EISBRECHER is Alexx Wesselsky (vocals / composition / management), Noel Pixx (programming / guitars / backing vocals / engineering / production / composition), René (drums, percussion), Jürgen (guitars) and Oli Pohl (bass).
http://www.eis-brecher.com/
/
http://www.myspace.com/eisbrecherkommando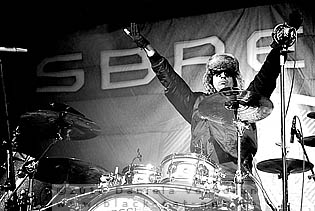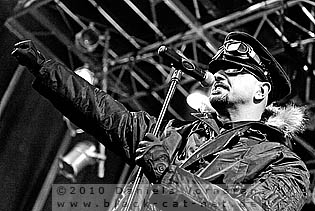 Music & Performance
It's not that long since I've seen EISBRECHER the last time. But it's always a big pleasure and so I was very much looking forward their show as well. That one started with a little delay. However, the joy was even greater all around when the intro finally sounded and announced the coming of the band, again dressed in thick winter clothes. 'Eiszeit' was up now, being the title track of their eponymous and very successful album, followed up by 'Angst', driving everybody relentlessly on with its propulsive build. Afterwards, 'Bombe' crashed into the ground and with its electronic incursions kicked some ass. An EISBRECHER show isn't exclusively about music as you might know already; it's also about checker Alexx' unfolding his entertaining capabilities. Before 'Laeider', pardon me 'Leider', for instance he said that the price for the ability to suffer would go to HEIMATAERDE, always with a heavy grin on his face.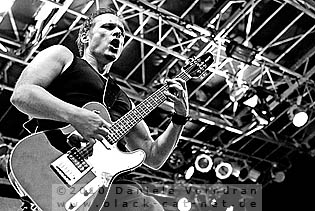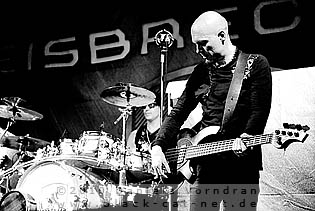 That and the following words raised loud laughs all around and forced one to note that he's probably had a bright future as all-round entertainer ahead of him if he'd be willing to quit making music. 'Böse Mädchen' and 'Ohne Dich' continued the set and met with pure excitement. Just as on the last show, a small acoustic part was taken into the set with the German 'Tränen Lügen Nicht' and again it had everybody singing along - and laughing. Alexx connected it this time with an interpretation of 'Satellite', originally by Eurovision song contest winner Lena Meyer-Landrut, including proper reproduction of the dialect. Just hilarious! Always a highlight and the main set's closer was 'This is Deutsch', a monster of a track with bone-crushing, hard riffs and a dancing Noel Pix with his synth. They said goodbye afterwards, but already at that time it was clear they'd be coming back for more, heavily motivated by the audience of course.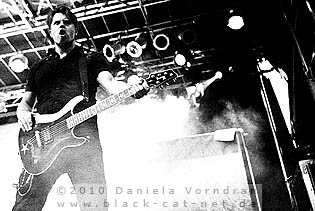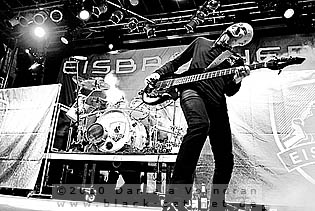 Then, a few oil-barrels were built up on stage and for me there was no doubt anymore that 'Amok' would be the next song. I mentioned the audience would get another chance to celebrate 'Miststück' earlier. Now, that time had come and the reaction was even more frenetic than before. With that track, the first day of the Castle Rock ended for everyone and the big leaving began. But the next day they'd all come back, that's for sure.
Setlist
01. Eiszeit
02. Angst
03. Bombe
04. Willkommen im Nichts
05. Leider
06. Böse Mädchen
07. Ohne Dich
08. Vergissmeinicht
09. Schwarze Witwe
10. Tränen Lügen Nicht / Satellite (Acoustic)
11. Die Engel
12. Heilig
13. This Is Deutsch
---
14. Amok
15. Miststück
Rating
Music: 9
Performance: 8
Sound: 8
Light: 7
Total: 8.3 / 10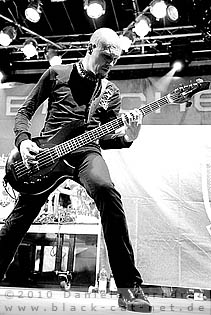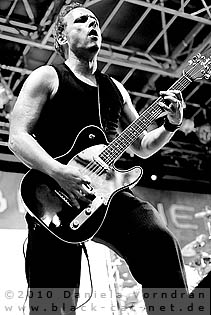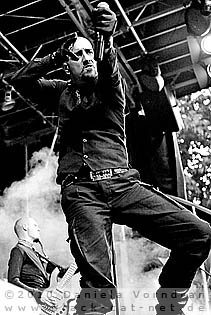 All pictures by Daniela Vorndran (
http://www.vorndranphotography.com/
/
http://www.black-cat-net.de/
/
www.myspace.com/vorndranphotography
)
{jos_sb_discuss:17}
See also (all categories):