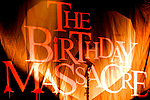 Kulturfabrik, Krefeld, Germany
28th July 2006
The Birthday Massacre, Atargatis, The Slimp

It was well over a year since my last visit to Krefeld, but only a few days since I saw The Birthday Massacre. That time on a very cool ship in the harbour of Copenhagen, Denmark. I was very eager to compare that performance with the one I was about to see. And of course also to catch the performances of the other two bands, that actually were quite unknown to me.



The Slimp

'The Slimp' present Dark-Wave music with two bass guitars to make a gloomy fundament - with a style deeply influenced by bands like 'Fields of the Nephilim' and 'The Mission', by the feminity of 'Siouxsie and the Banshees' and the wonderful melodies of 'The Cure'. This is the sound of the band according to their site, and that just about sums it up. 'The Slimp' are: Elisa Day (vocals and bass), Bernd (guitar), Silke (drums) and Mart (bass and vocals). http://www.theslimp.de/ / http://www.myspace.com/theslimp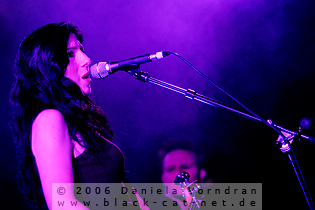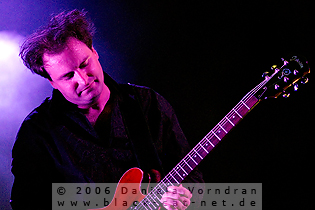 Music
When the lights finally dimmed down enough to signal that the first band of the evening was about to start, 'The Slimp' entered the stage and started off with some soft melodic bass tones, then the guitar, drums and finally vocals. Apart from a female drummer, which always is nice to see, it was a pretty standard setup with Bernd and Mart flanking Elisa in the middle, and Silke behind on a slightly elevated plateau. Elisa's deep voice intertwining with the lighter male backing vocals of Mart weaves an interesting vocal net that mixes well with the bass and tempo. The musical variations and drive was mostly pushed by the sometimes brilliant guitar play of Bernd. I think Elisa's voice for some parts was a bit low in the mix and from where I was standing initially it actually sounded pretty crappy. I had to step back and well into the middle before I could hear that it was mostly due to that I heard too much of the monitors.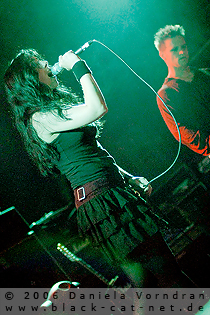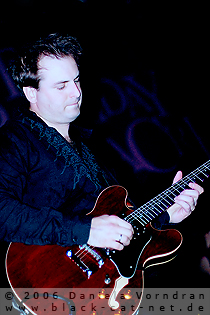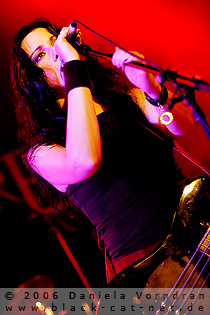 Performance
It's not really high energy music we're talking about here, so the lack of movement on stage is quite understandable and would for the most part feel out of place with this soft, mellow and melancholic tones. Nice and cosy, but nevertheless it didn't pick up the pace to warm up the crowd. Perhaps I was as unprepared as the rest of the lot, because I can imagine being engulfed in the performance on some levels. The lighting wasn't doing much for waking me up and getting me or anyone else into concert or partying mood either. It was mostly some red/lilac mix, waving around slowly and adding to the soothing experience. For the last song "Nightmare" I was suddenly alerted by a more pronounced shift in the singing than before – with Elisa and Mart switching roles between high and low. The guitar play was progressively getting more out there, and in the end of this final song Bernd showed just how much he really was into the performance – a nice finish.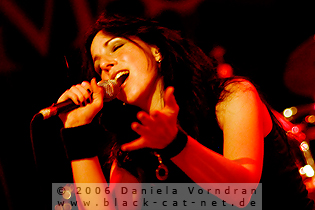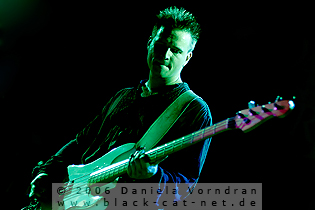 Setlist
01. Elimination
02. The Free
03. Gloria
04. Cold Cold Sun
05. Post Blue
06. Cold Clear Water
07. Lines
08. Nightmare

Rating
Music 7
Performance 5
Light 6
Sound 7
Total 6 (6.25)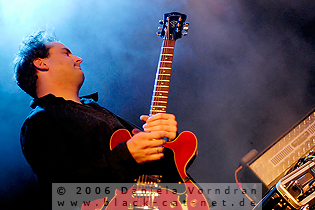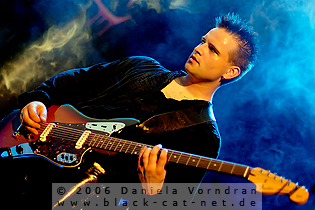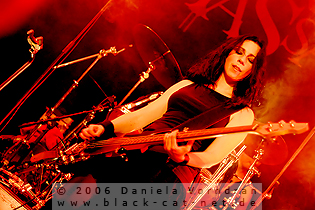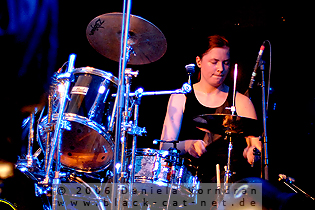 Atargatis

"Groovy as well as aggressive though mostly very melodic parts are followed by gentle, solemn passages and are thus interwoven to a mystical sound material." The name 'Atargatis' is lent to this soon 10 year old band from a Syrian deity, popularly referred to as the mermaid goddess. They are current with their new album 'Wasteland' that not only hosts a good selection of guest musicians. But also delves into a concept about being, decay and ascending, integrated in the cycle of everlasting life – catch a show near you and buy the album if you find that interesting. 'Atargatis' are Shadrak, Stephanie Luzie, Satyria and Sagoth. Additionally on stage they brought a guest bass player who was responsible for the dark vocal part and the grunting too. http://www.atargatis.de/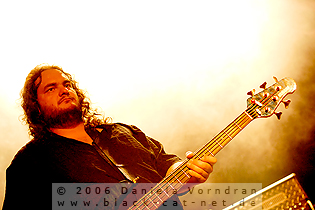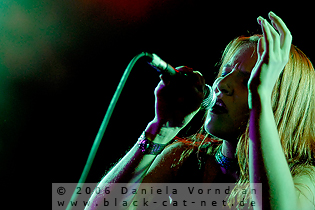 Music
'Atargatis' are musically treading in the area of gothic and symphonic metal. But with an airy atmosphere that's slightly uncharacteristic, in the sense that it doesn't typically go for the traditional depressing mood. The voice and singing style of Stephanie Luzie was indeed a great contrast to her predecessor on the stage. With a voice that sounded opera schooled and a floating, airy, melodious singing it really caught my attention right away. On the second song after the intro, Satyria left the stage as they started playing 'Selina', which also was the first time we would experience the rough "Laibach" singing of the guest vocalist, which made an interesting contrast to Stephanie's angelic voice. Throughout this very solid set the main variation in the performance was this contrasting singing and whether Satyria would play her violin to the song or not – apart from it obviously being different songs that were performed.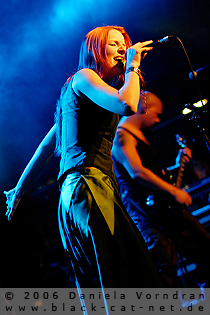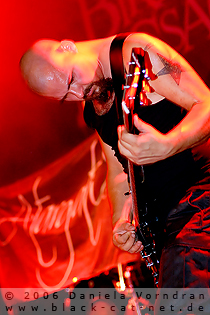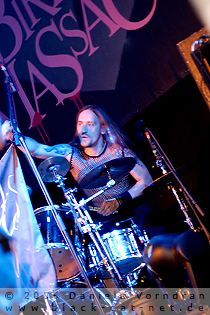 Performance
From right to left, the appearance on stage was: Sagoth (guitar), Stephanie Luzie (vocals), Satyria (violin) and Shadrak (drums) behind. Joining the quartet on the left side was guest singer and bass player. The green dress that crimson-haired Stephanie Luzie wore rather sent my imagination to a forest nymph than a mermaid goddess. It nevertheless fitted very well with the ties to nature, circle of life and mystic origins that is part of the 'Atargatis' theme. Barefoot as she was it served to enhance this feeling and with the red hair, that voice and dancing it was impossible not to think of Simone from 'Epica'. When the band started out this evening, the stage was quite dark with only some purple lights turned on. After an intro, Stephanie entered the stage and added a lot to the energy, waving her long hair around in a gracious head banging manner before starting to sing. 'Atargatis' performance had a lot more energy from the start and Stephanie was generally doing a very good job of trying to instil energy into the audience. Somewhere half way through the set I even spotted some head banging in the crowd. Towards the last few songs she at least got the closest bunch of people singing along with her in some short bursts of "hey".  I would say the audience were sufficiently warmed up by now.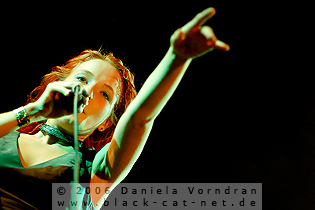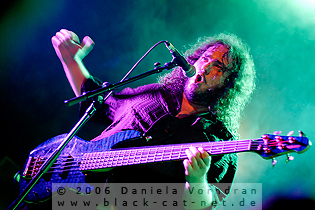 Setlist

01. Intro
02. Wasteland
03. Selina
04. Circle of Life
05. My Solace
06. Mists of Oblivion
07. 4 Giving
08. The Cradle of Fern
09. Forlorn Soul
10. Angels' Crying
---
11. From Sirius
12. Outro: Devine Awakening
Rating
Music 7
Performance 7
Light 7
Sound 7
Total 7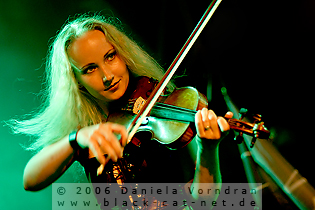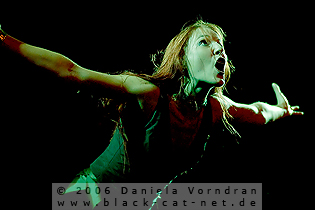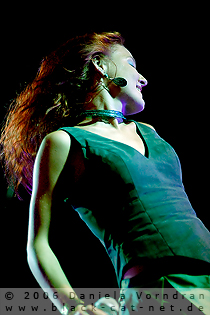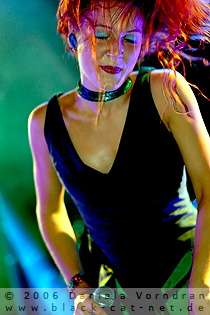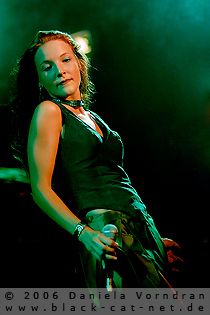 The Birthday Massacre
Steadily gaining more and more fans all over the world, this band has been getting mostly very good reviews by the press. Some say the hype is bound to die out eventually and that perhaps they will wake up and smell the coffee soon. I say there is no hype! They have deserved every nice sentence ever written about them. 'The Birthday Massacre' (TBM) are currently out on the very ambitious European leg of their "Broken Minds Tour". TBM are: Chibi (Vocals), M. Falcore (Lead Guitar), Rainbow (Rhythm Guitar, Sequencing), Aslan (Bass), Rhim (Drums) and O-en (Keyboards).
http://www.thebirthdaymassacre.com/
/
http://www.myspace.com/thebirthdaymassacre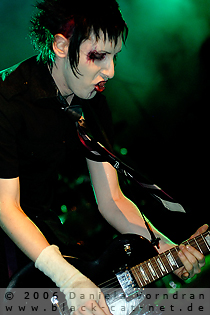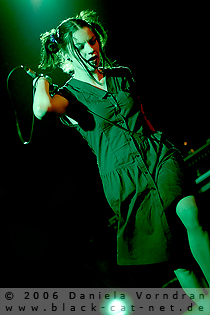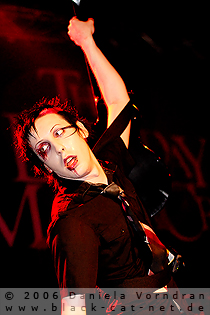 Music
There probably are countless music journalists out there that are better equipped than me to describe the music of TBM. They are a bit difficult to place in a box when describing it to those who haven't heard. I clearly remember a discussion about this very issue when leaving the boat after the Copenhagen gig – with a wide variety of suggestions hailing in. I guess it's partly due to this that they have gained fans from all kinds of different musical affiliations. To me it sounds like a unique, but very solid mix of Synth-pop / Rock laden with heavy guitars and spiced with a gothic flavour.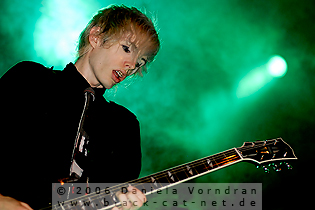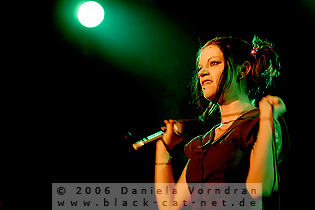 Performance
Some atmospheric sounds started to pour out of the speakers as the guys entered the stage, picking out their spots and getting ready with their respective instruments. Then the guitars marked the real start and all at once they began to jump and move around on stage, seemingly wishing to become one with the energy of the music. Ok, granted that Rhim neither jumps nor moves around that much, but the energy he projects while hitting those drums are well on par with the others. Not long after the guys Chibi enters and joins the others – equally energetic. Her dress together with the shoes and ponytails gave her quite an innocent look, which makes for an appealing contrast to her expressions and moves. It goes especially well together with songs like 'Blue' and 'Happy birthday', where the different segments of the music are really performed masterfully by Chibi. The boys on the right side, M. Falcore and Aslan, did a much better job of moving around and rocking on stage than they did at the gig in Copenhagen. This evening, everything seemed to come together very well. Although special mention must go to Rainbow and Chibi who really lift their shows to new heights. Their facial expressions alone makes for enough entertainment to make it hard to decide where to look – or take pictures, for that matter.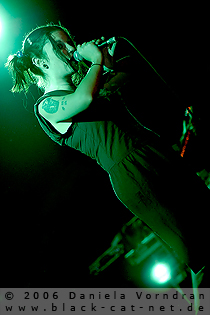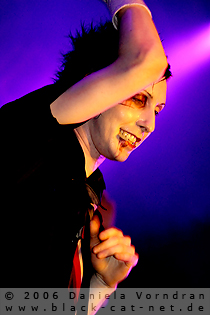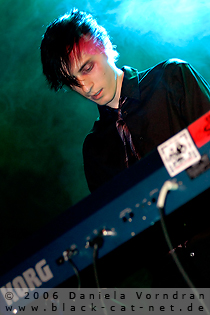 Add the fact that their live performance musically is as tight as you could wish for. Add that Chibi is constantly beckoning attention and contact with the audience, with her eyes, smiling and whatever means she can use – and everything while singing, jumping around and dancing in her own very special style. Add Rainbow's smiling to the audience or at his band mates while playing and jumping off the drum plateau. Doing synchronized jumping with Aslan, or kicking Aslan's ass behind their backs, firing away a load of spit over his shoulder towards the drum set, blowing a spray of water in the air or playing with O-en's pitch control. Add all that energy and you know why this force of nature on stage instantly spill over energy to the crowd in front of them. And why they almost from start of the set instil happiness and audience wide hand clapping. You can see that they are having fun on stage and it's highly contagious. If you have seen them you know what I mean and if not, you're missing out on something really good – go and see the next possible show!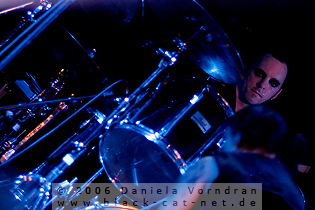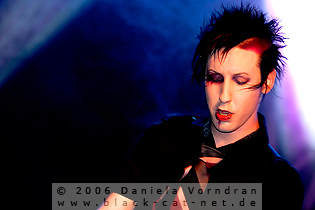 Setlist

01. Intro
02. Lovers end
03. Play dead
04. Horror show
05. Promise me
06. Violet
07. New song *untitled*
08. Under the stairs
09. To die for
10. Blue
11. Nevermind
12. Broken
---
13. Happy birthday
14. Video kid
Rating
Music 8
Performance 10
Light 7
Sound 8
Total 8 (8.45)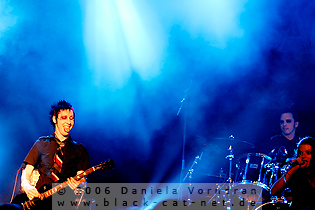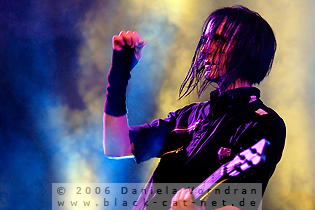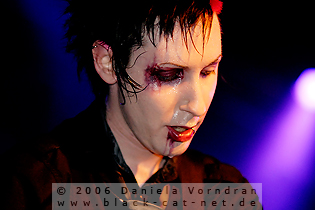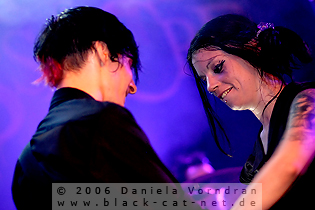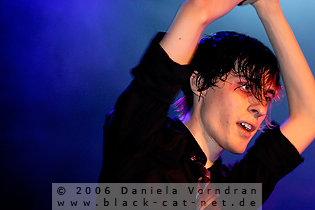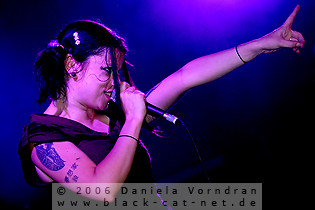 More pics on Black-Cat-Net
{jos_sb_discuss:17}
See also (all categories):