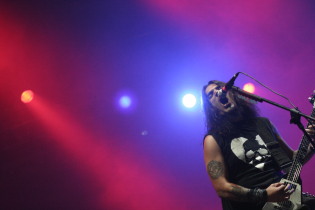 Roitzschjora, Delitzsch, Germany
Friday, 4th July 2008
With Full Force Festival Day 1: Misery Speaks, Drone, Caliban, Die Apokalyptischen Reiter, War From A Harlots Mouth, Bullet For My Valentine and Machine Head


We arrived there Thursday evening and soon after we finally put up our tent it began to rain. Obviously not the best start for a festival during the summer and, thank god, the weather got better the next day. And this day was meant to be great since big names such us CALIBAN and MACHINE HEAD stood on the plan for this Friday.



MISERY SPEAKS

MISERY SPEAKS unleashed their self-titled debut album in summer 2006, immediately sparking the interest of fans and media alike in a hopelessly flooded market. Following numerous shows, with luminaries of the scene, such as CALIBAN, HEAVEN SHALL BURN and NEARA, and an intense song-writing process, January 2008 has seen the arrival of their second album, 'Catalogue of Carnage', set to take MISERY SPEAKS to a higher level. Backed by their new label, the renowned label DRAKKAR (Nightwish, Lordi, The Sorrow, Ensiferum, among others), the band from Münster / Germany present themselves more confident and convincing than ever and have come up with an album that you'd expect to hear from a Scandinavian rather than a German act! The sound speaks for itself and says more than a thousand words: melodic death metal in perfection!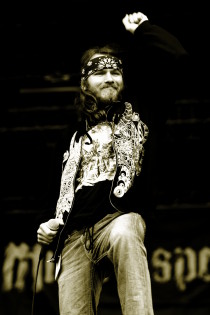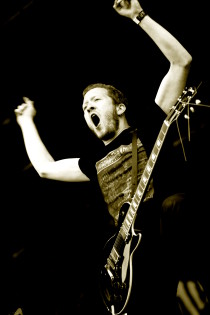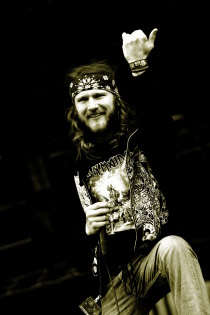 Music & Performance

A friend of mine told me the band is great and so, I decided to take a look at them. And I certainly didn't regret it. Although I usually don't really like death metal, I was surprised by their music. The growls were pretty deep and strong and the guitars just matched perfectly. Claus Ulka (vocals) did a really good job with this band and it was great to listen to them. I actually only planned on staying for like 3 or 4 songs but then, after watching their performance and listening to their music, I decided to stay a little longer. Although they actually didn't do that much on stage, you could still see that they had a lot of fun standing on stage and getting the crowd going. I really enjoyed listening to them and I'm surely gonna take a closer look at that band in the near future!
Rating

Music 9
Performance 9
Lights – (daylight)
Sound 7
Total 8.5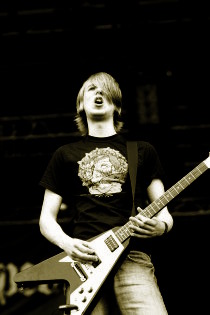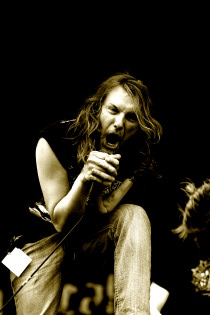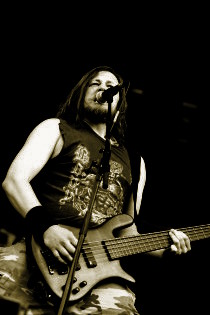 DRONE

DRONE was founded in 2004 in Celle, Germany. In January of 2006, they released their first demo called 'Octane'. In the same year, they won the Wacken Metal Battle. DRONE was opener for bands such as DIE APOKALYPTISCHEN REITER and KORPIKLAANI. In the beginning of 2007, they released their first LP 'Head-on Collision'.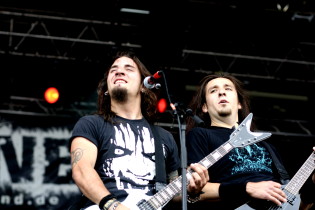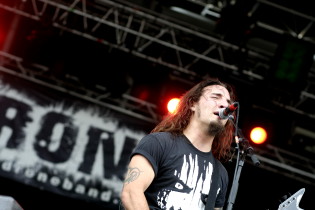 Music & Performance

First of all, I have to say I only heard good things about that band and so, I was excited to finally get to see them. But afterwards, I wished I wouldn't have seen the band. The music was lame, and so was the performance. One song just sounded like another one and the riffs of the guitars sounded like they were from somebody who just started playing the guitar. I don't know what people like about that band. They didn't do a good job at all. They looked kinda bored and not really interested in the audience. During the concert, you could see how more and more people left the concert. I can understand those people because neither the sound nor the band was good. The microphone was probably plugged in wrong and so, they had huge sound problems. But this wasn't an excuse for them just being totally lame that day.
Rating

Music 6
Performance 5
Light – (daylight)
Sound 5
Total 5.4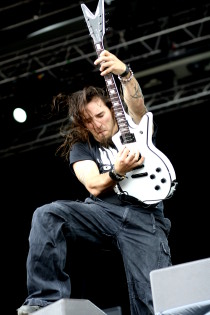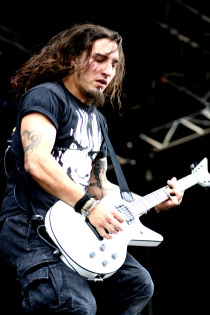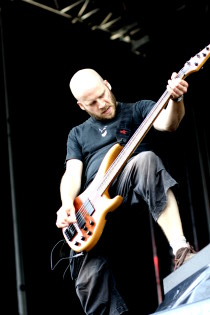 CALIBAN

CALIBAN was formed in Hattingen, Germany in 1997 under the name NEVER AGAIN. After six months of playing together, the band recorded their first two songs for a demo, which was never released. The songs were sent to several record labels, and Lifeforce Records was the first to offer the band a record deal. The band's first self-titled EP came out in the summer of 1998. CALIBAN recorded their 2007 album 'The Awakening' with producer Benny Richter, and was released in Germany on May 25.
Music & Performance

CALIBAN entered the stage, and at first, I didn't really know where to look at. They all had like those black shirts on and especially Andi (vocals) looked like a typical emo-kid. His eyes were very black and he had white lenses in them. It was kinda scary to me. But then, they started playing and I forgot about the strange outfit and make-up and just enjoyed their lovely music.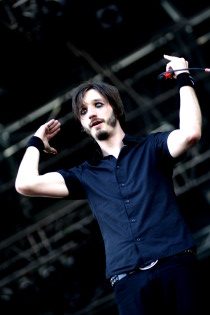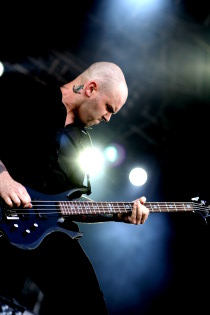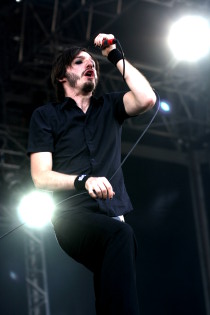 The band was in great shape, just like they were last year. They talked to the audience like they were friends. It was just great. Basically, the whole feeling during the concert was awesome. It was just like one big family. They played a whole variety of their albums and of course, they did their famous circle pit like they always do. And surely, the wall of death was just as important as the concert itself. People were running at each other and afterwards you could see a lot people running towards the emergency tent, bleeding all over their face. That was the bad side of the concert but everything else was just awesome. Great performance and great music. Just an unbelievable great concert. Maybe one of the bests during the whole festival!
Rating

Music 10
Performance 10
Light – (daylight)
Sound 8
Total 9.3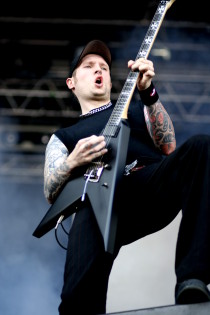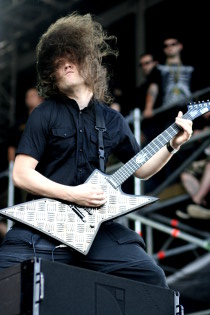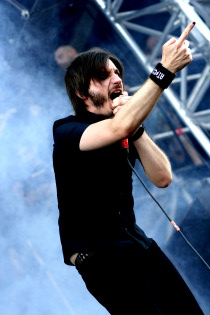 DIE APOKALYPTISCHEN REITER

DIE APOKALYPTISCHEN REITER is a Weimar, Germany based heavy metal band signed to the Nuclear Blast label. Their name translates to "Horsemen of the Apocalypse". Their original style (featured on their releases up to and including 'Allegro Barbaro') consists of death / thrash metal blended with melodic compositions establishing a more epic mood than usual in traditional death metal. In later albums, the death metal influence has declined, resulting in less chaotic composition (often centred around a verse and chorus with a bridge and solo), more constant tempo, longer songs and clean vocals (although not exclusively), resulting in a more polished and accessible sound. They use lyrics in both English and German with a shift from mainly English songs to more German ones on recent albums.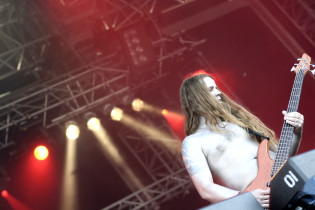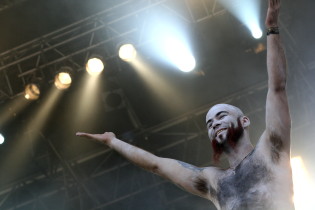 Music & Performance

The first thing I noticed when they entered the stage was that they had a woman as a guitar player. I asked myself "What happened?" But up to now I didn't get an answer to that. They started playing and I couldn't hear any difference, so it didn't really bother me. I saw DIE APOKALYPTISCHEN REITER two times before and both times, they were great. And so they were, too, this time. They looked pretty funny with their white make-up on their faces and breasts. And of course, the keyboarder was in his cage again, looking all like an s/m freak. Their show is always great and so was their music. They had a lot of fun playing the songs for the fans and it was just great to see how happy they were.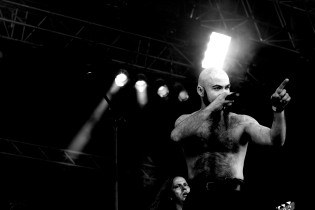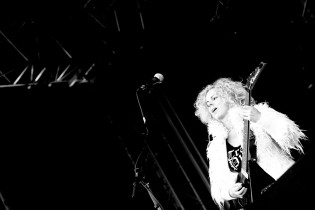 After the first couple of songs, we had to stop taking pictures and then, I went to the end of the festival area and looked at the stage and then, I could finally see how great their show was. Before, I couldn't see anything because the stage was so high but now, it was really entertaining to see how much fun they had. But just like DRONE had before, the sound was terrible at the beginning. I don't know what they did wrong but it sounded really, really bad. But actually, that's the only bad thing I can say about the concert!
Rating

Music 9
Performance 10
Light – (daylight)
Sound 5
Total 8.7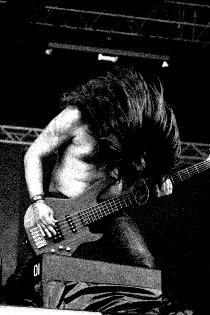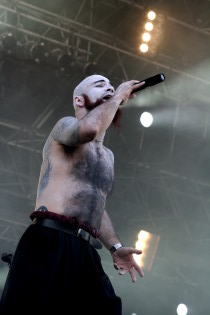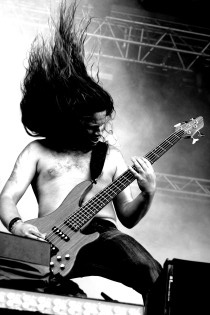 WAR FROM A HARLOTS MOUTH

Since WAR FROM A HARLOTS MOUTH is a hardcore band, I didn't really know what to expect of them on stage. I already listened to them on the radio and they were actually pretty good. But this day, they were just awful. I didn't know why. Maybe they just had a bad day or they didn't like the audience, I don't know but they were standing or jumping on the stage but didn't have the feeling of a great show. I mean, the audience seemed to like it but I just couldn't find anything good about that concert. The lights were terrible and the sound was just too loud. I just didn't like it at all.
Rating

Music 6
Performance 6
Light 5
Sound 5
Total 5.7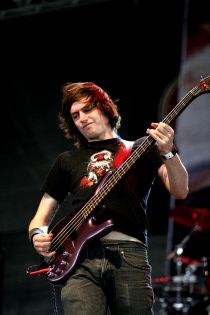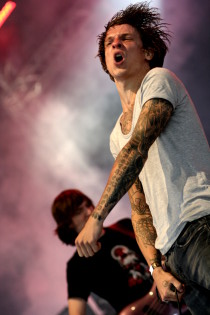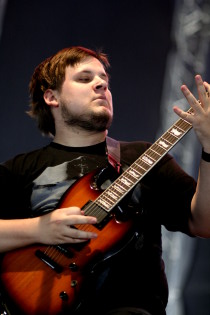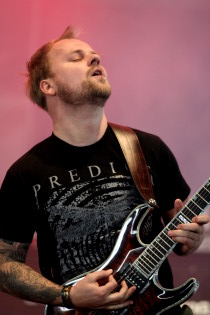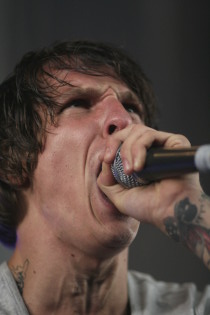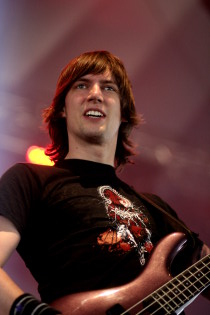 BULLET FOR MY VALENTINE

BULLET FOR MY VALENTINE are a four-piece metal-core band from Bridgend, Wales. Originally known as 12 Pints of my Girlfriend's Blood, the band formed in 1998 and covered songs by METALLICA and NIRVANA. BULLET FOR MY VALENTINE was formed in 2002, and was offered a record deal by Roadrunner Records. That offer was turned down, and the band later secured a five album deal with Sony BMG.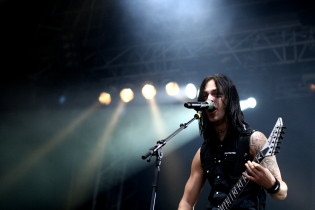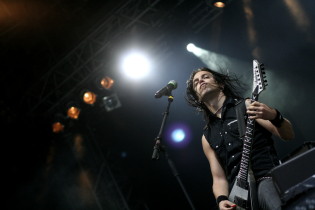 Music & Performance

After they entered the charts on MTV and such channels, I didn't really like them anymore. They started being commercial and I didn't know what to think about them playing at that festival. But actually, I was really surprised by their performance and by their music. They were much harder than they are on CD. They almost shocked me. Matt Tuck (guitar and vocals) had a strong voice that day and the whole setting of the music was actually pretty good. I didn't expect them to be that good but they were. The festival area was crowded by hundreds of people. The mood of the concert was great because so many people could sing the lyrics of the songs and they were just completely satisfied with the concert and the band. After the concert, I didn't really change my opinion towards the band but I surely have more respect for them playing live.
Rating

Music 8
Performance 8
Lights 8
Sound 7
Total 7.8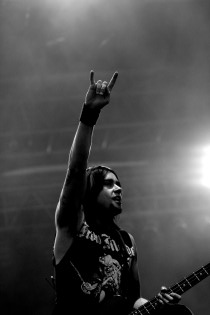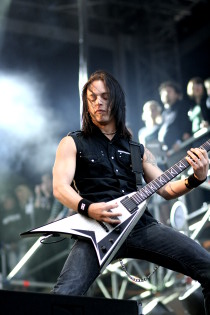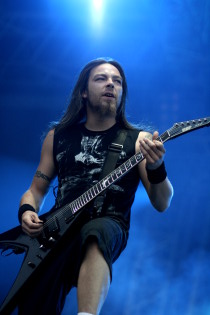 MACHINE HEAD

MACHINE HEAD is an American metal band, formed in 1992 in Oakland, California. Founded by singer and guitarist Robb Flynn and bassist Adam Duce, the band has been plagued by line-up changes since its inception. The current line-up of the band comprises Flynn (vocals, guitar), Duce (bass), Phil Demmel (guitar), and Dave McClain (drums). MACHINE HEAD is one of the pioneering bands in the New Wave of American Heavy Metal.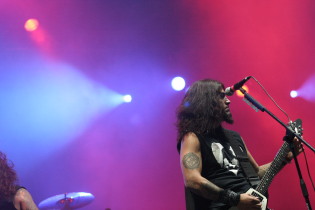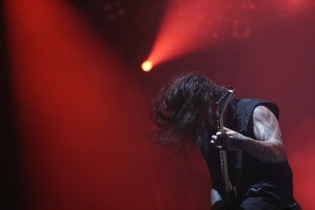 Music & Performance

What is the first thing that comes to your mind when you think about a band such as MACHINE HEAD? Big band, big show, big music. That's right, that's exactly what they were. A big band with a big show with big music. They entered the stage and the crowd just completely freaked out. The intro began and already then, you noticed that the sound was way too loud. At the beginning you could barely understand a word he was saying. But during the concert, the sound problem became better.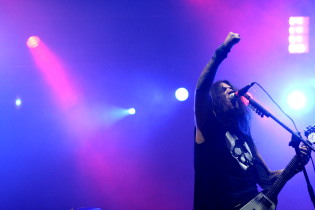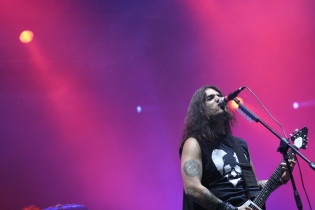 Since they were one of the big headliners, they had this huge show. Although they didn't have fire and such stuff, the show was still bombastic and it was great looking at them playing on the big stage with those awesome lights and lots of fog around them. After the concert, I had to go to bed because I was so tired and I needed to get some sleep for the upcoming days. And I have to say, with MACHINE HEAD playing at the end of my day, I had lovely dreams.
Rating

Music 8
Performance 9
Light 9
Sound 8
Total 8.5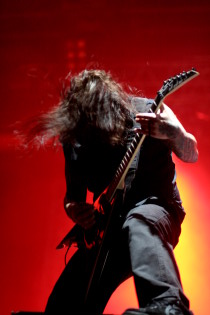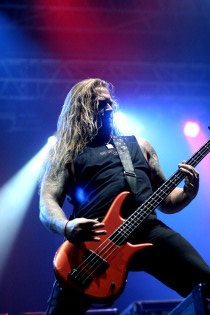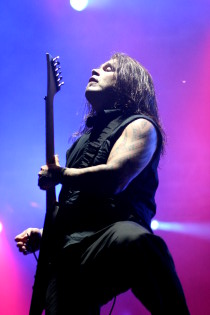 All pictures by Anne Kuhfuß
{jos_sb_discuss:18}
See also (all categories):