Halle Gartlage, Osnabrück, Germany
13th March 2009
Kreator, Caliban, Eluveitie, Emergency Gate


Free after the motto "Destroy What Destroys You" we got the full dose of Metal at KREATOR's "Hordes of Chaos" tour. Besides the Thrash Metal of KREATOR we got also Metal Core with CALIBAN, Pagan influenced Folk Metal presented by ELUVEITIE and Melodic Metal with EMERGENCY GATE during the evening in Osnabrück where the Halle Gartlage was pretty well filled.



Emergency Gate
First band on the bill was EMERGENCY GATE, a band that appeared in 2005 for the first time. Short after the foundation they already produced their first professional album 'Nightly Ray' being released in the middle of 2006. After losing their record deal all of a sudden end of 2007 and some line-up changes, the way for the band was unclear. Anyway, the remaining members worked hard on new material, a new singer was found by incident and the final recordings of the next album started in March 2008. A new label also was found very soon with Silverwolf Productions to make the newest album 'ReWake' public. The album finally was released on January 2009. EMERGENCY GATE is Matthias Kupka (vocals / guitar), Vladi Doose (guitar), Udo Simon (guitar), Mario Lochert (bass), Chris Rybak (synth), Daniel Schmidle (keys) and Chris "THE MACHINE" Widmann (drums).
http://www.emergency-gate.com/
/
http://www.myspace.com/emergencygateonline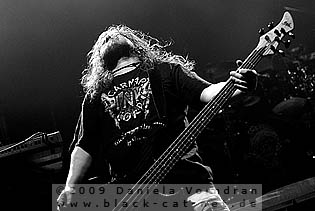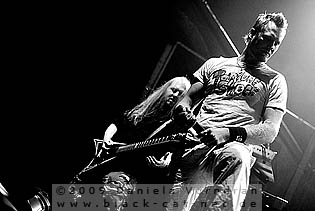 Music & Performance

EMERGENCY GATE started their show a quarter to eight, a bit earlier than expected. Very enthusiastic and playful they presented seven songs, all out off the latest release 'ReWake'. It was obvious that the guys had fun on stage. Surely, musically this is not the re-invention of the wheel and not very spectacular. But as warming-up for the bands to come it was a pretty nice start into the evening. I am not the biggest metal head and I must say I quite liked the stuff on those German guys.
Setlist

01. Double Suicide
02. Next in Line
03. The Purpose
04. Gold & Glass
05. Trust In Me
06. Slave
07. Life v.2.0
Rating

Music: 7
Performance: 7
Sound: 7
Light: 5
Total: 6.9 / 10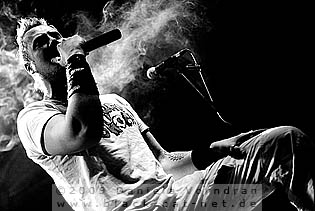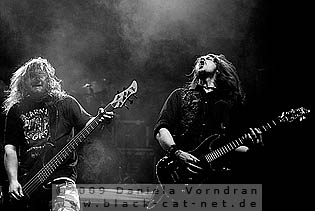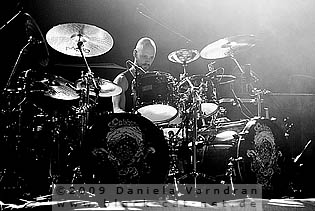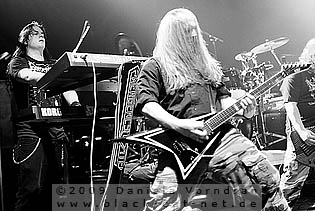 Eluveitie
ELUVEITIE, formed in 2002 by mastermind Chrigel Glanzmann, belongs to the so-called Pagan Metal scene presenting traditional Celtic Folk Metal combined with modern styled Melodic Death Metal. The first release, the EP 'Vên', came out in 2003 followed by a record deal with Fear Dark Records in 2004. In 2005, the band entered the studio to records their first real album 'Spirit'. Now, the upcoming album 'Evocation I - The Arcane Dominion' is finished and will be released in April 2009. ELUVEITIE is Chrigel Glanzmann (vocals, mandola, acoustic guitar, pipes), Meri Tadic (fiddle, vocals), Anna Murphy (hurdy-gurdy, vocals), Päde Kistler (whistles, gaita, bagpipe), Kai Brem (bass), Invo Henzi (guitar), Siméon Koch (guitar, vocals) and Merlin Sutter (drums).
http://www.eluveitie.ch/
/
http://www.myspace.com/eluveitie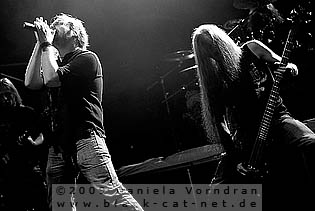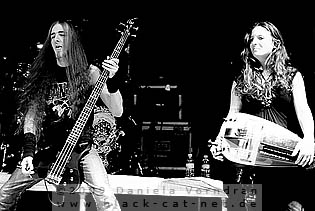 Music & Performance

The guys from Switzerland were very busy lately, already having the new album ready only one year after the latest release 'Slania'. Even though there is already the new album out soon, the band only concentrated on songs out off the latest two releases 'Slania' and 'Spirit'. Never seen them before (I already mentioned that I am not the biggest metal head? ;) ) and I must say the rocked! They grooved a lot. Sound-wise, the flutes and the hurdy-gurdy were a bit too low, but I am more into guitars anyway. The second guitar during the show was played by different people, one being CALIBAN guitar player Marc. All in all it was a pretty nice show.
Setlist

01. Bloodstained Ground
02. Gray Sublime Archon
03. The Song of Life
04. Of Fire Wind & Wisdom
05. Primordial Breath
06. Tarvos
07. Inis Mona
08. Tegernakô
Rating

Music: 8
Performance: 8
Sound: 7
Light: 7
Total: 7.7 / 10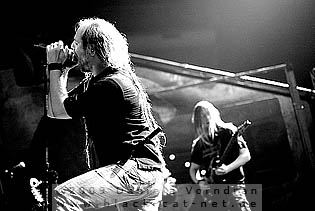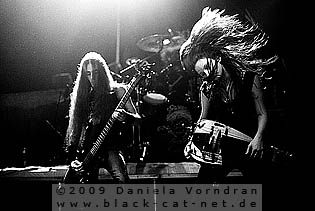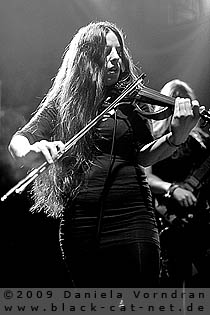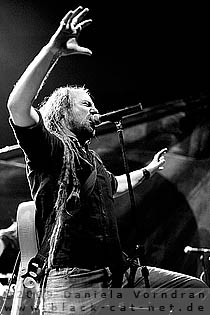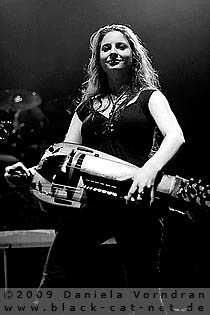 Caliban
The five Metal Core guys of CALIBAN named the band founded in 1997 after the deformed slave in Shakespeare's "The Tempest". Within a few years, the band has become one of the most important bands of the Metal Core genre. In 1999, the band released their debut album 'A Small Boy and a Grey Heaven' which became a European Metal Core groundbreaker. Several albums, a signing to Roadrunner Records and numerous live shows the latest album 'The Awakening' hit the stored in 2007. CALIBAN is Andreas Dörner (lead vocals), Marc Görtz (lead guitar), Denis Schmidt (rhythm guitar, backing vocals), Marco Schaller (e-bass, backing vocals) and Patrick Grün (drums).
http://www.calibanmetal.com/
/
http://www.myspace.com/caliban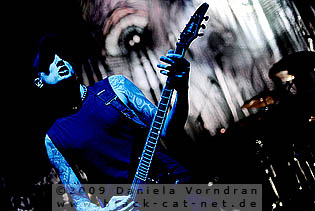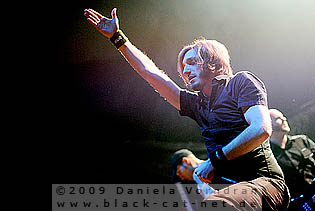 Music & Performance

With their Metal Core style, CALIBAN is definitely not my cup of tea. Anyway, lots of people gathered in front of the stage to experience the show of those guys from the Ruhr area. Musically and technically, the band presented an experienced show. Even though they already have the upcoming album 'Say Hello to Tragedy' recorded, no songs out off it have been played. I am sure lots of people were longing for that. Anyway the band rocked the hall and knew how to pose to fulfil any cliché. Of course the obligatory "Wall of Death" was not missed either.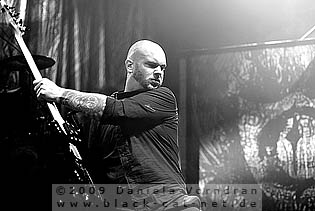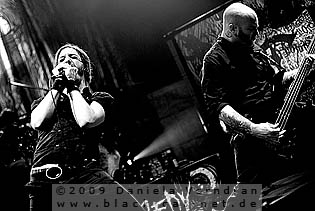 Setlist

01. Nowhere to Run - No Place to Hide
02. I Rape Myself
03. The Forsaken Horizon
04. I Sold Myself
05. It's Our Burden to Bleed
06. 24
07. I Will Never Let You Down
08. Stigmata
09. My Time Has Come
10. Life Is Too Short
11. Stop Running
Rating

Music: 6
Performance: 8
Sound: 8
Light: 8
Total: 7.2 / 10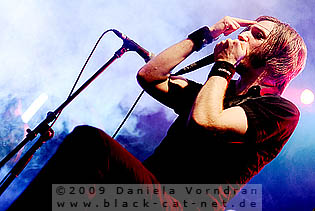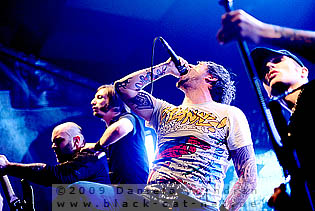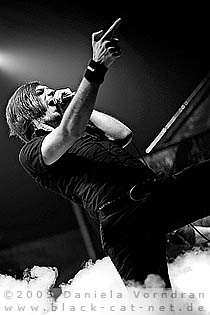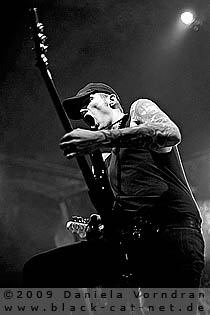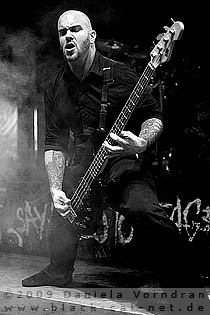 Kreator
'Hordes of Chaos' is the latest release of Germany's cult thrash metal act KREATOR being unleashed mid January 2009 and again proves that the band is an expert when it comes to pure, unadulterated Thrash Metal. In terms of content and composition, Hordes of Chaos takes up where its predecessor, 'Enemy of God' (2005), left off. The Essen based band, already founded back in 1982, is one of the oldest and best known German bands of the Thrash metal genre. KREATOR is Miland "Mille" Petrozza (vocals, guitar), Sami Yli-Sirniö (guitar), Christian "Speesy" Giesler (bass) and Jürgen "Ventor" Reil (drums, vocals).
http://www.kreator-terrorzone.de/
/
http://www.myspace.com/officialkreator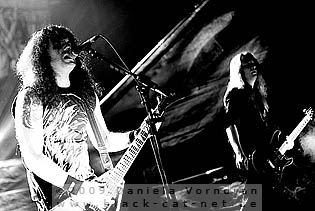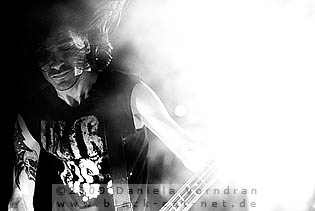 Music & Performance

Finally, the band anyone was waiting for, KREATOR, entered the stage to unleash a Thrash Metal inferno over Osnabrück starting with the thundering ' Intro / Choir of the Damned' out off the 1986 album 'Pleasure to Kill' just followed by the recent smasher 'Hordes of Chaos'. Most of the songs were accompanied by video projections on the big screen behind the band placed in-between huge banners showing some fighting scenes. From the very first start, the hall was bursting into energy, people were jumping and screaming as if there was no tomorrow. Several crowd surfers could be spotted and the security guys had a hard and exhausting job during the evening.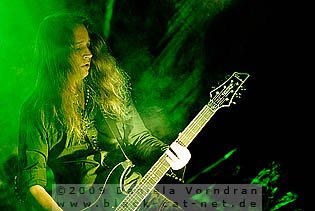 Soon, KREATOR went back in time with several classics - just like even 'Tormentor' from the '85 debut 'Endless Pain' - and audience favourites they presented, much to the pleasure of the audience. Must have been a great set, according to the reactions! During the second half of the set, the enthusiasm of the audience seemed to decrease. Too much alcohol? Too many bands already for people in their 30-somethings? Who knows… anyway we had a few laughs sitting at the stalls and watching the people. All in all it was a very nice and energetic show.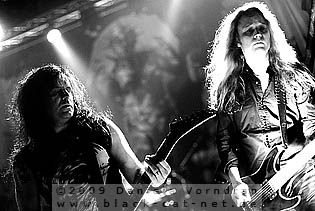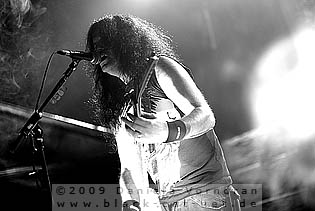 Setlist

01. Intro / Choir of the Damned
02. Hordes of Chaos
03. Warcurse
04. Extreme Aggression
05. Phobia
06. Voices of the Dead
07. Enemy of God
08. Destroy What Destroys You
09. Pleasure to Kill
10. People of the Lie
11. Coma of Souls
12. The Patriarch
13. Violent Revolution
14. Terrible Certainty
15. Betrayer
16. Amok Run
17. Riot of Violence
---
18. Flag of Hate
19. Tormentor
Rating

Music: 8
Performance: 8
Sound: 8
Light: 8
Total: 8 / 10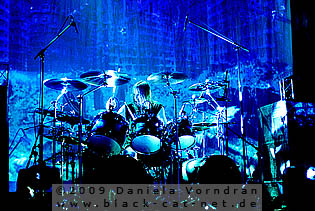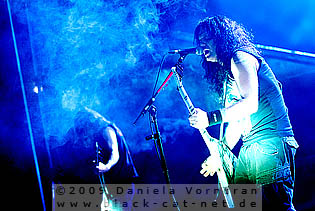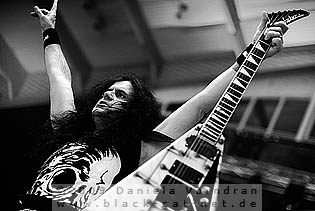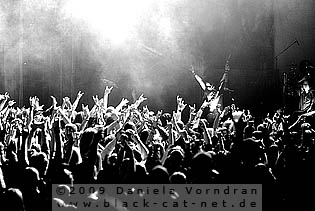 See also (all categories):