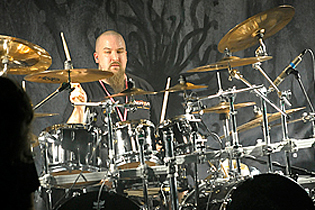 Batschkapp, Frankfurt am Main, Germany
4th March, 2010
Paganfest: Arkona, Varg, Dornenreich, Eluveitie, Finntroll

Few minutes before six o'clock I arrived in front of the Batschkapp, where not as many people waited as I had expected. Due to an enormous traffic jam, Marco, who would be taking pictures during this evening, was late and had to miss the first band. Somehow, the concert manager had messed some things up with our accreditation, but we were given entrance anyway. The doors opened rather on schedule and so, many attendees secured themselves places in the very front. For myself, I decided in favour of a seating place with a nice overview of the venue and the stage. Punctually (this word would dominate throughout the whole evening) the first band entered the scene, at that time the Batschkapp was already decently filled.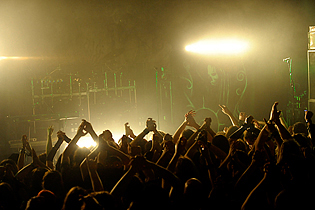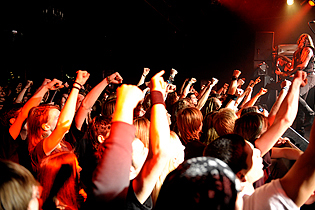 Arkona

ARKONA (Russian: Аркона) is a Russian Pagan metal band. Their lyrics are heavily influenced by Russian folklore and Slavic mythology, and their music incorporates several traditional Russian musical instruments. The band was founded in 2002 and has published five albums, the last one 'Goi, Rode, Goi!' being released on October 28, 2009, one demo, one compilation and two live DVDs.
http://www.arkona-russia.com/
/
http://www.myspace.com/arkonarussia
Music & Performance

ARKONA were definitely conditioned by their charismatic singer, who appeared wearing a big fur. She had the audience under control from the very beginning and was amusing to watch as she danced and head banged. Furthermore, she used her voice in a varied way, providing screams as well as clean sung parts. Unfortunately, side noises distracted their sound, especially toward the end of their set. Other than that, they really worked well as an opening act, many shaken heads could be seen as well as people dancing or moshing.
Setlist

01. Pokrovy nebesnogo startsa
02. Goi, Rode, Goi!
03. Tropoiu nevedannoi
04. Ot serdca k nebu
05. Yarilo
06. Kupala I Kostroma
Rating

Music: 7
Performance: 8
Sound: 6
Light: 7
Total: 7.2 / 10
Varg

VARG is a Viking Metal Band, who found their beginning in 2005 in Germany. In 2010, with their latest release 'Blutaar' recently having hit the stores, they are celebrating their 5th year jubilee. They have often been incriminated for being right winged, but vehemently denied this.
http://www.varg.de/
/
www.myspace.com/varghorde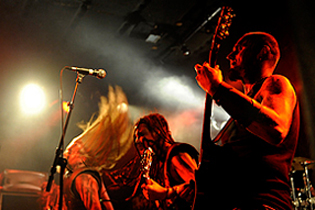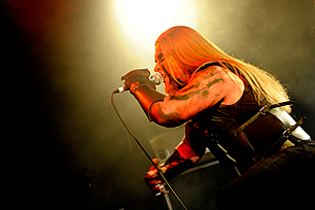 Music & Performance

After a short alteration, VARG entered the stage with their faces and bodies painted in red and black. At first, the crowd did not react too enthusiastically, for their music was heavier and less melodic than from their predecessors. Yet, they managed to get the crowd mostly on to their side, also with regard to announcements in German and in a rather kind way: the rhetorical question for the audience "Do you like beer?" or a political statement "Nazis fuck off" surely were well received. Never really having occupied myself with their music, I found their song 'Blutaar' pretty pleasant. Also during their gig, moshing dominated over dancing (as compared to ARKONA). Yet, the sound was a bit undifferentiated, especially the stringed section. This should remain so throughout the entire evening.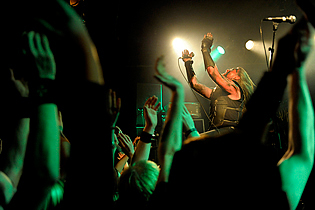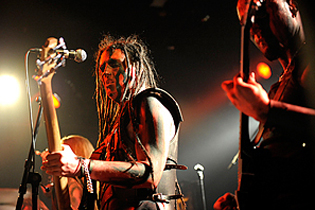 Setlist

01. Wolfsmond
02. Viel Feind Viel Her
03. Skål
04. Blutaar
05. Aufzug der Heere
06. Wolfszeit
Rating

Music: 8
Performance: 7
Sound: 7
Light: 8
Total: 7.6 / 10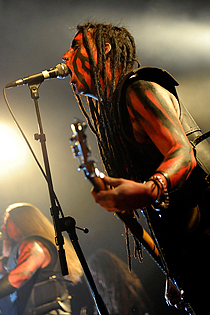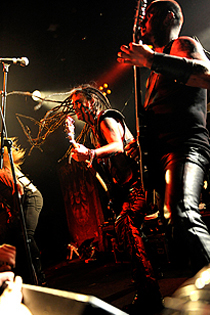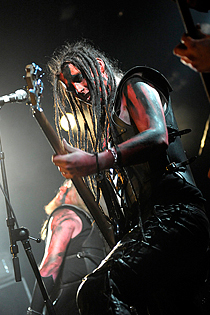 Dornenreich

Having found their inception 1994 in Austria, DORNENREICH have managed to establish themselves as one of the most unique yet successful artists in Dark / Black Metal. Their first albums, such as 'Nicht um zu sterben' or 'Her von welken Nächten' veer towards the black metal corner, whilst newer acts such as 'In Luft geritzt' are more acoustic-orientated, combining acoustic guitar and violin.
http://www.dornenreich.com/
/
http://www.myspace.com/mehralsdasein
Music & Performance

Having seen DORNENREICH on their club tour in fall 2009, I was really looking forward to seeing them again and also curious, how they would work live in front of the Paganfest audience, since they surely remarked the (musical) dark horse of the evening.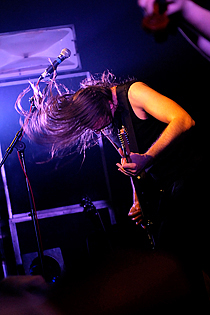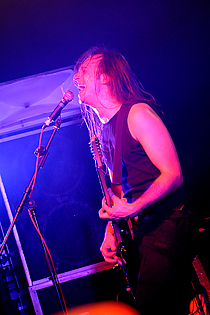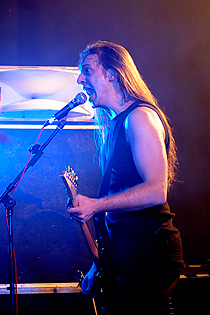 They began their set of 45 minutes with acoustic songs, but the live version of 'Jagd' gains up speed and forms an intersection towards the heavier song. As I had not expected, already the first songs were applauded generously and it was not until 'Flammentriebe', a song from their upcoming album, that most of the crowd seemed convinced: moving heads were seen and as DORNENREICH left the stage, the audience seemed rather pleased. Personally, they remarked my personal highlight of the evening, as I was again fascinated and stunned by the atmosphere they manage to create with only violin, a guitar and drums. Also, their sound and light were conveniently adjusted.
Setlist

01. Drang
02. Jagd
03. Schwarz Schaut Tiefsten Lichterglanz
04. Der Hexe flammend' Blick
05. Flammentriebe
06. Trauerbrandung
07. Wer hat Angst vor Einsamkeit?
Rating

Music: 9
Performance: 9
Sound: 9
Light: 9
Total: 9 / 10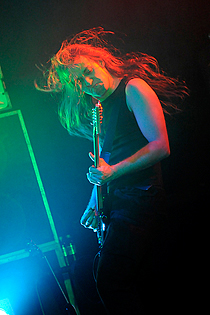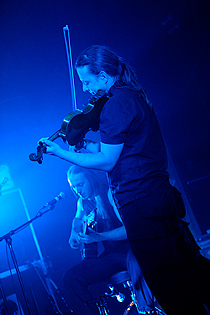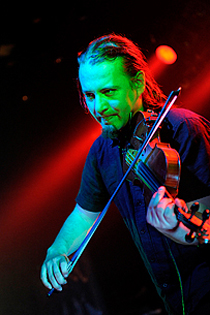 Eluveitie

ELUVEITIE is a Pagan metal band from Switzerland. Their sound can be described as Celtic folk with melodic death metal influences. The band formed in 2002 and their first EP 'Vên' came out in 2003. The band then released a full-length album 'Spirit' in June 2006. In November 2007, ELUVEITIE was signed to Nuclear Blast. The first result of this liaison, 'Slania', was released in February 2008. ELUVEITIE use traditional instruments amidst guitars and screams. The lyrics are often in the extinct language Gaulish. ELUVEITIE is Helvetic Gaulish for "I am the Helvetian"; referring to an inscription dating to the earliest record of the Celtic Helvetii tribe from what is now Switzerland.
http://www.eluveitie.ch/
/
http://www.myspace.com/eluveitie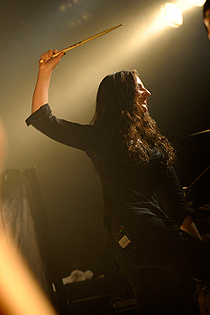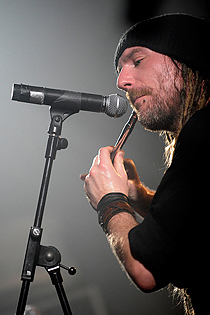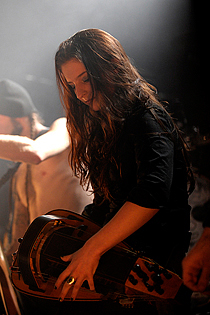 Music & Performance

As the Swiss group consisting of eight people entered the stage, it became clear what most attendees had waited for during the evening: enthusiastically greeted by the audience, the atmosphere reached fever pitch. As the band presented their set of one hour, an immense mosh pit could be seen as well as countless moving heads and fans going crazy, singing along their favourite songs, also from ELUVEITIE's latest record, 'Everything Remains (as it never was)'. Also, stage divers and crowd surfers could be noticed. I found it fairly impressing that the eight members on the rather small stage did not stumble over themselves or their various instruments they had brought along. Indeed, they served a diversity of musical devices, ranging from the usual guitar and bass to flutes, violin and a bagpipe.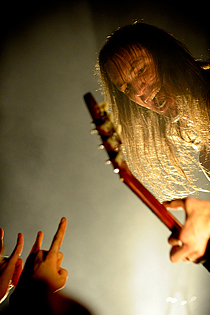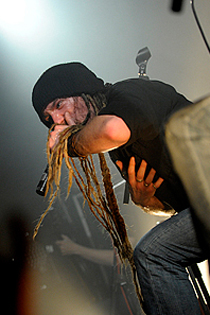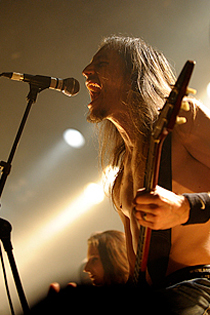 Personally, I experienced their music as rather melodious and less heavy, at times rather repetitive. Also, but this is of course simply a matter of taste, I was more impressed by DORNENREICH who created an amazing atmosphere with five musicians less. Yet, as I was later on told by various people, this marked an extremely felicitous gig of ELUVEITIE.
Setlist

01. Kingdom Come Undone
02. Thousandfold
03. Bloodstained Ground
04. Gray Sublime Action
05. Slanias Song
06. Omnos
07. Inis Mona
08. Quoth The Raven
09. Nil
10. (Do)minion
11. AnDro
12. Tegernako
Rating

Music: 7
Performance: 9
Sound: 8
Light: 7
Total: 7.8 / 10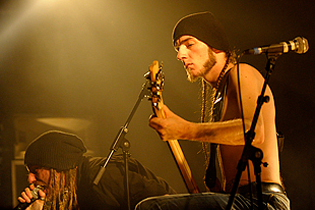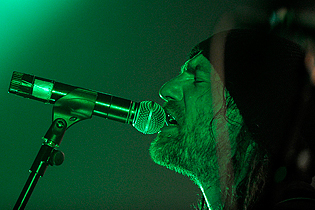 Finntroll

FINNTROLL is a folk metal band hailing from Finland, combining various elements from extreme metal with humppaa, a Finnish traditional music. Their lyrics are mostly in Swedish. Over the years, six studio albums have been released, such as 'Midnattens widunder' (1999), 'Nattfödd' (2004) or the latest output, 'Nifelvind' (2010). FINNTROLL is Mathias "Vreth" Lillmåns (vocals), Samuli "Skrymer" Ponsimaa (guitar), Sami "Tundra" Uusitalo (bass), Samu "Beast Dominator" Ruotsalainen (drums), Henri "Trollhorn" Sorvali (keyboards) and Aleksi "Virta" Virta (live keyboards).
http://www.finntroll.net/
/
http://www.myspace.com/officialfinntroll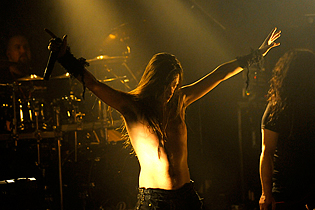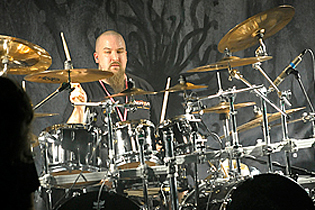 Music & Performance

Punctually at eleven o'clock, FINNTROLL entered the stage. Somehow, the venue appeared less crowded than before, but the place in front of the scene got so crowded that for photographers, it got impossible to take decent pictures. Once again, a photo- and security pit was not provided. Yet, the place in the rear of the venue appeared rather comfortable. The audience appeared rather exhausted, but the fans in front of the stage surely enjoyed the gig. FINNTROLL provided a crossover mix from most of their records and also some people (who knew the lyrics) sung along. After an hour, also their set was finished and the crowd was released.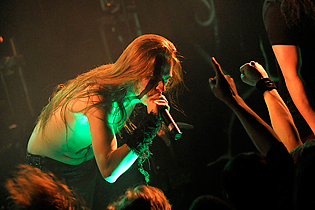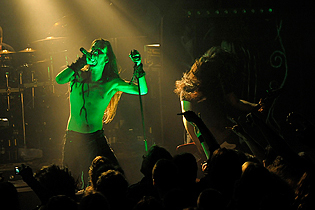 Setlist

01. Blodmarsch
02. Dråp
03. Den Frusna Munnen
04. Slaget Vid Blodsälv
05. Segersång
06. Kitteldags
07. Skogens Hämnd
08. Korpens Saga
09. Blodnatt
10. Trollhammaren
11. Nedgång
12. Solsagan
13. Under Bergets Rot
14. Jaktens Tid
Rating

Music: 8
Performance: 9
Sound: 7
Light: 8
Total: 8.2 / 10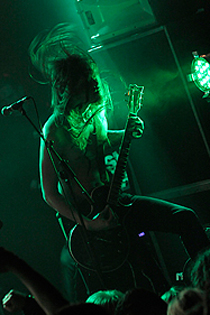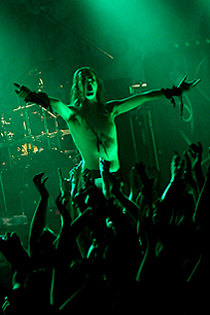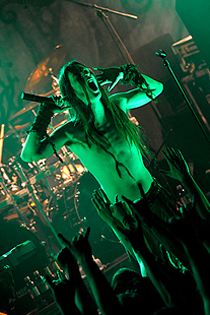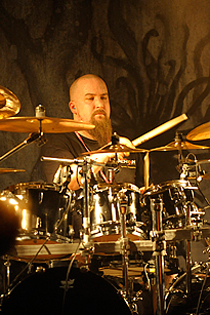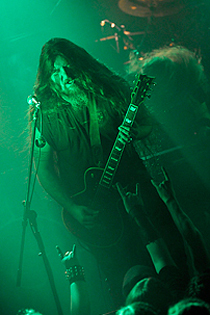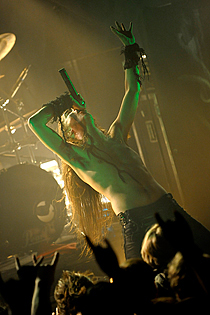 All pictures by Marco Hammer (
http://www.doublegene-pictures.com/
)
{jos_sb_discuss:18}
See also (all categories):