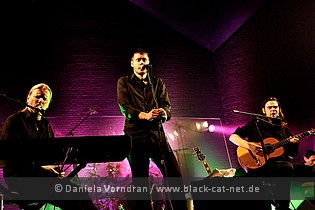 Christuskirche, Bochum, Germany
21st January 2012
Empyrium, Dornenreich

They never hit the charts but still they have a big fan base. The neo-romantics present a mélange of pure melancholy leading you into intoxication. They rarely play any live shows, last years show at WGT was the first one ever, and the show at Christuskirche in Bochum so far was the only chance to see them in 2012. The church was a special environment for this show being supported by DORNENREICH. The evening sadly started not perfectly. When the doors were up to open at 19:00, DORNENREICH just started their sound check. So people were only allowed to enter the foyer. When finally 45 minutes later the doors were opened, it took very long for anyone to find his place. The numbering of the seats seemed to be a bit complicated. Scheduled originally for 20:00, DORNENREICH finally entered the stage at 20:45 for their set.



Dornenreich

DORNENREICH is a Melodic Black Metal band from Tyrol, Austria. Founded in 1996, the band has progressed in style from black metal to what the band describes as "a vision beyond (black) metal, Neofolk and ambient" on their latest works. The music on their second album, 'Bitter ist's dem Tod zu dienen', released in 1997, can be described as symphonic black metal with some folk and some gothic influences. After 'Her von welken Nächten', drummer Moritz Neuner left the band due to some differences with the two remaining members. During the track-writing for 'Hexenwind' the band's progression took a new direction towards a more calm and mature approach. In 2006, Valñes left the band and Evíga found a new DORNENREICH member in 2006 in Inve, who had already contributed as a violinist on 'Her von welken Nächten'. 'In Luft geritzt', released in 2008, shows a complete departure from previous styles, where DORNENREICH had chosen to play completely unplugged, with only acoustic guitars and violin as instruments and bells as percussion. For their latest release 'Flammentriebe' (2011), Neuner rejoined the band. DORNENREICH is Gilvan (drums, perc), Jochen "Eviga" Stock (vocals, guitars) and Thomas "Inve" Riesner (violin). http://www.dornenreich.com / http://www.myspace.com/mehralsdasein / https://www.facebook.com/Dornenreich.official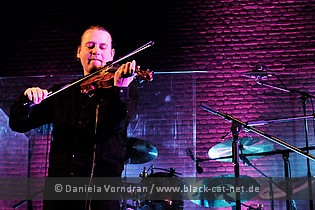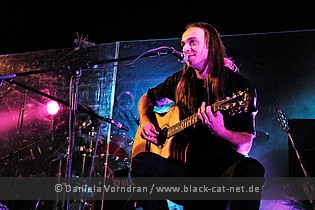 Music & Performance
Most of the time, you can experience DORNENREICH as full Dark/Black Metal band. This time it was different. For this special evening, the band prepared a full acoustic set presented by Eviga on guitar and vocals plus Inve on violin. The minimalist, but nonetheless atmospheric approach to that music invited you to close your eyes and enjoy. The duo was welcomed with warm applause and started into the evening with 'Flügel in Fels' out off the acoustic album 'In Luft Geritzt'. From the very start the church impressed with good acoustics, at least definitely where I was sitting. The chant of Eviga was more a whisper, silent and still intense and sometimes it was full of energy. Supported by the wonderful guitar chords and the wailing violin singing her sad song, the mood was intense. The band did not really talk to the audience, just welcomed anyone at the beginning. They left you alone drowning deeply into the wonderful music. 'Freitanz' was played only instrumentally, offering a lot of room for the violin to take effect on the audience. Crowning final 'Reime faucht der Märchensarg' was introduced with the words "This is a song to be taken seriously", one of the rare interactions with the audience. During the whole set, people were listening banned, it was very silent in the church. Just after the songs, storming applause rewarded the performance. 45 minutes of intense music were the right attunement for the things to come…

Setlist
01. Intro
02. Flügel in Fels
03. Der Hexe nächtlich Ritt
04. Drang
05. Freitanz (Instrumental)
06. Meer
07. Urig
08. Jagd
09. Aufbruch
10. Dem Wind Geboren
11. Reime faucht der Märchensarg

Rating
Music: 8
Performance: 7
Sound: 8
Light: 8
Total: 7.7 / 10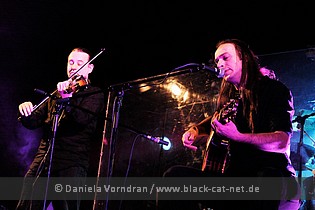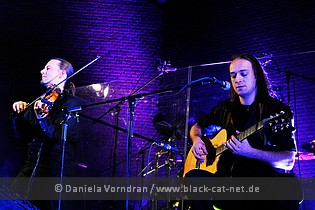 Empyrium

EMPYRIUM started as a symphonic folk doom metal band from Franconia founded in 1994 by Markus Stock (Ulf Theodor Schwadorf) and Andreas Bach, but later Markus separated from Andreas Bach and took Thomas Helm as his partner. Their first two albums, 'A Wintersunset' and 'Songs of Moors and Misty Fields', can be considered doom metal with folk and symphonic influences. EMPYRIUM combine harsh and operatic male vocals with deep slow guitar parts and atmospheric keys. On their next two albums, 'Where at Night the Wood Grouse Plays' and 'Weiland', they turned to a different sound. Instead of keys they use acoustic instruments and choirs. The band has turned to a genre that shows close links to Neofolk, but is much more diverse and melancholic than most bands in that genre. After 'Weiland' (2002), Schwadorf wanted to return to metal and disbanded EMPYRIUM to focus on THE VISION BLEAK. EMYPRIUM disbanded never to appear again until all of a sudden a reunion took place in 2010 including a fantastic show at last year's Wave Gotik Treffen in Leipzig. The Bochum show presented the band in a big line-up consisting of Ulf Theodor Schwadorf (vocals, guitar), Thomas Helm (vocals, piano), Allen B. Konstanz (The Vision Bleak; drums), Neige (Alcest; guitar); Eviga (Dornenreich; guitar), Fursy Teyssier (Les Discrets; bass); Aline Deinert (Neun Welten; violin) and Christoph Kutzer (Remember Twilight; cello). http://www.empyrium.de / www.myspace.com/empyriummistyfields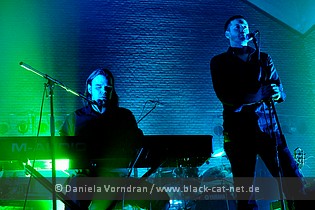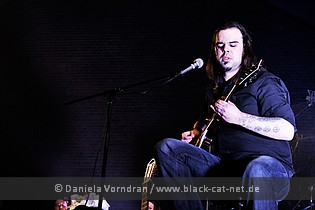 Music & Performance
When last year EMPYRIUM announced their first ever show at WGT, a cri de coeur went through the band's fan community. As they announced their only show for 2012, it was unbelievably and tickets sold really fast. Fans travelled far to see the band, there were people i.e. from France, Belgium or Netherlands attending the show. Still, the fans had to wait another 30 minutes for the show to start. The band's line-up was the same as during their WGT show. Also, the setlist was exactly the same. Maybe this was due to the fact that also this show was recorded by several cameras… to hopefully make a great DVD out of the recordings. Not everything run smooth during the show, there were some problems with Helm's keyboard at the beginning and later on with Schwadorf's in-ear. But definitely this did not destroy the overall magical charm of the concert what was equally amazing like the one at WGT. Usually just consisting of two members, Schwadorf and Helm, the band brought a lot of friends with them to accompany them on stage with their virtuous play. The sound in the church was as professional executed as you would expect, each instrument (once more I am speaking about the place I was sitting) was distinctively audible. The mixing was perfect, especially dynamic wise when distorted met acoustic guitars and singing; screaming and whispering alternated.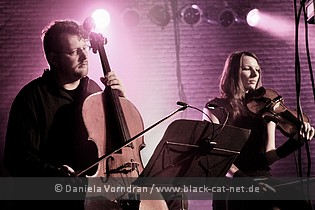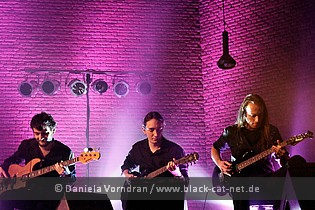 The set itself started with the new song 'The Days Before The Fall', the first sign of life after the re-union making you hope finally for a new album. This song was dark and gloomy with melancholic vocals and powerful drums. From the very start it was sure that the listeners were more than excited about what they heard and saw. Following this first song, the set was a journey through the history of the band covering each record. Anyway, the main focus was on 'Weiland'. With the second song, 'The Franconian Woods in Winter's Silence' we moved back to the band's first album where especially the staccato guitar play and the wonderful strings impressed me, goose bumps included. The instruments were a great contrast to Schwadorf's angry growls, giving a very special mood to the song. With the sound of blowing wind, we were led to 'Where at Night the Wood grouse Plays' and 'Heimwärts', having the special mood of combining Folk and Metal, virtuously combined with the acoustic instruments. 'Mourners' from the band's second album 'Songs Of Moors And Misty Fields' was enthusiastically welcomed by the audience. This dark song combined perfectly clear and growling vocals, creating an intense atmosphere no one could escape from. This song is so complex and multi-layered… but still all musicians worked perfectly together making a great epos out of it.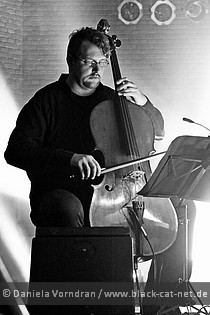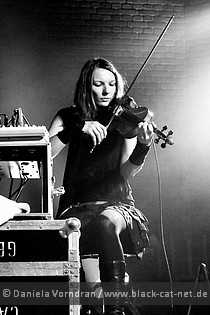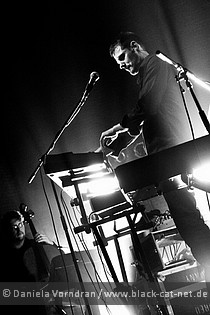 Following 'Schwäne im Schilf' from the 'Weiland' album was equally enthusiastic welcomed. Remarkable with this piece was the impressing guitar play. Wonderful! Goose bumps once more! With 'Dead Winter Ways', another new, yet unreleased song, was presented. For this one, Schwadorf first took over the piano while Helm was presenting the vocals in a wonderful choral way accompanied by organ sounds. Helm's deep voice and the sad play of the cello created an extremely melancholic mood. In the course of the song, Schwadorf moved back to his guitar, delivering accompanying deep growls, making this song really diversified. With 'Der Weiher', Schwadorf announced the last song… unless people want more. Und sure they wanted. EMPYRIUM just stayed on stage, asking "Do you want to hear further songs of us?" Loud applause and screams followed. So, they played two more mystic songs, 'Many Moons Ago' and 'Das blau-kristallne Kämmerlein'. Standing ovations and huge applause made the band discuss a little and then playing 'Mourners' once more, as a little thank you for the enthusiastic fans, this time with supporting E-guitars. What's left to say at the end? People could experience an extraordinary evening with wonderful music, deep drowning in emotions, in a wonderful surrounding. Anything was melting in perfection. The very small technical problems are already forgiven and forgotten. You can only wish for more concerts like this and finally a new album!

Setlist
01. The Days before the Fall
02. The Franconian Woods in Winter's Silence
03. Where at Night the Wood grouse Plays
04. Heimwärts
05. Mourners
06. Die Schwäne im Schilf
07. Dead Winter Ways
08. Der Weiher
---
09. Many Moons ago
10. Das blau-kristallne Kämmerlein
---
11. Mourners

Rating
Music: 10
Performance: 9
Sound: 9
Light: 8
Total: 9 / 10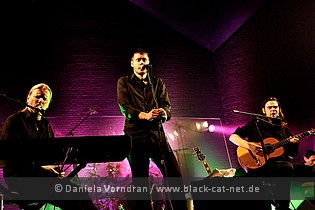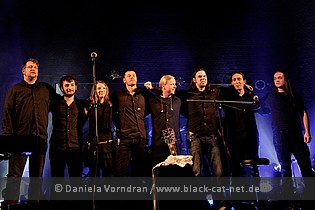 All pictures by Daniela Vorndran (http://www.vorndranphotography.com / http://www.black-cat-net.de/ / http://www.myspace.com/vorndranphotography / http://www.facebook.com/blackcatnet)



See also (all categories):