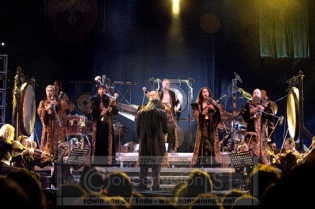 Wacken Open Air, Wacken, Germany
August 5th 2005
Mercenary, Naglfar, Dragonforce, Marky Ramone, Morgana Lefey, Sonata Artica, Bloodbath, Metal Church, Obituary, Edguy, Within Temptation, Machine Head, Stratovarius, Samael, Corvus Corax


The day was rainy,muddy and the dark clouds didn't make it easier to enjoy the gig. Harmed with a red 'thing' I survived the more then four hours rain. In the end of the day everybody was tired, cold and not pleased. But that doesn't change the fact that there were some great bands and some of them were even historical. Besides the weather the long time surviving on the campingside was a little problem: all the energy reserves seemed to be gone, but after a hot shower the spirit came back. (SD)
Mercenary (by SD)


The band who helped to get the energy back was Mercenary. A band that really knows how to play a powerful set and with their own heavy sound they were a good start of the day. They played on the Party Stage, a name what suits them well. They created a good party with their enthusiasm. Although it started to rain harder, it was pretty crowded and most of them could sing along.

Music
With 'Eleven Dreams' the band has put themselves at the top of the metal scene and also live there is a huge impact. The frontman Karl was in shape: his screams were emotional and he is a good performer with his sunglasses and black shirt. Also the vocalist Mikkel was fresh and energetic. Together with the other guys they created a strong sound: the best one from that stage in the whole weekend. They even played some songs from the 'Ever Black' record.

Performance
Natural and full power that is what the show from Mercenary is. Not only the melody lines are very heavy also their performance. Everything comes from deep inside and they are very united on stage. Karl has a lot interaction with the audience, but also Mikkel is very open to the audience. When they play their last song, a big smile couldn't be faith away by the rain. There is nothing better as to feel that the artists really enjoyed the show and had a lot of fun. Those spare moments makes it special and this band really made this festival special.
Rating
Music 8
Performance 8
Sound 8
Light - (daylight show)
Total 8 (7,8)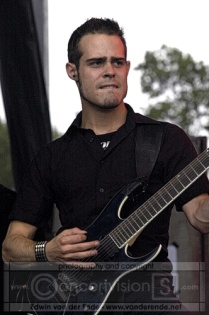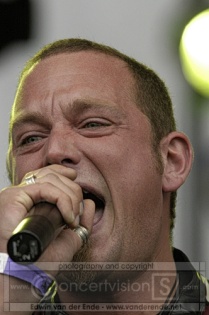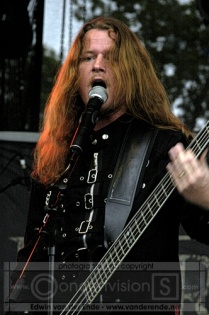 Naglfar
(by RG)

I was told I had seen this band once before but apparently they had notleft an impression which lasted. I only remembered the name. After seeing them again today, early in the morning (11 o'clock is quite early for a festival) I am sure I will never forget again.

Music
This was some impressive metal in the morning. Kristoffer Olivius (Vocals) seemed to have picked up his grunting abilities in hell. With their double bass they drummed the rain right out of the sky (thanks for that). The drums ruled the music, they were the most present instrument. The guitars provided some nice riffs and little solo's to keep the music alive.

Performance
Quite a crowd of fans had gathered to see Naglfar. Kristoffer has not only learned how to grunt in hell but his eyes look as if they can see everything, they are large and white and look right through you. You could see the veins in his neck while he was singing, all this supported his strong stage appearance. The guitarist formed a great sight while head banging simultaneously, they were quite alive at this early hour. And woke up all who were on the festival terrain and there were definitely some sleepyheads around.

Rating
Music 7
Performance 7
Sound 7
Light – (daylight show)
Total 7


Morgana Lefay (by RG)

On their website they have a special message for their Wacken audience: The Best Metal Crowd Ever! Friday at 11:50 in the day, defying rain, knee-deep mud and maybe a hangover you showed the world who is the best fucking metal crowd ever! A big fucking THANX from us to you!

Music
At first I thought Charles (vocals) still needed a little warm up for his voice but it turned out he just has a little roughness in his voice. Guitars rule the music. When these men sing together it sounds great, they are really tuned in to each other. They rocked the festival.

Performance
With a loud scream and lots of enthusiasm the show was off to a start. The entire band takes part in the show, even the drummer comes to take a peek over his drums to see their fans. Charles is giving his all, making hand gestures and showing emotions on his face which fit the lines he is singing. The band members have fun amongst each other, at one point Charles went to get a sip of water, when he got back he tipped the guitarist on his shoulder… when he looked round he got a full squirt of water in his face.

Rating
Music 7
Performance 7
Sound 7
Light 6
Total 7 (6,9)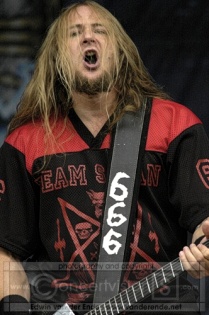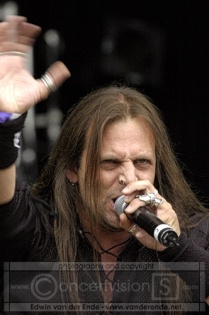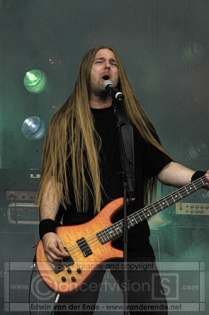 Marky Ramone
(by RG)

Quite a name for someone playing the small stage you'd say; but since the power of four is now down to only one this might be the right place after all.

Music
Many familiar lyrics came by such as 'He Ho Let's Go' and 'Gabba Gabba Hey' which were all sung along loudly by the audience. Marky Ramone is still an ok drummer, he is no Dave Lombardo but he still rocks. In contrary to his new companions; there is absolutely no spirit in them. They have no power to convince and Nick Cooper (vocals) shows absolutely no emotions in his voice.

Performance
As well as in his voice this new singer stands on stage like a statue, he hardly moves at all and shows no emotion in his face. Marky Ramone however is making faces behind his drums and does all the announcements, making Nick seem even more like a puppet. It would have been a better idea to put him at the front of the stage, this way he would not have had to walk up to the front every once in a while to make a 'joke'.

Rating
Music 7
Performance 5
Sound 6
Light 5
Total 6 (5,8)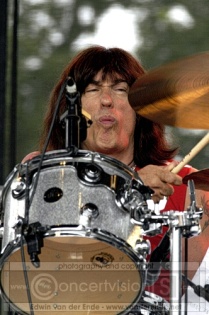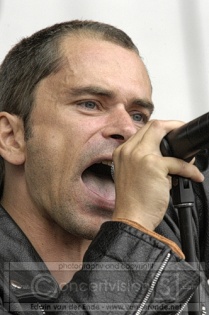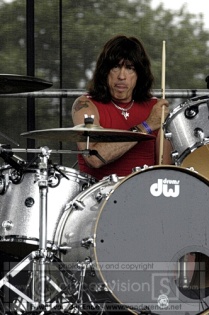 Sonata Arctica
(by RG)

Sonata Arctica had brought quite a crowd of their own, many people wore their shirts. When seeing them perform as the opening act for Nightwish once I was pleasantly surprised by the power of this band. At that time they hardly had any lights at their disposal but still they knew how to put a great show on. Today it was their turn to rock the true metal stage at Wacken Open Air.

Music
It seems as though the vocals of Tony Kakko have been tuned in a bit too soft, his voice sometimes disappears in the music. Later I heard he had had some trouble with his health so that might have had something to do with it. When there were backing vocals to support him (which sounded great together) it seemed that all vocals were tuned in soft which was a pity. Tony had some great emotions in his voice. Sonata provided some heavy tunes as well as some fragile soft notes.

Performance
Sonata is a band which keeps in contact with their audience. Henrik (keyboards) had a loose board so he could come closer and Tony had his foot on the monitors often to come closer to the people. They also make contact amongst each other, guitarists playing side by side. There were great amounts of lamps working during this show so that even though it was still light outside you could see their colours. Tony was very enthusiastic; he was jumping up and down and made the audience clap with him. I do think he is not that used to play during day time for he kept telling us how great it was to play this evening, but since the show was great, all is forgiven.

Rating
Music 7
Performance 7
Sound 6
Light 7
Total 7 (6,9)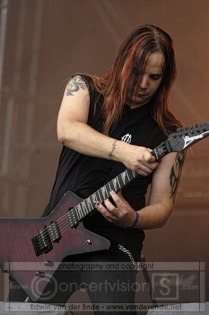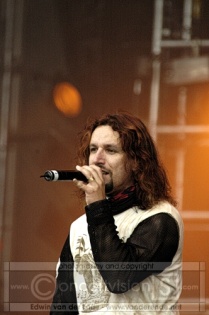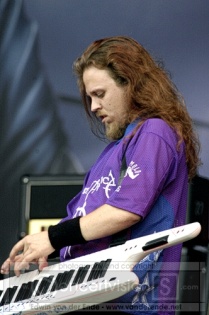 Bloodbath
(by SD)

Another special band was Bloodbath. They are special in many ways. It is not a real band, more a project formed by some people who want to do something new in their life. There was some excitement about the line-up: on the last moment Peter Tägtgren (Pain, Hypocrisy) was replaced by Mike Åkerfeld (Opeth) as frontman. Although he is the former of the band this gig at Wacken is the only one with him. Other members are Anders 'Blakkheim' (guitar, also member of Katatonia), Dan Swanö (guitar, also member of Nightingale and Edge of Sanity) Martin 'Axe' (drums, also member of NCO and Witchery) and Jonas Renkse (bass, also member of Katatonia and October Tide).

Music
A first gig of a band is always special and also difficult for the band. Suddenly they are playing in front of thousand of people (it was crowded till the end of the festival area). It helps a lot that they have the experience, but when they fait away easily the other bands from the Black Metal Stage you can say that they played a perfect gig.
When Mike enters the stage his whole face and shirt is covered with red blood and also the other members are 'dressed' that way. It looks not strange, but it is an essential part of the show. When they kick off with songs from the last ep 'Nightmares Made Flesh' the audience is wild. The sound is perfect: clean guitar lines, a technical drum and most of all the deep voice of Mike. All together they created an amazing deathmetal sound and it is really regrettable that this is the first and only gig with this line-up. Most amazed I was by the clean guitar lines: it was rare to hear and the guitars and the bass at a festival.

Performance
Not only the sound was perfect, also the show was very interesting to look at. The chemistry between the members was one of the reasons why it is all so professional: adrenaline which gave the power, technical well-known and a balanced sound. And most important: full of emotions and devotion to the music. Mike is a good frontman: you believe him when he screams it out in songs like 'Outnumbering The Day' or the old one 'Breeding Death.' His long hair covers his eyes, but you hear the emotion in his grunts. When he let the audience scream, he makes them laugh: ,, Scream like Dani Filth!" (Cradle Of Filth frontman – SD). It works: the whole audience screams along with him. When the gig finally is finished with their last song 'Eaten' everyone had the feeling that this debut gig is the start of something bigger.

Rating
Music 10
Performance 9
Sound 10
Light 6
Total: 9.5 (9.45)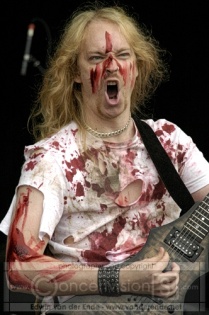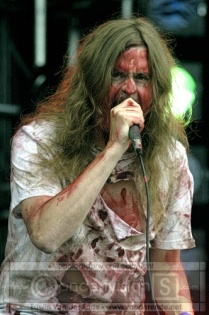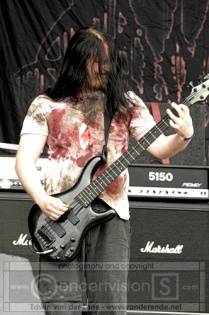 Metal Church
(by SD)

It is amazing that this heavy metal band is touring again. A few months ago they lost their former and frontman David Wayne. He died due to complications from injuries he sustained in a head-on automobile accident several. With his impressive voice he was an icon in the '80, but also with the later records of Metal Church he represented quality in the heavy metal scene.

Music
That this band still can play some heavy metal is for sure. With their last record 'The Weight Of The World'(2004) they continue the line from 'Masterpiece'(1999). Between those records there happened a lot in the band. The new frontman and singer Ronny Munroe the band found a new sound. Of course they play some songs of the new record and Ronny shows that he is a powerful singer with the capability to do a lot with his voice. His sound is strong and straight. Also it is still amazing to see Kurt Vanderhoof (songwriter and guitar) playing, almost in trance. Everybody was screaming 'metalchick' and songs like 'Gods of Wrath' and 'Sleeps With Thunder.'

Performance
Altough it is raining during the gig, the crowd seems to go for this band. I have an overview, because I was standing on the side and it is amazing to see all those people singing along with them. With a big smile the frontman and the rest of the band are playing there gig. Ronny is a very open person and he has a lot of contact with the audience. Altough I was a bit sceptic in the beginneing, after a few songs his voice is warm and he impress a lot with his sound. This band still has the chemistry after all those years.

Rating
Music: 8
Performance: 8
Light: 7
Sound: 7
Total: 8 (7.5)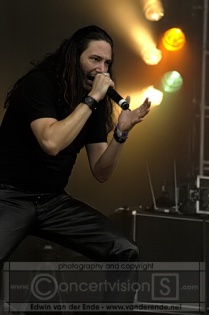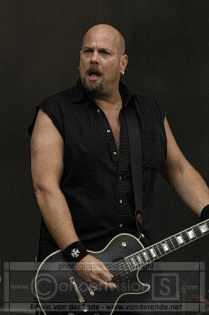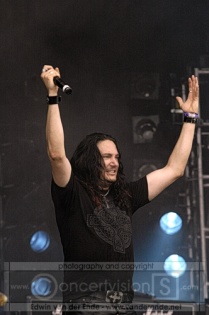 Obituary
(by SD)
A band who is also special in a different way is Obituary. After seven years the band is back on the top of the deathmetal scene. With their last record 'Frozen In Time' they proved that they still can make some old school deathmetal, which reminds you of the old days like 'Slowly we Rot' (1989). Also live they haven't lost their power.

Music
They start with the intro from the last record, slowly and some simple riffs are making people curious for the new sound and then suddenly John comes in with his deep crawling voice and they are ready to make some old school metal party. Not only new songs like 'Denied' and the video 'Insane.' Also some old songs from the 'Slowly We Rot' period were played. They suit well together. John had one of his best days and was better then on the last record. The other members played their gig with passion and together with a good sound it made me to forget the rain.

Performance
Natural and simple. Don't expect a real show, no, these guys are down to earth. Just standing there with their energy, but that is enough because they have fun on stage. The bass player Frank is moving a lot; more than John who is really focussed on his vocal lines. He is a charismatic person with his long hair and his relaxed attitude on stage. Add this to the old school deathmetal feeling and it's complete.

Rating
Music 9
Performance 8
Sound 8
Light 7
Total: 8 (8,3)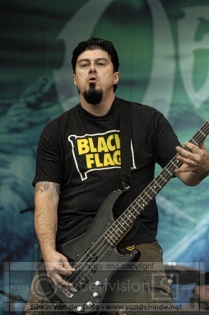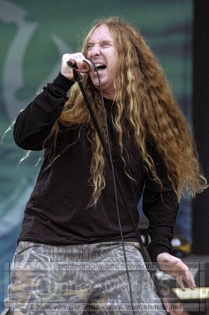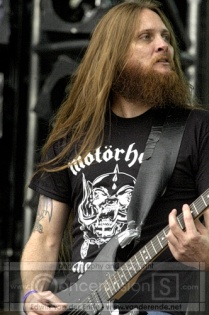 Edguy
(by SD)

I always wanted to see this powermetal band which is very famous in their home country Germany. Former of the band Tobias Sammet also did the metal opera 'Advantasia' and I was really curiuous if I would like the live sound as much as the cd. I must say that I was a bit disappointed. Maybe it had to do with the fact that the band had to hurry, because there were traffic problems. They were picked up, landed with the helicopter and ran straight to the stage where everyone was waiting. So they had to get into the gig very quickly.

Music
Like I said the first fifteen minutes were necessary for this band to get into the right mood. Tobias is as active as usual and also the other guitar players were really enthusiastic. But that was not enough. The quality of the sound wasn't that good and the drum player wasn't that strict in his part. Tobias started very up-tempo with some songs of the last record 'Hellfire.' Not only that, but also 'Land Of The Miracle' or 'Babylon.' Songs who were sang along easily. The sound was a bit loud and not in balance, but they all did their best.

Performance
Tobias Sammet is a charismatic person in a very own way. With his clothes, his voice and even his movements he is very unique. He is so happy to perform at the Wacken festival that he climbs into the light rigging and hangs above the audience. It's not strange that they are excited: playing for more then thousand people, many came for them, so there is a certain atmosphere. He is running around a lot, jumping and screaming. All together with the clean high vocals: he must really fit. He also has a nice announcement: ,, The new single Superheroes (with a nice German accent) will be released on the 3rd September!" He is so happy about that, that he repeats it more then three times. Well he's forgiven, because he is a unique person in the powermetal scene.

Rating
Music 7
Performance 8
Sound 6
Light 7
Total: 7(7,3)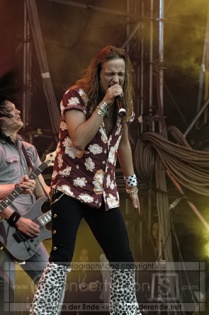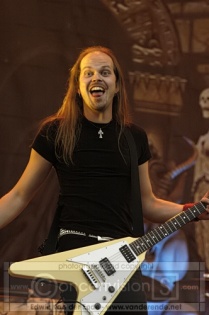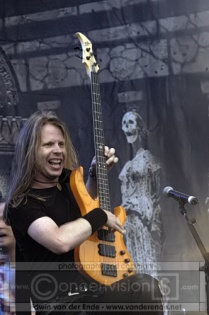 Within Temptation
(by RG)

After their great show at Java Island it was time to hit the road again and do some 'normal' shows. I had seen them play in Germany only once during the Mera Luna festival, the audience went crazy there and I was very curious to see how things would turn out here.

Music
A while ago a golden oldie had made its return to the set list, 'The Other Half', today another one has made the cut: 'Enter'. It is always great to hear those songs again. But I did miss George as grunter for Robert still has something to learn in that department. Sharon had no trouble singing today, although I did miss the power she used to have, it is all a bit to clean now.

Performance
The show started with a huge amount of smoke on stage which made all of us wonder whether the band had or hadn't entered the stage already. After the first song Sharon welcomed the audience in German. The men seemed to enjoy themselves today, as did Sharon. The lights had some effect, especially on the smoke. During 'Angels' a wonderfully spooky atmosphere was created by the smoke blowing over the stage with blue lights shining through it. Everything was ok, and that was just the problem, there was no rawness, no power, where has it gone?

Rating
Music 7
Performance 6
Sound 7
Light 7
Total 7 (6,6)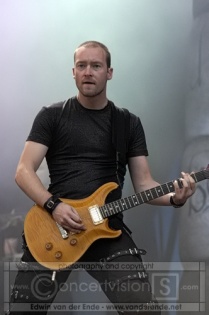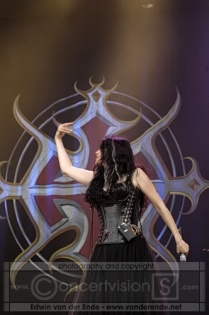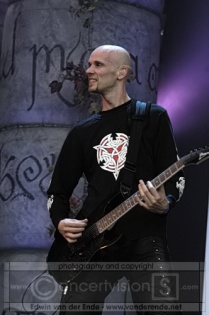 Machine Head
(by RG)
Who has not heard of this band before? Even though you might never have heard the music, the name is very familiar. But what is the legend behind this name? What makes them so fantastic? Shows like this evening!

Music
An intro with beautiful choirs announced the performance was about to begin. After these heavenly sounds hell broke loose. With great emotions in his voice Robert Flynn brings some heavy songs your way. Many familiar songs passed by and not only their own songs for they did some covers as well, from Metallica, Sepultura, Pantera and even a bit of Iron Maiden. At the end of the show we got an a-capella encore of 'Stairway to Heaven'.

Performance
There was great contact with the audience during the entire performance, asking us to make a circle pit, "and if someone falls, pick 'em up". Robert clearly let us know he appreciated his audience on their first show at Wacken ever. In America magazines only cover one European festival and that is Wacken, well, they'll take home some good news. Machine Head was powerful; the lights were adjusted perfectly to the music and all sounded great.

Rating
Music 9
Performance 9
Sound 9
Light 9
Total 9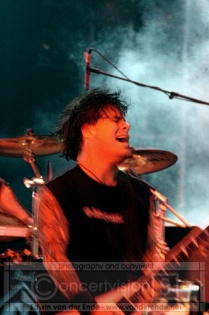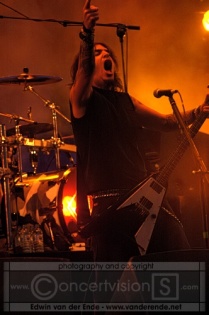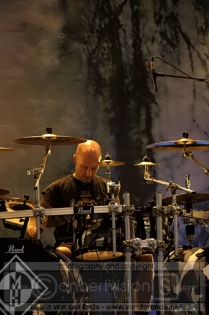 Stratovarius
(by SD)
It was already printed on the Wacken shirts, but still there was a little bit un certainty among the people. Is Stratovarius really coming for just twenty minutes? Well yes they did and they were there already on Thursday to get in the mood. After all those things that happened in the band it is a relief to have them back on this festival. And they proved in less then twenty minutes that nothing is wrong: full power they gave all they got.

Music
Timo Kotipelto and the others make a fast entrée with 'Hunting High And Low' one of their most familiar songs. A heavy start and in a few minutes the whole field it totally packed and sing along. It is even more crowded than at Machine Head. Powermetal is really alive in Germany and this band is really the face of that scene. Not only in the audience, but also on stage there is happiness: the band has a chemistry and it shows. Timo: "It is great to be back, shame that it is so short, but we come back!". It was the right band at the right time, because it was rainy all day an up-tempo sound like that of Stratovarius was very welcome.
When they play the last song it is the new single called 'Maniac Dance' where the band proved that they grown a lot and can still make high quality songs. The sound of Timo was perfect and also the clear piano choirs during 'Black Diamond' pleased a lot of people.

Performance
When the smoke has faded away there is the possibility to observe the band. It is hard to be open minded when you know the story, but well they are back, so no regrets. There is a new face in the band. Timo brought his bass player from Kotipelto (his soloproject – SD) with him and he fits very well in the group. Every member seems to have found the new spirit and Timo's voice has really grown after all those years.

Rating
Music 8
Performance 9
Sound 7
Light 7
Total 8 (8,3)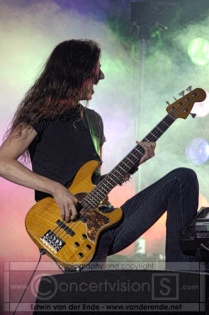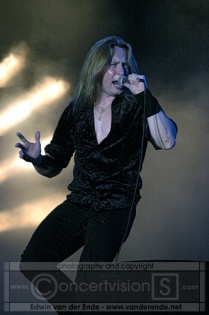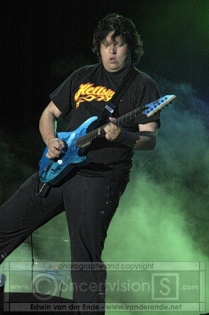 Apocalyptica
(by RG)

Since they were playing at a metal festival many members of the audience were bound to know the lyrics to the Metallica songs so that promised to be a fun part of the show and well, the rest is always fun too, so all in all prospects for this Apocalyptica performance were looking good.

Music
After a great start with 'Path' the entire audience indeed turned into a huge choir whilst singing 'Master of Puppets'. They were able to build up a great musical tension which makes you hold your breath. You can see them listening closely to every other member and instrument. Apocalyptica forms a great team; they are tuned in to each other. Although their drummer seems unable to keep up with the tempo of the cello's at times. To keep us awake all this metal was alternated by a classical piece 'Hall of the Mountain King' which always turns in to a contest of who can clap along as long as possible (due to the building rhythm).

Performance
During the first few songs they were highly concentrated and it seemed as if they hardly even noticed there was an audience out there to see them. But then they opened up and made contact, asking the audience to clap along. They came of off their chairs and closer to the audience, banging their heads just like their fans. At the end cello's were played on the floor, held up in the air and then left alone on the stage, leaving all space to their drummer who even stood on his drums to greet the audience. Their devotion and skills are a great combination and are guaranteed to provide a good show.

Rating
Music 8
Performance 8
Sound 8
Light 8
Total 8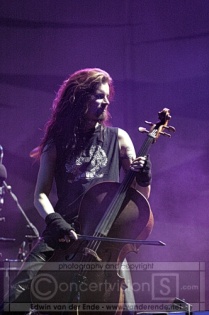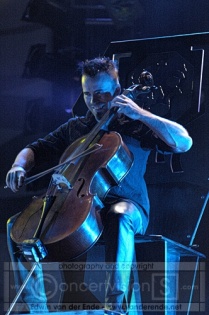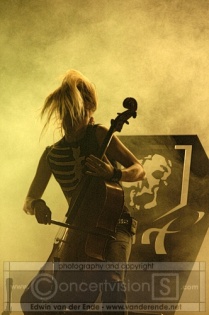 Corvus Corax
(by RG)

Even thought they were with more then eight men tonight they were not in full formation, for tonight Corvus Corax was brining us their special version of the Carmina Burana and they were planning on bringing some 169 people, but the stage was too small. But even though not all were here the stage was filled up nicely.

Music
An orchestra had taken place on stage, which was then accompanied by a choir and 4 leading vocalists. Tension was held long in the beginning, the conductor was in full concentration and the orchestra was watching his every move. When the orchestra had had their time alone and the music started, Corvus Corax entered the stage and joined in. They have definitely given this piece of classical music their own flair, especially because they were playing it with their medieval instruments. It was an impressive performance, which was well prepared.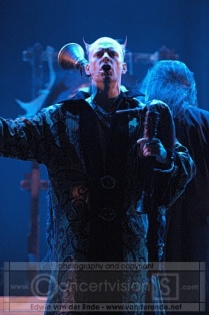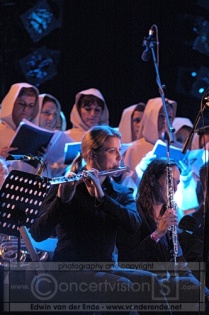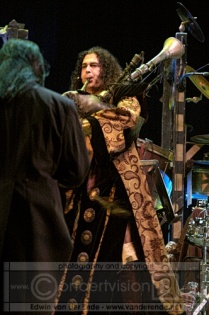 Performance

It was great to see how much the members of Corvus Corax enjoyed their show, they had big smiles on their faces all the time. Behind the orchestra they had their own platform where the drums had been set up and there was space for them to stand and play. At times they also came to the front, where they could make more contact with they audience and show of their great coats. They all had the same long coat, of the same fabric but all had their own style, their own ornaments on it. The lights added extra atmosphere to the show, setting just the right tone with the colours and movements. They audience was willing to clap along when they were asked too (maybe also to keep their hands warm) and at the end of the show they gave a great and warm applause, wanting an encore which was unfortunately impossible.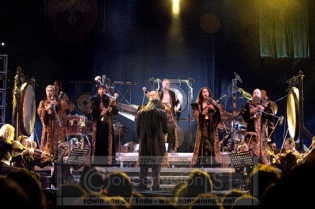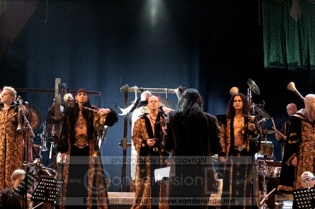 Rating

Music 9
Performance 8
Sound 8
Light 8
Total 8 (8,3)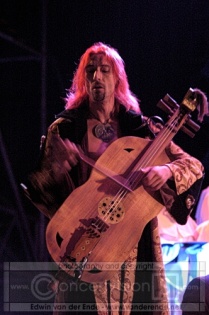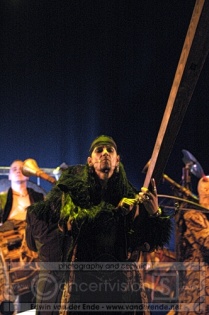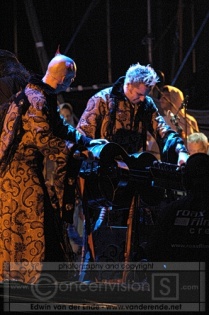 Samael
(by SD)

Samael is a Swiss band that became famous in the scene because of their musical changements. A band that became more and more symphonic. In the '90 they were very popular in the black metal scene with the record 'Worship Him' but after all those years mostly the memory of their live gigs are the most impressive

Music
Samael is more then music only, it is almost art in a bigger way. Light, screens with different images are there to create the right atmosphere. Also there is the impact of frontman Vorphalack. They are the headliner of this evening and now I understand why. I must admit that I haven't seen them often, but this show grasps you no matter what. Songs from their last record 'Reign of Light' where beautiful images from birds, circles and clouds passed on the screen. Also in the back there was the Xytras who's playing the keys and drums (more a percussion sound). They create a different world with simple arrangements and you flow away on the sound of the guitars and the voice of the Swiss front man.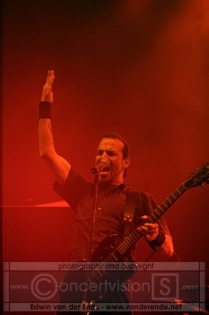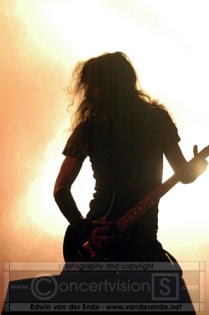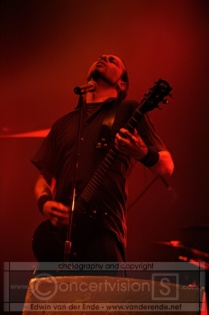 Performance
The eye catcher is not only the frontman, but also the very active guitar player. With his movements, almost a dance, he is really in trance. Together with a clean guitar sound he shows more then just a good musician. He shows his devotion. Also there is a good interaction with the audience. With his deep voice Vorphalack talks sometimes to the audience. He is just himself on stage and his voice is more important: it shows everything he got inside. In the end he is smiling and he can be satisfied: many people in the audience were moving and the created the good mood after this bad day with rain. The brought the sunshine back in the black night.
Rating
Music 8
Performance 8
Sound 7
Light 3
Total 8 (7,8)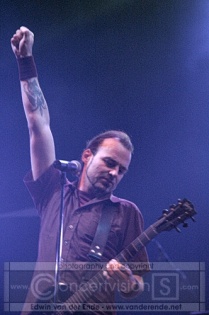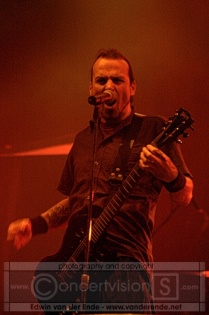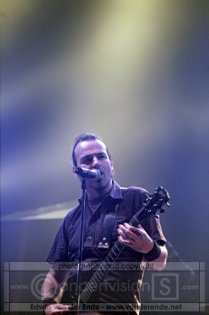 See also (all categories):