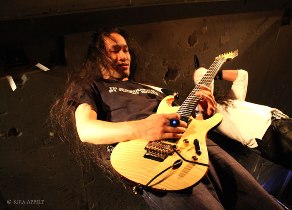 Substage, Karlsruhe, Germany
23th October 2009
DragonForce


DragonForce is on the 'Ultra Beatdown Tour' with their new Album " Ultra Beatdown". They are touring around the whole world and yesterday they tried to beat down Karlsruhe. In a country where symphonic and power metal are having a wide fan base. Many people will remember their dynamic performance on many summer festivals. All the ingredients are there for a great evening full of energy!
DragonForce are an English power metal band from London, formed in 1999. They are mostly known for their fast guitar solos, fantasy-based lyrics, and electronic sounds in their music: to add to their retro video game influenced sound. The band toured with Disturbed, Turisas and Slipknot throughout the summer of 2008 on the Rockstar Energy Metal Mayhem Festival. The band returned in the Fall with the release of their fourth studio album, Ultra Beatdown. The first track and first single, "Heroes of Our Time", was nominated for a Grammy Award for Best Metal Performance on 3th December 2008.
DragonForce Ultra Beatdown Line-up
:
ZP Theart - Lead and backing vocals ( Hong Kong)
Herman Li - Lead and rhythm guitars, backing vocals, production ( Hong Kong )
Sam Totman - Lead and rhythm electric guitars, backing vocals, production
Vadim Pruzhanov - Keyboards, Piano, backing vocals
Dave Mackintosh - Drums, backing vocals
Frédéric Leclercq - Bass, backing vocals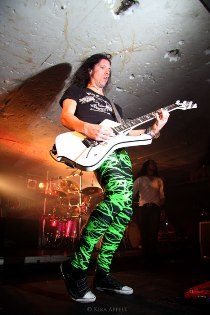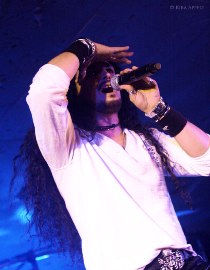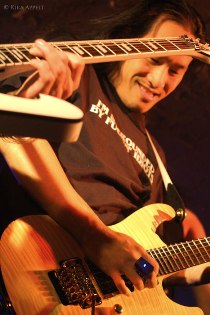 Music
The German sound guy did an awesome job. The Sound was well balanced and went directly into your ear. ZP was in an awesome condition and he was singing always on the point. Of course was Herman and his guitar faster as you can follow his fingers, arm or tongue on the strings. Sam Totman is the same like Herman, always perfect and one with his guitar. Frédéric Leclercq and his brand new ESP signature bass guitar are new best friends. No tone was wrong, always playing on the edge, those three guys really kicked ass on their instruments. Vadim and Dave added the last piece to a great, clear, fast and powerful Stage performance.
Performance
Well I always thought that you can not perform on a small stage like the substage stage but well...you can. All Artists with one exception for the drummer ( but if he could carry around his instruments, I think he would do it) were jumping, lying, sitting around, on, under, beneath the stage. The kicked each others asses, joked with the Fans, throwed masses of guitar picks in the audience and just had a lot of fun on this friday in karlsruhe.herman was wearing a t-shirt: I am surrounded by idiots. And those idiots come from all over the world and build up an atmosphere of dancing, singing and screaming fans. I was impressed of Dave and Vadims Stage outfit, but it fitted absolutly to this funny performance. Only the light sucked, but that´s not the bands fault. They played a bit more then 90 minutes, all Songs are a bit longer than a regular Song. but everything is a bit different in this band, but if you wanna listen to fast, rocking, ass-kicking guitars: welcome to Dragonforce!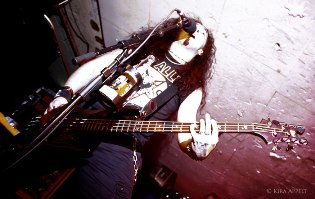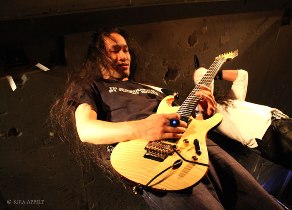 Setlist
01. Fury Of The Storm
02. Heroes Of Our Time
03. Operation Ground and Pound
04. Reasons To Live
05. Disciples of Babylon
06. Starfire
07. Revolution Deathsquad
08. When the Dragons Rule
09. Valley Of The Damned
---
10. Strike Of The Ninja
11. Through The Fire And Flames

Rating
Music: 10
Performance: 10
Light: 4
Sound: 9
Total: 9 / 10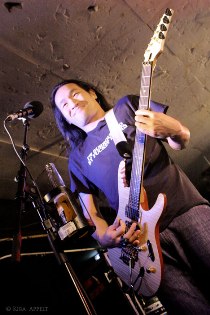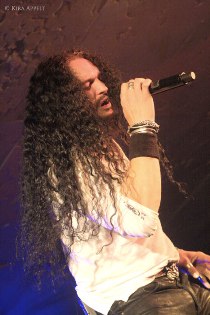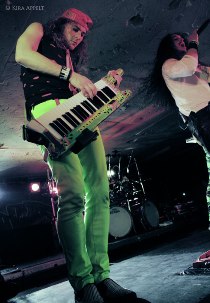 All pictures by Kira Appelt
{jos_sb_discuss:17}
See also (all categories):