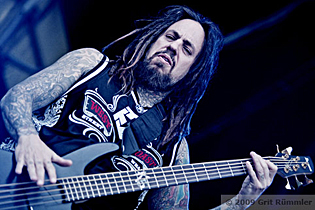 Zitadelle Spandau, Berlin, Germany
8th June 2009
Korn, Machine Head, Gallows

At first: A really big sorry, that you could read this review later than normally accepted. I'm better to photograph a gig and so I needed my time. People, who would like to support me in Berlin for writing reviews, are very welcome. But good things come to those who wait. Sadly I couldn't photograph this time. I'm very happy to present you pictures of KORN and MASCHINEHEAD anyway. Tremendous thanks to Grit Rümmler!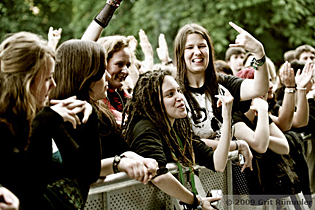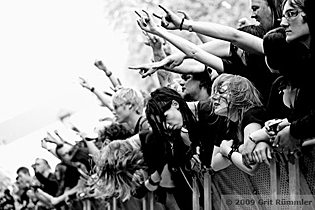 The Zitadelle Spandau is a very atmospheric place, but unfortunately the concerts start early, mostly at 5:00PM or 6:00PM. For the working populace is it adverse to be there at the accurate time. That was maybe the reason for the manageable audience. Possibly were most of the potential guests on the return path from ROCK AM RING. The Zitadelle has now a new feeling for pogo-fans. The floor in front of the stage was consperse with little pebbles; I liked the grass before more. Due to my working times, I sadly missed the first band GALLOWS.
Machine Head

When Trash Metal, than Robert Flynn (vocals/guitar), Adam Duce (bass), Phil Demmel (guitar) and Dave McClain (drums). They came to stage and the audience was crazy to see and hear MASCHINE HEAD. While the first riffs were played, the people began to pogo and jump. The GALLOWS before seemed to do their job as Warm-Up very well. The opener of the set was 'Imperium', followed by 'Ten Ton Hammer'. Dave McClain played a drum solo for Chi (from DEFTONES), who is in comatose since his car accident on 3rd November 2008. This was surely a moment of meditation at the audience.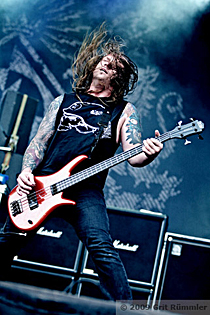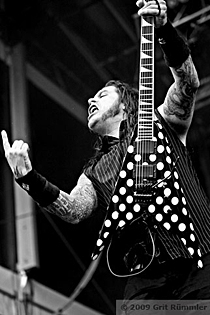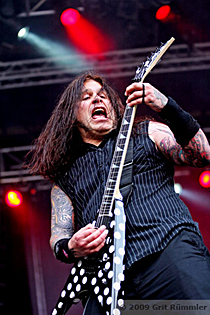 Setlist

01. Imperium
02. Ten Ton Hammer
03. Beautiful Mourning
04. Old
05. Bulldozer
06. Struck A Nerve
07. Halo
08. Davidian
Rating

Music: 7
Performance: 7
Sound: 6
Light: 6
Total: 6.7 / 10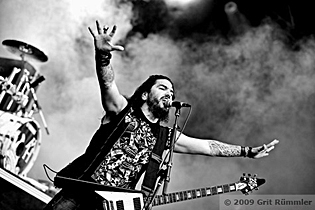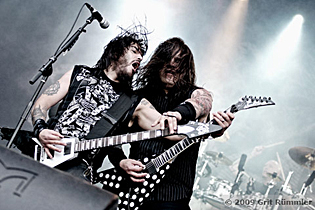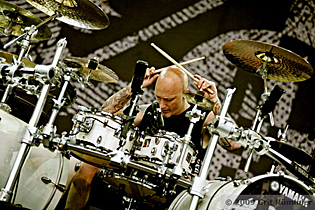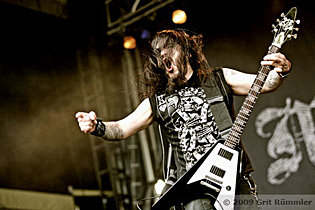 Korn
KORN is a nu metal band from Bakersfield, California, formed in 1993 by Jonathan Davis, James Shaffer, Brian Welch, Reginald Arvizu and David Silveria. With the exception of a brief departure of drummer David Silveria due to a wrist injury, the band had always performed and recorded with its original five members. After the departure of guitarist Brian Welch the band formed a back-up band to replace Welch's guitar playing and later Silveria's drumming after his departure in 2006. The band has also brought in other instruments that previously hadn't been used by the band such as keyboard and various percussion instruments. The back-up band has had several different high profiled musicians through the years and recently Ray Luzier became the first to be included as an official member of KORN.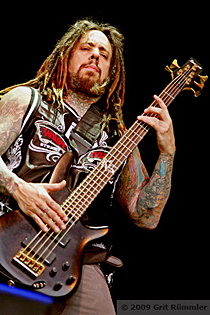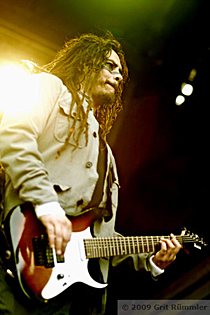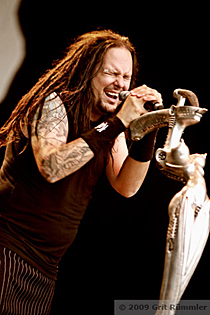 Music & Performance
A few days ago (5th July) they performed at ROCK AM RING festival and expeditiously in Berlin. I've never seen them live, but I had a speculation that they will play crazy. They performed their old classics and new stuff. But the whole changes since Welch's gone and the beginning of Jonathan's voice coaching are appellative. The old albums were quiet not exact but indeed with ferventness. 'Evolutions' was the first album which was an appreciable quality fall-off. And I was disappointed at the concert, too. I've had the feeling that the whole project works only for money and the management. They sound was soft, melodious and constant without roughs and edges. I missed the passion and the connection and energy to the fans. But there were little cool moments too like the song 'Blind'.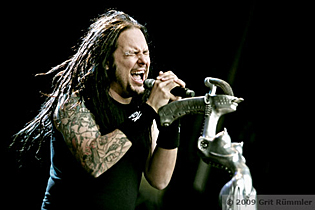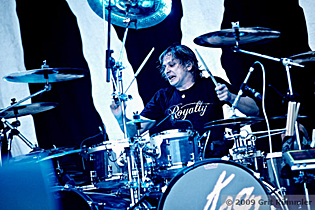 You could hear the first sounds and the people cover on the floor until the song breaks out. Jonathan played his bag pipe live, also. The fans were ardent! The gig was fairish short! But for me it was enough. I' don't know if I would like to see them again.
Setlist

01. Blind
02. Thoughtless
03. Y'all Want a Single
04. Coming undone / We will rock you
05. Got the Life
06. Another Brick in the Wall
07. Somebody Someone
Rating

Music: 7
Performance: 6
Sound: 6
Light: 6
Total: 6.4 / 10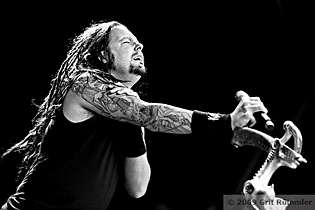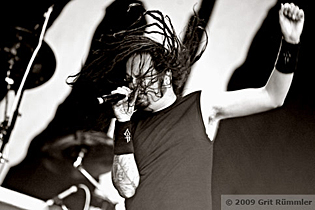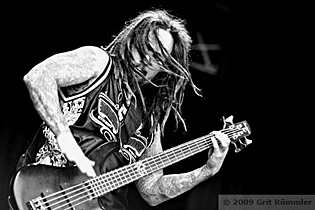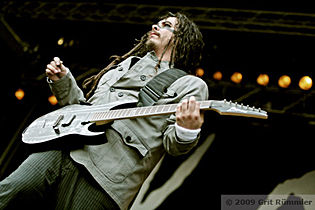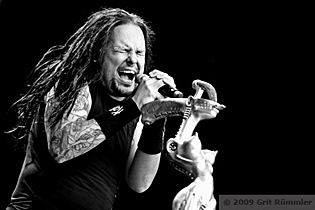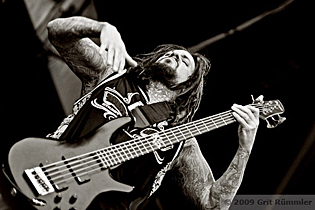 Photos by Grit Rümmler
{jos_sb_discuss:17}
See also (all categories):