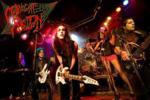 Glendale Galleria, Glendale, California, USA
25th June 2009
Midnight Reign


MIDNIGHT REIGN is an act out off Los Angeles that has made a name for themselves and will not be thrown aside. This Rock'n'Roll heavy metal sensation is breaking the music scene piece by piece with their break-through debut 'Never Look Back' and upcoming follow-up 'Are You Gothic?' due out later this year. What is left for the band to come up with or even think of doing? Perform of course! And this is exactly what they decided to do, when it came to going from electric to acoustic throwing a small get together at the Glendale Hot Topic an annual monthly in-store event that all Hot Topics are trying to promote to help out the bands around the county.


Music & Performance

"Its' the drugs in me that keeps me sane"… an interesting take on an amazing act that cannot be tamed, an act blending sex, drugs, and rock n roll in all forms imaginable. I'm talking about the one and only MIDNIGHT REIGN, straight out of the forsaken depths of Los Angeles, California. This act brings out the pure insanity and intensity that Rock'n'Roll and heavy metal is well known to create and they decided to go a whole another route from electric to the mellow vibrations of acoustic necessities. Playing for a handful of loyal fans and new comers, MIDNIGHT REIGN performed at the Glendale Galleria's Hot Topic doing a 30 minute in-store set up consisting of old and new material.

Old material taken off 'Never Look Back', their debut LP that has been sweeping the radio waves and online craze forever now, and some material off cellist Starla Baker's upcoming LP 'Miserable', not to forget MIDNIGHT REIGN's newest soon to be released album 'Are you Gothic?' due out later this year, was performed. The performance was clear but not as clean as the goofy quotes being discussed during their performance was thrown around sending numerous laughs from the eye-balling audience. When it was all said and done, it was a Hot Topic exclusive that the small town of Glendale shall not want to forget.
Setlist

01. The Hollywood Rx
02. Breath on Me...
03. Your?
04. XXX (Playground)
05. The Mourning After
06. Hollow Man
07. Dead Girls Don't Say No
Rating

Music: 9
Performance: 9
Sound: 9
Light: -
Total: 9 / 10

All pictures by Natalie Perez
{jos_sb_discuss:17}